1. Put Quarterly Letter #1
---
2. The Nasdaq Averages a -10% Correction Every 175 Days.
Nasdaq Dorsey Wright The Nasdaq 100 Index NDX fell into correction territory on Thursday as it closed lower than 10% off the 15,841 high seen in mid-July. We have seen NDX fall over 4.5% in the past week alone, and it has declined more than 2% in back-to-back weeks for the first time since December 2022. This 10% correction comes 303 calendar days after the last 10% correction was reached on December 27, 2022, which is quite a long gap based on historical averages. Going back to 1992, we see a 10% correction in the NDX every 175 days on average, with a median gap of about 110 days between such events. That average equates to roughly two 10% corrections experienced each year. Of course, some years have far more than that, with nine corrections events seen in 2000 and four events seen last year in 2022.
The current correction has also been more drawn out than normal. We typically see the peak-to-trough decline in prior correction events take 46 days on average, while the current correction has already taken 100 days. Past corrections show an average pullback-to-trough timeframe of 21 days, with a median of 11 days. If we hold those historical norms, that will see NDX put in at least a near-term bottom before we see family for Thanksgiving.

---
3. Software ETF -17% from Highs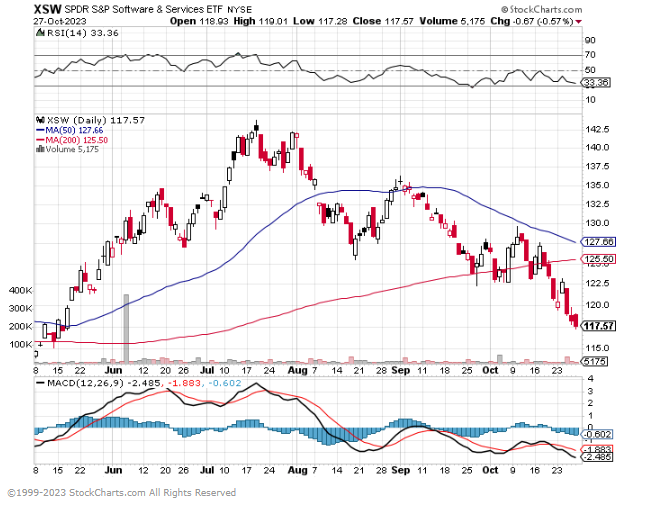 ---
4. 20-Year Treasury New Lows…Inflows Massive.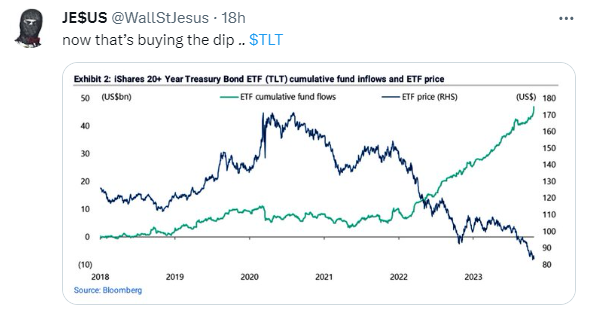 ---
5. Fund Managers Consensus is Lower Rates 2024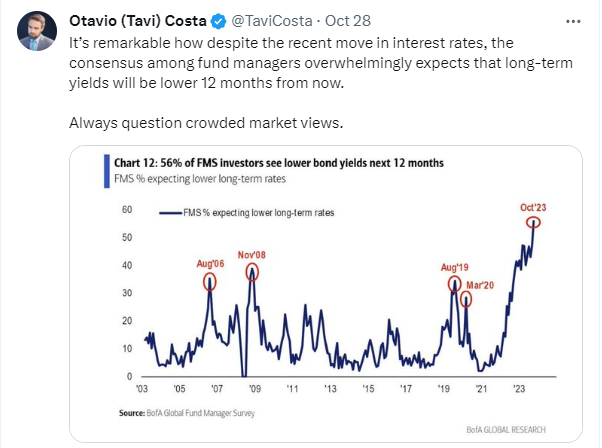 ---
6. UPS Chart Heading into Holiday Season.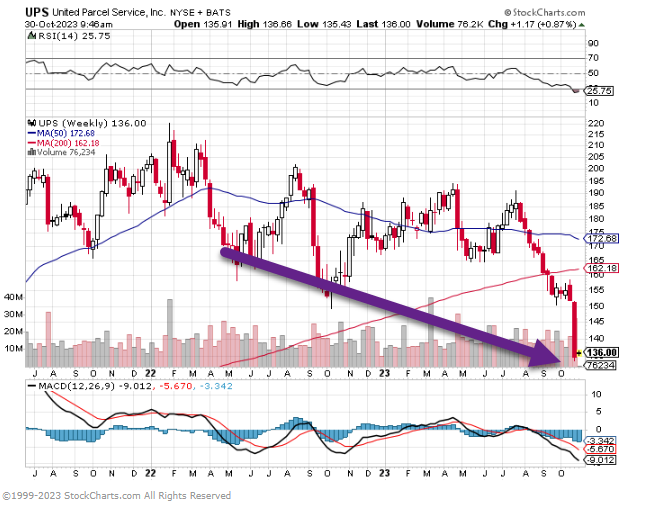 ---
7. Cryptocurrency: Crypto trading volumes have dropped globally across all exchanges this year.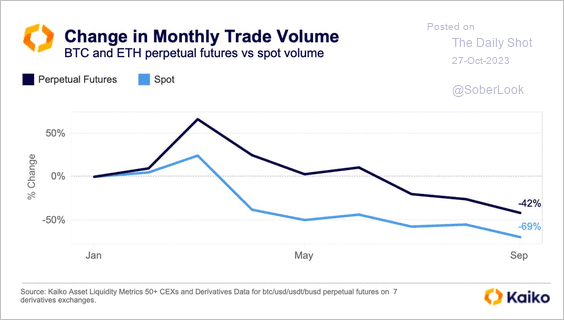 Source: @KaikoDatahttps://dailyshotbrief.com/
---
8. Average Price of Used Tesla Updated
@Charlie Bilello Fast forward to today and that game has ended in tears for anyone that bought in the summer of 2022 with the expectation of selling to a greater fool.
The average price of a used Tesla is now $28k lower than the peak price in July 2022, a 41% decline. Cars are once again a depreciating asset.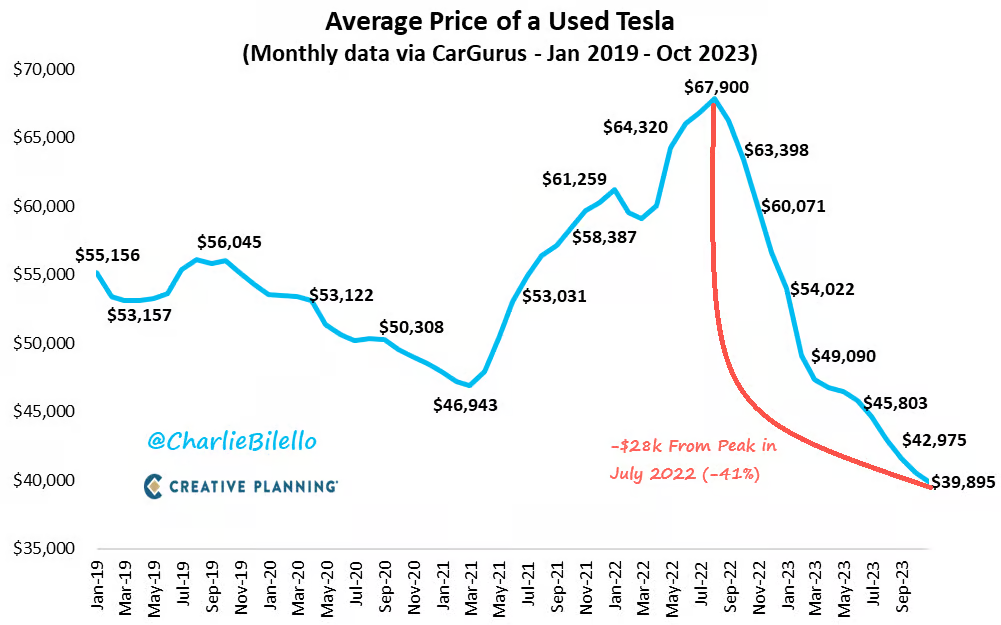 ---
9. White House opens $45 billion in federal funds to developers to covert offices to homes
Morningstar By Joy Wiltermuth
Biden administration turns to developers to help ease U.S. housing crisis
The White House kicked off a multiagency push on Friday to help finance real-estate developers convert more office buildings in big cities emptied by the pandemic into affordable housing, taking aim at the nation's housing crisis.
The initiative looks to harness an existing $35 billion in low-cost loans already available through the Transportation Department to fund housing developments near transit hubs, folding it into the Biden administration's clean energy push.
It also opens up additional funding sources and tax incentives, offering a new guidebook to 20 different federal programs that can be tapped by developers and offers technical assistance in what can end up being tricky and expensive conversions.
A third peg of the program will see the federal government draw up a public list of buildings it owns that could be made available for sale to help bolster development.
"These downtowns and central business districts that we are taking about today often already designed and orientated around public transit," said Transportation Secretary Pete Buttigieg, in a press briefing. "Our intention is to make the most of this opportunity to add more housing near transit in ways that not only reduces the cost of housing, but also often reduces the cost of transportation."
National office vacancies have neared 25%, versus 8% in Europe, according to Savills, a real-estate firm. Vacancy rates in hard-hit cities like San Francisco have gone even higher, setting fresh records as property values plunge and more owners default on their mortgage loans.
"The only thing that is missing today is a lack of financing," said Nathan Berman, a founding principal of Metro Loft, a go-to firm for New York City office-to-residential conversions that helped transform lower Manhattan in the past 20 years.
The heart of many cities in the wake of the COVID crisis are littered with sparsely populated office buildings available at bargain basement prices. But Berman told MarketWatch that financing has all but stalled for conversions. "It's really interest rates that are killing everything."
Borrowing costs have shot up since the Federal Reserve began raising rates last year to fight inflation, resulting in a credit crunch on building owners with debt coming due. Companies also remain unsure about how much space they need, or what they're willing to pay for it.
Read: More office zombies? Only 11% of maturing loans repay in September, Moody's Analytics says
In Washington, D.C., where the federal government has a major office footprint, years of remote federal work have been a key source of industry angst. Government efforts to breath new life into obsolete buildings by turning them into rentals could be a rare redevelopment opportunity, as MarketWatch reported in August.
See: White House wants federal workers back in the office in September
The federal government owns about 1,500 office buildings nationally and had leases on almost 200 million square feet of additional space as of April, according to Barclays analysts, who said in a recent report that much of that office space was underused.
The new White House effort, in addition to DOT funding, will give developers access to $10 billion in funds allocated to the U.S. Department of Housing and Urban Development's community development block grant program.
"With a shortage of millions of homes nationwide, we need to utilize every resource at our disposal to increase housing supply, which in turn, given the high demand, will help with rent levels and purchase costs," said Adrianne Todman, HUD deputy secretary, during the press briefing.
Related: San Francisco's push to turn office buildings into homes hinges on this simple idea
-Joy Wiltermuth
This content was created by MarketWatch, which is operated by Dow Jones & Co. MarketWatch is published independently from Dow Jones Newswires and The Wall Street Journal.
https://www.morningstar.com/news/marketwatch/20231027198/white-house-opens-45-billion-in-federal-funds-to-developers-to-covert-offices-to-homes
---
10. Life Lessons From Byron Wien-RIP to Wall Street Legend
Network intensely. Luck plays a big role in life, and there is no better way to increase your luck than by knowing as many people as possible. Nurture your network by sending articles, books and emails to people to show you're thinking about them. Write op-eds and thought pieces for major publications. Organize discussion groups to bring your thoughtful friends together.
When you meet someone new, treat that person as a friend. Assume he or she is a winner and will become a positive force in your life. Most people wait for others to prove their value. Give them the benefit of the doubt from the start. Occasionally you will be disappointed, but your network will broaden rapidly if you follow this path.
Read all the time. Don't just do it because you're curious about something, read actively. Have a point of view before you start a book or article and see if what you think is confirmed or refuted by the author. If you do that, you will read faster and comprehend more.
Get enough sleep. Seven hours will do until you're 60, eight from 60 to 70, nine thereafter, which might include eight hours at night and a one-hour afternoon nap.
Travel extensively. Try to get everywhere before you wear out. Attempt to meet local interesting people where you travel and keep in contact with them throughout your life. See them when you return to a place.
On philanthropy, try to relieve pain rather than spread joy. Music, theater and art museums have many affluent supporters, give the best parties and can add to your social luster in a community. They don't need you. Social service, hospitals and educational institutions can make the world a better place and help the disadvantaged make their way toward the American dream.
The hard way is always the right way. Never take shortcuts, except when driving home from the Hamptons. Shortcuts can be construed as sloppiness, a career killer.
Don't try to be better than your competitors, try to be different. There is always going to be someone smarter than you, but there may not be someone who is more imaginative.
When seeking a career as you come out of school or making a job change, always take the job that looks like it will be the most enjoyable.If it pays the most, you're lucky. If it doesn't, take it anyway, I took a severe pay cut to accept each of the two best jobs I've ever had, and they both turned out to be exceptionally rewarding financially.
Never retire. If you work forever, you can live forever. I know there is an abundance of biological evidence against this theory, but I'm going with it anyway.
Write to Andrew Bary at andrew.bary@barrons.com
https://www.barrons.com/articles/byron-wien-obituary-4e72c28e?mod=past_editions