1. History of U.S. Dollar Rallies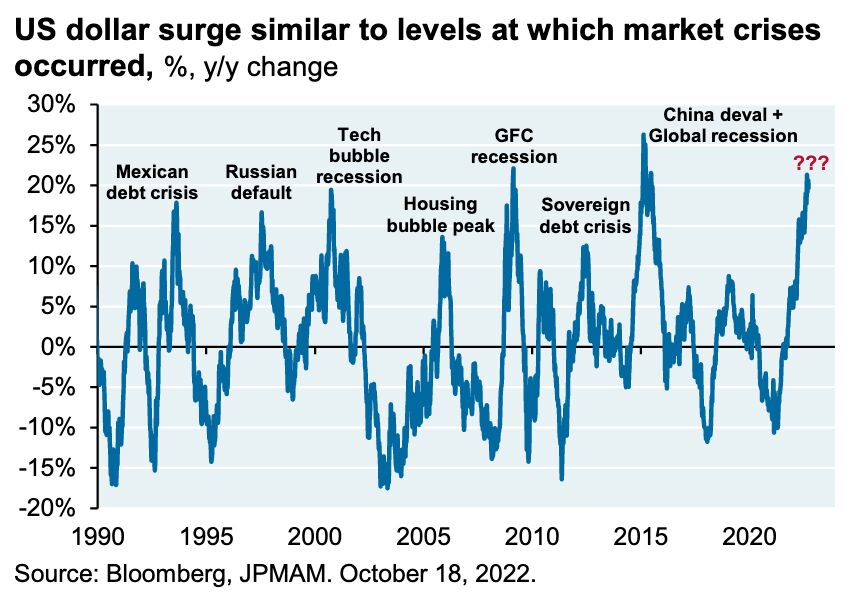 https://www.linkedin.com/in/jonathanbaird88/ Jonathan Baird
---
2. Energy Stocks Allocation of Cash 2022
CALLUM Thomas Chart Storm . Energy Cash:  Energy companies are finding it too hard + too risky to invest in capex, so the best bet in their book is to just return those energy-shock cash-windfalls to investors.
Good for shareholders.
Maybe not so good for consumers — likely makes energy transition a bumpier road (still need a lot of oil and gas even if you do eventually get to carbon-zero).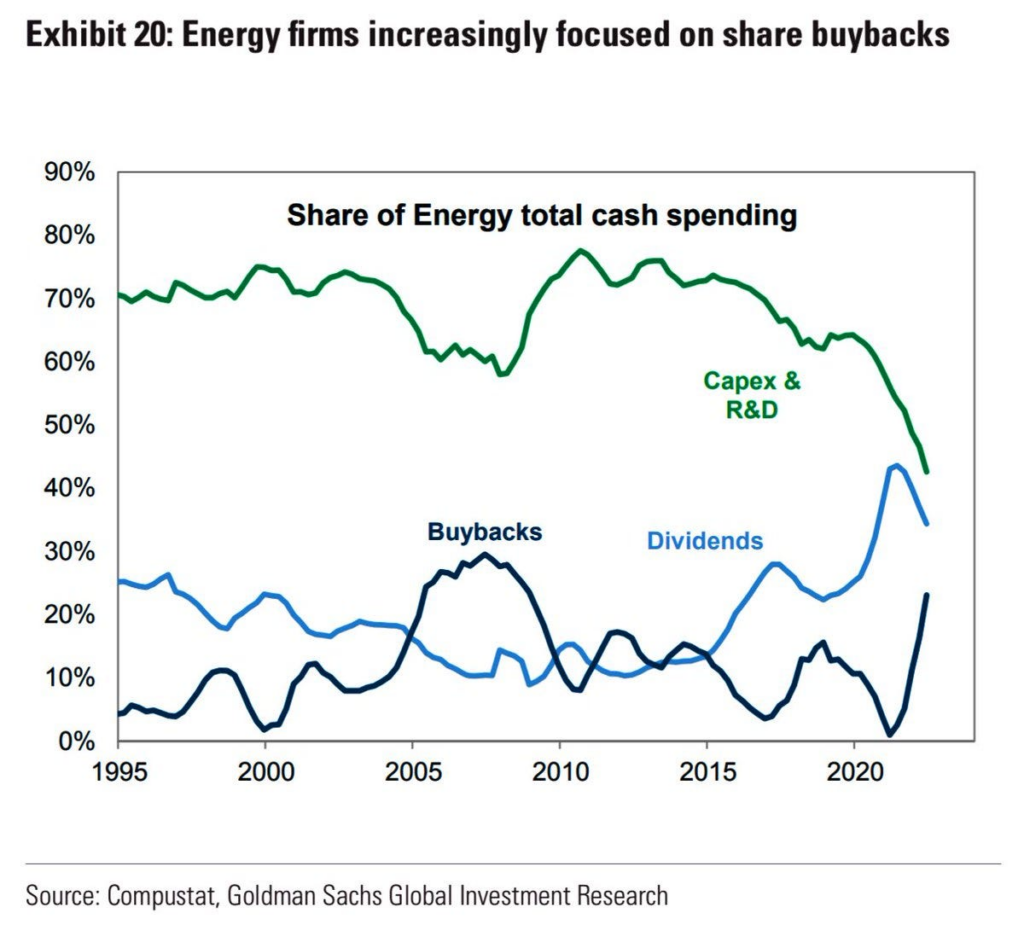 Source: @WallStJesus
---
3. History of U.S. Housing Starts During Fed Policy Tightening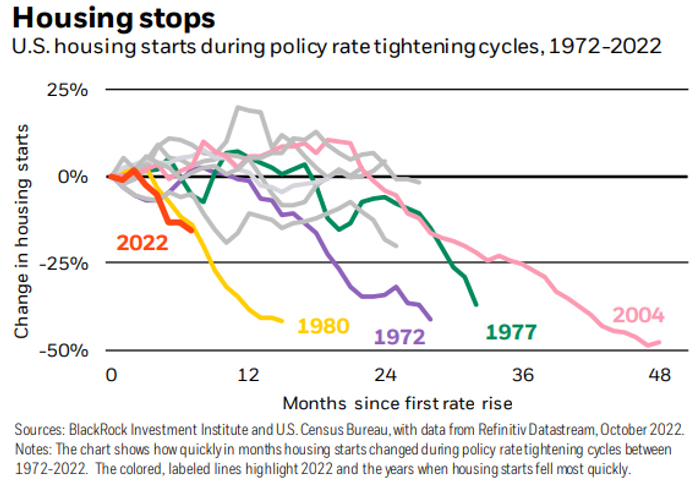 SOURCE: BLACKROCK
---
4. Housing —It's Not 2008
Barrons Housing is a real asset, and if it is going to crash, we will need to see a crash in the level of M2—a measure of the monetary supply that includes currency, deposits, and shares in retail money-market mutual funds, he says.  By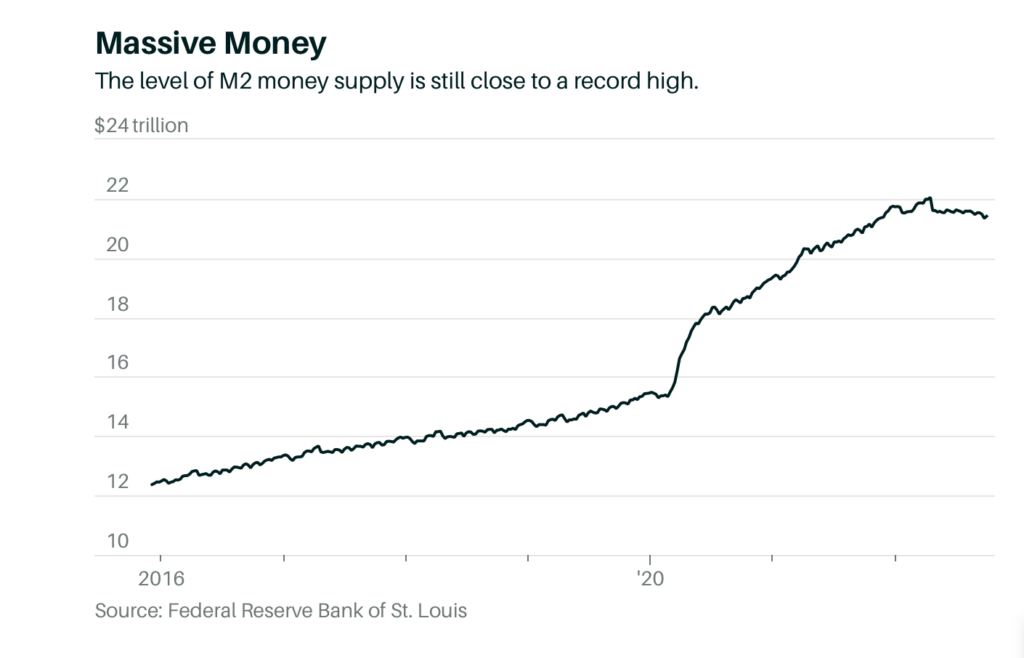 Don't Expect Home Prices to Crash. The Housing Market Is More Resilient Than It Looks. https://www.barrons.com/articles/home-prices-crash-housing-market-51666988277?mod=past_editions&noredirect=y
---
5. Stocks that Make Money Having a Big Month…One Month–Dividend Growers +10 vs. IPO ETF Flat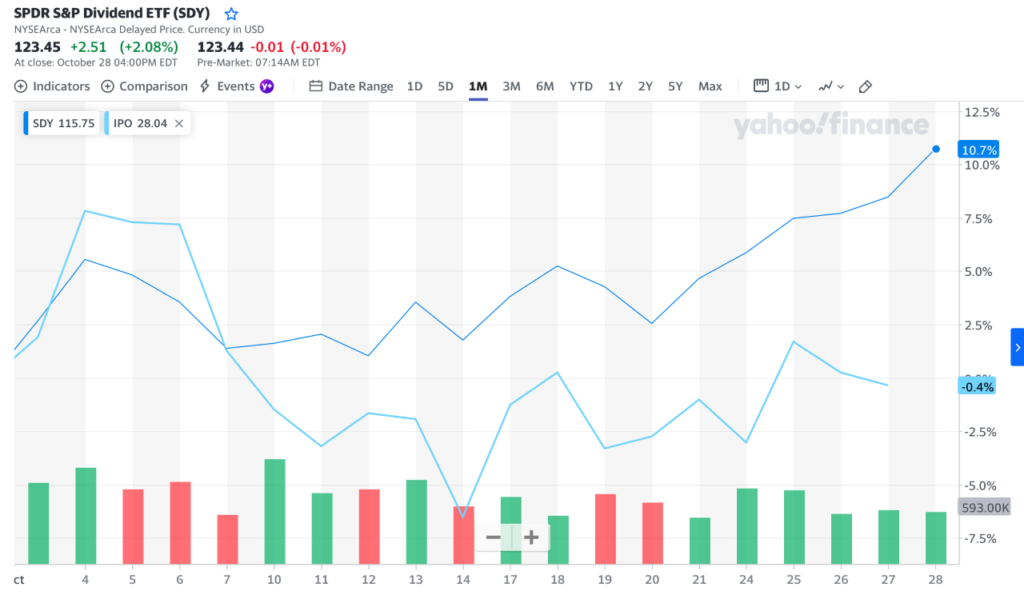 ---
6. $50Billion Allocated 2022 to Dividend Funds
Advisor Perspectives-The record $50 billion allocation bonanza so far this year is notable in a world where even cash-like Treasuries are offering income-hungry investors the highest yields in over a decade — giving defensive strategies like dividend funds a run for their money. At least in theory.
Yet demand for steady income in stocks is booming as money managers bid up companies with a history of paying out profits to shareholders, hoping that will cushion gut-wrenching losses across the broader market.
All told, the cash flowing into dividend-focused exchange-traded funds is already running 25% higher than the record haul secured in 2021, with positive inflows every month so far this year.
SCHD Schwab U.S. Dividend ETF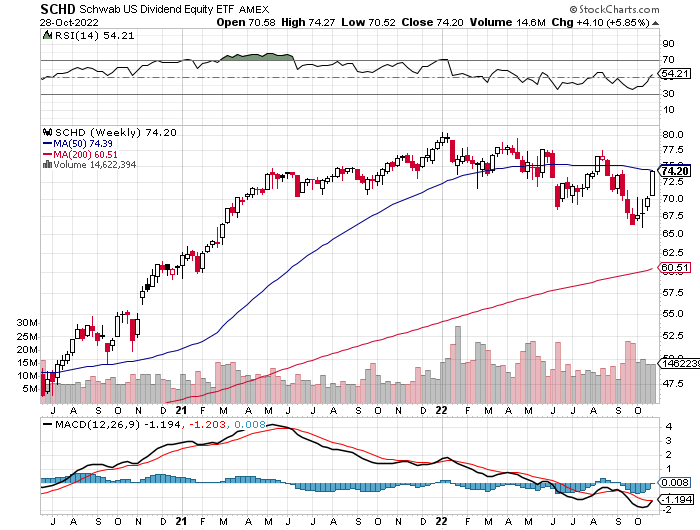 Income-Hunting Investors Are Fueling a $50 Billion ETF Bonanza-by Emily Graffeo, . https://www.advisorperspectives.com/articles/2022/10/27/income-hunting-investors-are-fueling-a-50-billion-etf-bonanza
---
7. Oaktree Comments on High Yield Bond Market
HIGH YIELD BONDS MAY BECOME INCREASINGLY ATTRACTIVE DUE TO THEIR QUALITY AND PRICE-If global economies continue to weaken, high yield bonds may become more attractive than loans due to their higher average quality and lower dollar price as well as borrowers' stable interest costs. While credit fundamentals in the high yield bond market will likely decline if negative economic trends accelerate, these fundamentals are coming down from a fairly high level. That's because quality in the high yield bond market has improved significantly in the last ten years. More than 52% of the market is now rated BB (the level just below investment grade), ten percentage points higher than in 2012. Additionally, the lowest rating category (CCC and below) now represents only 11% of the market, five percentage points less than in 2012.12 (See Figure 5.) For comparison, less than one-quarter of loans are rated BB, while the vast majority are rated B, meaning a larger percentage are at risk of being downgraded into the lowest rating tier.13
Figure 5: Quality Has Improved in the U.S. High Yield Bond Market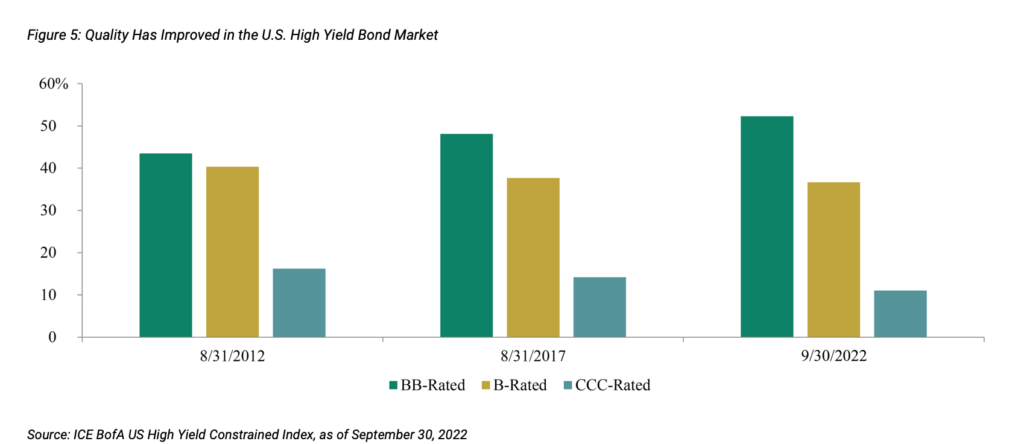 Source: ICE BofA US High Yield Constrained Index, as of September 30, 2022
https://www.oaktreecapital.com/insights/insight-commentary/market-commentary/performing-credit-quarterly-3q2022
---
8. The U.S. Treasury is Going from Making $100B Last Year to Losing $80B this Year
Bloomberg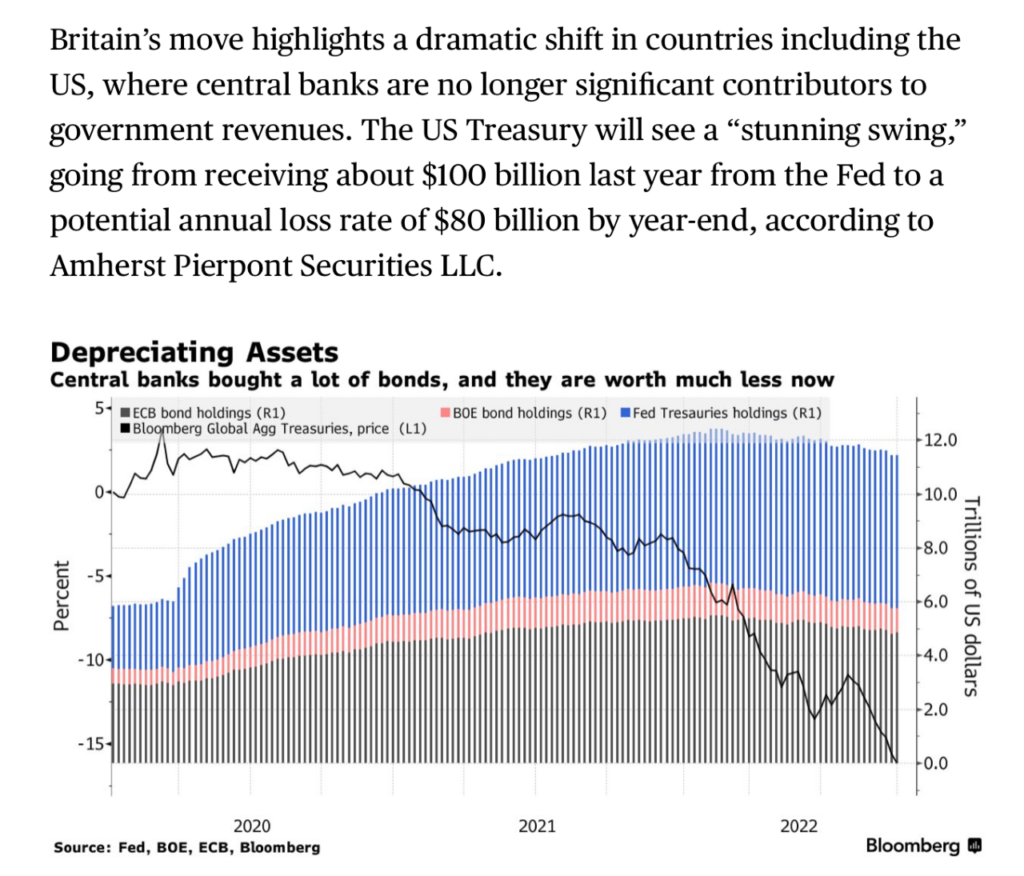 https://www.bloomberg.com/news/articles/2022-10-25/fed-is-losing-billions-wiping-out-profits-that-funded-spending?sref=GGda9y2L
---
9. Ukraine has taken delivery of its first mine-clearing machine, which was made by a British company and cost almost $500,000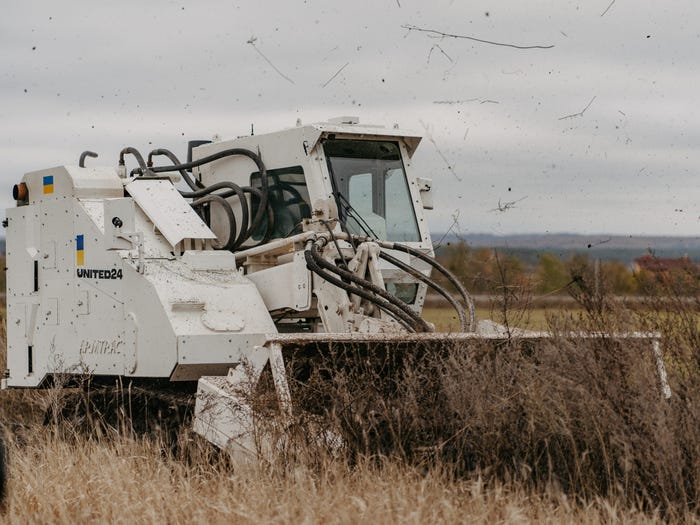 The Armtrac 400 is made by a British company. UNITED24
Ukraine received its first mine-clearing machine, the Armtrac 400, which was made by a UK company.
Deputy prime minister Mykhailo Fedorov said Ukraine was fundraising for another.
It is designed to clear paths through minefields and has a motorized system to detonate mines.
Ukraine has taken delivery of its first mine-clearing machine, which was made by a British company. 
Since the invasion in February, Ukraine and Russia have used landmines in four regions: Donetsk, Kharkiv, Kyiv, and Sumy.
Human Rights Watch says there's no way to quantify the casualties or humanitarian impact of landmine use since the war began.
President Volodymyr Zelenskyy set up an initiative called UNITED24 to attract donations from around the world. Funds raised through the initiative have allowed Ukraine to buy an Armtrac 400 for the Kharkiv region, which is no longer occupied but remains contaminated with mines.
The mine-clearing vehicle was developed and manufactured by Armtrac, based near Cambridge, England.
Robin Swanson of Armtrac told Insider that Ukraine first expressed an interest in the machine in April. 
It was sent out to Poland in September and was moved to Ukraine earlier this month. The managing director, Stephen Brown, went to Ukraine to train about seven operators.
https://www.businessinsider.com/ukraine-got-first-armtrac-400-mine-clearing-machine-british-made-2022-10
---
10. The Importance of Self-Discipline
Matthew Kelly Our culture often prescribes instant gratification as a cure for our deep desire for happiness. As a result we often fall into the trap of believing that we would be happy if we could just do what we feel like doing right at any given moment.
Our insatiable appetite for instant gratification tends to lead us farther and farther away from character, virtue, integrity, wholeness, and our authentic self. Coupled with our untamed affinity with instant gratification is our mistaken notion that freedom is the right or ability to do whatever we want. I meet people all the time who tell me they want to start their own business. When I ask them why, I expect to hear that they want to do something they are more passionate about or because they want to be involved in more meaningful work. But the most common response I get is that then they won't have a boss telling them what to do. High school students are always complaining about the limitations placed on them by parents and teachers.
Do we really believe that a life without structure or discipline will yield the happiness we desire? Besides, how successful do you suppose your business would be if you just did whatever you wanted whenever you wanted to? What sort of financial shape would you be in if you bought whatever you wanted, whenever you wanted it? How good would your health be if you ate as much as you wanted, of whatever you wanted, whenever you wanted it? How healthy would your relationships be if you did what you felt like doing only when you felt like doing it?
A life without self-discipline doesn't lead to happiness—it leads to ruin. Every area of our life—physical, emotional, intellectual, spiritual, professional, and financial—benefits from self-discipline.
Does that mean we should never engage in instant gratification? No. But it does mean that we cannot allow instant gratification to guide and direct every decision. We need to move beyond the notion that discipline is someone else telling us what to do and celebrate the self-discipline that liberates us. How much discipline is enough? The answer depends on how happy you want to be, and for how long you want that happiness to last.
https://www.matthewkelly.com/post/the-importance-of-self-discipline