1. Money Out of U.S. Value Strategies -600B and Counting.
WSJ-By Jason Zweig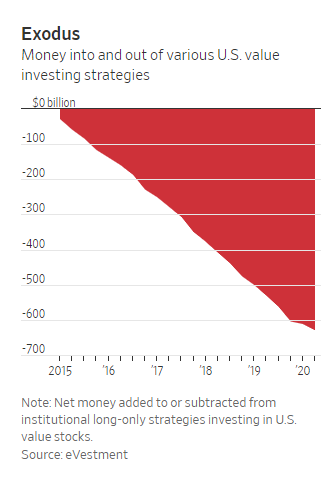 'Our Recent Performance Sucks.' Here's Your $10 Billion Backhttps://www.wsj.com/articles/our-recent-performance-sucks-heres-your-10-billion-back-11603461621?mod=itp_wsj&ru=yahoo
2. Alibaba BABA Trading at 26X Forward Earnings vs. AMZN 76x
YTDAMZN+71% vs.BABA+46%
3. Tesla Planning on Launching a Ride-Hailing Network to Compete with Uber.
Barrons-Interview withARK Investment's Cathie Wood.
You're famous for being a Tesla bull. What do you like now?
We believe Tesla is going to launch a ride-hailing network to compete against Uber [UBER] and Lyft [LYFT]. If it does that successfully, it will be able to provide drivers with cars. The total cost of ownership and operating will be about one-third less than a Toyota Camry. It's going to be a win-win situation—drivers can pay $5,000 down and work the rest of the car off by driving it, while Tesla gets the data that the driver delivers every day for its artificial intelligence engine. When the world goes autonomous—unlike drivers who were working for Uber and Lyft who will be left out of the party—Tesla's ride-hailing network of drivers will own an autonomous car that will work for them. They will be entrepreneurs.
If Tesla pulls this off, it will be so much more profitable than just building cars. Electric-vehicle margins are in the 20s [percent range]; ride-hailing is probably in the 40s; and software-as-a-service and autonomous vehicles will be in the 80s. This is a margin structure that most auto analysts have never seen.Why a Student of Disruptive Innovation Is Betting on Tesla, Telehealth, and Genomics–By Evie Liuhttps://www.barrons.com/articles/tesla-telehealth-and-the-genomics-revolution-power-ark-funds-51603450802?mod=past_editions
TSLA+400%vs. UBER+23%YTD
4. Companies that Spent Cash on Buybacks and Dividends Outperform.
From Dave Lutz at Jones Trading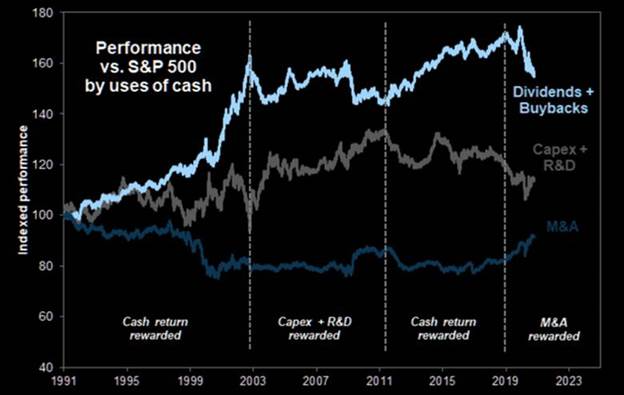 Shares in Barclays, HSBC and Lloyds Banking Group rose about 0.5% after The Times newspaper reported the Bank of England (BoE) and commercialbanks are "bartering" a deal to allow banks to make shareholder payouts.Goldmannotes M&A being rewarded more in 2020 than Divvies…
5. Monthly Check-In on PKW Buyback ETF…….Still Below Highs.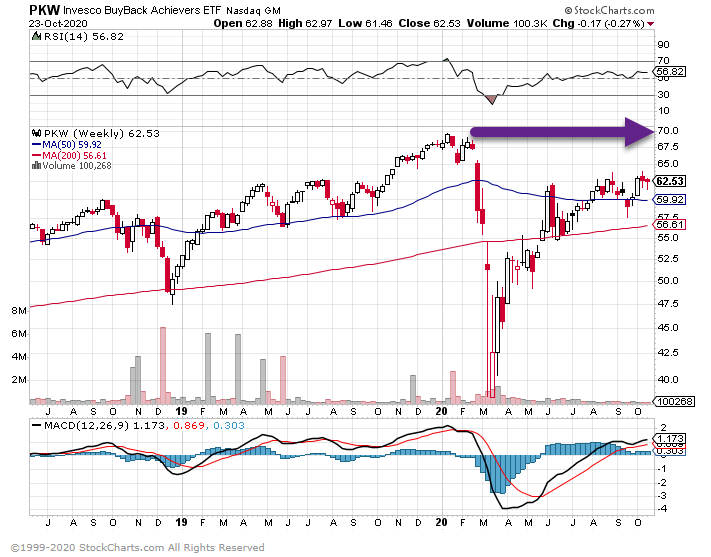 6. Tech Companies Seeing Increase in Misses Top and Bottom Line.
"So far this quarter, companies that beat on both top and bottom line have underperformed the S&P 500 by 5bps the day after (worst in history), and misses outperformed by 60bps, highest in history." -BoAML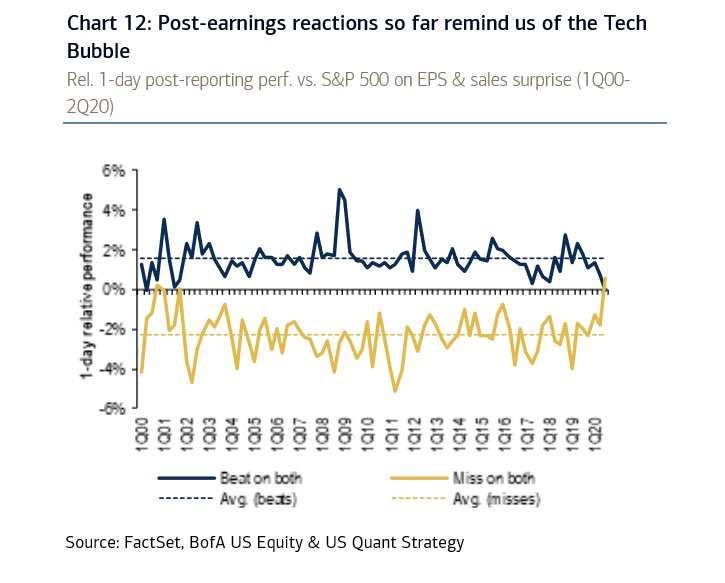 Andrew Thrasher
7. Fed Fund Futures No Longer Pricing in Negative Rates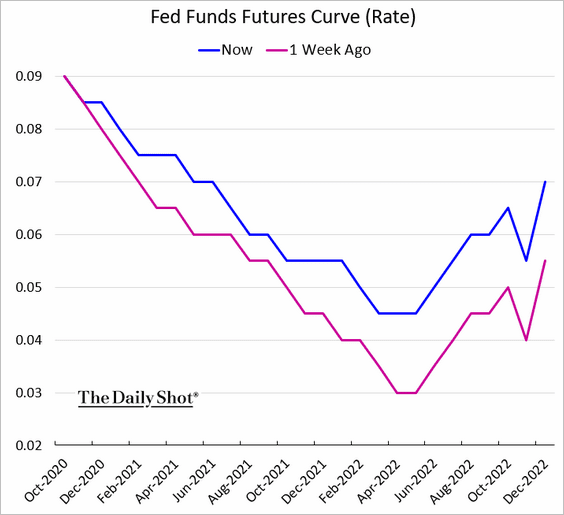 The Daily Shot
https://dailyshotbrief.com/the-daily-shot-brief-october-23rd-2020/
8. Global ESG ETFs and Index Mutual Funds Expected to Hit $1.3 Trillion by 2030
SPDR Funds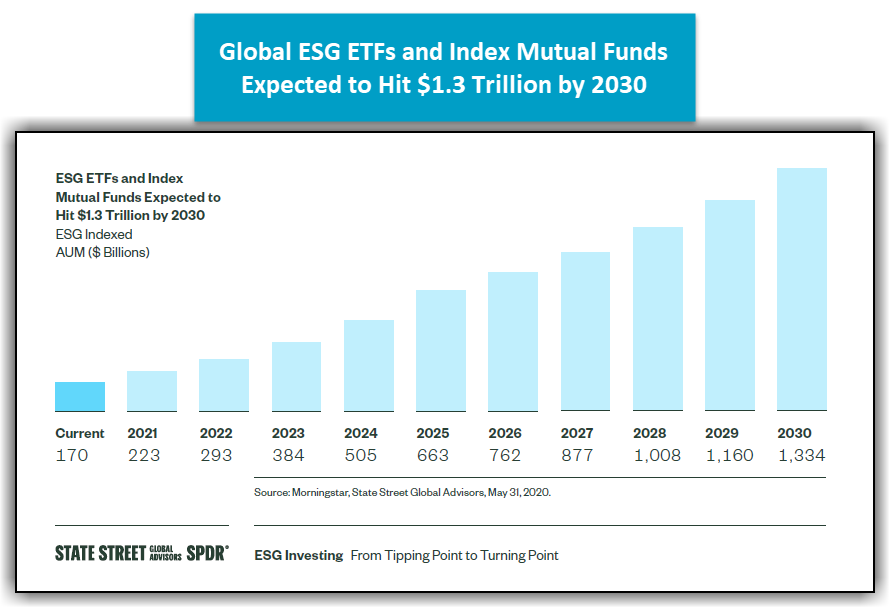 www.dorseywright.com Nasdaq Dorsey Wright
9. 5 More States Voting On Pot Legalization.
CANNABISPot Legalization: 5 More States Toke Up the Issue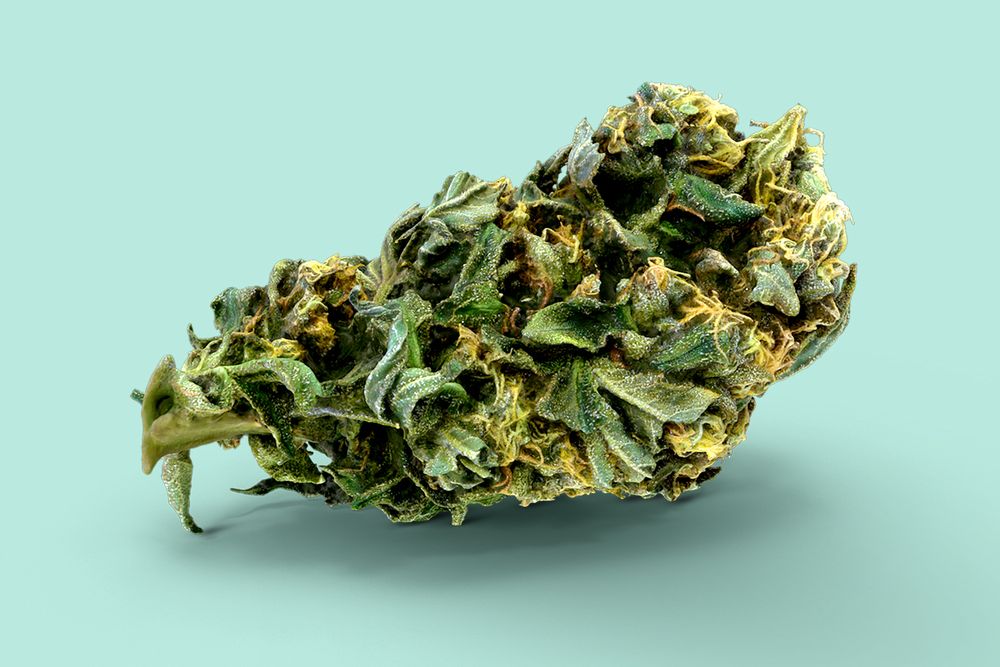 Francis ScialabbaEach day this week, we'll fill you in on state election topics that have been overshadowed by the national presidential race. Let's kick off the series by exploring this year's marijuana legalization efforts. FYI: We are serious business journalists who are above weed puns. Any suggestion otherwise stems chiefly from slander. Next week, residents of five states—Arizona, Montana, New Jersey, South Dakota, and Mississippi—will vote on various legalization measures. The state of playEleven states plus D.C. have legalized recreational pot. Thirty-three allow medical marijuana. Legalization is increasingly popular among U.S. voters. According to Pew, 91% of adults think it should be legal either for medical or recreational use. Voters may be eyeing the economic windfall that legalization can provide. Cannabis sales in states where it's legal totaled about $15 billion last year, and that's projected to double by 2024, per BDS Analytics. And when it's legal, it's taxable, meaning more $$$ for state coffers. Zoom out: You can accuse us of being coastal elites, but New Jersey is the state to watch. Per CNN, if NJ votes to legalize, neighbors New York and Pennsylvania could be next.
10. Why the Most Successful Leaders Don't Care About Being Liked
Being liked is fleeting. Here's what matters more
BY DEBORAH GRAYSON RIEGEL, KEYNOTE SPEAKER AND LEADERSHIP CONSULTANT@DEBORAHGRIEGEL
There's nothing wrong with wanting to be liked at work. According to Tim Sanders, author of The Likeability Factor: How to Boost Your L-Factor and Achieve Your Life's Dreams when your colleagues, direct reports and bosses like you, you have a better chance of getting promoted, being assigned special projects that interest you, having people go above and beyond for you, getting timely responses and feedback, and having the kind of social capital that you draw on to get what you want and need from others.
So, when does wanting to be liked become a problem?
When it comes at the expense of being respected. According to scientist Cameron Anderson of the Haas School of Business at the University of California, Berkeley, overall happiness in life is related to how much you are respected by those around you. Nevertheless, when we sacrifice what it takes to be respected for the quicker, and often easier, win of feeling liked, we lose out on the benefits that respect yields.
Like what? Like greater enjoyment and satisfaction with their jobs, more focus and prioritization, increased sense of meaning and significance, better health and well-being, and more feelings of trust and safety, and increased engagement.
Article continues after video.
FEATURED VIDEO
Top Advice for New Entrepreneurs From Two Female Founders in Health Care
https://www.inc.com/deborah-grayson-riegel/why-most-successful-leaders-dont-care-about-being-liked.html?cid=sf01003
Professionals who want (and often need) to feel liked tend to:
· Seek positive attention and approval
· Engage in gossip rather than giving direct feedback
· Try to please everyone
· Make promises they can't keep
· Keep strong opinions to themselves
· Flood people with credit, compliments and praise
· Play favorites (but pretend they don't)
· Use information as leverage, withholding or giving it away
· Give people tasks they enjoy rather than assignments that stretch and challenge them
· Focus more on how people feel (in general, and about them personally) than about achieving outcomes
Professionals who recognize the importance of being respected — with or without being liked — are more inclined to:
· Tell the truth, even if it's unpopular
· Explain their thinking behind the difficult decisions they make
· Acknowledge the elephant in the room, even if they can't fix it
· Say no when they need to
· Be open-minded and decisive
· Give credit when it's due to others and also take it when it's due themselves
· Tolerate feelings of disappointment, frustration, sadness and anger in themselves and others
· Hold people accountable for their results
· Be consistent and fair in setting rules and expectations
· Set and honor boundaries for themselves and others
· Deliver negative feedback directly and in a timely manner
· Ask for feedback regularly and then act on it
· Apologize when they make mistakes and then move on
· Model the behavior they expect from others
For professionals who want to grow in their roles and careers, being liked is good, but being respected is a requirement. As Margaret Thatcher once remarked, "If you just set out to be liked, you would be prepared to compromise on anything at any time, and you would achieve nothing."
https://www.inc.com/deborah-grayson-riegel/why-most-successful-leaders-dont-care-about-being-liked.html?cid=sf01003
Disclosure
Lansing Street Advisors is a registered investment adviser with the State of Pennsylvania..
To the extent that content includes references to securities, those references do not constitute an offer or solicitation to buy, sell or hold such security as information is provided for educational purposes only. Articles should not be considered investment advice and the information contain within should not be relied upon in assessing whether or not to invest in any securities or asset classes mentioned. Articles have been prepared without regard to the individual financial circumstances and objectives of persons who receive it. Securities discussed may not be suitable for all investors. Please keep in mind that a company's past financial performance, including the performance of its share price, does not guarantee future results.
Material compiled by Lansing Street Advisors is based on publicly available data at the time of compilation. Lansing Street Advisors makes no warranties or representation of any kind relating to the accuracy, completeness or timeliness of the data and shall not have liability for any damages of any kind relating to the use such data.
Material for market review represents an assessment of the market environment at a specific point in time and is not intended to be a forecast of future events, or a guarantee of future results.
Indices that may be included herein are unmanaged indices and one cannot directly invest in an index. Index returns do not reflect the impact of any management fees, transaction costs or expenses. The index information included herein is for illustrative purposes only.