1. Wall Street Will Have To Take Millennial Investors Seriously
https://www.economist.com/news/2020/10/20/soon-enough-wall-street-will-have-to-take-millennial-investors-seriously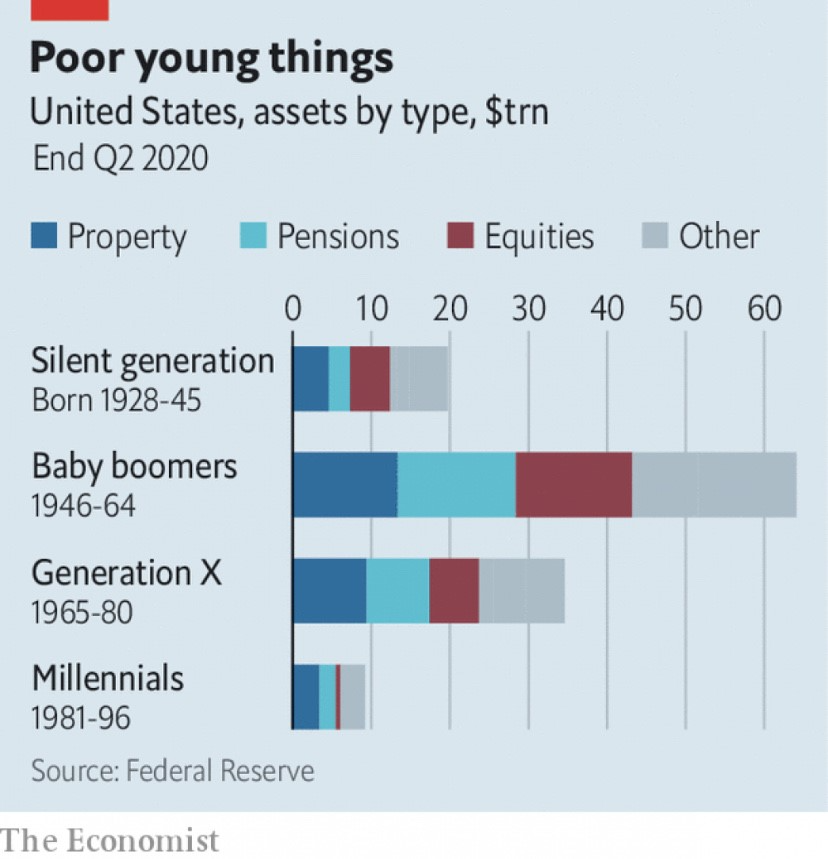 2. SPAC Bumps in Road.
Dave Lutz at Jones Trading
SPAC EXHAUSTION–A blank-check firm backed by the former head of MGM Resorts International MGM.N on Wednesday cut the size of its initial public offering, the latest in a line of blank-check firms to do so, indicating that the hot new method of listing may be losing its sheen – Acies Acquisition Corp, which is backed by former MGM head James Murren, said in a filing that it now intends to raise $200 million in its IPO instead of the previously indicated $300 million. The firm reduced the number of units it was offering to 20 million from 30 million.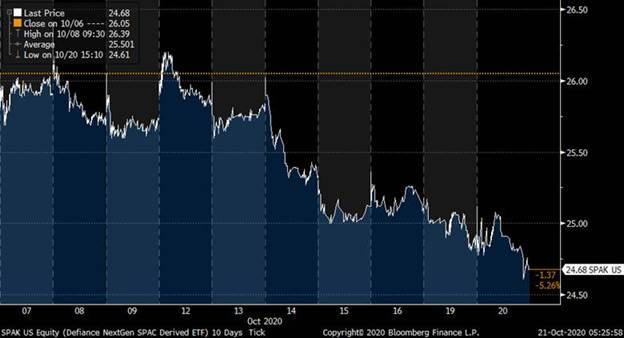 Several SPACs have lowered the sizes of their IPOs in recent weeks, raising concerns over whether the blank-check frenzy is showing early signs of a slowdown – Earlier in the week, a blank-check company backed by private equity firm Cerberus Capital Management downsized its IPO, while others SPACs Tekkorp Digital Acquisition and Yellowstone Acquisition Co alsofollowedsuit. SPAK, the SPAC ETF, off 5%+ since inception 2 weeks ago (but Bear in mind 15% of SPAK is DKNG)
3. Airline Bookings at 7 Month High Still 60% Off Top.
Airline stocks bucked a market sell-off on Monday after airport screenings over the weekend rose above 1 million for the first time since mid-March, a sign more travelers are getting comfortable flying again despite the coronavirus pandemic.
The Transportation Security Administration screened 1.03 million people on Sunday, the most since March 16. That is still 60% lower from a year ago, when 2.6 million people passed through TSA airport checkpoints, showing airlines' pandemic-induced struggles are far from over.
But the figure still represents improvement. So far this month, daily airport screenings are down 65% compared with the first 18 days of October 2019. In April, screenings were down more than 90% from a year earlier.
Delta and United executives last week noted encouraging booking trends but warned investors that a full recovery to pre-pandemic levels, particularly for once-lucrative business travel, is likely years away.
Both carriers posted large losses for the third quarter. American and Southwest are scheduled to report results before the market opens Thursday.
United shares gained 3.9%, while Delta eked out a 0.1% gain on Monday. American and Southwest added 0.8% and 0.4%, respectively. The S&P 500 shed 1.6%.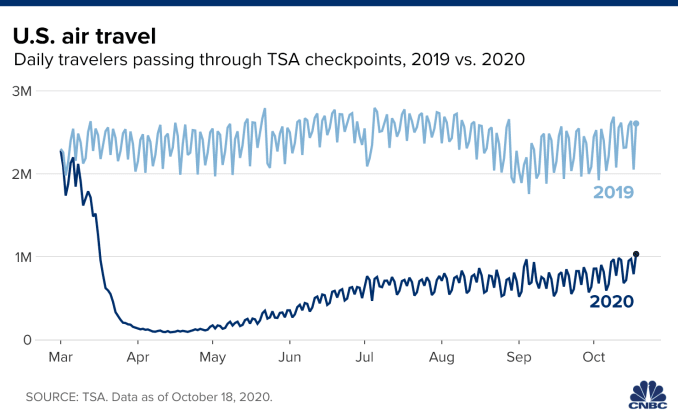 Airline shares buck market selloff after TSA screenings topped 1 million, a 7-month high–LeslieJosephs@LESLIEJOSEPHS
https://www.cnbc.com/2020/10/19/coronavirus-airline-shares-jump-after-tsa-screenings-topped-1-million.html
4. QQQ Assets Under Management at All-Time High.
5. Increase in Digital Usage During Covid….Social Media Up 50%
Food For Thought: The increase in digital tool usage during COVID: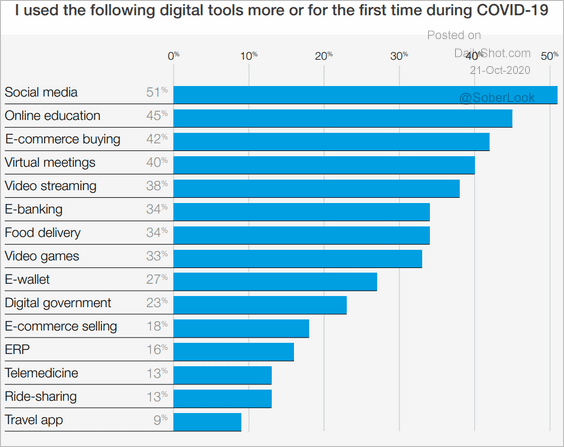 @wef Read full article
https://dailyshotbrief.com/the-daily-shot-brief-october-21st-2020/
6. Everyone Focused On FAANG with New Day Traders But Under $5 Stocks Volume Exploding.
Individual-Investing Boom Fuels Trading in Low-Price StocksBy Alexander Osipovich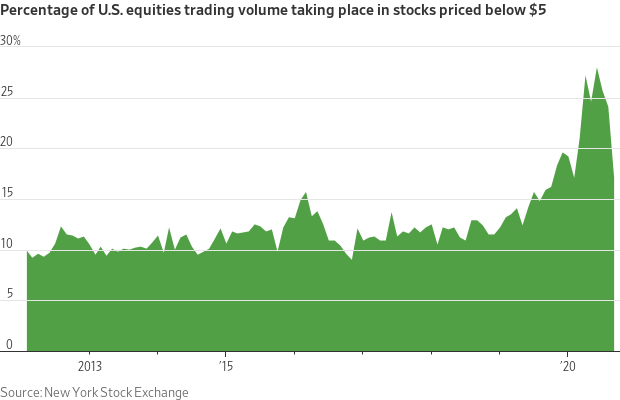 On one Thursday in August, more than 10% of all U.S. stock-market trading volume was in shares of Gevo, a little-known renewable-fuels company.
The stock popped to $1.82 from 55 cents that day after the company announced a big contract, triggering a surge in volume. Much of it was at off-exchange venues where retail brokerages route orders—a sign that hordes of individual investors were trading the stock, according to Rosenblatt Securities.
"It surprised the heck out of us," said Gevo Chief Executive Patrick Gruber.
Trading in speculative stocks with low share prices has surged this year, fueled by a huge influx of individuals using zero-commission investing apps and online brokerages. During several months this spring and summer, more than 25% of the shares traded in the U.S. stock market were in companies with a share price below $5, according to data from the New York Stock Exchange.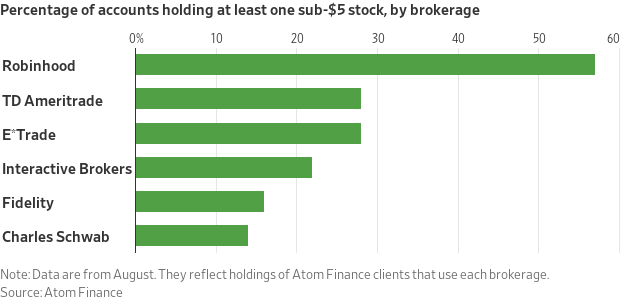 From 2012 to 2019, that percentage mostly hovered between 10% and 15%, the NYSE data show. In September it fell to 17.1%, still high by historical standards.
Companies often try to avoid having a share price below $5 because of a perception that such stocks are risky "penny stocks"—even though, legally speaking, that term only applies to stocks that aren't listed on exchanges. Asset managers, like mutual funds, often shy away from sub-$5 stocks.
That is why individuals play an outsize role in low-price stocks. Individual investors fueled unusual rallies this year in stocks like Eastman Kodak and bankrupt car-rental company Hertz Global Holdings.
For a longer version of this article online, follow this link [markets.cmail20.com].Will low-price stocks trade at higher volumes in the long term as a result of easy app trades? Let us know by replying to this email. Your comments may be edited before publication in future newsletters, and please make sure to include your name and location.
https://www.wsj.com/articles/global-stock-markets-dow-update-10-16-2020-11602839821?mod=djemMoneyBeat_us
7. 30 Year Treasury Yield Heading Back to June Highs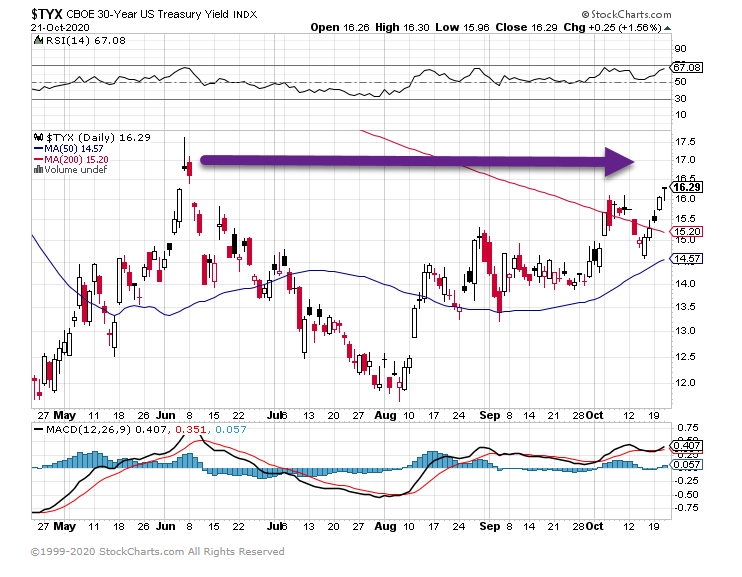 8. GM Breaks Out the Electric Hummer…..350+ Mile Range.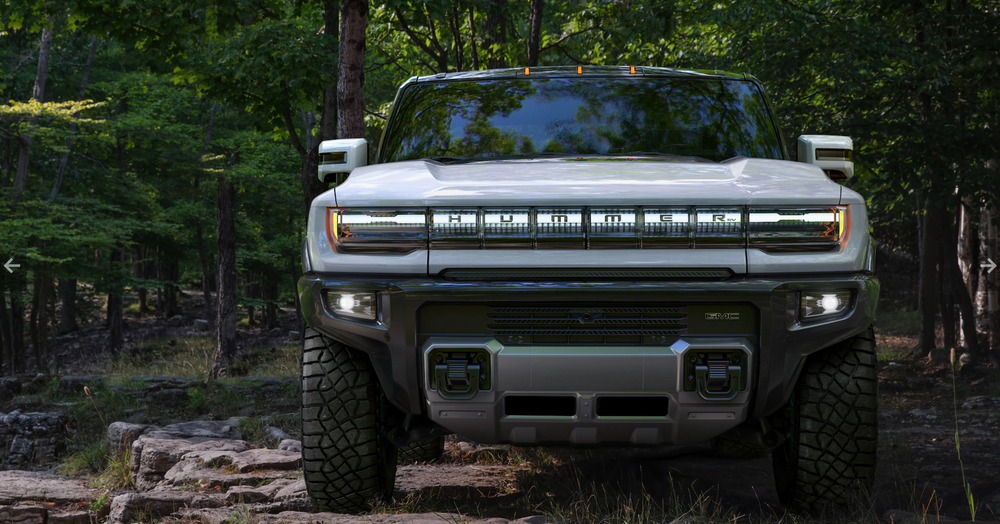 GMC
Starting next year, if your friends roll up in a new Hummer, they can skip the guilt screening of An Inconvenient Truth. GM unveiled the new electric Hummer last night, which features a 350+ mile range, "crab mode" for diagonal off-road movement, driver-assist software, and a digital cockpit system designed with Fortnite creator Epic Games.Under the GMC brand, GM will pump these out at its Detroit-Hamtramck plant, recently renamed "Factory Zero." Once the site of the original Dodge factory, it's now the cornerstone of GM's zero-emission, zero-crash, zero-congestion roadmap. 1 down, many to goBy 2023, GM plans to unveil at least 20 electric vehicles. To get there, it's set aside $4.5 billion to upgrade factories for EV production, including…$2.2 billion for Factory Zero, which will also produce the electric Cruise Origin$2 billion to reconfigure a Tennessee plant to produce the Cadillac Lyriq$300 million for a plant in Orion Township, MIBig picture: The new Hummer is the crown jewel of GM's electric collection. It also gives the legacy automaker a challenger against the upcoming Tesla Cybertruck and the electric Ford F-150.
9. Eight Cyber Mistakes to Avoid
October is National Cyber Security Awareness Month, and you can mark the occasion by taking this cyber awareness quiz. Which of the following scenarios could indicate fraud?
1. A caller from a well-known company says your personal computer is infected with viruses – but he can fix it if you give him access to your system.
Yes – Businesses have no way of knowing from a remote location whether your computer is malfunctioning.
2. You meet someone online who proclaims his or her love for you – but then asks you for money.
Maybe – People can claim to be anyone they want to be online. If someone needs your money, then the chances increase the person isn't telling the truth.
3. You stop by your favorite coffee shop to do a little online shopping.
Maybe – Wi-Fi hot spots can be convenient, but if you're on an unsecured network, other users can see what you see – and what you send.
4. You receive an email stating that you've won a lottery – but you must pay various fees first.
Yes – If you didn't buy a ticket, it would be virtually impossible to win. And no legitimate lottery would ask for money before distributing your winnings.
5. An acquaintance sends you an email with an attachment.
Maybe – Does the email seem out of character for this person? If you're suspicious, delete the email and contact your friend by another method.
6. Your favorite retailer emails you a birthday coupon.
No – But beware of unsolicited offers from companies with which you've done little or no business.
7. You notice that the credit card reader on your gas pump looks odd.
Yes – Someone may have attached a "skimmer" to the reader in order to steal credit card information.
8. You're the winning bidder in an online auction, but then the seller asks you to wire payment to another country.
Yes – There are two red flags here: the request to wire funds and the switch in countries.
Reporting Cyber Theft
Please visit www.ic3.gov to file a complaint with the FBI's Internet Crime Complaint Center. If you have a concern about potential identity theft related to your Edward Jones accounts, please contact your financial advisor.
https://www.edwardjones.com/market-news-guidance/guidance/cyber-awareness.html
10. Seven Proven Strategies to Boost Your Memory


Scott S Shapiro M.D.
The science points to these simple yet effective methods.
Do you wish that you had a better memory?
Would you like to remember the names of people you meet?
How would your life change if you could remember more?
Many people believe that your memory can't improve—that some people just have better memories than others. Fortunately, over the past few decades, scientists have learned more about how the brain works and how to improve your memory.
In this post, I am going to share seven memory-boosting strategies based on the latest research so that you can improve your memory.
1. Write it out—by hand. It is interesting how our education system has changed with the introduction of the computer. Often, students take notes on their computers rather than the "old-fashioned" handwriting. Many students even find it challenging to write by hand. Moreover, people in the workplace mainly use a computer to record notes from meetings and conversations.
However, many research studies have shown that handwriting any material by hand strengthens memory and improves recall. Scientists hypothesize that handwriting incorporates multiple areas of the brain responsible for motor skills, vision, and comprehension.
Thus, you can improve your learning, memory, and retention of information by handwriting information such as lecture material, meeting notes, and any important reading material.
2. Review. Reviewing the information that you are learning is essential. This repetition helps transfer the information from your short-term memory to long-term memory. Studies have shown that the amount of time you spend thinking and engaging with the information increases your memory and understanding.
However, repetition alone is not enough for optimal memory. Thus, incorporating several of the other strategies below will help you remember more.
3. Test Yourself. Reading information over and over again may trick you into thinking that you know the information. However, many studies have shown that subjects who only read the material predicted they would remember more information than they did.
To accurately assess your memory and to enhance recall, testing is important. Test yourself with practice questions, flashcards, quizzes, writing out what you recall, quizzing a friend or colleague, writing out what you remember from a specific section. This process of remembering strengthens the memory in your brain.
4. Focus. Focus is the essential first step for encoding the information into the brain. If there is interference with this step, the information cannot be recalled. Many of us try to multitask while we are trying to learn new information, a lecture, or a meeting. Multitasking interferes with memory. Thus, you can enhance your memory and recall by removing distractions and focusing on only one thing at a time.
5. Space it out. We know from the research that our brains require time to transfer and process material we are trying to learn. Spacing out your learning over many days is more effective than cramming the material in one sitting. For example, actively reviewing information for 10 minutes a day for six days could be significantly more effective than learning the material in a space of time.
6. Exercise. Scientists used to think that the number of neurons that we are born with is the most that we will ever have. However, new research shows that regular cardio exercise greatly enhances the number of neurons in the memory centers. Exercise has also been shown to diminish anxiety and stress which interfere with memory. Thus, if you want to improve your memory, make sure to make exercise a regular part of your life.
7. Create mnemonics. Mnemonics are any technique that supports remembering information. An example is the acronym H.O.M.E.S where each letter stands for one of the Great Lakes starting with Lake Huron and Lake Ontario. Or, when meeting a new person, you might think of someone you know with a similar name. Mnemonics are especially memorable with they are funny or rhyme such as the grammar device, "I before E except after C…".
https://www.psychologytoday.com/us/blog/the-best-strategies-managing-adult-adhd/202010/7-proven-strategies-boost-your-memory
Disclosure
Lansing Street Advisors is a registered investment adviser with the State of Pennsylvania..
To the extent that content includes references to securities, those references do not constitute an offer or solicitation to buy, sell or hold such security as information is provided for educational purposes only. Articles should not be considered investment advice and the information contain within should not be relied upon in assessing whether or not to invest in any securities or asset classes mentioned. Articles have been prepared without regard to the individual financial circumstances and objectives of persons who receive it. Securities discussed may not be suitable for all investors. Please keep in mind that a company's past financial performance, including the performance of its share price, does not guarantee future results.
Material compiled by Lansing Street Advisors is based on publicly available data at the time of compilation. Lansing Street Advisors makes no warranties or representation of any kind relating to the accuracy, completeness or timeliness of the data and shall not have liability for any damages of any kind relating to the use such data.
Material for market review represents an assessment of the market environment at a specific point in time and is not intended to be a forecast of future events, or a guarantee of future results.
Indices that may be included herein are unmanaged indices and one cannot directly invest in an index. Index returns do not reflect the impact of any management fees, transaction costs or expenses. The index information included herein is for illustrative purposes only.