1. 5-Year Breakeven Inflation Rate Back to 2.5%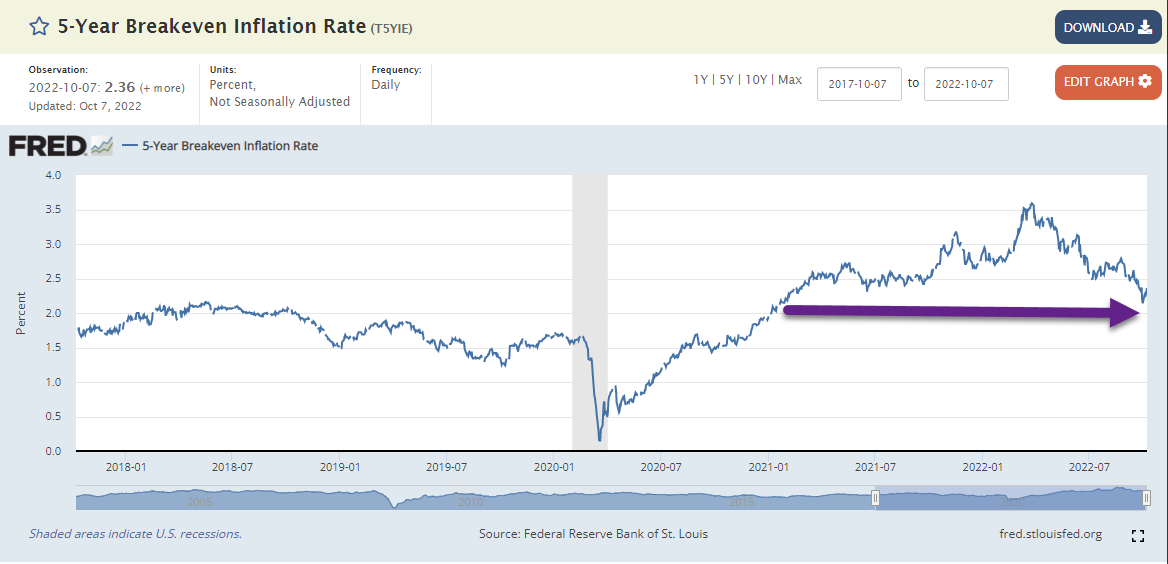 https://fred.stlouisfed.org/series/T5YIE
2. Last Time Sentiment was this Bearish was October 1990
@charliebilello Why Fear is Good
Given the losses outlined above, it should come as no surprise that investor sentiment has soured. Bears outnumbered Bulls by over 43% in a recent AAII Sentiment Survey.
With data going back to 1987, the only times we've seen sentiment more bearish than today was in October 1990 (-20% bear market that bottomed in Oct 1990 w/ a recession in 1990-1991) and March 2009 (week of the lows).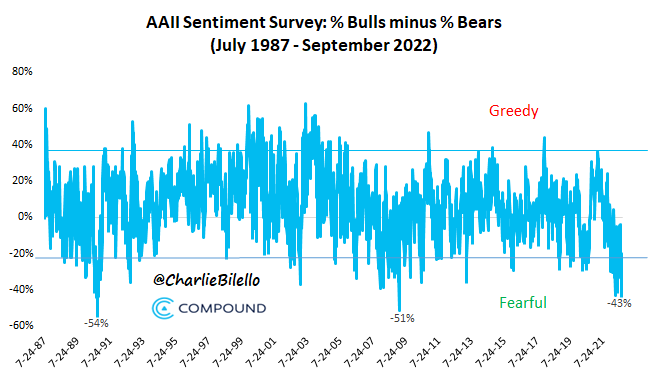 Historically, fear has been good to long-term investors who've embraced it as we've seen above-average forward returns following bearish sentiment extremes. We observe the opposite after periods of extreme greed (high percentage of bullish investors), where forward returns are well below average. This is not to say that stocks can't go lower (they most certainly can), but that the risk/reward is much better today than it was at the start of the year.

3. P/E Ratios of World Markets
Europe hits single digit forward P/E ratios
Barrons -Jack Hough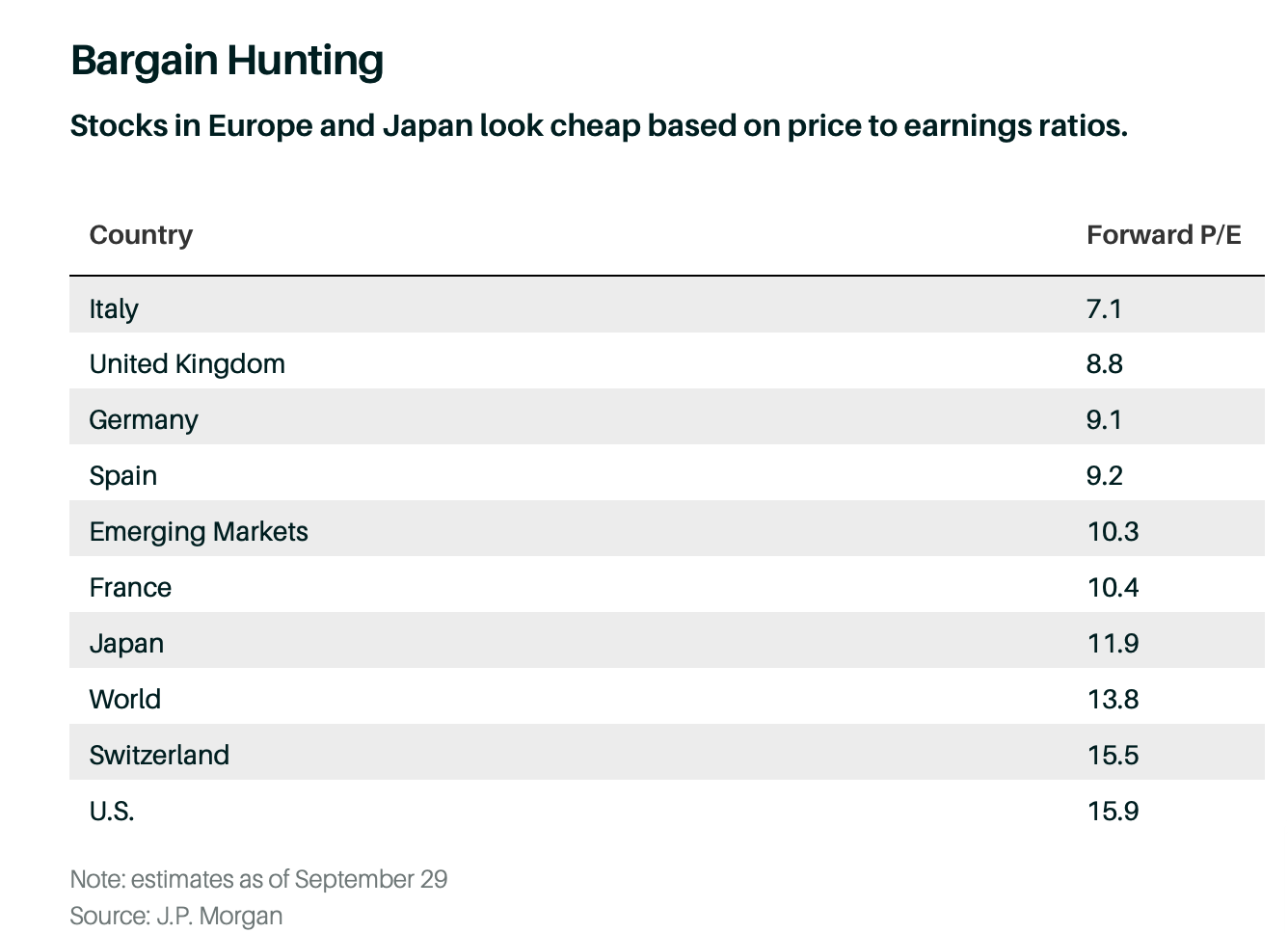 https://www.barrons.com/articles/strong-u-s-dollar-invest-foreign-markets-51665173738?mod=past_editions
4. Covid Favorite Domino's Pizza -45%….Gives Back All of Post Covid Gains.
Domino's Pizza breaks below 2021 support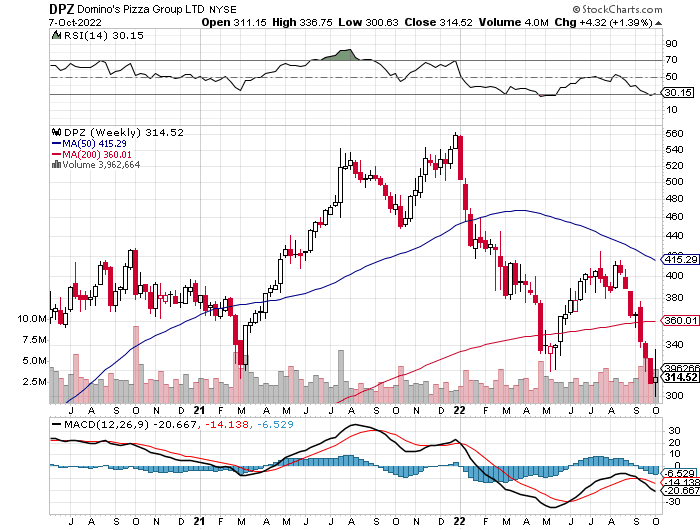 5. Another Fast Food Stock Makes Move to Full Robotics….Robot to prepare 350 meals per hour.
Barrons Chipotle Mexican Grill CMG –1.87% CMG-NYSE
by Stifel
In July, the company revealed a stake in Hyphen—a robotics company that has developed an automated make line. We believe that Chipotle may be nearing a point where it could start testing Hyphen's flagship product, The Makeline. The Makeline has the potential to be a transformational innovation that could largely automate Chipotle's make line, significantly improving throughput and unlocking meaningful labor efficiencies. The Makeline assembles orders via a conveyor system at the bottom of the unit while still allowing employees to interact with guests to select their ingredients. The Makeline can prepare 350 meals per hour, or about three times Chipotle's peak pre-Covid throughput levels. Based on our checks, we would not be surprised if the company announces stage-gate testing in select stores as early as next year. Price target: $1,750. https://www.barrons.com/articles/chipotle-stock-could-heat-up-here-comes-a-speedy-robo-burrito-maker-51665190986?mod=past_editions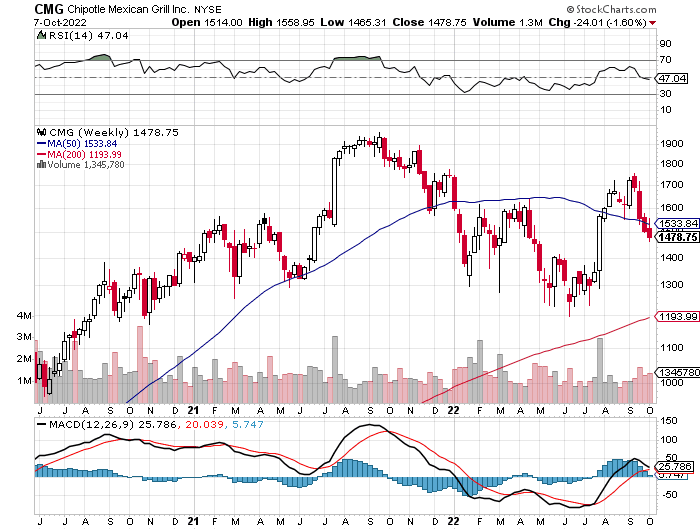 6. Chinese Companies Make Up 56% of EV Battery Market
Chinese Dominance
Despite efforts from the United States and Europe to increase the domestic production of batteries, the market is still dominated by Asian suppliers.
The top 10 producers are all Asian companies.
Currently, Chinese companies make up 56% of the EV battery market, followed by Korean companies (26%) and Japanese manufacturers (10%).
The leading battery supplier, CATL, expanded its market share from 32% in 2021 to 34% in 2022. One-third of the world's EV batteries come from the Chinese company. CATL provides lithium-ion batteries to Tesla, Peugeot, Hyundai, Honda, BMW, Toyota, Volkswagen, and Volvo.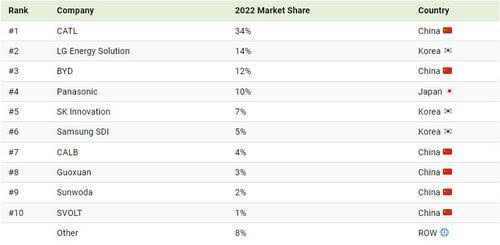 These Are The Top 10 EV Battery Manufacturers In 2022 | ZeroHedge
7. The Future of NYC Office Space? Trending back toward 40% occupied.
Bloomberg The stickiness of flexible work arrangements could reduce the value of New York's office buildings by about $50 billion, according to a new study from the National Bureau of Economic Research. By
Matthew Boyle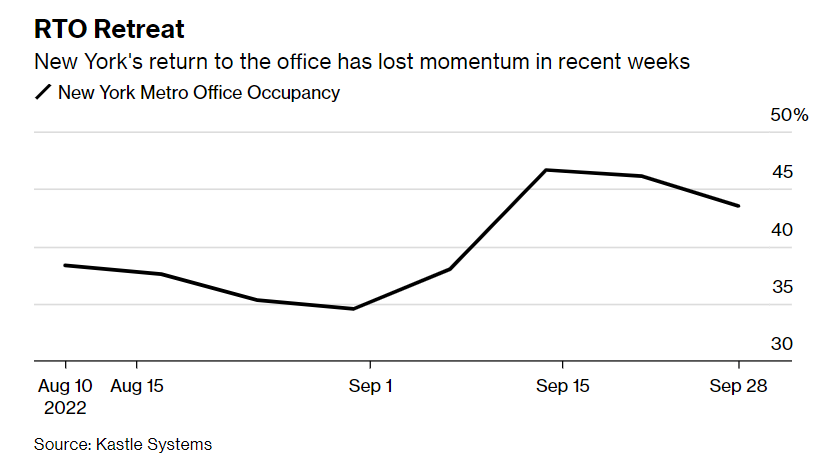 https://www.bloomberg.com/news/articles/2022-10-04/working-from-home-is-sticking-as-return-to-office-stalls?sref=GGda9y2L
8. Homebuyer Demand Collapse in One Chart
@nickgerli1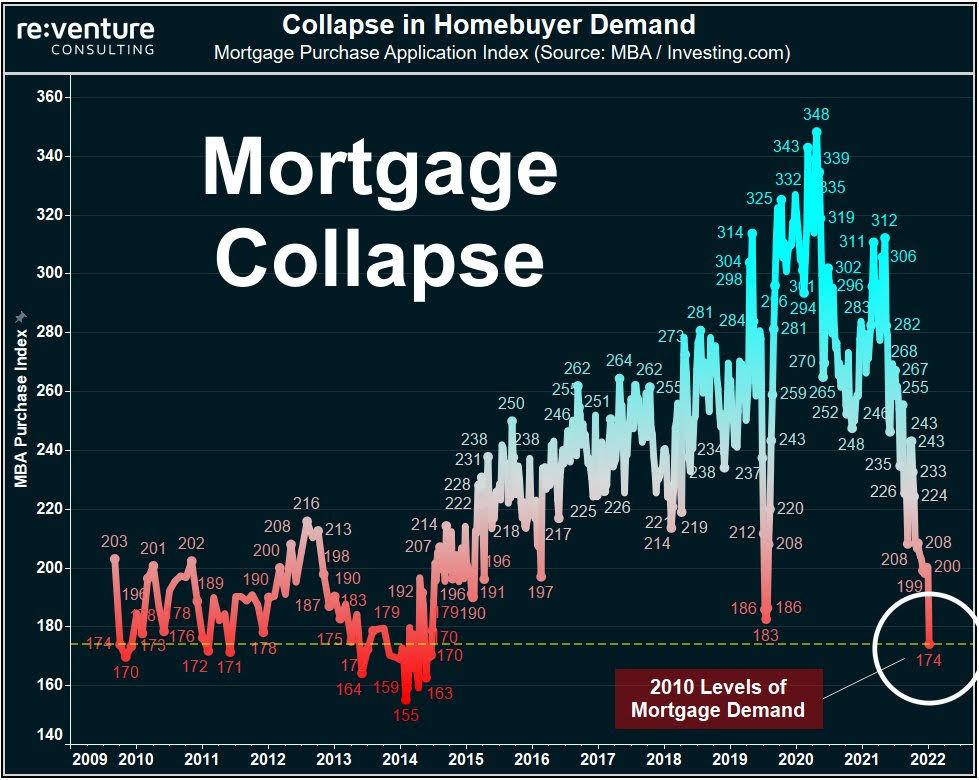 https://twitter.com/nickgerli1
9. Top U.S. Business Schools Report A Dramatic Decline in MBA Applications
The most prestigious B-schools across the U.S. are seeing fewer applicants as prospective students forego grad school to stay in a hot job market.By Alexandra Tremayne-Pengelly
Business School and other top MBA programs are seeing an application decline.
Top business schools across the U.S. are experiencing a steep decline in MBA applications.
The Wharton School at the University of Pennsylvania reported a 13% drop in MBA applications for the 2024 cycle, while Harvard Business School saw applications fall by more than 15%, according to a Wall Street Journal report.
Meanwhile, applications for business schools at Yale University, New York University and the University of Chicago dropped by 10% or more. And they fell by 20% at UCLA's Anderson School of Management, according to Crain's Chicago Business.
A competitive job market and a waning interest in longer master's programs have led to the decrease in applications, which rose during the Covid-19 pandemic as universities extended deadlines and waived certain requirements.
Top U.S. Business Schools Report A Dramatic Decline in MBA Applications | Observer
10. 5 Red Flags That Someone Is Not Fit to Lead People
People leave managers, not companies.
BY MARCEL SCHWANTES, INC. CONTRIBUTING EDITOR AND FOUNDER, LEADERSHIP FROM THE CORE@MARCELSCHWANTES
As an executive coach, I do a lot of listening to managers worried about losing good employees. People-oriented managers understand what they need to do to get the best out of people. I'm not concerned about them.
I am concerned about managers being promoted into leadership roles when they have no business being there. Leadership is demonstrated through competence, not attitude, confidence, or charisma. It takes ability and skills.
That's why the single biggest decision any organization will make is whom they name manager. When you name the wrong person manager, nothing fixes that bad decision.
We've all heard this tune play like a broken record: People leave managers, not companies.
So what have I seen over the course of 20 years that proves, beyond a shadow of a doubt, that someone is not fit to lead?
1. Managers who look after only themselves
These managers aren't concerned with fulfilling the company mission or aligning team goals to organizational objectives. It's about their individual performance and getting that annual bonus. Managers with this attitude are playing for the name on the back of the jersey and are concerned only about their own accomplishments and how they look to their superiors.
2. Narcissistic tendencies
This manager often belittles a team member's work and might even ridicule staff at meetings. When he needs something from you, he may become threatening. At his most toxic, he will make you doubt yourself and your ultimate value to the company.
3. Treating people like numbers
In top-down power structures, employees are considered to be objects or expenses rather than assets; there is little concern for their happiness or well-being since the motive for hiring them was purely productivity and profit. In these pressure-cookers, there's little evidence of leaders displaying compassion and empathy in seeing employees as valued human beings. As a result, you'll encounter high levels of stress, turnover, absenteeism, and burnout.
4. Too much control
The work environment is overbearing and stifling because managers want control over all decisions. Such managers distrust the team, so tasks rarely get delegated to others. There's hardly room for group discussion or input because the management style is autocratic, which limits creativity and the team's desire to learn new things.
5. Taking the spotlight from the team
The team puts together a wonderful product and the client is happy with the results. And then it happens: The manager takes all the credit. No praise for the team, no celebration of everyone's success, no recognition of team members for their contributions. This type of manager will steal the light and thunder away from the team, which is a total employee-engagement killer.
https://www.inc.com/marcel-schwantes/5-red-flags-someone-is-not-fit-to-lead-people.html?cid=sf01003