1.Quarterly and Year to Date ETF Winners and Losers.

2.10 Year Treasury Yield Still Below 2021 Highs.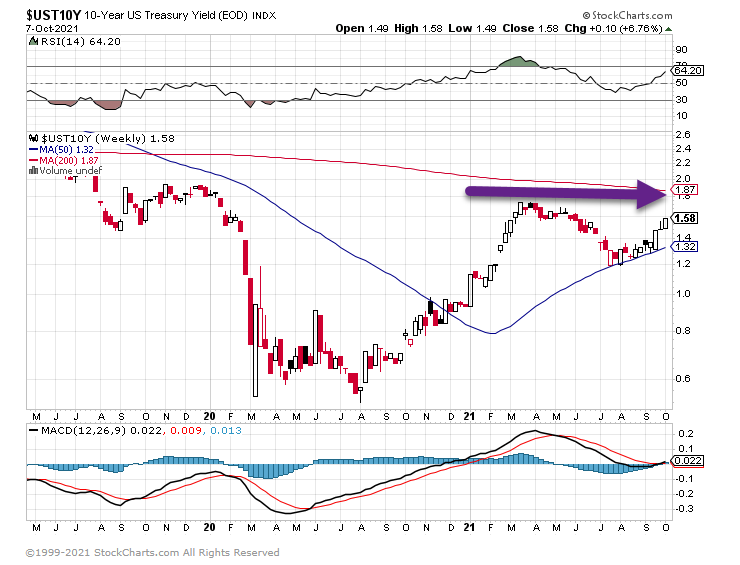 U.S. Dollar Hits High for 2021….approaching late 2020 levels.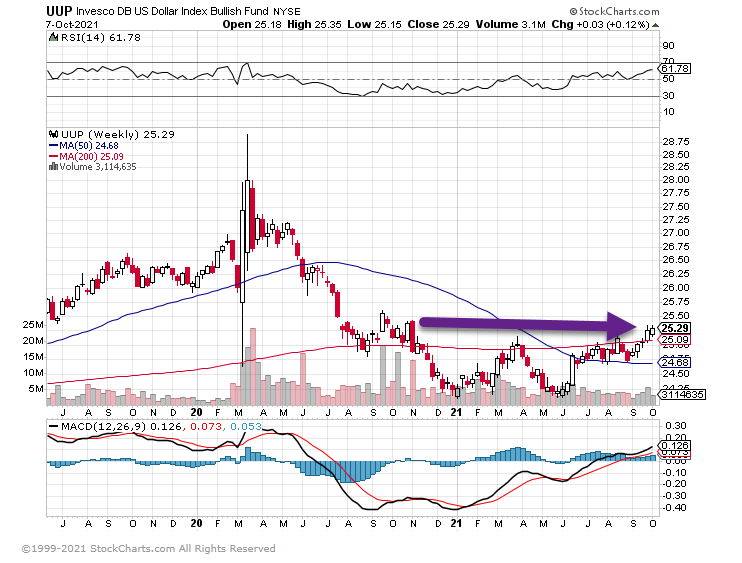 3.Stats for Q4 Based on 2021 So Far……….
LPL Research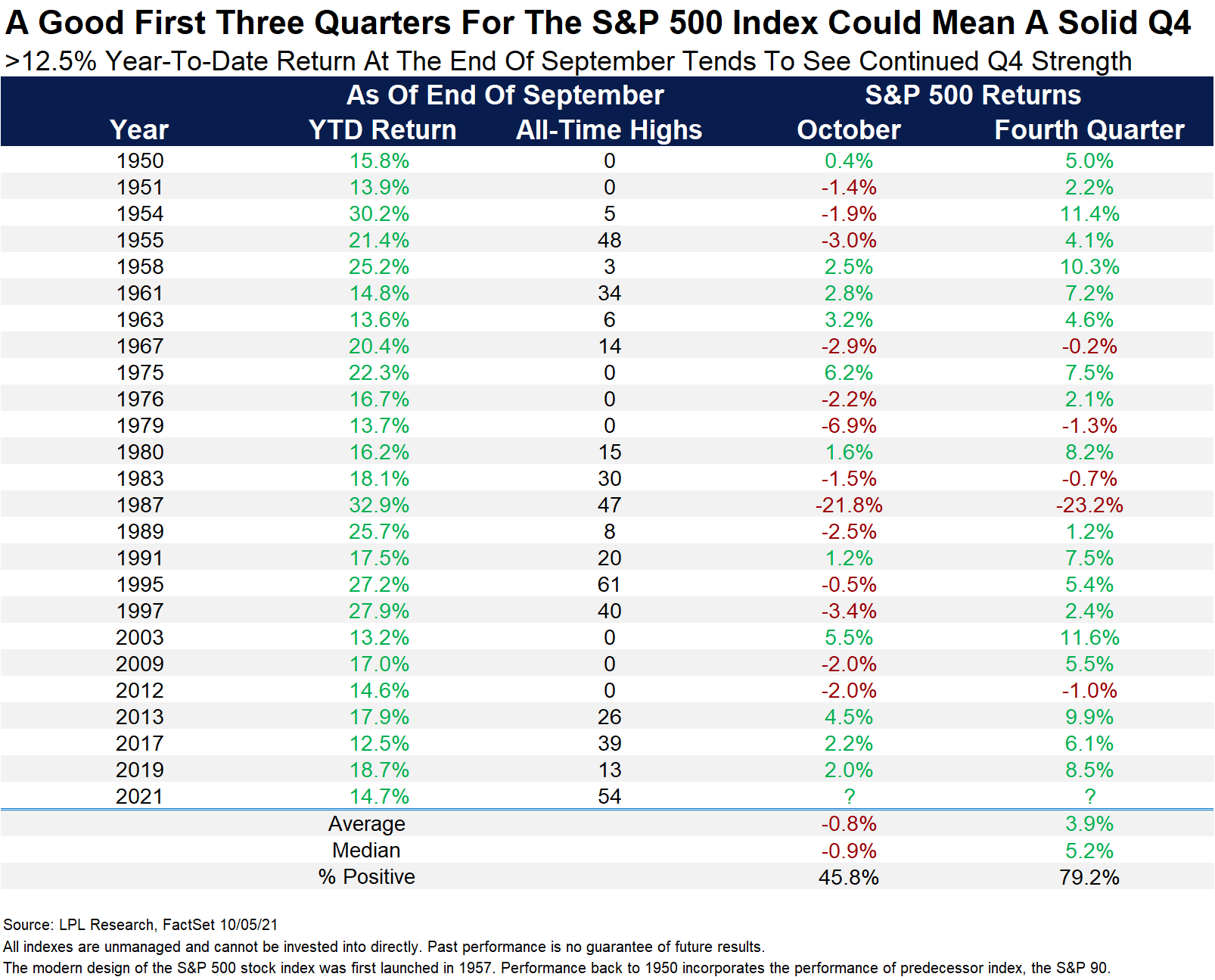 https://lplresearch.com/2021/10/06/the-most-important-chart-in-the-world/
4. U.S. Cash Deposits Have Greatly Outstripped Loan Growth
Blackrock—Rick Reider Yet even with new liquidity injections becoming greatly diminished, the existing stock of liquidity, both domestically and globally, is historic, with investors who are sitting on cash salivating over any yield, or return potential, of reasonable quality that looks to be available. In fact, growth in cash has far outpaced growth in loan demand since the onset of the pandemic, leaving banks flush with deposits and starved for yield (see Figure 2). As a result, trillions of dollars in bank deposits continue to compete with traditional fixed income investors for relatively scarce high-quality assets.
Figure 2: U.S. Cash Deposits Have Greatly Outstripped Loan Growth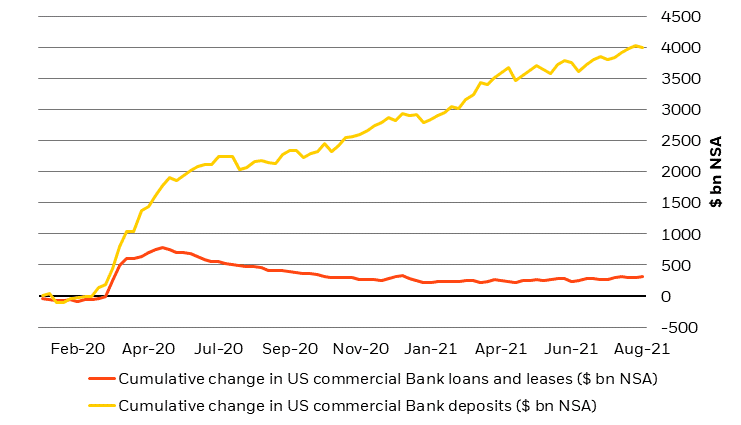 Sources: Federal Reserve and Bloomberg, data as of August 31, 2021
Indeed, there is so much cash (liquidity) in the world and such low yields that one might even forget that in an equilibrium state the "beach ball" floats on the surface of the water. Having posted roughly a 12% total return year-to-date, through September 14, the 60/40 balanced portfolio (60% S&P 500, 40% U.S. Aggregate Bond) is on pace to beat 2020's handsome return of 14%. But unlike in 2019 and 2020, in which both the equity and fixed income sides of the portfolio contributed to total returns, in 2021 so far only the equity portion has made a positive contribution. The fact is that from these levels of yield, it is extremely difficult to preserve purchasing power in fixed income, revealing the difficulty in getting the "40%" of the balanced portfolio to contribute to price returns.
Follow Rick Rieder on Twitter
https://www.blackrock.com/us/individual/insights/beach-ball-investment-pool
5.Technology Stocks and Energy Stocks Performance Around Interest Rates….
Rising Rates Tech Underperforms 44% of Time.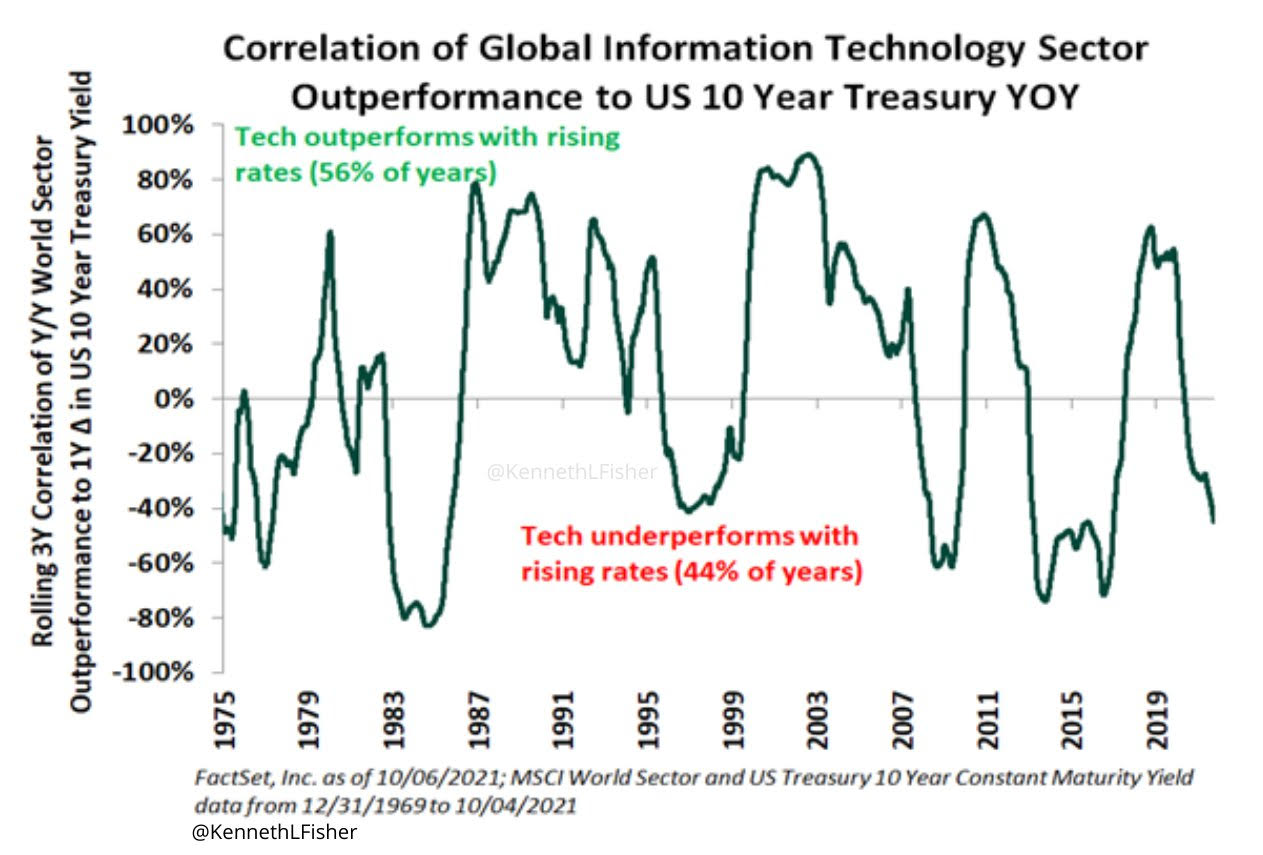 Energy Rising Rates Outperforms 53% of Time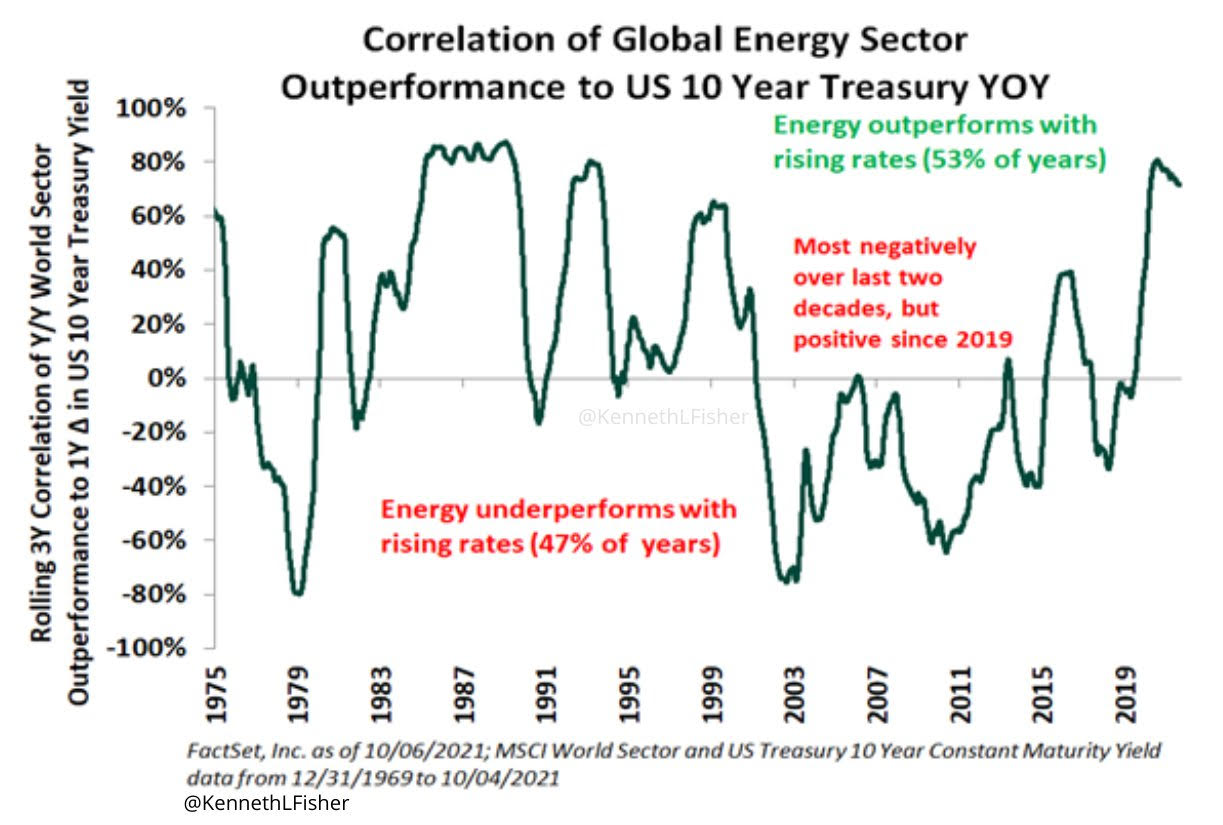 https://twitter.com/KennethLFisher
6.Bitcoin/Crypto ETFs Still Not Imminent….Invesco Rolls Out Two Funds….Crypto Flows $90m Last Week
Invesco ETFs Offer 2 Angles On Crypto
While the U.S. still awaits the arrival of the first bitcoin ETF, Invesco has rolled out two funds that cover the cryptocurrency industry, but with one crucial difference. While the Invesco Alerian Galaxy Blockchain Users and Decentralized Commerce ETF (BLKC) takes a broader view and includes the category identified as blockchain users, the Invesco Alerian Galaxy Crypto Economy ETF (SATO), purely focuses on the cryptocurrency industry itself.
The indexes underlying the new ETFs were developed by cryptocurrency giant Galaxy Digital in partnership with Alerian.
Both funds come with expense ratios of 0.60% and list on Cboe Global Markets.
"Today's launch opens up a new way for investors to access this fast-growing asset class, combining exposure to key companies in the cryptocurrency and blockchain ecosystem with an allocation to an  investment vehicle that directly holds digital assets, all within the ETF wrapper," said John Hoffman, head of Americas, ETFs and indexed strategies at Invesco.
BLKC tracks the Alerian Galaxy Global Blockchain Equity, Trusts and ETPs Index, which includes cryptocurrency miners, providers of supporting technologies, crypto buyers and blockchain users that are researching and developing blockchain technologies for uses other than cryptocurrencies. That last category opens the fund up to a range of other types of companies like Accenture, Facebook, Citigroup and Walmart, according to Hoffman.
He notes that the fund offers broad exposure to blockchain as a technology.
SATO, on the other hand, covers all of those categories except for the blockchain users, offering a "more precise solution," Hoffman says, describing the fund as more of a pure play around the miners, the technologies and the buyers of cryptocurrencies than its counterpart. It tracks the Alerian Galaxy Global Cryptocurrency-Focused Blockchain Equity, Trusts and ETPs Index.
SATO has 39 components in its underlying index compared to the 60 in BLKC's index, a fairly material difference that results in very dissimilar returns when viewing the benchmarks' performance histories. However, both funds' indexes include a 15% weighting to the Grayscale Bitcoin Trust (GBTC), so there is some direct exposure to bitcoin in both portfolios.
Contact Heather Bell at heather.bell@etf.com
https://www.etf.com/sections/daily-etf-watch/invesco-etfs-offer-2-angles-crypto
Takeaways
By James Butterfill
Digital asset investment products saw inflows of US$90m last week, marking the 7th consecutive week of inflows, totalling US$411m.
Bitcoin saw inflows of US$69m last week. We believe this decisive turnaround in sentiment is due to growing confidence in the asset class amongst investors.
Ethereum saw another week of inflows, totalling US$20m, although it has conceded market share to Bitcoin in recent weeks, having fallen from a peak of 28% to 25%.
Despite improving inflows across investment products, volumes remain low, at US$2.4bn last week, compared to US$8.4bn in May 2021.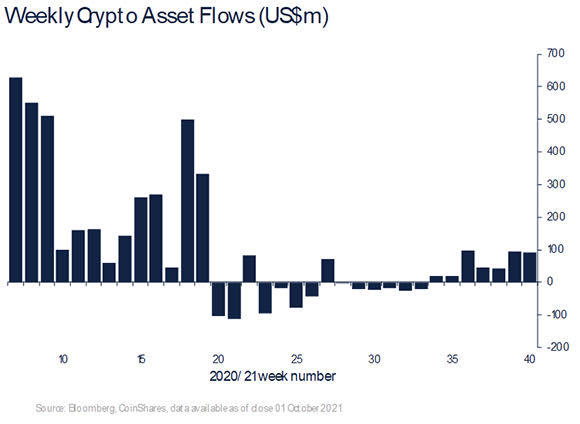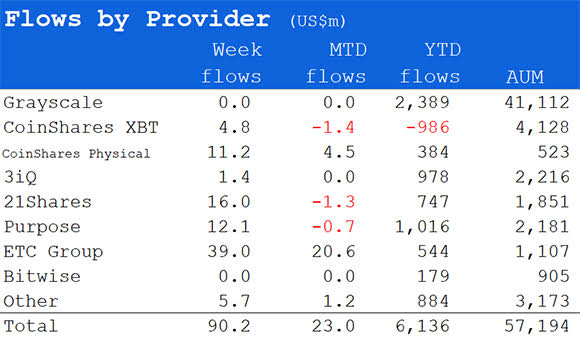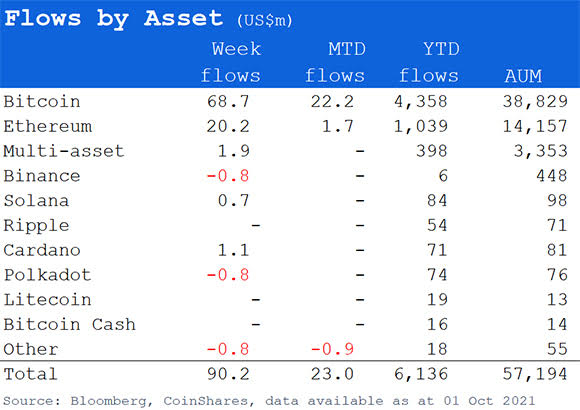 Digital asset investment products saw inflows of US$70m last week, marking the 7th consecutive week of inflows, totalling US$390m.
https://www.etf.com/sections/bitcoin-crypto/69m-flows-bitcoin-funds-last-week
7. 4 Surprising Things That May Increase How Much Your Home Is Worth
BY WHITNEY RICKETTS ON 26 JAN 2018DATA
Does your home offer any of the perks some buyers will pay more for?
To understand how much your home is worth, you have to know what affects its value. The Zestimate home value is Zillow's tool for extrapolating the real market value of your home, based on existing home-related data and actual sales prices in your area.
Thousands of data points correlate with home values and sale prices — some of which are obvious (like the condition of the home) and some that aren't.
Here are several surprising things that can affect either the existing value of your home or the price someone is willing to pay for it, all based on data.
1. Proximity to a Starbucks
How far do you have to drive to get a Frappuccino? If the answer is "not that far," you're in luck.
A 2015 Zillow report found that, between 1997 and 2014, homes within a quarter-mile of a Starbucks increased in value by 96 percent, on average, compared to 65 percent for all U.S. homes, based on a comparison of Zillow Home Value Index data with a database of Starbucks locations.
To evaluate if this effect is isolated to Starbucks, the research team looked at another coffee hot spot (one with particular pull on the East Coast): Dunkin' Donuts.
The data showed that homes near Dunkin' Donuts locations appreciated 80 percent, on average, during the same 17-year period — not quite as high as homes near a Starbucks, but still significantly above the 65 percent increase in value for all U.S. homes.
2. Blue kitchens and blue bathrooms
Beyond America's obsession with curb appeal, what's inside your house counts a lot too — especially the colors you paint the rooms (particularly the kitchen).
According to Zillow's 2017 Paint Color Analysis, which examined more than 32,000 photos from sold homes around the country, homes with blue kitchens sold for a $1,809 premium, compared to similar homes with white kitchens.
Blue is also a popular bathroom shade. The same analysis found that homes with pale blue to soft periwinkle-blue bathrooms sold for $5,440 more.
Walls painted in cool neutrals, like blue or gray, can signal that the home is well cared for or has other desirable features.
3. Trendy features
Joanna Gaines' aesthetic is permeating more than just your YouTube search history. Zillow listings mentioning the shiplap queen's favorite features — like barn doors and farmhouse sinks — sell faster and for a premium, according to a 2016 Zillow analysis of descriptions of more than 2 million homes sold nationwide.
Listings with "barn door" in the description sold for 13.4 percent more than expected — and 57 days faster than comparable homes without the keyword. Meanwhile, listings touting "farmhouse sink" led to a nearly 8 percent sales premium.
Sellers can use the listing descriptions to highlight trendy details and features that might not be noticeable in the photos.
4. How close you are to a city
If you own a home in a major American metropolitan area, you're most likely sitting on a significant (and rapidly appreciating) financial asset. Case in point: Home values in the New York, NY, metro area are worth $2.6 trillion, per a recent Zillow analysis.
The average urban home is now worth 35 percent more than the average suburban home. Since 2012, the median home value in urban areas has increased by 54 percent, while the median home value in suburban areas is up just 38 percent.
https://www.zillow.com/blog/4-things-increase-home-value-224624/
8.Trust in Media Second Lowest Ever
36% in U.S. have a "great deal" or "fair amount" of trust in mass media
68% of Democrats, 31% of independents and 11% of Republicans trust media
Democrats' and independents' trust is down five points since 2020, GOP's flat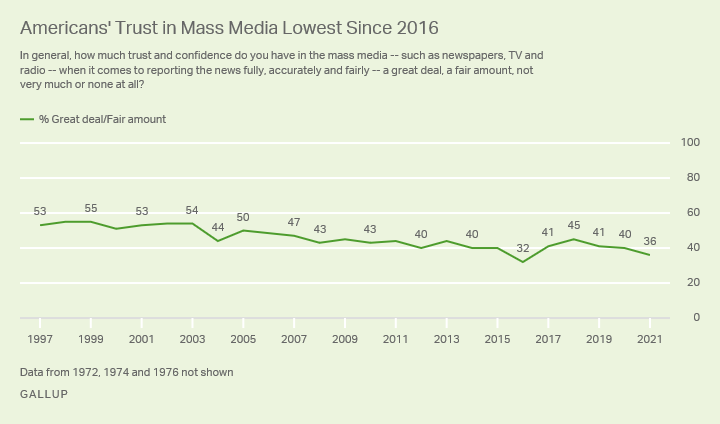 Americans' Trust in Media Dips to Second Lowest on RecordBY MEGAN BRENAN HTTPS://NEWS.GALLUP.COM/POLL/355526/AMERICANS-TRUST-MEDIA-DIPS-SECOND-LOWEST-RECORD.ASPX
9.Chicago Council Public Opinion Survey…..Strengthening Public Education #1
Emphasis on Domestic Renewal
A key feature of the  Foreign Policy for the Middle Class is the link between domestic investments and international influence. The factors seen by most Americans as very important for maintaining US international influence are domestically focused.
Majorities of Americans consider improving public education (73%), strengthening democracy at home (70%), and reducing both racial (53%) and economic (50%) inequality as very important to maintaining America's global influence. Similarly, Americans are more concerned about threats within the United States (81%) than threats outside the country (19%).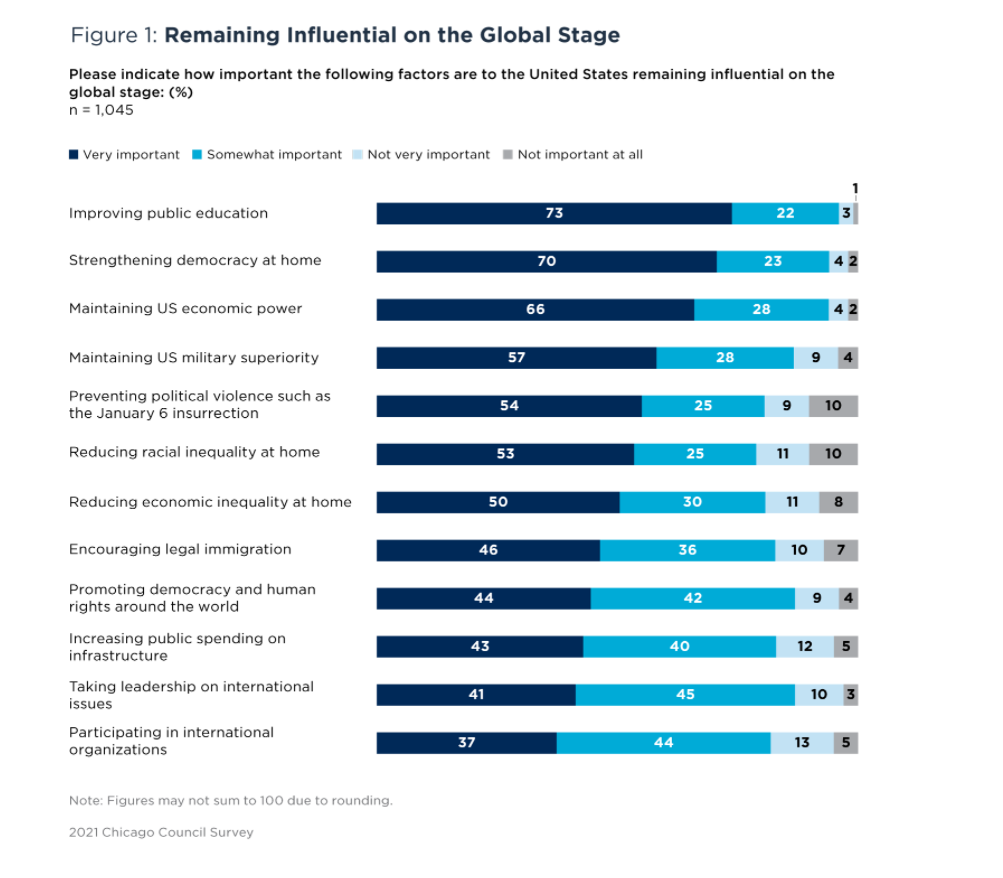 2021 Chicago Council Survey–RESEARCHPUBLIC OPINION SURVEY BY DINA SMELTZ, IVO H. DAALDER, KARL FRIEDHOFF, CRAIG KAFURA, AND EMILY SULLIVAN
https://www.thechicagocouncil.org/research/public-opinion-survey/2021-chicago-council-survey
10.The Secret Formula for Real Financial Success
By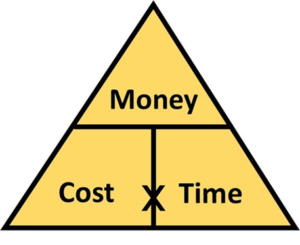 What do you see?
That Money = Cost x Time ?
Or, that Time = Money/Cost ?
Most of us routinely push through the weekdays while we wait for the next weekend to roll around, giving us a moment to choose how we spend and enjoy our time. For those who are merely working to pay the bills, 71% of every week is a total write-off. It's a sad statistic. What keeps us spending an entire life stuck in this funk?
Naturally, we approach life with the view that money comes first, and at a direct personal trade off, according to this standard work-life formula:
Money = Cost x Time
Whether it's working extra weekend shifts or moving your way up the company ladder, with more money comes greater personal cost: more energy being drained, more opportunity costs being lost, more obligations to fulfill — in addition to more quality time being given up. Overall, a piece of our life must be sacrificed. But that's the price we must pay for money, right?
We believe that to be "richer" we need more money. And if we need more money, we must expect to pay a higher cost and trade more of our precious time! What we often seek is a job promotion to raise our income by a few extra dollars a week. Oh… and let's also raise those overtime hours, weekend call-ins, daily responsibilities, pressures and stresses along with it! More money? Yes. A richer life? Hardly.
Unfortunately, most of us never see otherwise. From our grandparents to our parents to us, this is all we have ever known about the experience of life. Could there be any other way to approach The Money Game?
Money vs Real Financial Success
There is clearly a connection between having more money and potentially gaining more value out of life. But as we all know, a richer life is never defined by money alone. Because what about the cost of money?
All money comes in context, and for every dollar of potential value that we gain there must be some personal cost involved. Obviously, not all money comes at an equal cost. Therefore, real financial success cannot simply be based on being a millionaire or a billionaire.
The millionaire who is stuck working a job he hates for 10 hours a day is clearly less successful that the millionaire who could stop working the job he hated 10 years ago. And, of course, the millionaire who made his fortune doing what he loves really hit life's jackpot! Same money but all different levels of personal success.
Even if you manage to amass a BILLION dollars to your name, this money has little value if you must spend your entire life trapped in some airtight, corporate box. This big pile of money is little more than a big pile of stress and sacrifices! So, what is financial success, really? It is not defined by the number in your bank account or the car you drive, but ultimately by the effect that money has on the quality of your life.
Forget about the "big bucks" because real wealth and success are simply about experiencing a life with greater positives and fewer negatives. Therefore, money should have one purpose: to add positive value to our lives. So how can we start to view our finances in a way that reflects what we really want in life?
One Formula to Rule Them All
To experience real financial success, our aim for the future is not to simply focus on money, but to instead focus on time. Of course, when it comes to the value of our time, money plays a crucial role. So, what is the connection between money, time and real financial success?
Real financial success is having the money and lifestyle to spend more time doing what you truly want, while spending less time having to fuss and fight over money and be paying all the personal costs that often come with it. Yet, why do so many of us chase money without ever experiencing any greater sense of freedom and satisfaction? Because real financial success is only possible for those with a totally different perspective on life! What is this perspective?
To change our future finances and lifestyle for the better, it starts with taking life's standard formula: Money = Cost x Time and flipping our natural view. It's now time to see that: Time = Money/Cost
As you can see, the value of your time is equal to your money divided by your life costs – simply, all the negatives that revolve around getting money. With little money the value of your time clearly suffers. And when earning more money at a much higher personal cost, unfortunately life doesn't get much better! However, when we approach life with the aim to increase our money AND decrease our cost, what do you get? More valuable time!
Forget about money alone, because the richer you really are, the greater the value of your time. This imbalance between money and cost is the key to experiencing real financial success.
"The rich invest in time. The poor invest in money" – Warren Buffet
Saving Yourself
The "Average Joe" may believe that frugal investors are boring cheapskates who don't know how to enjoy their money. But what do they often fail to see? As Henry David Thoreau once said: "The price of anything is the amount of life you exchange for it". The true cost of every purchase is not a number
on a price tag, but rather, a period of time spent working. Some might even say a period of time wasted.
Yes, time is money and money is time. Every expense equals an amount of our life being exchanged…or lost! After considering our endless living costs, taxes and even our unpaid overtime and daily commute, what remains is the real, take-home profit that we can freely use. We call this our "real pay rate", which for the average earner may only equal a few measly dollars for each hour given up on the job. So what is that lazy, Friday night food delivery really costing you?
The Price of Life
In the wise and misquoted words of Benjamin Franklin: "a dollar saved is a dollar earned". Every time you save a dollar you earn yourself a dollar (at your real pay rate), literally for doing nothing. And for the smart investor, this saved dollar is just the beginning! Through the nature of passive income and the power of compound growth, every dollar that is saved and invested has the potential to make more money across the future at a low personal cost. Thus, the imbalance of real wealth for the smart investor continues to shift as their money grows.
Consequently, by spending half of your disposable income this week, what you are really spending is half a week of time today and potentially MONTHS of your time in the future! Even small improvements in your daily routine can have a massive impact on your future money and life. By avoiding unnecessary spending you give yourself the opportunity to build more future wealth, and therefore, reduce the amount of your valuable life time that is lost on a routine basis.
Time is Of the Essence
Money is clearly what fuels the journey of life. But is your plan to spend the entire journey stuck at the gas station, refilling your tank? If you're truly ambitious, life can often feel like a race against the clock. Like you, most frugal investors have a million and one things to tick off their bucket list. And of course, doing paperwork in an office cubicle is not one of them!
Our true aim for the future can only be to maximize the amount of our "life time" that we spend in a way that we consider most personally valuable. So why not fight for your financial freedom? Remember, Time = Money/Cost. The aim of real financial success is to boost the value of your time in life by carefully maximizing your money whilst minimizing your costs. And it takes a natural focus in life towards:
1.         Making money doing what you truly enjoy
2.         Creating passive income
Think about the lifestyle of someone who is truly financially successful. They are paid from their passions while their money is making money at little personal cost: thereby giving them much greater satisfaction, freedom and opportunity to gain more value out of life — the total sum of their time! All money has lifelong potential, and those who are on the path to real financial success recognize the value of every dollar…and every day.
This is the secret to real financial success!
https://addicted2success.com/success-advice/the-secret-formula-for-real-financial-success/