1.Gallon of Regular Gas Hits 2014 Levels
Bespoke Blog-Regardless of seasonal patterns, the recent increases leave the national average for a gallon of regular at the highest level since October 2014 which hurts consumers where it matters most- the wallet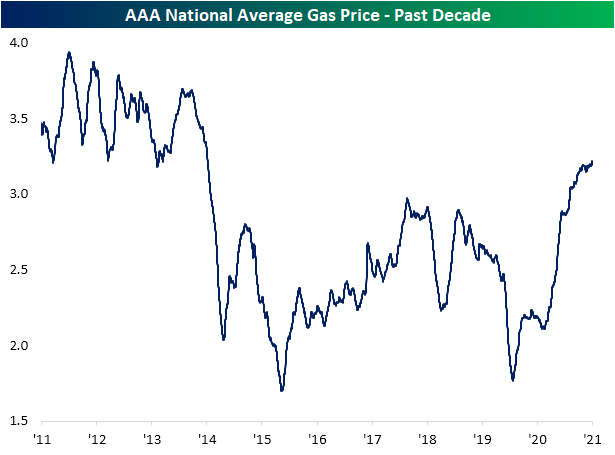 https://www.bespokepremium.com/interactive/posts/think-big-blog/gas-prices-bucking-seasonal-trends-or-are-they
2.The Drop in Energy Capex as ESG Took Center Stage.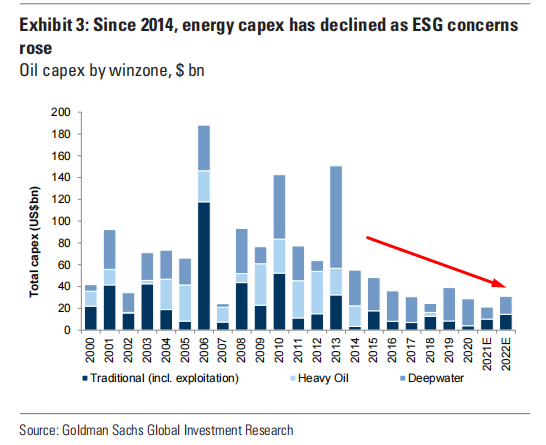 Energy Is Breaking Out: Is It For Real?by Chris Yates of Archeron, 10/6/21
3.New Vehicle Sales Drop for 5th Month in a Row
Wolf Street -The industry-standard Seasonally Adjusted Annual Rate (SAAR) of sales – which adjusts for the number of selling days per month and for seasonal factors, and converts the monthly sales into what sales would be for an entire year – plunged for the fifth month in a row, by 29% year-over-year, to 12.2 million units SAAR, the lowest, outside of the two lockdown months, since June 2011 ,according to data from the Bureau of Economic Analysis.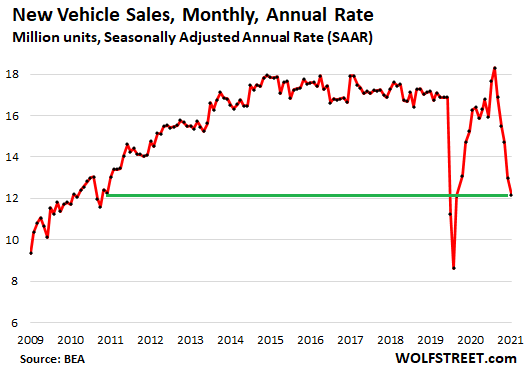 https://wolfstreet.com/2021/10/05/new-vehicle-sales-plunge-as-prices-soar-amid-supply-chain-chaos-chip-shortages-depleted-inventories/
4.FANG+ stocks are not all that expensive relative to the rest of the market.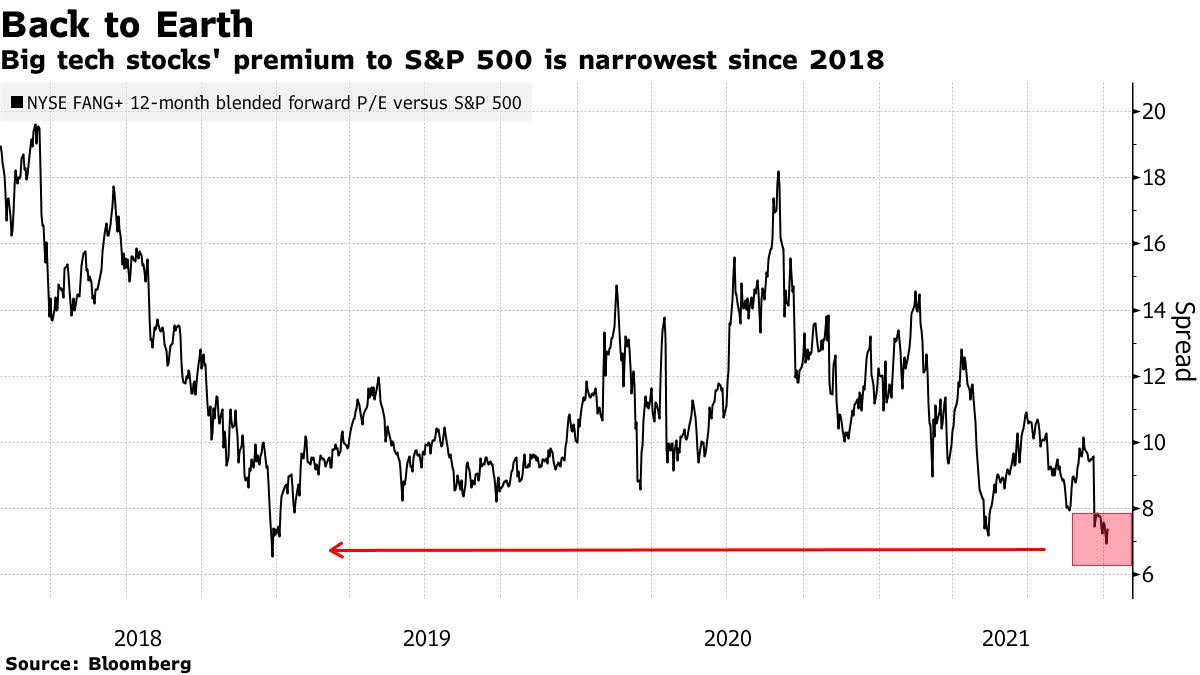 Food for Thought: States with the highest and lowest business cost affordability:
5.Facebook -15% Correction
Holding 200 day but 50 day rolling over pointing downward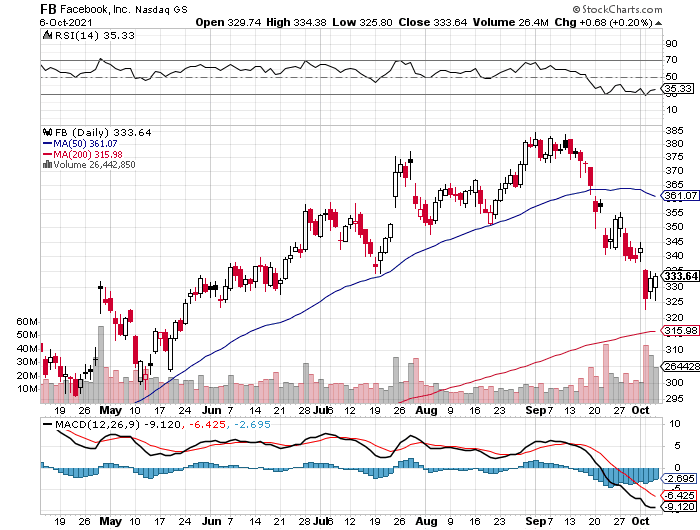 6.China Sumary-What are these Developments About?
What are these developments about?
Access to data and monopolistic practices: Data is the new gold. This year we have seen more regulations on anti-monopoly practices and data protection which are all meant to protect internet users and "national interests". Action in these areas is common and largely in line with the global trend that governments around the world are trying to achieve particularly in North America and Europe. Implementation is easier said than done and the West has struggled. For example, we have seen Facebook, Google, Amazon being called to answer to the Congress or Parliaments in the US and Europe, many times, with limited change in the aftermath. This is not the case in China. It can be perceived as forceful to us in the West, when the Chinese Government makes a new regulation (as they have done in relation to data for example) and the rule is effectively implemented the next day. No consultations, no grace periods, just compliance.  Time will tell if they are effective.
Rise of the superstar entrepreneurs: While it was accepted that some will get richer before others, no one expected the super stars of the tech industry (which the government in some ways helped to create by restricting foreign competition) would gain such wealth and prominence. This "power" seemed to have been tolerated for several years but it is now clear that the Government is putting them back in check and should anyone fall out of line (Jack Ma), there will be repercussions.
The Government now wants more children but not its citizens: While the one child policy was removed, we have not seen a jump in the Chinese birth rate which indicates that citizens no longer want large families largely because of the high costs of housing, education and so on. This is the direct linkage to the reforms in the education and the real estate sector which were getting unaffordable for the common man.
Dual Circulation Strategy: This is China's masterplan to become self-reliant in terms of resources and technology through its huge market as well as through third markets available through the Belt Road Initiative. This means the Government taking back control on how capital and resources are getting allocated as it was unhappy with excessive greed and money sloshing around in few sectors (technology) while the capital could be better allocated to infrastructure, semi-conductors, clean energy, healthcare services and its Belt and Road Initiative.
President Xi Jinping must project strength: While there are of course no actual elections in China, as President's second term approaches its end, he would like to establish himself as the strong man to lead China further. This perhaps explains the coinage of "Common Prosperity", to be perceived as someone who is working for everyone, especially the underprivileged. It is also the likely explanation for hardening of the foreign policy with territorial disputes with several of its neighbours and the use of strong-arm tactics in Hong Kong and then of course dialling up "One China Principle" rhetoric with Taiwan.
"Common prosperity" as the national goal. In the past few months, there has been a new buzz term coming out of China – "Common Prosperity,". The market has been nervous about what it means, in simple terms, its about reducing income inequality and redistributing wealth. In the past 30 years China has lifted hundreds of millions of people out of poverty, however, the economic growth has also caused increasing inequality. Of course a wealth cap is not unique to China, but it has a much wider gap than many other places in the world. Like many other countries, the Covid-19 pandemic has made the situation even more acute. Income inequality or wealth gap is one of the key risks that could destabilise economies and challenge social stability, something the President and Government are keenly aware and simply cannot tolerate – they are determined to tackle the problem. Common Prosperity is about taking care of many rather than few (not surprising in a communist regime). For example, giving a fair share to the low-income worker and those in the supply chain, especially in the agricultural sector and other stakeholders in the community affected by the business development. This has the potential to be one of the largest redistributions of wealth ever seen and is ultimately key to social cohesion that the going forward. This does not mean an attack on profits or growth but a more equitable distribution across a larger portion of society.
https://www.bmogam.com/viewpoints/emerging-markets/why-did-china-go-after-its-own-what-to-expect-next/
7.Migration South Driven by Business Friendly Environment
8.Netflix Squid Game a Massive Hit.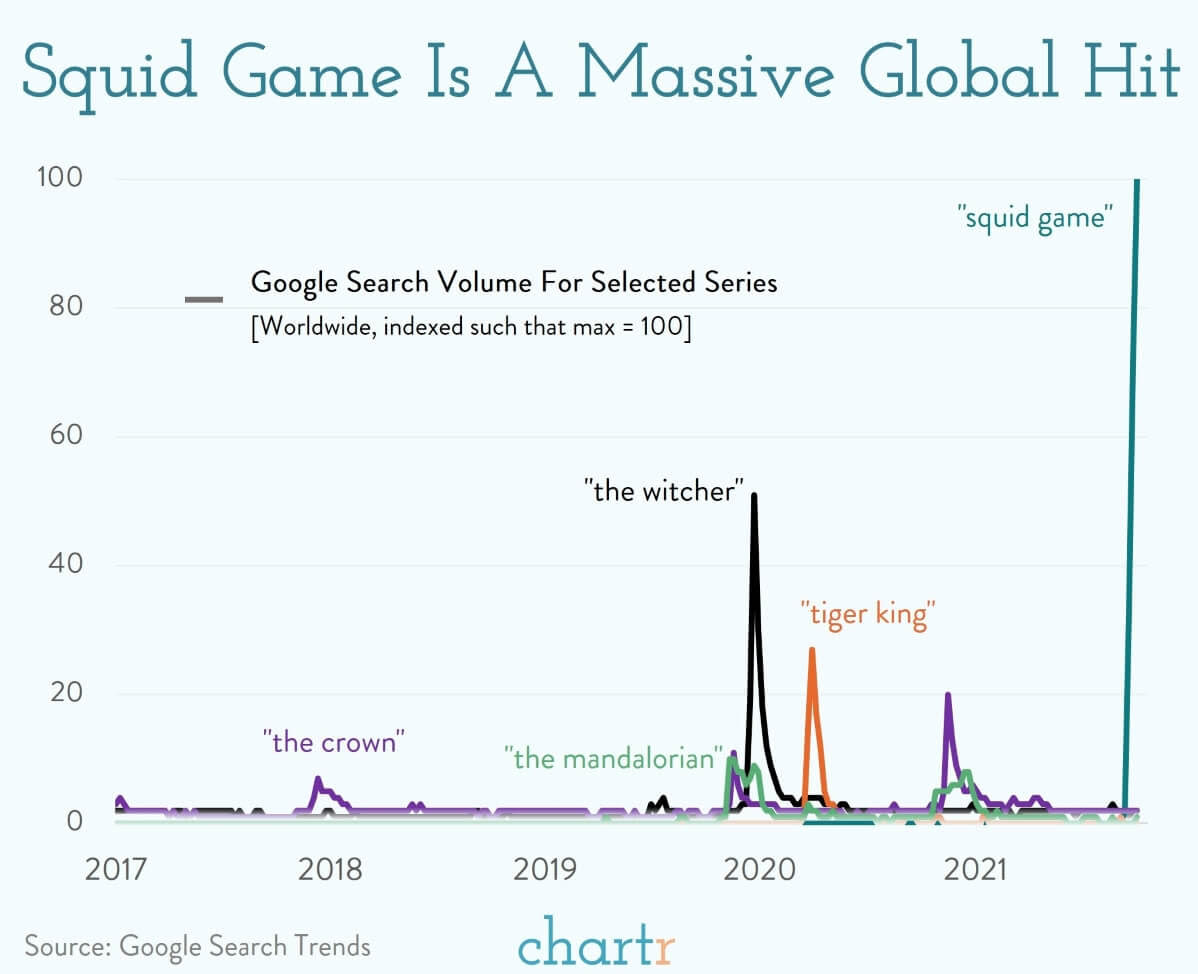 South Korean show Squid Game has officially gone viral, as millions around the world have tuned in to watch the hunger-games-style drama, which sees hundreds of contestants battle it out in life-or-death games.
Google searches for the show, which was originally released on September 17th, have eclipsed relative search volume for other viral shows like The Crown, The Witcher, Tiger King and The Mandalorian. Netflix's co-CEO, Ted Sarandos, even confirmed that it was on track to become Netflix's most-watched show in any language in the company's history.
K-POP
South Korea has had a stunning influence on global pop culture in the last decade, starting with Psy's Gangnam Style in 2012. Since then K-pop sensations BTS and Blackpink have become two of the biggest bands in the world, thriller Parasite won the Oscar for Best Picture in 2019, and now Squid Game is breaking records in the age of streaming.
9.Rising Share of U.S. Adults Are Living Without a Spouse or Partner…4 in 10
Pew Research On key economic outcomes, single adults at prime working age increasingly lag behind those who are married or cohabiting
BY RICHARD FRY AND KIM PARKE
As relationships, living arrangements and family life continue to evolve for American adults, a rising share are not living with a romantic partner. A new Pew Research Center analysis of census data finds that in 2019, roughly four-in-ten adults ages 25 to 54 (38%) were unpartnered – that is, neither married nor living with a partner.1 This share is up sharply from 29% in 1990.2 Men are now more likely than women to be unpartnered, which wasn't the case 30 years ago.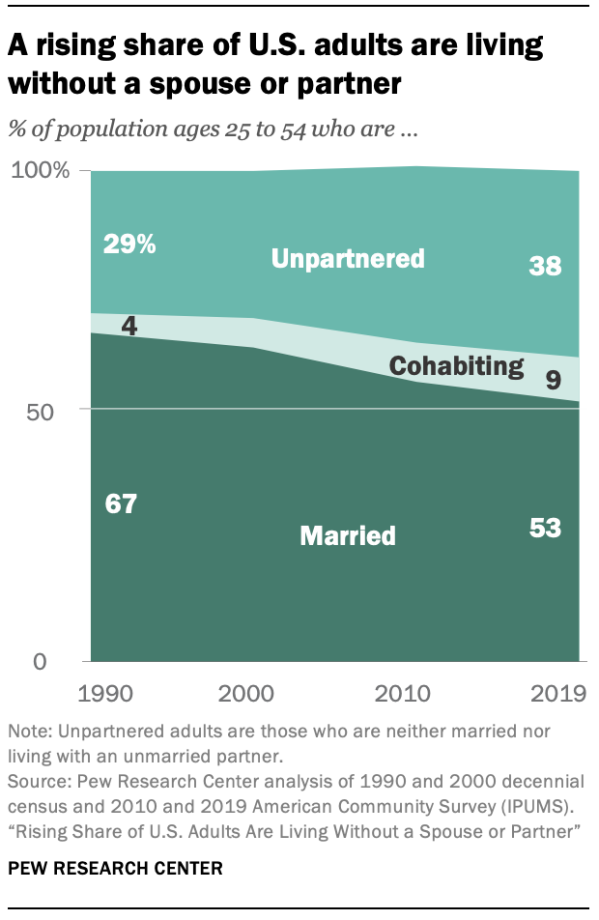 https://www.pewresearch.org/social-trends/2021/10/05/rising-share-of-u-s-adults-are-living-without-a-spouse-or-partner/
10.A Few(er) Good Me
Each of the following trends, in isolation, is perplexing. In concert, they are disturbing: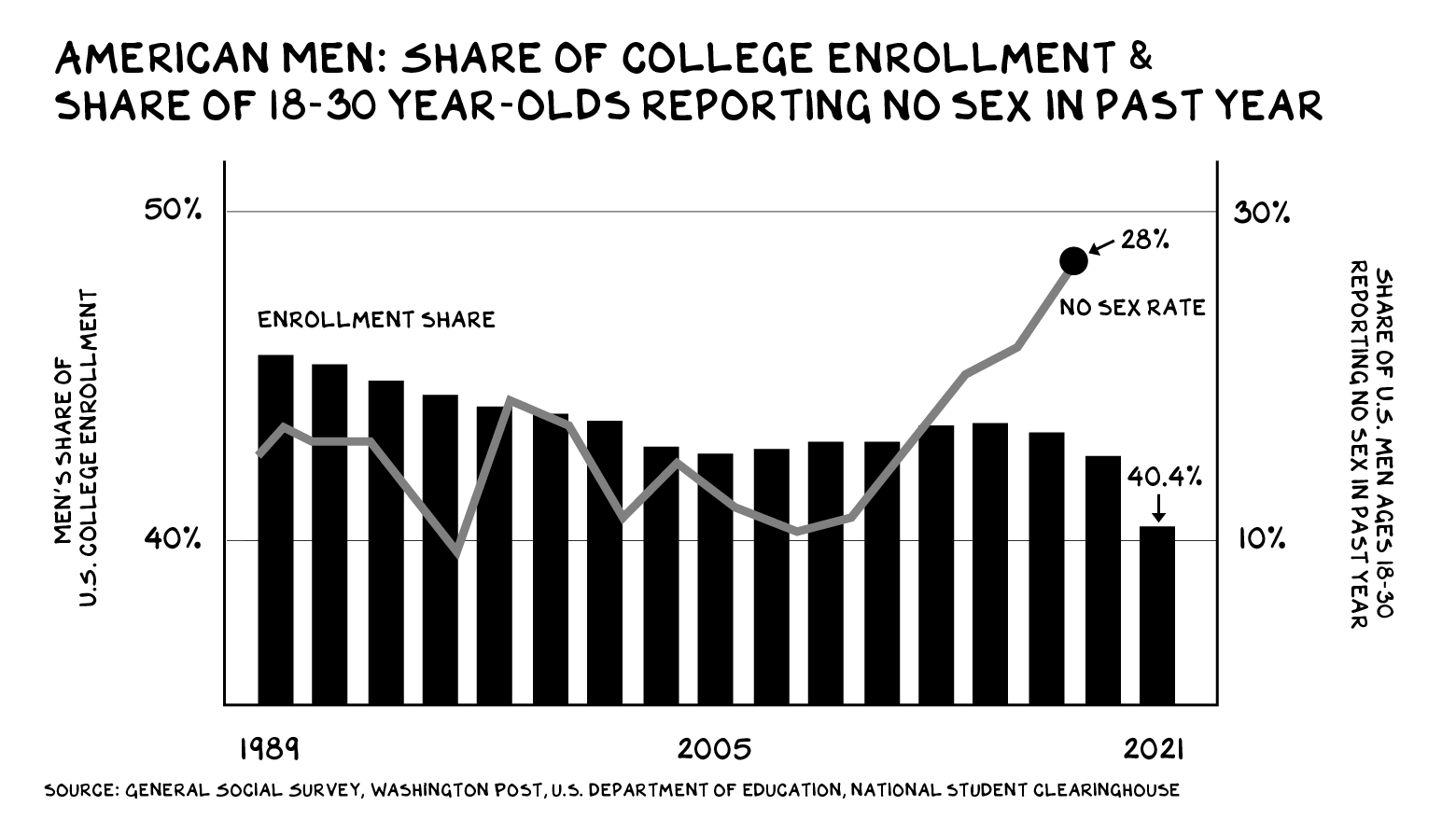 I've mentioned this topic before, highlighting an emerging crisis among young men, and it elicits a range of emotions and responses — especially in the reductionist world of social media.
Neither the sex lives of young American men nor their relative rate of college attendance is that striking by itself. Except to the men involved. What should trouble all of us is what these statistics portend.
Family Matters
Families are the foundational element of society, and most successful families are the product of an intimate relationship between two adults. The most important decision most of us make in life is whether and whom to marry, and the most important person in our adult lives is our mate. Married people are 77% wealthier than single people, and their net worth typically increases 16% each year they're together. Married people live longer and are happier than single people. Higher marriage rates are correlated with greater GDP per capita, greater economic mobility, and a reduction in child poverty of as much as 80%.
The path to forging these relationships typically involves sex. If a young adult hasn't had sex in the past year, it's unlikely that person is on the path toward a long-term bond with someone. To be clear, I'm not suggesting that it is any one group's responsibility to sexually "service" another. What we need to be thoughtful about is how our policies and attitudes ensure that the most people have the opportunity and motivation to pursue long-term, productive relationships.