1. Credit Suisse CDS Hits 2008 Levels.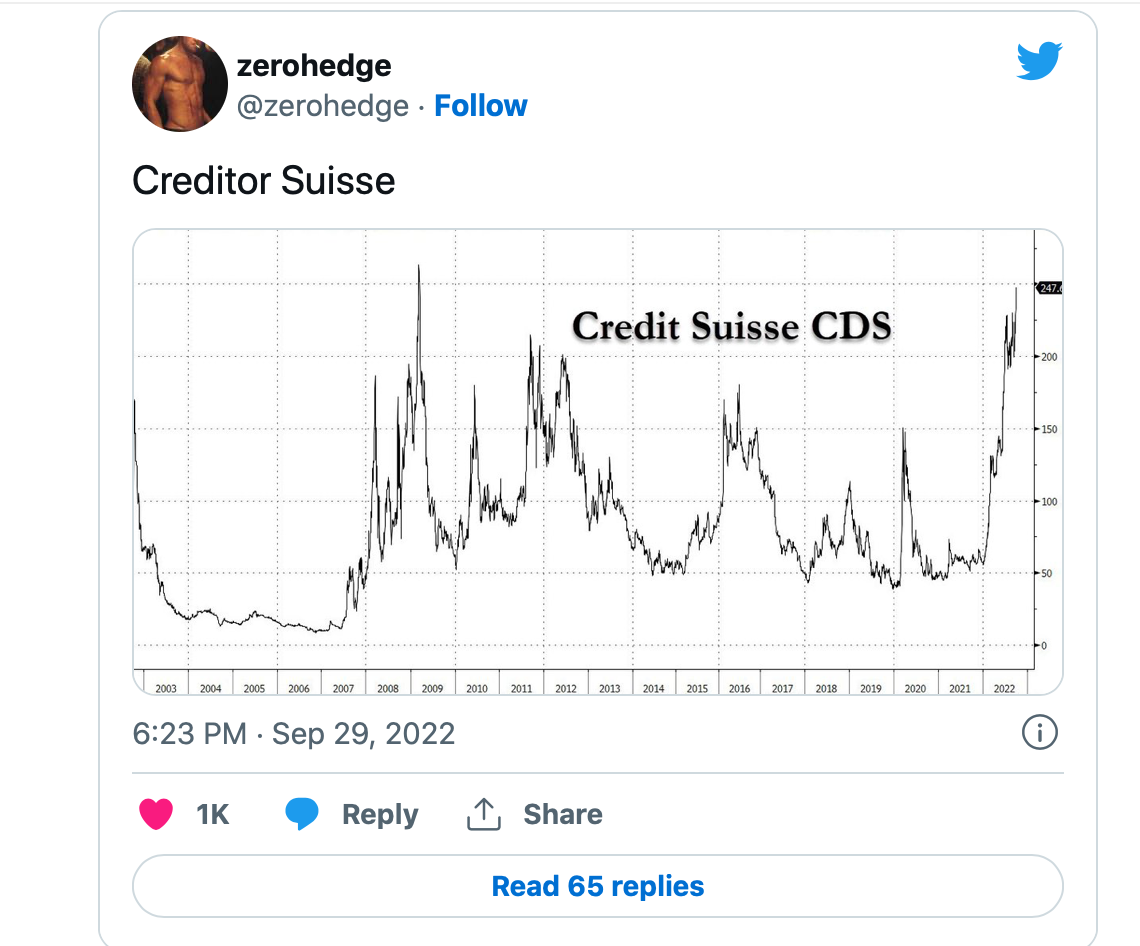 https://twitter.com/zerohedge/
---
2. Is the Dollar Finally Hitting a Pause in Rally?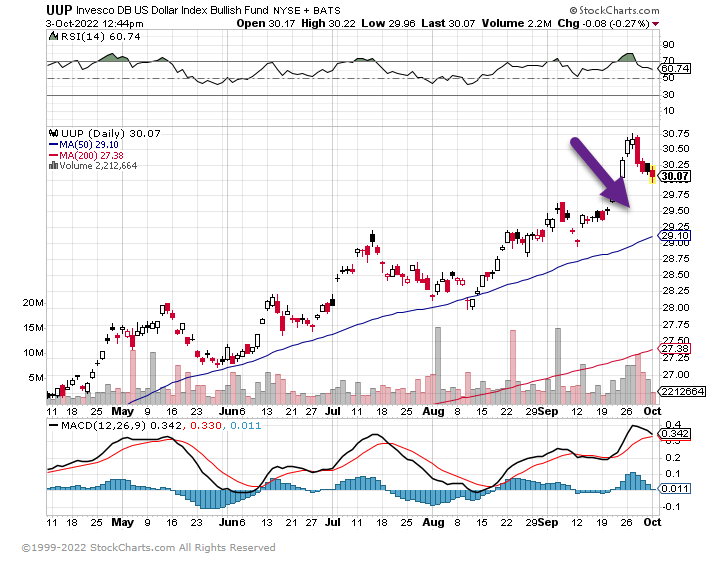 ---
3. MOVE Bond Volatility Index Hit Previous Highs
Bond VIX volatility index hit $155….Historically the top in rising rates.
Barrons By Lisa Beilfuss–The Merrill Lynch Option Volatility Estimate, or MOVE, index, shows how violent the action has been in the U.S. Treasury market. Jim Bianco, president of Bianco Research, notes that the index, which captures bond-market volatility much like the Cboe Volatility IndexVIX –0.69% , or VIX, does with the stock market, hit about 159 during the past week. That is the highest level since 2009, with a lone exception in March 2020, early in the pandemic. Bianco says that every time the MOVE index has gotten above 155, the Fed has panicked and eased policy.
For investors conditioned to expect the Fed to backstop markets, this would suggest that at least a pivot away from aggressive tightening is in sight—and a return to rate cuts and QE might not be far behind that.Don't bet on it just yet. Not only is the current turbulence the consequence of the Fed waiting too long to address inflation; it is also the result of some policy makers and investors missing the point that the economy has fundamentally changed since the pandemic, Bianco says.  https://www.barrons.com/articles/federal-reserve-put-stock-market-economy-51664579357?mod=Searchresults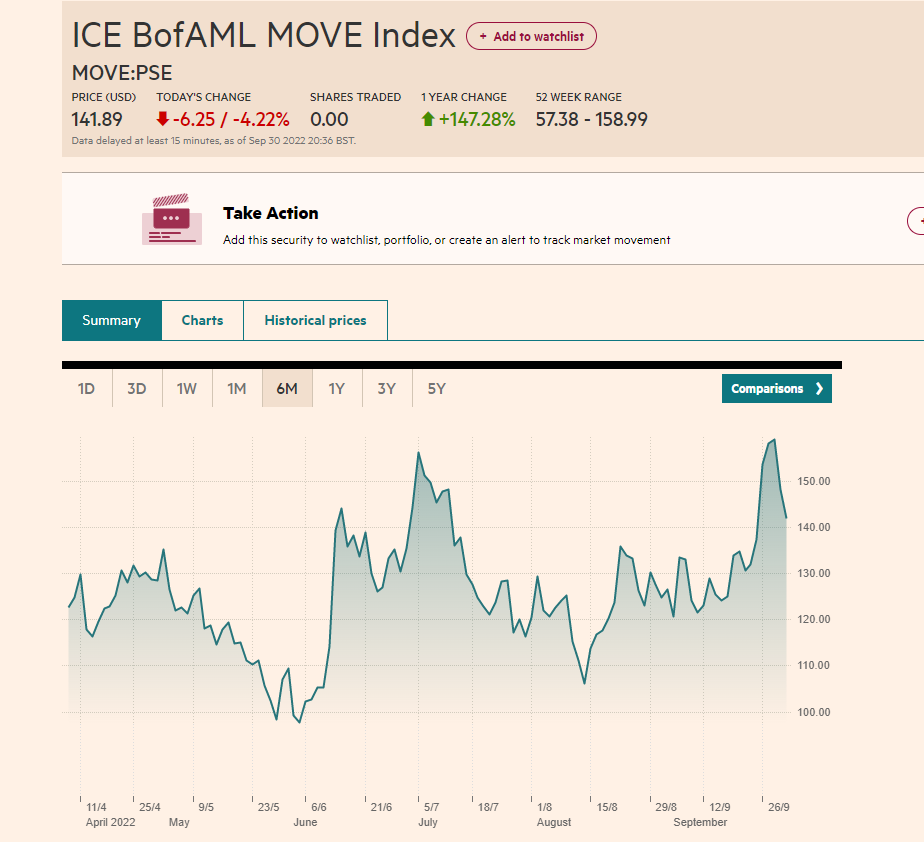 https://markets.ft.com/data/indices/tearsheet/summary?s=MOVE:PSE
---
4. 2000 and 2008 Last Time S&P was Down 3 Quarters in a Row
Michael Batnick For just the third time in a long time, the stock market has declined for three consecutive quarters.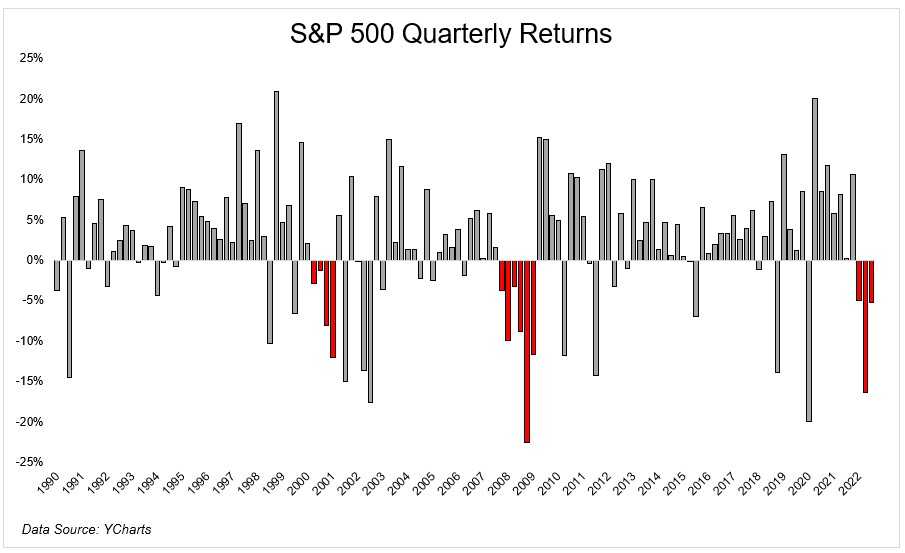 Making Lemonade in the Stock Market – The Irrelevant Investor
---
5. Inflation Slowdown?…COMT Commodity ETF…Bearish Chart Action
COMT 50day thru 200day to downside….trading below 200 day most of September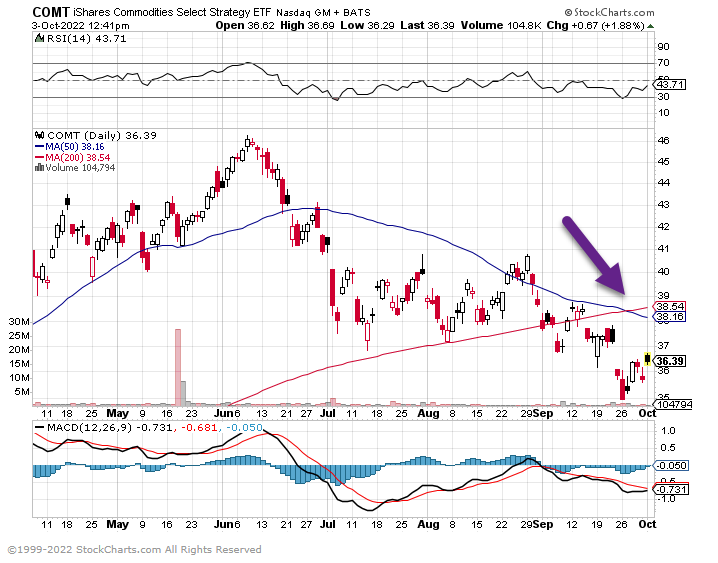 ---
6. Inflation Slowdown? Baltic Dry Shipping Index -70% from Highs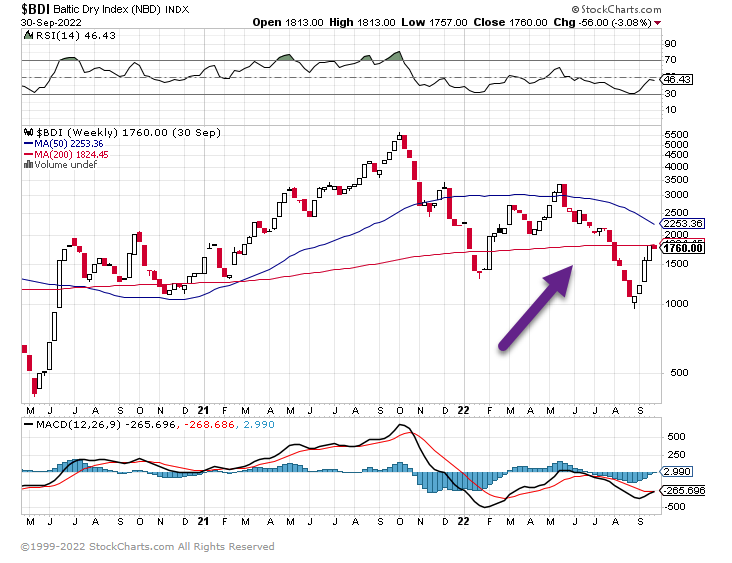 ---
7. U.K. Stock Market ETF…Just Above Covid Lows…Trading at 8.5x earnings.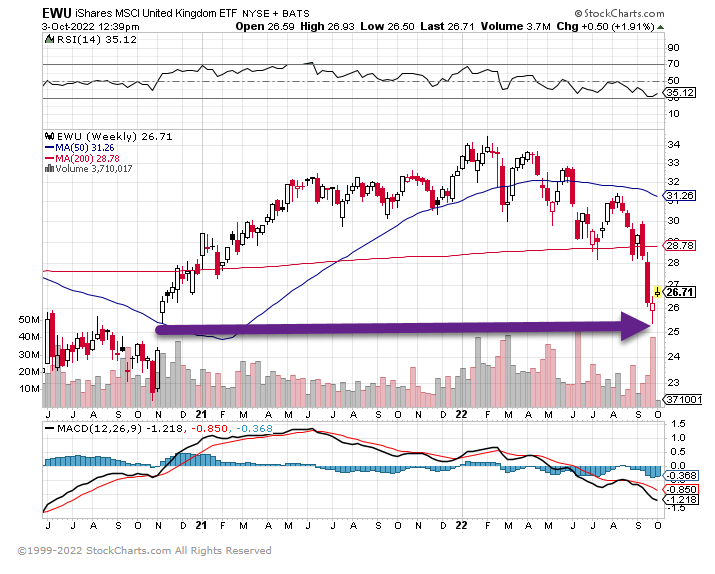 ---
8. VNQ-Vanguard Real Estate Trades Back to Covid Levels.
A lot of charts below 200 week moving average and back to covid levels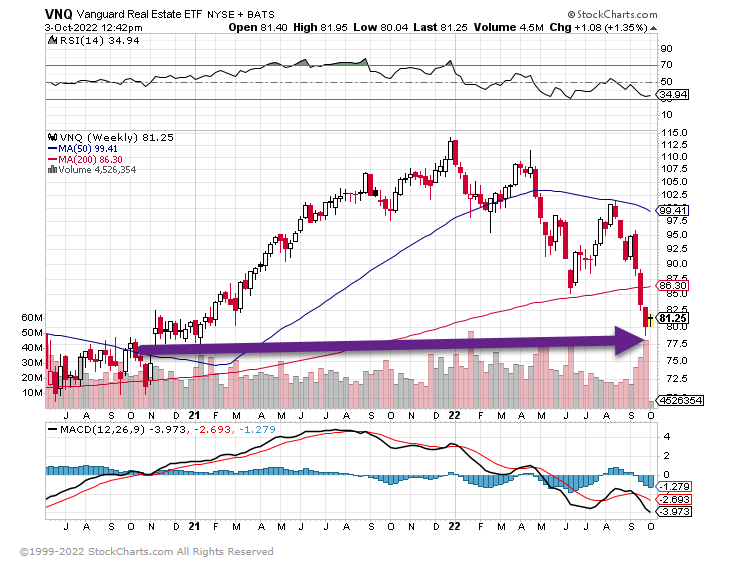 ---
9. Electric vehicle startups face an uphill climb
Joann Muller, author of Axios What's Next
UPS-backed electric vehicle startup Arrival built its first delivery van last week — a significant milestone, considering the challenges it and other upstart EV makers like it are facing.
Why it matters: Arrival and other fledgling commercial EV companies are struggling to launch production as funding dwindles and bigger rivals like GM and Ford start to crank out electric trucks and vans of their own.
Some newbies have already collapsed, like Electric Last Mile Solutions, which went bankrupt in June.
For the rest, the goal is to at least show progress to investors — which is why Arrival made such a big deal about producing a single van on what happened to be the last day of the third quarter.
Driving the news: Arrival said Friday it had missed its third-quarter target to start serial production, but celebrated the fact that it produced its first "production verification vehicle" — in other words, an early prototype.
"Although we have not yet achieved serial production, we are focused on making it happen," founder and CEO Denis Sverdlov said in a statement.
Scaling is more difficult than he imagined, Sverdlov told Reuters. "We are going through our own production hell," he said, echoing Tesla CEO Elon Musk's comments during the troubled launch of the Model 3.
The big picture: Other struggling EV manufacturers face similar challenges as financing options tighten.
https://www.axios.com/2022/10/03/electric-vehicle-startups-arrival
---
10. How to Harvest Your Hidden Intelligence
Three ways to enhance experiential intelligence. Lindsey Godwin Ph.D.
KEY POINTS
Our popular notions of IQ and EQ are no longer sufficient to predict success in today's perpetually disrupted world.
Experiential intelligence offers a complement to IQ and EQ by inviting us to leverage the wisdom we accumulate through our experiences.
There are specific strategies we can employ to enhance our experiential intelligence and gain new wisdom to set us up for success in the future.
As autumn returns with its promise of pumpkin spice lattes, corn mazes, and fall festivals, my mind turns to the notion of harvesting. Defined as "collecting a resource in order to use it in the future effectively," there are many things we harvest this season to sustain us through the year. Reflecting on our psychological resources, there is one garden in our lives we often neglect to fully harvest during the year: our experiences. Our myriad of past experiences, however, provides each of us with a cornucopia of wisdom to be leveraged into future successes if we take the time to harvest it.
Exploring the rich harvesting that is available to us through our experiences is exactly what Dr. Soren Kaplan does in his forthcoming book, Experiential Intelligence: Harness the Power of Experience for Personal and Business Breakthroughs. Kaplan (2023) defines experiential intelligence (XQ) as "the combination of mindsets, abilities, and know-how gained from your experiences." More specifically, the three elements are:
Mindsets: Attitudes and beliefs about yourself, other people, and the world.
Abilities: Competencies that help you integrate your knowledge, skills, and experiences so you can respond to situations in the most effective way possible.
Know-How: Knowledge and skills.
For more than a century since German psychologist William Stern coined the term intelligence quotient (IQ), we have explored the notion of general intelligence as a gauge of future success. Nearly 50 years ago, we added emotional intelligence (EQ) as a complementary piece to the success puzzle of life. What we have yet to fully harvest and recognize as an important element for cultivating success is the latent intelligence that comes from our lived experiences. While the notion of multiple forms of intelligence endures within our zeitgeist, we have primarily focused on IQ and EQ as the core pillars for understanding our personal and professional achievements. Yet, perhaps we have been missing an important piece of the puzzle in our neglect to explore the wisdom gained through our array of past experiences. Experiential intelligence offers a complement to IQ and EQ by providing a framework for harvesting the accumulated wisdom and talents we have grown over time through our personal and professional experiences.
In many ways, XQ offers us a new lens through which to unpack our history in a way that sets us up for success in the future. Just as many have written about ways to increase our EQ, and even possibly expand our IQ (for example, see Relational Frame Theory that suggests IQ is a reflection of learned relational skills that can be enhanced over time), so too can we enhance our XQ. Specifically, we can:
1.   Get Curious About Successes. Our XQ can be deepened through unpacking our past wins. Too often we treat our successes as accidents, or not worthy of deeper inquiry, when in fact just the opposite is true. Much had to go right in order for our successes to have occurred, and reflecting upon how we were able to exercise our unique mindsets, abilities, and know-how to create those successes is key to developing our XQ. The next time something goes right at work or home, ask yourself, "What were the mindsets, abilities, and know-how that led me to be successful and how can I leverage them further in the future?" Success can beget success if we harvest our learnings from our experiences.
2.   Reframe Failures. If we begin to see all experiences as an opportunity for expanding our XQ, we begin to recognize that even when things didn't turn out as we hoped, there is rich learning to be gained from reflecting on our experience. Instead of kicking ourselves for not succeeding, we can instead ask ourselves, "What are the mindsets, abilities, and know-how I will need in the future to be successful?" This simple shift can increase our XQ and help turn breakdowns into breakthroughs.
3.   Cultivate New Experiences. We can also bolster our XQ through the intentional pursuit of new and diverse experiences. Seeking out and creating diverse experiences offers an opportunity to add new chapters to our life's book. The more diverse experiential text we have to draw upon, the more opportunities we have to deepen our XQ. Ask yourself, "What new experiences might help me expand my mindsets, abilities, and know-how?"
Farrah Gray once said, "Inside every seed is the potential for an incredible harvest." Similarly, inside every experience is the potential for an incredible harvest of learning to expand our mindsets, abilities, and know-how. XQ invites us to become perpetual harvesters of our past to create better futures.
https://www.psychologytoday.com/us/blog/possibilitizing/202210/how-harvest-your-hidden-intelligence