1. 60/40 Portfolio -5% in Two Months.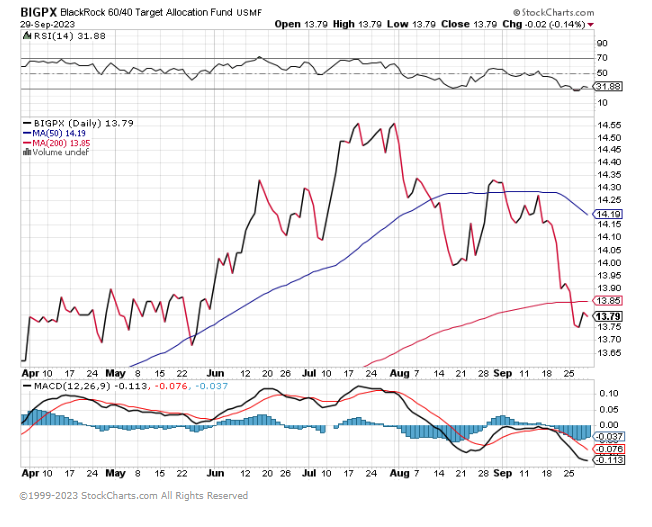 ---
2. U.S. 30yr Treasury Yield saw their Biggest Quarterly Climb Since Q1 2009
---
3. Financial Conditions (lending) Significantly Tighter
From Callum Thomas chart storm https://www.chartstorm.info/
Source: @RealAlpineMacro via Daily Chartbook
---
4. Gasoline Futures Pullback
Energy: US gasoline futures fell further on Thursday.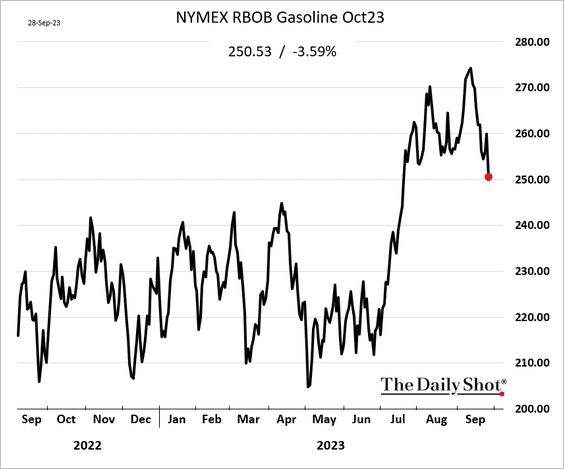 Source: The Daily Shot  https://dailyshotbrief.com/
---
5. Home Prices Charging Back to New Highs
Bespoke Investment Group Case Shiller home price data published by S&P CoreLogic was released earlier this week for July 2023 (it comes out on a two-month lag).  As shown below, 19 of 20 cities posted month-over-month gains, with the National index up 0.6% MoM and up 0.98% year-over-year.  Las Vegas saw the biggest monthly gain at 1.12%, while Portland was the only city to see a monthly decline.

The big news from the report was that the National index and ten of twenty cities once again hit new all-time highs, erasing declines seen from mid-2022 through early 2023.  The National index saw home prices fall 5% from its prior high last June to its low this January, but it has bounced back by 6% since then to notch new highs.  The ten cities to also make new highs were: New York, Minneapolis, Miami, Detroit, DC, Cleveland, Chicago, Charlotte, Boston, and Atlanta.

Four cities remain 5%+ below their prior highs: Phoenix (-6.7%), Las Vegas (-7.2%), Seattle (-10.1%), and San Francisco (-10.8%).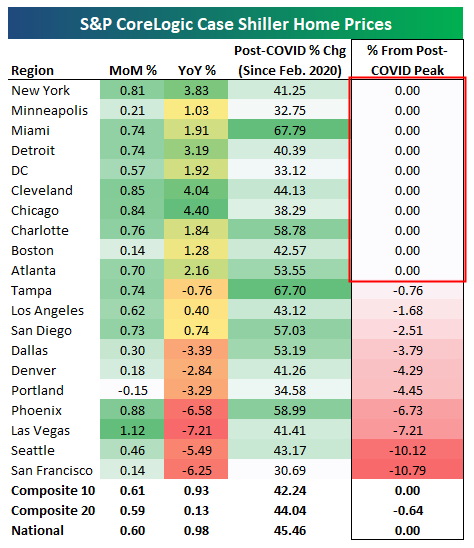 https://www.bespokepremium.com/interactive/posts/think-big-blog/home-prices-charging-back-to-new-highs
---
6. Car Insurance the Largest Year Over Year Increase in 50 Years.
BARRONS Nationally, the average cost of car insurance—a mandatory expense for most U.S. households—is nearly $1,700 annually, up 17% through the first half of 2023. Auto insurance now eats up about 2.4% of average household income, according to Insurify's Mid-Year Auto Insurance Trends Report.   That's a familiar lament, considering that the annual inflation rate for U.S. motor-vehicle insurance hit 19.1% in August, the largest year-over-year increase in nearly 50 years. And there is little relief in sight: Prices are likely to keep climbing well into 2024, along with the number and size of claims, ensuring another rough year for auto insurance buyers and sellers.
J.D. Power found in the second quarter that nearly 15% of vehicle owners had allowed their insurance coverage to lapse at some point in the previous six months, with nearly 30% having cited an inability to pay as the primary reason.  By Megan Leonhardt  https://www.barrons.com/articles/car-insurance-premiums-dba3432b?mod=past_editions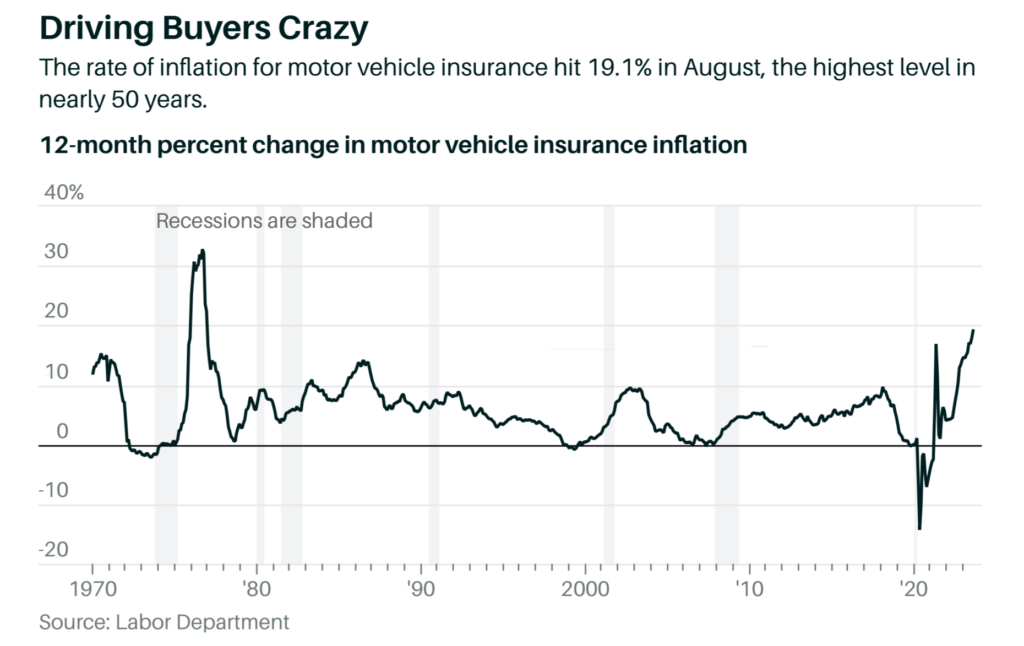 ---
7. Bad weather has pushed the price of orange juice to the highest level ever, see chart below.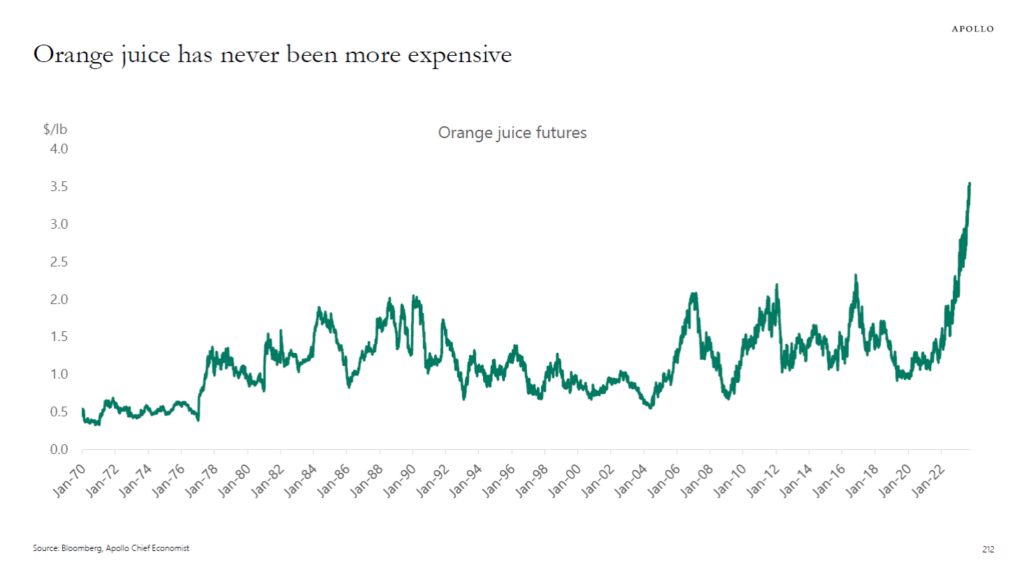 Torsten Slok, Ph.D.Chief Economist, Partner
---
8. Construction Workers Historically Biggest Slowdown in Recession….New Highs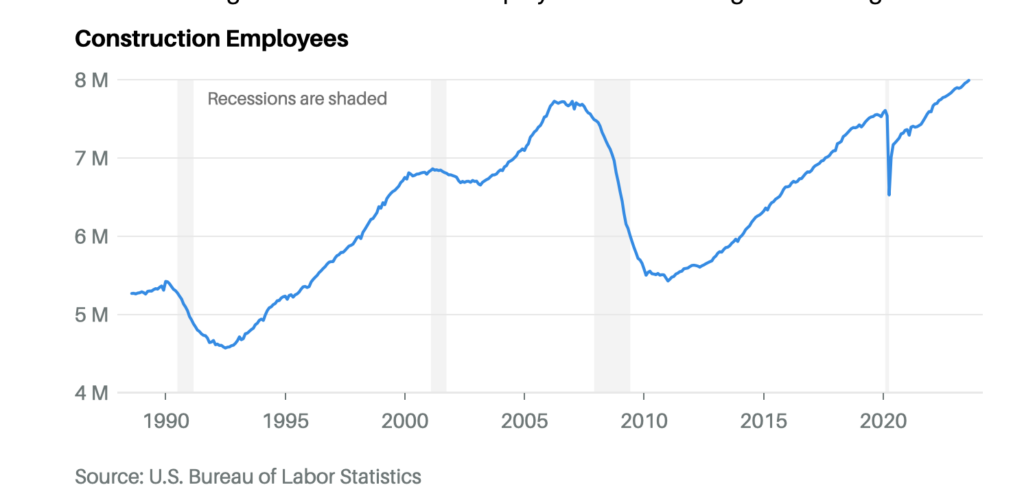 https://www.barrons.com/articles/economy-job-market-inflation-interest-rates-fed-7c567b51?mod=past_editions
---
9. Weight-Loss Drugs Estimated to Save Airlines Millions
· Slimmer passengers would mean less fuel needed for flights
· If flyers lose 10 pounds, United saves $80 million: Jefferies
Airlines and planemakers obsess about reducing jet-fuel consumption by constantly finding new ways to reduce aircraft weight. They may have new allies in Ozempic and other similar slimming medications.
United Airlines Holdings Inc. would save $80 million a year if the average passenger weight falls by 10 pounds, Sheila Kahyaoglu, a Jefferies Financial analyst, estimated in a report Friday. Her work was part of a broader Jefferies analysis of public enthusiasm for the drug and potential beneficiaries of its use.
There could be a more than $100 billion global market for such medicines, with sales climbing quickly through the end of the decade, the review concluded. Ozempic is made by Novo Nordisk A/S.
Weight is a major concern for airlines because the more a plane weighs, the more fuel it burns. Fuel and labor are the two largest expenses for carriers, with fuel accounting for about 25%. Over the years airlines have used a variety of methods to reduce pounds on flights, like removing magazines and switching to lower-weight dishes, utensils and beverage carts.
If the average passenger lost 10 pounds, this would trim 1,790 pounds from every United flight, implying a savings of 27.6 million gallons a year, the analyst estimated. At an average 2023 fuel price of $2.89 a gallon, United would save $80 million a year. That equates to 20 cents of earnings per share, or 2% of Jefferies's full-year earnings estimate of $9.50 a share, she said.
"This benefit should be recognized similarly across airlines," Kahyaoglu wrote.
Weight Loss Drugs: Ozempic, Wegovy Could Reduce Airlines Costs – Bloomberg
---
10. The Daily Stoic Blog-You Can't Really Hear this Enough.
One of the most highlighted passages in the digital version of The Daily Stoic is the December 9th quote from Seneca:
"Were all the geniuses of history to focus on this single theme, they could never fully express their bafflement at the darkness of the human mind. No person would give up even an inch of their estate, and the slightest dispute with a neighbor can mean hell to pay; yet we easily let others encroach on our lives—worse, we often pave the way for those who will take it over. No person hands out their money to passersby, but to how many do each of us hand out our lives! We're tight-fisted with property and money, yet think too little of wasting time, the one thing about which we should all be the toughest misers."
It makes sense. Property, money, possessions—these things are tangible. We can clearly see when they are taken from us. Time, on the other hand, is more abstract. When our time is eaten up by other people or frittered away on trivial matters, we often don't even notice.
In The Daily Stoic, the whole month of December is themed around Memento Mori (which you can get a history of here) because the year is ending. With Halloween around the corner, here in the Daily Stoic Email we're doing a similar deep dive into that theme for the entire month of October. Because you really can't hear it enough: We can't live as if we have forever, as if we have unlimited time.
Memento Mori.
Which is an easy concept to nod along to while reading this email. Or listening to a podcast. Or double tap when you see on Instagram.
But how long does that stay with you? How quickly do other thoughts fill the space? How quickly do you go back to frittering your time away?
Will you be able to call upon that reminder in life's stressful moments?
Different generations have attempted to keep the idea of Memento Mori at hand in different ways. The result can be seen across generations of writing, art, music, jewelry and ritual.
Roman generals employed aides to remind them of this fact at their moments of greatest triumph. Philosophers have kept skulls on their desks for millennia. Beneath the church of Santa Maria della Concezione dei Cappuccini in Rome, there is a crypt built in 1630, decorated with the remains of 4,000 friars. In the middle, there is a plaque inscribed in three different languages that states, "What you are now, we once were; what we are now, you shall be."
They all were trying to remember: We can go at any moment. We must not waste time.
While times change and it may no longer be practical to keep an aide to whisper death in your ear, the benefits of memento mori remain.
That's why we created our own additions to the rich history of memento mori, including:
The memento mori medallion which was inspired by the French painter Philippe de Champaign's famous painting "Still Life with a Skull," which showed the three essentials of existence: the tulip (life), the skull (death), and the hourglass (time).
The memento mori signet ring which shows Marcus Aurelius's timeless words: "You could leave life right now…" leaving the wearer to repeat to themselves the final half of the quote "…Let that determine what you do and say and think."
And the memento mori pendant which shows the hourglass, skull, and tulip with the words Memento Mori. A reminder constantly touching the skin around your neck.
All these were created to remind us that we must live NOW, while there is still time.
It's a reminder that generations have been attempting to keep at hand and for good reason…