1. Investment Banking Fees Set for Blow Out Record Year.
This was just first half chart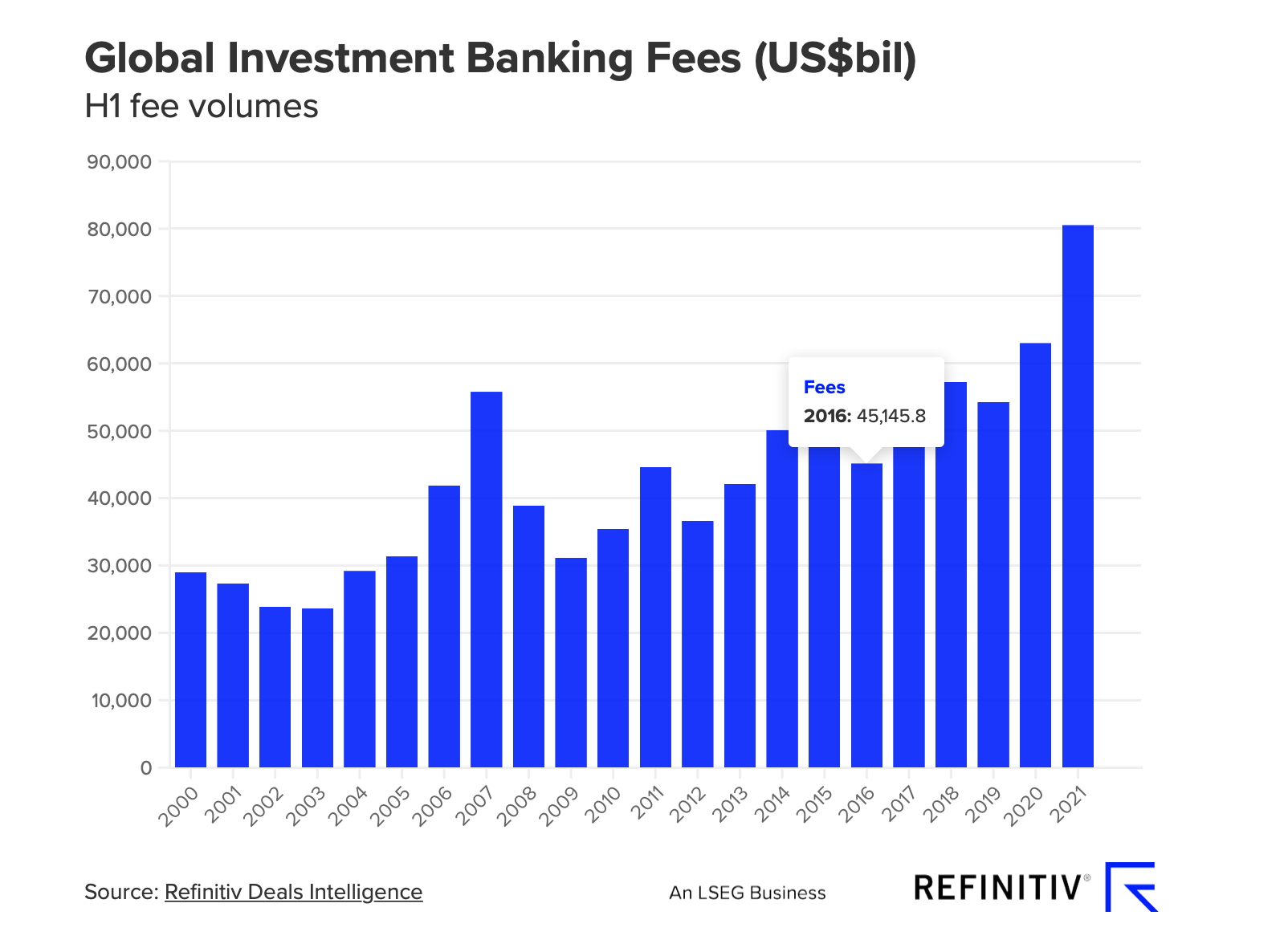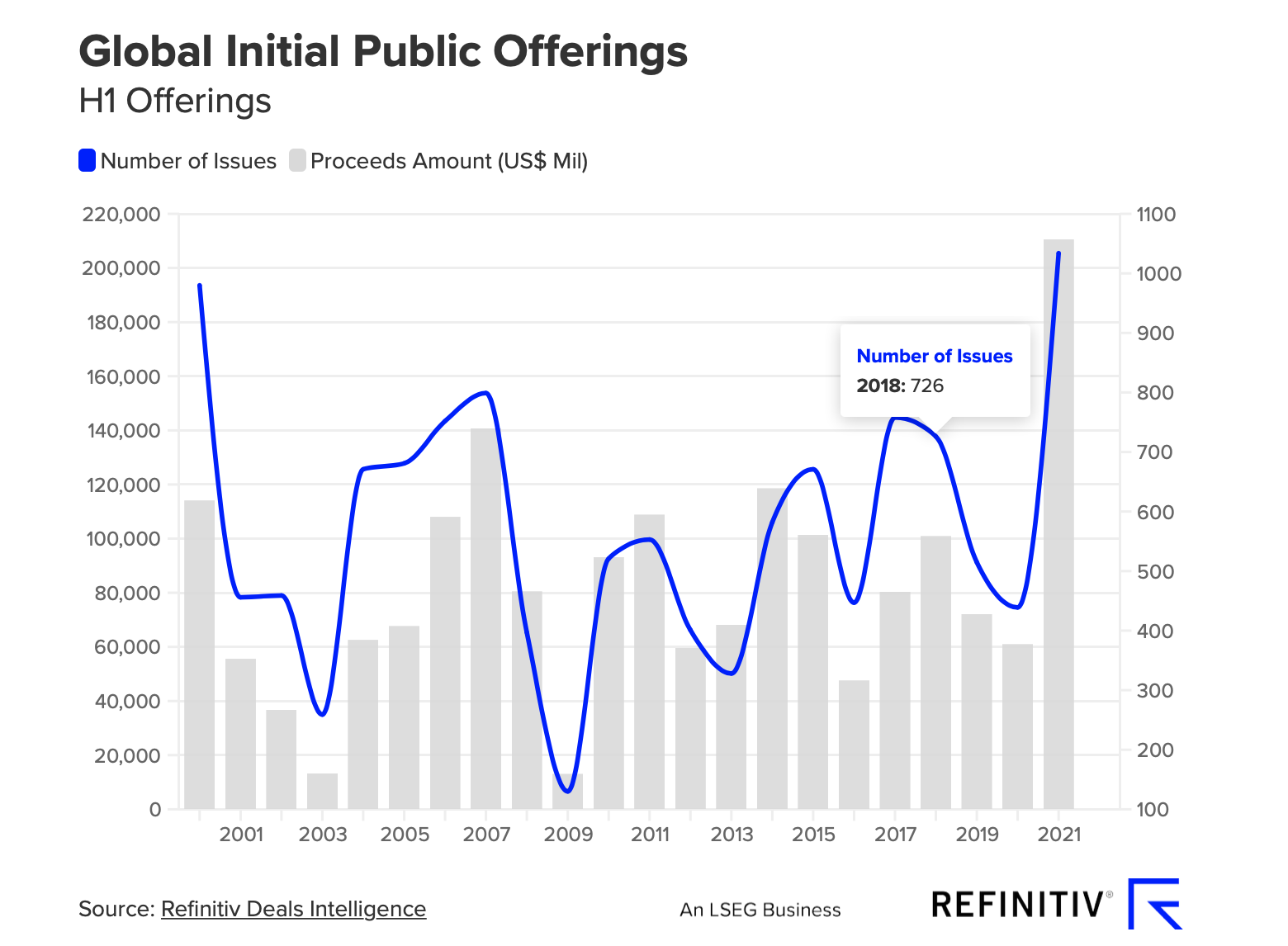 How did equity markets fuel fees for investment banks?
Equity markets captured the limelight, surging by 50 percent globally in the first half to raise $686bil globally – the biggest opener since records began.
The market for initial public offerings (excluding special-purpose acquisition companies (SPACs) surged to more than three times their 2020 level, to surpass $200bil. This was another first-half yearly record, as companies that had held off during the height of the pandemic rushed to the IPO window.
U.S. exchanges saw a 237 percent increase in IPO activity, while China-domiciled IPOs doubled to reach an all-time high of $60bil
 https://www.refinitiv.com/perspectives/market-insights/how-have-capital-markets-fuelled-record-fees-for-investment-banks/
---
2. India Biggest IPO Ever PAYTM
BIGGEST IPO– Warren Buffett-backed Paytm crashes 27% after milestone IPO for India.  Paytm, which started trading in Mumbai on Thursday, spoiled the party: Its shares opened below the 2,150 rupees ($28.60) issue price, before closing down 27% at 1,564 rupees ($21).  The flop reflects fears about Paytm's business. The company, which is now worth almost $14 billion, lost hundreds of millions of dollars last year and seems far from ready to turn a profit. It's also up against growing competition from some of the biggest tech firms in the world.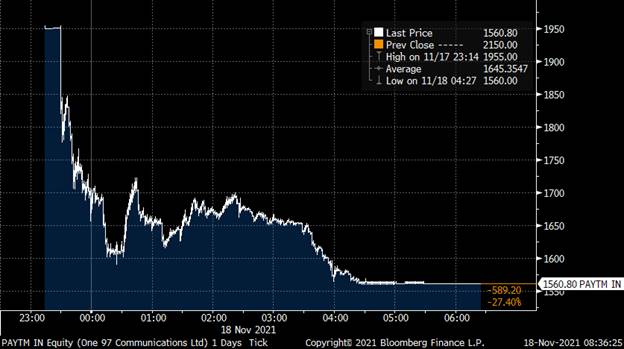 From Dave Lutz at Jones Trading-The digital payments company raised 183 billion rupees ($2.5 billion) in its initial public offering. It's the largest ever in the country when measured in local currency – With backing from investors such as Warren Buffett, Masayoshi Son and Alibaba (BABA), Paytm is one of India's best funded startups
---
3. Shale Break Even.
WSJBy Jinjoo Lee–Broad-based inflation in both input materials and labor are partly to blame for today's rising costs. Another reason is that shale producers no longer face the same intense pressure to cut costs and they have plucked the low-hanging technological fruit. Average break-even costs had stalled as early as 2017, well before the pandemic-induced shock to oil markets.   "In the early innings of the shale boom, efficiencies were a lot easier to find. It's been harder to find newer efficiencies," notes Kunal Patel, economist at the Federal Reserve Bank of Dallas.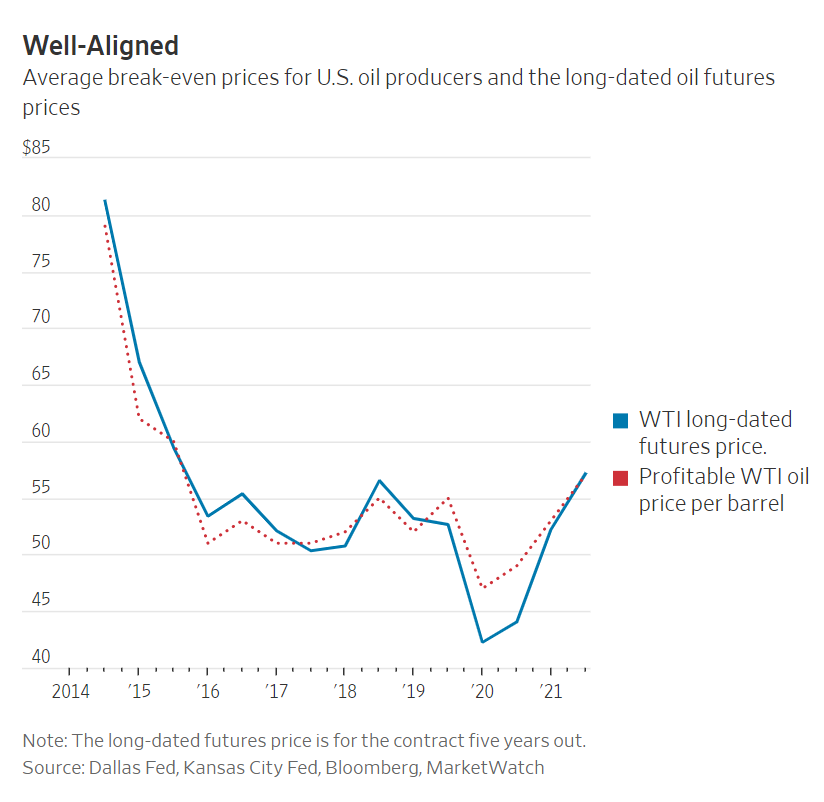 https://www.wsj.com/articles/americas-magical-oil-patch-is-out-of-tricks-11637064180?mod=itp_wsj&ru=yahoo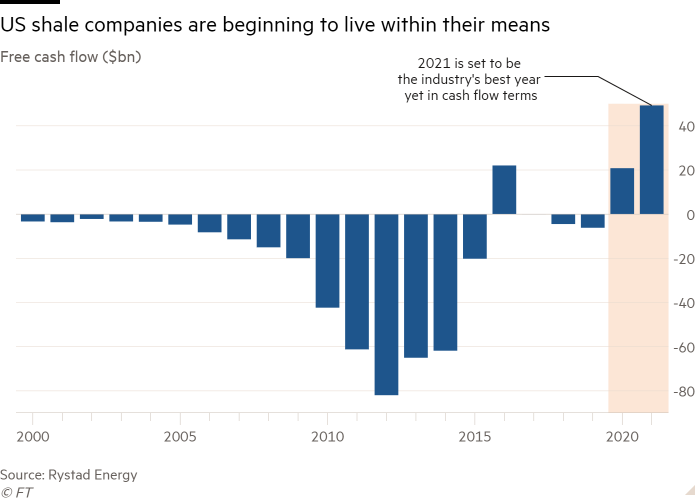 ---
4. First Mover Advantage in Crypto ETFs…XBTF and BITS Hit Market.
NYDIG Letter–If we use the GBTC discount to NAV of -20%, the level it was trading at before the ETF conversion filing, as the baseline level for no expectation of conversion to an ETF and compare it to the discount today, we can calculate a market-implied probability of conversion. With GBTC's listing application hitting the Federal Register on 11/8/21, the last day for approval or denial from the SEC is 240 days later, 7/6/22. An arbitrageur could trade the possibility of approval by purchasing shares of GBTC at the current discount, -15%, short an equivalent amount in bitcoins, and covert their shares into bitcoins as the ETF is listed and cover the short. With a 2% annual management fee on holding GBTC, about 6% annualized carry cost from shorting bitcoin, the current discount to NAV of -15% implies a 70% chance of disapproval and a 30% chance of approval. This would represent a 19.2% annualized rate of return to arbitrageurs if the approval were to happen, or 5.8% in expected value space.
In other ETF developments, two new futures-based ETFs began trading this week, the VanEck Bitcoin Strategy ETF (XBTF) and the Global X Blockchain and Bitcoin Strategy ETF (BITS). The latter fund invests in a blockchain-equity-based ETF in addition to bitcoin futures. Both new funds have a lower management fee than the two ETFs currently trading (BITO and BTFD), 0.65% vs 0.95%. We will be watching to see if fees are a meaningful driver of demand for investors. So far, neither fund has raised significant assets, once again showing the advantage of being the first mover in the alternative asset space.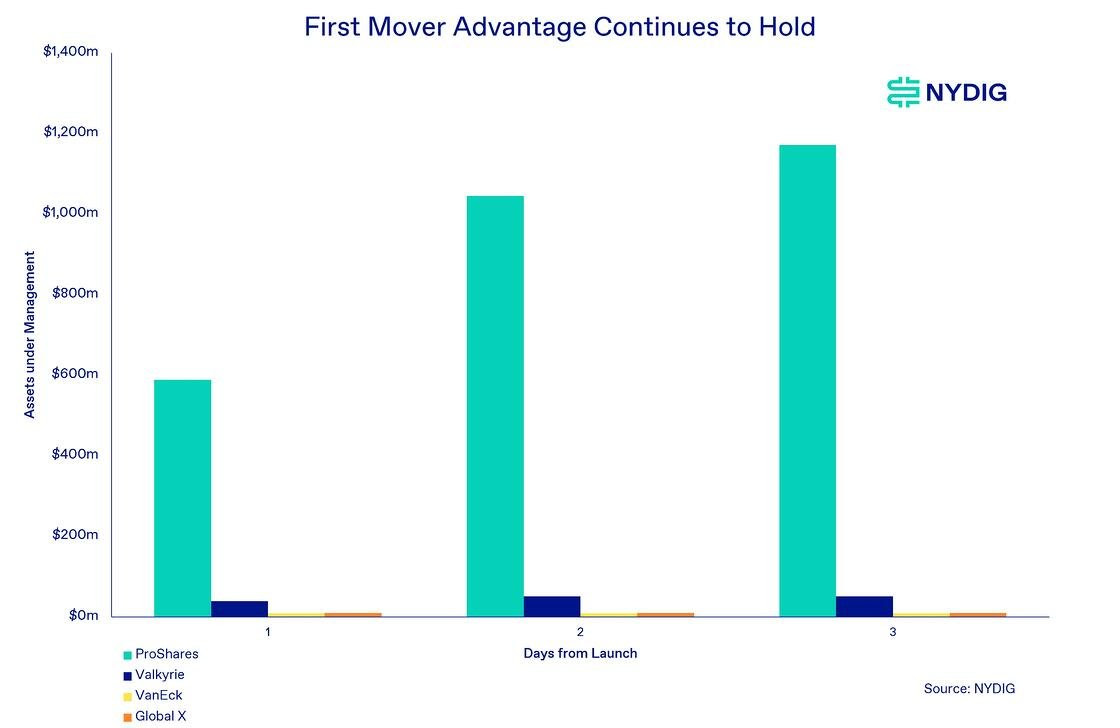 https://nydig.com/
---
5. Crypto Stocks Update.
Sideways channels break one way or another
RIOT sideways channel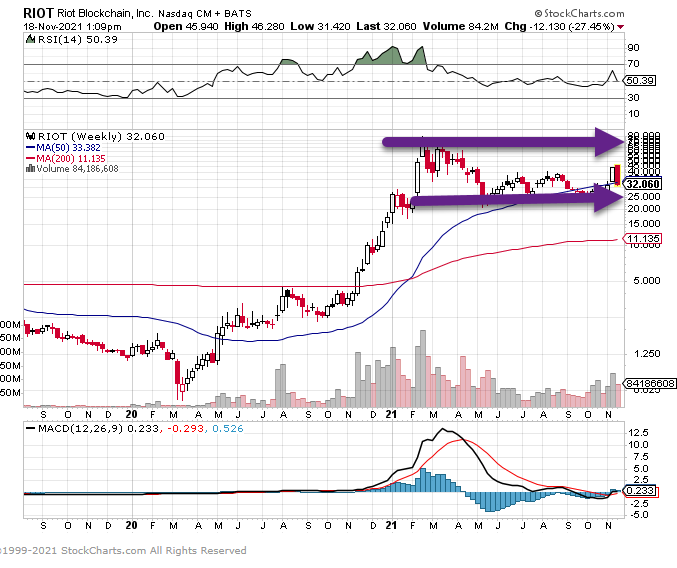 MSTR Sideways Channel.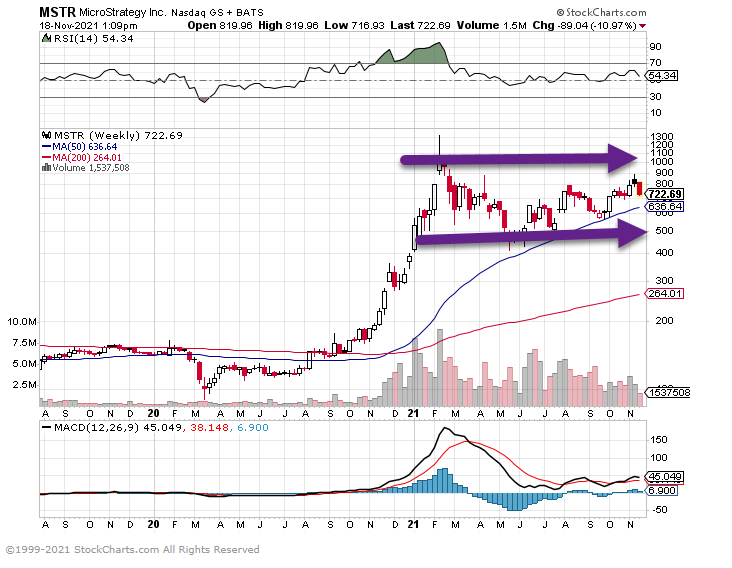 COIN Starting a sideways channel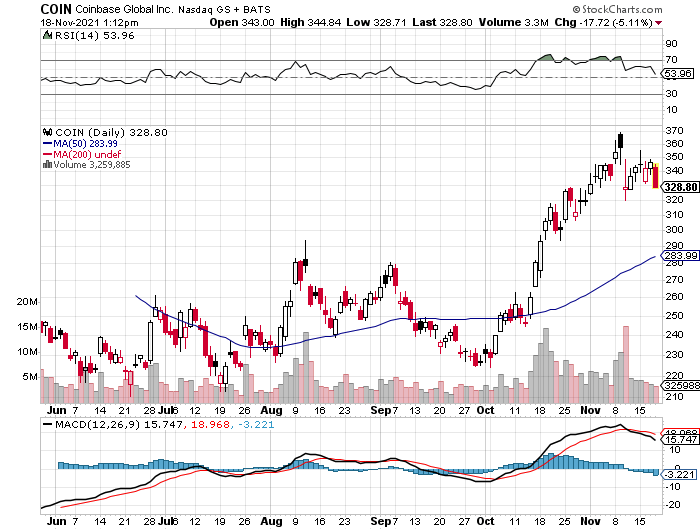 ---
6. Global Crypto Adoption Index-Chainalysis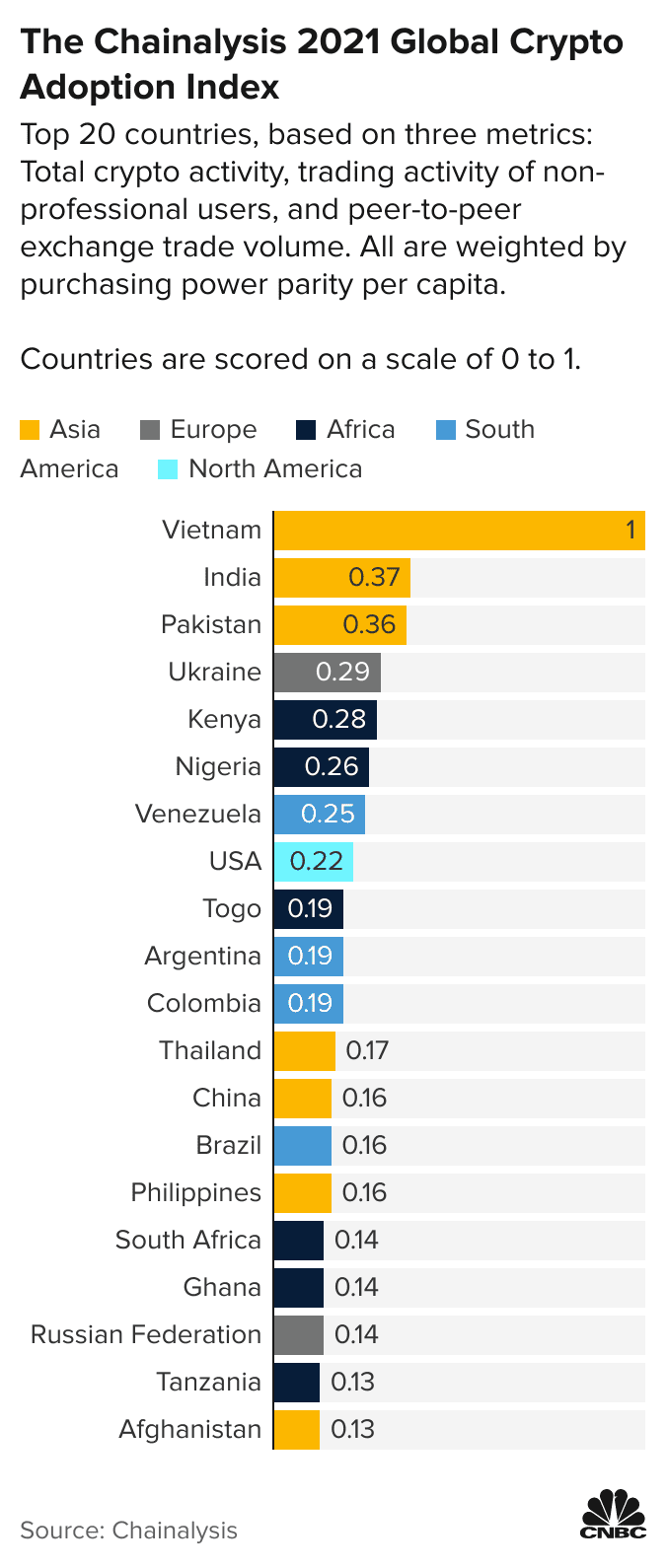 https://blog.chainalysis.com/reports/2021-global-crypto-adoption-index
---
7. Pandemic Winners and Losers.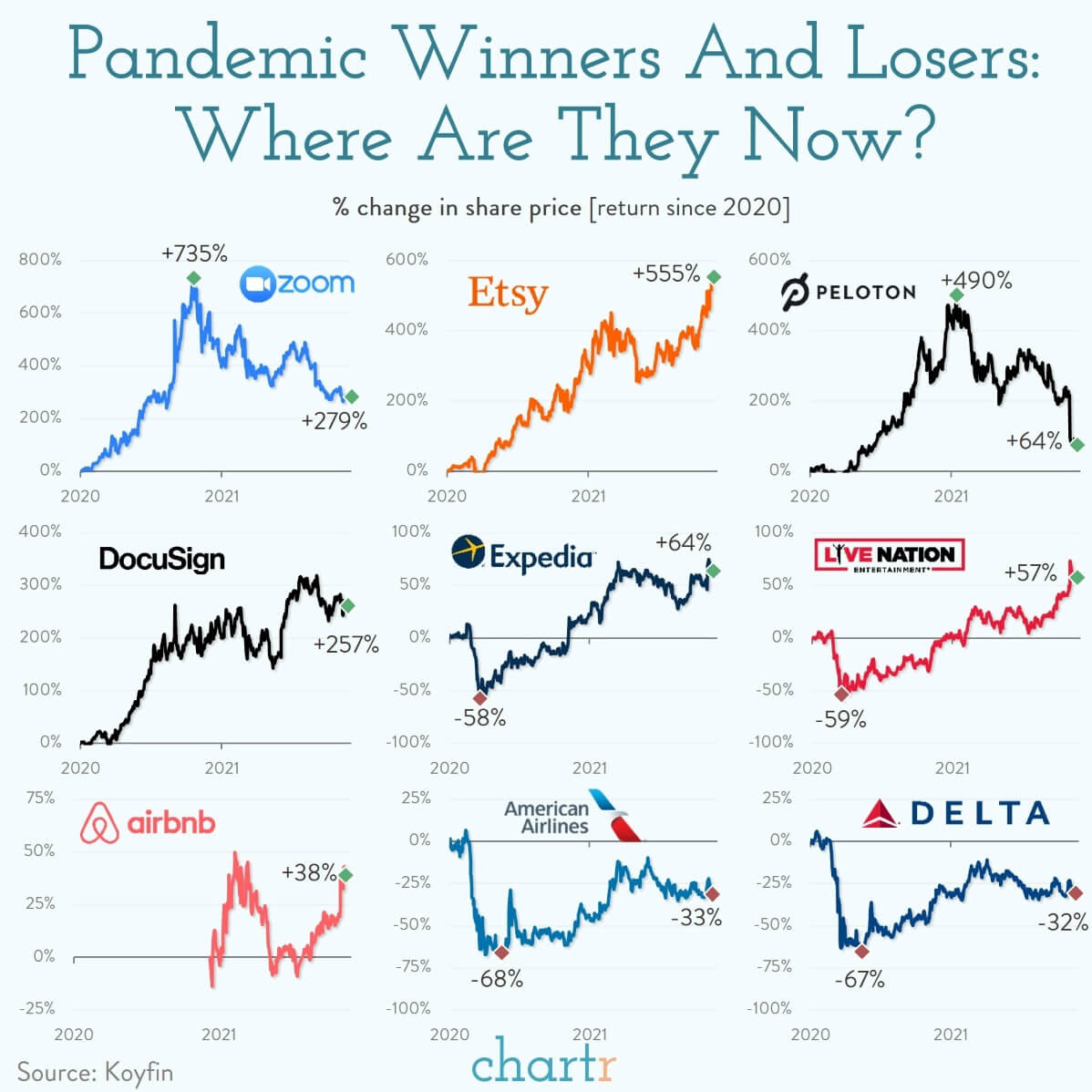 The good
Some stocks boomed, and then kept booming. Etsy, the online marketplace for vintage gifts and homemade crafts saw its share price rise during the early days of the pandemic — and they haven't looked back since, gaining 555% since 2020. DocuSign, which lets organizations manage contracts and agreements electronically (no need to sign in-person), has also had a pretty smooth ride, up 257%.
But no company was the face of "pandemic winner" more than Zoom. The video-conferencing site has seen the shine come off pretty dramatically since last year, as expectations got ahead of the company's economic reality, but even so it's hard to put Zoom in any other bucket than "the pandemic was good for business".
The bad, then good
Few sectors got hit as hard as travel. Online travel company Expedia saw its shares shed almost 60% of their value, but they've since made a roaring comeback, as lockdowns have faded and we booked all those vacations we missed out on. Airbnb had a similar experience, going through a brutal restructuring for its employees, before business picked up and the company managed to get its IPO done. Since then it's up 38%.
Live Nation Entertainment, which is the parent company of Ticketmaster and other live event platforms, also managed to weather the storm, gaining 57% since the start of 2020, despite the turbulence of the early pandemic.
The ugly
Airlines, like American Airlines and Delta, still aren't back to where they started, with many taking on debt or issuing equity to get them through the tough times of reduced air travel. Then there's Peloton, which has done an even more extreme version of Zoom. Technically, shares are still up 60% on where they were at the start of 2020, but with everything moving in the wrong direction at their recent results, and the company still burning cash, that might not last.
---
8. merica's Ritz Codes: Where the Wealthy Reside
By  Fang Block Follow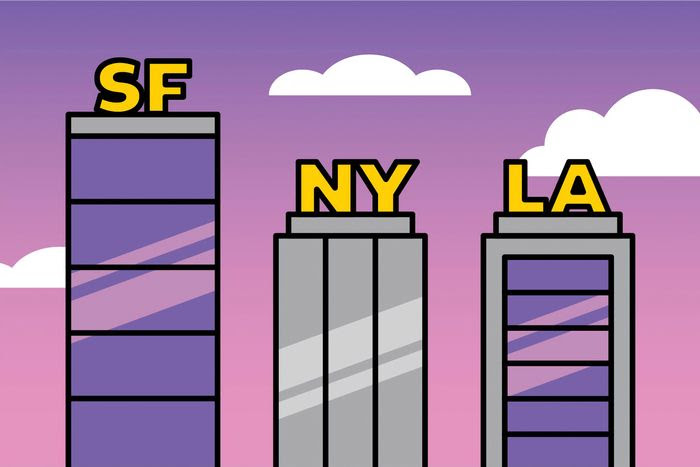 Illustration by Elias Stein
The pandemic has been rough on New York City, even at the tippy-top. A year ago, it boasted six of America's top 20 priciest Zip Codes, according to an annual ranking by New York real-estate data provider PropertyShark. This year, for the first time ever: not one.
Generally, the U.S. luxury real-estate market has proved resilient, with median home prices in the top-10 priciest Zip Codes surpassing $4 million for the first time. Furthermore, 30 of the poshest 100 posted a median price higher than $3 million, compared with just 15 in 2020, notes PropertyShark, based on transactions closed between Jan. 1 and Oct. 22.
California accounted for 70% of America's most expensive Zip Codes, with 37% in the Bay Area alone. Atherton's 94027 was ranked the most expensive Zip for the fifth year running. The area's median sales price in 2021: $7.5 million. Also for the fifth year in a row, San Francisco had the highest concentration of pricey Zip Codes of any city, seven of the top 100. New York City and Los Angeles tied for second, with six each.
Boston's 02199 (think Prudential Center) became the second most expensive Zip, with a median sales price of $5.5 million. Close behind came Sagaponack (think Long Island's Hamptons), 11962, at $5 million.
New York State had 17 of the top-100 Zip Codes, three fewer than last year. Gotham's top two were Manhattan's 10013 and 10007 (Tribeca and Soho), at No. 22 and 25, with sales prices of $3.2 million and $3.1 million, respectively. One casualty: 11231 (Brooklyn's Red Hook and Carroll Gardens).
https://www.barrons.com/articles/richest-zip-codes-us-51636765375?mod=past_editions
---
9.The suburbs are winning in commercial real estate — and not just in the U.S.
By Joy Wiltermuth
Cities with expensive office space before the pandemic — like London, New York and San Francisco — are still struggling
Commercial real-estate prices in cities around the world have climbed overall since the start of the pandemic, but it is a less rosy picture for London and many U.S. central business districts, according to a third-quarter Real Capital Analytics report.
Demand for industrial and logistics-related properties helped lift commercial real-estate prices 7.3% across major world cities, particularly in Melbourne and Los Angeles, in the third quarter from a year ago, according to the monthly RCA CPPI composite index, which tracks office, retail and industrial and is transaction-based to reflect repeat sales.
But in the City of London and key business districts in Chicago, New York City and San Francisco, it continues to be a struggle nearly two years into the COVID-19 crisis, especially when comparing property prices with their broader metro areas, (see chart).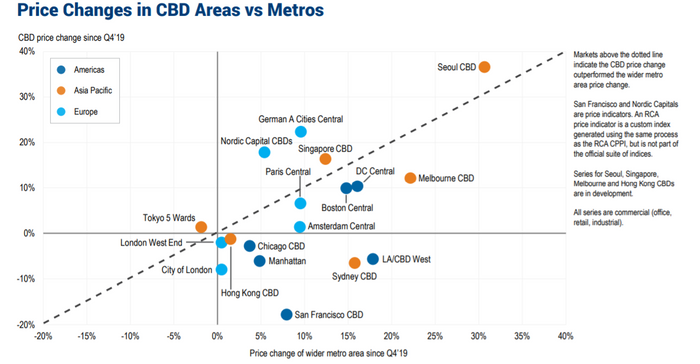 For property investors, London isn't calling.
REAL CAPITAL ANALYTICS
The chart shows that in seven of 17 markets analyzed by RCA, pricing levels in central business districts were lower than before the pandemic.
Read: New York City's office buildings lost 17% of their value in the pandemic
And in five regions where prices punched higher, they still lagged gains in broader metropolitan areas, in part due to ongoing remote work in suburbs and higher concentrations of retail and office properties in big-city centers.
The opposite setup has been a boon for Germany, where "instead of a single focal point, its core office investment markets are themselves decentralized, spread out across top-tier cities," according to the RCA report.
The shifting fortunes of big-city buildings comes despite a rebound in U.S. stocks SPX, +0.39% and booming corporate profits, but also as financial conditions continue to be easy for borrowing via low global rates. While the U.S. bond market was closed for Veterans Day on Thursday, the benchmark 10-year Treasury yield TMUBMUSD10Y, 1.630% was last spotted near 1.56%.
The other thing to consider is that London and other markets experiencing negative price growth since late 2019 were "some of the most expensive office markets in the world by occupancy costs," before the pandemic began, the report said.
See: Shorter leases? Top real-estate executives Durst and Jones talk about the future of the office
https://www.marketwatch.com/story/the-suburbs-are-winning-in-commercial-real-estate-and-not-just-in-the-u-s-11636667811?mod=markets
---
10. 9 Phrases Smart People Never Use in Conversation
By Travis Bradberry | September 26, 2017 | 1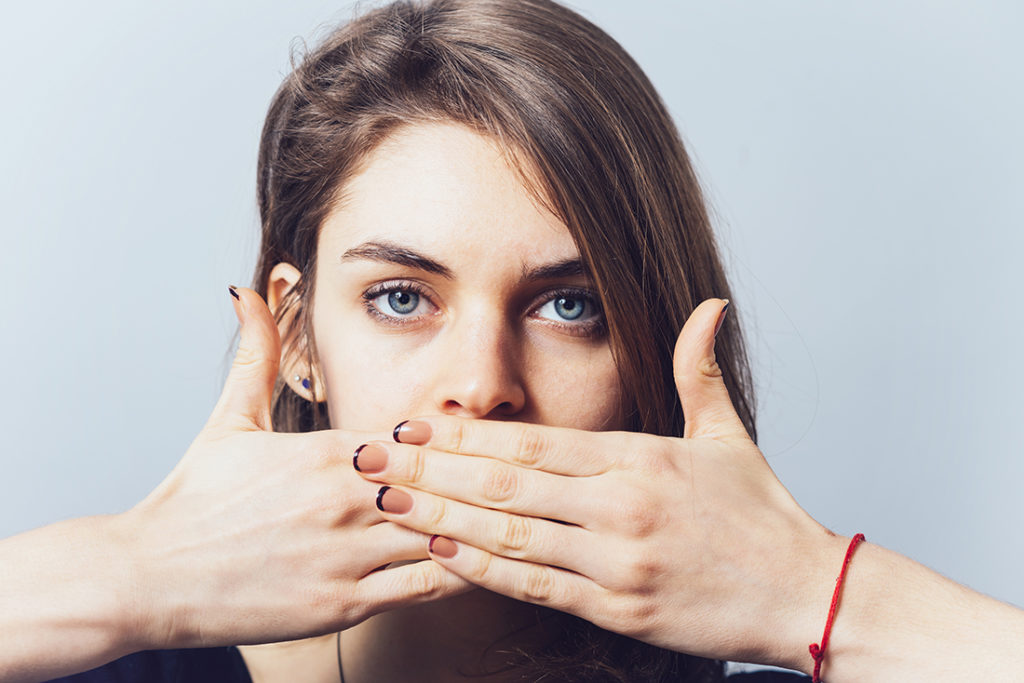 Emotionally intelligent people know certain phrases are off limits in casual conversation because people can take them the wrong way. In this article, originally published on LinkedIn Pulse, Dr. Travis Bradberry shows you which nine phrases to avoid.
We've all said things that people interpreted much differently than we thought they would. These seemingly benign comments lead to the awful feeling that only comes when you've planted your foot firmly in your mouth.
Related: 10 Phrases to Drop from Your Vocabulary
Verbal slip-ups often occur because we say things without knowledge of the subtle implications they carry. Understanding these implications requires social awareness—the ability to pick up on the emotions and experiences of other people.
TalentSmart has tested the emotional intelligence (EQ) of more than a million people and discovered that social awareness is a skill that many of us lack. We lack social awareness because we're so focused on what we're going to say next—and how what other people are saying affects us—that we completely lose sight of other people. This is a problem because people are complicated. You can't hope to understand someone until you focus all of your attention in his or her direction.
The beauty of social awareness is that a few simple adjustments to what you say can vastly improve your relationships. To that end, there are some phrases that emotionally intelligent people are careful to avoid in casual conversation. The following phrases are nine of the worst offenders. Avoid them at all costs.
1. "You look tired."
Tired people are incredibly unappealing—they have droopy eyes and messy hair, they have trouble concentrating and they're as grouchy as they come. Telling someone he looks tired implies all of the above and then some.
Instead say, "Is everything OK?" Most people ask if someone is tired because they're intending to be helpful (they want to know if the other person is OK). Instead of assuming someone's disposition, just ask. This way, he can open up and share. More important, he will see you as concerned instead of rude.
2. "Wow, you've lost a ton of weight!"
Once again, a well-meaning comment—in this case a compliment—creates the impression that you're being critical. Telling someone that she has lost a lot of weight suggests that she used to look fat or unattractive.
Instead say, "You look fantastic." This one is an easy fix. Instead of comparing how she looks now to how she used to look, just compliment her for looking great. It takes the past right out of the picture.
3. "You were too good for her anyway."
When someone severs ties with a relationship of any type, personal or professional, this comment implies he has bad taste and made a poor choice in the first place.
Instead say, "Her loss!" This provides the same enthusiastic support and optimism without any implied criticism.
4. "You always…" or "You never…"
No one always or never does anything. People don't see themselves as one-dimensional, so you shouldn't attempt to define them as such. These phrases make people defensive and closed off to your message, which is a really bad thing because you likely use these phrases when you have something important to discuss.
Instead, simply point out what the other person did that's a problem for you. Stick to the facts. If the frequency of the behavior is an issue, you can always say, "It seems like you do this often" or "You do this often enough for me to notice."
Related: The Do's and Don'ts of Tough Conversations
5. "You look great for your age."
Using "for your" as a qualifier always comes across as condescending and rude. No one wants to be smart for an athlete or in good shape relative to other people who are also knocking on death's door. People simply want to be smart and fit.
Instead say, "You look great." This one is another easy fix. Genuine compliments don't need qualifiers.
6. "As I said before…"
We all forget things from time to time. This phrase makes it sound as if you're insulted at having to repeat yourself, which is hard on the recipient (someone who is genuinely interested in hearing your perspective). Getting insulted over having to repeat yourself suggests that either you're insecure or you think you're better than everyone else (or both!). Few people who use this phrase actually feel this way.
Instead, when you say it again, see what you can do to convey the message in a clearer and more interesting manner. This way they'll remember what you said.
7. "Good luck."
This is a subtle one. It certainly isn't the end of the world if you wish someone good luck, but you can do better because this phrase implies that they need luck to succeed.
Instead say, "I know you have what it takes." This is better than wishing her luck because suggesting that she has the skills needed to succeed provides a huge boost of confidence. You'll stand out from everyone else who simply wishes her luck.
8. "It's up to you" or "Whatever you want."
Although you might be indifferent to the question, your opinion is important to the person asking (or else he wouldn't have asked you in the first place).
Instead say, "I don't have a strong opinion either way, but a couple things to consider are…" When you offer an opinion (even without choosing a side), it shows that you care about the person asking.
9. "Well at least I've never…"
This phrase is an aggressive way to shift attention away from your mistake by pointing out an old, likely irrelevant mistake the other person made (and one you should have forgiven her for by now).
Instead say, "I'm sorry." Owning up to your mistake is the best way to bring the discussion to a more rational, calm place so that you can work things out. Admitting guilt is an amazing way to prevent escalation.
In everyday conversation, it's the little things that make all the difference. Try these suggestions out, and you'll be amazed at the positive response you get.
Related: 11 Things Smart People Don't Say
Dr. Travis Bradberry is the award-winning co-author of the #1 best-selling book, Emotional Intelligence 2.0, and the co-founder of TalentSmart, the world's leading provider of emotional intelligence tests and training, serving more than 75% of Fortune 500 companies. His best-selling books have been translated into 25 languages and are available in more than 150 countries. Dr. Bradberry is a top LinkedIn Influencer and he has written for, or been covered by, Newsweek, BusinessWeek, Fortune, Forbes, Fast Company, Inc., USA Today, The Wall Street Journal, The Washington Post, and The Harvard Business Review.