1. Retail Investors Not Chasing Rally
Equities: Retail investors don't seem to be chasing the current rally.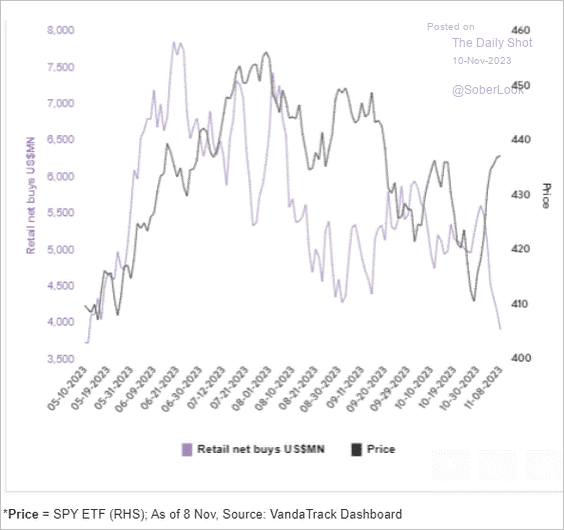 Source: Vanda Research
---
2. Clean-Energy Sub-Sector Trailing S&P by -45% in 2023
By Avi Salzman-Barrons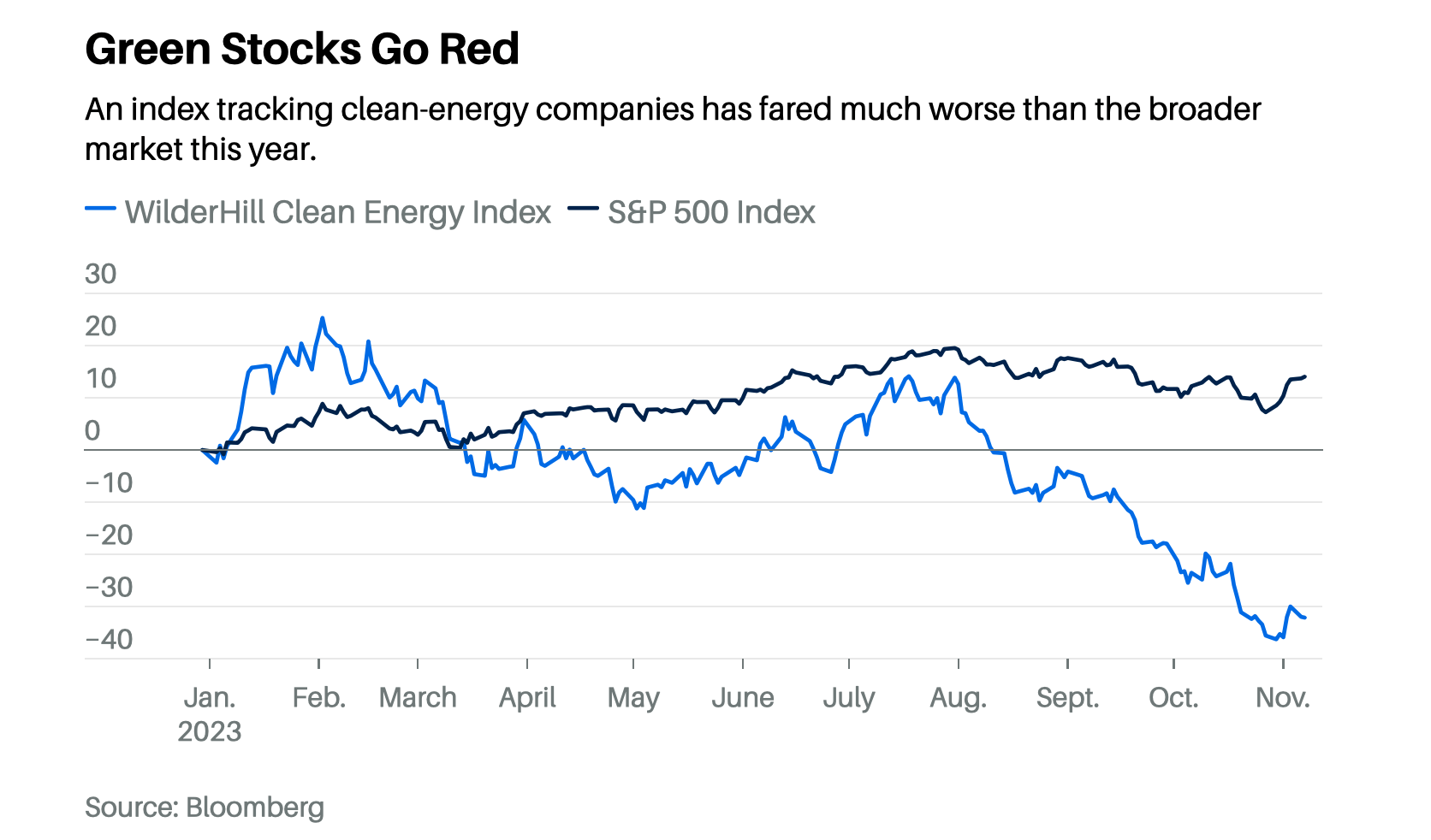 https://www.barrons.com/articles/sunrun-enphase-nextera-clean-energy-stocks-collapse-87ce2a49?mod=past_editions
---
3. Bitcoin: 52-Week High Two Years After a Record High-Bespoke
Even for a volatile asset class, it has been quite a week for crypto-related assets. With a gain of nearly 8% for the week, Bitcoin rallied to 52-week highs and crossed above 35K, 36K, and 37K in the process. Year to date, the largest cryptocurrency is up over 125%, but looking at the chart below, all of the year's gains have been confined to a handful of trading days in January, March, June, and now.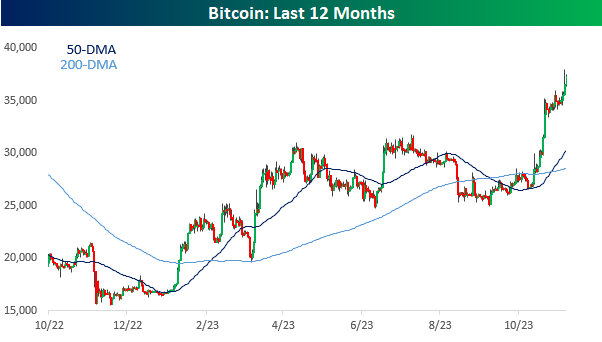 Ethereum had an even bigger week, rallying by over 14.5% and nearly doubling the gain in Bitcoin. Unlike Bitcoin, Ethereum was trading just shy of its YTD high from back in April.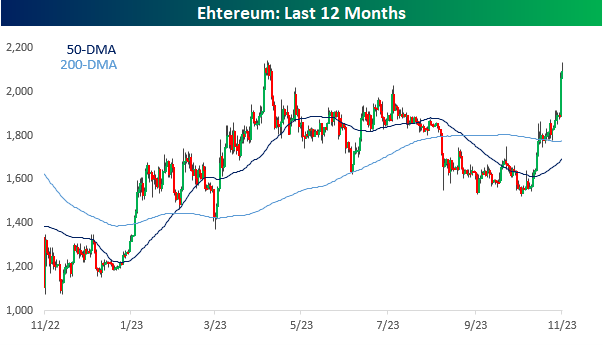 https://www.bespokepremium.com/interactive/posts/think-big-blog/bitcoin-52-week-high-two-years-after-a-record-high
---
4. Novo Nordisk Passes LVMH as Largest Company in Europe.
Novo Nordisk vs. LVMH chart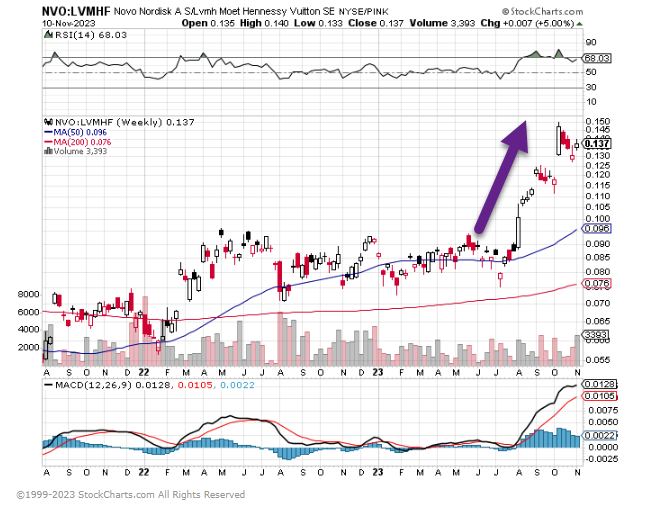 ---
5. EV Car Makers Turn to Discounts.
WSJ By Sean McLain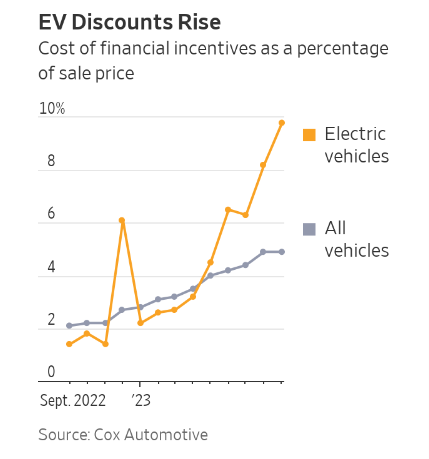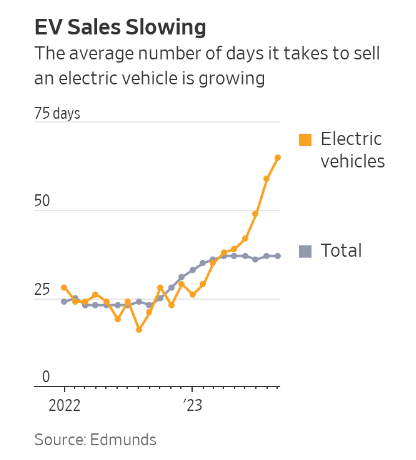 https://www.wsj.com/business/autos/ev-makers-turn-to-discounts-to-combat-waning-demand-3aa77535
---
6. Average Borrowing Rate for Used Cars 3.85% to 7.3%
Dave Lutz Jones Trading Auto research firm Cox Automotive – the owner of the closely followed Manheim price index – published new data last week for October that shows wholesale used-vehicle prices continue to slide and have reached the lowest levels since April 2021. The Manheim Used Vehicle Value Index stood at 209.4 in October, down 2.3% from September. The index is down 4% from a year ago. Sliding demand comes as Bankrate data shows the average borrowing rates for used cars have surged from around 3.85% in Feb. 2022 to 7.3% this month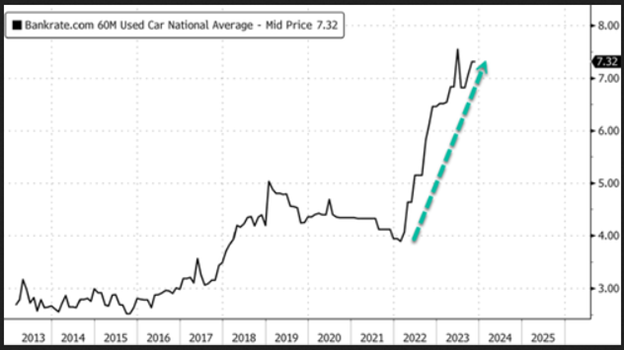 ---
7. Autonomous Vehicles and Profitability
CHARTR Predictions of when fully autonomous cars make their way into mainstream adoption have, historically, been way too optimistic. Elon Musk believes that Tesla is "very close" to delivering on level 4 or 5 self-driving, although it's worth noting that similar comments have been made by Tesla's head honcho in years gone by. What is easy to predict: getting to level 5 is going to continue requiring an enormous amount of money.
Are we there yet? Data from Crunchbase reveals that the amount of venture capital funding being poured into AVs has fallen sharply from its peak, and the willingness of industry incumbents to invest billions into projects with uncertain timelines also seems to be fading.
Cruise, for example, reportedly only has 9 months of cash left, having burned through more than $8 billion since 2017, and this week a senior executive at Honda, which has also invested heavily into the company, said it had no plans to invest more. Waymo cut 100 jobs earlier this year, Ford-backed Argo AI has already shut down, and the pivot to electric vehicles is proving enough of an expense for many manufacturers, without the added complication of building full autonomy. Even as AI hype grows by the day, the road to full self-driving suddenly seems a little longer. www.chartr.com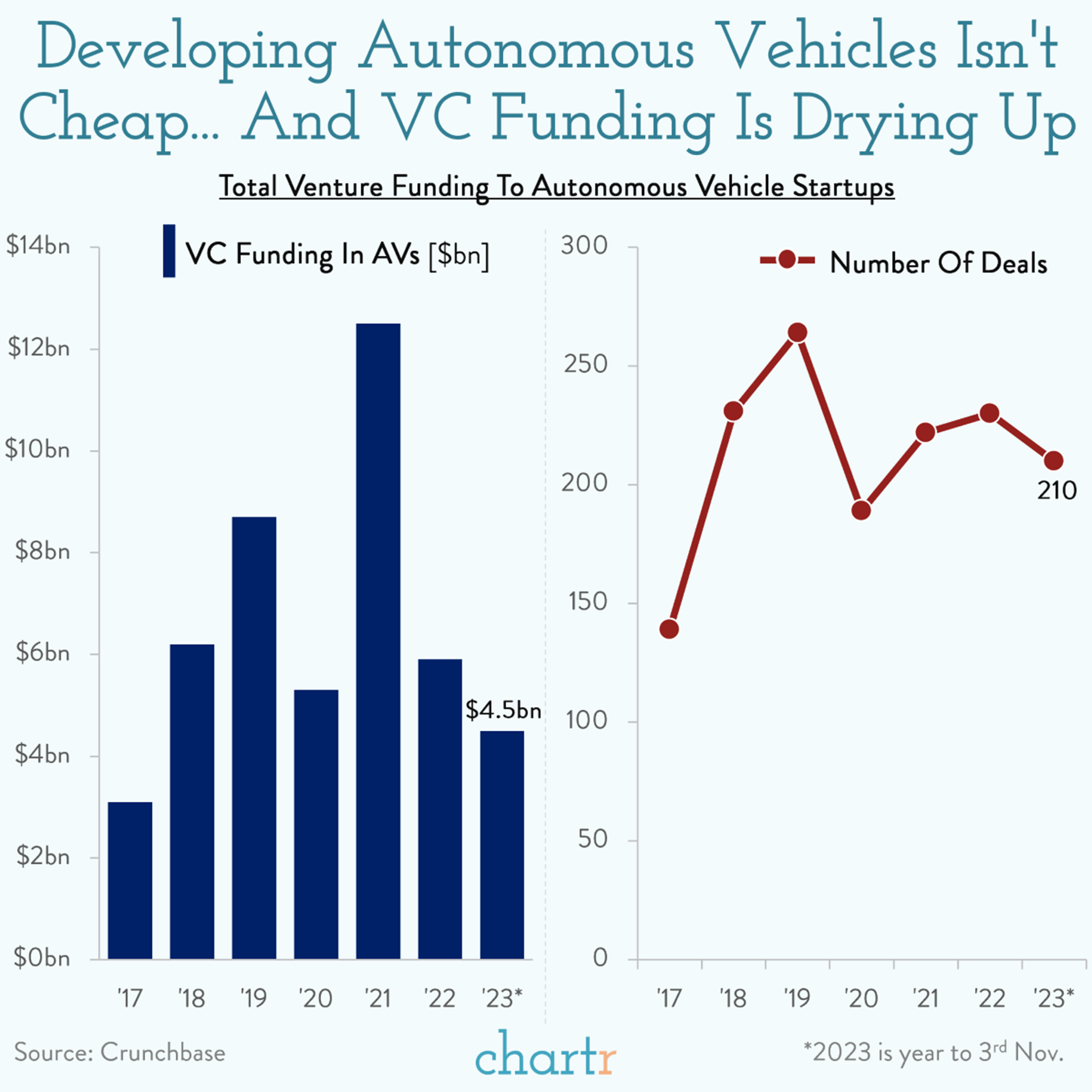 ---
8. Housing Market Affordability
From Barry Ritholtz Blog Taking into account mortgage rates, local house prices, and local incomes, buying a home in markets like L.A. and Miami today is more expensive than it was in 1981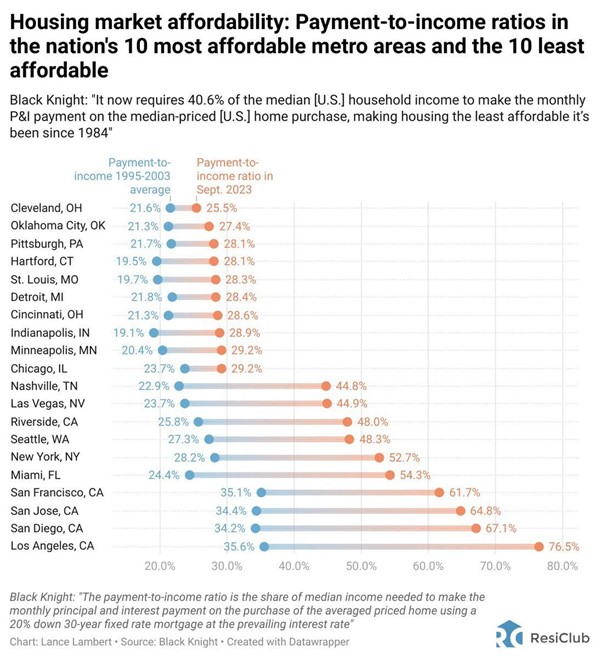 ---
9. A Record High Share of U.S. Consumers are Planning International Vacation
Torston Slok Apollo Group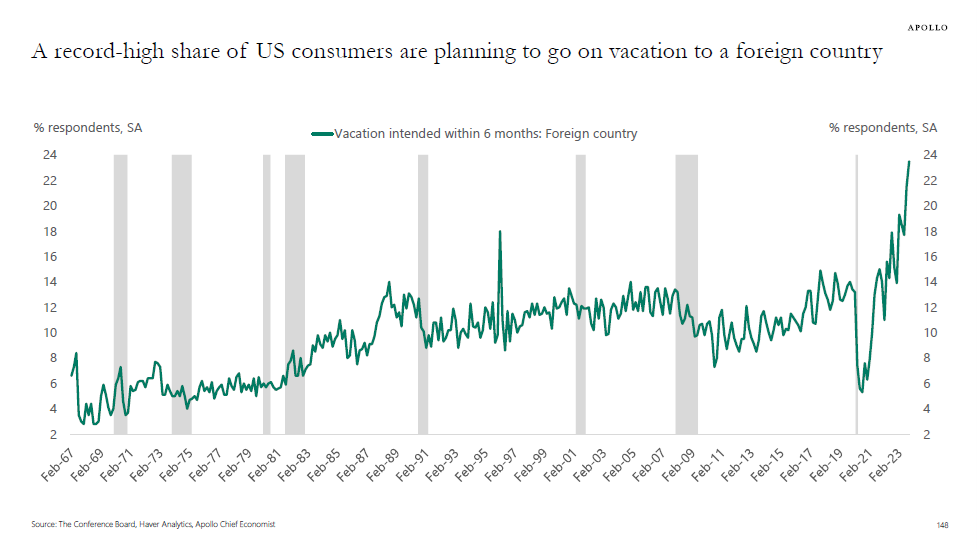 ---
10. Tiny Thought(s)-Farnam Street Blog
Anyone can do it once. The best do it consistently.
Anyone can order a healthy meal once. Anyone can get up early to workout once. Anyone can save more than they earn for a month. Anyone can take their partner on a date once. Anyone can write a page. Anyone can focus on one thing for an hour.
Most people can't do it consistently because they want instant gratification. They want to see the results … right now. Just because the results aren't immediately visible, doesn't mean they are not accumulating. Ordinary moments compound over weeks and months into extraordinary results.
Consistently boring days make for extraordinary decades.
There are a lot of things you don't control.
You don't get to pick your parents.
You don't get to pick the country you are born in.
You don't get to pick your given talent.
You don't get to pick the test.
You don't control where you start, but you can change where you go.
Integrity is a choice.
Kindness is a choice.
Hard work is a choice.
Preparation is a choice.
Consistency is a choice.
Your attitude is a choice.
Your response is a choice.
The people you hang around are a choice.
Changing your trajectory is a choice.
The person who focuses on fewer things goes further than the person distracted by many.
https://fs.blog