1.85% of U.S. High Yield Market has a Yield Below the Current Rate of CPI Headline Inflation vs. Historical Less Than 10%
Nearly 85% of the US High Yield market has a yield below the current rate of CPI headline inflation
David Schawel
@DavidSchawel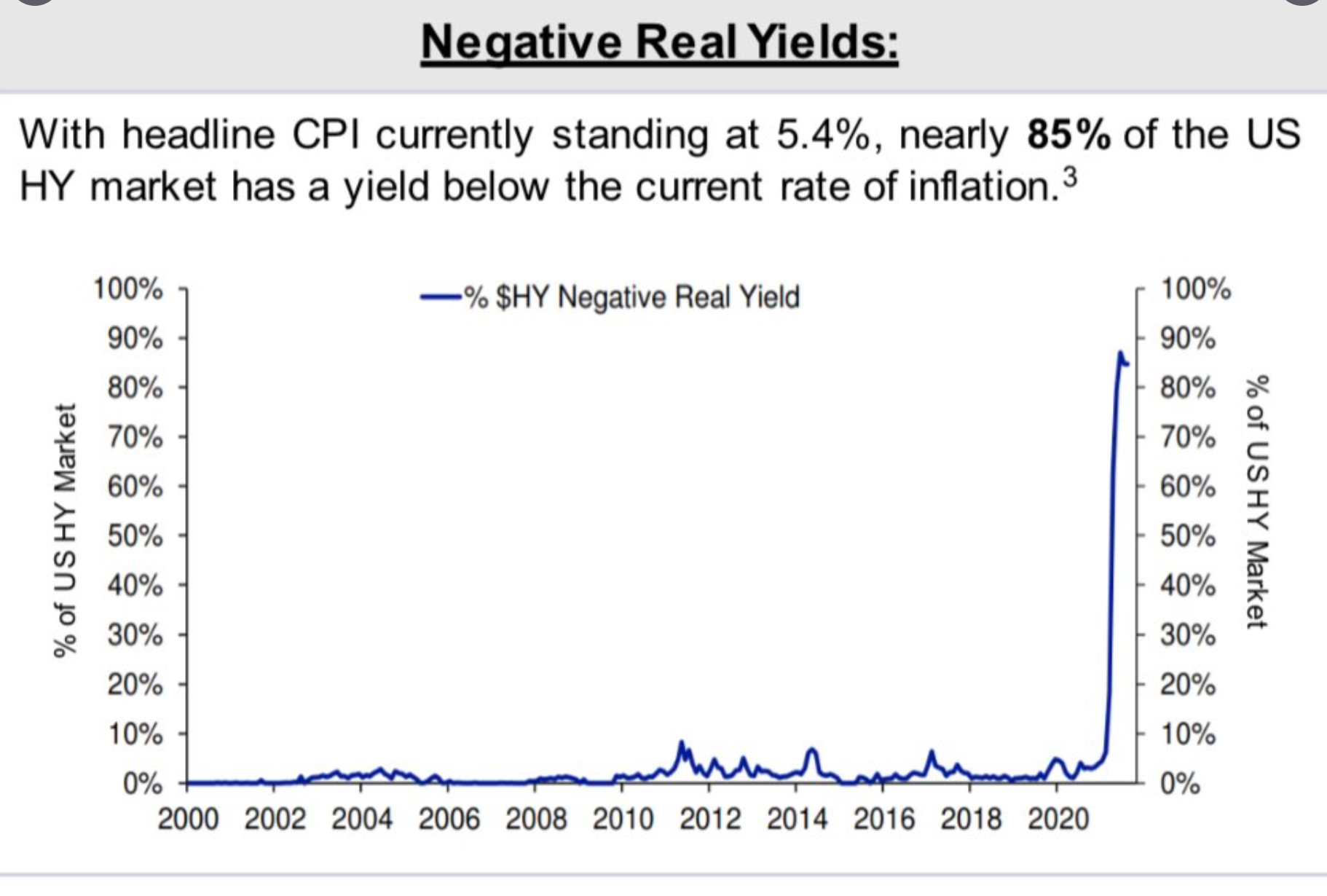 https://twitter.com/DavidSchawel
2.U.S. Junk Bonds Set $432 Billion Record in Rush to Beat Rates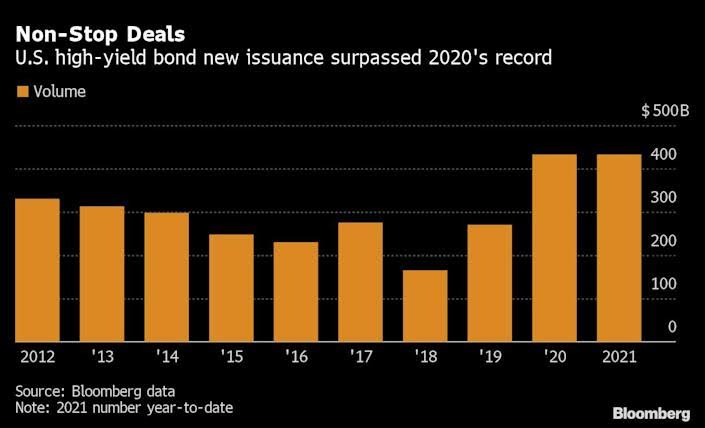 Paula Seligson
(Bloomberg) — U.S. high-yield bond sales reached an annual record of $432.4 billion on Tuesday as companies rush to lock in low coupons while they still can.
Cheap funding costs have unleashed a prolonged pile-on of debt issuance, and borrowers have been hurrying to take advantage of the opportunity before the Federal Reserve eventually raises interest rates. That could come sooner than expected amid inflation pressures, though Federal Reserve Chair Jerome Powell is still preaching patience as of last week.
This dash has taken 2021's issuance beyond 2020's high mark $431.8 billion, which topped a prior record set in 2012, according to data compiled by Bloomberg.
"Funding markets are wide open," said Nichole Hammond, a senior portfolio manager at Angel Oak Capital Advisors LLC. "Credit fundamentals are improving with decent economic growth and there is still strong demand for income yielding assets."
https://finance.yahoo.com/news/u-junk-bonds-set-432-201114824.html
3.Coal Prices in China Down Over -50%
Joe Weisenthal The Stalwart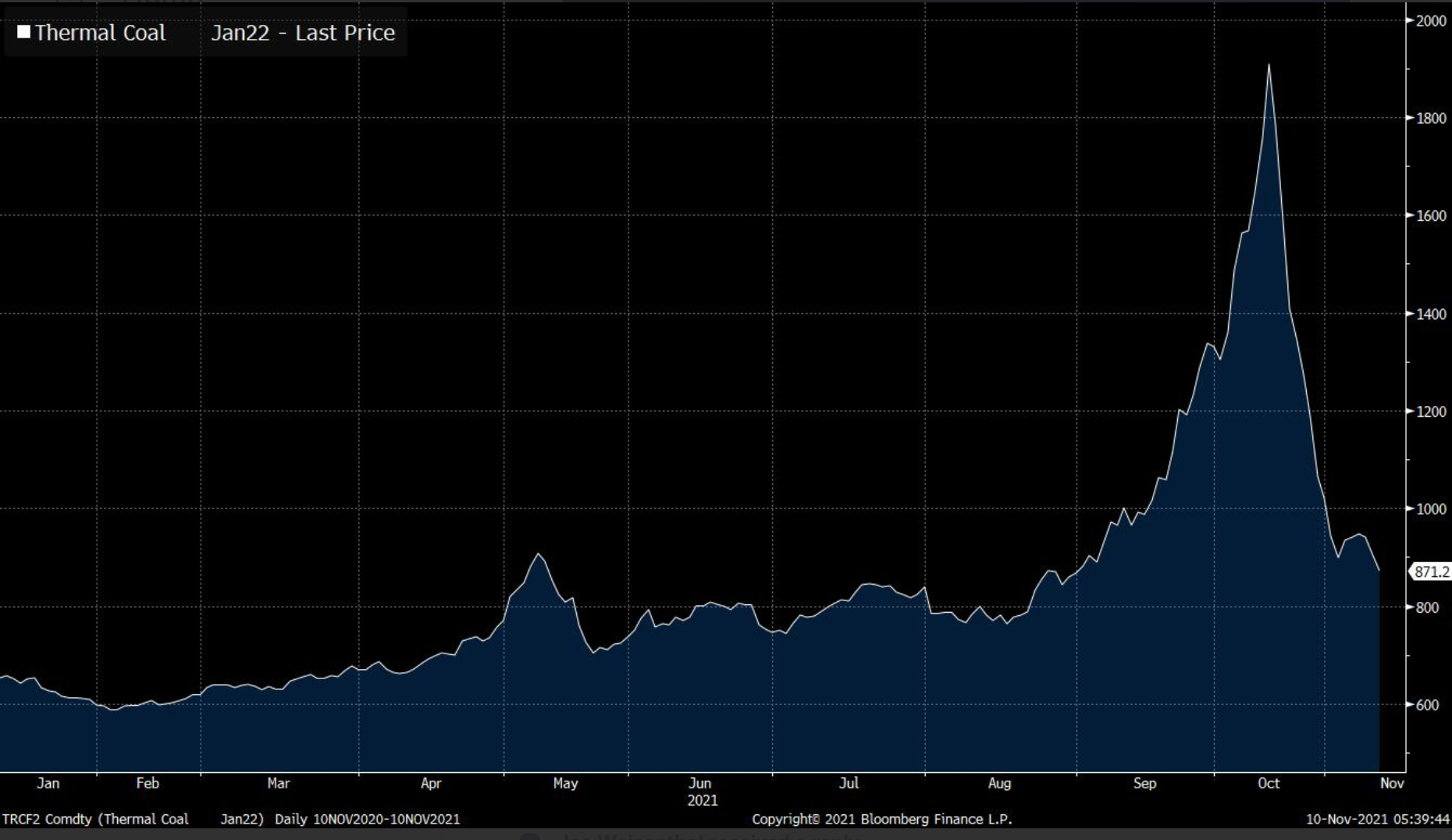 https://twitter.com/TheStalwart
4.Investors Throw Cash at Any ETF With 'Inflation' in the Name…18 Products See $35B YTD Flows.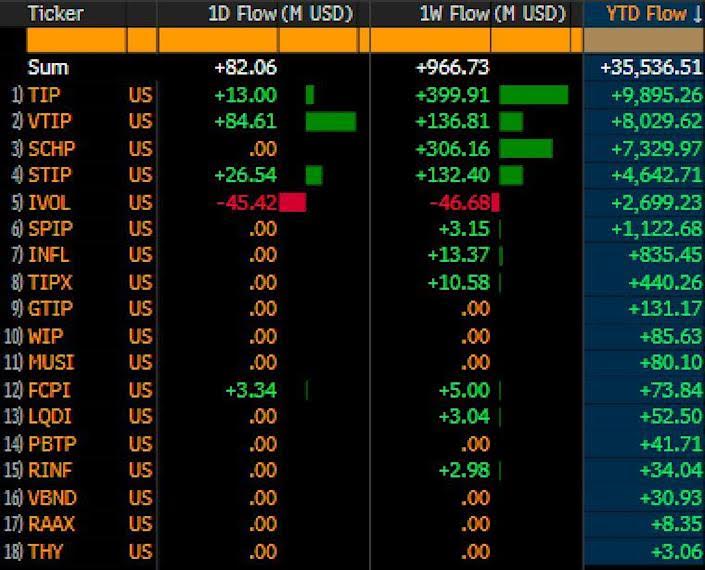 Katie Greifeld
(Bloomberg) — Endless demand to protect portfolios from rising prices is fueling an indiscriminate boom in one corner of the $7.2 trillion U.S. exchange-traded fund market.
Every single ETF with the word "inflation" in either its name or description has posted inflows so far this year, according to data compiled by Bloomberg — a rare degree of one-way conviction among the investing masses.
The 18 products — spanning asset classes and with strategies designed to outperform when prices rise — have so far lured $35.5 billion in new cash, the data show. That equates to 37% of their assets, making their organic growth rate more than three-times faster than the industry overall.
https://finance.yahoo.com/news/investors-throw-cash-etf-inflation-144414402.html
5.Total Internet Users vs. Total Crypto Users
Zerohedge Blog
6.One Popular Covid Trade Goes Full Circle
Tutoring company Chegg that exploded during Covid back to pre-virus price.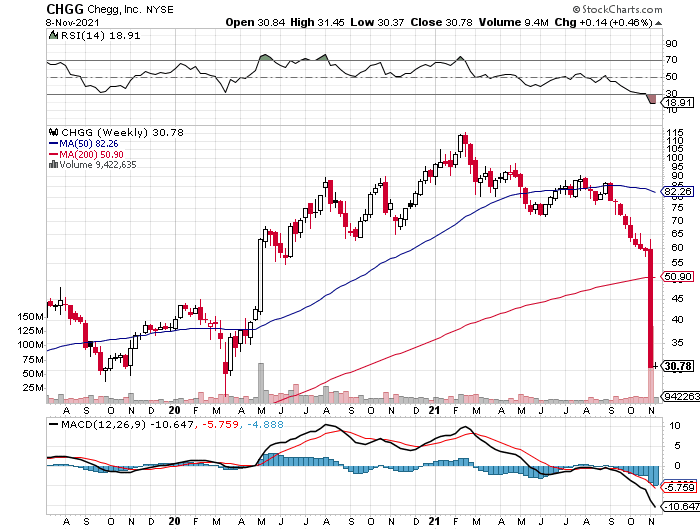 7.Vanguard Tracking to Overtake IShares in ETF AUM
Vanguard now pretty comfortably over $2 trillion in U.S. ETF assets but the pace of growth has been incredible, currently eating 2% market share from iShares every six months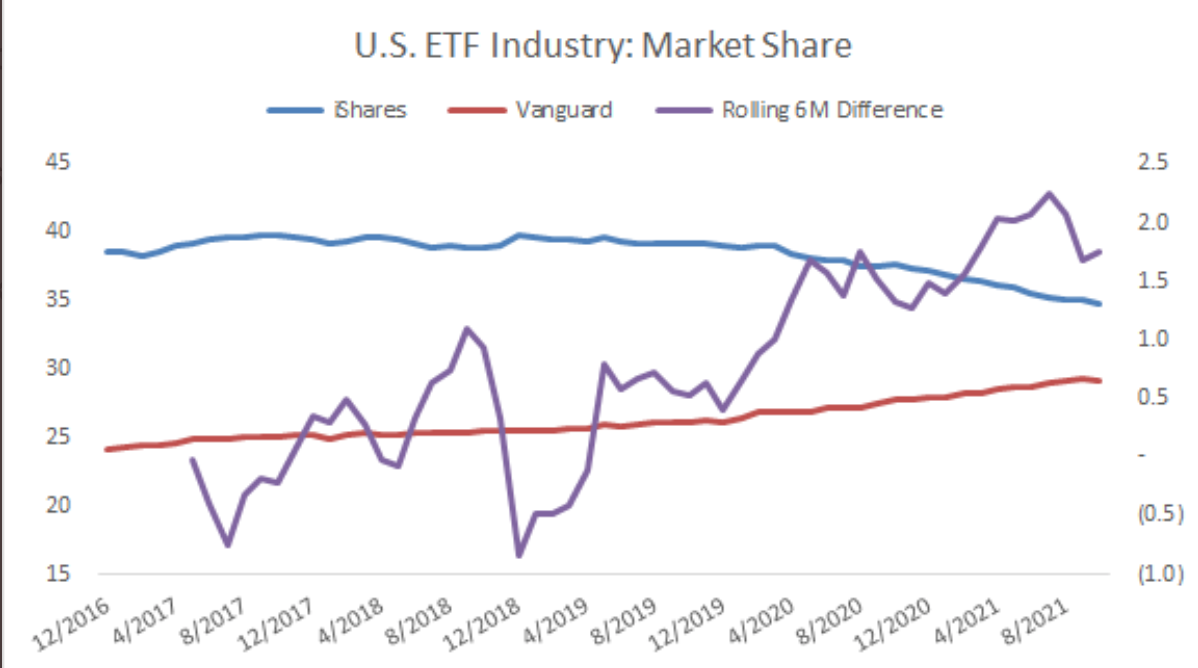 https://twitter.com/tpsarofagis
8.U.S. casinos have best quarter ever, fueled by online and sports bets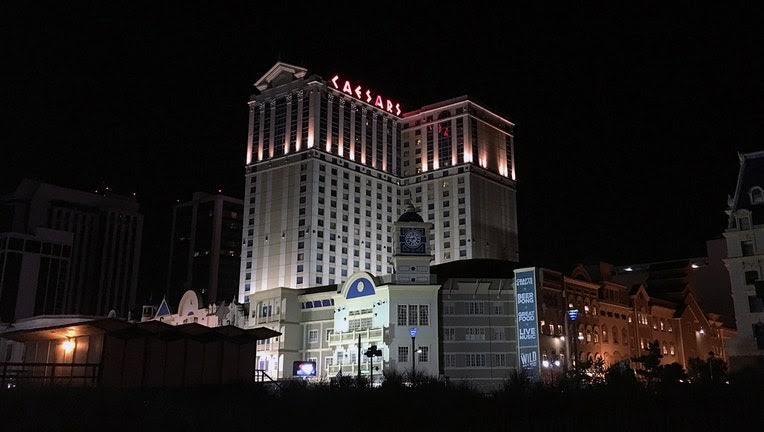 Caesars in Atlantic City, N.J. (FOX 5 NY File Photo)
ATLANTIC CITY, N.J. (AP) – The nation's commercial casinos won nearly $14 billion in the third quarter of this year, marking the industry's best quarter ever, and pushing U.S. casino revenue past what it was for all of 2020, according to figures released Tuesday.
The figures from the American Gaming Association, the casino industry's national trade group, show U.S. casinos are poised to have their best year ever in 2021 as more consumers feel comfortable visiting casinos amid the COVID19 pandemic, and as online and sports betting revenues continue to grow.
U.S. casinos are on pace to break the annual record of $43.65 billion, set in 2019, the group said.
Bill Miller, the association's president and CEO, noted that the second quarter of this year also broke records.
"Two straight quarters of record gaming revenue is an incredible accomplishment in any context, let alone after the most challenging year in industry history," he said in a statement. "Our recovery is not a flash in the pan, but rather a sustained result of our leadership in responsible reopening, world-class entertainment offerings and widespread favorability."
The nation's non-Native American casinos won $13.89 billion in July, August and September of this year. For the first three quarters of this year, U.S. casinos have won nearly $39 billion, surpassing the total for all of 2020, and exceeding the total for the first three quarters of 2019 by 18%.
Jane Bokunewicz, director of the Lloyd Levenson Institute at New Jersey's Stockton University, said pent-up demand among pandemic-weary customers played a big role in the industry's resurgence as restrictions were lifted.
"After a year of restrictions and quarantines, people were anxious to get out and enjoy in-person experiences again," she said. "The casino industry responded quickly to implement clean and safe protocols providing a welcoming environment to people seeking safe social activities.
https://www.fox5ny.com/news/us-casinos-best-quarter-ever
9.States with the Highest and Lowest Wage Increases Since 2010
The Daily Shot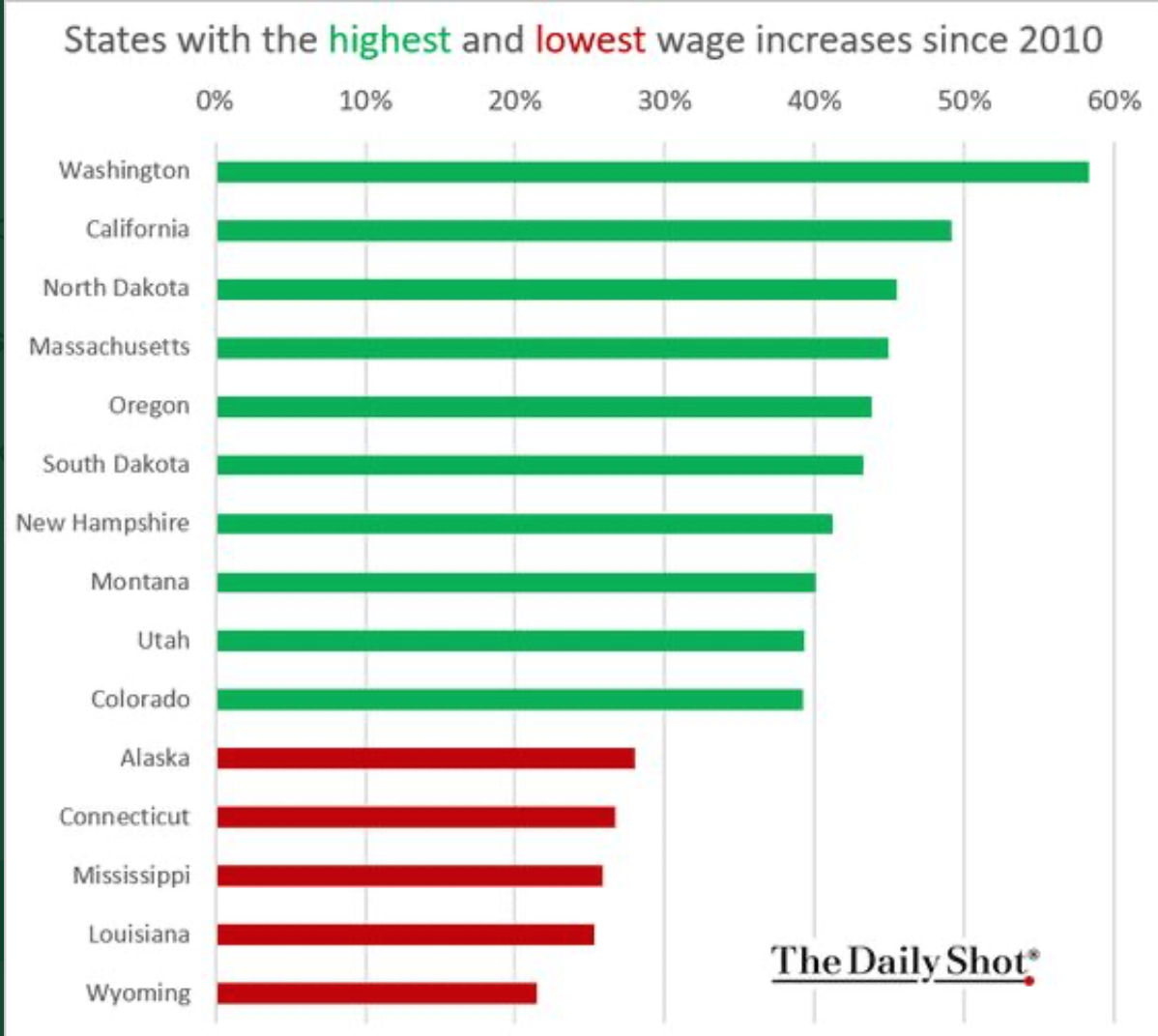 https://twitter.com/SoberLook/status/1458381363548200963/photo/1
10.The Discipline of Action
As a kid, Demosthenes—one of the greatest orators of history and someone the publicly-minded Stoics would have studied carefully—was sickly and frail with a nearly debilitating speech impediment. He was the awkward child no one understood and everyone laughed at.
Stuck in his young mind was the image of a great orator, a man he'd once witnessed speaking at the court at Athens. That a lone individual could keep a crowd hanging on his every word for hours—it inspired and challenged Demosthenes, who was well aware this confident speaker was in many ways the opposite of him.
So he did something about it.
To conquer his speech impediment, he would fill his mouth with pebbles and practice speaking. He rehearsed full speeches into the wind or while running up steep inclines. He shaved half his head so he'd be too embarrassed to go outside and have no choice but to stay inside and practice with his voice, his facial expressions, and his arguments. He even locked himself underground in a dugout he'd built to study and educate himself.
All this training would pay off. Just like that confident speaker whose image he long held in his mind, Demosthenes earned the ability to command a crowd and would become the voice of Athens, it's great speaker and conscience. make him one of the greatest orators of Athens.
Some academic would at some point ask Demosthenes what the three most important traits of speechmaking were, his reply says it all: "Action, Action, Action!"
Whether your dream is to be a great orator, a great writer, a great entrepreneur, a great athlete—the road to realizing that dream is exactly that: a road. And just like you travel along a road in steps, accomplishing anything is a matter of steps. And taking steps means taking action.
This seems obvious. That action is the critical variable in achieving your goals and dreams. But not to LOA believers. According to one LOA guru, Esther Hicks, "You did not come into this environment to create through action." Uh what, that is literally the only way to create things. Hicks and her followers believe that to take action is to doubt the Universe's powers of manifestation. Better to show your unquestionable belief in the Universe through your inaction.
This is obviously the antithesis of the way the Stoics lived. "You have to assemble your life yourself," Marcus Aurelius wrote, "action by action."
The Daily Stoic. https://dailystoic.com/law-of-attraction/