1. S&P, Dow Jones and Dow Transports New All-Time Highs.
S&P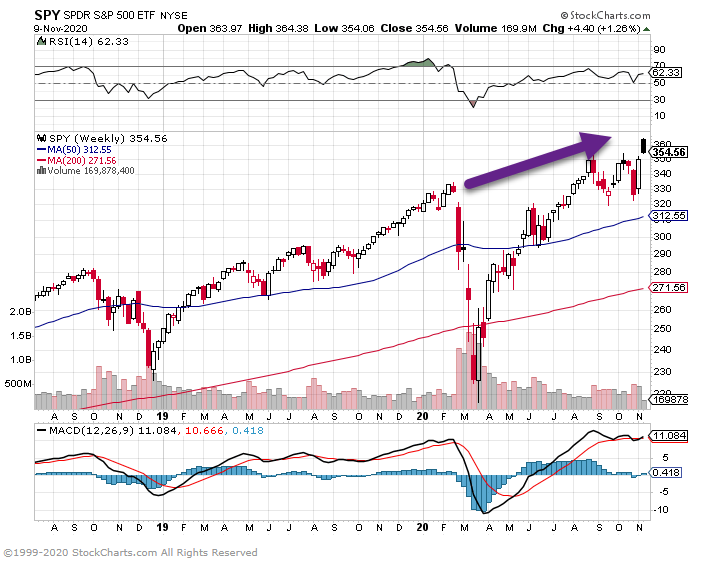 Dow Jones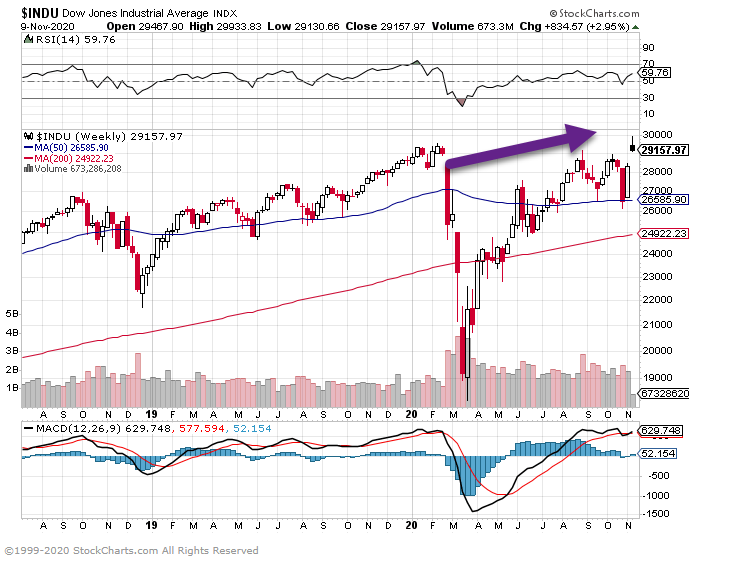 Transports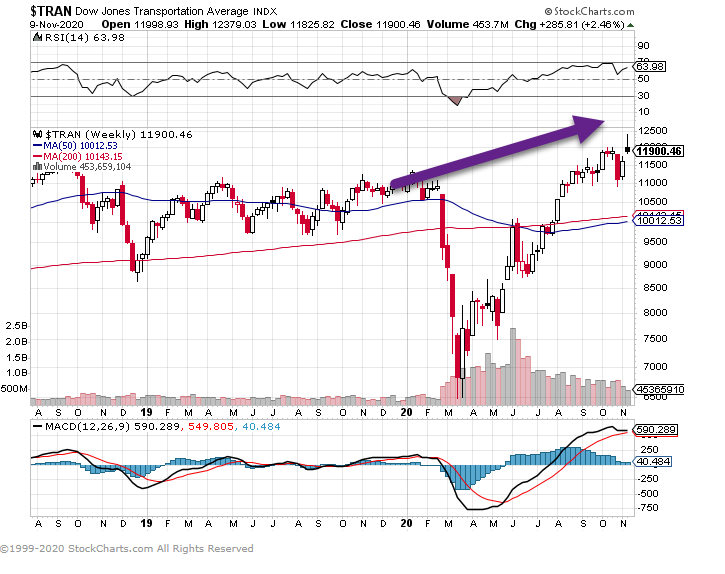 2. Small Cap Value +5% vs. QQQ -2% Yesterday
VBR small value vs. QQQ Naz 100-Monday
3. Value Outperforms One Day – Most Since 1999
Ridiculed Value-Stock Bets Look Brilliant on Vaccine News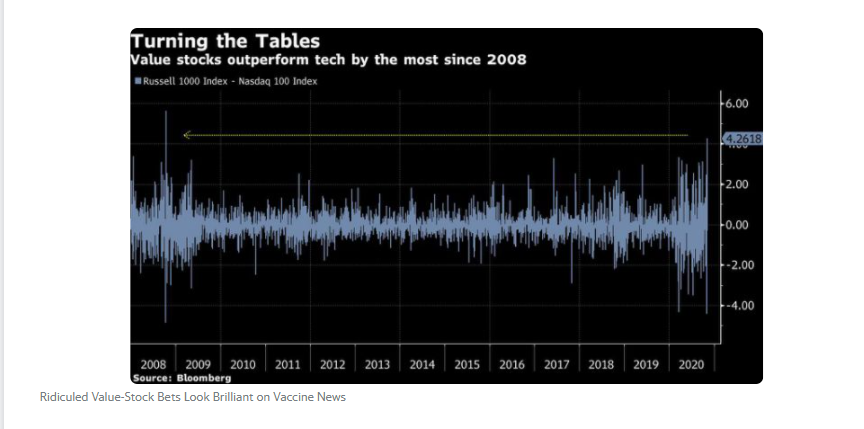 https://finance.yahoo.com/news/ridiculed-value-stock-bets-look-154450221.html
4. XLE Technology vs. XLK Energy Relative Performance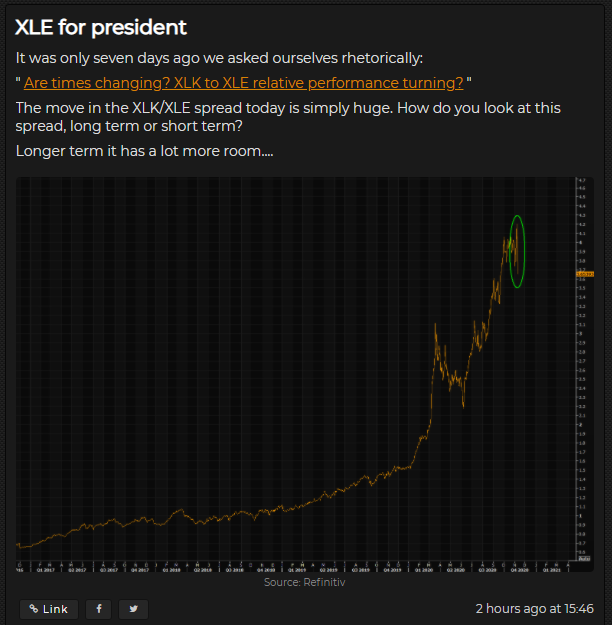 The Market Ear
5. Zoom -30% from Highs…..Longer-Term Chart Only Back to Sept. Levels.
Big Zoom correction looks small on long-term chart…still 63% over 200 day moving average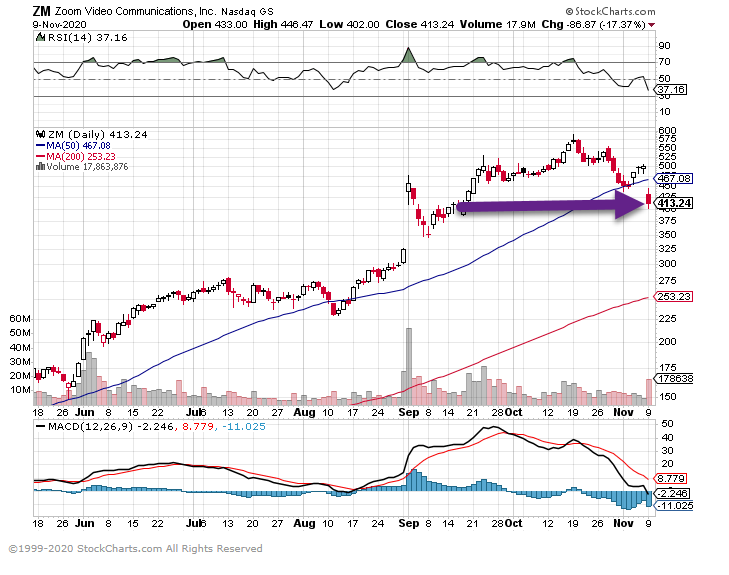 6. S&P 500 Returns Based Off Partisan Control Comparisons 1933-2019
https://www.stoneinvestmentpartners.com/
7. Comparing Scale of Bailouts…….Debt To GDP Ratios
The Rescues Are Ruining Capitalismby Lance Roberts of Real Investment Advice, 11/9/20
https://www.advisorperspectives.com/commentaries/2020/11/09/the-rescues-are-ruining-capitalism
8. Eight Key Strengths in Empire's Rise and Fall
This chart shows how eight key strengths – education, innovation and technology, competitiveness, military, trade, output, financial center, and reserve status – typically determine a country's rise and decline, and how they typically evolve. (1/2)
9. Voter turnout in U.S. presidential election, by state 2020
Published by Erin Duffin, Nov 9, 2020
As of November 4, 2020, 66.4 percent of the eligible voting population in the United States voted in the 2020 presidential election. As of this date, voter turnout was highest in Minnesota, at 79.2 percent.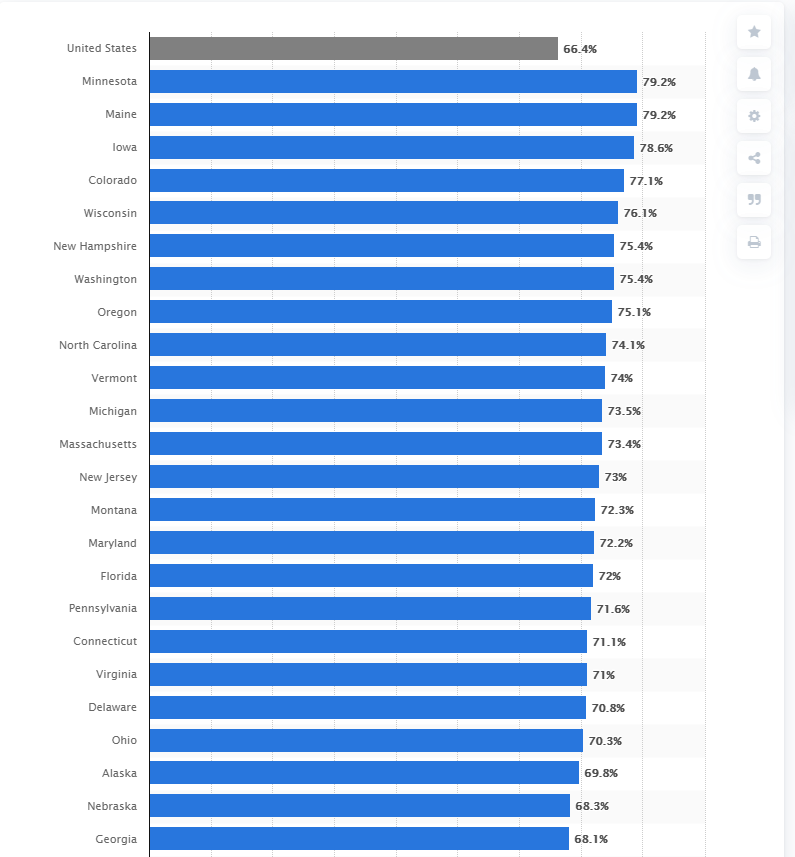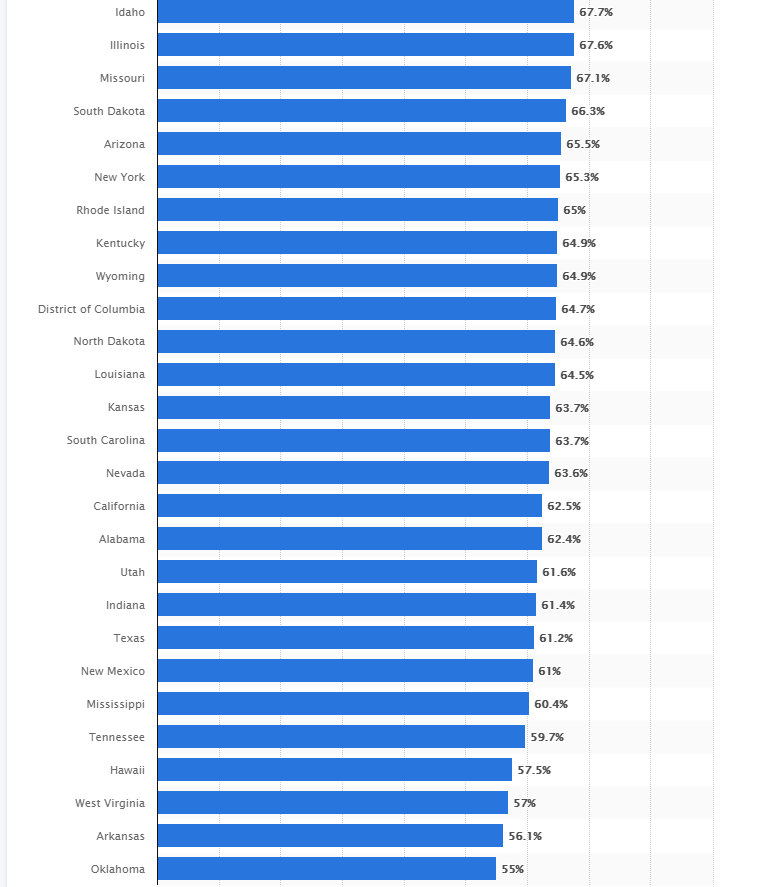 https://www.statista.com/statistics/1184621/presidential-election-voter-turnout-rate-state/
10. Rohn: 7 Traits of the Most Resilient People
By Jim Rohn | April 17, 2016 | 0
Resilience is the ability to return to the original form after being bent, stretched or compressed. It's the ability to readily recover from illness, depression or adversity. How would you ever handle it if you lost everything you had today? What would your next step be? How long would you be depressed and upset and angry? What would it take for you to pull yourself up and start all over again? How resilient are you? Could you handle it? Could you learn from all of your disappointments and start all over again? What would it take?
Related: 10 Things Successful People Never Do Again
First, it would take a lot of self-discipline. It would take a lot of positive self-talk to muster up the energy to begin again. It would take a lot of concentration to block out the noise and the clutter of all the negative voices trying to get through, as well as the negative voices of others around you. It would take a lot of discipline to balance the fear and anxiety with the knowing that, if you did it once, you can do it all over again.
Whether your losses had anything to do with you or not, your future success has everything to do with you. It would take a lot of self-reliance to avoid blame. What's happened has happened. You would need to get on with your life and begin again. If you lost everything tomorrow and were gathering the courage to try again, it would take a lot of self-appreciation. You need to know in your heart and mind that you have the skills, the talent and the strength to do it one more time.
Cultivating a resilient character turns failure into success. A resilient person won't give up. A resilient person will, in spite of all obstacles and setbacks, keep doing it until.
In The Resilient Self, authors Steven and Sybil Wolin list seven key characteristics that compose resilience:
1. Resilience requires insight.
You need to develop the ability to ask yourself tough questions and answer honestly. If you had something to do with your loss, be honest and responsible for it.
2. Resilience is independent.
As a resilient person, you can count on yourself to bounce back into life.
3. Although resilience is independent, it's also tied to others.
The more people you are responsible for, the greater your motivation to begin again—the stronger the reason, the stronger the action.
4. Resilience calls for initiative.
You need to develop the ability to take charge of the situation, to take charge of the problem. You need to stand up and do whatever is necessary to get back on course.
5. Resilience has an element of creativity.
With resilience, you are able to look at a situation and creatively determine the best way out. You are enterprising in your approach toward starting over.
6. A resilient person has humor.
You may cry until you start laughing, but a sense of humor is so important when turning your life around. You've got to take your goals seriously, and you've got to take yourself seriously. But at times, you've also got to be able to laugh at yourself and your situation.
7. A resilient person has a strong sense of morality.
Whatever you do to get back on your feet, make sure it's moral. Make sure that your upcoming success is at the service, and not at the expense of, others. Success, if it is yours to keep, must be at the service of others.
The more obstacles you face and overcome, the more times you falter and get back on track, the more difficulties you struggle with and conquer, the more resiliency you will naturally develop. If you are resilient, there is nothing that can hold you back.
Related: Rohn: How to Bounce Back From Failure
Share this:
Disclosure
Lansing Street Advisors is a registered investment adviser with the State of Pennsylvania..
To the extent that content includes references to securities, those references do not constitute an offer or solicitation to buy, sell or hold such security as information is provided for educational purposes only. Articles should not be considered investment advice and the information contain within should not be relied upon in assessing whether or not to invest in any securities or asset classes mentioned. Articles have been prepared without regard to the individual financial circumstances and objectives of persons who receive it. Securities discussed may not be suitable for all investors. Please keep in mind that a company's past financial performance, including the performance of its share price, does not guarantee future results.
Material compiled by Lansing Street Advisors is based on publicly available data at the time of compilation. Lansing Street Advisors makes no warranties or representation of any kind relating to the accuracy, completeness or timeliness of the data and shall not have liability for any damages of any kind relating to the use such data.
Material for market review represents an assessment of the market environment at a specific point in time and is not intended to be a forecast of future events, or a guarantee of future results.
Indices that may be included herein are unmanaged indices and one cannot directly invest in an index. Index returns do not reflect the impact of any management fees, transaction costs or expenses. The index information included herein is for illustrative purposes only.