1. History of 3 Month to 10 Year Yield Curve Inversion
By Barry Gilbert LPL Research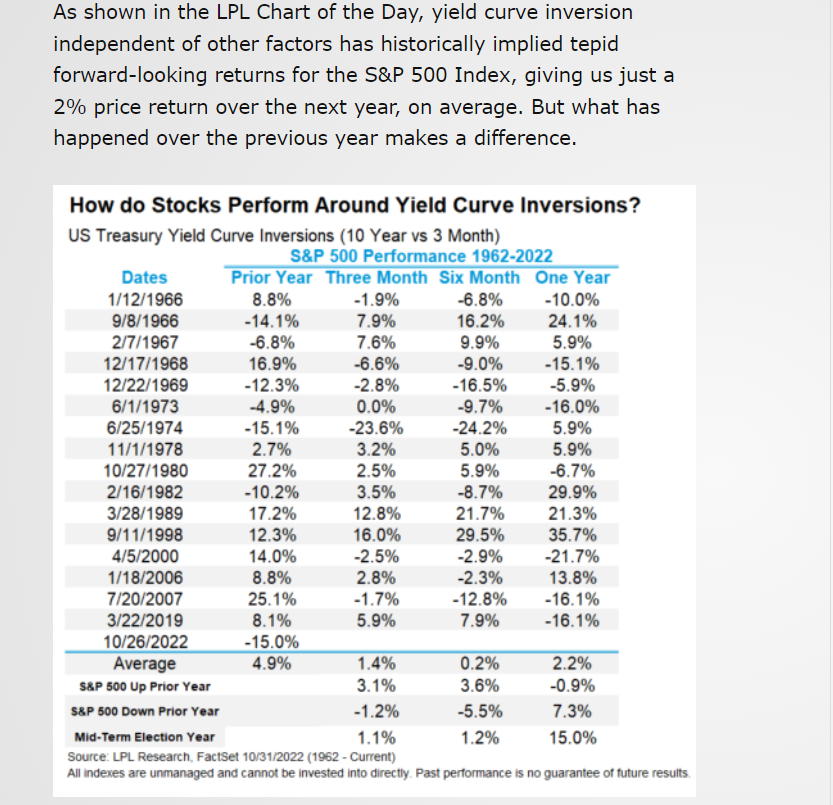 https://iplresearch.com/2022/11/01/how-markets-respond-to-yield-curve-inversions/#more-25984
---
2. Previoius Technology Stock Peaks
Jonathan Baird The accompanying chart illustrates 3 major peaks in the valuation of tech-related shares versus the S&P 500, the most recent being in the second half of 2021 which signaled the end of the last bull market. The previous two events proved to be major turning points for stock markets.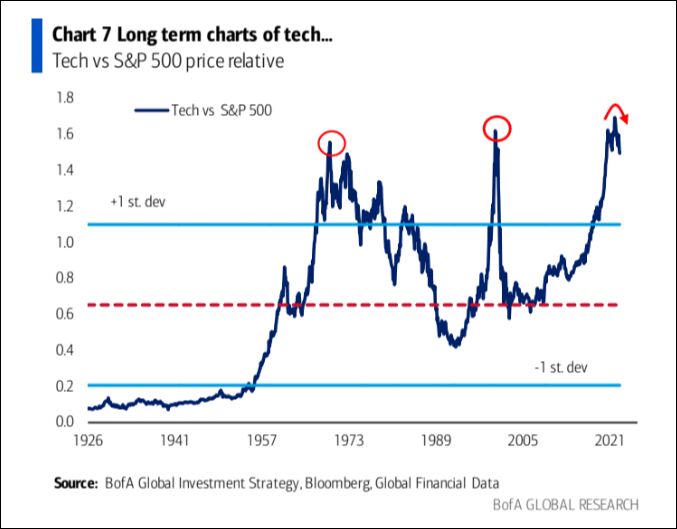 https://www.linkedin.com/in/jonathanbaird88/
---
3. Fed Terminal Rate Now Above 5%
ZeroHedge Terminal rate expectations ended the day at new cycle highs (above 5.10%) and rate-cut expectations shifted hawkishly…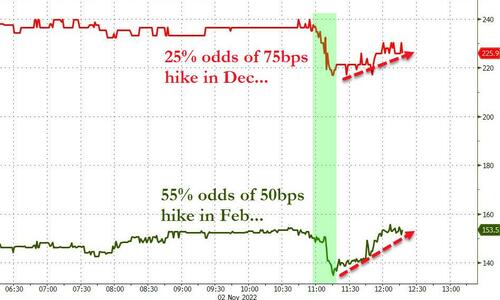 Odds of 75bps. In December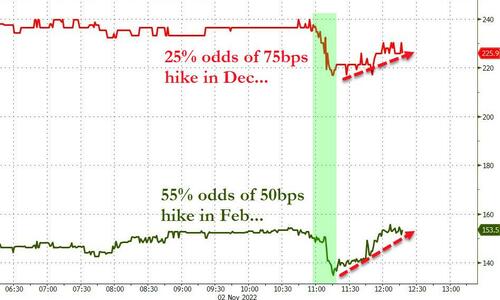 https://www.zerohedge.com/markets/powell-pulls-rug-out-euphoric-fomc-statement-reaction-terminal-rate-jumps
---
4. Another Sentiment Indicator at Lows ..CEO Business Confidence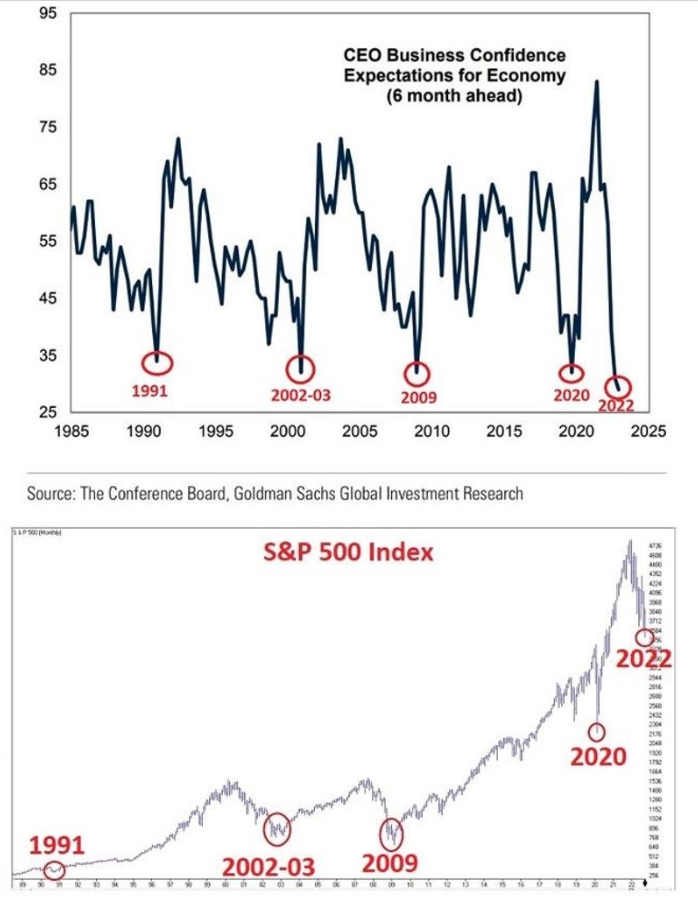 ---
5. Two Day Sell Off but VIX Going Down
 VIX $33 down to $25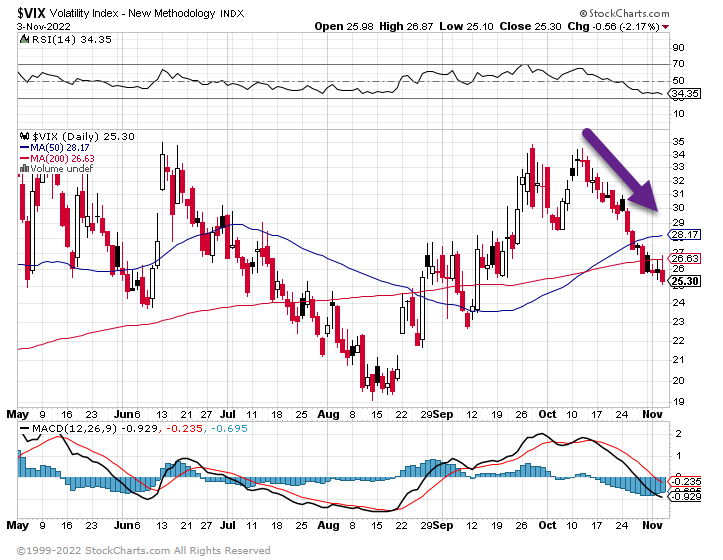 ---
6. Earnings Beat Rate Shrinking
Liz Ann Sonders Schwab Even with the lowered bar, the "beat rate" (percentage of companies exceeding consensus expectations) continues to weaken relative to the historic highs during the first half of last year. As shown below, 73% of companies have beaten expectations to the collective tune of only 4% (also well down from more than 20% at the start of last year).
Descending beats

As shown below, after a brief lift toward positive territory, the Citi U.S. Earnings Revisions Index sank again into negative territory. We continue to believe the path of least resistance for earnings estimates for the remainder of this year and into at least the first half of next year is lower.
Negative net revisions

Source: Charles Schwab, Bloomberg, as of 10/21/2022.
Citi U.S. Earnings Revisions Index measures the number of equity analyst revisions upgrades (positive) and downgrades (negative).
https://www.schwab.com/learn/story/disappearing-act-earnings
---
7. Job Changers Getting Big Raises
Wolf Street To beat CPI inflation that has been raging at 8% to 9% this year, workers have to change jobs; if they're not changing jobs – the loyal employees who stick it out through thick and thin – well, they might appreciate the pay increases, but they're just falling further behind.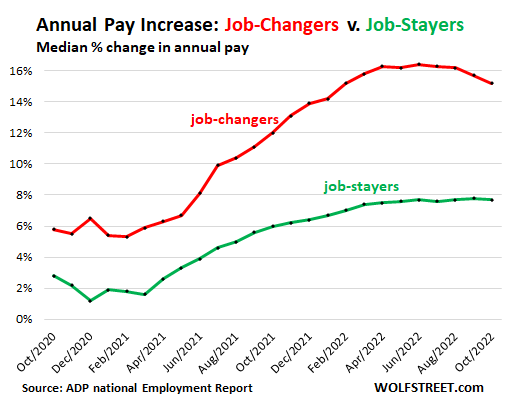 Job Openings just starting to roll over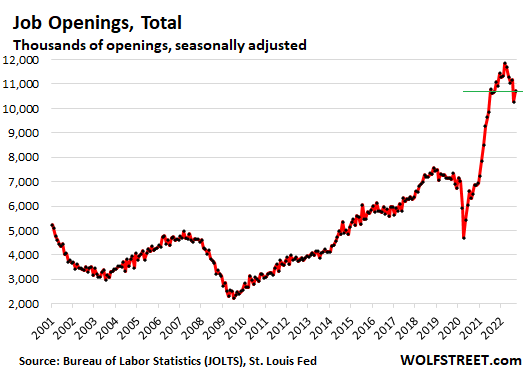 https://wolfstreet.com/2022/11/02/wages-soar-by-7-7-but-job-hoppers-boost-their-pay-by-15-2-leveraging-this-historically-tight-labor-market/
---
8. Number of Veterans in Congress
The Daily Shot Blog Food for Thought: Lastly, here's a look at the share of military veterans in Congress.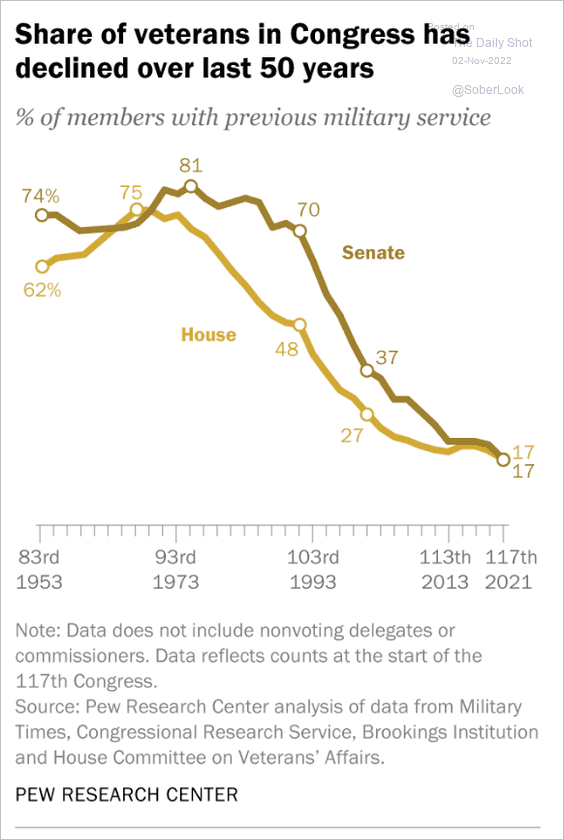 Source: Pew Research Center Read full article
https://dailyshotbrief.com/the-daily-shot-brief-november-2nd-2022/
---
9. Blockbuster Video Passed on Buying Netflix for $50m
ENTERTAINMENT
'Blockbuster' comes to Netflix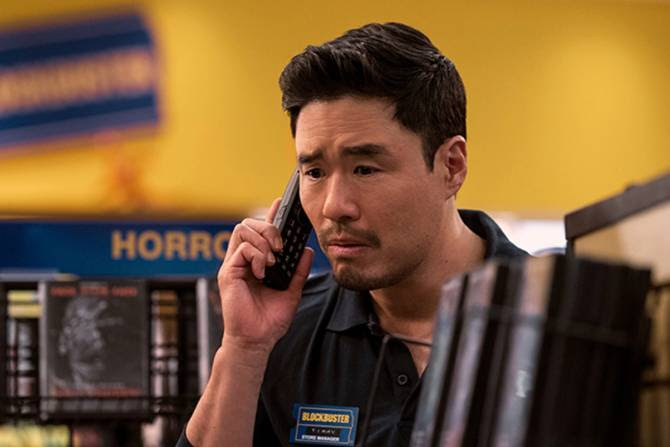 Netflix released its newest original comedy, Blockbuster, today. The show is about the last remaining branded video rental store—which feels a little personal, since Netflix helped stamp out its once-dominant competitor.

At Blockbuster's peak, the movie rental chain had 9,000 stores and raked in $6 billion in annual revenue, mainly from our 10 Things I Hate About You late fees.

But in the late '90s, Blockbuster passed on the chance to buy Netflix for $50 million. Not a great call, since the company is now worth over $120 billion.

Instead, Blockbuster partnered with Enron to create its own video-on-demand platform. In 2001, the chain abandoned the project, thinking the future of the industry would still involve blue-carpeted video rental stores. Over the next decade Blockbuster couldn't keep up with Netflix and filed for bankruptcy. As of 2018 only one store, more of a shrine to the way things were than an actual business, remains in Bend, Oregon.

And now…Netflix, the once scrappy underdog that defeated Blockbuster, is back to hustling as it strives to set itself apart from other streaming services. The company rolled out its first ad-supported tier today to juice flagging subscriber numbers.—MM
https://www.morningbrew.com/daily
---
10. A Sense of Urgency
​The Daily Stoic
In the kitchen at Per Se, one of the best restaurants in the world, there is a sign. All it says is: A Sense of Urgency. That's what a great chef, a great service staff, a great organization has. A great person needs it too.
Yet far too many of us lack this. In Meditations, Marcus Aurelius chides himself for acting as if he's going to live forever, as if he has unlimited time. "You could be good today," he writes, "instead you choose tomorrow." He tells himself he needs to concentrate like a Roman and do the task in front of him as if it was the last thing he was doing in his life. In short, he needs to attack everything with a sense of urgency.
We all do. We say we're doing it, that we're working on something. But are you? Where is the progress that proves it? It seems more like you're acting like you have forever, that the customer isn't all that important, that it doesn't matter if the food gets cold. You need to hurry up.You need to get after it.
Not with frenzy or haste, but with all deliberate speed. With purpose. With the concentration of a Roman, the clarity of a person who understands that tomorrow is not a guarantee. People, progress, your destiny–it's waiting on you. It demands a sense of urgency.