1. Investors Pulled $8B from Chinese Equity Markets in October….Second Largest Drawdown in History
Dave Lutz at Jones Trading International investors pulled about $7.9 billion from China's equity markets in October through the Stock Connect program, the second-largest monthly drawdown in the history of the trading link – Outflows picked up in recent days as global investors reacted negatively to Chinese President Xi Jinping's cementing of power with a third term as the country's paramount leader, WSJ reports.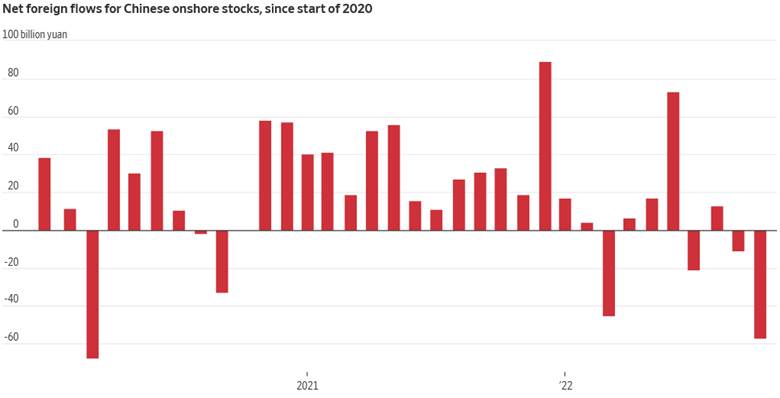 ---
2. Covenant Lite Loans 90% of Leveraged Loan Issuance …. Covenant-lite loans do not include maintenance covenants, which require borrowers to meet regular financial tests.
Not my expertise but interesting data
S&P Global Market Intelligence.-Covenant-lite deals exceed 90% of leveraged loan issuance, setting new high
More than 90% of U.S. leveraged loans issued this year have been covenant-lite, a new record, further marking a two-decade-long transformation of the asset class in which nearly all newly issued loans have shed lender protections that once had been standard.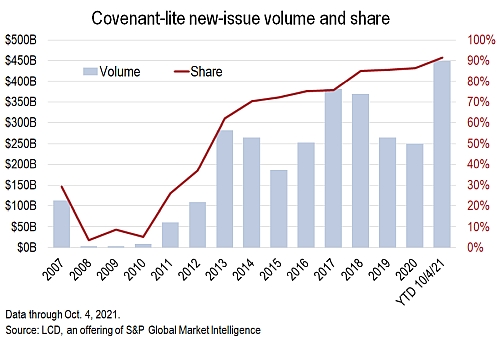 More broadly, some 86% of the $1.3 trillion in outstanding U.S. leveraged loans are covenant-lite, according to the S&P/LSTA Leveraged Loan Index. Likewise, that is a record.
The trend is worth noting because of the potential recovery levels. Covenant-lite facilities recover less than traditional term loans with maintenance covenants, an LCD analysis shows.
The trend toward covenant-lite debt in the syndicated loan market may also partly explain the rise of private credit loans. Private credit loans typically still offer lenders covenant protections, market sources say.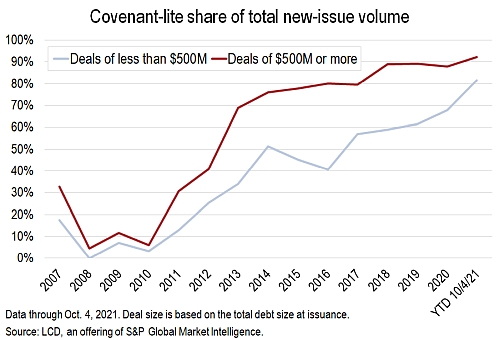 https://www.spglobal.com/marketintelligence/en/news-insights/latest-news-headlines/covenant-lite-deals-exceed-90-of-leveraged-loan-issuance-setting-new-high-66935148
---
3. Occidental Petroleum +150% …S&P Best Performer YTD…Buffett #1 Holder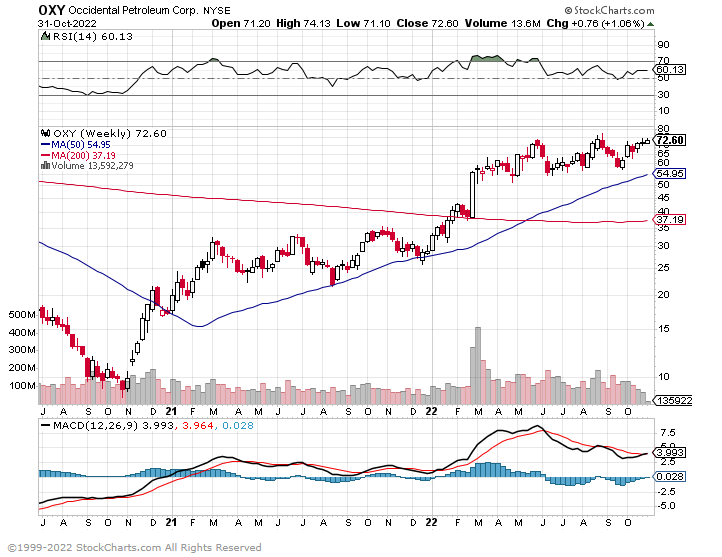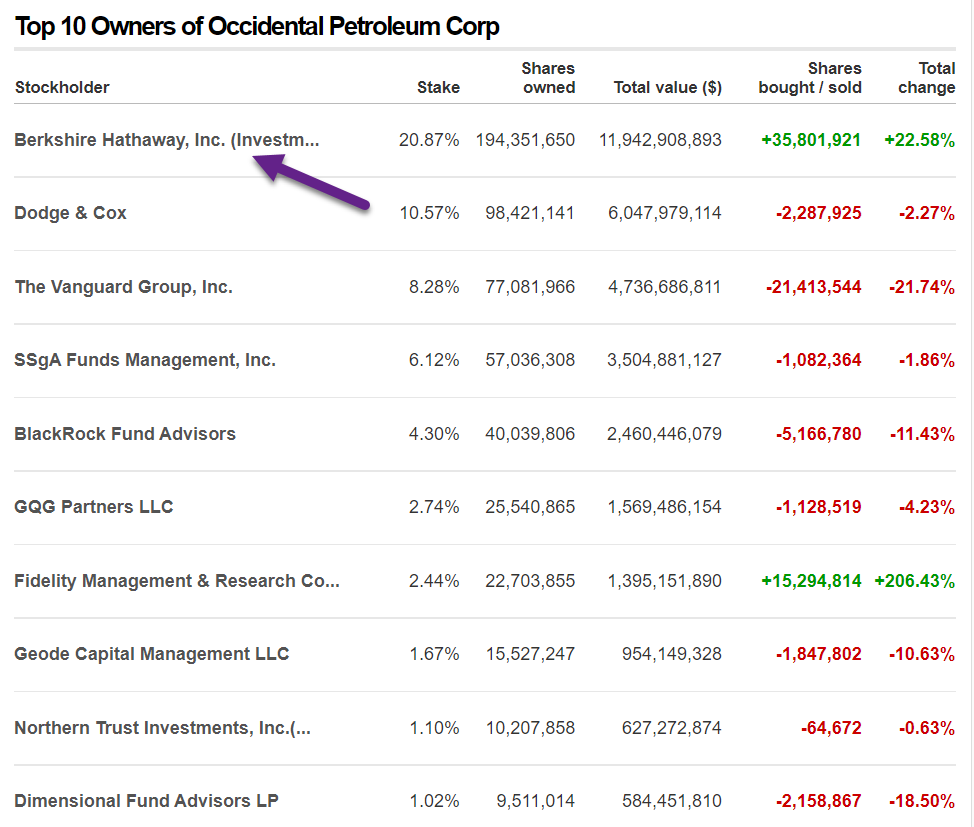 https://money.cnn.com/quote/shareholders/shareholders.html?symb=OXY&subView=institutional
---
4. Norwegian Cruise Line +50% this Month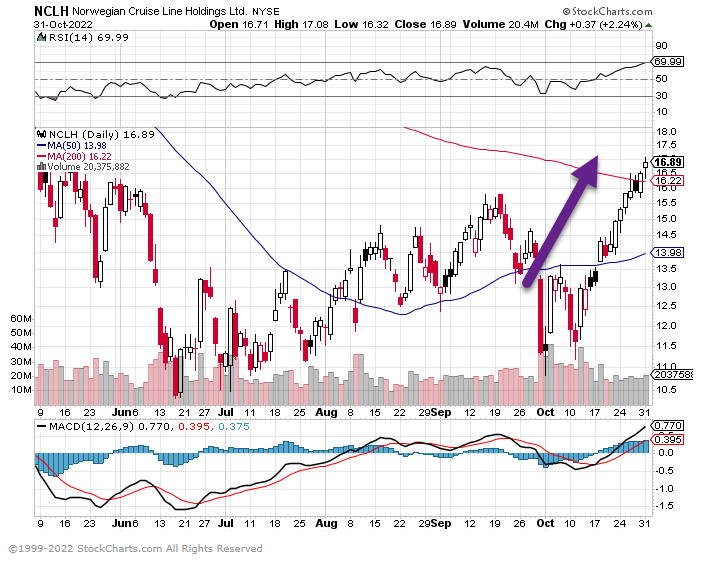 ---
5. Big Cap Tech Chart Update
Vanguard Mega Cap ETF Holds Above 200 Week Moving Average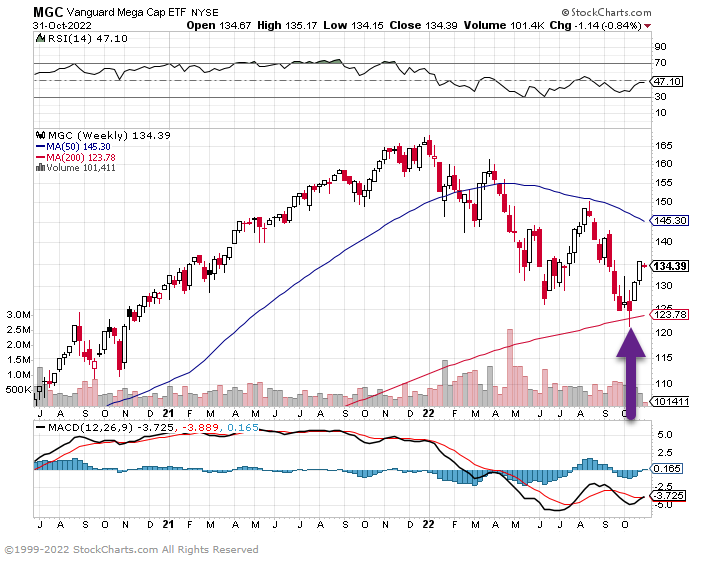 FANG Plus Stocks hard close below 200 week moving average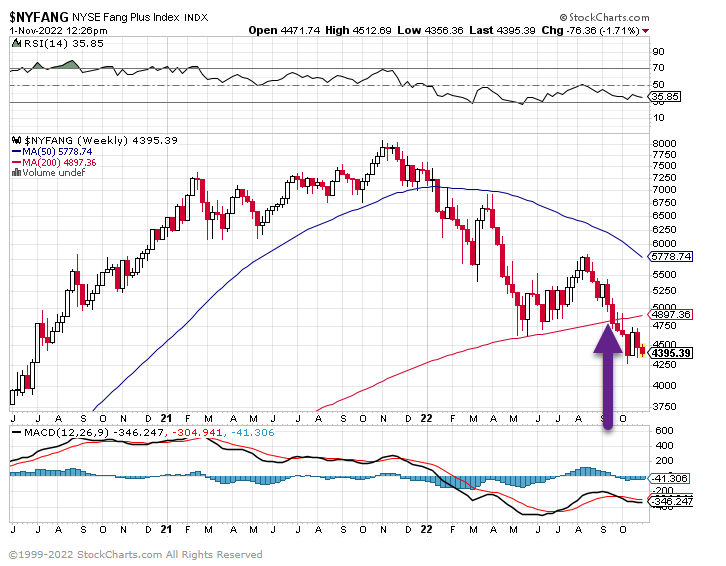 ---
6. AAPL Chart…Better than Rest of Large Cap Tech But…
AAPL…3 attempts at new highs fail……trading below 50week….well above 200 week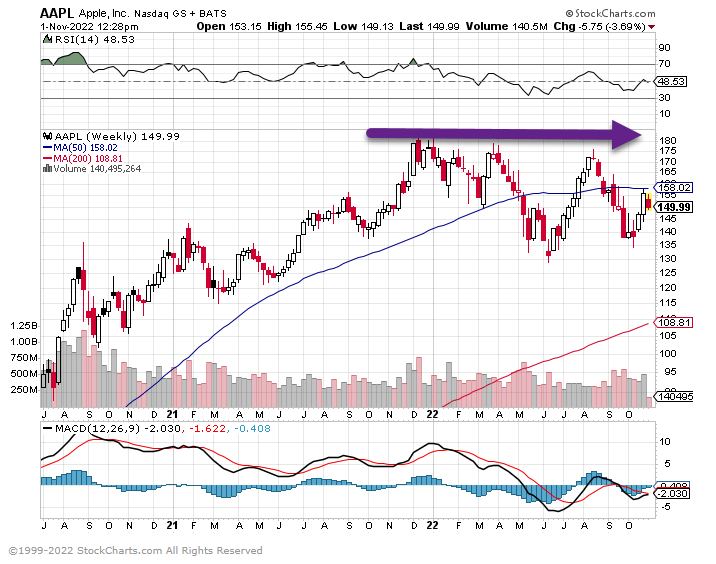 This chart compares AAPL to the FANG Plus index….AAPL outperforming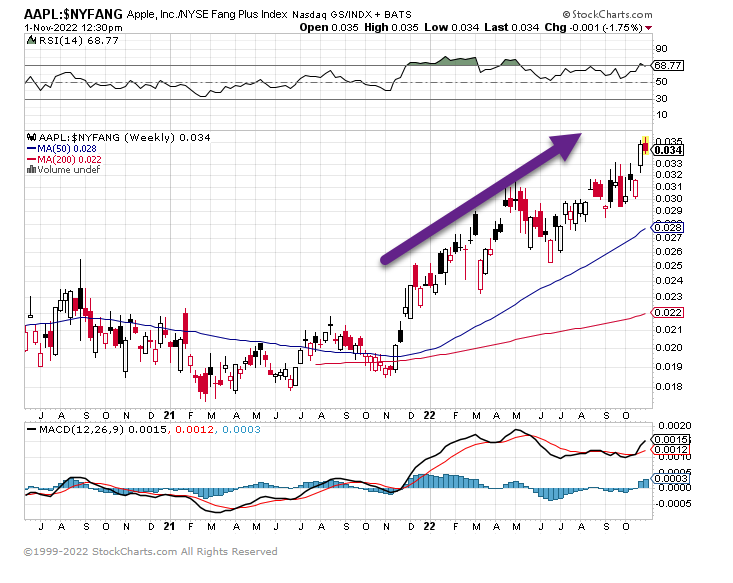 ---
7. Powell Favorite Yield Curve is 3 Month to 18 Month
Powell's Favored Curve on Cusp of Inversion as Pivot Hopes Swell-Garfield Reynolds and Alice Gledhill, Bloomberg News
(Bloomberg) — Bonds rallied amid fresh warnings that a recession is inevitable as the US central bank convenes for a two-day meeting expected to result in a fifth-straight outsized rate hike.
The yield on 10-year Treasuries fell as much as 12 basis points to 3.93%, compared to a peak of 4.34% last month, the highest since 2007. Traders are looking ahead to ISM manufacturing data for further clues on the state of the US economy before the Federal Reserve sets policy on Wednesday, when another three-quarter point hike is a near-certainty. German 10-year yields fell 10 basis points to 2.04%.
The rush for bonds comes as Chair Jerome Powell's favored portion of the yield curve — the difference between where three-month rates are now versus where they are expected to be in 18 months' time — is on the cusp of inverting, with the spread between the two tumbling to less than 0.2 percentage points Tuesday from 2.7 percentage points in April.
An inverted yield curve is a key warning sign for many investors that a recession is coming as the market begins to price in an end to tighter policy and braces for lower rates in the future to soften the blow of a looming slowdown. Many closely-watched spreads in the Treasury market have already flipped below zero.
"Policy rates are entering restrictive levels while there have been some soft patches of economic data of late," said Frances Cheung, a Singapore-based rates strategist at Oversea-Chinese Banking Corp. "At some point, the Fed needs to move to smaller rate hikes, and this may happen at the December FOMC meeting."
In March, Powell downplayed the significance of two-year yields rising above 10-year rates — an often-cited harbinger of recession. He argued traders were looking at the wrong metric and that the shorter-end measure gives a clearer read because "if it's inverted, that means the Fed's going to cut, which means the economy is weak."
Global markets have been roiled this year by an increasingly-hawkish Fed arguing that it needs to quash sky-high inflation even at the risk of a so-called hard landing for the economy. Its conundrum looks to be intensifying as robust inflation and labor-market data contrast with signs of weakness in other parts of the US economy.
That debate is also being reflected by Fed pricing. Money markets have fully priced a 75 basis point increase this week, according to contracts tied to central bank dates. Still, bets on yet another jumbo hike in December are wavering and are about 10 basis points lower than they were in mid-October.
Another widely-followed yield curve — the gap between three-month and 10-year Treasuries — inverted last week for the first time since March 2020.
Earlier on Tuesday, Australia's central bank raised interest rates by a quarter-percentage point, pivoting away from outsized hikes last month.
–With assistance from James Hirai, Aline Oyamada and Elizabeth Stanton.
(Adds RBA decision in last paragraph, updates moves.)
https://www.bnnbloomberg.ca/powell-s-favored-curve-on-cusp-of-inversion-as-pivot-hopes-swell-1.1839843#:~:text=(Bloomberg)%20%2D%2D%20Bonds%20rallied%20amid,fifth%2Dstraight%20outsized%20rate%20hike.
---
8. Adjustable Rate Mortgages (ARMS) Jump from 3% of Mortgages to 12% in One Year
Zerohedge–ARMs, which had their reputation as a risky loan product cemented with the housing crisis of '08, are seeing renewed demand. Buyers are rightfully suspect of these loans with the crisis in recent memory, but ARM applications are still on the rise. They now comprise about 12% of total mortgage applications, up from 3% at the start of the year. Though this is fairly low in absolute terms, the recent spike has brought ARM applications to their highest level since 2008: nothing to sniff at.
BY TYLER DURDEN HTTPS://WWW.ZEROHEDGE.COM/MARKETS/SPIKING-RATES-AND-PLUMMETING-AFFORDABILITY-HAVE-PRICED-LOW-INCOME-HOMEOWNERS-OUT-MARKET
---
9. Americans Enthusiasm About Mid-Terms Down
STORY HIGHLIGHTS BY MEGAN BRENAN
49% have given elections a lot of thought, down from 54% in 2018
46% more, 42% less enthusiastic about voting than in prior midterms
Democrats have enthusiasm edge; partisans tied on thought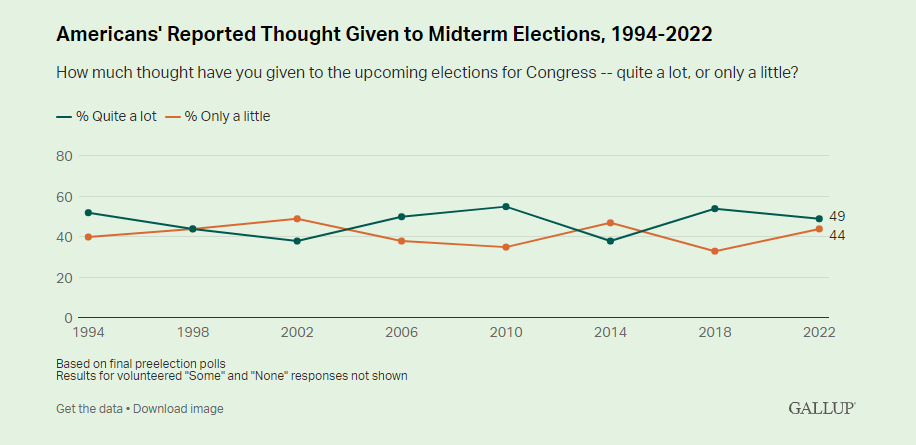 https://news.gallup.com/poll/404240/americans-thought-enthusiasm-midterms-down-2018.aspx
---
10. It Took Warren Buffett 2 Sentences to Give the Best Advice You Will Hear Today
It's good for your personal development and even better for your teammates and co-workers.
BY MARCEL SCHWANTES, INC. CONTRIBUTING EDITOR AND FOUNDER, LEADERSHIP FROM THE CORE@MARCELSCHWANTES
At 92, billionaire investor Warren Buffett is still going strong. His sound investing advice is certainly full of wisdom; his practical life and career tips provide even more value.
Warren Buffett understands that there are limiting behaviors and bad habits that hold us back from achieving our full potential. Buffett said, "I see people with these self-destructive behavior patterns. They really are entrapped by them."
He advised graduating students at the University of Florida to learn and practice good habits early on in their career: "You can get rid of it a lot easier at your age than at my age, because most behaviors are habitual," said Buffett.
One self-destructive behavior to get rid of
The digital era is causing a slow degeneration in our ability to communicate and solve problems faster. Specifically, we're losing the part of communication that doesn't even require speaking words: active listening.
The inability to demonstrate active listening skills is dangerous and something to get rid of both interpersonally and organizationally.
With technology and social media ruling our lives, we are becoming less opportunistic in developing our active listening skills and less socially aware of its effect on business as a competitive advantage. Truth is, a work environment challenged by poor listening practices is, in Buffett's words, at risk of self-destructing.
As you develop professional relationships and move up the ranks in your career path, consider these three reasons for putting active listening at the forefront of your personal and professional development.
1. Active listening is the gateway to providing solutions to problems
People driven by their own egos have a hard time detaching from their own inner voices to consider other voices. People you can trust in the workplace, however, are present and in the moment. They don't need to talk over others to get their point across. The biggest distinction of a good team player or leader is the ability to listen with the intent to remove obstacles from other people's paths. When people listen intently, they hear peoples' objections, anxieties, and fears. They also hear solutions to problems.
2. Active listening cuts through conflict
Let's accept the fact that some conflict is unavoidable where human beings are involved. Rather than being passive-aggressive and conflict-avoidant, people operating in integrity and problem-solving mode courageously run toward the eye of the storm. They are keenly aware that cutting through conflict with active listening skills to understand the other person is a much faster solution to resolving an issue than the negative consequences of running away from conflict.
3. Active listening connects people and builds trust
Active listening at its best is having the ability to listen intuitively to the other person's story, ask questions, and conduct conversations with their needs in mind. This is a key differentiator of the best colleagues and co-workers — listening to serve. It's also fast becoming a rare and forgotten skill. Good colleagues and co-workers don't dominate the conversation by talking only about themselves or the task at hand. They listen to find ways to connect with and help their teammates. Having your colleagues' best interests in mind builds trust and gives the whole team an edge in getting stuff done when it matters most.
In closing, people underestimate the power of active listening. When a person feels that they are listened to, it goes directly to their self-worth. When someone demonstrates that they care about the concerns of the other person and that they understand their perspective, it validates that individual. In the end, developing a culture of active listening drastically improves communication and leads to high performance. This is really good for business.
When Every Minute Matters: Saving Time With HR Technology | Inc.com