1. S&P 500 Energy Sector Sell Off 2023 but Cash Flow Yields Straight Up.
Energy Sector strengthening balance sheets for years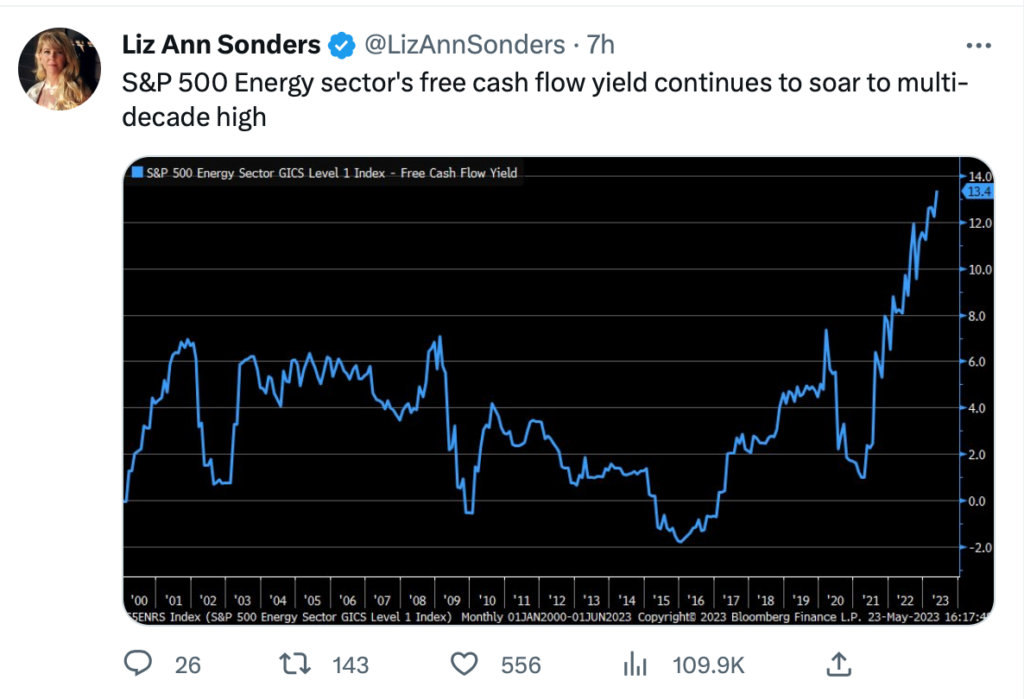 ---
2. Here is Why Energy May Not Be Spending on More Drilling……Energy Transition Spending Hits $1.1T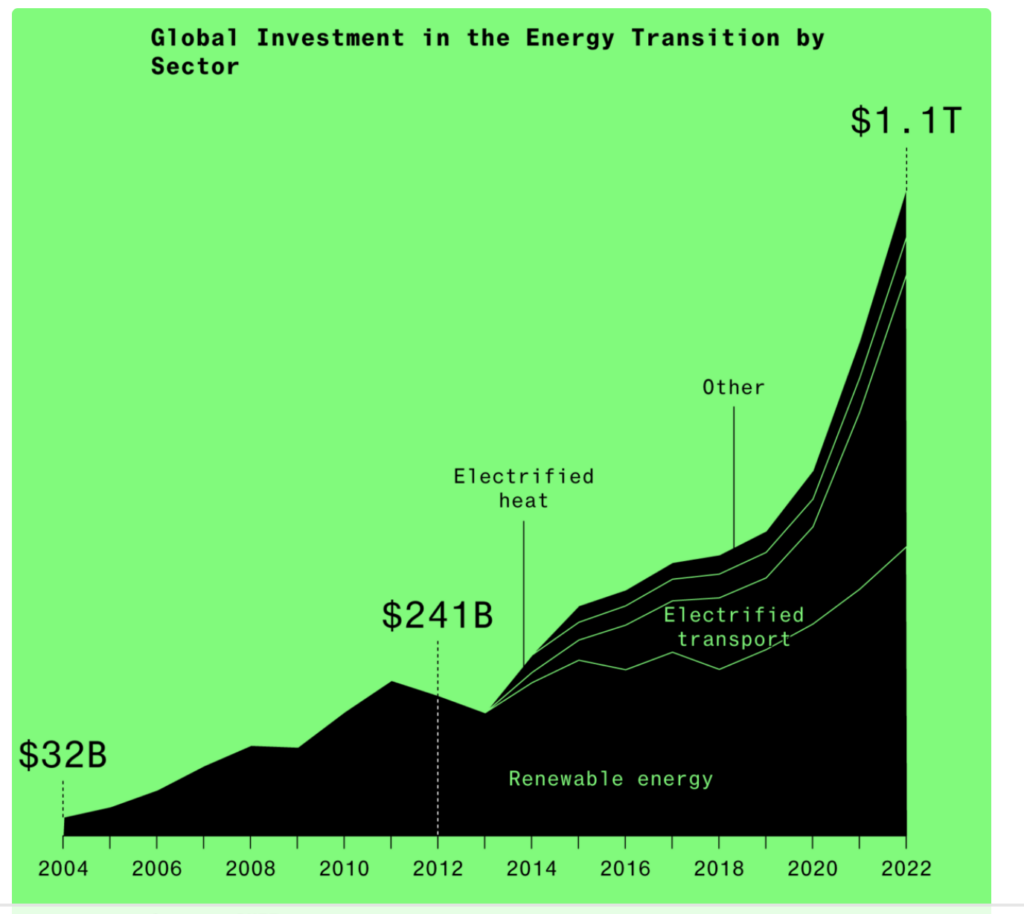 ---
3. Vanguard's Latest CAPM-Future Return Estimations
The latest forecasts from Vanguard, released Monday, aren't as bullish. The indexing giant is expecting average annual gains over the next decade from U.S. equities between 4.1% and 6.1%, and inflation between 2% and 3%, meaning that the real gain for stocks could be as low as 1.1%. 
Vanguard is forecasting annual returns from Treasury bonds to be 3.3% to 4.3% per year, which is not dissimilar from the inflation-adjusted performance over the last 20 years of 1.4%.

https://www.marketwatch.com/story/stocks-were-the-only-positive-asset-class-over-the-last-decade-adjusted-for-inflation-86f2fb44?mod=home-page
---
4. Buffett Bet on Japan Backed by Cheap Currency
Jack Ablin Cheap Yen: The currency is remarkably cheap when gauged against the dollar. Purchasing power parity, one of our favorite measures of a currency's relative value, compares the purchase cost of a similar basket of goods in both countries with each corresponding currency. On that measure, the Yenis just off the cheapest level it's been relative to the dollar in its history. We expect incrementally tighter monetary policy by the Bank of Japan will continue to boost the Yen. Meanwhile, a cheap Yen offers Japanese exporters an enormous cost advantage, as any revenue generated abroad will translate to stronger Yen-based profits at home.
https://cressetcapital.com/post/is-the-sun-rising-again-in-japan/
---
5. Pimco, BlackRock Call End to Era of Stable Borrowing Costs
by Michael Mackenzie, Liz Capo McCormick, Bond-market titans BlackRock Inc., Pacific Investment Management Co., and Vanguard Group Inc. are warning that recent violent swings in US Treasuries are only the beginning of a new era of volatility that's here to stay until central banks conquer inflation.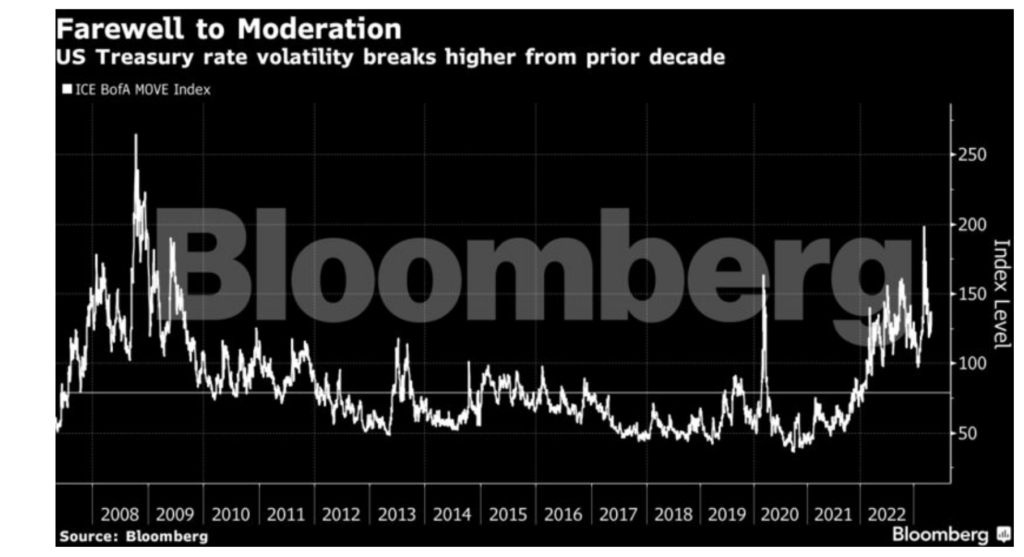 https://www.advisorperspectives.com/articles/2023/05/23/pimco-blackrock-stable-borrowing-costs
---
6. E-Sports Boom Big Slowdown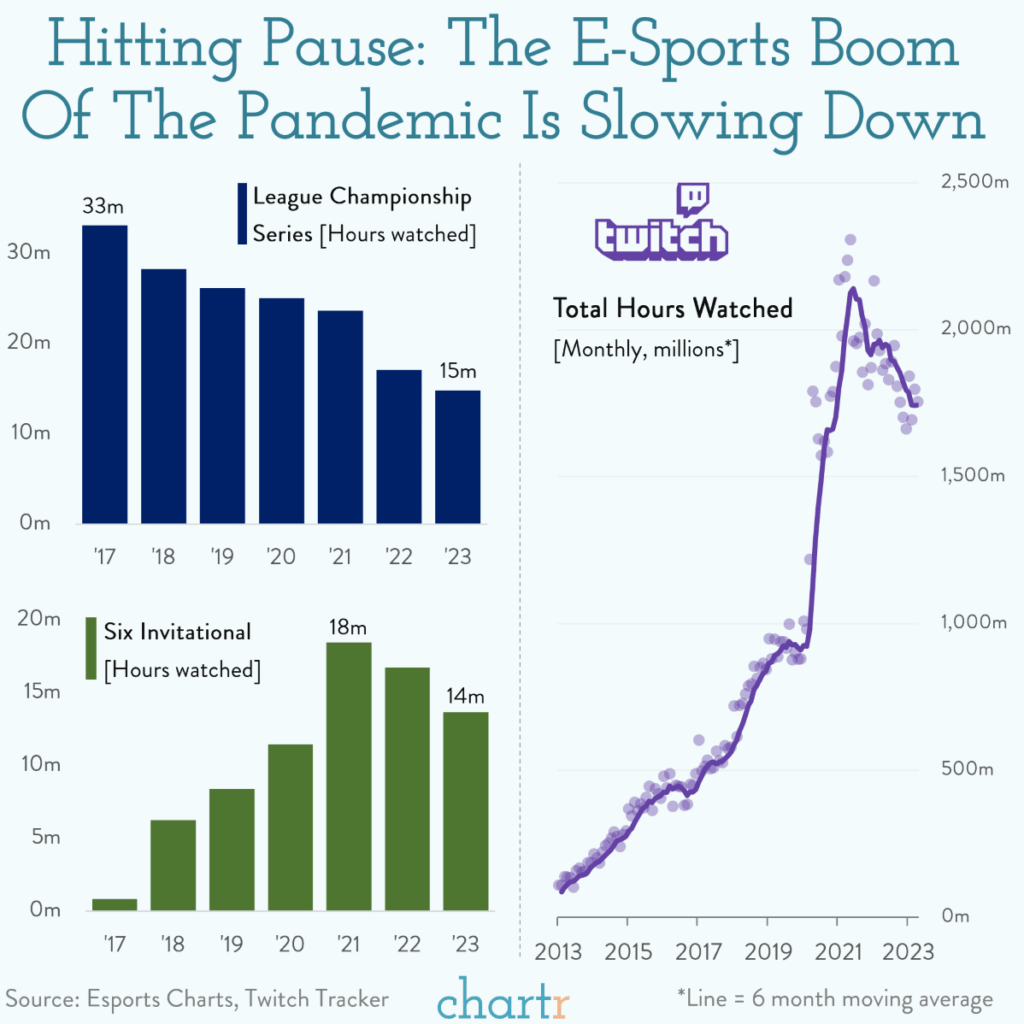 On pause

The e-sports world, which was booming beforethe pandemic kicked the industry into overdrive, is beginning to slow down. 

As reported by the NYTimes, owners of e-sports teams — who assemble a roster of talent similar to traditional sports teams — are looking for an exit. Expensive player contracts and waning viewership for some of the industry's flagship competitions are leaving owners on the hook for major losses.

Viewership figures for the League Championship Series, the largest e-sports league in the US that sees gamers compete in League of Legends, have fallen. Data from Esports Charts reveals that fans tuned in for nearly 15 millionhours of the 2023 spring season — a staggering number, but one that was down 13% on last year, down 32% on 2021, and less than half of the 33mhours watched in 2017. The season-ending championship event for the game Rainbow Six Siege, known as the Six Invitational, has also seen 2 years of viewership decline, and the same is true of many other games.

Even the highly popular video-game streaming site, Twitch, is now showing signs of stagnation. The total number of hours watched on Twitch peaked two years ago, and has fallen in most months since — though more than 1,700 millionhours of content is still consumed every month on the platform.

Boss mode

A significant challenge for e-sports is the misalignment of incentives between team owners, star playersand game publishers. Unlike traditional sports leagues, which secure lucrative broadcast deals, content in e-sports is primarily watched for free on YouTubeand Twitch, platforms where individual players distribute their own content. Game publishers also have competing incentives. They maychoose to invest in competitions, but probably only if they see the event generating more sales or subscriptions. The same goes for rule or format changes which may engage a casual player base — but aren't necessarilythe best for the accompanying e-sports.
---
7. Equities: Equity fund flows have flattened out. Outflows next?
The Daily Shot Brief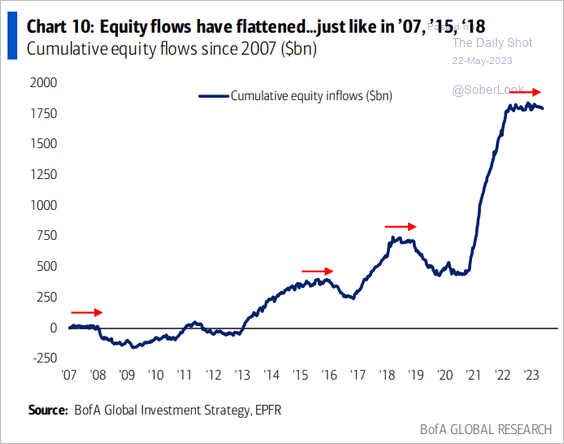 Source: BofA Global Research
---
8. JP Morgan Takes Second Place to Microsoft in Carbon Removal Credits.
WSJ The biggest U.S. bank is making one of the biggest bets ever to remove carbon from the atmosphere as a way to fight climate change. 
JPMorgan Chase JPM -1.08%decrease; red down pointing triangle has agreed to invest more than $200 million to purchase credits from several companies in the nascent industry, company officials said. The money and JPMorgan's endorsement are a boost to businesses that have removed only small amounts of carbon so far.
JPMorgan is making the purchases to neutralize the bank's environmental footprint. It is also attempting to score new business by becoming a leader in a burgeoning clean-energy industry. The bank helped carbon removal startup Climeworks raise $650 million from investors last year and has fielded questions from big corporate clients about carbon removal.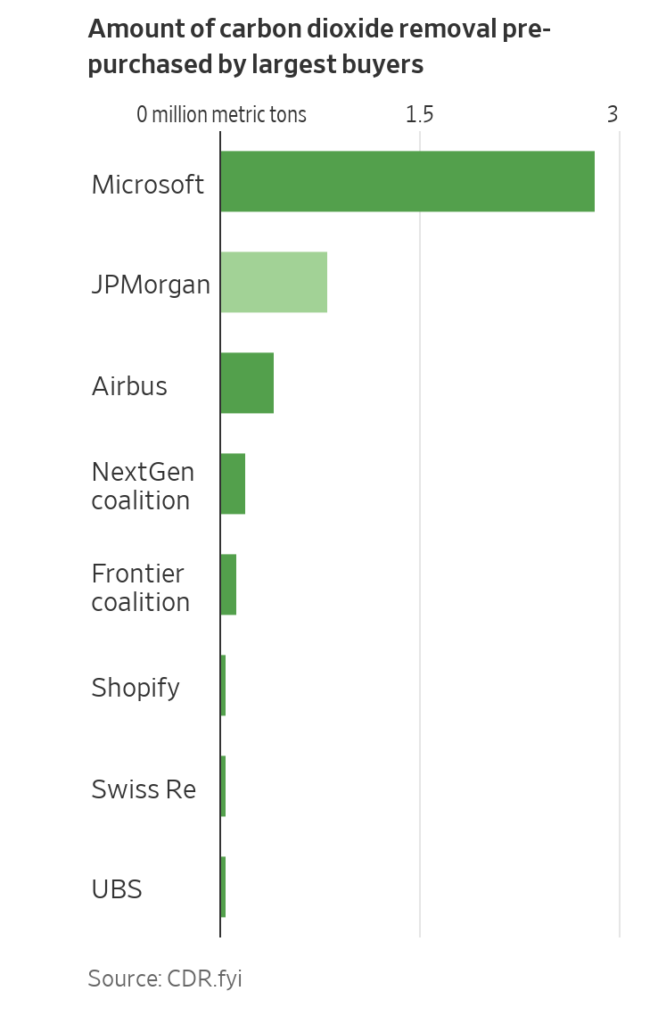 https://www.wsj.com/articles/jpmorgan-makes-one-of-the-biggest-bets-ever-on-carbon-removal-c7d5fe63?mod=itp_wsj&ru=yahoo
---
9. Rent vs. Buy Hits Record Levels.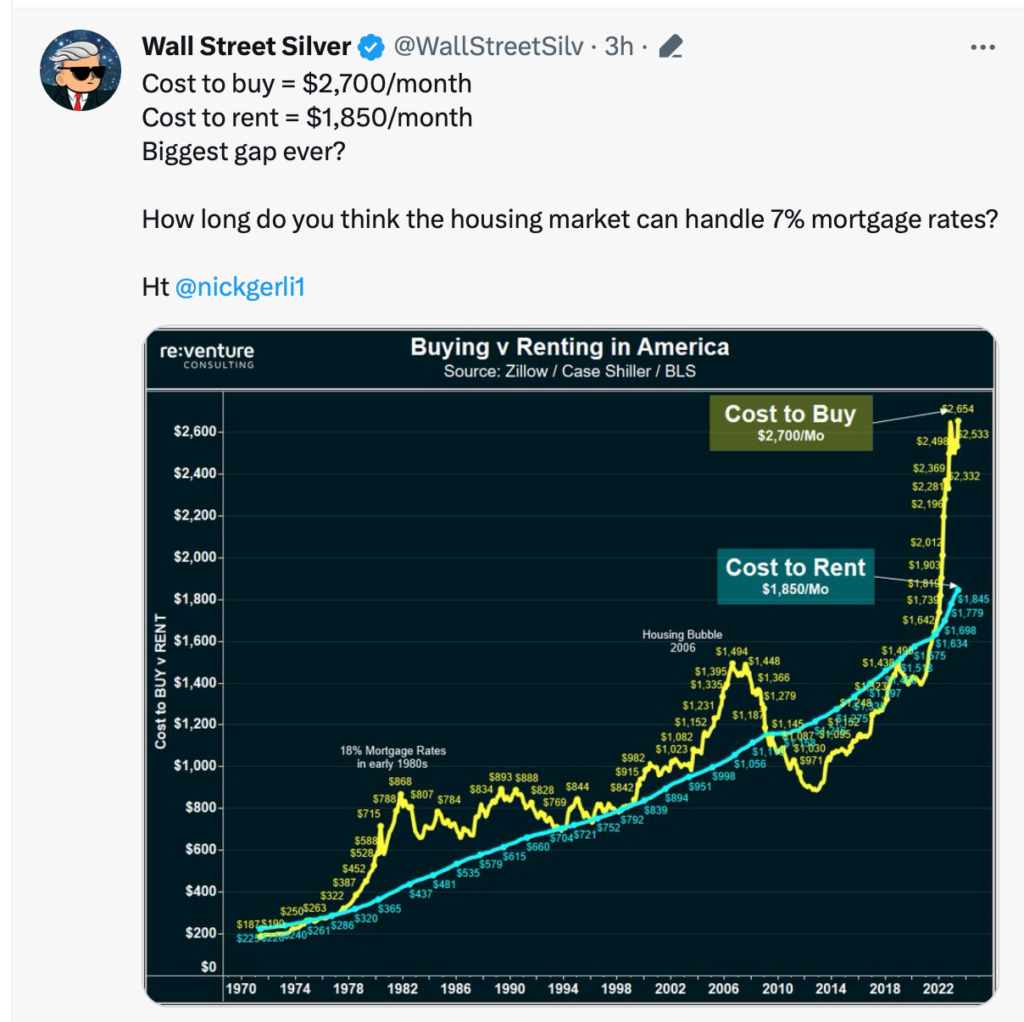 https://twitter.com/WallStreetSilv
---
10. Self-made millionaire says parents need to stop giving young people 'terrible life advice'—here are the worst
Matt Higgins, Contributor@MHIGGINS
It's graduation season, which means many parents will observe a sacred rite of passage: dispensing terrible life advice to their kids.
Mom and Dad mean well. But the class of 2023 will enter a job market during one of the worst periods of uncertainty since the 2008 financial crisis.
I've endured similar crises, from growing up in poverty, to dropping out of high school to providing care for my disabled mother, to holding down two jobs while earning my college and law degrees.
Throughout my trials and my journey to becoming a self-made millionaire, bestselling author, CEO and investor, the one key to thriving was to not play it safe.
Here's the worst and most outdated advice young people should ignore, and what to do instead:
1. "You need a fallback plan."
A Wharton study found that just thinking about a backup plan can significantly reduce the likelihood of Plan A from happening, along with the motivation to even try.
There are only a handful of things you can break in your 20s that you can't fix in your 30s. The only way you'll have a shot at being the next Taylor Swift is to believe that you will be, and to not worry about what happens if you fall short.
Trust your capacity and agency to figure things out if Plan A doesn't work.
2. "Cut down your screen time."
Screens are the future of work. Playing video games for 10 hours straight might not help, but you can learn all sorts of lucrative new skills online.
If you want to start a side hustle, write a business plan, launch a website or market a product or service, the right resources are out there, and often at low or no cost at all.
3. "Don't sweat the small stuff."
Partially untrue. While crippling anxiety should be addressed, not all anxiety is problematic. In fact, studies show that the most successful entrepreneurs harness anxiety and make it work for them.
They maintain what's called a state of "optimal anxiety:" the balance between having enough anxiety to catalyze focus and improve performance but not so much as to inhibit excellence.  
4. "Go work at a big, stable company."
It used to be sage advice to start your career at giants like Facebook, Google, Lyft, Netflix and Disney. But even companies that once promised 30-year careers are now facing massive layoffs.
Instead of going with a big name, go for the right role. Ensure that your interests and skills line up with the position you want, even if it's at a small startup or midsize company.
Even better, use your skills and passion to start a business. It may sound crazy, but with a week of intense focus, you could use artificial intelligence to launch a business earning $10,000 a month. And then you won't have to worry about layoffs.
5. "Buy a house and settle down."
Lastly, the most important piece of advice every young person should know: Cash is king.
Save cash and preserve as much liquidity as possible. If it means renting or living at home, that's fine. The housing market is due for a big correction that may take years to unwind.
And in a high inflationary environment, saving cash is more important than piling on debt. Credit card debt among people between 18 and 25 years old is also at the highest rate compared to any other age demographic, so be more cautious with excessive spending.
Matt Higgins is an investor and CEO of RSE Ventures. He began his career as the youngest press secretary in New York City history, where he helped manage the global press response during 9/11. Matt's book, "Burn the Boats: Toss Plan B Overboard and Unleash Your Full Potential," is out now. Follow him on Twitter and Instagram.
https://www.cnbc.com/2023/05/22/self-made-millionaire-ceo-shares-worst-most-outdated-life-advice-young-people-should-ignore.html