1. IPO Drawdown (Sell Off) Equal to Dotcom Bubble.
Bespoke Investment Group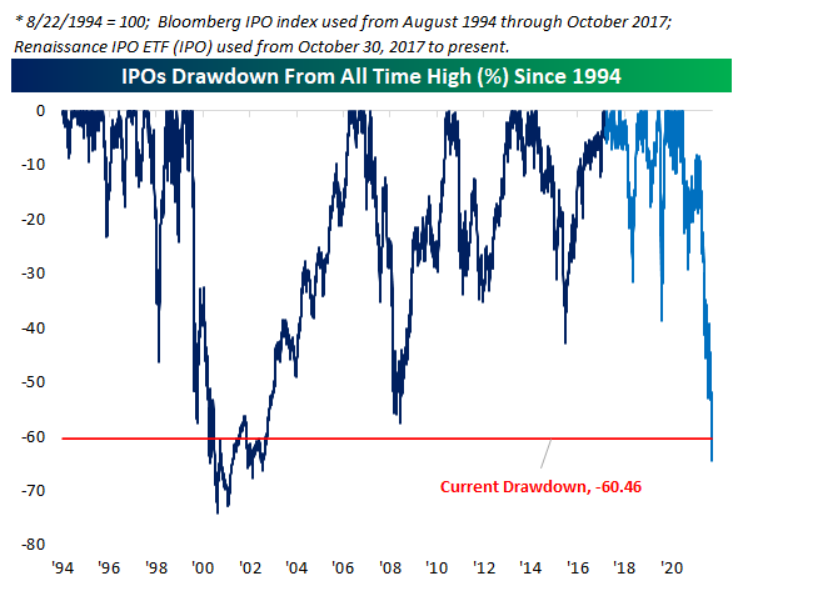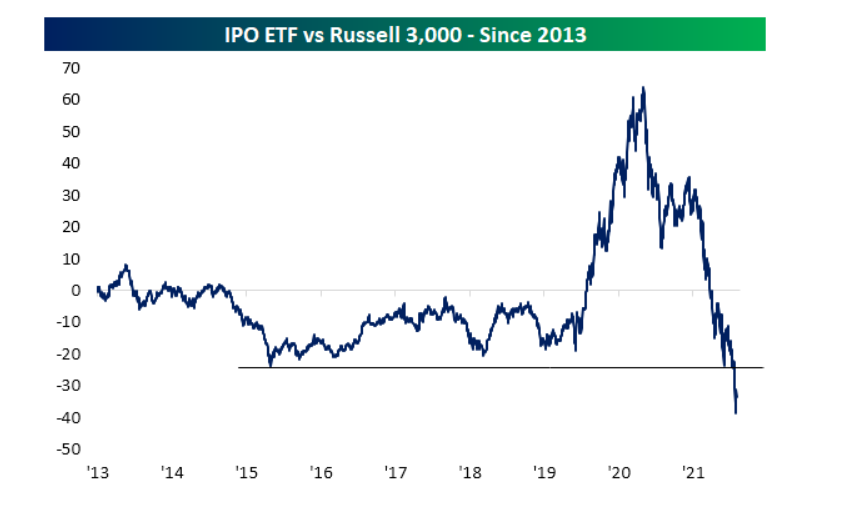 https://www.bespokepremium.com/interactive/posts/think-big-blog/dot-com-drawdowns
---
2. Russell 1000 Growth -24% Year to Date
IWF-Russell 1000 Growth ETF still above 200 week moving average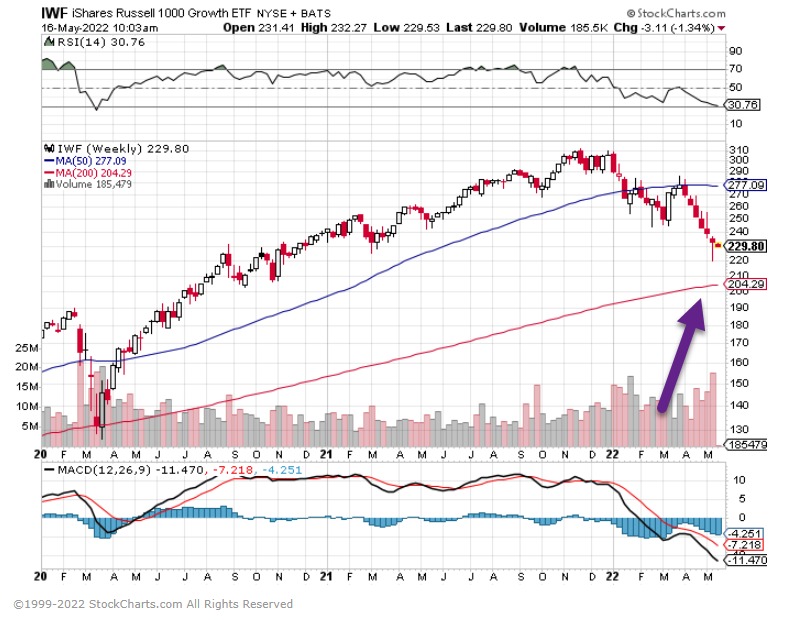 ---
3. Hedge Funds See Largest Gross Risk Reduction in Last 6 Years.
Dave Lutz at Jones Trading–GS Notes May 5th to 11th saw the Largest 5-day gross reduction by hedge funds in the last 6 years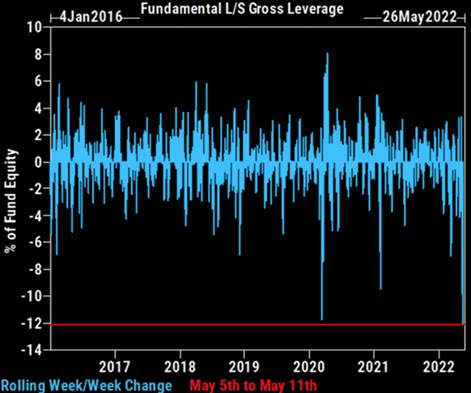 ---
4. University of Michigan Consumer Sentiment Approaching 2008 Levels.
United States: University of Michigan's consumer sentiment index dropped to the lowest level since 2011.
Source: Daily Shot
https://dailyshotbrief.com/the-daily-shot-brief-may-16th-2022/
---
5. Muni Performance Year to Date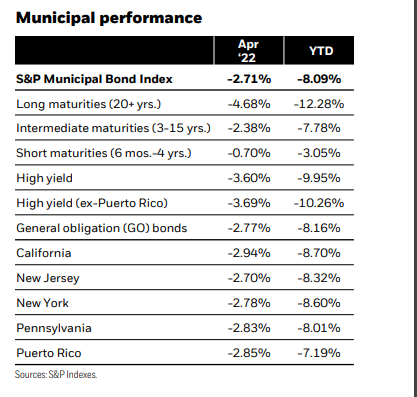 https://www.blackrock.com/us/individual/literature/product-commentary/municipal-market-update-en-us.pdf
History of Muni Drawdowns…Recent  History Since 2008 the Drawdowns were for Credit Issues….Now Higher Interest Rates.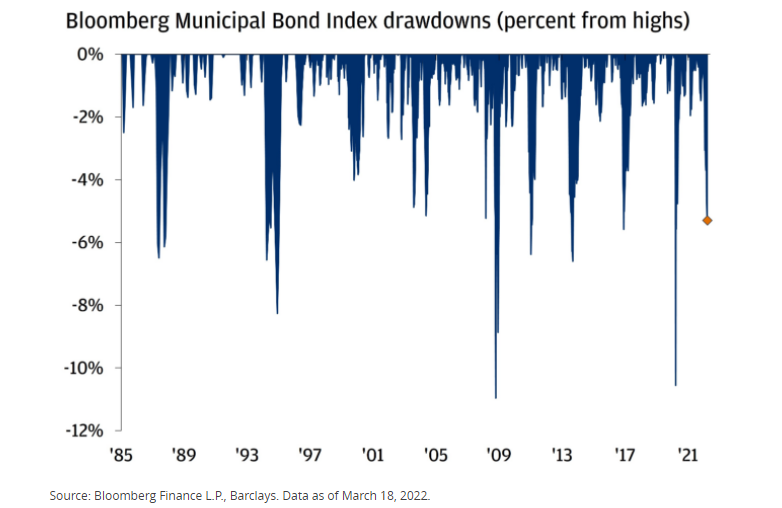 https://www.chase.com/personal/investments/learning-and-insights/article/tmt-march-twenty-five-twenty-two-daily
---
6. Record Inflation ….Gold Sideways for Over a Year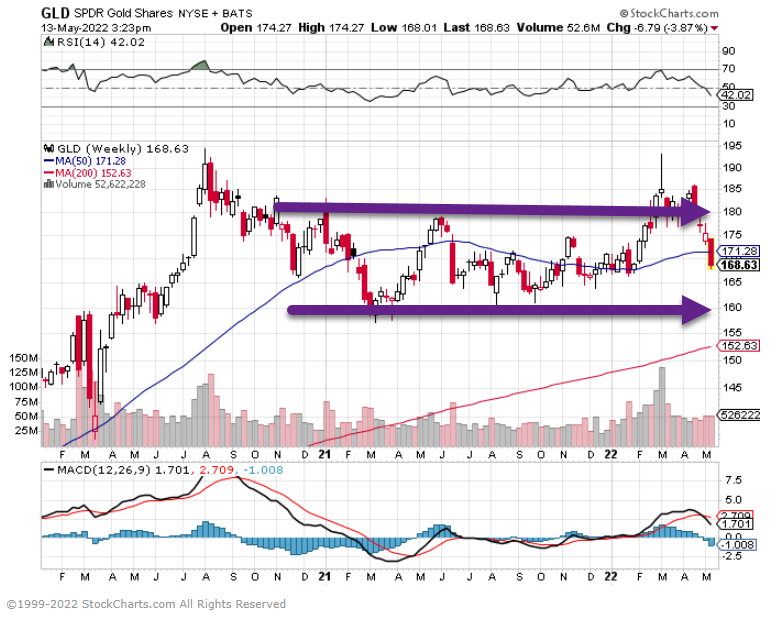 ---
7. $76 Billion in Inflows Last Week to ETFs…No Mass Exodus
Top 10 Creations (All ETFs)
| | | | | |
| --- | --- | --- | --- | --- |
| Ticker | Name | Net Flows ($,mm) | AUM ($, mm) | AUM % Change |
| BSV | Vanguard Short-Term Bond ETF | 2,979.34 | 39,792.43 | 7.49% |
| SHV | iShares Short Treasury Bond ETF | 1,498.62 | 19,278.19 | 7.77% |
| IWM | iShares Russell 2000 ETF | 1,335.33 | 51,729.87 | 2.58% |
| SPYD | SPDR Portfolio S&P 500 High Dividend ETF | 1,267.77 | 7,913.74 | 16.02% |
| VOO | Vanguard S&P 500 ETF | 1,177.90 | 245,332.38 | 0.48% |
| BIL | SPDR Bloomberg 1-3 Month T-Bill ETF | 1,142.90 | 18,020.37 | 6.34% |
| MUB | iShares National Muni Bond ETF | 1,084.19 | 26,585.62 | 4.08% |
| SPY | SPDR S&P 500 ETF Trust | 961.62 | 353,370.60 | 0.27% |
| TLT | iShares 20+ Year Treasury Bond ETF | 918.09 | 19,485.62 | 4.71% |
| GOVT | iShares U.S. Treasury Bond ETF | 806.33 | 17,478.90 | 4.61% |
Top 10 Redemptions (All ETFs)
| | | | | |
| --- | --- | --- | --- | --- |
| Ticker | Name | Net Flows ($,mm) | AUM ($, mm) | AUM % Change |
| GLD | SPDR Gold Trust | -1,560.76 | 62,355.36 | -2.50% |
| VHT | Vanguard Health Care ETF | -896.39 | 15,096.76 | -5.94% |
| XLF | Financial Select Sector SPDR Fund | -855.83 | 33,738.98 | -2.54% |
| VLUE | iShares MSCI USA Value Factor ETF | -742.31 | 10,980.82 | -6.76% |
| QQQ | Invesco QQQ Trust | -646.02 | 158,126.39 | -0.41% |
| GSLC | Goldman Sachs ActiveBeta U.S. Large Cap Equity ETF | -563.82 | 11,455.90 | -4.92% |
| VBR | Vanguard Small-Cap Value ETF | -550.57 | 22,862.60 | -2.41% |
| SRLN | SPDR Blackstone Senior Loan ETF | -541.46 | 9,634.73 | -5.62% |
| VGT | Vanguard Information Technology ETF | -521.22 | 40,792.87 | -1.28% |
| VB | Vanguard Small-Cap ETF | -512.53 | 40,150.35 | -1.28% |
https://www.etf.com/sections/weekly-etf-flows/weekly-etf-flows-2022-05-13-2022-05-09
---
8. Saudi Aramaco 80% Increase in Net Profit.
Oil giant Aramco reports record first quarter as oil prices soar
KEY POINTS
Oil giant Aramco reported a more-than 80% jump in net profit Sunday, topping analyst expectations and setting a new quarterly earnings record since its IPO.
The Saudi Arabian behemoth said net income rose 82% to $39.5 billion in the first three months of the year, up from $21.7 billion over the same period last year.
The Aramco results reflect an ongoing momentum in the oil and gas industry, which has benefited from a more-than 45% increase in prices since the start of the year.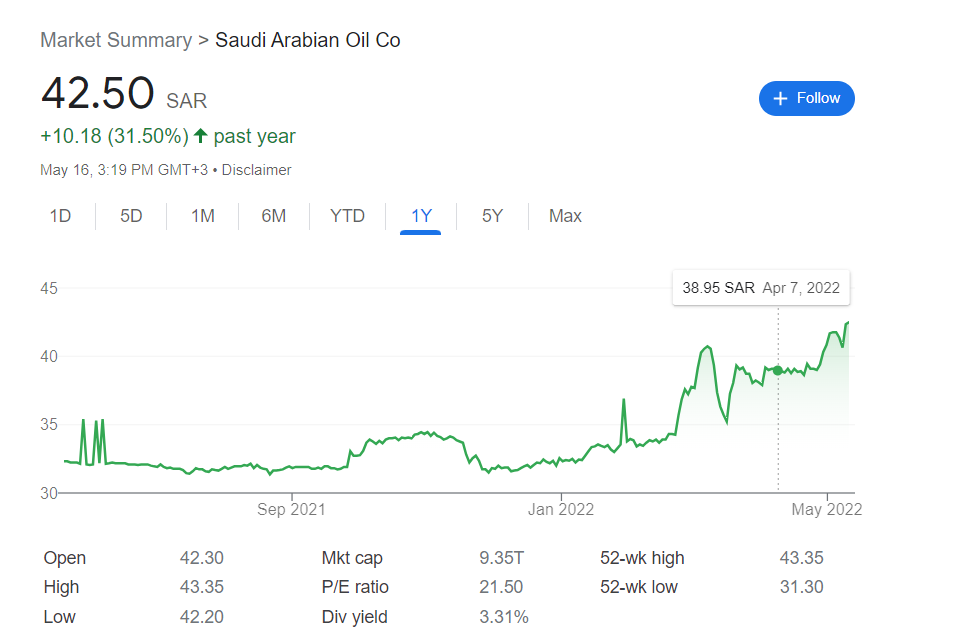 https://www.cnbc.com/2022/05/15/aramco-worlds-largest-company-reports-record-first-quarter-as-oil-prices-soar.html
---
9. Tesla is the Ultimate Believers vs. Non-Believers Stock….Wide Price Range by Analysts $250 to $1620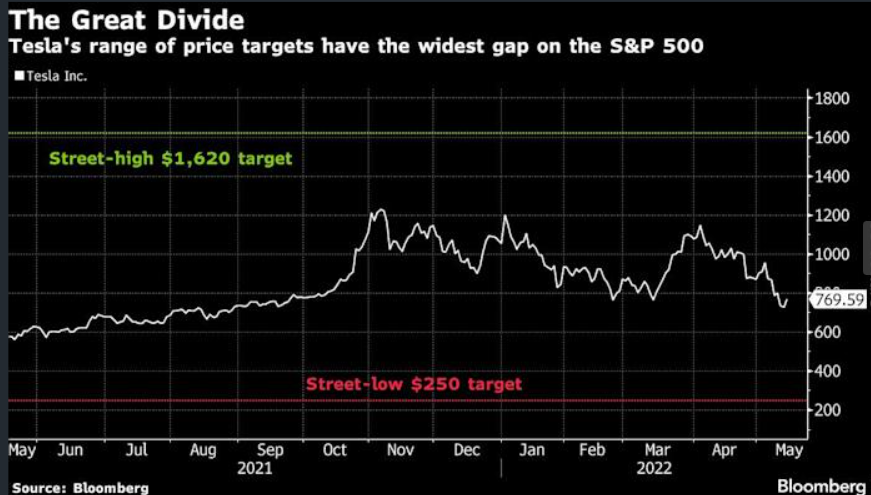 https://finance.yahoo.com/news/no-greater-divide-tesla-stock-104430271.html
---
10. Take It Easy: Too Much Exercise Frazzles the Vagus Nerve
Excessive exercise lowers heart rate variability and negatively affects mood.  Christopher Bergland
KEY POINTS
Heart rate variability (HRV) is an index of healthy vagal tone. HRV reflects how the autonomic nervous system is responding to stress.

Vagus nerve stimulation increases HRV and calms the nervous system by activating parasympathetic responses that counteract stress.

Overstressing the body with too much exercise disrupts vagus nerve activity, as indexed by low HRV and negative mood states the next day.
Improving physical fitness requires putting stress on your system during vigorous workouts. But the quest for peak performance often backfires—the psychophysiological distress caused by excessive exercise isn't good for you. Finding a "Goldilocks zone" where your daily workouts put enough stress on your body to improve fitness without overdoing it can be tricky.
For example, when I was trying to get in shape for extreme events like the Triple Ironman (7.2-mile swim, 336-mile bike, 78.6-mile run), the risk of injury and burnout was extremely high. Monitoring fluctuations in my heart rate variability (HRV) was a way to make sure I wasn't overtraining.
The vagus nerve's ability to counteract the sympathetic nervous system's fight-or-flight stress response is reflected by higher HRV.
In addition to keeping tabs on how my nervous system responded to the previous day's stress load by using HRV, I also kept tabs on day-to-day mood changes. Through trial and error, it became clear that if I was really cranky and in a foul mood the morning after an intense training session, it meant I was on the verge of getting burned out from overtraining and needed to take it easy for a day or two.
As a retired extreme-distance athlete, I know from lived experience that doing too much exercise can be harmful to your psychological and physical well-being. Overtraining is every endurance athlete's Achilles heel. It's so easy for one's passion for sports and competition to become exercise fanaticism, which often leads to injuries or overwhelming psychological distress.
Overtraining, Low HRV, and Negative Moods Go Hand in Hand
New research (Alfonso and Capdevila, 2022) from the Universitat Autònoma de Barcelona (UAB) in Spain gives us fresh insights into the link between HRV, overtraining, and mood states. Their peer-reviewed findings were published on March 30 in the PeerJ journal.
Carla Alfonso and Lluis Capdevila of UAB's Laboratory of Sport Psychology found that if a bike workout was very intense and put too much stress on a cyclist's body, HRV plummeted the following morning. Alfonso and Capdevila also discovered that HRV levels correlated with cyclists' moods. Low HRV was correlated with negative mood states; higher HRV was associated with better mood states.
"The objective of the research was to explore the relation among three aspects: training, heart rate variability, and mood," Alfonso said in a news release. "With this study, we aimed to know when an athlete must rest, because their system is saturated, and when an athlete can train, with more or less intensity, because their body is ready to assimilate the training load."
article continues after advertisement
The main takeaway from this pilot study is that HRV and mood states seem to rise and fall in tandem. For example, if a "weekend warrior" overdoes it on Sunday, odds are that they'll be cranky or in a bad mood Monday morning. Negative mood states the day after putting too much stress on your body by overtraining correlate with lower HRV.
Heart Rate Variability Reflects the Vagus Nerve's Response to Stress
The vagus nerve secretes an inhibitory substance directly onto the heart, slowing it down. Heart rate variability measures how effectively vagus nerve activity is creating healthy fluctuations between heartbeats. Higher HRV indicates that the body has a robust ability to tolerate and recover from stress. Conversely, lower HRV means that the vagus nerve is "frazzled" and isn't effectively inhibiting the sympathetic nervous system's fight-or-flight response, which revs up heartbeats and reflects a lower stress tolerance.
Otto Loewi won a Nobel Prize in 1936 for his discovery that stimulating the vagus nerve releases an inhibitory substance that slows heartbeats and calms the nervous system.
In the 1970s, my neurosurgeon father taught me about Loewi's vagus nerve research in the context of maintaining grace under pressure. My dad knew that "vagusstoff" was released during the exhalation phase of the breathing cycle. So, he used breathing exercises to stay calm during brain surgery and on the tennis court. (See "How 'Vagusstoff' (Vagus Nerve Substance) Calms Us Down.")
article continues after advertisement
When I was a young tennis player, Dad coached me to take a quick inhalation through my nose followed by a long, slow exhalation through pursed lips to calm my nerves before every serve. A recent study found that one five-minute session of deep, slow-breathing exercise (four seconds in, six seconds out) increases vagal tone and reduces anxiety. Personally, I prefer an inhale-exhale ratio of four-second inhalations followed by eight-second exhalations.
On the basis of evidence-based research and lived experience, I know that longer exhalations are an easy way to hack your vagus nerve by triggering the release of vagusstoff. But, I also understand that the calming effect of these breathing exercises tends to be short-lived.
When the sympathetic nervous system is overstimulated by too much exercise, diaphragmatic breathing is just a bandage that gives you temporary relief. Rest is the best remedy for giving your vagus nerve and parasympathetic system a chance to bounce back.
To Sum Up: Excessive Exercise Reduces Vagus Nerve Tone as Indexed by Low HRV
HRV is an indispensable tool for keeping tabs on how your vagus nerve responds to exercise-induced stress and ensuring that you don't overtrain. Low HRV indicates that the fight-or-flight mechanisms of your sympathetic nervous system are in hyperdrive and that vagal tone is weak. Conversely, higher HRV shows that vagus nerve activity is robust and that your parasympathetic nervous system is handling stress well.
The latest research (2022) on HRV and overtraining reaffirms that low HRV is a warning sign that your vagus nerve may be "frazzled" from too much psychophysiological distress. If you don't have access to an HRV monitor, experiencing negative moods the day after exercising vigorously may be a sign that you should take it easy for the next 24 hours and give your system time to recuperate.