1. History of Bonds Post Fed Rate Hike Cycle.
JP Morgan Private Bank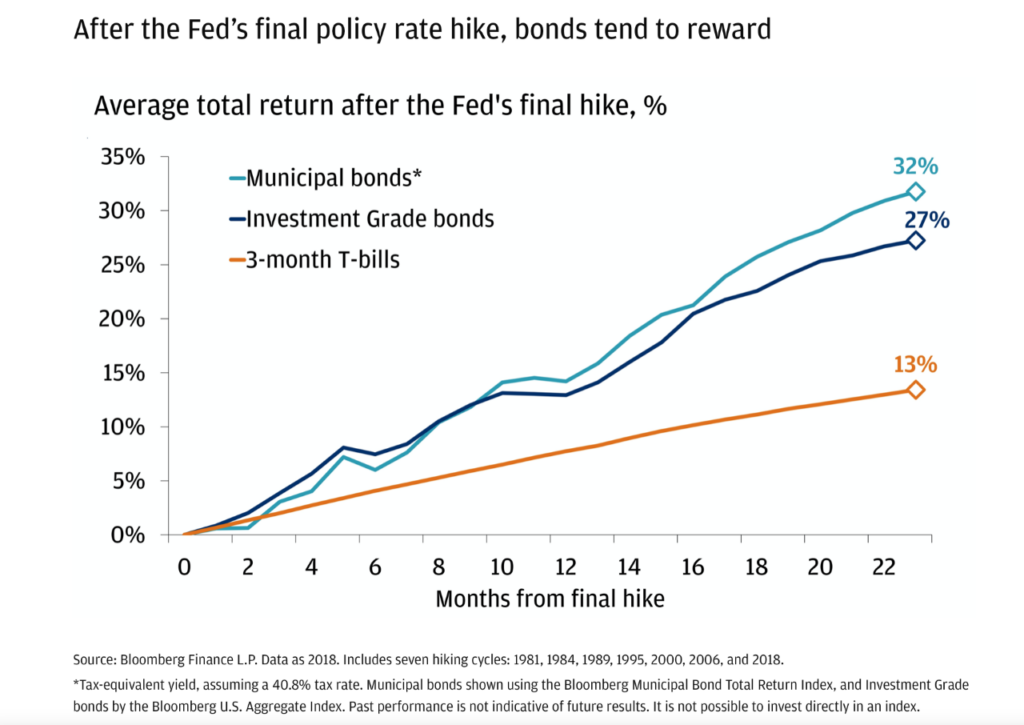 2. Where Will All This Cash Be Deployed?
Capital Group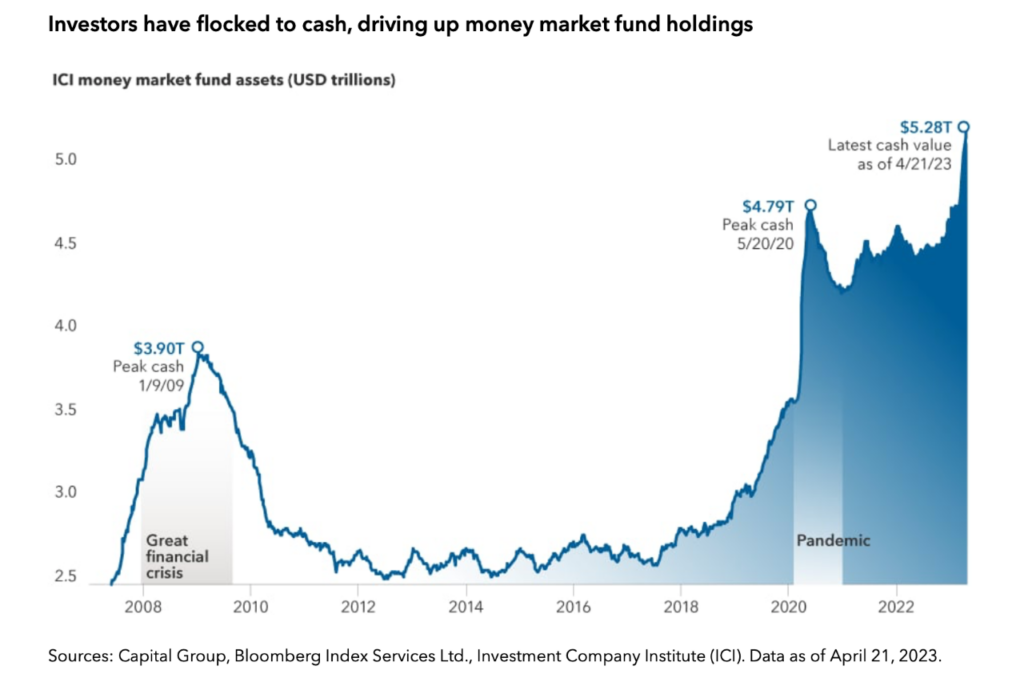 https://www.capitalgroup.com/advisor/insights/articles/what-do-with-cash-fed-changes-course.html?sfid=1988901890&cid=80986979&et_cid=80986979&cgsrc=SFMC&alias=D-btn-LP-6-A1cta-Advisor
3. Oil Down 4 Weeks in a Row…Energy ETF Bearish Cross to Downside.
50day thru 200day to downside for last year's winning sector energy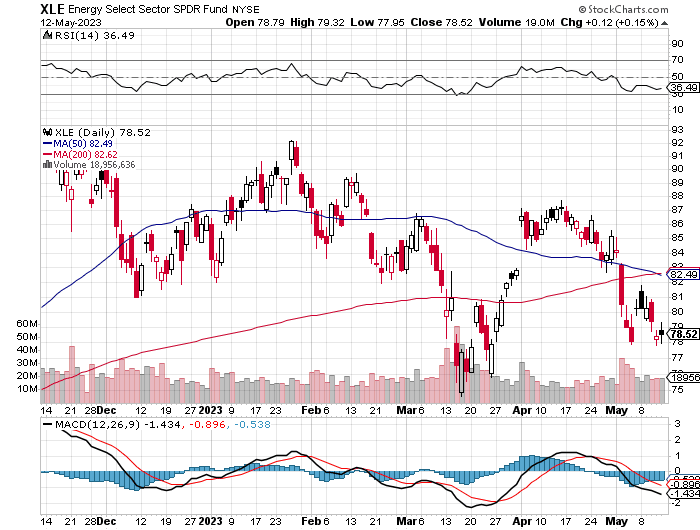 4. GOOGL Bullish Cross to Upside.
Last year's loser tech add another bullish chart….GOOGL still well off highs but 50day thru 200 day to upside.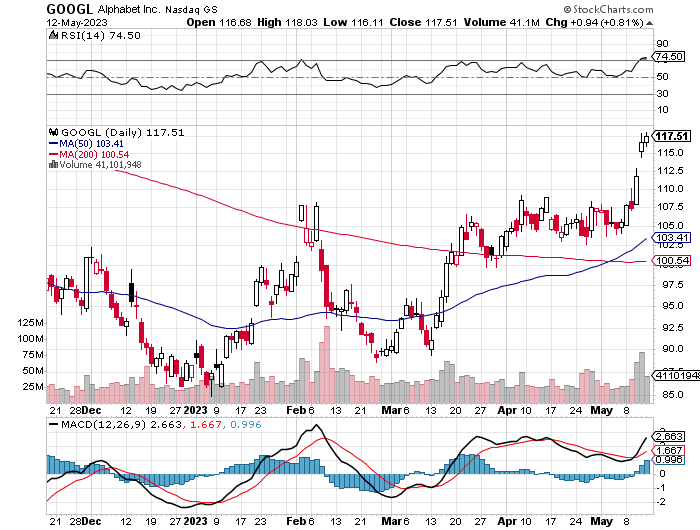 5. The Dramatic Increase in Satellite Launches.
Barrons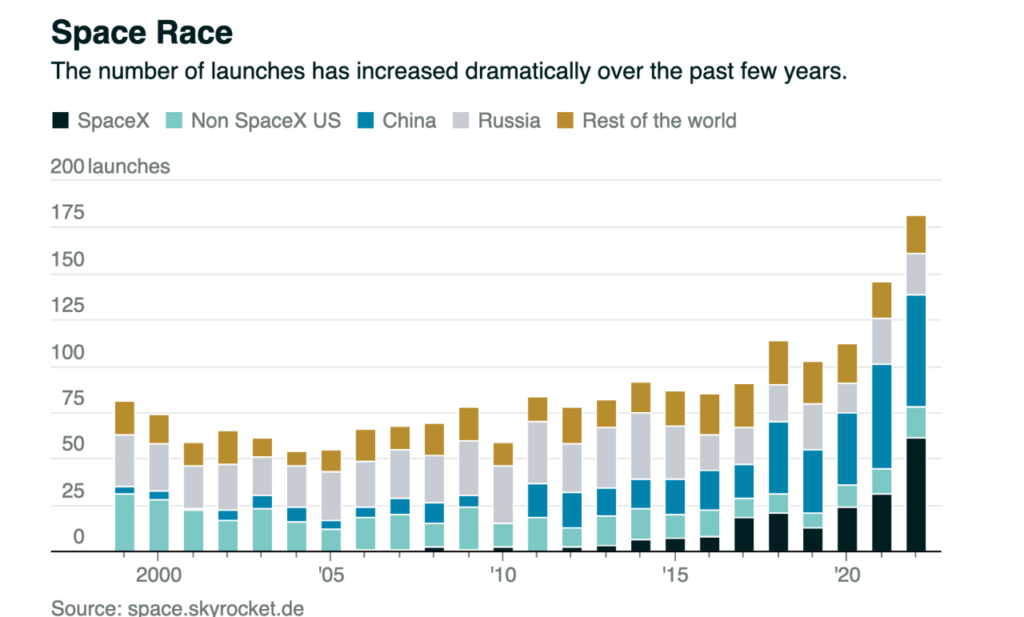 https://www.barrons.com/articles/spacex-starlink-ipo-elon-musk-b6c02c7?mod=past_editions
6. Space ETF UFO Testing Previous Lows.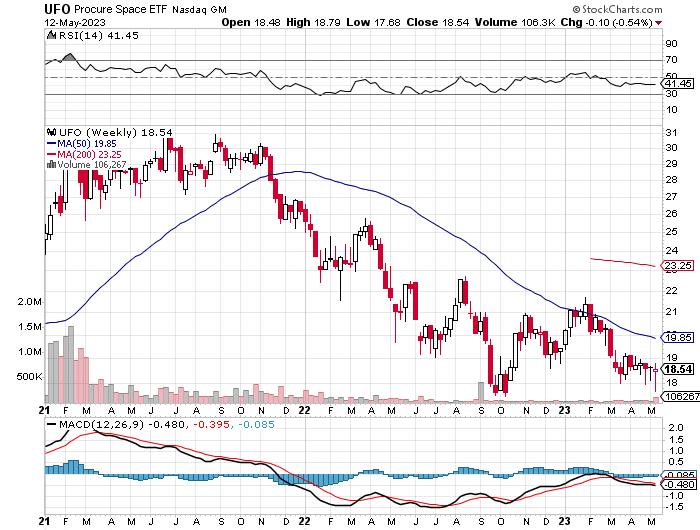 7. Credit: The US still has too many banks.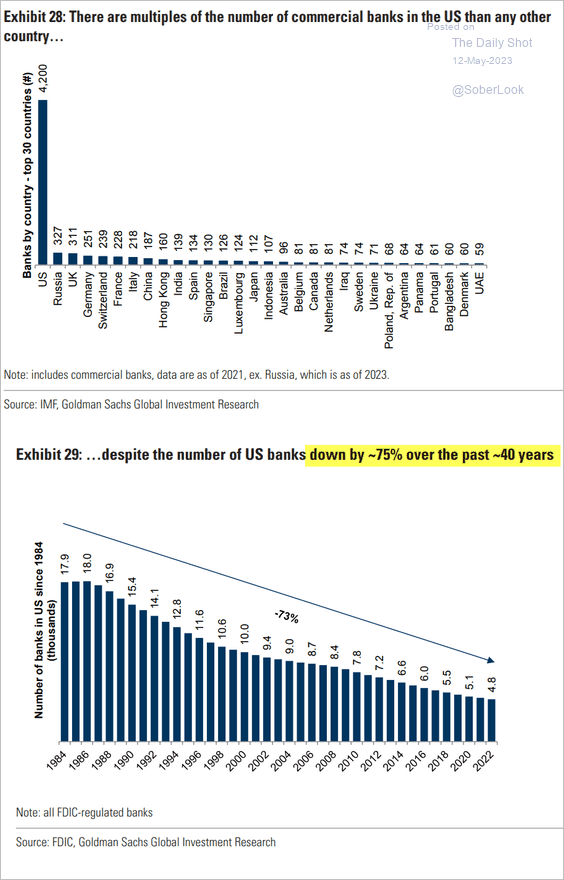 Source: Goldman Sachs
8. Youth Unemployment in China 20%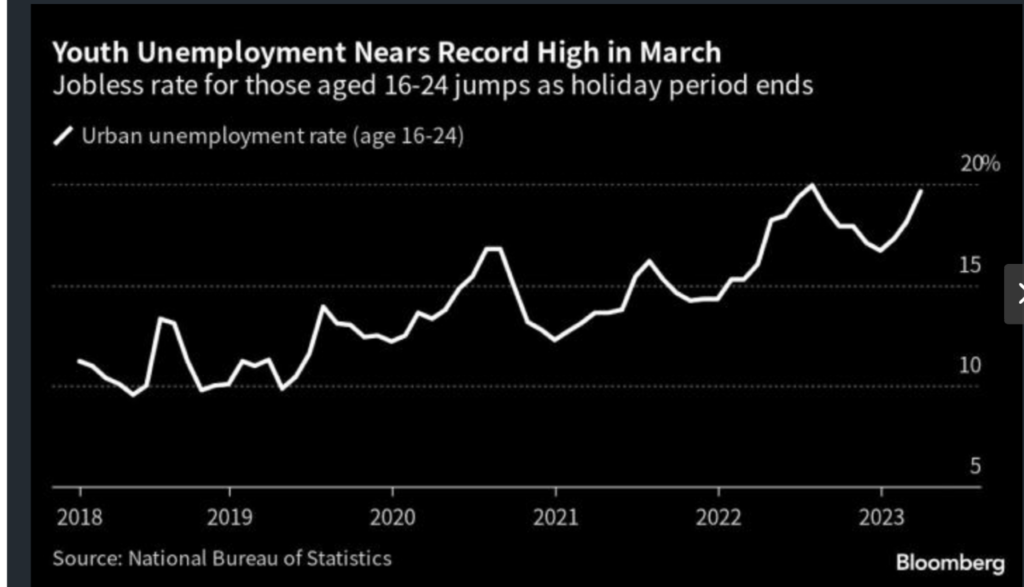 https://finance.yahoo.com/news/watch-china-economic-data-recovery-015804766.html
9. Tech vs. Banks Dispersion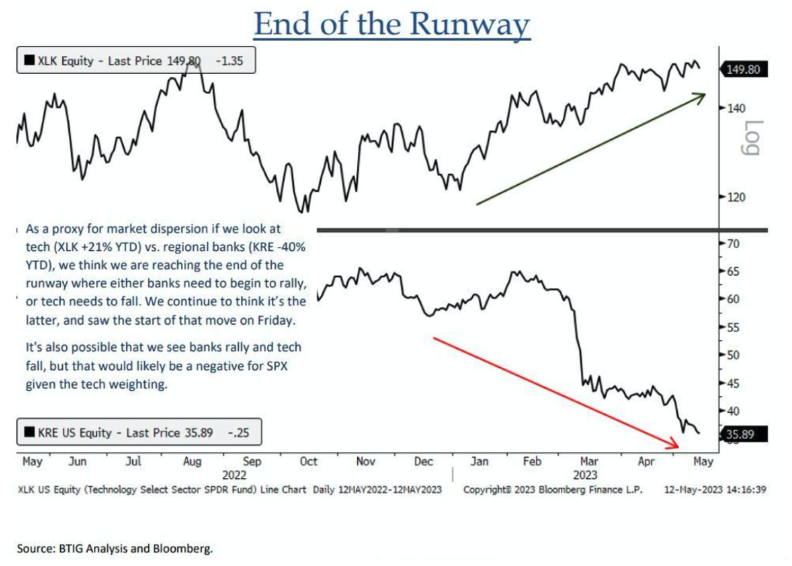 https://www.marketwatch.com/story/the-end-of-the-runway-is-nearing-for-lofty-tech-and-soggy-banks-get-ready-says-this-strategist-c2d15f9d?mod=home-page
10. Shifting Paradigms: 3 Business 'Truths' That Are Fundamentally Untrue
Reframe your entrepreneurial dream with a few shifts in perspective and a clear methodology to achieve a more joyful life.
BY ENTREPRENEURS' ORGANIZATION@ENTREPRENEURORG
Photo: Getty Images
Michèle Hecken is an Entrepreneurs' Organization (EO) member in Edmonton, Alberta, Canada. An ex-CEO, she is the founder of The Art of Offboarding, a proprietary leadership and operational methodology which she implements in Fortune 500 companies. She is also a public speaker who delivers keynotes and workshops for organizations across the world. We asked Michèle how she transformed her business to do what she loves on her own terms. Here's what she shared:
"Delegate!"
"Go from good to great. Build a big business. Size matters."
"Don't work too hard. Work-life balance matters."
Sound familiar to you? I know I've heard and grappled with these universal "truths" over the years, after starting a global translation company in my twenties and trying to grow it while raising two young children. 
Eventually, I realized something that would change the course of my entire life: There was a way to build a successful business based almost entirely on what you love doing rather than what you think you should love doing. 
I carved out a system to grow the business that served my family, my team, our customers, and myself. In 2019, it culminated in a high-seven-figure exit. 
Here are the three paradigm shifts that form its foundation: 
1. From "Delegating" to "Offboarding"
According to some, you should delegate to successfully grow a business. I'm here to tell you that this is not the solution but the problem. Why?
What happens when you delegate is a placebo effect. You feel good in the moment because you shuffled something off your desk. But then you do it again. And again. 
What happens next? You get lost in the follow-up. The time you saved on executing the tasks is replaced with endless coordination of employee work.
Delegating simply shifts the kind of work you do. You still own the task. Eventually, you become more stressed, as delegation encourages micromanagement. 
Offboarding is a game changer because it transfers task ownership–your employees own the entire outcome. Speaking from experience, this is an excellent way to train employees, increase their value to the business (and ensure they feel valued), and relax your grip. This also frees up your schedule, allowing you to pursue other goals.
2. From "Work-Life Balance" to "Life"
I've never met an entrepreneur who works optimally within a standard nine-to-five schedule. Some days we are in a deep state of flow and work 14 hours. On other days, we might struggle to get out of bed. At the same time, we build our businesses to give us the flexibility to be present for our non-work engagements whenever we want–trying to please everyone around us. 
When you try and make everybody happy, all while keeping everything "balanced," it becomes an impossible challenge. 
The solution, something that I do when advising other entrepreneurs, is to reverse-engineer it all. Ask yourself:
·         What do I want my life to look like?
·         What is my ideal day?
·         How does my flow work on that day?
·         What kinds of freedoms do I want and need?
The goal isn't to ensure burnout never happens again. Instead, it's to optimize your life and business so that they align with your true self, your wants, and your needs.
3. From "Good to Great" to "Good to Happy"
Everyone wants to be happy in life–most of us prioritize happiness as a goal. 
The happiest lives are those that are continually enriched with new knowledge, connections, and experiences. That means having the willingness to get out there, try new things, and make time for enjoyment every day. You can't get to this point by feeling forced to fit in fun or relaxation time, nor by stagnating and stifling your growth.
One practice I've implemented, that has worked wonders, is treating every day like a "mini life" and living it on my terms. Am I allocating my time and energy where I want it to go? Am I enjoying my day to the fullest and achieving the goals I've set? Most of all, have I done things that brought me joy today?
If you can respond with a resounding "yes" to these questions every day, you can theoretically achieve an entire lifetime of happiness. Sounds much more realistic this way, doesn't it?
Reframing paradigms and shifting away from what you've been told should make you successful is not easy. The opportunity to co-author a recently published book, Lead Like a Woman: Audacity has allowed me to reflect on just how profoundly I've subverted traditional expectations both in my business and in my life.
I believe the entrepreneurial dream needs to be reframed to include a joyful life in which you never have to give up happiness for the sake of your business. I know that with a few shifts in perspective, a clear methodology, and a remarkable support system, every entrepreneur can achieve that reality.
https://www.inc.com/entrepreneurs-organization/shifting-paradigms-3-business-truths-that-are-fundamentally-untrue.html?utm_source=newsletters&utm_medium=email&utm_campaign=inc%20-%20this%20morning%20newsletter.newsletter%20-%20inc%20-%20this%20morning%205-15-23&leadid=1548979&mkt_tok=njewluxfrs04nziaaaglvivot9mnkuvwqo5mkm-pygtu2uuuylc39joszgdzeu9hqkmsqlj3nhatejnqf6jbnyuvskygifgqcsyxbrfyhirwiymgp2ugz2s0v-fh