1. One Financial Product Group is not Under Industry Fee Pressure—Grayscale Bitcoin Quasi-Closed End—2 Products $1B in Revenue-Double the Revenue of QQQ
The $756 Million Product-Sumit Roy ETF.com
Another product that exhibits this power is the Grayscale Bitcoin Trust (GBTC). To be clear, GBTC isn't an ETF (it's a quasiclosed-end fund that periodically offers private placements to accredited investors). It's not even a product that trades on a U.S. exchange (it trades over the counter and is quoted on the OTCQX).
But it is a product that provides exposure to bitcoin in a way that is valued by investors and at a time in which the cryptocurrency has been on fire. GBTC charges a 2% annual fee, which, when applied to its $36 billion in assets under management, equals revenue of a whopping $756 million.
To put that in perspective, that's more than double the implied revenue of the Invesco QQQ Trust (QQQ), the U.S.-listed ETF with the largest revenue haul. It's even more than the combined haul of QQQ and the SPDR S&P 500 ETF Trust (SPY), which together generate $650.6 million in revenues.
If you add the $10 billion Grayscale Ethereum Trust (ETHE) into the mix, Grayscale is pulling in an estimated $1 billion per year from just two products (it has another 12 much smaller products).
For Grayscale to generate close to a $1 billion from just two products—the amount Vanguard takes in from all 82 of its ETFs—is truly impressive. For context, the entire U.S.-listed ETF industry generates revenues of just under $12 billion across almost 2,500 funds, with 56% of that going to BlackRock, State Street and Vanguard.
| | | | | |
| --- | --- | --- | --- | --- |
| Ticker | Name | Expense Ratio | AUM ($B) | Implied Revenue |
| GBTC | Grayscale Bitcoin Trust | 2.00% | 37.81 | 756,192,759 |
| ETHE | Grayscale Ethereum Trust | 2.50% | 9.97 | 249,273,851 |
https://www.etf.com/sections/bitcoin-crypto/grayscales-bitcoin-golden-goose-gbtc?nopaging=1
GBTC-Grayscale Bitcoin Trust
ETHE-Grayscale Ethereum
2. Canadian Bitcoin ETF Fastest Growing Ever on Toronto Exchange
BTCC is now Canada's fastest-growing ETF ever, reaching assets of CAD$1 billion [USD$800 million] in just a month
https://www.etf.com/sections/bitcoin-crypto/canadian-bitcoin-etf-tops-1-billion
3. Bitcoin Hits Sideway Channel
Which way will it break?
https://www.coinbase.com/price/bitcoin
4. Goldman Sachs internal memo unveils new cryptocurrency trading team
KEY POINTS
· The bank informed its markets personnel that a newly created cryptocurrency desk had successfully traded two kinds of bitcoin-linked derivatives, according to an internal memo obtained exclusively by CNBC.
· The crypto team exists within the firm's global currencies and emerging markets trading division, reporting to Goldman partner Rajesh Venkataramani, who wrote the memo.
· Goldman said it is also seeking to broaden its market presence by "selectively onboarding" crypto trading institutions to expand offerings.
Goldman Sachs has formally kicked off the cryptocurrency trading era on Wall Street.
The bank informed its markets personnel on Thursday that a newly created cryptocurrency desk had successfully traded two kinds of bitcoin-linked derivatives, according to an internal memo obtained exclusively by CNBC.
The crypto team exists within the firm's global currencies and emerging markets trading division, reporting to Goldman partner Rajesh Venkataramani, who wrote the memo, and is part of the bank's overall digital assets effort led by Mathew McDermott.
Goldman Sachs, a dominant global investment bank for trading fixed income and equities, had been mulling the creation of a bitcoin trading desk since at least 2017. The firm tabled those plans initially and restarted the crypto trading team in March, Reuters reported earlier this year. Thursday's memo was the first time New York-based Goldman officially acknowledged its involvement in crytpocurrency trading.
Under CEO David Solomon, Goldman has said it is seeking to broaden its market presence by "selectively onboarding" crypto trading institutions to expand offerings. The firm also said it launched a new software platform this week that provides the latest cryptocurrency prices and news to clients.
Banks, including Goldman and rival Morgan Stanley, had announced plans to offer bitcoin investments to rich clients in their wealth management divisions but have mostly stayed away from the volatile asset in their Wall Street trading operations. Traders at firms including JPMorgan Chase have been asking managers when they could begin handling bitcoin, CNBC has reported.
The derivatives Goldman traded, bitcoin futures and nondeliverable forwards, are ways to wager on the price of bitcoin. The contracts are settled in cash and don't require that Goldman deals with actual bitcoin, called "physical bitcoin" in the industry, because the bank isn't yet in a position to do so, Venkataraman noted in the memo.
Here is the memo:

May 6, 2021
Formation of Cryptocurrency Trading Team
I am pleased to announce the formation of the firm's cryptocurrency trading team, which will be our centralized desk for managing cryptocurrency risk for our clients. The Crypto trading team will be a part of Global Currencies and Emerging Markets (GCEM), reporting to me, within the firm's Digital Assets effort led by Mathew McDermott.
As part of our initial launch, we have successfully executed Bitcoin (BTC) NDFs and CME BTC future trades on a principal basis, all cash settling. Looking ahead, as we continue to broaden our market presence, albeit in a measured way, we are selectively onboarding new liquidity providers to help us in expanding our offering.
In addition, yesterday we launched our Digital Assets dashboard which provides daily and intraday cryptocurrency market data and news to our clients. We invite you to highlight the dashboard to your clients. For more information on trade approval and onboarding, contact the Digital Assets team.
Please note, the firm is not in a position to trade bitcoin, or any cryptocurrency (including Ethereum) on a physical basis.

Rajesh Venkataramani
https://www.cnbc.com/2021/05/07/goldman-sachs-unveils-new-cryptocurrency-trading-team-in-employee-memo.html?utm_source=join1440&utm_medium=email
5. ARKK Fund Bled $785M Over 6 Days…Lower Rates No Help.
(Bloomberg) –ARKK has bled about $785 million in outflows over the past six days, according to data compiled by Bloomberg. Amid the carnage, hedge funds sold technology shares for seven straight days, cutting their exposure to the lowest since December, prime broker data compiled by Goldman Sachs Group Inc. show.
The highest-flying tech names are getting no help from one of the sector's usual lifelines amid a fierce selloff that's showing few signs of slowing.
Plunging U.S. real yields — which strip out the effects of inflation — failed to stem a 2.9% fall in Cathie Wood's ARK Innovation exchange-traded fund (ARKK) Thursday, now in the midst of its worst stretch since 2018. Drops in the likes of Twilio Inc., Zoom Video Communications Inc. and Roku Inc. dragged down the ETF, even as the mega-cap Nasdaq 100 rallied for the first time this week.
since December, prime broker data compiled by Goldman Sachs Group Inc. show.
Ark Slammed Again as Riskiest Tech Bets Blow Past Lifelines by Katie Greifeld, Lu Wang, 5/7/21
Ark Slammed Again as Riskiest Tech Bets Blow Past Lifelines – Articles – Advisor Perspectives
6. Value vs. Growth Global 6 Month Comparison
https://www.advisorperspectives.com/commentaries/2021/05/07/value-stocks-still-plenty-of-fuel-in-the-tank
Ben Levisohn Barrons–Economic growth is already filtering its way into expectations for earnings growth. The companies in the Russell 1000 Growth index are expected to grow earnings per share at a 24% clip over the next 12 months, according to Christopher Harvey, U.S. equity strategist at Wells Fargo Securities, while the ones in the Russell 1000 Value index are expected to grow earnings by 28%. It's the first time in about a decade that value is expected to offer more growth than growth.
Yet growth stocks are still priced as if they're the ones leading the race. The Russell 1000 Growth index was trading at 30 times forward earnings this past Thursday, a 56% premium to the Russell 1000 Value index's 19.2 times, near a 20-year high, Harvey notes. Paying that kind of a premium might make sense if growth stocks were, you know, expected to grow faster than value. Not anymore.
Why the Stock Market Rose This Past Week. What to Know. | Barron's (barrons.com)
7. Buffett Energy Holdings 48% Wind.
Buffett has called the utility business a "jewel." Annual earnings rose from $122 million in 2000 to $3.4 billion; it's probably worth over $50 billion and is the second-largest U.S. owner of renewable-power assets, with nearly 12,000 megawatts at year-end 2020, behind NextEra Energy.–
By Andrew Bary
https://www.barrons.com/articles/it-took-a-while-but-buffett-confirms-he-has-a-successor-51620429345?mod=past_editions
8. Search for Takeout and Food Delivery in NYC Plunge
NYC Comeback
New York City Is Roaring Back to Life, One Year After Its Nadir
https://www.bloomberg.com/news/features/2021-05-01/new-york-city-covid-reopening-restaurants-art-culture-coming-back?sref=GGda9y2L
9. Trump Mentions on Twitter 55m to 5m
Trump Twitter Ban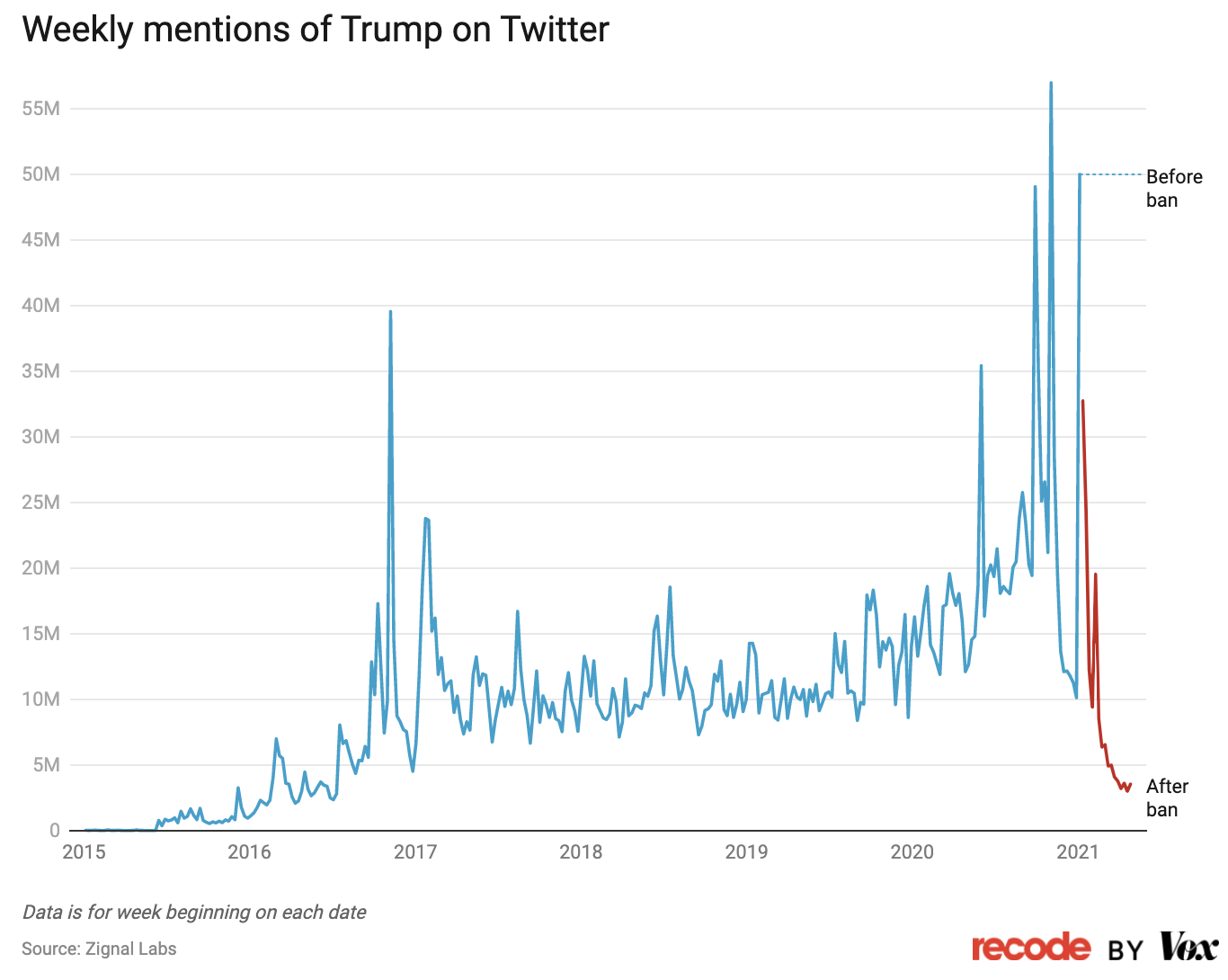 Found at Barry Ritholtz The Big Picture Blot
10. The Daily Stoic on Happiness
What Causes Unhappiness?
"It is not the man who has too little but the man who craves more, that is poor." Seneca
When I get what I want, I will be happy.
This is perhaps the most common of all the human myths—beyond the Hero's Journey, beyond Icarus's flight too close to the sun, beyond the various origin stores shared across cultures.
All of us tell ourselves some version of this myth to one degree or another. We think when we get older and free of the control of our parents, things will be better. We think that when we get rich, or famous or powerful, all our problems will go away. We think when we find the right person, we'll stop being lonely.
We think that when we get what we want, we'll be happy.
I'll be happy when I get the promotion. 'll be happy when I'm a millionaire, when this diet pays off, when I hit the bestseller list.
Conditional happiness is what psychologists call this kind of thinking. Like the horizon, you can walk for miles and miles and never reach it.
It's a collective delusion. "It is quite impossible," Epictetus said, "to unite happiness with a yearning for what we don't have. Happiness has all that it wants, and resembling the well-fed, there shouldn't be hunger or thirst."
Locate that yearning for more, better, someday and see it for what it is: the enemy of happiness.
Choose it or your happiness. As the Stoics say, the two are not compatible.
What Did The Stoics Say About Happiness?
"Trust me, real joy is a serious thing. Do you think someone can, in the charming expression, blithely dismiss death with an easy disposition? Or swing open the door to poverty, keep pleasures in check, or meditate on the endurance of suffering? The one who is comfortable with turning these thoughts over is truly full of joy, but hardly cheerful. It's exactly such a joy that I would wish for you to possess, for it will never run dry once you've laid claim to its source." — Seneca
We throw around words like "happy" and "joy" casually.
"I'm overjoyed at the news." "I'm happy you're here." "She's a joy to be around." "I'd be happy to help." "It's a joyous occasion."
But none of those examples really touches on true happiness and joy. They are closer to "cheer" than anything else. Cheerfulness is surface level.
To the Stoics, true happiness, true joy—these are deep states of being. It is what we feel inside us and has little to do with smiles or laughing. So when people say that the Stoics are dour or depressive, they're really missing the point. Who cares if someone is bubbly when times are good? What kind of accomplishment is that?
What the Stoics were after was the ability to be fully content with life. Can you bravely face what life has in store from one day to the next, can you bounce back from every kind of adversity without losing a step, can you be a source of strength and inspiration to others around you?
The person that can is truly and deeply happy. They have that kind of happiness that comes from purpose, excellence, and duty. The serious kind—far more serious than a smile or a chipper voice.
https://dailystoic.com/how-to-be-happy/#happiness-strategiess
Disclosure
Indices that may be included herein are unmanaged indices and one cannot directly invest in an index. Index returns do not reflect the impact of any management fees, transaction costs or expenses. The index information included herein is for illustrative purposes only.
Material for market review represents an assessment of the market environment at a specific point in time and is not intended to be a forecast of future events, or a guarantee of future results.
Material compiled by Lansing Street Advisors is based on publicly available data at the time of compilation. Lansing Street Advisors makes no warranties or representation of any kind relating to the accuracy, completeness or timeliness of the data and shall not have liability for any damages of any kind relating to the use such data.
To the extent that content includes references to securities, those references do not constitute an offer or solicitation to buy, sell or hold such security as information is provided for educational purposes only. Articles should not be considered investment advice and the information contain within should not be relied upon in assessing whether or not to invest in any securities or asset classes mentioned. Articles have been prepared without regard to the individual financial circumstances and objectives of persons who receive it. Securities discussed may not be suitable for all investors. Please keep in mind that a company's past financial performance, including the performance of its share price, does not guarantee future results.
Lansing Street Advisors is a registered investment adviser with the State of Pennsylvania..