1. 2022 Worst Starts Ever History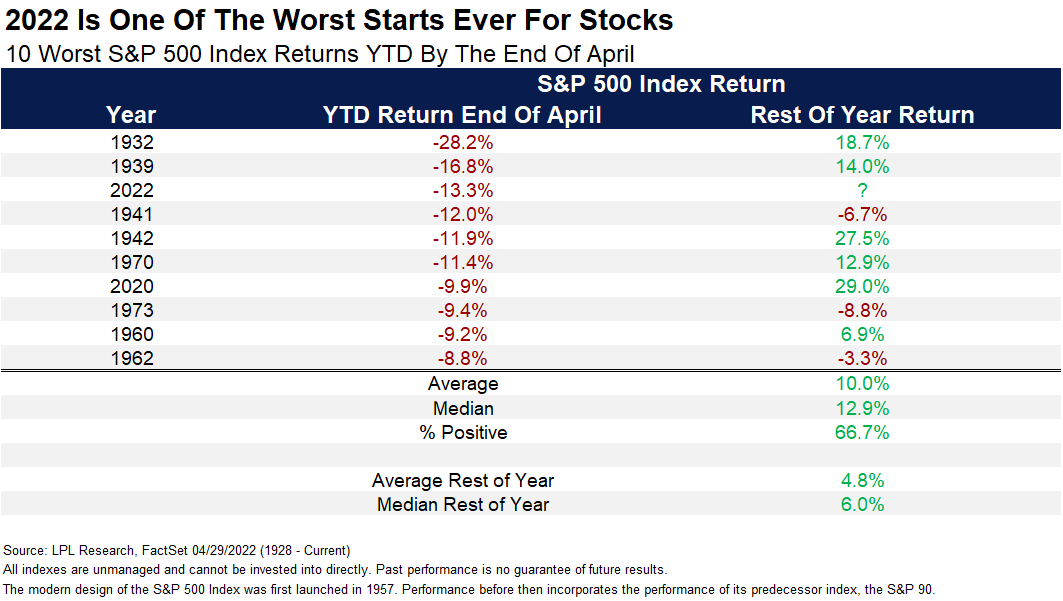 https://lplresearch.com/
---
2. Bond Market Massively Oversold-Bespoke Investment Group
The sell-off in bond prices over the last six months has been extreme to say the least.  There are a number of ways we could highlight the carnage for bond investors, but one way is to look at how far bond indices are trading below their 200-day moving averages.  As shown below, the Bloomberg US Aggregate Bond Market Total Return index is currently 8.5% below its 200-day moving average.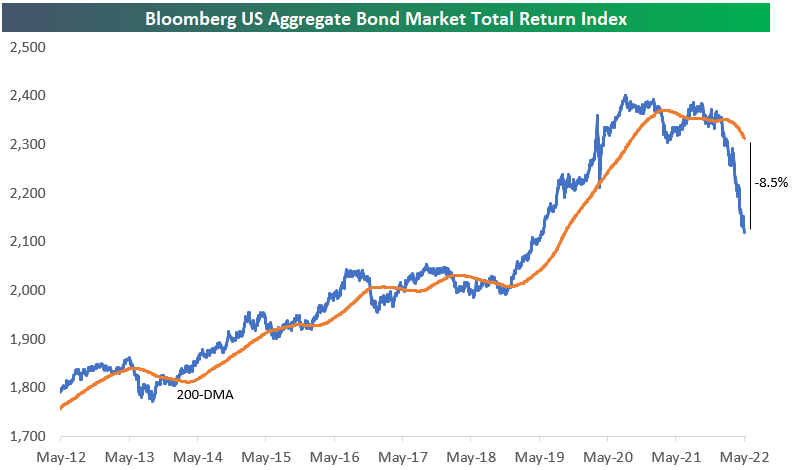 Going back to 1988 when daily price data begins, the 200-DMA spread is currently 2x more negative than any prior extreme oversold reading.  Click here to learn more about Bespoke's premium financial markets research.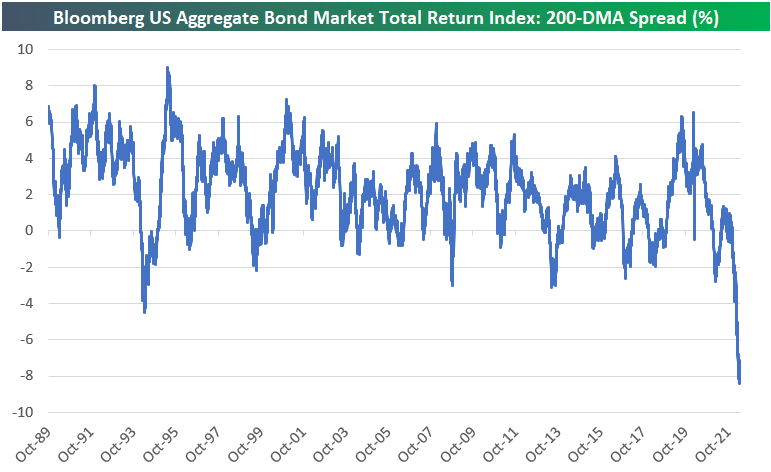 https://www.bespokepremium.com/interactive/posts/think-big-blog/bond-market-massively-oversold
---
3. 1999 Median Price to Sales Nasdaq 21.9x vs. 11.6x 2022
Invesco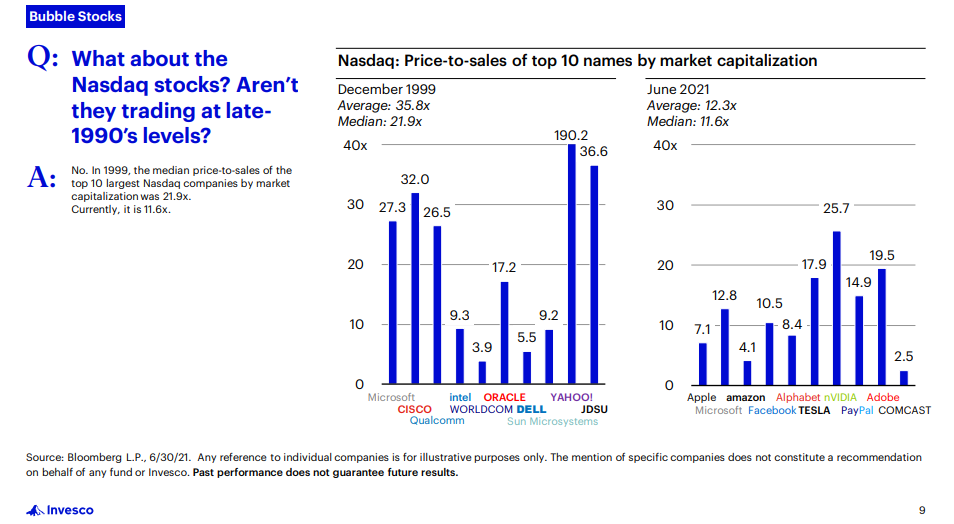 https://www.invesco.com/us/en/insights/topic/featured-insights.html
---
4. Copper Pulled Back and Closed Below 200day Moving Average but Broader Commodities Index Breaking Out.
JJC-Copper closes below 200day moving average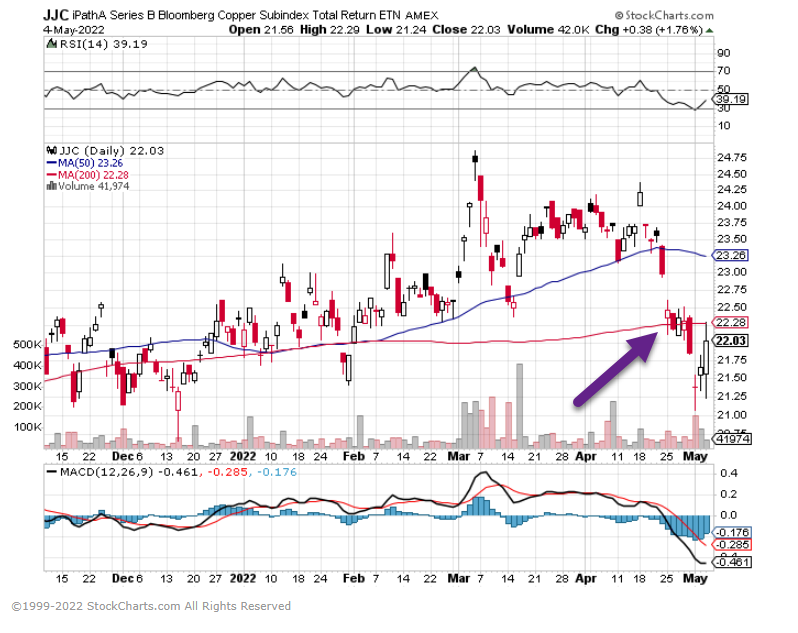 CRB-Broad Commodities Index about to break out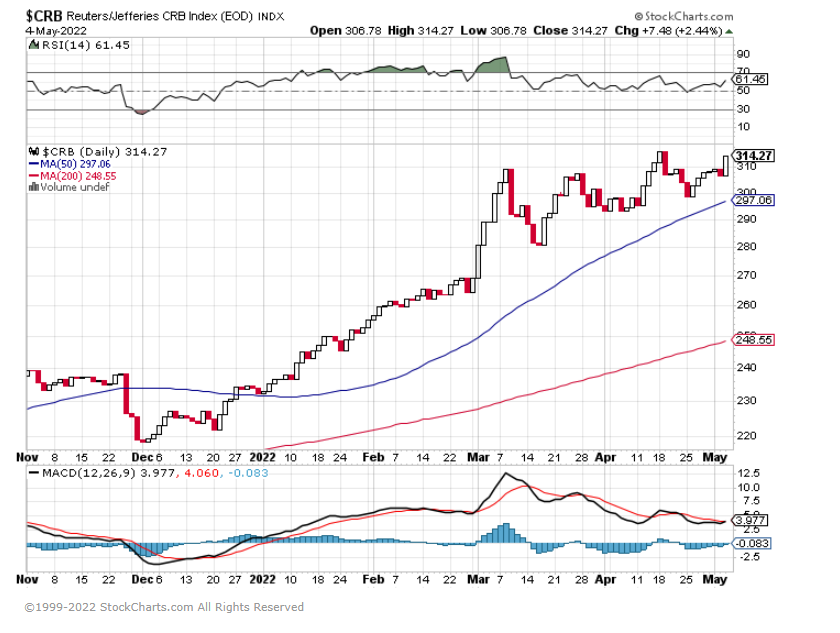 ---
5. Gold to Copper Ratio
Nasdaq Dorsey Wright-As some may know, a rising copper-gold ratio typically signals expectations for global economic health are on the rise and vice versa. Over the last year, the copper-gold ratio has consolidated in a range and the ratio is currently at the bottom of this range. The copper-gold ratio and the 10YR Treasury Yield have had a strong correlation over the years. After getting disconnected from their usual relationship, yields have rallied strongly higher since the end of 2021 and are now back at relatively similar levels to the copper-gold ratio. Now that yields have risen back to normalized levels relative to the copper-gold ratio, it's a bit more difficult to have a strong indication one way or the other of how the assets involved will go from here. This has been one of the worst starts to the year for bonds and there is clear momentum behind rising yields both gold and copper have more mixed technical pictures, but each's ETF still has acceptable fund scores. 10YR Treasury Yields have also had trouble breaking north of 3% after failing in both 2013 and 2018, so that is another variable to keep in mind. Like 10YR yields, the copper-gold ratio itself has also struggled to breach above its current levels, so these two data points can be seen as possible tailwinds for gold in the future. However, yields would need to see weakening moving forward and, as mentioned earlier, we have seen no signs of this happening yet.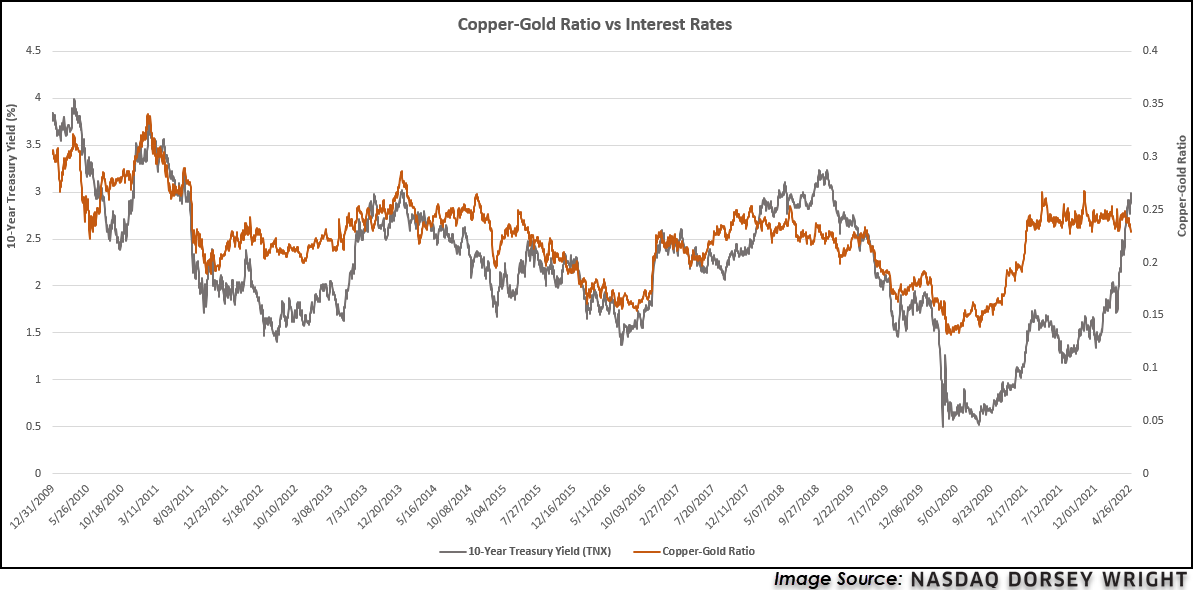 ---
6. Natural Gas 12month Fund +100% YTD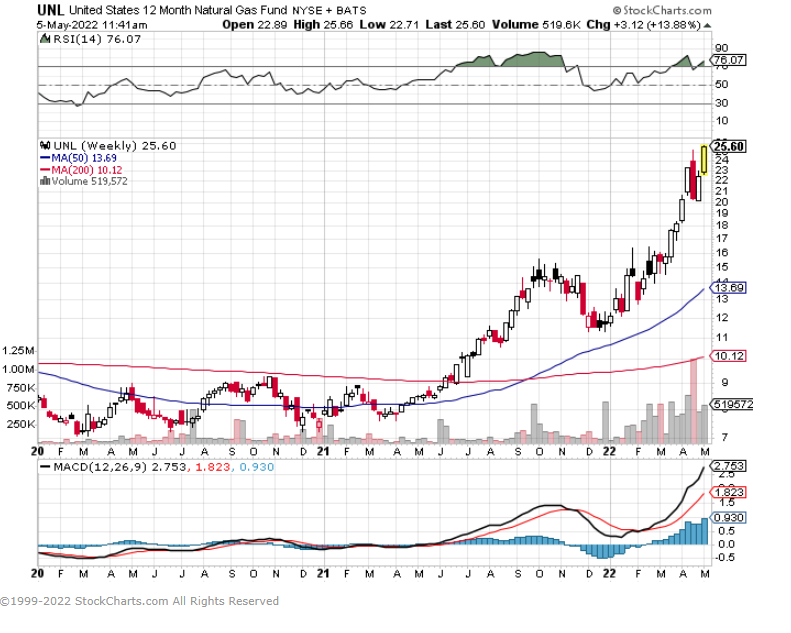 ---
7. Software Index Charts
Software ETF Barely Holding Previous YTD lows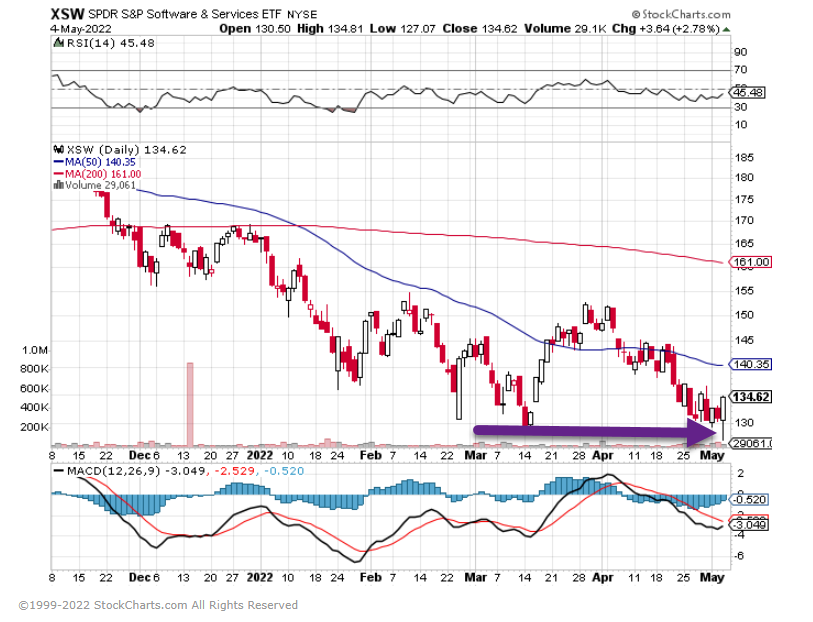 Software Longer-Term Weekly Chart holding above 200 day moving average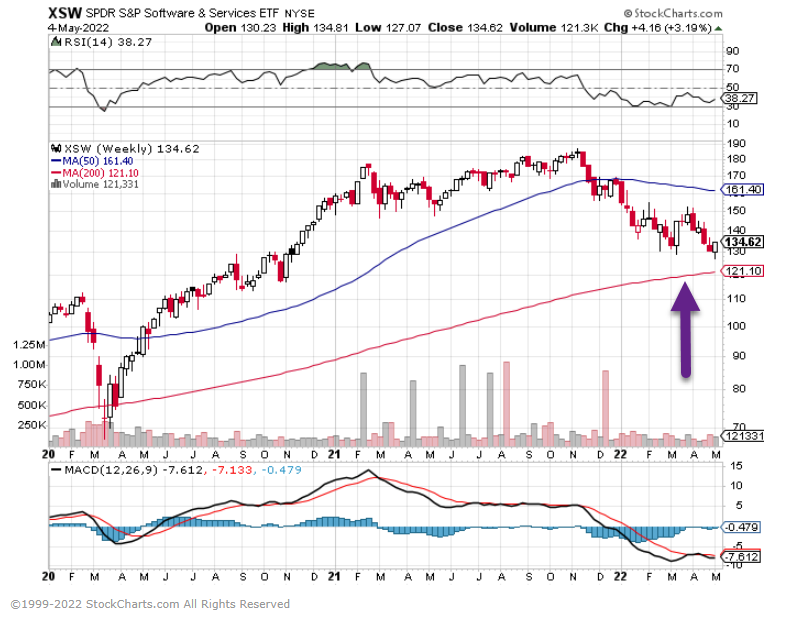 ---
8. You Though UBER was a Drive Sharing Company or Hedge Fund?
How Uber Lost $5.5 billion on 4 SPAC & IPO Stocks: Grab, Didi, Aurora, Zomato. How it Got There, How They Imploded It's funny, almost.By Wolf Richter for WOLF STREET.
This morning, Uber reported a net loss of $5.93 billion for Q1, and its shares initially tanked 11%, no biggie compared to the 32% dive that Lyft shares are currently undergoing following its earnings report and outlook last night.
In its earnings report, Uber disclosed $5.5 billion in losses on its stakes in four companies that recently went public via SPAC or IPO, and whose shares have gotten outright thackamuffled. These are the losses Uber reported today on its holdings of these four now infamous stocks that have been beautifying my column, Imploded Stocks:
Grab: $1.9 billion loss (biggest SPAC deal ever)
Aurora Innovation: $1.7 billion loss
Didi: $1.4 billion loss (biggest listing mess ever)
Zomato: $462 million loss.
Read full story on how uber ended up a bad hedge fund manager https://wolfstreet.com/2022/05/04/uber-lost-5-5-billion-on-four-spac-ipo-stocks-grab-didi-aurora-zomato-how-it-ended-up-with-them-and-how-they-imploded/
Uber chart breaks thru previous lows to downside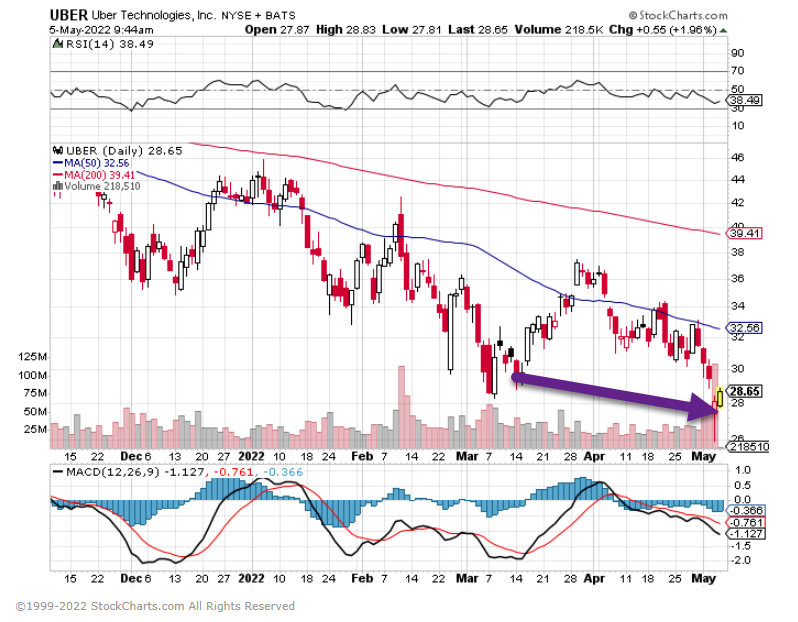 ---
9. Property Taxes on U.S. Homes Rise $328B
MSN News
Michele Lerner – 6h ago
Unsurprisingly, the spike in home values meant that property tax collections increased in 2021, compared with 2020, according to information compiled and analyzed by Attom, a real estate data analysis firm. Attom's researchers reviewed property tax data for nearly 87 million homes in the United States and found that $328 billion was levied, up 1.6 percent from the $323 billion in 2020. Despite the price increases on homes in 2021, this was the smallest rise in property tax bills over the past years and down from the 5.4 percent increase between 2019 and 2020.
The discrepancy between the home price increase of 16 percent in 2021 from 2020 and the much smaller increase in property tax bills is likely a reflection of the lag in tax assessments, according to Rick Sharga, executive vice president of market intelligence at Attom. In other words, homeowners may see their property taxes rise higher in 2022.
The average tax bill on single-family homes in the United States increased at the smallest rate in the past five years, up 1.8 percent from $3,719 in 2020 to $3,785 in 2021. The effective tax rate, which refers to the average annual property tax expressed as a percentage of the average estimated market value of homes, was 0.9 percent in 2021, down from 1.1 percent in 2020. Because home values rose much more quickly than tax rates, the effective tax rate declined.
Where property taxes are highest
In New Jersey, the average single-family home tax was $9,476 in 2021, the highest in the nation. Other states among the top five highest include Connecticut ($7,464), Massachusetts ($6,777), New Hampshire ($6,698) and New York ($6,617).
Where property taxes are lowest
The state with the smallest average tax bill was West Virginia at $901 in 2021. Other states among the five with the lowest property tax bills included Alabama ($905), Arkansas ($1,195), Mississippi ($1,243) and Louisiana at $1,248.
Most expensive homes sold in the D.C. area in 2021
D.C.-area property taxes
In counties near Washington, D.C., the average property tax bill was $9,526 in Arlington, Va.; $8,942 in Fairfax County, Va.; $6,837 in Montgomery County, Md.; $6,243 in Washington, D.C. and $4,741 in Prince George's County, Md.
The effective tax rate in those areas range from a high of 1.01 percent in Prince George's County to 0.93 percent in Fairfax County, 0.85 percent in Arlington County, 0.79 percent in Montgomery County and 0.55 percent in D.C.
https://www.msn.com/en-us/news/us/property-taxes-on-us-homes-rose-to-24328-billion-in-2021-report-finds/ar-AAWWrHz
---
10. Leaders Must Be Readers-The Daily Stoic
A leader will be forced into countless situations that they have never been in before. Trying, painful, stressful, baffling dilemmas and difficulties unlike any they have known. Nothing could have prepared Kennedy for the Cuban Missile Crisis, but it's a good thing he had read B. H. Liddell Hart a few years before—it was Hart's wisdom that helped Kennedy rationally and calmly deal with that unprecedented moment. Nothing could have prepared Churchill for the outbreak of WWII… except of course, the decades he had spent as a historian, which intimately acquainted him with the strategic insights and moral clarity required to bravely fight on.
"One common characteristic of virtually all great leaders I have known is that they have been great readers," Richard Nixon would write later in life. "Reading not only enlarges and challenges the mind; it engages and exercises the brain. Today's youth who sits mesmerized by a television screen is not going to be tomorrow's leader. Television watching is passive. Reading is active."
Great advice… that a reader of history also knows that Nixon did not quite live up to. In all, Nixon watched over 500 movies while in office in less than 6 years. Might he have been better served by engaging and exercising his brain? Might he have been better off if he'd had more of his assumptions challenged and fewer of his paranoid delusions indulged?
Marcus Aurelius does not become Marcus Aurelius without having read Epictetus at his teacher Rusticus's urging. Seneca would not have been Seneca without Attalus introducing him to the works of the Stoics, but equally, he would not have been Seneca without his diligent reading of Epicurus, which actively challenged his mind and his assumptions. How did he bravely face death at the hands of Nero's goons? He was aided by his reading of Cato's life, just as Cato faced his death by reading Socrates'.
A leader must be a reader. We must learn from the experiences of others. We must be challenged. We must exercise our brains. We must prepare ourselves for the things we'll only be able to experience once, by learning from the experiences of others.
It's not just the best way, it's the only way.