1. Inflation Relief–Fertilizer and Used Car Prices Rollover
@Charlie Bilello Positive Signs on the Inflation Front
Fertilizer prices peaked in late March and have been trending downward since, now at their lowest prices since late January. This is very important given their high correlation with food prices. Hopefully, we'll see this trend continue.

Used Car prices are down 6% over the last 6 months. In 2020, this was one of the first areas to spike higher, in advance of broader inflationary measures. Hopefully, the current downturn is a leading indicator of lower inflation rates to come.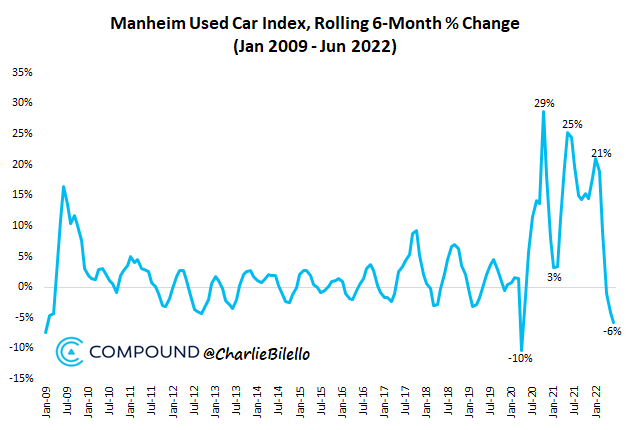 ---
2. Inflation Relief-China Housing Slump to Continue
Bloomberg-While global attention is focused on the economic impact of coronavirus lockdowns in Shanghai and Beijing, the slump in China's housing market is likely to have even more profound implications.
An official index that tracks apartment and house sales has posted year-on-year declines for 11 months straight—a record since China created a private property market in the 1990s. With demand for services and commodities generated by housing construction and sales accounting for about 20% of gross domestic product, that represents a big drag on growth this year.
Even if Beijing wanted a construction boom, the fundamentals aren't there. China's massive urbanization process is maturing: Population growth in towns and cities dipped below 1% last year for the first time since 1996. In more developed provinces such as Guangdong in the south, about 75% of the population is urban—not far off the US rate of 83%.
Investment in housing accounts for about 11% of China's GDP, and that will fall closer to 7% by 2030, according to a study by the Lowy Institute, a think tank in Sydney. Other kinds of investment such as infrastructure and factory construction won't expand fast enough to fill the gap created by shrinking spending on apartment building, it argues.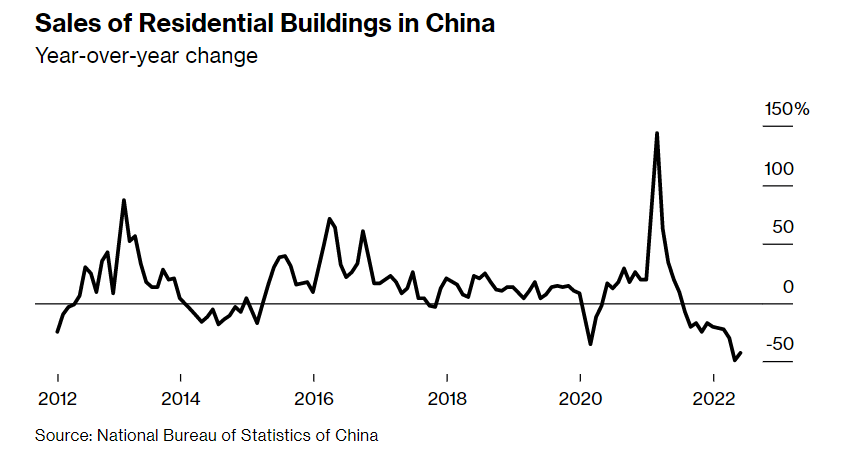 China's Property Slump Is a Bigger Threat Than Its Lockdowns https://www.bloomberg.com/news/articles/2022-06-22/china-housing-market-slowdown-drags-economy?srnd=premium&sref=GGda9y2L
---
3. No Demand Destruction Yet………Gas prices aren't leading to less driving — yet
Ben Geman, author of Axios Generate
Axios on facebook
Axios on twitter
Axios on linkedin
Axios on email
Data: Federal Reserve Bank of Dallas, Energy Information Administration; Chart: Simran Parwani/Axios
The rise in U.S. fuel prices isn't yet spurring a major pullback in driving, but that could soon change, a new Dallas Fed analysis finds.
The big picture: Gas demand is historically not very sensitive to prices.
But "prices may be closer to consumers' pain threshold than inflation-adjusted prices might suggest," Dallas Fed economist Garrett Golding writes.
If they rise higher, "expect consumers to respond by cutting back on fuel consumption and overall spending sooner than later."
What we're watching: Remote work options could reduce demand, per the report, but it's "too early to fully assess the impact."
And many low-wage workers — the ones most hurt by high costs — lack that choice.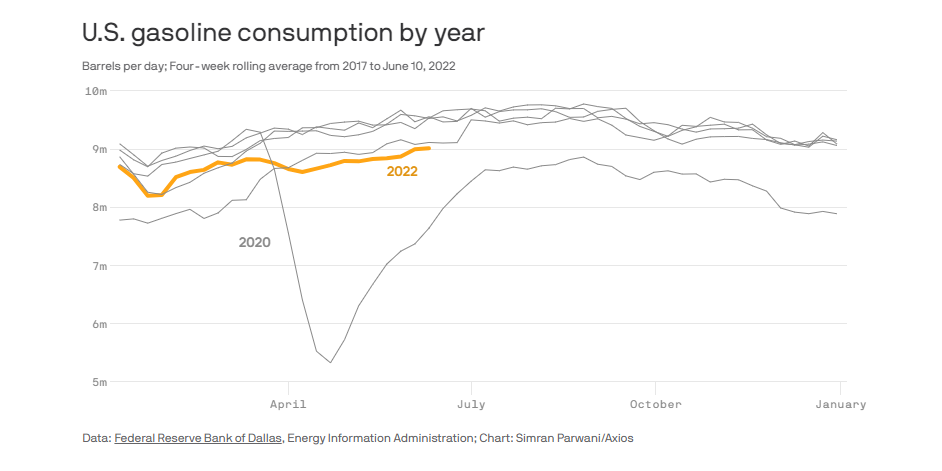 https://www.axios.com/2022/06/22/drivers-absorb-pump-pain-for-now
---
4. Energy Commodity vs. Energy Stocks
Kailash Concepts-Our team believes the disparity between the change in the commodity prices vs. the stocks is a compelling sign of just how little credit investors are giving the energy sector.
Over the last three years, natural gas prices are up 232%, while the Energy Sector's stock prices have only risen 52%. Said differently, natural gas prices have risen 180% more than energy stocks since April 2019.
The last time the commodity ran this far ahead of the stocks was in November of 2000. That date would prove to be the start of a seven-year bull market for energy stocks, which would destroy the S&P500.
Get our insights delivered directly to your inbox: https://lnkd.in/gMa57nt4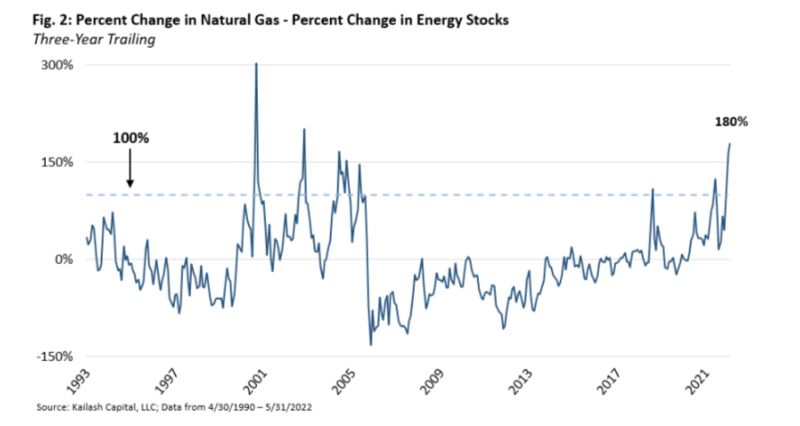 https://kailashconcepts.com/charts-for-the-curious-signup/
---
5. Blown Up..Trillion in Market Cap Poof
by Michael Batnick Irrelevant Investor Blog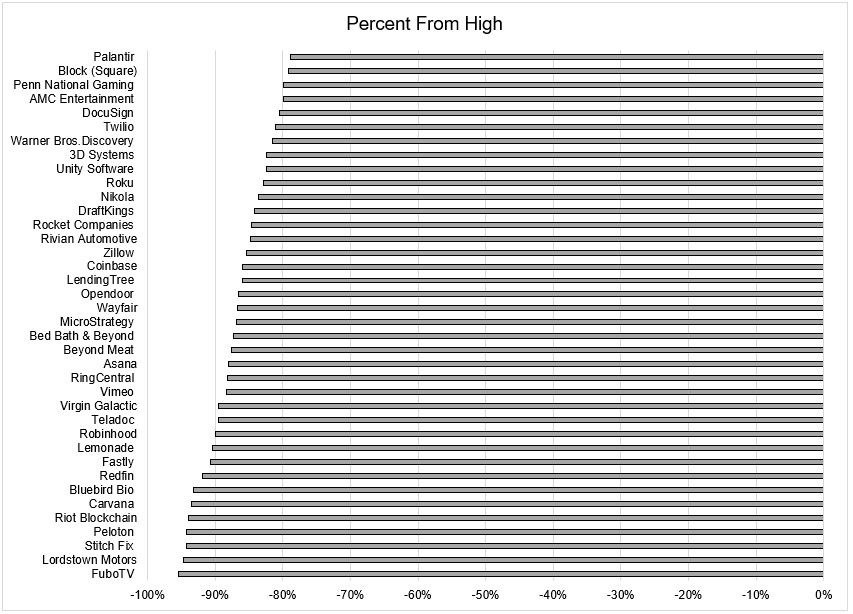 https://theirrelevantinvestor.com/2022/06/20/blown-up/
---
6. Celsius Blowup
Scott Galloway@profgalloway
What happened with Celsius is an example of desire working overtime. Splashed next to a stock photo of a sailbro, Celsius's website promises: Earn up to 18.63% APY. That promise triggers our greed glands, so we don't read the fine print and let that stranger in. The fine print, likely read sober, illuminates that this advertised rate is only for "Platinum Loyalty users" depositing "Synthetix" tokens. And the payouts come in the form of CEL, a digital currency from Celsius. CEL is down more than 90% year over year.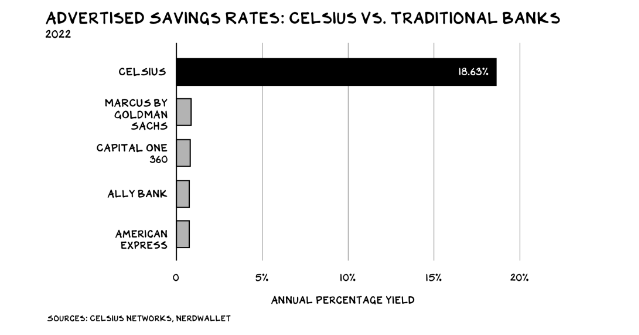 No Mercy No Malice Blog https://www.profgalloway.com/trustless/
---
7. IPO ETF Officially Making Run at Covid Low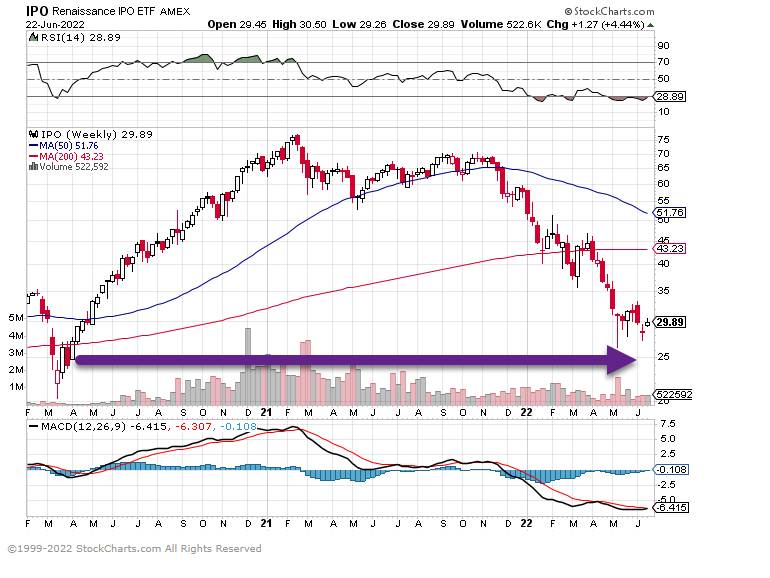 ---
8. Ukraine Refugee Data
Chartr–Data from the Ukrainian borders suggests that a substantial number of refugees that had previously fled Ukraine have now returned home — if only for a short trip.
Data from the UN refugee agency, originally reported on by The Economist, reveals that the gap between the number of people leaving Ukraine and the number of people entering Ukraine has narrowed. Indeed, throughout the first two weeks of June roughly 30,000 people have entered Ukraine per day, mostly staying west where the fighting with Russia has been more muted, suggesting Ukrainians are eager to return home as soon as they can.
Even with the number of returning refugees going up, there's still a net exodus of people leaving the country — although it's more of a trickle at 15,000-20,000 people per day compared to the hundreds of thousands that fled in the early days of the invasion.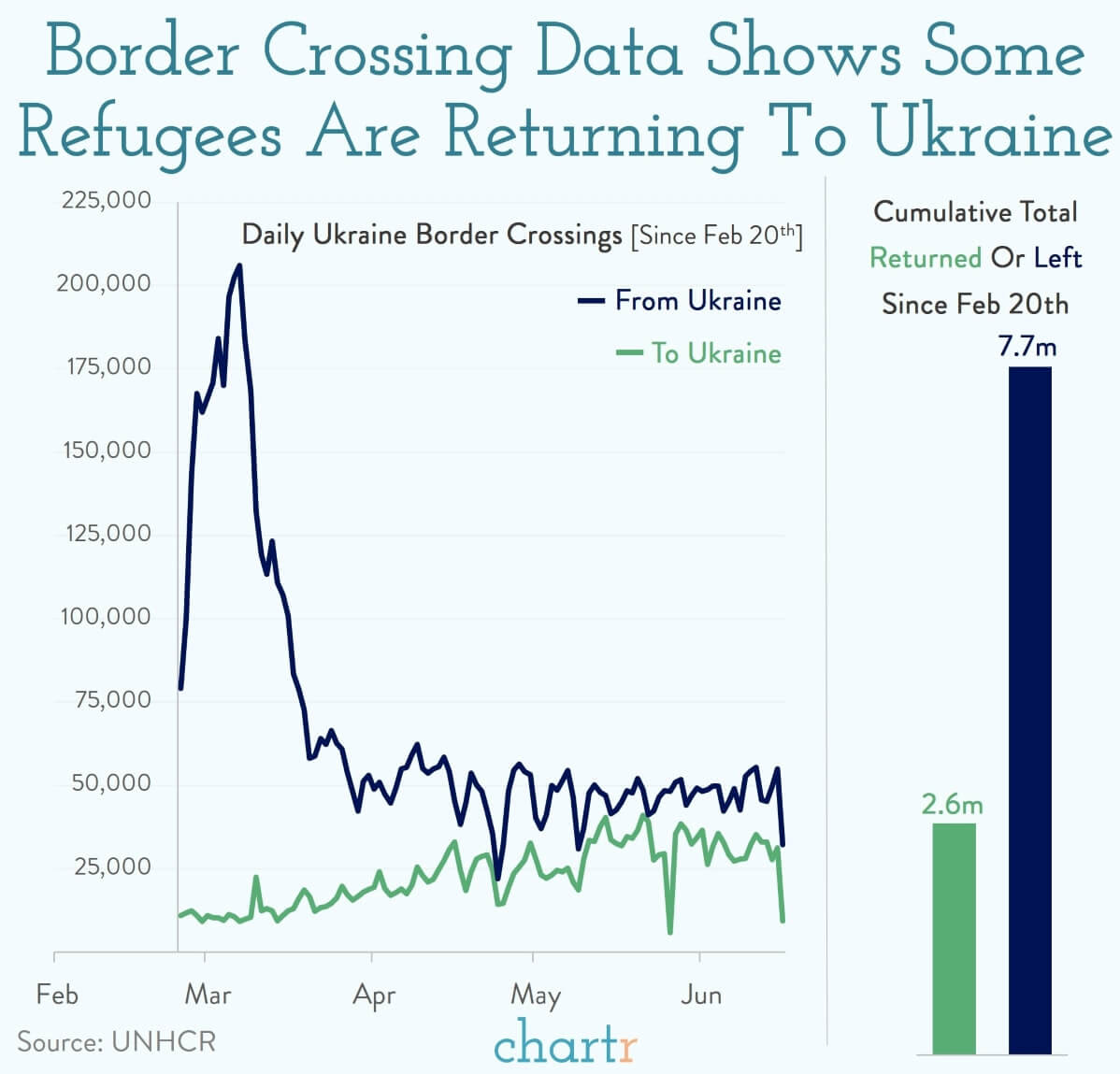 ---
9. Empty Wall Street Offices to Be Revived as Apartments
WSJ-Rebecca PicciottoFollow
A venture of two New York developers has purchased a one-third empty office building in the city's financial district with plans to convert it into apartments, one of the largest such conversion schemes to be launched during the pandemic.
The venture, which includes Silverstein Properties and Metro Loft, has agreed to pay $180 million for the 30-story building that opened in 1967 and has housed numerous technology and financial-services tenants over the decades. The new owners plan to convert it into 571 market-rate apartments, ranging from studios to three bedrooms, during the next three to four years.
This is "the right evolution of these struggling, underperforming, older office assets that are approaching their obsolescence," said Nathan Berman, Metro Loft founder and managing principal.
The deal comes as the remote-working trend that became popular during the pandemic is sending vacancies soaring in office markets throughout the country. Businesses adopting hybrid workplace strategies are leasing less space and migrating to newer buildings with modern designs, good locations and abundant amenities.
https://www.wsj.com/articles/empty-wall-street-offices-to-be-revived-as-apartments-11655812801?mod=itp_wsj&ru=yahoo
---
10. Golden State Wins: Cohesion, Defined Roles, and Andrew Wiggins
KEY POINTS
Intangibles contributed to the Golden State Warriors winning another NBA title—namely, the science of team cohesion.
Team cohesion allows a group to remain united in their effort toward a goal, requiring clearly defined norms and roles.
Andrew Wiggins, long considered a bust, had a remarkable postseason because the Warriors' clear norms and roles unlocked his potential.
The Golden State Warriors are 2022 NBA champions.
Three years removed from their last NBA Finals appearance and two removed from having the worst record in the entire league, that accomplishment seemed unfathomable to most. Since the 2019 NBA Finals loss to the Toronto Raptors, the Warriors had traded one Hall of Fame player (Kevin Durant), and the three other legendary players still on their roster (Stephen Curry, Klay Thompson, and Draymond Green) dealt with a variety of well-documented injuries.
Any other team might have folded in the face of this adversity, resigning themselves to lick their wounds under the glow of three recent NBA championships. This isn't any other team, though—the Warriors' famous culture, driven by superstars Curry, Thompson, and Green, isn't about "satisficing." Through a series of shrewd personnel moves and a whole lot of cohesion, the Warriors climbed back to the mountaintop.
One of these acquisitions, in particular, played an outsized role in helping the Warriors win a fourth NBA title in eight years: former number one overall draft pick, the much-criticized Andrew Wiggins. Many of the critiques levied against Wiggins in his first six seasons boiled down to a perceived lack of attention to detail, drive, and ability to be The Guy.
Somehow, Wiggins was able to overcome all of these criticisms in one fell swoop to become, arguably, the Warriors' second-best player throughout the playoffs.
The science of team cohesion suggests that, for Wiggins, having clear group norms and a clearly defined role seems to have unlocked his potential.
The Andrew Wiggins saga
As a top NBA draft prospect, Wiggins' profile was clear: He had the potential to be an elite athlete and defender immediately. Because of this high ceiling, Wiggins went number one overall to the Cleveland Cavaliers but was quickly shipped to the Minnesota Timberwolves. Through no fault of his own, Wiggins landed with a dysfunctional franchise with no norms to speak of; as the team transitioned away from the Kevin Garnett era, it lacked a clear tone-setter and culture-maker. Plus, they sucked: The Wolves went 16-66 in Wiggins' first year, followed by 29-53 in his second.
In addition to lacking clear institutional norms, the Wolves' role for Wiggins was a mismatch to both his talents and his personality. As such a high pick, Wiggins was expected to be the team's top offensive and defensive option—an alpha dog in the Kobe Bryant mold. Wiggins, though, is a relatively reserved, family-focused guy. Outwardly, at least, Wiggins doesn't appear to be the rabid competitor that Minnesota expected him to be.
article continues after advertisement
These two factors—a missing norm to tell the moldable rookie how to behave and a lack of a clear role—caused a mismatch between Wiggins' potential and what he became in Minnesota. And, after 5.5 seasons, Wiggins earned several feared titles, like bust and lazy player. Even when the Warriors traded for him in 2020, the deal was generally considered a stepping stone for the team to acquire someone they really wanted.
A model of team cohesion
Every title run has numerous causal factors, perhaps foremost talent and a little bit of luck. For these Warriors, though, intangibles like Championship DNA, grit, and love play an outsized role.
Each of these factors is important, but the one that keeps surfacing again and again for the Warriors is team cohesion—"the tendency for a group to stick together and remain united in the pursuit of its instrumental objectives [1]."
One well-regarded model of team cohesion, from psychologists Carron and Spink [2], which appears in Figure 1, suggests several factors that contribute to teams' overall feelings of togetherness.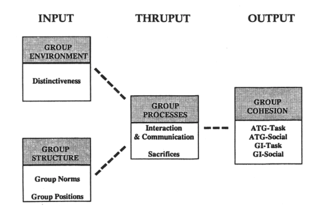 Figure 1. Model of Cohesion adapted from Carron and Spink (1993)
Source: Benjamin D. Rosenberg
So, for instance, the most cohesive teams should feel distinct from the competition ("We are unique because of our winning history"), have clearly defined norms ("We always play hard on defense") and roles ("Steph is the leader; I score when necessary and play hard defense"), communicate well (e.g., sharing grievances rather than letting them fester), and sacrifice for each other (e.g., giving up playing time so the team can win).
The importance of norms and roles in team cohesion
Each of these features is necessary to maximize team cohesion, but they can also operate like levers—augmenting one should ripple out and influence the others. In the case of Andrew Wiggins, having clear group norms and a clearly defined role seems to have unlocked his potential.
The Warriors' well-established culture of greatness is founded on defense. As Coach Steve Kerr noted, "the key to our game is defense"; that's a stark contrast to the popular conception that the Warriors are all about making pretty passes and long three-pointers. Each of the Warriors' four recent titles, though, has found them with a top-five defense in the NBA.
Stepping into this clear norm of behavior ("Play defense or get out"), with such deep buy-in from the team's leaders, put Wiggins in a position to lean into his defensive potential. And boy did he deliver, managing to body up several of the NBA's top offensive threats in the playoffs, especially Dallas' Luka Doncic and Boston's Jayson Tatum.
Another foundational piece of the Warriors' success has been their ability to offer players clear roles and expectations about how they fit into the team. Various veteran players have contributed in new ways after joining the Warriors—at least in part because they could focus on filling a very specific role. Another first overall pick, Andrew Bogut, revitalized his career and helped catapult the Warriors to the first title of this dynasty when he joined them and fulfilled a needed void as an enforcer, rim protector, and distributor.
Wiggins' performance this season, capped by his stellar postseason, is the latest example of this trend. Rather than being The Guy, as he was expected to be in Minnesota, on a healthy Golden State roster Wiggins was arguably the fourth-best player. Being out of the spotlight allowed Wiggins to bond with his teammates and, more importantly, be exactly what the Warriors needed: an incredible defender and athlete, as well as a reliable second, third, or fourth shotmaker.
Andrew Wiggins, reborn
The Andrew Wiggins story is nowhere near over; he is only 26, after all. Wiggins showed this year that although it is easy to judge players on their first few years in the NBA, the narrative can change in a heartbeat—especially when a new team offers clear norms and roles for which they can strive.
https://www.psychologytoday.com/us/blog/head-games/202206/golden-state-wins-cohesion-defined-roles-and-andrew-wiggins