1. Personal Savings Rate Spikes to 33%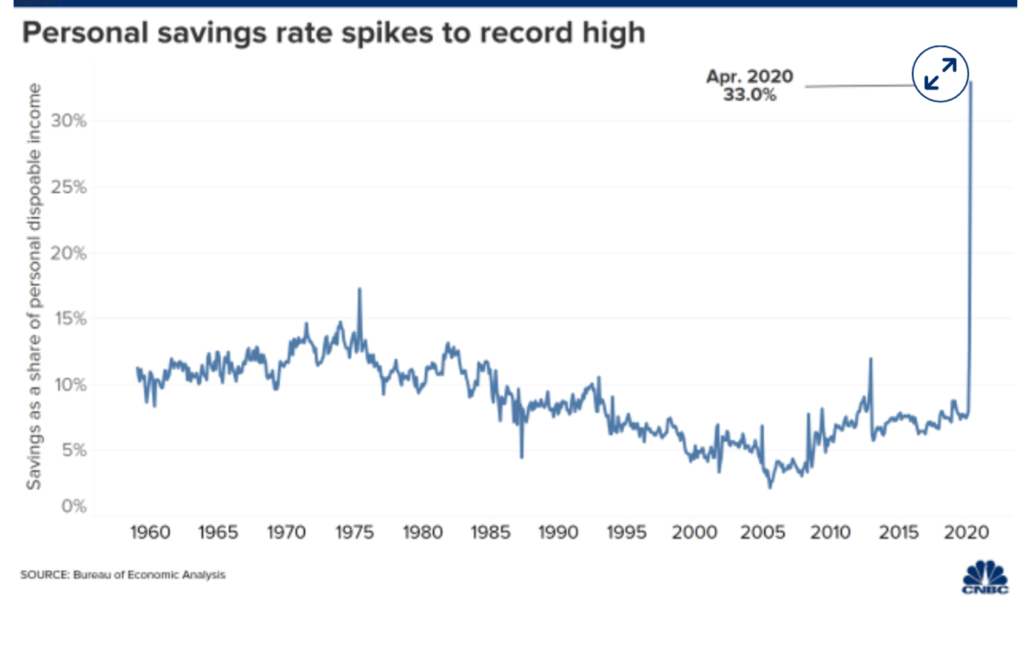 U.S. savings rate hits record 33% as coronavirus causes Americans to stockpile cash, curb spending
Maggie Fitzgerald@mkmfitzgerald
Key Points
The personal savings rate hit a historic 33% in April, the U.S. Bureau of Economic Analysis said Friday.
"There is a tremendous uncertainty and virus fear that is lingering and that is restraining people's desire to go out and spend as they normally would," said Gregory Daco, chief U.S. economist at Oxford Economics.
With the U.S. consumer accounting for more two-thirds of the economy, the economic recovery depends on whether the increase in savings is a result of shutdowns or structural changes in consumer habits, analysts said.
The increase in savings came as spending declined by a record 13.6% for the month.
https://www.cnbc.com/2020/05/29/us-savings-rate-hits-record-33percent-as-coronavirus-causes-americans-to-stockpile-cash-curb-spending.html?utm_source=morning_brew
2. Biotech ETF Breaks Out to New Highs
BBH Biotech ETF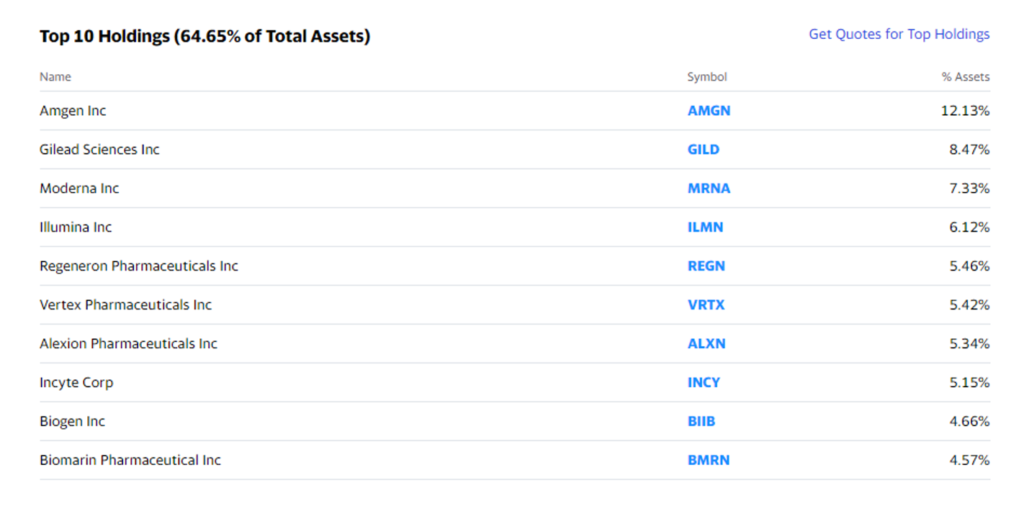 https://finance.yahoo.com/quote/BBH/holdings/
3. UONE-Urban One Stock…Robinhood Traders Strike Again
Barrons- By Randall W. Forsyth
For instance, the class A shares of Urban One (ticker: UONE), a multimedia company that operates radio broadcasters targeting primarily African-American listeners, increased nearly 20-fold in the past week, to $36.30. Trading volume surged as high as 57 million shares Thursday; a month ago, fewer than 10,000 shares changed hands on an average day. The Urban One D shares (UONEK) saw an even bigger jump in volume, as they hit $4.15 Friday from 88 cents a week earlier.
https://www.barrons.com/articles/unlikely-stocks-soar-as-societal-issues-and-speculation-collide-51592613757?mod=past_editions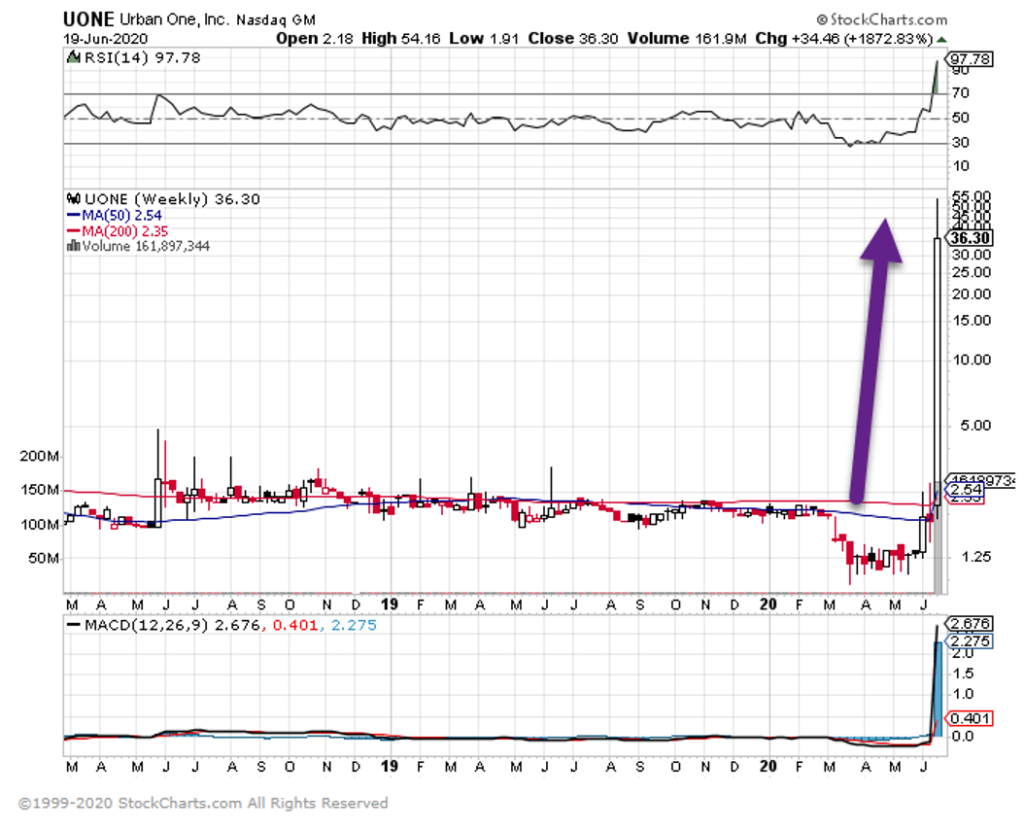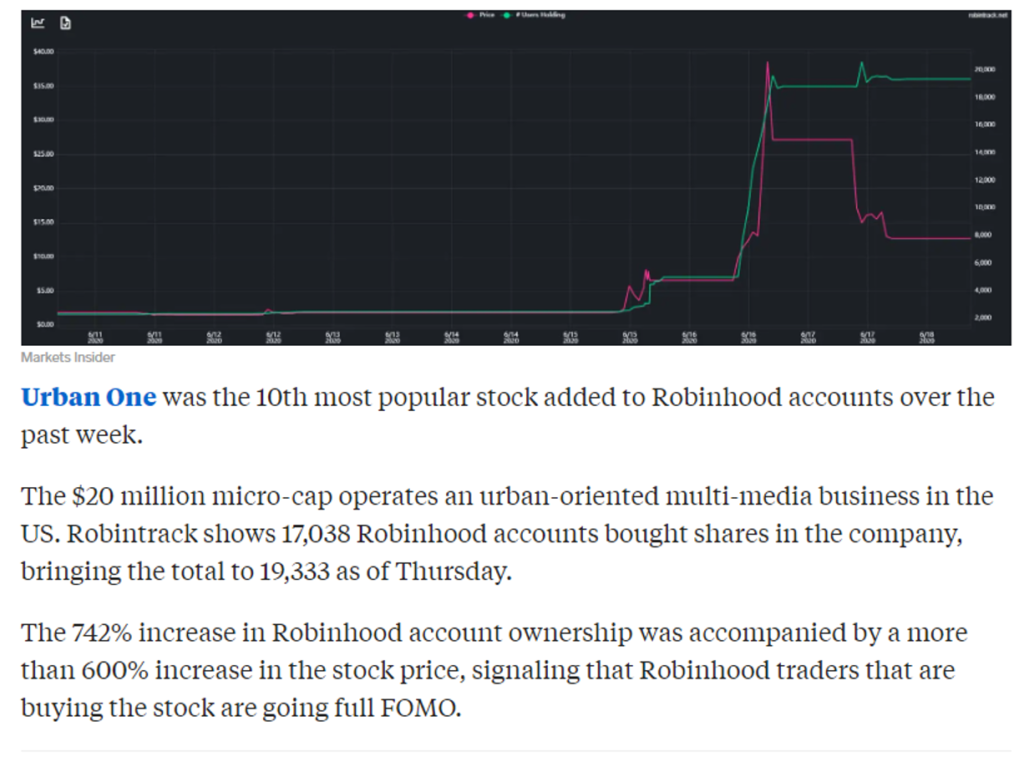 These 10 stocks were the most-bought on Robinhood over the last week-Matthew Fox
https://markets.businessinsider.com/news/stocks/robinhood-stocks-top-most-added-last-week-bought-purchased-robintrack-2020-6-1029322911#10-urban-one1
4. WGO Winnebago +75% 1 Year vs. S&P +5%
Barrons
The stock (ticker: WGO), famous for its eponymous recreational vehicles, is up more than 300% since mid-March. By comparison, the almighty FAANG stocks that had been leading the market seem dull. Over the same period, Apple (AAPL), Amazon.com (AMZN), Alphabet (GOOGL), and Netflix (NFLX) are up about 40% to 63%. Facebook (FB) is up 72%.
Taking Winnebago Options for a RideBy Steven M. Sears https://www.barrons.com/articles/taking-winnebago-options-for-a-ride-51592474402?mod=past_editions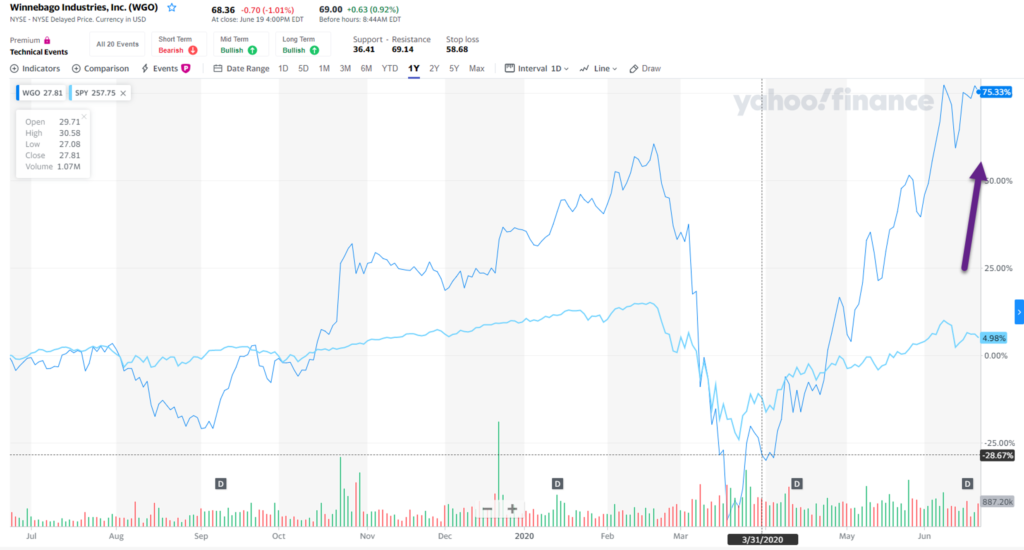 5. Text Book Small Float…..Nikola 'Prime Target' for Short Squeeze As Borrow Fees Explode..Borrow Rate Hit 600%
Updated Jun 16, 2020
Nikola short sellers may be forced to buy due to fees and losses
The company is the sixth largest short in the auto manufacturing industry
June mark-to-market losses for auto shorts at $2.58 billion, largely due to Tesla
Electric truck maker Nikola Corporation may have developed a keen fan following among retail investors who have pushed up its market cap, but with zero revenue anticipated this year, it has also drawn the attention of short sellers. The Phoenix, Arizona-based company, which recently went public, is already the sixth-largest short in the auto industry with $526 million of short interest.
Stock borrow rates for Nikola are soaring due to heightened short selling demand and limited lending supply. Stock borrow costs on existing short positions is 243.57% annualized fee and rates exceeded 600% in yesterday's trading. Short sellers have also sustained mark-to-market losses of $244 million in June, and the stock keeps climbing. This combination makes Nikola a "prime target for a short squeeze," said Ihor Dusaniwsky, managing director of predictive analytics at S3 Partners in a new note.
Source: S3 Partners.
"NKLA's lack of supply has two main drivers, lack of institutional long shareholders and large amount of insider shareholders," said Dusaniwsky. "The lack of stock borrow supply has throttled any chance for short sellers to build their position and create negative stock price pressure in the stock. And finally, we are seeing stock borrow recalls hitting the street, forcing some shorts to buy-to-cover and close their positions as there is no stock borrow supply available to replace those recalled stock borrows."
Mark-to-market losses this month for short sellers targeting the Auto Manufacturing Sector is $2.58 billion, and most of this is attributable to electric vehicle makers. Excluding shorts betting against Tesla, whose stock has been skyrocketing lately despite its CEO calling it overvalued, this figure comes down to $960 million. The other big sources of losses are Nikola and Chinese manufacturer NI
https://www.investopedia.com/nikola-prime-target-for-short-squeeze-as-borrow-fees-explode-5025065
6. Bubble History…Japan's Palace Grounds Once More Valuable than California
BY JONATHON HAEBER
UPDATED ON: AUGUST 27, 2007 / 5:35 PM / MONEYWATCH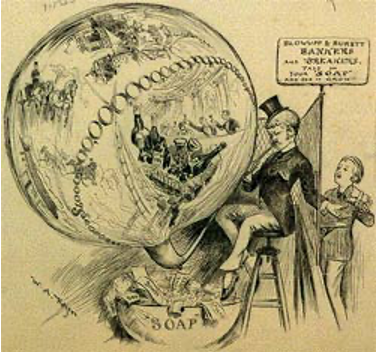 The phrase "Housing Bubble" is all-too-familiar territory for most of us, but in hindsight it shouldn't be anything new. Japan beat us to the punch back in the early 90s. Japan's real estate bubble got so 'irrationally exuberant' that the grounds under Tokyo's Imperial Palace were assessed at a value greater than the entire state of California.
In the case of Japan, there was a correction in the market — a 15-year correction that is just now gathering steam again. Looking ahead to the U.S., analysts predict that the worst isn't over yet.
Forbes' Robert Lenzner cites U.S. residential real estate as the "largest single asset class in the world" with a total worth of about $27 trillion. If home values decline nationally by only 10%, we're looking at a loss of $3 trillion of wealth — and mostly out of the pockets of consumers.
https://www.cbsnews.com/news/japans-palace-grounds-once-more-valuable-than-california/#:~:text=Japan's%20real%20estate%20bubble%20got,just%20now%20gathering%20steam%20again.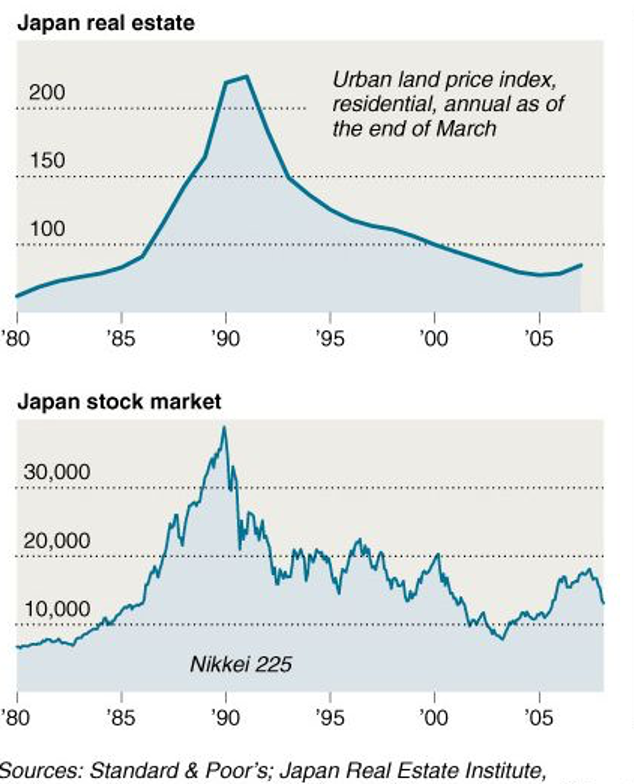 https://www.investing.com/analysis/this-is-what-a-bubble-looks-like:-japan-1989-edition-200197309
7. US vehicle traffic has rebounded to about 90% of pre-pandemic levels as commuters steer clear of public transit, report says
Jun 20, 2020, 3:56 PM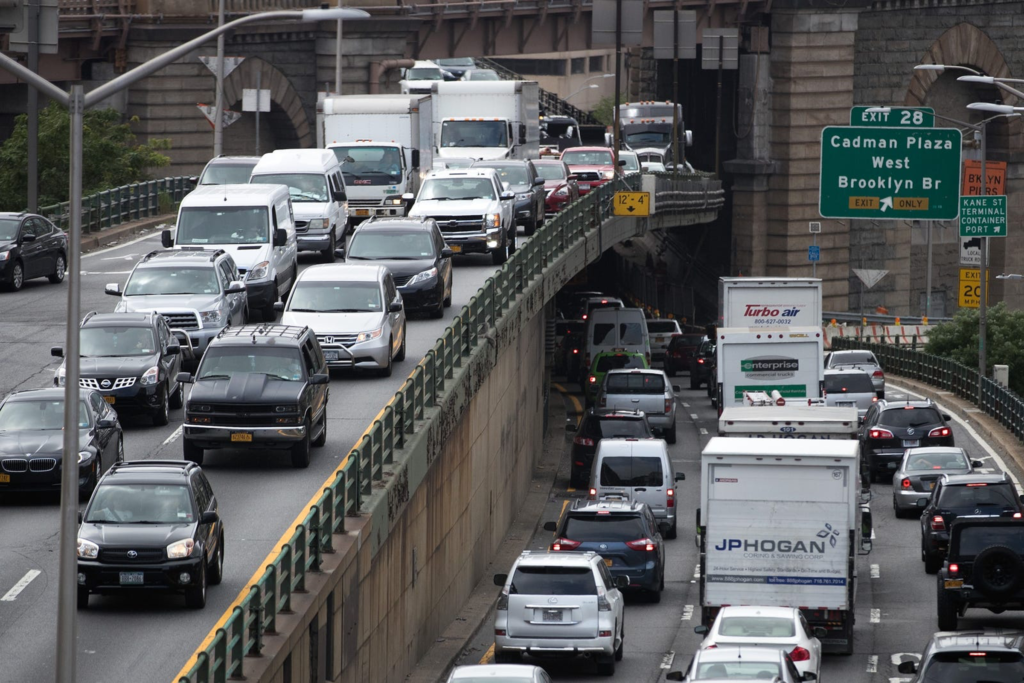 US vehicle traffic has rebounded to about 90% of pre-coronavirus levels, according to data released by INRIX, a transportation data firm.
Traffic has steadily increased since crisis lows in mid-April, when it bottomed out at 52% of normal levels.
Experts have warned that as cities reopen, traffic and congestion could continue to increase past pre-coronavirus levels as commuters shy away from public transit.
The CDC recently released guidelines to employers, advising they incentivize workers to avoid public transit on their commutes.
It's been more than three months since travel began to decline in the US amid coronavirus-related shutdowns. And as cities and states across the US begin to reopen, vehicle traffic has rebounded to about 90% of pre-coronavirus levels, according to data released by INRIX, a transportation data firm.
Traffic has been steadily increasing since mid-April, when it bottomed out at 52 percent of pre-pandemic levels.
In the week ending June 11th, 22 states saw people driving even more than they did in late February, according to INRIX. That includes Alabama (up 101%) and South Carolina (up 108%), both of which have seen recent rises in coronavirus cases.
States that were hard hit by the coronavirus pandemic, like New York and Washington, saw traffic levels rebound to 82% and 87% of pre-crisis levels, respectively.
Experts have warned that even with partial reopenings, cities could see higher-than-normal traffic as people opt for private vehicles over public transportation and carpooling. And recent surveys have shown that confidence in public-transit systems has dropped, Business Insider has reported.
Traffic could continue to rise as commuters shy away from public transit
At the height of the pandemic, ridership of New York's MTA, for example, was down by over 90%. And a recent survey from research firm Elucd found that 44% of New Yorkers will avoid public transit after quarantine ends. The poll found that, nationwide, 46% of people will "avoid transit entirely."
Earlier this month, the Centers for Disease Control and Prevention released guidelines advising employers to encourage commuters to avoid public transportation. The guidelines suggest that employers incentivize alternative commuting options, like biking, walking, and driving alone or with household members. The CDC also suggested employees' work hours be shifted if needed to avoid rush hour on public transit.
To be sure, commuting via public transit and carpooling has long been the suggestion from health and environmental officials. Pre-coronavirus, more than 76% of commuters in the US drove to work alone. Encouraging the remaining 24% to start driving, too, could have negative impacts on ongoing efforts to combat climate change.
"Our roads cannot handle the increase in demand that will come from increased vehicle dependence. Congestion levels will likely become unbearable," University of British Columbia urban planning and public health professor Lawrence Frank told CNBC.
In March, INRIX released its annual ranking of the most congested cities in the US. Boston had the worst traffic of any city in 2019, followed by Chicago, Philadelphia, and New York. Los Angeles, known for its heavy traffic, took sixth place.
https://www.businessinsider.com/traffic-increased-to-pre-pandemic-levels-inrix-report-2020-6
8. ACI estimates that 4.6 billion fewer passengers will pass through airports in 2020, with a $97 billion reduction in revenue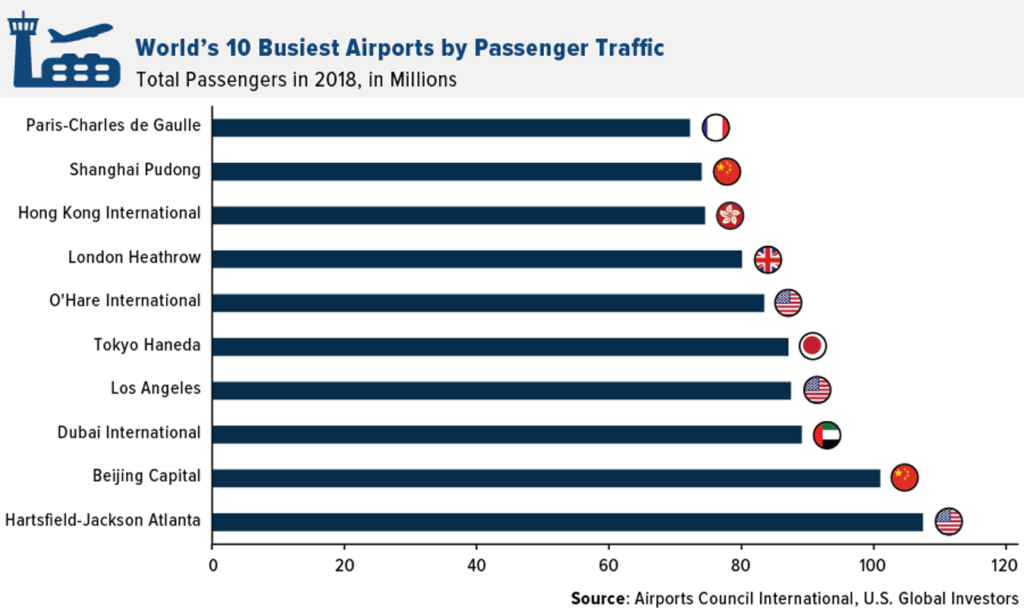 http://www.usfunds.com/investor-library/frank-talk/explore-the-worlds-10-busiest-airports/#.XvB-w2hKiUk
9. Here is the Redfin Home Buying Demand Index.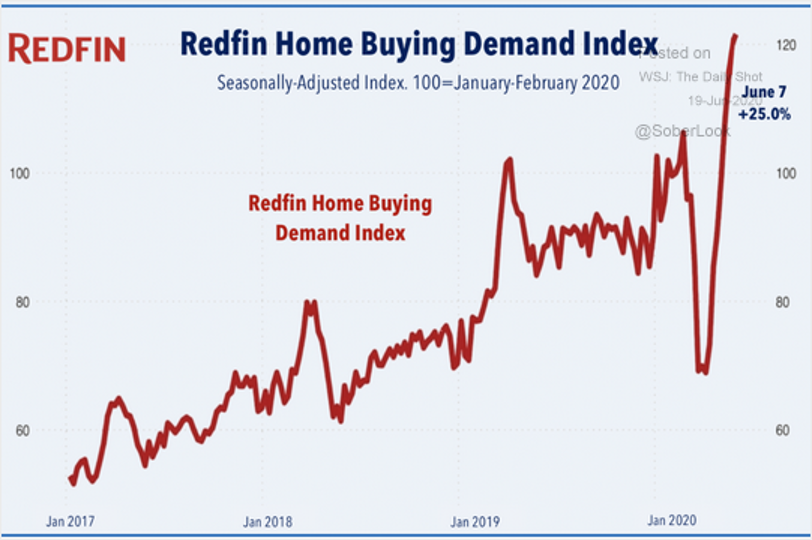 Source: Redfin, Hoya Capital Real Estate
The Redfin Housing Demand Index is the industry's first and only measure of housing activity prior to purchase. It is based on thousands of Redfin customers requesting home tours and writing offers in 15 major metro areas. The Demand Index is seasonally adjusted, with 100 representing the baseline level of homebuyer demand posted in January 2014. All periods thereafter can be compared to one another in a relative sense. For example, a Demand Index reading of 116 in January 2015 implies that homebuyer demand in that month was 16 percent higher than it was in January 2014. Similarly, a level of 120 in June 2018 means that demand was 20 percent higher than it was in January 2014, and roughly 3 percent higher than in January 2015.
https://www.redfin.com/blog/redfin-housing-demand-index-methodology/
Found at The Daily Shot https://blogs.wsj.com/dailyshot/
10. How to Build Resilience
Interviews with large numbers of highly resilient individuals — those who have experienced a great deal of adversity and have come through it successfully — show they share the following characteristics.
They have a positive, realistic outlook. They don't dwell on negative information and instead look for opportunities in bleak situations, striving to find the positive within the negative.
They have a moral compass. Highly resilient people have a solid sense of what they consider right and wrong, and it tends to guide their decisions.
They have a belief in something greater than themselves. This is often found through religious or spiritual practices. The community support that comes from being part of a religion also enhances resilience.
They are altruistic; they have a concern for others and a degree of selflessness. They are often dedicated to causes they find meaningful and that give them a sense of purpose.
They accept what they cannot change and focus energy on what they can change. Dr. Southwick says resilient people reappraise a difficult situation and look for meaningful opportunities within it.
They have a mission, a meaning, a purpose. Feeling committed to a meaningful mission in life gives them courage and strength.
They have a social support system, and they support others. "Very few resilient people," said Dr. Southwick, "go it alone.
What Makes Some People More Resilient Than OthersThe very earliest days of our lives, and our closest relationships, can offer clues about how we cope with adversity.
Disclaimer
Lansing Street Advisors is a registered investment adviser with the State of Pennsylvania..
To the extent that content includes references to securities, those references do not constitute an offer or solicitation to buy, sell or hold such security as information is provided for educational purposes only. Articles should not be considered investment advice and the information contain within should not be relied upon in assessing whether or not to invest in any securities or asset classes mentioned. Articles have been prepared without regard to the individual financial circumstances and objectives of persons who receive it. Securities discussed may not be suitable for all investors. Please keep in mind that a company's past financial performance, including the performance of its share price, does not guarantee future results.
Material compiled by Lansing Street Advisors is based on publically available data at the time of compilation. Lansing Street Advisors makes no warranties or representation of any kind relating to the accuracy, completeness or timeliness of the data and shall not have liability for any damages of any kind relating to the use such data.
Material for market review represents an assessment of the market environment at a specific point in time and is not intended to be a forecast of future events, or a guarantee of future results.
Indices that may be included herein are unmanaged indices and one cannot directly invest in an index. Index returns do not reflect the impact of any management fees, transaction costs or expenses. The index information included herein is for illustrative purposes only