1.Summer Seasonality Kicking In?
Equity Markets: Based on seasonal patterns, this is the time of the summer when the S&P 500 should peak.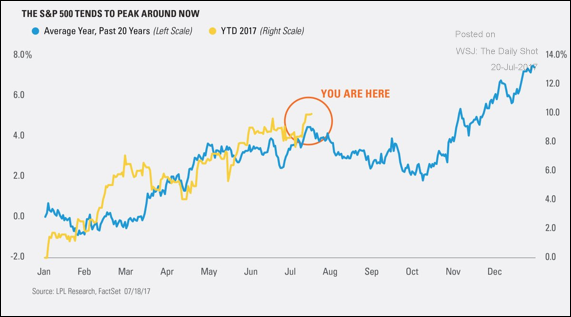 Source: @RyanDetrick; Read full article
2.From Ned Davis….Longest Run Without 5% Correction Since 1998.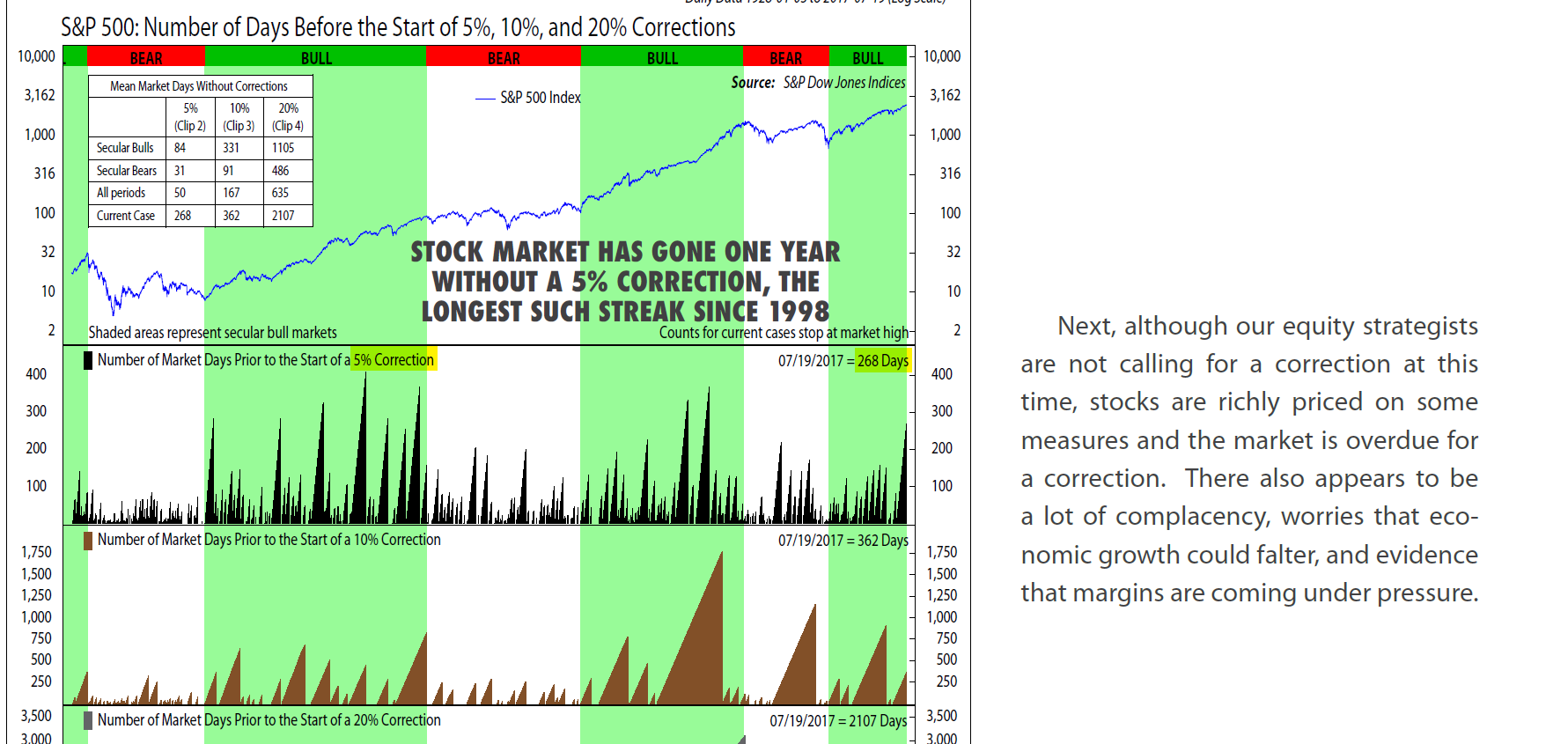 3.Where the Money is Flowing?
BOFA FMS– BofA's Fund Manager survey showing that In July, global investors continue to favor banks, technology, pharma, discretionary and industrials and avoid utilities, telecoms, and energy – Banks were the most overweight global sector in July, knocking Tech off the top spot. Since the 2009 market lows, Tech has been the top sector 80% of the time.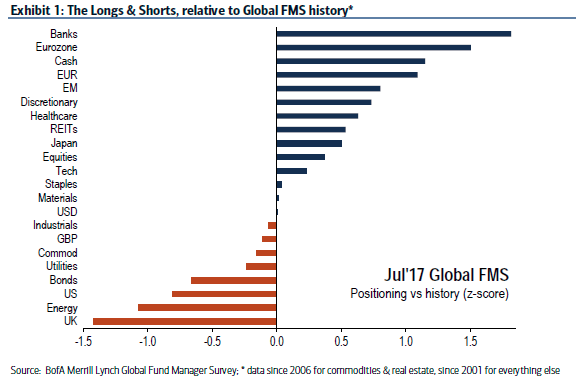 Thanks to Dave Lutz at Jones
4.Follow up to My "Tech Bubble" Piece….See Valuations Comparisons from SPDRs Below.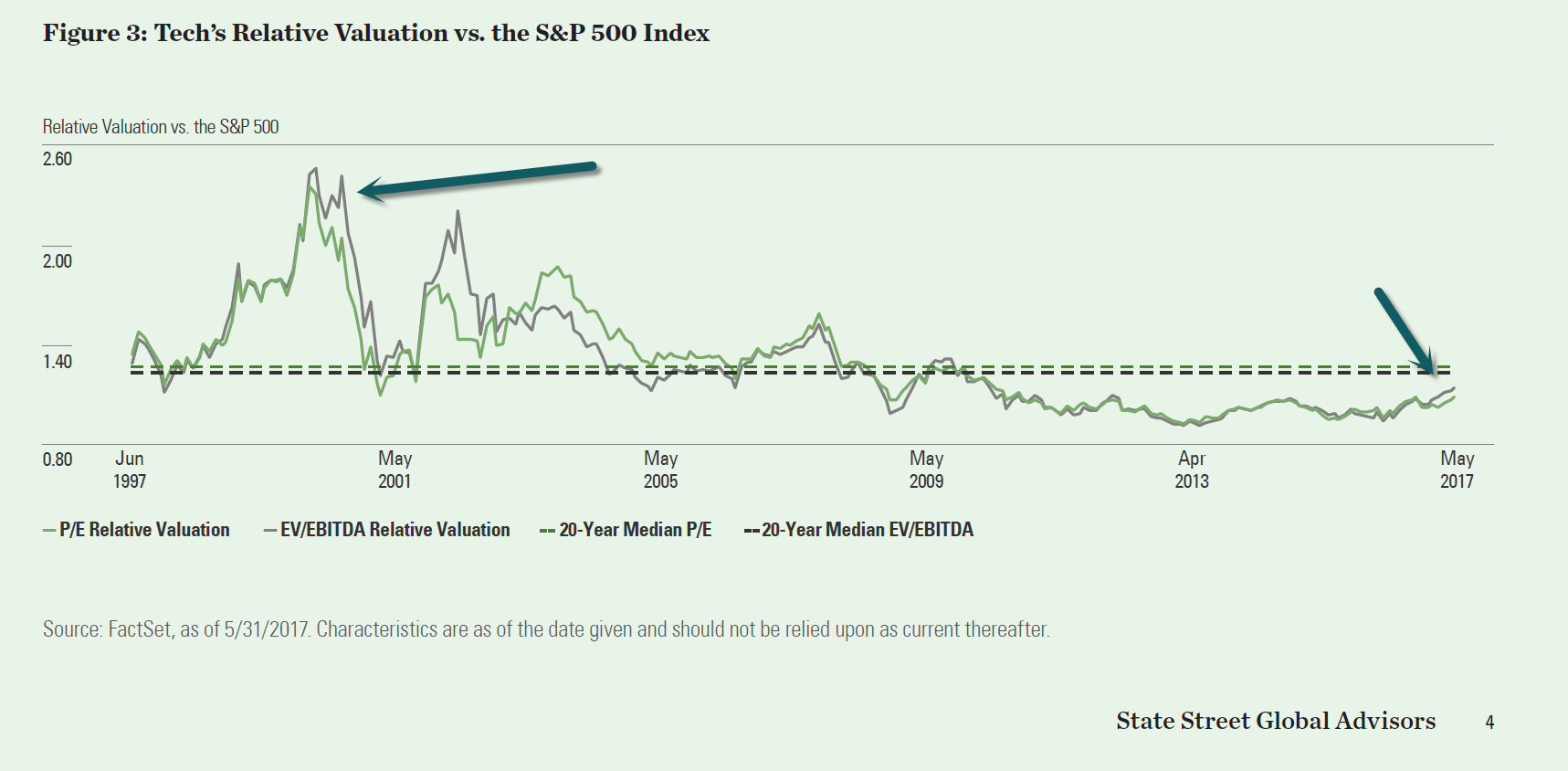 5.Volatility Dropping Everywhere….Emerging Markets Volatility New Lows.
Emerging markets equities traditionally a volatile asset class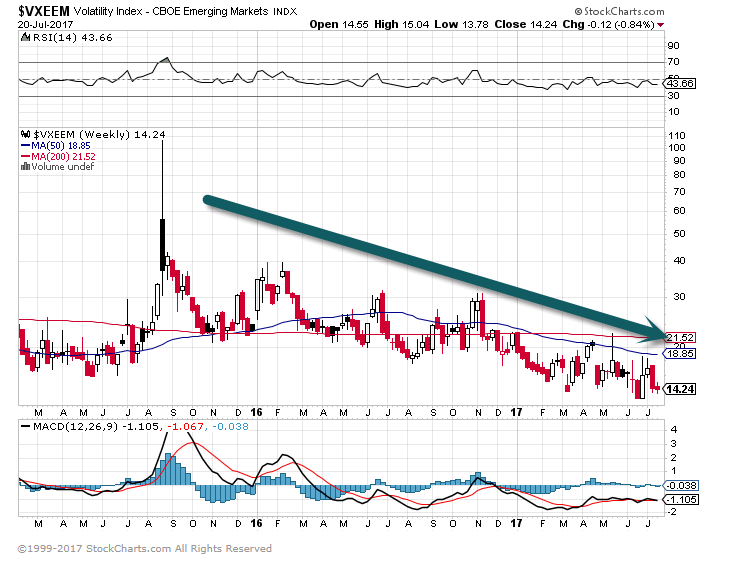 6.EURO +10% vs. US Dollar -7% YTD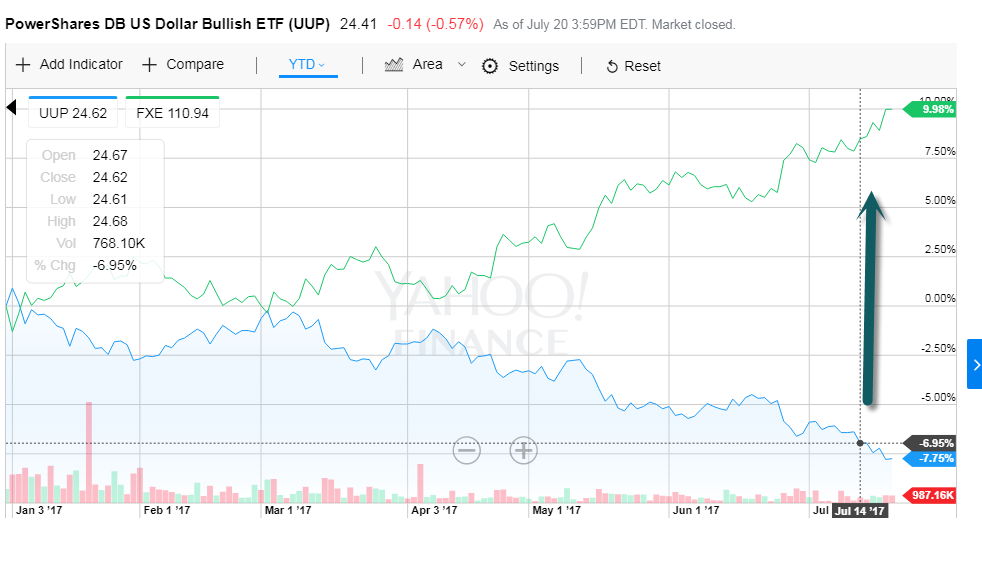 www.yahoofinance.com
Next up for dollar…Holding 2016 lows??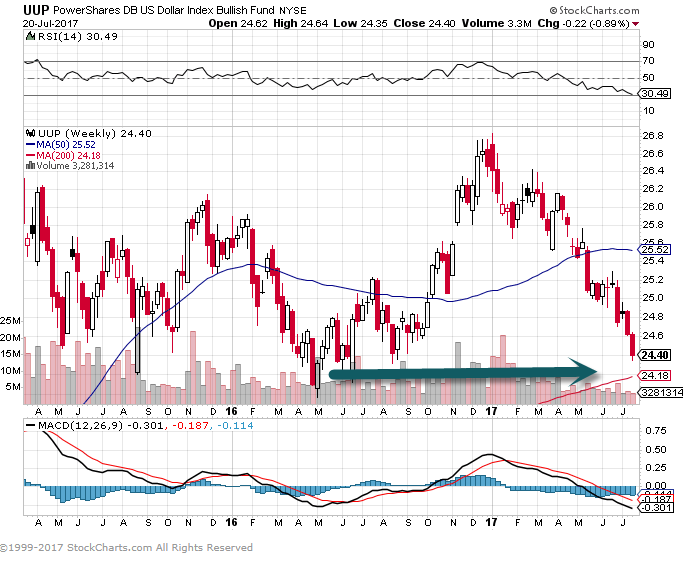 7.Nobody Wants Inflation Protection.
TIPS Auction Is a Bust as Few Investors Seek Inflation Protection
"The buyside disappeared in this auction," reports Thomas Simons of Jefferies, leaving dealers to take the largest share in years.
By
Amey Stone
The government auctioned off $13 billion in 10-year Treasury Inflation-Protected Securities (TIPS) Thursday afternoon and to say it didn't go well would be an understatement.
Thomas Simons of Jefferies called the auction "terrible" in his report, highlighting that it has a 5.9 basis point tail. "This is the widest tail since September 2012 and the highest stopout yield since January 2016," he writes. Indirect and direct bidders were below average, leaving dealers to take 40% of the auction, the most since September 2014.
He adds:
The buyside disappeared in this auction following a record-setting performance in May… The auction was terrible and it isn't clear if this is an issue with demand for TIPS or if this is simply the result of a quiet summer afternoon with many players on vacation. In any case, Dealers ended up with a lot more than they wanted, so it is hard to form a bullish case.
 Aaron Kohli and Ian Lyngen of BMO Capital Markets calle the auction "abysmally weak." They write in their closing note:
There's no compelling reason here to own inflation protection with all the central banks sounding hawkish and technicals on breakevens, suggesting another drop is the next step. The break of the line of support around 1.75% also opens up a retest of 1.663% which is a recent low.
The iShares TIPS Bond ETF (TIP) rose Thursday fell after the auction, closing down 28 cents at $113.41. It's up 0.2% year to date.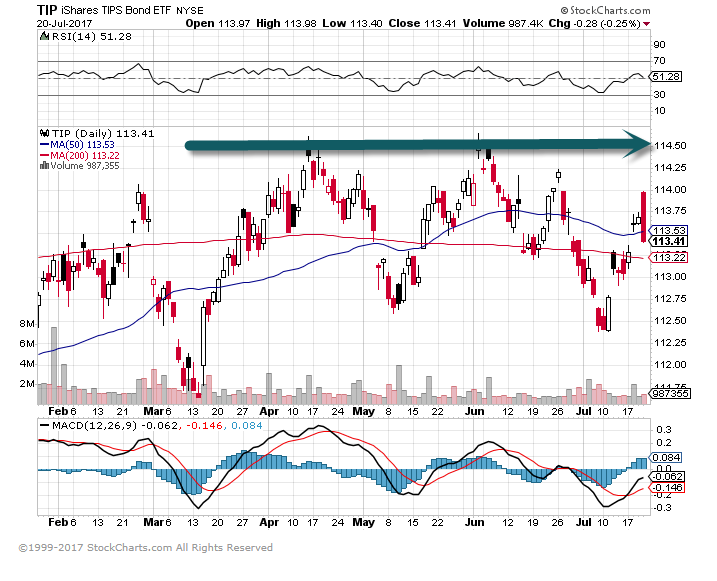 http://www.barrons.com/articles/tips-auction-is-a-bust-as-few-investors-seek-inflation-protection-1500586961
8. S&P 500's Biggest Pension Plans Face $382 Billion Funding Gap
By Brandon Kochkodin and Laurie Meisler
People who rely on their company pension plans to fund their retirement may be in for a shock: Of the 200 biggest defined-benefit plans in the S&P 500 based on assets, 186 aren't fully funded. Simply put, they don't have enough money to fund current and future retirees. The situation worsened for more than half of these funds from fiscal 2015 to 2016. A big part of the reason is the poor returns they got from their assets in the superlow interest-rate environment that followed the financial crisis. It's left a hole of $382 billion for the top 200 plans.
The S&P's Most Underfunded Pension Plans
https://www.bloomberg.com/graphics/2017-corporate-pensions/
9.Read of the Day….Half of Chinese Millionaires Would Like to Emigrate to U.S.
Exit stage left
According to a recent survey by Hurun Report Inc., a research company, of Chinese high net worth individuals (HNWIs) – defined as people with US$1.5 million or more in investible assets – more than 50 percent are either planning to, or are considering, emigrating from China.
According to Bain Consulting and China Merchants Bank, there are around 1.6 million Chinese with investible assets of $1.5 million or more, up from 180,000 in 2006. (Note: Ask anyone who's familiar with China and they'll likely tell you the real figure is far higher than that.)
For Chinese people looking to leave China, the U.S. and Canada are the most popular destinations, followed by the U.K. and Australia.
Cities on the west coast of the U.S. are the preferred emigration destinations for the Chinese. These cities are of course closest to China, increasingly served with regular direct flights and have substantial existing Chinese communities.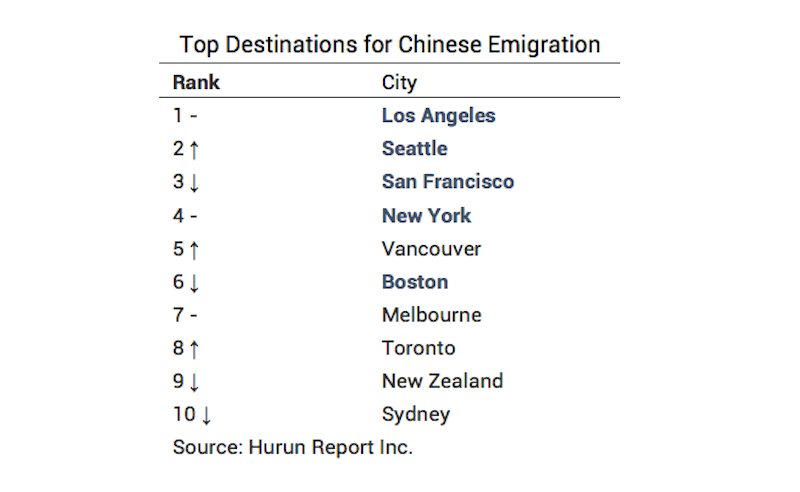 Stansberry Churchouse Research
Why are they leaving… and what does this mean?
If half of U.S. millionaires were looking at leaving the country, clearly we'd want to know why. According to the Hurun report, education and environment are the primary factors motivating rich Chinese people to leave China.
Chinese political and military elites have long spurned local higher education, instead sending their offspring to study at prestigious western universities for a better education than what's available at home. The daughter of Chinese President Xi Jinping, for example, studied at Harvard University in the U.S. For reference, in the Times Higher Education 2017 World University Rankings, the first Chinese university is ranked 29th.
And when it comes to the environment, as we have written numerous times in The Churchouse Letter, China's breakneck multi-decade quest for economic growth came with a disastrous environmental impact. For example, 40 percent of water in Beijing is so polluted it is rendered effectively useless, and 56 percent of Shanghai's water is likewise.
Clean air and water, safe food and an open-minded education are attractive to anyone – and especially wealthy Chinese.
In addition, some 84 percent of participants cited the depreciation of the Chinese yuan as a key concern and driver for looking to move and buy real estate abroad.
But I also suspect there are other reasons that push the wealthy to look overseas. The reality is in China, if you cross the authorities, everything can get pretty bad for you, and quickly. You'll notice that the top 10 cities listed in the table above are all found in countries with open and transparent rule of law – which is lacking in China.
An overseas exit plan provides an insurance policy, should a swift departure ever need to be made.
Read full story below at BI
http://www.businessinsider.com/growing-number-of-wealthy-chinese-citizens-want-to-leave-china-for-us-2017-7
10.How to Have Breakthrough Ideas
The art (and science) of breakthrough thinking.
Posted Jul 20, 2017
Source: From Creative Commons
What is the best way to encourage great ideas? How can we achieve the next breakthrough that will make a difference? Where does the eureka moment come from? These questions and many others have long vexed and perplexed researchers and industry.
We have often looked to stories surrounding great scientific discoveries for inspiration. Such as Archimedes streaking through the streets of Syracuse proclaiming "I have it!", Alexander Fleming's discovery of penicillin or the chemist August Kekulé's daydream of snakes biting one another's tails leading him to realise that benzene must have a ring-like structure.
Now science is cracking the processes that help deliver better creativity and innovation. Key to optimizing the creative problem-solving process is understanding the vital mechanism by which original and useful ideas are produced – connections… Creative ideas are borne out of the fusion of existing ideas, thoughts and knowledge. The more complex and unorthodox the combinations, the greater chance of the idea leading to a significant innovation.
The mathematician Hermann von Helmholtz postulated a creative thinking process in 1896, which is not so dissimilar to the models of today and will form the basis for some simple steps to follow below:
1. Problem-Finding– Great breakthroughs almost always start with the thoughtful identification of key questions, issues or challenges that need to be bested. Don't jump into brainstorming without thoroughly applying your curiosity or seeking out key questions (and answers!) from diverse sources. In many areas, getting 'hands-on' and deeply engaging with users, products, processes and services helps to spur inspiration. The thinking tools of The Kipling Method or A Day in The Life can really help here.
2. Primingand Preparation – Once a challenge, opportunity or problem has been identified it is vital to absorb deep knowledge about the area. Read far and wide, talk to experts and novices and also explore allied, but non-competing areas. In short… get immersed in the "problem". Research shows that it is not just focused technical knowledge that boosts creativity, but less-relevant and tangential information can be the key. Which comes back to the creative connections mechanism – Focused knowledge, interacting with "unusual" information promotes more complex and unorthodox perspectives.
3. Incubation– Deliberately make time to allow all that knowledge and insight to soak in, mash up, mix together and form those complex, unusual connections from which great ideas are born. Incubation is an active process too — talk to people, read more and see how everyday situations reflect back on your challenge. The secret to incubation is to start early and allow your thoughts to mingle — leaders can be coached on how to encourage creative incubation in their teams.
4. Generate and Ideate– Linus Pauling, the double Nobel Laureate was alleged to have said "If you want to have good ideas you must have many ideas. Most of them will be wrong, and what you have to learn is which ones to throw away". Great creativity requires great volume. Go for as many ideas as possible, involve a diverse team to spur yet more ideas, go exhaustive and leave sensibility, reason and prejudice at the front door. There are some powerful techniques to employ to maximize the generation process like Attribute Listing and Brain writing. Leaders to have a huge role to play in setting the right conditions as I explained in a recent article. The time for careful and exhaustive criticality comes next…
5. Evaluate– The creative process usually involves the deliberate and slow application of doubt, judgement, critique, testing and reality to the bank of ideas. Think carefully about the criteria that are being applied to make the final selection of the 'winning idea'. Too often brilliant ideas are rejected too early, when more development would have led to the big breakthrough. Don't throw the baby out with the bathwater…
Follow these simple steps (with a healthy dose of common-sense) and they will help you to apply the science of breakthrough thinking.
Dry Mark Bate is a creativity and innovation expert at Alliance Manchester Business School and loves to hear your stories of applying these approaches.
He helps individuals, teams and organizations to be more creative and innovative (mark.batey@manchester.ac.uk(link sends e-mail))
https://www.psychologytoday.com/blog/working-creativity/201707/how-have-breakthrough-ideas