1. Major Indices Holding Above 200 Week Moving Averages.
S&P above 200 week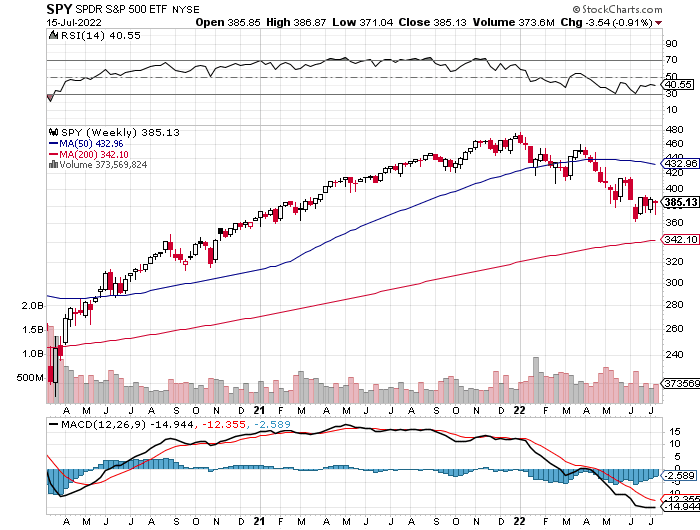 Nasdaq Comp above 200 week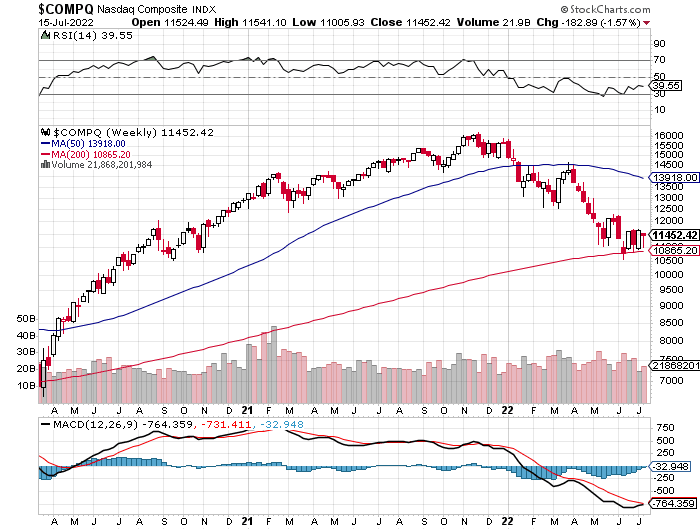 ---
2. Dow Jones and Dow Transports Above 200 Week
Dow Industrials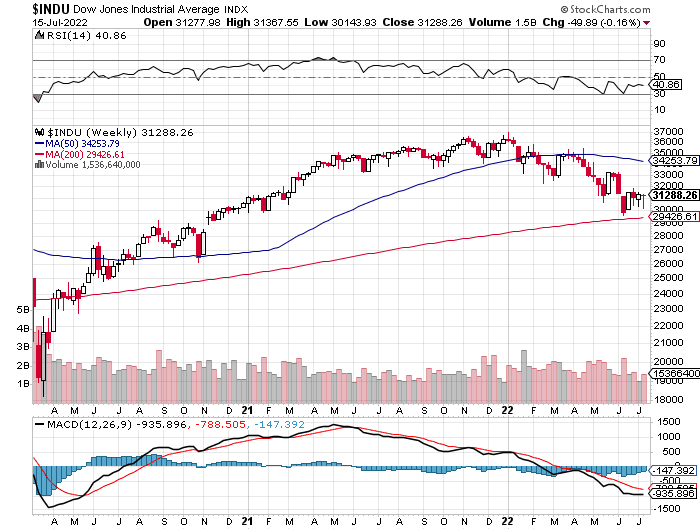 Dow Transports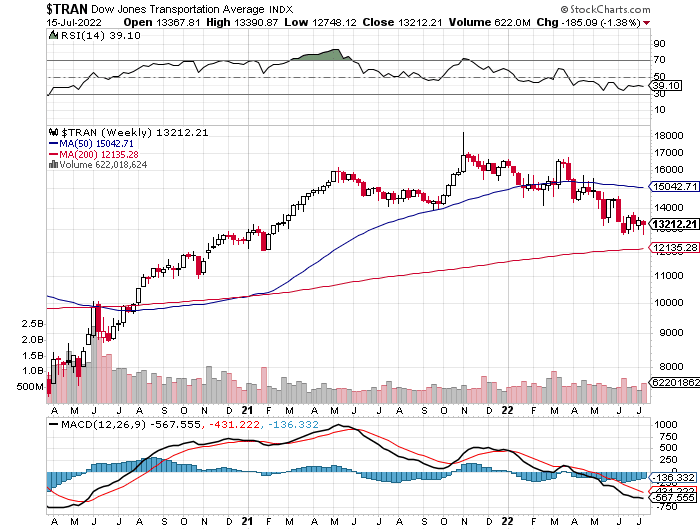 ---
3. Small Caps had Worse First Half Ever…Holding Sideways on 200 Week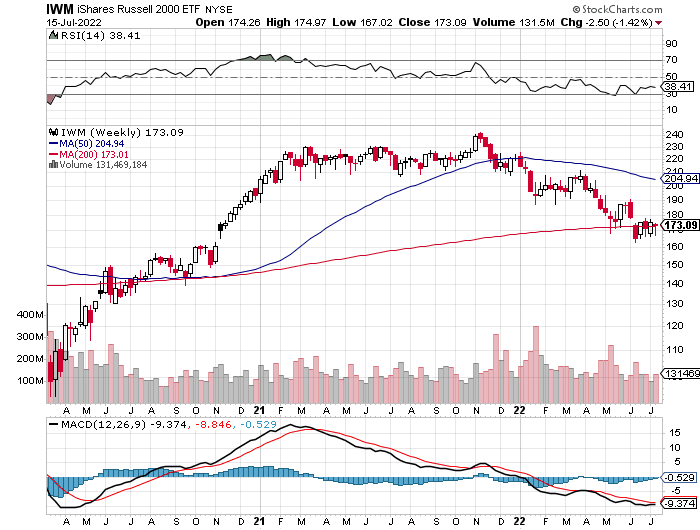 ---
4. Japanese Yen Falls to 20 Year Low vs. U.S. Dollar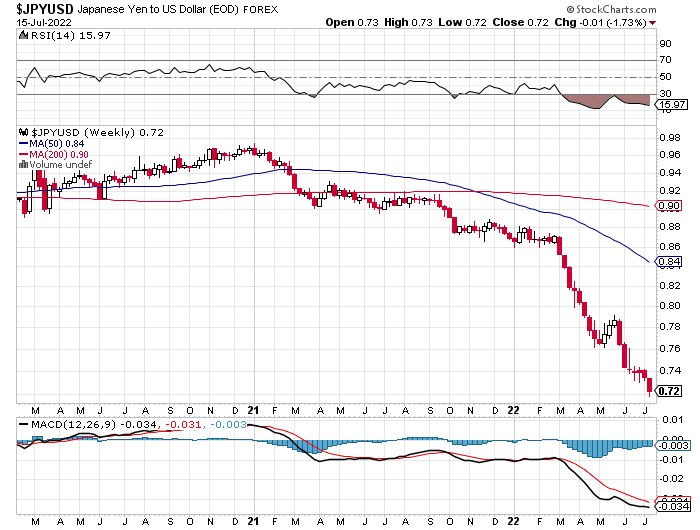 ---
5. Overall Asian Currencies have Slumped to Historical Lows vs. Dollar
Bloomberg-Unstoppable Dollar Risks Worsening $71 Billion Asia Stock Exodus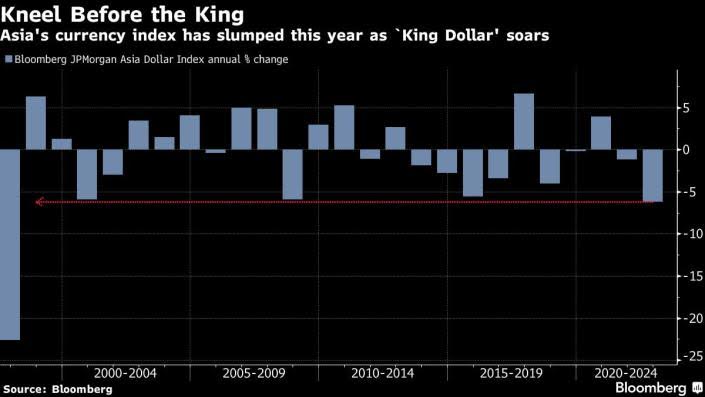 Unstoppable Dollar Risks Worsening $71 Billion Asia Stock Exodus-Ishika Mookerjee
(Bloomberg) — The dollar's relentless rise is threatening to trigger more outflows from Asia's emerging-market shares, spoiling hopes of the region making a comeback in the second half.
A gauge of Asian currencies has slumped to its lowest in more than two years, an ominous sign for equities given their strong relationship with moves in foreign exchange. The MSCI Asia ex-Japan Index has fallen 20% as foreign investors took $71 billion out of stock markets in emerging Asia outside China so far this year, already double the outflows in 2021.
The dollar has steamrolled through global currency markets lately, benefiting from bets on aggressive Federal Reserve rate hikes. A stronger greenback bodes ill for Asian stocks when it signals lower risk appetite and is also seen as negative for growth in emerging economies, many of which rely on imports priced in the currency.
"The dollar is strengthening because there's risk aversion rather than growth" and that's "not a good mix" for Asian assets, said Zhikai Chen, head of Asian equities at BNP Paribas Asset Management.
https://finance.yahoo.com/news/unstoppable-dollar-risks-worsening-71-000000106.html
---
6. South Korea Chipmakers Inventory Build
QUARTZ Meanwhile, South Korea's Ministry of Economy and Finance reports that Korean chipmakers are sitting on a rapidly growing stockpile of unsold chips. The country, which is the world's biggest producer of memory chips for electronics like laptops and smartphones, hasn't seen its semiconductor inventory rise this fast since 2018.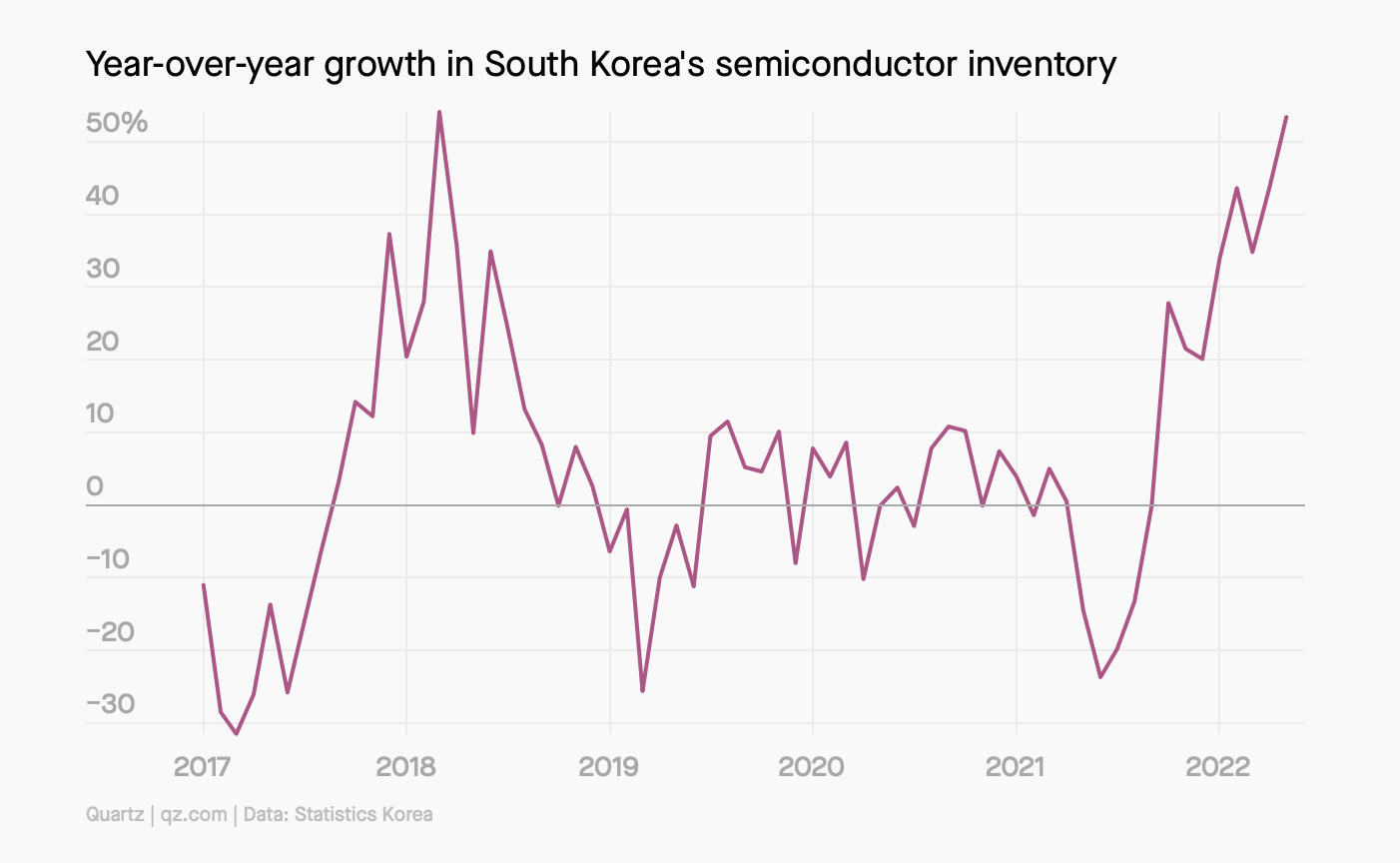 From Barry Ritholtz blog https://ritholtz.com/2022/07/weekend-reads-525/
---
7. The Tesla of China ….BYD Hit All-Time Highs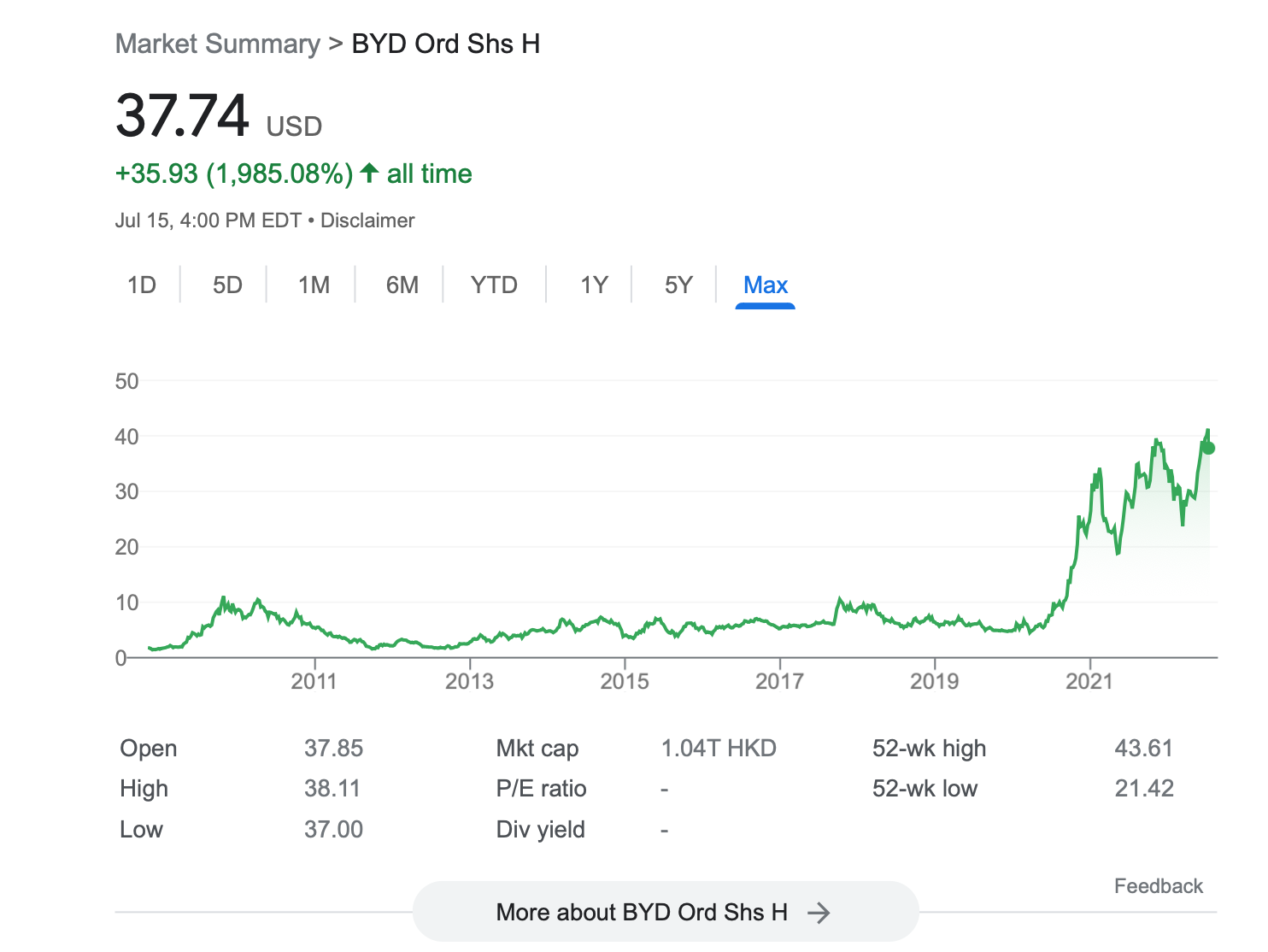 2022-BYD +11% vs. TSLA -32%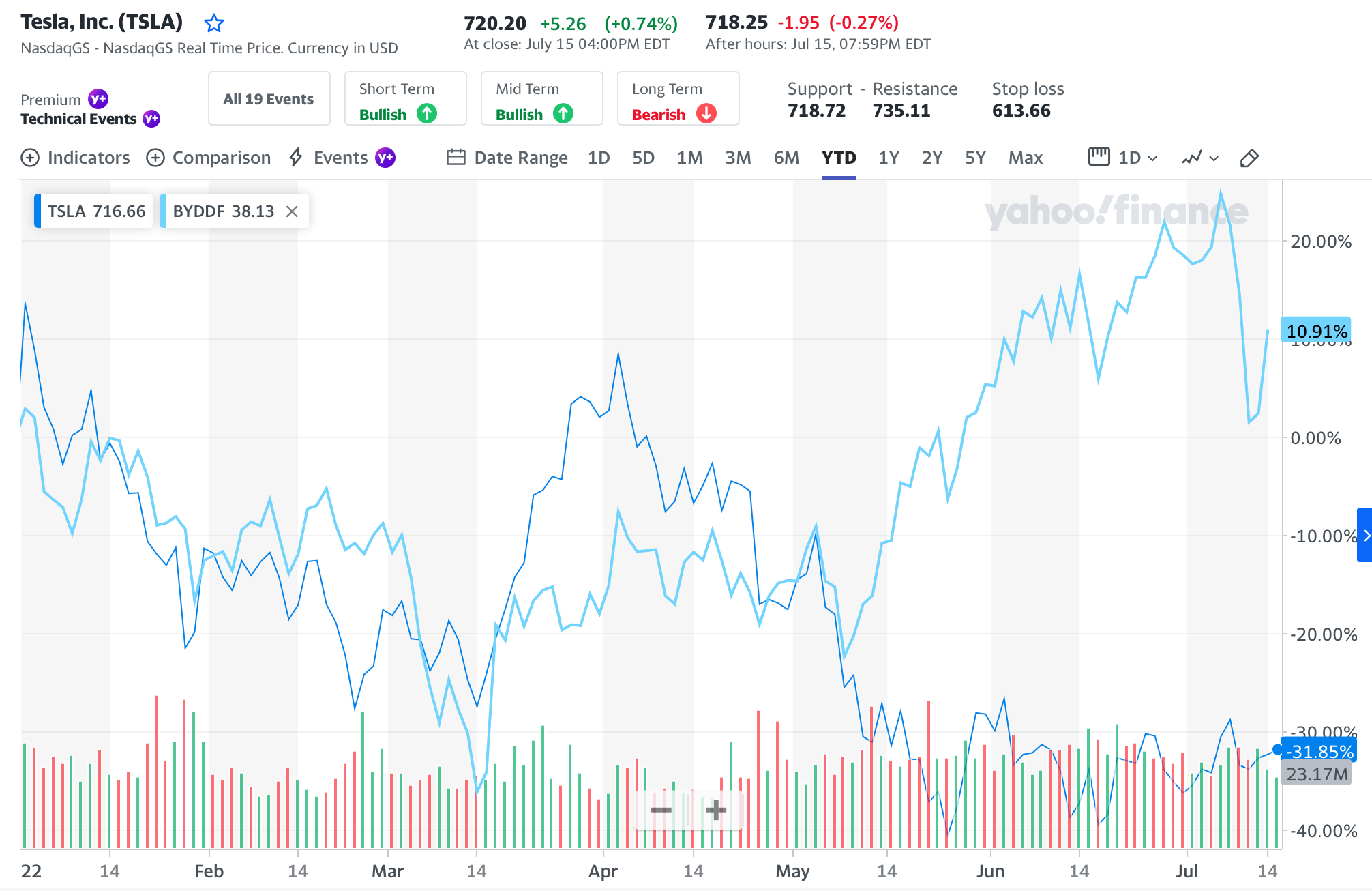 ---
8. Tesla's Layoffs All Scooped Up Already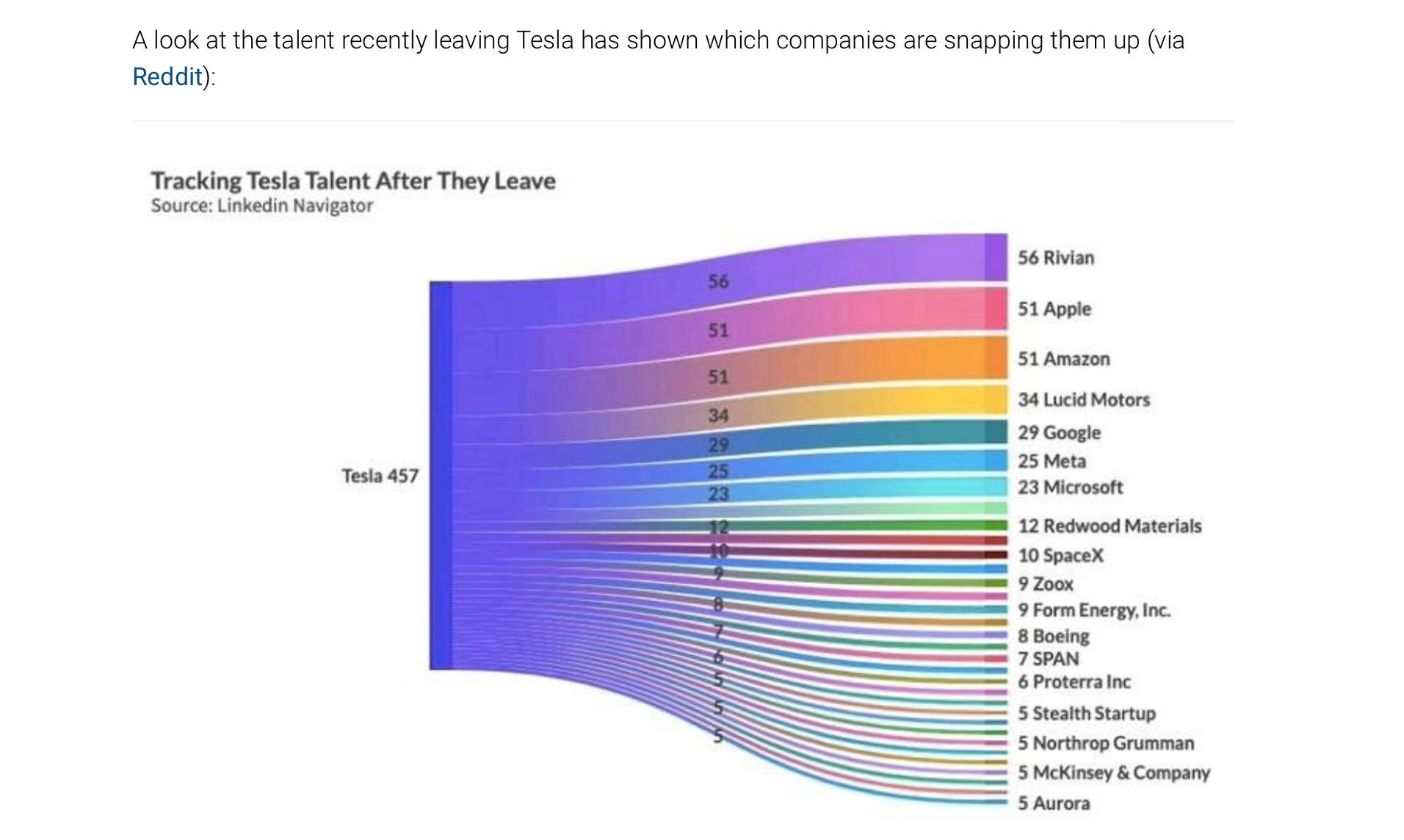 ---
9. 10 Places Where the Housing Market's Tide Has Turned
Barrons
Cooling Down
These metropolitan areas have seen the biggest slowdowns in listing prices compared with their one-year trends.
| | | | | |
| --- | --- | --- | --- | --- |
| Metropolitan Area | Median Listing Price* | Average Monthly Gain Over the Past Year** | Gain in June | Decline From Monthly Average |
| Bridgeport, Conn. | $982,000 | 32% | 4% | 28% |
| Boise, Idaho | 587,900 | 22 | 10 | 12 |
| Austin, Texas | 620,000 | 30 | 19 | 11 |
| New Haven, Conn. | 362,400 | 16 | 7 | 9 |
| McAllen, Texas | 275,000 | 14 | 7 | 7 |
| Baton Rouge, La. | 336,995 | 14 | 9 | 5 |
| Las Vegas | 499,450 | 29 | 25 | 4 |
| Fresno, Calif. | 445,000 | 15 | 11 | 4 |
| Hartford, Conn. | 375,000 | 15 | 11 | 4 |
| Denver | 680,000 | 16 | 13 | 3 |
| | | | | |
| U.S. | $450,000 | 12% | 17% | +5% |
*As of June; **Based on year-over-year gains for each month from July 2021 through June 2022.
https://www.barrons.com/articles/housing-market-listing-prices-outlook-51657816762?mod=past_editions
---
10. Farnam Street-Inside a Miracle: The 1980 U.S. Hockey Team.
Few people know the details about one of the greatest stories in sports history. A classic David versus Goliath story that happened at the 1980 Olympics in Lake Placid when the U.S. Olympic Hockey team played the Soviets.
While the U.S. team had won the gold at the Squaw Valley Olympics in 1960, they hadn't done much since then. The only notable showing was 5th place at the 1976 games. The Soviets, on the other hand, came into the 1980 Olympics having won 12 of the previous 15 world championships and 4 Olympic gold medals in a row. The Soviet record since Squaw Valley was 27-1-1.
In fact, the Soviets were so good, that in 1979 there was no NHL all-star game. Instead they just invited the Soviets to play a three-game series called the Challenge Cup. The U.S.S.R crushed the best players in the NHL 6-0 in the deciding game.
The Soviets beating the U.S. hockey team at the 1980 Olympics was as close to a sure thing as you could imagine, or so it seemed. Only things didn't play out the way either team expected.
In his book, 99: Stories of the Game, the legendary Wayne Gretzky tells the incredible story of what transpired.
"In the United States," Gretzky writes, "the goal was to build a team that, while not having much chance of winning, would at least not embarrass the country."
Herb Brooks was hired as coach. If there was one guy in the program who wasn't playing to avoid embarrassment, it was Brooks.
Eighty of the best college players were invited to Colorado Springs in July of 1979 to compete for a roster spot (remember at the time the Olympic games were for amateurs). Although it wasn't so much a competition as formality. Brooks had won three NCAA championships coaching Minnesota, so he pretty much knew the 23 man roster he wanted.
A bit of leadership …
Brooks took one of the assistant coaches aside and said "A lot of these guys hate each other, and the only way I can think to make them a team is for all of them to hate me. You're going to have to keep all the pieces together and be the guy they can lean on, because they're not going to be able to lean on me. I'm going to be the same to all of them. I'm going to be tough on all of them."
In a warm up game before the Olympics at Madison Square Garden, team USA lost to the Russians 10-3. The players were in awe of the opponent.
Brooks has spent a lot of time in Russia learning some of their systems. Herb discovered that when the Russians played hockey, they didn't shoot the puck unless they thought they could score, and so although it might look as if they had fewer than ten shots on goal, they were shots that counted. …
[I]t was all about puck possession. The Russian team didn't have to work as hard in defense because they had the puck so often. When a lot of people watch hockey, they don't seem to focus on that. A big part of my game (Gretzky) was the forecheck—chasing a defenseman down, lifting his stick, and taking the puck. If you take the puck off a defenseman or player in his own end, you don't have as many players to beat in order to score or to make a play.
An unexpected bit of ego and overconfidence …
The first medal-round game featured the Soviets and Americans. The game was played at 5 p.m. but didn't air on ABC until 8 p.m. "One of the most memorable moments in American sports history would be watched by most Americans three hours after it happened," Gretzky tells us.
In the locker room just ahead of the game, Herb Brooks gave the most inspirational speech of his life. He told the guys, "You were born to be a player. You were meant to be here. The moment is yours."
The players skated onto the ice and looked up. The arena was packed. People were waving American flags everywhere. In the first minutes, the Americans surprised the Soviets with how fast and emotionally they played. Still the Soviets scored first. Then the unexpected happened.
Buzz Schneider took a slapshot and beat the legendary Soviet goaltender Vladislav Tretiak, tying the game. The Soviets quickly scored again and it looked like the first period would end that way when Dave Christian picked up the puck in his own zone with only five seconds left. Rather than play till the whistle, a lesson we all learn at one point or another and one that was drilled into me by my high-school football coach, the Soviets had let up thinking the period was over. Christian shot the puck up ice, Mark Johnson chased it down, deked Tretiak, and scored with only one second left. Tie game.
In the second period, Soviet coach Viktor Tikhonov pulled a surprise move. He replaced Tretiak—a guy known as one of the best goalies of all time—with his backup, Vladimir Myshkin. I've (Gretzky) had the opportunity to sit down with Tretiak and hear his opinion about it. Tretiak was the biggest star in Russia—and maybe still is, thanks to what he did in '72 as a twenty-year-old goalie—and I think it used to drive Tikhonov crazy. He wanted to show everyone that his coaching was the reason they were winning the Olympics, not Tretiak's goaltending. And to this day, Tretiak thinks that's why he was pulled.
"Don't change a thing. Don't change a thing because they've changed goalies. Don't change a thing. Play the same way," Brooks was heard telling his team.
A lucky bounce …
In the third period, the Soviets looked dominant again. Then, on a rush, a shot from Dave Silk slipped through a Soviet defenceman's skate right onto Mark Johnson's stick. Before Myshkin could move, it was in the net and the score was tied (3-3). A minute later, the American captain, Mike Eruzione, scored.
Now the Americans were leading, just ten minutes away from a shot at a gold medal. Brooks kept walking up and down the bench saying, "Play your game. Play your game." He repeated it a thousand times at least.
Jimmy Craig (the American goaltender) was in the zone. He wasn't going to get scored on. When a goalie is in that kind of zone, especially in the playoffs, his ability to anticipate the shot is as good as the rest of his skill set. And Craig wasn't alone—the whole team was flying out there. When you go into a series without the sense of entitlement the Russians had, it gives you the intensity you need to get to that extra level.
The gamed ended 4-3 for the U.S. The Americans swarmed the ice. They could hardly believe it—they had to keep telling themselves, "We beat them. We. Beat. Them."
It was the first game the Soviets had lost at the Olympics in 12 years.
There are several lessons one can take away from this story—Brooks' leadership to make the team hate him more than each other; Tikhonov's ego pulling the legendary Tretiak to show the world how amazing he was; and the importance of playing to the whistle come to mind. Perhaps the most important lesson of all is that when the conditions are right, a group of "average people" can come together and get non-average results.