1. From Dave Lutz at Jones Trading –The Dollar About to Break a 10 Year Uptrend.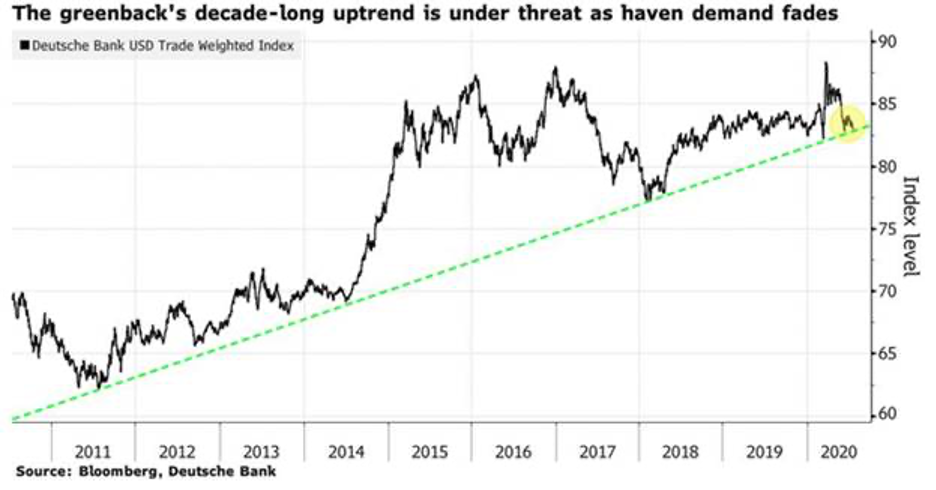 Watch the trendline in the Dollar – Coming into a KEY support area.
2. Fastest Growth in Broad Money Supply in 30 Years.
Russel Napier
Yes, fundamentally. We are currently in the worst recession since World War II, and yet we observe the fastest growth in broad money in at least three decades. In the US, M2, the broadest aggregate available, is growing at more than 23%. You'd have to go back to at least the Civil War to find levels like that. In the Eurozone, M3 is currently growing at 8,9%. It will only be a matter of months before the previous peak of 11.5% which was reached in 2007 will be reached. So I'm not making a forecast, I just observe the data.
Central Banks have Become Irrelevant»
https://themarket.ch/interview/russell-napier-central-banks-have-become-irrelevant-ld.2323?mktcid=smsh&mktcval=E-mail
3. Massive Supply of Money Weakens Dollar and Causes Inflation? Food and Medicine Inflation Charts from Hedgeye.
Which brings us to this morning's Quad map:
1. INFLATION (US CPI): #accelerated, right on time, off it's deflationary Cycle Lows yesterday
2. CHART OF THE DAY: shows you FOOD and MEDICAL cost of living exploding to the upside (+6% y/y)
With a non-recovery in the labor market and profits collapsing to new Cycle Lows, are we proud of this?
CHART OF THE DAY: Put This In Your Fed Pipe And Smoke It–Keith McCullough
https://app.hedgeye.com/insights/86707-chart-of-the-day-put-this-in-your-fed-pipe-and-smoke-it?type=macro%2Cmarket-insights
4. Retail Investors Favorite Names Beating Nasdaq 100 (for now)
Bloomberg Markets updates its analysis contrasting the performance of "Robinhood investors " (who tend to favor what had been heavily-lagging stocks, particularly the "re-opening" names with that of hedge funds (which have been more cautious).

https://lnkd.in/gCND7dp
https://www.linkedin.com/in/mohamedelerian/
5. Russian Gold Exports Top Natural Gas For First Time Ever
By Charles Kennedy – Jul 14, 2020, 10:30 AM CDT
The value of Russian gold exports has exceeded the country's proceeds from natural gas exports for the first time in Russia's modern history, due to low demand and prices for natural gas and surging gold exports, estimates from Russia's central bank and customs showed.
Russia's exports of gold reached US$3.58 billion in April and May, according to customs data reported by business outlet RBC. To compare, in those two months, Russia's gas giant Gazprom, which has the monopoly in natural gas exports via pipeline, sold US$2.4 billion worth of natural gas outside Russia.
According to preliminary estimates of Russia's central bank, Russia's pipeline natural gas exports stood at US$3.5 billion for the entire second quarter, less than the value of gold exports in just two of the three months in the same quarter.
For the first time in modern Russian history, the value of gold exports has exceeded the value of natural gas exports – natural gas exports had brought more revenues to Russia than gold since at least 1994, Maxim Khudalov, Head of the Sustainable Development Risk Assessment Group at ACRA, told RBC.
Exports of gold surged in part due to the central bank's decision not to buy gold, according to Khudalov.
In natural gas exports, Gazprom's natural gas exports of US$3.5 billion in Q2 2020 were half the exports for the first quarter, and were 2.6 times lower than for the second quarter of 2019. The volumes of gas exports also significantly dropped – by 21 percent in April and May 2020 compared to the same period of 2019.
Due to the low demand because of the pandemic, the high storage levels around Europe, and the warmer weather, the export price of Russian gas in May nearly halved compared to the price in May 2019.
Gazprom's natural gas exports are set to drop this year to the levels last seen in 2015, Dmitry Marinchenko, Senior Director and lead analyst on EMEA Oil & Gas at Fitch Ratings, told RBC.
According to recent estimates from Reuters and Refinitiv, Gazprom's share of the European market has dropped from 38 percent a year ago to 34 percent now, due to the record stockpile of natural gas in northwest Europe and Italy.
By Charles Kennedy for Oilprice.com
More Top Reads From Oilprice.com:
https://oilprice.com/Latest-Energy-News/World-News/Russian-Gold-Exports-Top-Natural-Gas-For-First-Time-Ever.html
6. From 2004 to 2019, $3.3 trillion was invested in clean energy financing. And nearly half of that was invested during the last five years.
InvestmentU
Big Oil Is Jumping Into RenewablesBy David Fessler https://investmentu.com/how-to-profit-from-the-covid-19-vaccine-2/
Piling Into Renewables
Capital is rapidly rotating out of fossil fuel investments and into renewables. Next year, 25% of energy companies' capital expenditures will be on renewable energy.
That will be the first time in history that renewables capture more investment capital than oil and natural gas.
I saw this coming years ago. And that's why I've positioned my subscribers to make the most of this sea change.
Bankruptcies in the oil sector are on the rise. So Big Oil is scrambling to diversify its investment capital…
Big Oil Is Jumping Into RenewablesBy David Fessler https://investmentu.com/how-to-profit-from-the-covid-19-vaccine-2/
7. Online Gaming Crushing Box Office and Recorded Music.
Visual Capitalist
https://www.visualcapitalist.com/online-gaming-the-rise-of-a-multi-billion-dollar-industry/
8. U.S. pushes homegrown drone industry amid China battle
Illustration: Sarah Grillo/Axios
Alarmed at the prospect of relying on Chinese-made drones for public safety and monitoring critical industries, U.S. investors and the federal government are newly backing a domestic drone industry of hardware and software companies.
The big picture: The moves come as the industry continues to be led by DJI, a Chinese hardware maker — and as concerns grow both in China and the U.S. about reliance on the other country's technology.
Driving the news:
Skydio, a U.S. firm best known for its self-navigating selfie drones, announced $100 million in fresh funding, several executive hires and new products aimed at expanding its presence in the commercial market.
The U.S. government is giving $13 million to five U.S. companies that are part of the drone industry as part of the COVID-related CARES Act. Skydio received $4 million, with AirMap, ModalAI, Graffiti Enterprises and Obsidian Sensors also receiving funding.
The big picture: Today's global tech industry builds many of its biggest products through a complex interdependence between the U.S. and China, with the U.S. leading the market for core technologies like chips and operating systems and China leading in hardware manufacturing.
Amid increasing tensions, both countries have taken long- and short-term measures designed to reduce such dependencies.
Skydio's first two drones were aimed primarily at consumers and designed to follow people around as they ran or tackled the ski slopes.
The company's pivot to the enterprise market could mean major cost savings for businesses looking for an alternative to the primarily non-autonomous drones offered by DJI, Skydio CEO Adam Bry suggested. Up to 80% of the costs in commercial drone programs are spent on training human pilots.
Yes, but: Other U.S. firms, such as GoPro, have tried unsuccessfully to compete with DJI head-on.
"It's not enough to be made in the U.S.," Bry told Axios.
But Skydio's focus on creating the software that allows drones to fly autonomously is a bet on where the industry is headed. "Over time more and more of our devices become completely defined by software," Bry said.
In other words, the future of the drone industry will resemble the arc of the computer and phone businesses, in his view.
Between the lines: Drones are seen as essential to national security given their role in tasks like inspecting bridges, cell towers and power infrastructure as well as their use in emergencies.
Critics of DJI, citing fears that Beijing could use drones to spy on or even attack U.S. infrastructure, say that's why the U.S. shouldn't be relying on Chinese drones. (DJI has long maintained its drones pose no risk, noting that government agencies and cybersecurity experts have vetted its gear and found no evidence of security flaws or backdoors.)
Skydio wants to play a role in those areas, but also announced Monday a series of principles around use cases it wants to avoid, including banning sales to regimes it deems repressive and barring the use of weapons in conjunction with its drones.
https://www.axios.com/drones-us-china-national-security-a9958137-5fb8-4cdf-8b14-c690b2cd3f09.html
9. None of the Major Housing Markets are Oversupplied.
John Burns Real Estate. 44% of America's construction takes place in undersupplied markets, 39% in balanced markets, and 17% in oversupplied markets. The major markets shown here may be overpriced, but they aren't overbuilt. John Burns Real Estate Consulting #JBRECDailyInsight
John Burns • FollowingCEO, John Burns Real Estate Consulting1mo • 1 month ago
10.The 12 most overlooked truths of money and life 'no one teaches you in school,' says financial psychology expert
Published Wed, Jul 15 202012:58 PM EDTUpdated Wed, Jul 15 20201:07 PM EDT
Morgan Housel, Contributor@MORGANHOUSEL
David A. Grogan | CNBC
Business school comes with many benefits. The academic theories are designed to give students a broad overview of major areas in business and can be applied to several real-world problems.
But during my 10-plus years working in business and finance (much of which I spent studying and writing about risk management, history and the psychology of money), I found myself picking up on things just as quickly as those with a fabulous education in business. That's because there are a lot of valuable lessons that can help you achieve great career success — and you don't need an MBA to learn them.
Here are some of the most overlooked truths about business, money and life that no one teaches you in school:
1. Only work with people you like.
Warren Buffett once said at a lecture to MBA students, "If I could make $100 million dollars with a guy who causes my stomach to churn, I would say no." I would, too. The coworkers I've done the best work with are rarely the smartest or the most experienced, but the nicest and easiest to work with. Much of this also explains why emotional intelligence is often more important than book intelligence.
2. Expectations can change faster than outcomes.
That's why the most successful entrepreneurs, CEOs and investors are often in some state of, "Eh, whatever."
3. Embrace saying, 'I don't know.'
People's desire to have an opinion far exceeds the number of things that need to be opined on. "I don't know" is a powerful phrase that should be celebrated for its honesty, not belittled for its detachment.
4. Be aware of the downsides of high intelligence.
Intelligence is great, but it can easily be muffled by four things: Ego, the inability to change your mind, the inability to communicate with others, and the unwillingness to compromise with a team. Keep this in mind at all times.
5. Never forget the hardships that led to your past successes.
This will make you stronger and more prepared for future challenges. Past success always seems easier than actually it was, because you now know how the story ends — and it's hard to unremember what you know today while also trying to remember how you felt in the past.
6. Most complicated things have a simple explanation.
If you can't understand something (when you were the intended audience), the person who wrote it is either bad at communicating or intentionally deceptive.
7. You can learn a lot from people you disagree with.
The ability to empathize with those who disagree with you is one of the most underrated skills. When your opinions don't land on the same page as someone else, it's much easier to ask, "Why would anyone ever think that?" But you'll get farther by asking, "What have they experienced in life that I haven't that would cause them to think that?"
8. Self-knowledge is overrated.
According to psychologist and economist Daniel Kahneman, the idea that what we don't see might refute everything we believe just doesn't occur to us. And he's right. Human reason, which can easily be overwhelmed by lazy biases, is more feeble than many of us would like to admit. Take this seriously and you'll realize that few things matter more than being open-minded and surrounding yourself with people of different backgrounds and experiences.
9. There's often a negative correlation between experience and humility.
The more experience you gain, the more you will see how vital it is to have less precision and more room for error. This is especially true in a game where we overestimate skill and underestimate luck.
10. Skill doesn't always equal power.
It is mostly potential power. Your skill isn't that important; what matters is your skill relative to your competitors. This is as obvious as it is overlooked, particularly in investing, when you often don't really know who your competitors are.
11. Try to find peace and joy in losing.
Learning how to lose gracefully, without being ruined and while learning something new, can be far more valuable than learning how to be right.
12. Passion is more powerful than a profit motive.
Some of the world's richest people didn't get into what they do simply "for the money." Those who add the most to their fields are the ones who would be doing the same stuff even if no one else cared. They just love what they do.
Morgan Housel is a partner at The Collaborative Fund, behavioral finance expert, and former columnist at The Wall Street Journal and The Motley Fool. He is also the author of the upcoming book "The Psychology of Money: Timeless Lessons on Wealth, Greed, and Happiness." Follow him on Twitter @morganhousel.
https://www.cnbc.com/2020/07/15/overlooked-truths-money-life-no-one-teaches-you-in-business-school-finance-psychology-expert.html
https://www.linkedin.com/feed/hashtag/?keywords=jbrecdailyinsight
Disclaimer
Lansing Street Advisors is a registered investment adviser with the State of Pennsylvania..
To the extent that content includes references to securities, those references do not constitute an offer or solicitation to buy, sell or hold such security as information is provided for educational purposes only. Articles should not be considered investment advice and the information contain within should not be relied upon in assessing whether or not to invest in any securities or asset classes mentioned. Articles have been prepared without regard to the individual financial circumstances and objectives of persons who receive it. Securities discussed may not be suitable for all investors. Please keep in mind that a company's past financial performance, including the performance of its share price, does not guarantee future results.
Material compiled by Lansing Street Advisors is based on publically available data at the time of compilation. Lansing Street Advisors makes no warranties or representation of any kind relating to the accuracy, completeness or timeliness of the data and shall not have liability for any damages of any kind relating to the use such data.
Material for market review represents an assessment of the market environment at a specific point in time and is not intended to be a forecast of future events, or a guarantee of future results.
Indices that may be included herein are unmanaged indices and one cannot directly invest in an index. Index returns do not reflect the impact of any management fees, transaction costs or expenses. The index information included herein is for illustrative purposes only