1. M2 Money Growth Goes Negative
Jim Reid Deutsche Bank-Regular readers will know I'm a staunch believer in inflation being everywhere and (mostly) always a monetary phenomenon. It was no surprise to me then that the rapid increase in M2 balances stemming from the muscular response to the Covid-crisis wound up being persistently inflationary and not transitory, especially when combined with supply constraints. I still believe that inflation will stay structurally elevated in the years ahead for reasons I have detailed many times (deglobalisation, demographics, ESG, etc.); however, there is one warning sign for me at the moment and that's the rate of change in US M2.
The three-month growth rate in M2 hit only 0.02% at the end of May, that's the 2nd percentile of M2 growth in data going back to 1959 as you can see in the chart, and on the precipice of turning negative. As you can also see, negative M2 growth rates are extremely rare in the modern era, even during recessions.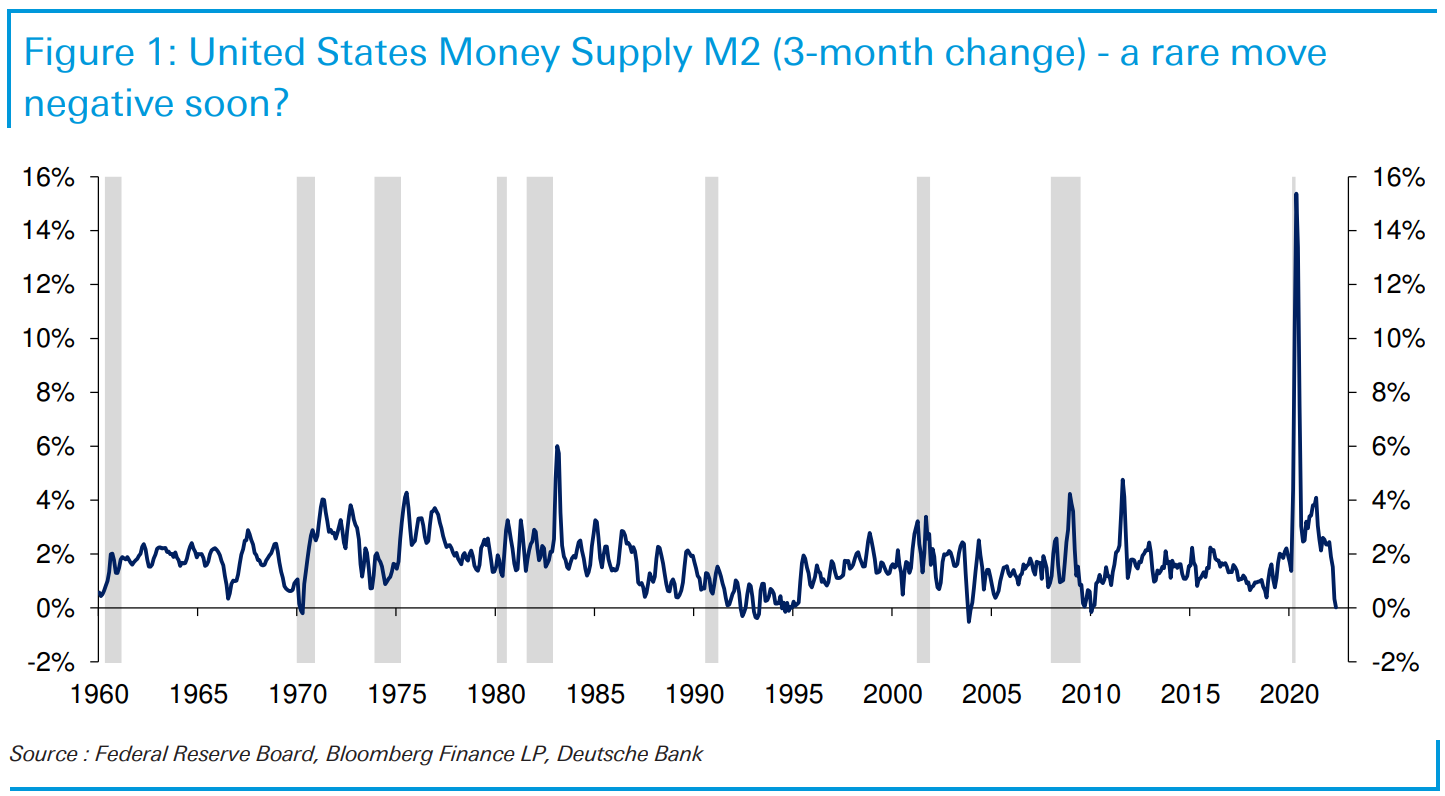 Notably, the data is only through May, before the Fed's QT began in June, which should continue to lead to deposit growth being as weak as it has been recently. When the Fed lets securities mature un-reinvested, the Treasury Department (or MBS issuers) must turn to the public to finance the balances rolling off the Fed's balance sheet. When the public pays for those balances out of current cash on hand, their deposits are transferred to the Treasury Department (or MBS issuer), effectively removing them from the banking system and monetary aggregates.
Where does that leave me? I still think my core inflation view holds. Not only are we still experiencing an inflationary overhang from the tremendous growth in monetary aggregates (see the peak in the chart), even if monetary aggregate growth stalls, the level of excess savings remains extraordinary, all while labour markets are still historically tight, thus replenishing those bank accounts with pay checks. In fact while the correlation between M2 and inflation isn't perfect, the correlation works best with around a 30-month lag. Given that M2 YoY growth was 26.9% in February 2021, the overhang might last a while yet.
Nevertheless, the risk that M2 is now on a path lower is one worth keeping an eye on.
2. Earnings Season–Analysts Estimates Still Above Long-Term Trend
Real Investment Advice Blog-Lance Roberts
Over the long term, the economy grows at about 6%. Therefore, earnings growth also runs at roughly ~6% on a peak-to-peak basis. However, analysts suggest that earnings growth into 2023 will run well above the historical growth rate despite forecasts of much slower economic activity.
To put that into perspective, analysts' estimates are currently at the most significant deviation above that 6% earnings growth trend.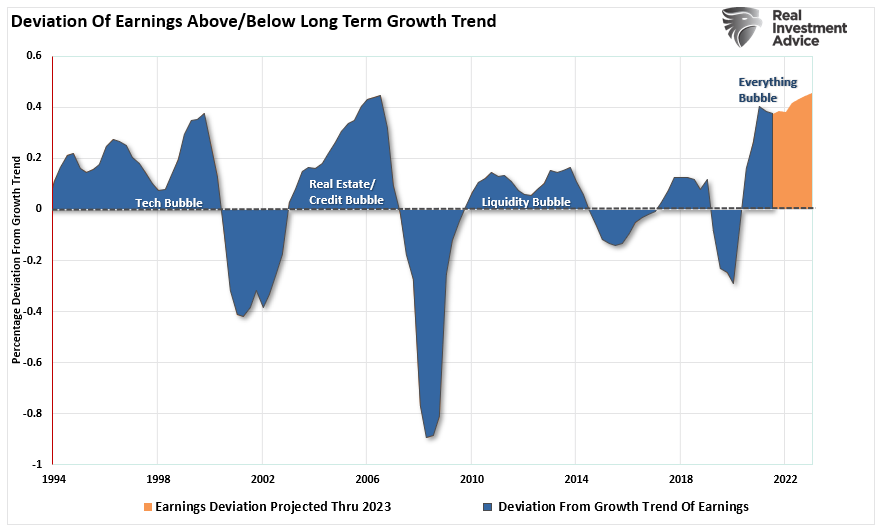 https://realinvestmentadvice.com/earnings-recession-coming-as-fed-hikes-rates/
3. Jobs Market Showing No Signs of Recession..2 Job Openings Per Unemployed Person
Sam RO This is in line with BLS data released on Wednesday that showed the layoff rate remained near a record low of 0.9% in May.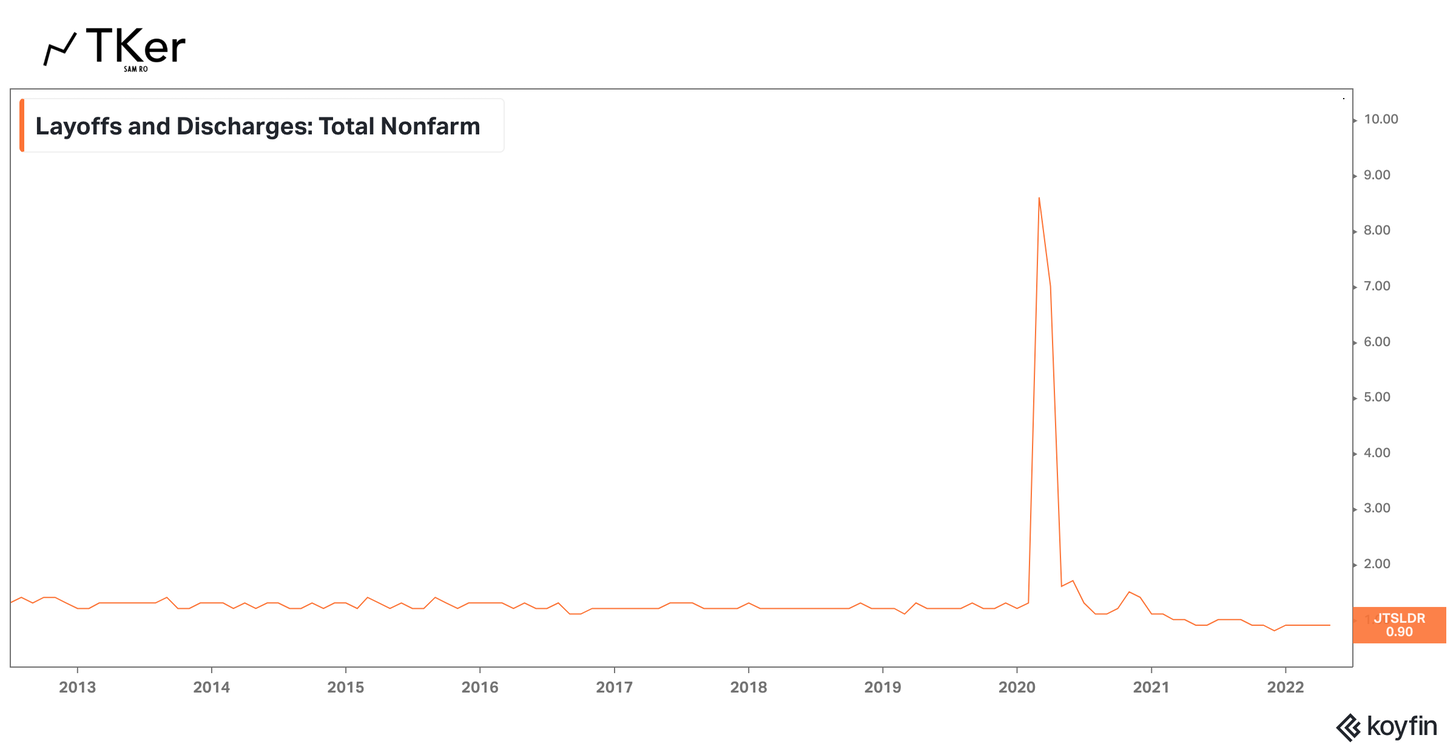 So far, we've been looking at labor market metrics that reflect the past and the present. But what about the future?
Based on job openings data, it's pretty clear that the demand for more labor continues to be very strong.
According to BLS data released Wednesday, there was a whopping 11.25 million job openings in May. That compares to the 5.95 million unemployed during the same period.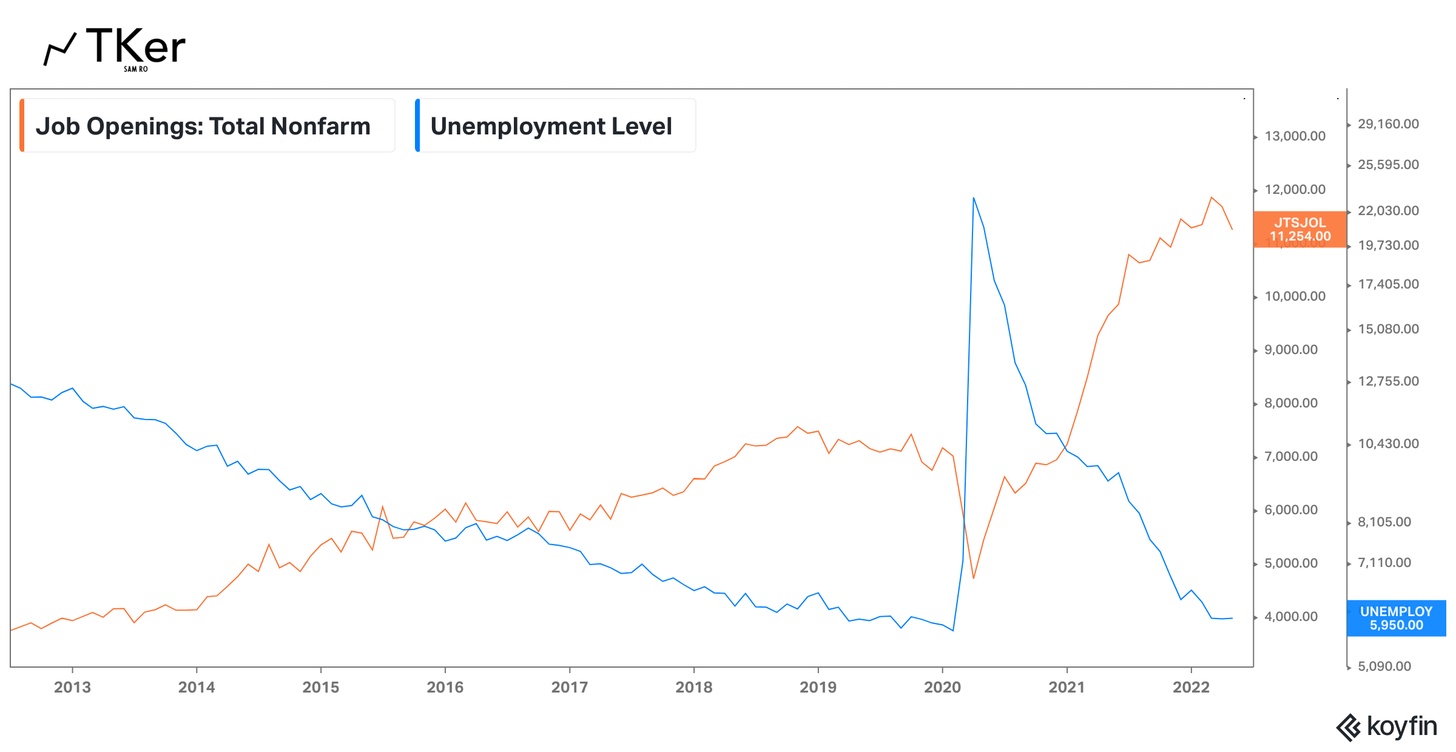 Sam Ro, CFA https://www.tker.co/p/june-jobs-payrolls-not-recession Found at Abnormal Returns Blog www.abnormalreturns.com
4. U.S. Retail Gas Prices Down 25 Days in a Row-Y Charts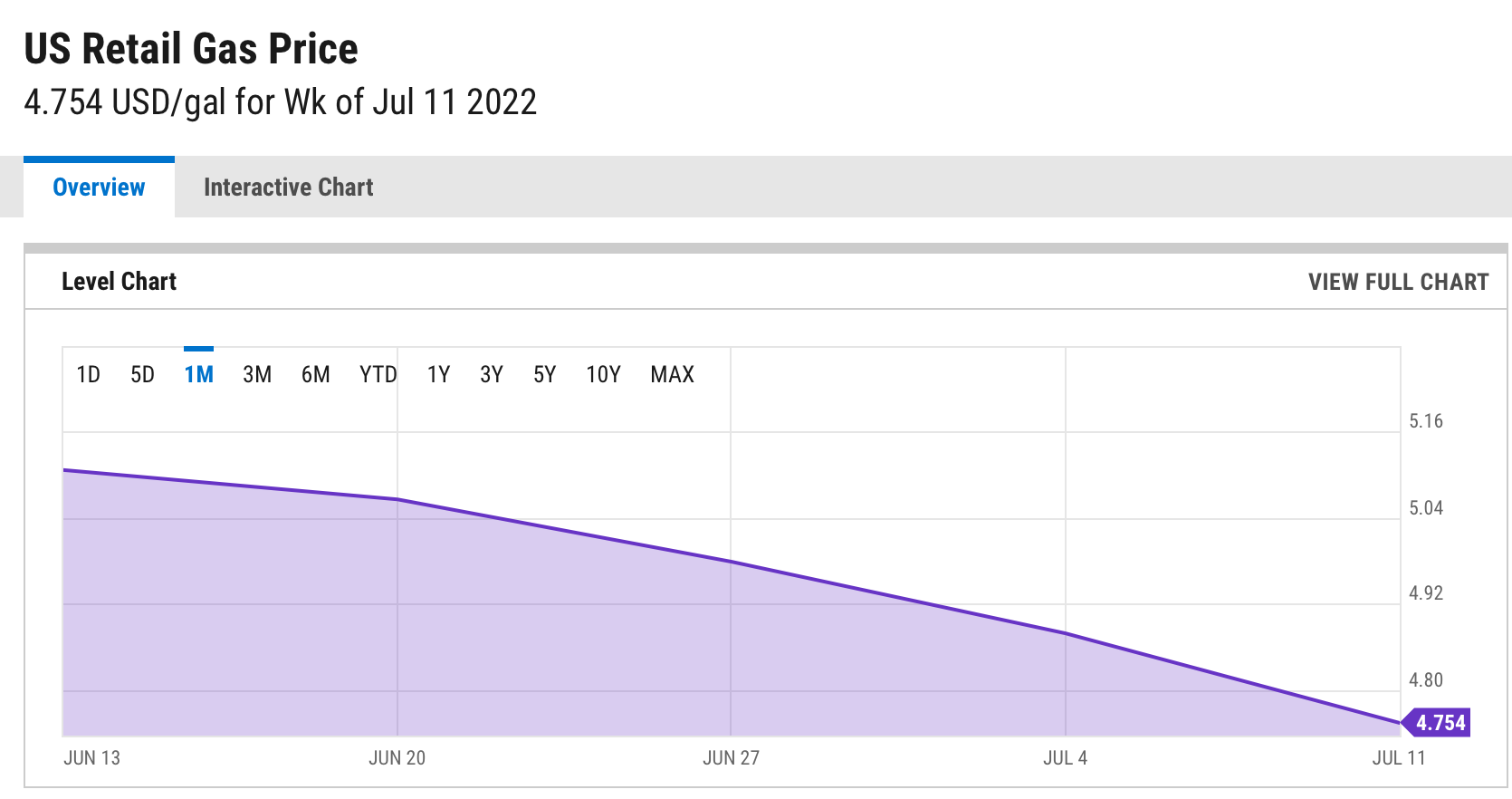 https://ycharts.com/indicators/us_gas_price
5. India Surpasses China in Population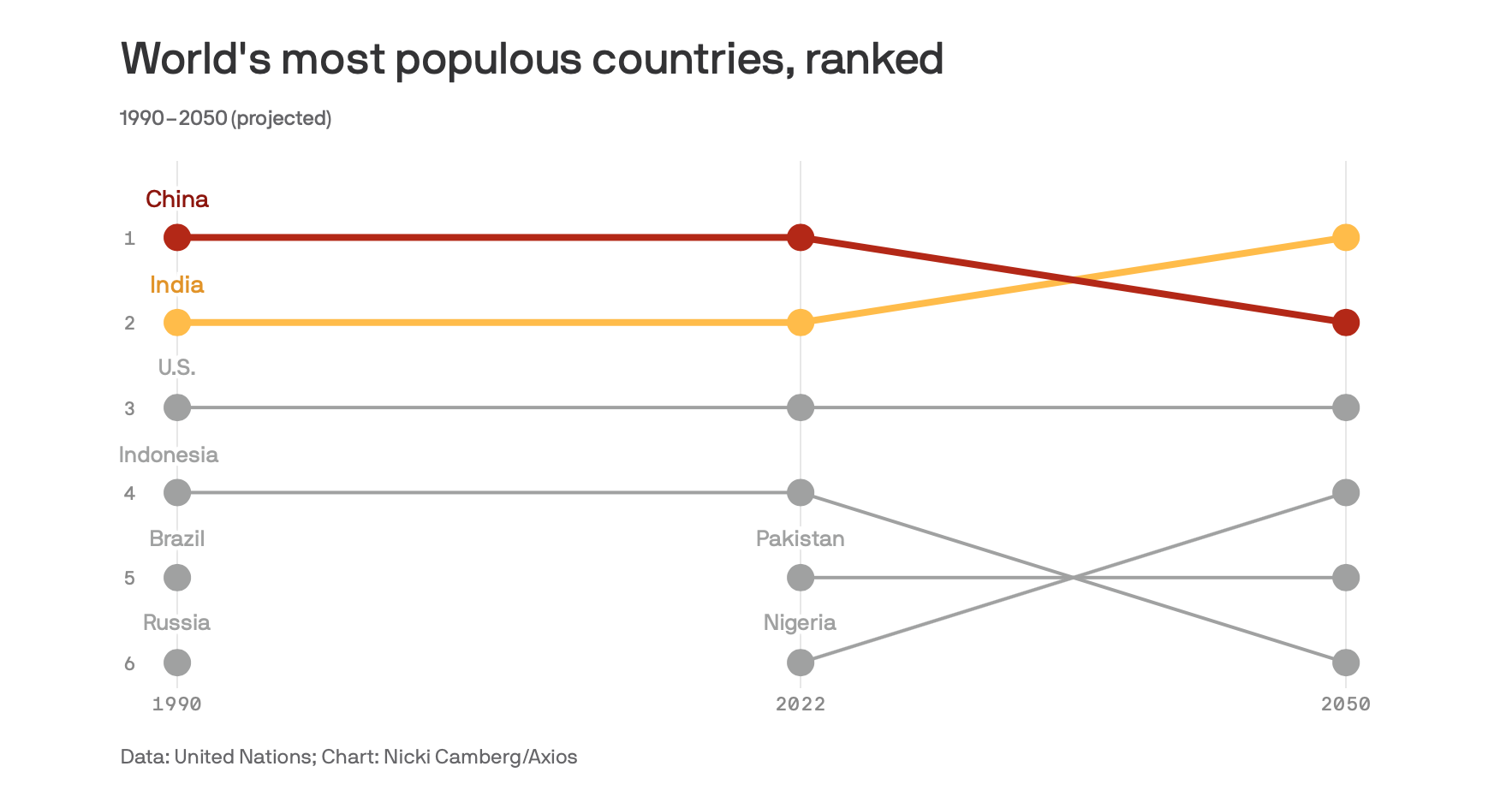 https://www.axios.com/2022/07/11/china-india-world-population-trends
6. Refinance Market Kaput
Wolf Street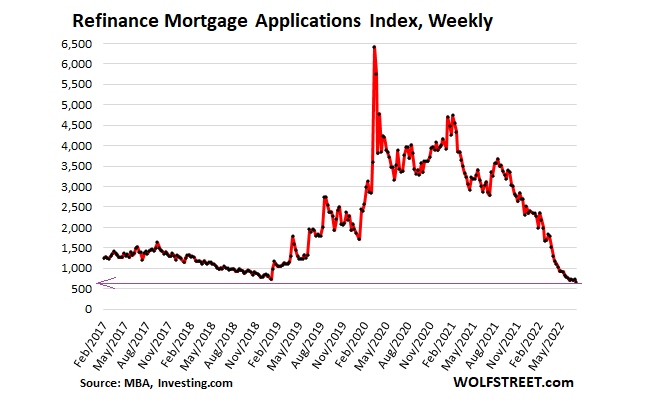 https://wolfstreet.com/2022/07/11/cash-out-refis-with-holy-moly-mortgage-rates-to-pay-for-remodeling-projects-professional-home-remodelers-face-challenges/
7. Who Imported Russian Fuels Since War? Who Shut it Down?
The Top Importers of Russian Fossil Fuels-Visual Capitalist
The EU bloc accounted for 61% of Russia's fossil fuel export revenue during the 100-day period.
Germany, Italy, and the Netherlands—members of both the EU and NATO—were among the largest importers, with only China surpassing them.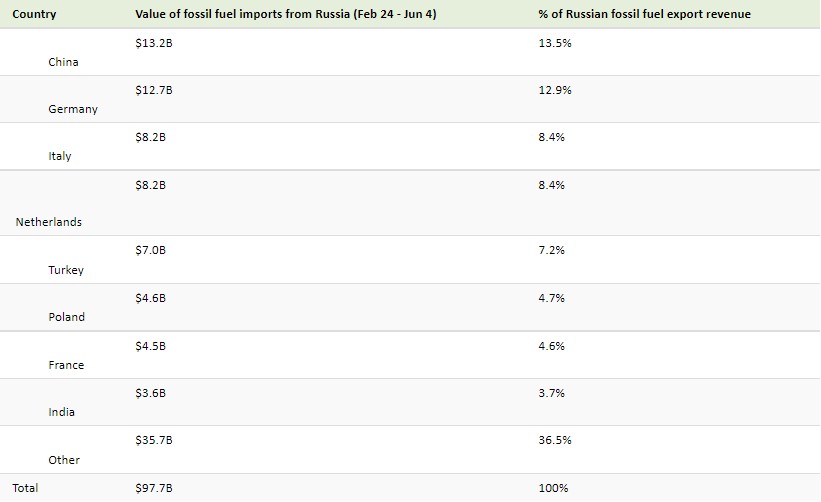 China overtook Germany as the largest importer, importing nearly 2 million barrels of discounted Russian oil per day in May—up 55% relative to a year ago. Similarly, Russia surpassed Saudi Arabia as China's largest oil supplier.
The biggest increase in imports came from India, buying 18% of all Russian oil exports during the 100-day period. A significant amount of the oil that goes to India is re-exported as refined products to the U.S. and Europe, which are trying to become independent of Russian imports.
Reducing Reliance on Russia
In response to the invasion of Ukraine, several countries have taken strict action against Russia through sanctions on exports, including fossil fuels.
The U.S. and Sweden have banned Russian fossil fuel imports entirely, with monthly import volumes down 100% and 99% in May relative to when the invasion began, respectively.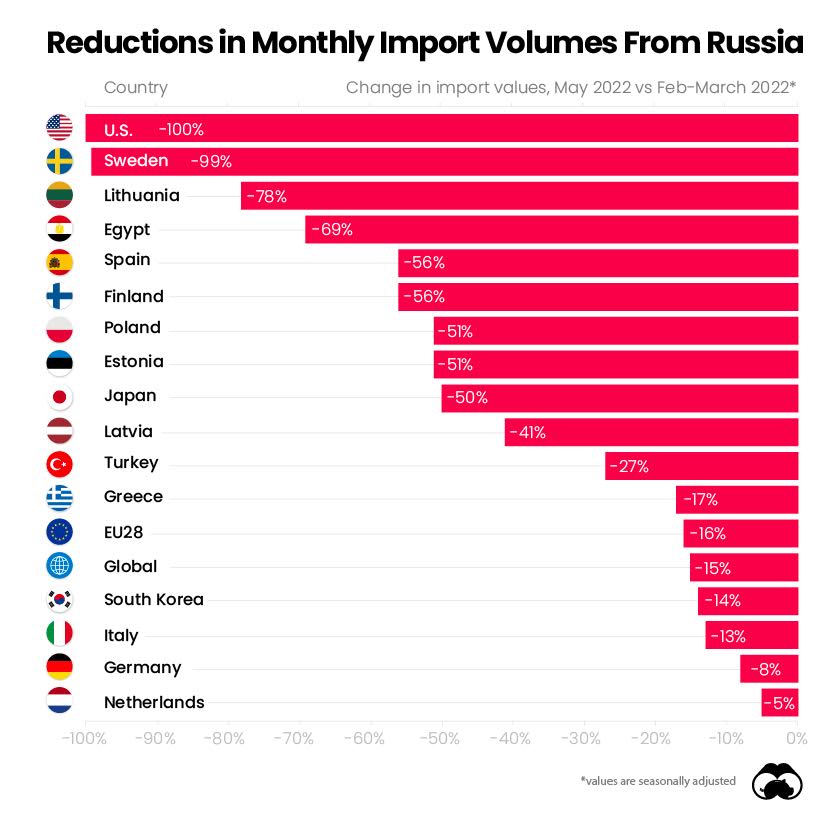 https://www.visualcapitalist.com/whos-still-buying-fossil-fuels-from-russia/
8. EV Car Prices +22% Year Over Year …More Models Coming.
2022 is expected to bring an especially dramatic increase in the number of EVs on the U.S. market: from the roughly 62 models available at present to at least 100.
Half of U.S. adults (51%) say they are likely to consider purchasing an electric vehicle in the next decade, up from 39% in January and 43% in March-April.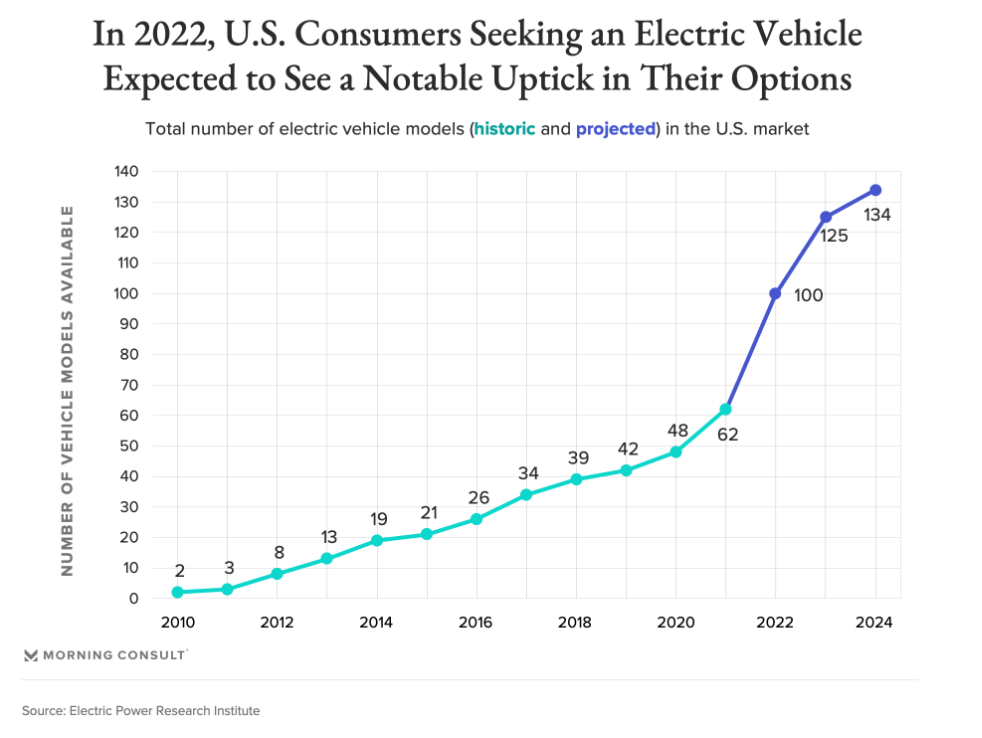 The Coming Electric Vehicle Wave: In 2022, Consumers Get Options BY LISA MARTINE JENKINS https://morningconsult.com/2021/12/22/electric-vehicles-consumers-2022/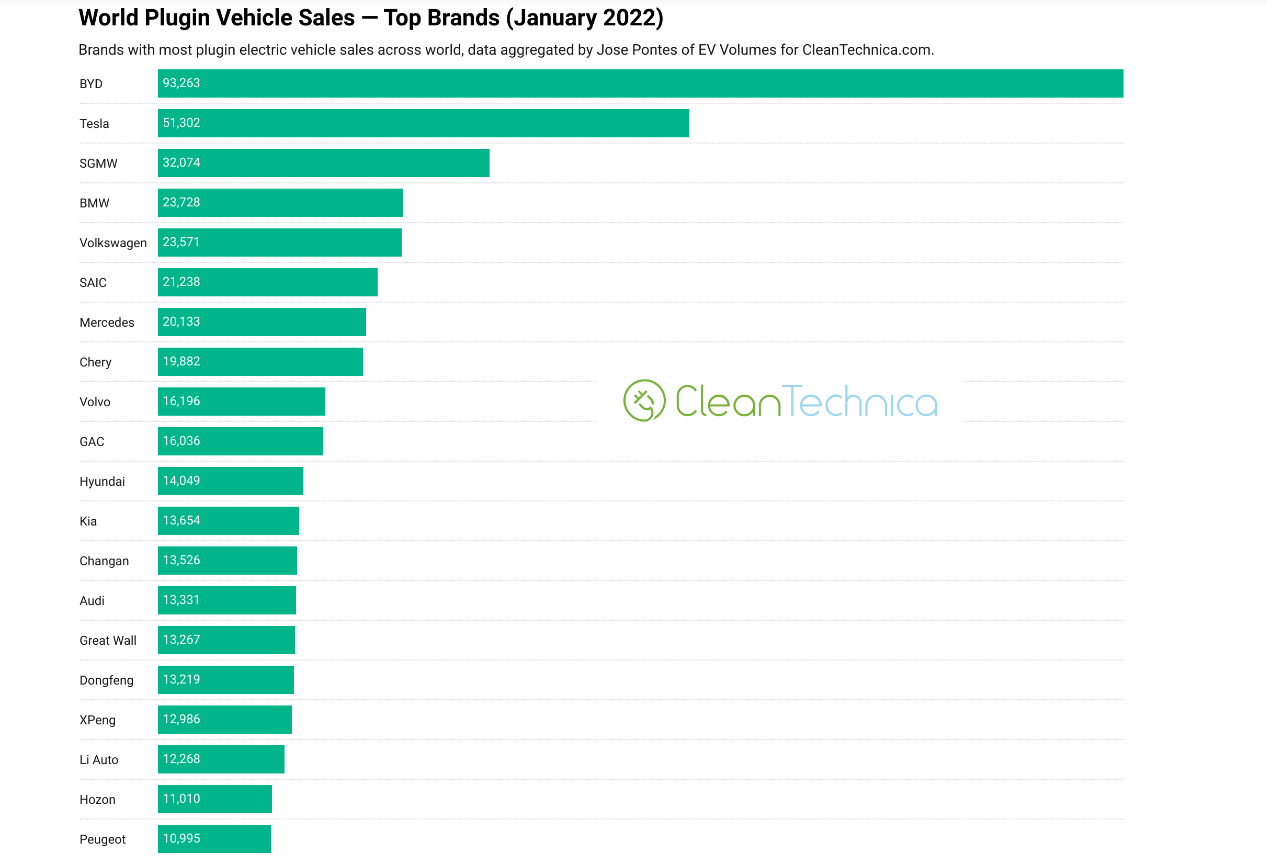 https://cleantechnica.com/2022/03/05/the-worlds-top-selling-electric-vehicles-january-2022/
9. Start-Up Funding Falls the Most It Has Since 2019
The drop was another fallout of rising inflation and widespread economic uncertainty, and a retreat after years of a funding boom.
By Erin Griffith SAN FRANCISCO — For the first time in three years, start-up funding is dropping.
The numbers are stark. Investments in U.S. tech start-ups plunged 23 percent over the last three months, to $62.3 billion, the steepest fall since 2019, according to figures released on Thursday by PitchBook, which tracks young companies. Even worse, in the first six months of the year, start-up sales and initial public offerings — the primary ways these companies return cash to investors — plummeted 88 percent, to $49 billion, from a year ago.
The declines are a rarity in the start-up ecosystem, which enjoyed more than a decade of outsize growth fueled by a booming economy, low interest rates and people using more and more technology, from smartphones to apps to artificial intelligence. That surge produced now-household names such as Airbnb and Instacart. Over the past decade, quarterly funding to high growth start-ups fell just seven times.
But as rising interest rates, inflation and uncertainty stemming from the war in Ukraine have cast a pall over the global economy this year, young tech companies have gotten hit. And that foreshadows a difficult period for the tech industry, which relies on start-ups in Silicon Valley and beyond to provide the next big innovation and growth engine.
"We've been in a long bull market," said Kirsten Green, an investor with Forerunner Ventures, adding that the pullback was partly a reaction to that frenzied period of dealmaking, as well as to macroeconomic uncertainty.
"What we're doing right now is calming things down and cutting out some of the noise."
The start-up industry still has plenty of money behind it, and no collapse is imminent. Investors continue to do deals, funding 4,457 transactions in the last three months, up 4 percent from a year ago, according to PitchBook.
Venture capital firms, including Andreessen Horowitz and Sequoia Capital, are also still raising large new funds that can be deployed into young companies, collecting $122 billion in commitments so far this year, PitchBook said.
Venture capitalists, such as those at Sequoia Capital and Lightspeed Venture Partners, have cautioned young firms to cut costs, conserve cash and prepare for hard times. In response, many start-ups have laid off workers and instituted hiring freezes. Some companies — including the payments start-up Fast, the home design company Modsy and the travel start-up WanderJaunt — have shut down.
The pain has also reached young companies that went public in the last two years. Shares of onetime start-up darlings like the stocks app Robinhood, the scooter start-up Bird Global and the cryptocurrency exchange Coinbase have tumbled between 86 percent and 95 percent below their highs from the last year. Enjoy Technology, a retail start-up that went public in October, filed for bankruptcy last week. Electric Last Mile Solutions, an electric vehicle start-up that went public in June 2021, said last month that it would liquidate its assets.
Kyle Stanford, an analyst with PitchBook, said the difference this year was that the huge checks and soaring valuations of 2021 were not happening. "Those were unsustainable," he said.
The start-up market has now reached a kind of stalemate — particularly for the largest and most mature companies — which has led to a lack of action in new funding, said Mark Goldberg, an investor at Index Ventures. Many start-up founders don't want to raise money these days at a price that values their company lower than it was once worth, while investors don't want to pay the elevated prices of last year, he said. The result is stasis.
"It's pretty much frozen," Mr. Goldberg said.
Additionally, so many start-ups collected huge piles of cash during the recent boom times that few have needed to raise money this year, he said. That could change next year, when some of the companies start running low on cash. "The logjam will break at some point," he said.
David Spreng, an investor at Runway Growth Capital, a venture debt investment firm, said he had seen a disconnect between investors and start-up executives over the state of the market.
"Pretty much every V.C. is sounding alarm bells," he said. But, he added, "the management teams we're talking to, they all seem to think: We'll be fine, no worries."
The one thing he has seen every company do, he said, is freeze its hiring. "When we start seeing companies miss their revenue goals, then it's time to get a little worried," he said.
Still, the huge piles of capital that venture capital firms have accumulated to back new start-ups has given many in the industry confidence that it will avoid a major collapse.
"When the spigot turns back on, V.C. will be set up to get back to putting a lot of capital back to work," Mr. Stanford said. "If the broader economic climate doesn't get worse."
Start-Up Funding Falls the Most It Has Since 2019 – The New York Times (nytimes.com)
Found at Morning Brew https://www.morningbrew.com/daily
10. 4 Beliefs That Take Time Away from Your Day
By
Cris Antonio
June 24, 2022 10:00 AM EST | 5 min read
What's the best gift you can give to someone? It's definitely not diamonds, expensive shoes, or the latest gadget – it's your time.
Time is the most valuable thing we own because we can never take it back. However, many of us still struggle with our day-to-day tasks.
We seem to not have enough hours in the day for work, family, or friends – but we surely have time to spare when watching YouTube videos, playing with our cat, or endlessly scrolling through our Twitter feed.
Are there things that take time away from you?
Before you blame your demanding boss or the limited hours in the day, you should look within yourself first.
Have you ever thought that perhaps you have beliefs that might be hindering your productivity? Do you let mundane activities take time away from you?
As the old Chinese proverb goes: "be careful of your thoughts for they become your words, and your words become your actions".
4 Beliefs that take time away from your precious day
Here are the top four beliefs that a lot of people believe these days – and how they take time away from us and the things that truly matter.
1.) "I need to work overtime."
Unless it's absolutely necessary, experts advise against it because it's detrimental to both the employee and the business.
If you've been doing plenty of overtime lately, you could already be experiencing some of its negative side effects, such as fatigue, chronic headaches, stomach upset, and signs of depression.
Aside from the health risks, you also reduce your quality of life and become dependent on your overtime pay. Instead of budgeting your paycheck, you see overtime as a convenient way to earn extra cash (when you could be channeling your energy into more creative side hustles
It's a necessary evil in life – but you don't have to believe that it's the only way to be successful or to make more money. Unless required, always aim to leave the workplace after your shift.
Don't let overtime take time away from vital aspects of your life, such as your relationships. Have coffee with friends or play with your children.
2.) "I can do it tomorrow."
Tomorrow is a better day. But what if it doesn't come? What if you become swamped with other tasks?
Procrastination is the bane of productive, successful people everywhere. Like the famous saying 'there's a time and a place for everything', identify which tasks need to be finished today.
If you feel overwhelmed, create a To-Do list for the most important activities (i.e. finish the business presentation, walk the dog, go grocery shopping, etc.). This should help you stay in control during the day.
After all, tomorrow is a different day.
3.) "I can take several breaks."
Don't get me wrong: breaks are good. In fact, a 2014 study proved that employees become more efficient in their tasks if they take 17 minutes of break time for every 52 minutes of hard work.
However, unscheduled or unnecessary breaks could lead to slow output and wasted effort. If you know that you'll be busy (but you still want to get home on time), strategically take breaks to keep your focus and energy up.
For instance: say you have a report due in three hours. Research and make an outline during the first hour, then pause.
Layout the details and make edits on the second hour. Then, take time away for a 5-minute walk. Lastly, finalize the presentation. Remember: your Twitter Feed can wait.
4.) "I'll check my email first."
You have probably heard of the 'Big Rock Theory'. It's basically a story about tackling the big concerns of your life first (your Big Rocks) so that everything else (your Little Rocks) will fit into place.
Although this idea was originally intended to help people prioritize things in their life, you can also apply this for everyday use.
Let's take the previous example of an important report due by the end of the day. On top of that, you need to check and reply to your emails.
Plus, your friends are expecting you for a couple of beers after shift. Now what? Finish your Big Rock (the presentation) first so that it's quickly out of the way.
Once that's done, you can simply take time away from the other stuff on your list. As long as there are no more huge surprises, you can end work on time to enjoy the rest of the day.
What beliefs take time away from your day?
You're probably thinking: but life's not perfect. In an ideal situation, you can come home early and have enough energy to spend with your loved ones.
Unfortunately no – on most occasions, we need to work overtime. Most days, we just feel like scrolling endlessly on Facebook.
If that's the case, step back and objectively analyze if such feelings have an underlying cause.
Take the time to reflect on what you need to get done, what you want to accomplish, and who you want to be with.
Be careful with your ideas, because they could shape your actions. But whatever you do, don't just let things take time away from you. Take back control right away!
Share your thoughts about things that drain your energy during the day with us in the comment section below.