1. Investors Exit Europe in 2018
Blackrock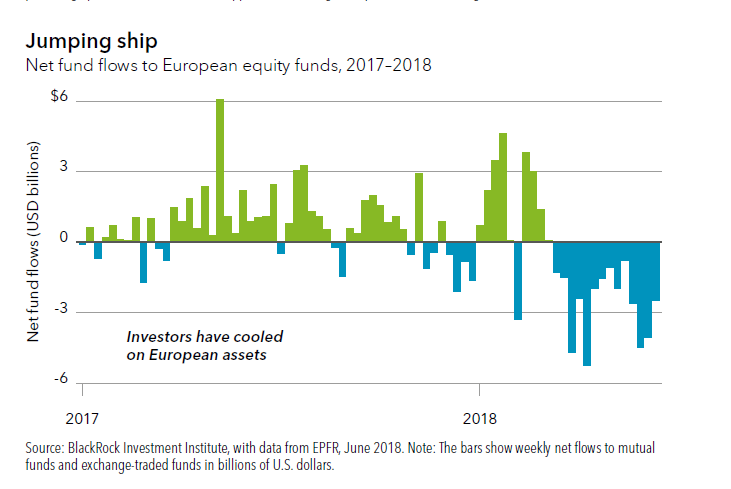 https://www.blackrockblog.com
2.A Couple of China Tech Giants in Correction Mode….Remember Emerging Markets ETF Bigger Tech Weight Than U.S.
Tencent 16% Off Highs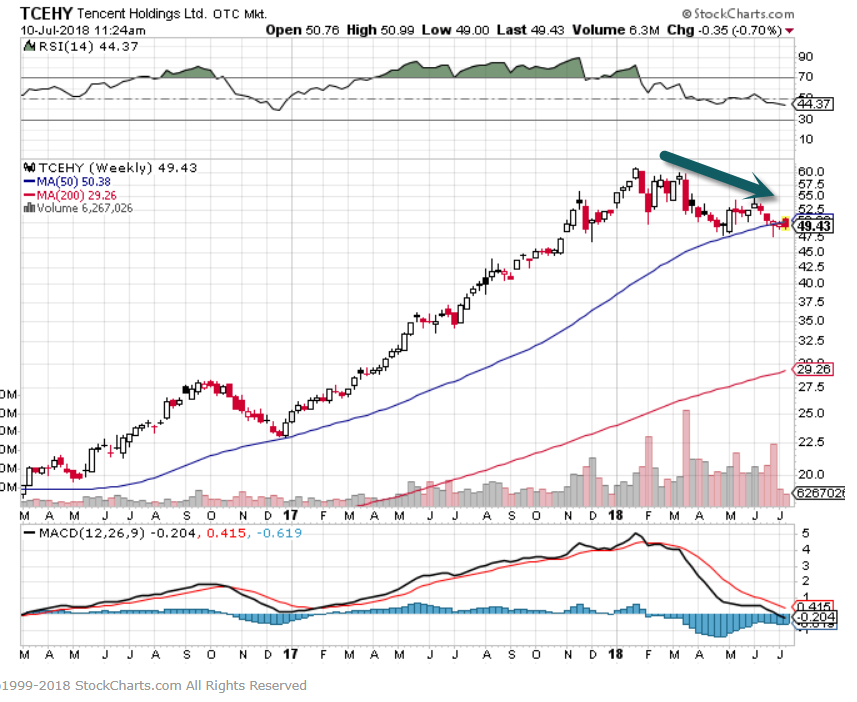 JD.com 22% off highs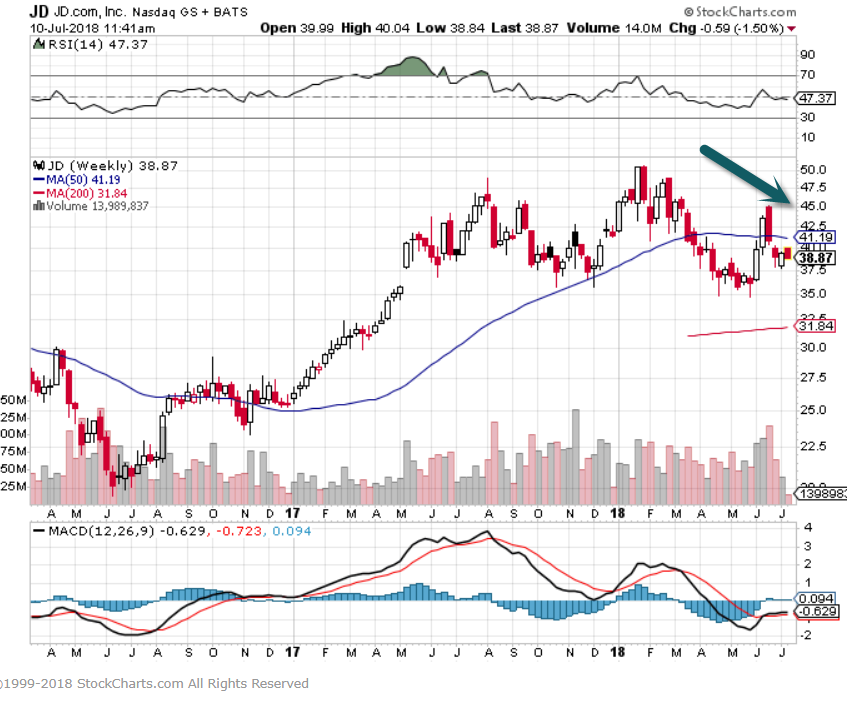 3.Insider Selling Spike a Facebook
Equity Markets: Insider selling at Facebook has accelerated recently.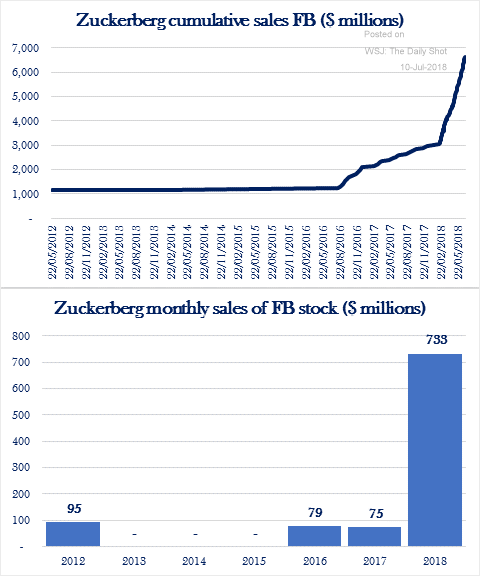 Source: Robin Bienenstock, RBMP capital, openinsider.com
https://blogs.wsj.com/dailyshot/
4.Are Defensive Sectors Finally Making Move?Chart Of The Week: Global Cyclicals Vs. Defensives
July 10, 2018
This week it's global cyclicals vs defensives. Last week we talked about the yield curve, which is something a lot of people are talking about, but when it comes to global cyclicals vs defensives this is something that we feel a lot of people are missing, as cracks are starting to appear.  Read More…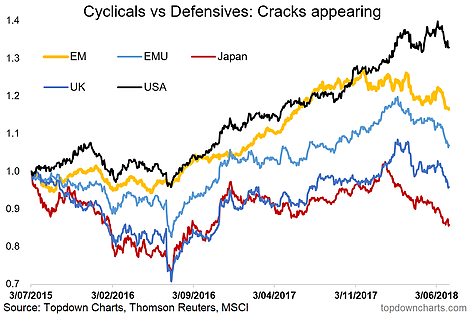 Looking for deeper insights?  Try taking a free trial of our institutional research service
https://www.topdowncharts.com/single-post/2018/07/11/Chart-Of-The-Week-Global-Cyclicals-Vs-Defensives
Found a Abnormal Returns www.abnormalreturns.com
5.Growth of Apple App Store.
10 Years Ago Today…The App Store Was Born
It weighed 8 lbs and offered more than 500 software applications—33% of which were games.
One decade later? The App Store has been pretty, pretty lucrative for third-party developers who wrote software for iOS…and Apple's not doing too badly either (it takes a 30% cut).
An actual quote from the New York Times story from 2008: "Apple has a substantial way to go to catch its competitors. Palm, Microsoft, R.I.M., Nokia and Symbian have all enticed developers to write software for their smartphone operating systems."
https://www.morningbrew.com/
6.Pfizer puts price hikes on hold after Trump complains
by Danielle Wiener-Bronner and Tami Luhby   @CNNMoney July 10, 2018: 9:22 PM ET
In a surprising turnaround, Pfizer said Tuesday that it will defer raising prices on multiple drugs after heavy pressure from President Donald Trump.
The pharmaceutical company's announcement came after Trump tweeted that he spoke with Pfizer's CEO and his own Health and Human Services secretary, Alex Azar.
"Pfizer is rolling back price hikes, so American patients don't pay more. We applaud Pfizer for this decision and hope other companies do the same," Trump tweeted.
The company said it made the decision "following an extensive discussion with President Trump."
Pfizer, which hiked prices on nearly three dozen drugs on July 1, said it will give the administration more time to work on its plan to overhaul the pharmaceutical supply chain.
The prices will revert to what they were before July 1 "as soon as technically possible," according to Pfizer. The new prices will remain in place until the end of the year or until Trump's plan goes into effect, whichever is sooner, the company said.
The day before, Pfizer stressed that it was only "modifying" the prices of about 10% of its medicines and vaccines, including reducing the cost of some. It also noted that most insurers and patients don't pay the list price thanks to manufacturer rebates.
The pharmaceutical industry has been under assault in recent years because of the ever-increasing cost of drugs. Trump has ramped up that pressure. He promised to lower drug prices during his presidential campaign and after he took office.
However, his administration did little until May, when it rolled out its 44-page "blueprint" for increasing competition, reducing regulations and changing the incentives for all players in the drug industry.
While the plan contains some concrete steps the administration can take to lower prices, it was criticized by industry observers as containing more ideas for consideration than actions to take. Also, experts said it didn't do enough to rein in the list prices of drugs.
Related: Trump lays out his vision for lower drug prices
Still, the president kept focusing his attention on the issue. At the end of May, he said big drug companies would announce "voluntary massive drops in prices" in two weeks. That didn't happen.
But then on Monday, Trump took up the matter again.
"Pfizer & others should be ashamed that they have raised drug prices for no reason," he tweeted. "They are merely taking advantage of the poor & others unable to defend themselves."
Speaking with CNN's Wolf Blitzer on Tuesday, Azar called the company's decision "constructive, professional [and] appropriate."
Pfizer is far from alone in raising pharmaceutical prices this year. Manufacturers increased the cost of 104 drugs in June and the first two days of July alone, according to a Wells Fargo Securities report.
And while Pfizer agreed to temporarily halt its July increase, it did not roll back the price hikes it implemented early this year on popular medications like Viagra, Lipitor, Xanax and Chantix.
The list price for Viagra, for example, was $1,846 for 30 pills last year, but then Pfizer raised it 9.44% on January 1 to $2,021. The July 1 hike brought it to $2,211. Tuesday's move will take it back down to $2,021.
Some industry experts were not impressed with Pfizer's move, since it only temporarily delayed the most recent price hike. Calling it a "nice gesture," Stephen Schondelmeyer, a drug price expert at the University of Minnesota, questioned whether the company would reverse earlier increases or forgo future ones.
It also remains to be seen whether the move by Pfizer, one of the nation's largest drug maker, will prompt its peers to do the same.
https://money.cnn.com/2018/07/10/news/companies/pfizer-trump-price-hikes-deferred/index.html
7.Read of the Day…Not Sure What Market Will DO In Short-Term But Current Mega Trends.
Opinion: These five 'mega trends' are producing soaring stocks regardless of Trump, tariffs or the economy
By Jeff Reeves
The technology wave is rippling through many industries.
The idea that "uncertainty" has returned to the stock market in 2018 is perhaps the understatement of the year.
Protectionist trade policies are whipsawing the S&P 500 SPX, +0.35% based on the news cycle, and headlines can cause individual segments of the market to move even more dramatically. Just look at the slump for Harley-Davidson Inc.HOG, +0.69% in late June, and how automakers responded to discussions of targeted tariffs last week.
There are plenty of investors who are a bit testy about this, since one tweet by Donald Trump or the latest tit-for-tat in tariffs can undercut their strategy.
But there are still stocks that are very much on the upswing regardless of trade escalations. Those companies are riding long-term trends that are sure to withstand whatever political moves we see this year — and many years after that.
That makes those opportunities perfect both for investors looking for stability in tough times, as well as for those seeking out the next big idea to fuel growth.
Some of the ideas require patience and a long-term perspective. But the future is undeniably on your side if you own these stocks.
Here are five so-called mega trends that are sure to reshape the global economy in the years to come, and a few stock ideas so you can trade them.
Artificial intelligence
Machine learning and artificial intelligence (AI) are not the stuff of science fiction any longer. Businesses continue to deploy AI solutions to help organize information, streamline operations and maximize sales to customers.
As a result, research firm IDC estimates worldwide AI spending will be up over 50% in 2018 from last year, and sales will top $50 billion annually by 2021.
One way to play this mega trend is via mega-cap tech companies that have the scale to play this trend widely. Google parent Alphabent Inc. GOOG, -0.94% was ahead of the curve on this trend, acquiring AI startup DeepMind in 2014 for $500 million and in many ways proving the value of artificial intelligence through autocompleted searches and instant answers. Others, like Microsoft Corp.MSFT, +0.27% are expanding into AI functions as part of their enterprise offerings, and of course there's IBM IBM, +0.22% with its iconic Watson engine.
Investors can also play the hardware side, if they don't want to horserace the AI technologies themselves. There's chipmaker Nvidia NVDA, -1.68% which is the dominant manufacturer of the hardware required for these complex computer brains, as well as specialized players like Xilinx Inc. ( XLNX, +1.79% that make "field programmable gate arrays" that allow engineers to be much more flexible and responsive in how they code.
And if you don't want to choose, there are also specialized ETFs like the Global X Robotics & Artificial Intelligence ETF BOTZ, +1.31% which includes some of those stocks.
E-commerce
While we are certainly seeing strong consumer spending trends in 2018, it's important to remember that the dollars are increasingly moving away from brick-and-mortar merchants and into e-commerce. Consider that broad e-commerce sales were up 16% last year to tally over $390 billion — the highest growth rate since 2011.
This is a trend that is amplified by strong consumer sentiment, but don't think this is a cyclical thing that will crash if the broader U.S. economy rolls over. Furthermore, it's a global phenomenon; research firm eMarketer recently estimated that Asia-Pacific e-commerce grew 31% last year while overall retail sales rose only 7% in the region.
So how do you play this trend? There are obvious answers in Amazon.comAMZN, -0.81% and its Asian peer Alibaba Group BABA, -1.84% But the universe of e-commerce investments is huge, including specialized plays including car-sales platform Carvana Co. CVNA, -1.52% which has soared 120% in the past 12 months, and furniture and home goods site Wayfair W, -0.35% which is up about 60% in the past year. Clearly there is more than enough spending to go around outside the big boys.
There are also ETFs including the Amplify Online Retail IBUY, -0.21% which is up 50% in the past 12 months.
Mobile payments
Anyone who has used a credit card at a food truck or swiped their smartphone at a coffee shop knows that the trend away from cash has really gained steam. In fact, consultancy firm Capgemini estimates over 720 billion digital payments will be processed worldwide by 2020.
The most interesting thing, however, is that the U.S. is actually lagging behind in this trend despite seemingly rapid adoption; China's tally of roughly $9 trillion in mobile payments in 2016 dwarfs the $112 billion total for the U.S. that same year.
That presents a host of interesting opportunities for investors, including a play on emerging market expansion as well as yet-to-be-realized growth at home.
Domestically, players like mobile payments giant Square SQ, -2.59% offer direct exposure to this trend. There are also indirect plays via Fiserv FISV, +0.18% a financial technology company that assists with mobile banking and other payment technologies.
There are also targeted plays internationally, with Alibaba and its Alipay, and Tencent TCEHY, -3.38% and its WeChat mobile payment system that dominates in China. Those two leaders are great investments if you're more interested in the emerging markets angle.
There are diversified ETFs like the ETFMG Mobile Payments ETF IPAY, +0.33%that ties up a bunch of those names in one fund if you want to play the cashless trend broadly. With IPAY up over 40% in the past year despite a choppy market, that shows the promise of mobile payments even amid market uncertainty.
Biotechnology
There's always a lot of noise about publicly traded drug stocks, from patent expirations to chatter about potential regulations. But in many ways, the innovative biotechnology sector is a thing apart.
Many of those companies have nothing to do with marketing strategies or public health policies. They are focused primarily on researching the next generation of life-saving drugs, using techniques that once were seen only as science fiction.
Take BioXcel Thereapeutics BTAI, +17.77% a company that is trying to tailor cancer cures to individual patients' immune system in order to fight off disease. Or take gene-editing stock Editas Medicine EDIT, -1.09% which is researching a host of techniques such as editing retinal tissue genes to combat childhood blindness.
You can understand why the general public gets excited about the prospect of those treatments, and why investors see tremendous profit potential. And with aging baby boomers in the U.S. demanding more treatment from conditions including diabetes to Alzheimer's, there is a tremendous need for any successful treatments that win Food and Drug Administration (FDA) approval.
Individual biotechs can be risky, of course, as firms plow money into research that may not pan out. But diversified funds like the SPDR S&P Biotech ETF XBI, -0.45%which is up 27% in the past 12 months, offer a great way to play the broad promise of the sector without putting all your eggs in one basket.
Gaming
This may not strike some folks as a mega trend, but the evolution of video games has moved way beyond stereotypes of geeks sitting alone in their parents' basement. Gaming is a global phenomenon that knows no age or gender — and, most importantly, has become big business.
According to the Entertainment Software Association, the average male video game player in the U.S. is 32 years old and the average female player is even older, at 36. That's in the prime age range for spending, and also for passing that tradition of gaming on to kids, since two-thirds of families have a parent who games.
The dollar signs also tell the story, with $36 billion in U.S. gaming spending last year alone and over $108 billion worldwide.
So how to play this trend? There are dedicated game companies like Take-Two Interactive Software TTWO, -0.67% and Activision Blizzard ATVI, -0.85% that are obvious choices; TTWO is up almost 70% in the past 12 months, and ATVI is up about 35%. There are also more mobile-focused gaming names like Glu MobileGLUU, -1.74%  which has soared 160%.
Companies such as China's NetEase NTES, -0.87% gets 68% of its revenue from mobile gaming, and is enjoying a nice tailwind from the growth of smartphones in Asia. There's also tech conglomerate Tencent that also is a big player in the industry both directly and indirectly, thanks to significant stakes in some of the biggest studios in the world.
As with so many of these trends, investors can cast a wide net on this mega trend simply buy buying ETFs like the ETFMG Video Game Tech ETF GAMR, +0.16% which includes all of those names among its 72 total holdings.
https://www.marketwatch.com/story/these-five-mega-trends-are-producing-soaring-stocks-regardless-of-trump-tariffs-or-the-economy-2018-07-10
Ryan Holiday
Why does one day matter? Why does what you do today matter in the scheme of your whole life?
Because our life is made up of days. Days like today.
The poet Heraclitus said that "one day is equal to every day." By that he meant that every day is the same length, comprised of the same amount of hours, the same sunup and sundown. Yet, he also meant it in the sense that philosophers have always meant that same idea — that if you can get one day right, you have a shot at getting your life right (and that you should try to get todayright, because tomorrow is no guarantee). Or as my friend Aubrey Marcus put it wonderfully in the title of his new book, own the day, own your life.
Earlier this year, I published "12 Questions That Will Change Your Life." In the vein, here are 13 things you should do and think about every day to change your day — and by extension, your life as well.
Some are easier than others, but each one matters.
[*] Prepare For The Hours Ahead — Each morning you should prepare, plan and meditate on how you aim to act that day. Don't wing it. Don't be reactionary. Have a plan. Marcus Aurelius rose in the morning and did his journaling — preparing himself for what he was likely to face in the hours ahead. He thought about the people he was likely to face, difficulties he might encounter (premeditatio malorum), and what he knew about how to respond. The morning is the perfect time to journal and to use the pages in that journal to set yourself up for a successful day. Remember: If you do the tough planning in the morning, nothing can happen during the day contrary to your expectation or too tough for you to handle.
[*] Go For a Walk — For centuries, thinkers have walked many miles a day because they had to, because they were bored, because they wanted to escape the putrid cities they lived in, because they wanted to get their blood flowing. In the process they discovered an important side-effect: it cleared their minds and helped them make better work. As Nietzsche would later say: "It is only ideas gained from walking that have any worth." You should go for a walk every single day not only for exercise but for the philosophical and psychological benefits. Experience nature. Experience the quiet of the world around you. Take a break. If you're too busy, multitask: Take a walking meeting. Do your phone call on the move around the parking lot. Get out of doors and move.
[*] Do The Deep Work — So much of our day is spent at the surface. Skimming this and that. Vaguely paying attention to this conversation or that one. This is not what we were put here for. You must make time — preferably an hour or more a day — for what Cal Newport calls the "deep work." The type of intense concentration and cognitive focus where real progress is made — on whatever it is that we happen to do, be it writing or thinking or designing or creating. Elite work takes deep work. The amount of deep work you get done is on you. It starts by closing your browser (after you finish reading me, of course) and getting to it. If you don't make time for this — if it's not a box you check every day — it won't happen.
[*] Do A Kindness — The Boy Scouts motto was to do a good turn every day. Seneca wrote that "Wherever there is a human being, we have an opportunity for kindness." Yes, even rude people. Even people you're in competition with. As well as the people you love and are connected to. Your co-workers are a chance for kindness. Your spouse is a chance for kindness. The mailman is a chance for kindness. It will make you feel better to take advantage of that chance. It will make your day better if you do. It will make the world better if you do. Only a saint or a sage can fully meet every opportunity and every encounter with kindness. So don't whip yourself if you can't muster that. Start with one. Practice one kindness every day. See what happens.
[*] Read. Read. Read. — Pick up a book every day. Even for just a few pages. As Emerson says, every book is a quotation — of other books, of experience, of the humans and civilizations that came before it. How could you not expose yourself to this? And yes, you do have time! Meals, before bed, on the train, in the waiting room, even on your phone or desktop. Read a few pages, read a whole book, but make a real and unending commitment to reading. Because there is so much out there that you can benefit from: Biographies. Little-known gems. Life-changers. Philosophy. The classics. Self-improvement. Books about war. Fiction. Even marketing and business books. All of these will widen your perspective, help you with problems, give you inspiration and let you benefit from the accumulated wisdom and knowledge of the centuries.
[*] Find True Quiet — Every single day you should find a way to disconnect and unplug, even for a few minutes. I try to swim as often as I can, not only for the exercise but because nothing can get to me there. I don't have my phone. There's no noise. Just calmness and peace. Ask yourself: How often am I unreachable? The answer is: Not often enough. Build some of this time into your daily practice. You'll be better for it. And the world will not notice, I promise.
[*] Make Time for Strenuous Exercise — It's become a cliche to say this but when scientists consider exercise to be the 'single thing that comes close to a magic bullet, in terms of its strong and universal benefits,' and it's Richard Branson's #1 piece of advice to entrepreneurs, it can't be overstated. We need it — far more than you think. Don't put it off. Do it. Be in shape and be healthy. And what I personally find is that it is important to have goals with your exercise. Why? So that no matter what happens that day — at work, at home, in the economy — you can have something that went well. You improved your mile time, you swam three more laps than usual, you squatted a new weight.
[*] Think About Death — Shakespeare said that every third thought should be of our grave. Perhaps that's too much. One thought per day is plenty. The point isn't to be morbid, but to remember that you are mortal. How much time do we waste on things that don't matter? And why? Because we think we can afford it! Memento Mori. You will die. Live while you can. Live your life as if you have died and come back and all of this is extra. I keep a coin in my pocket to remind meof this and touch it at least once a day. Death doesn't make life pointless but rather purposeful. And fortunately, we don't have to nearly die to tap into this.
[*] Seize the Alive Time — What does every day seem to be comprised of? Too much dicking around. People are just killing time (remember Raymond Chandler's line "and it dies hard.") We get to where we were going and walk into the lobby and check our watch. It says we're a few minutes early, so we reach into our pocket to grab our phones. Is this act not the expression of so much of what's wrong with modern life? The entitlement. The resignation of it. How much better we would be and the world would be if we never did this again. If we chose alive time over dead time. There's so much you could do in those few minutes. Face fears. Reach out and connect with someone. Do something you've been putting off. Expose ourselves to sunlight and nature. Be still and empty. Prepare for what lies ahead. Or just live because who knows how much time we have left.
[*] Say Thanks — To The Good and Bad — The Stoics saw gratitude as a kind of medicine, that saying "Thank you" for every experience was the key to mental health. "Convince yourself that everything is the gift of the gods," was how Marcus Aurelius put it, "that things are good and always will be." Say thanks to a rude person. Say thanks to a bungled project. Say thanks to a delayed package. Why? Because for starters it may have just saved you from something far worse, but mostly because you have no choice in the matter. Epictetus has said that every situation has two handles: Which are you going to decide to hold onto? The anger or the appreciation? The one of resentment or of thanks?
[*] Put The Day Up For Review — We prepared in the morning, now we reflect in the evening. The best way to improve is to review. So, each evening you should, like Seneca did, examine your day and your actions. As he put it, "When the light has been removed and my wife has fallen silent, aware of this habit that's now mine, I examine my entire day and go back over what I've done and said, hiding nothing from myself, passing nothing by." The question should be: Did I follow my plans for the day? Was I prepared enough? What could I do better? What have I learned that will help me tomorrow?
[*] Find a Way To Connect To Something Big — The worries and anxieties of daily life seem to fall away when we stand next to the ocean or walk through a beautiful park. We shouldn't wait for our annual vacation to get this kind of relief and perspective. We need to get it every single day. The Stoics had an exercise for doing this. Marcus Aurelius would look up at the stars and imagine himself running alongside them, he'd see them for their timelessness and infiniteness. Try that tonight or early in the morning and try to make it a daily practice. A glance at the beautiful expanse of the sky is an antidote to the nagging pettiness of earthly concerns, of our dreams of immortality or fame. But you can find this connection from many sources: A poem. A view from the top floor. A barefoot walk across the grass. A few minutes in a church pew. Just find something bigger than yourself and get in touch with it every single day.
[*] Get Eight Hours of Sleep — "Sleep when you're dead," we say. Like it's some badge of honor how little time we allot to it. Bullshit. The body needs its rest. Schopenhauer said that sleep is the interest we pay on the loan of life. Be glad to pay it. It's what keeps us alive. Guard your sleep carefully, it's an obligation. All the other habits and practices listed here become irrelevant if you don't have the energy and clarity to do them.
P.S. If you want to get more practical about these things, check out Aubrey's book Own The Day, Own Your Life.
This was originally published on Thought Catalog.
https://ryanholiday.net/blog/page/2/