1. Consumer Sentiment and 12 Month Stock Market Returns.
JP Morgan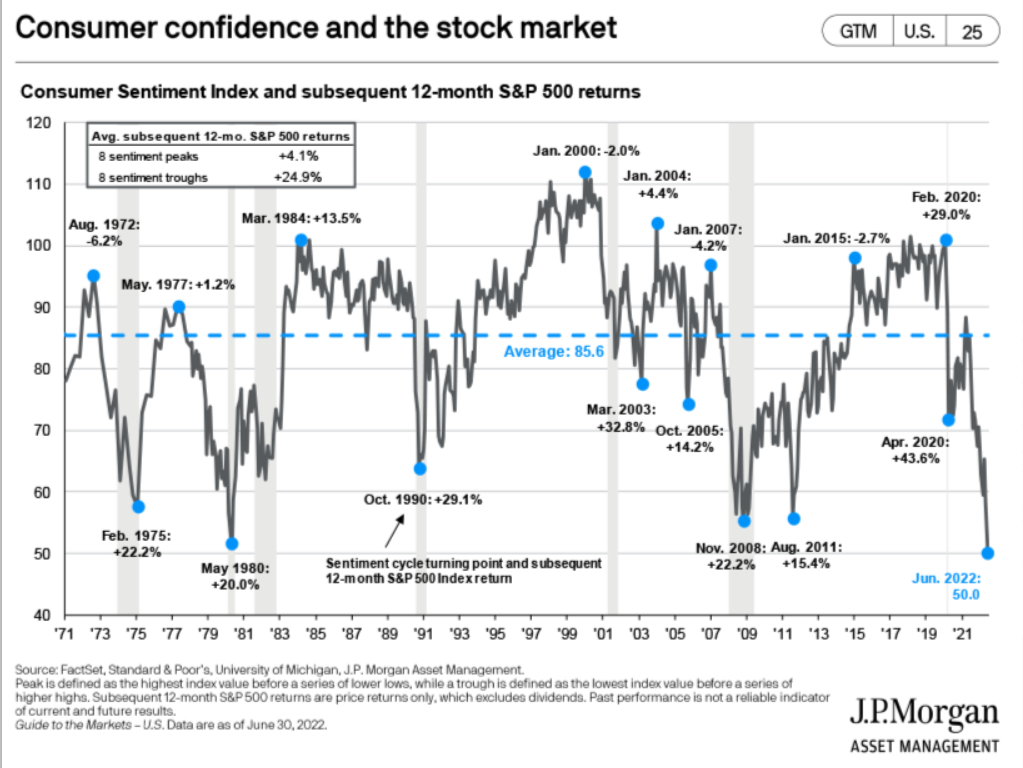 https://am.jpmorgan.com/us/en/asset-management/adv/insights/market-insights/guide-to-the-markets/?gclid=Cj0KCQjw5ZSWBhCVARIsALERCvz6pF3ZOBt3DRza-AgFU8QB1IVs5wrv9YOundIf4gXBWfyG6WoVHxoaAtpLEALw_wcB&gclsrc=aw.ds
---
2. Currency ETF Performance vs. Crypto
U.S. Dollar +9% YTD vs. Bitcoin Trust -65%

https://www.nasdaq.com/solutions/nasdaq-dorsey-wright
---
3. Strong U.S. Dollar and Emerging Markets
This chart shows the emerging markets vs. U.S. dollar-a strong downtrend.  Emerging market dollar denominated debt more expensive and exports more expensive…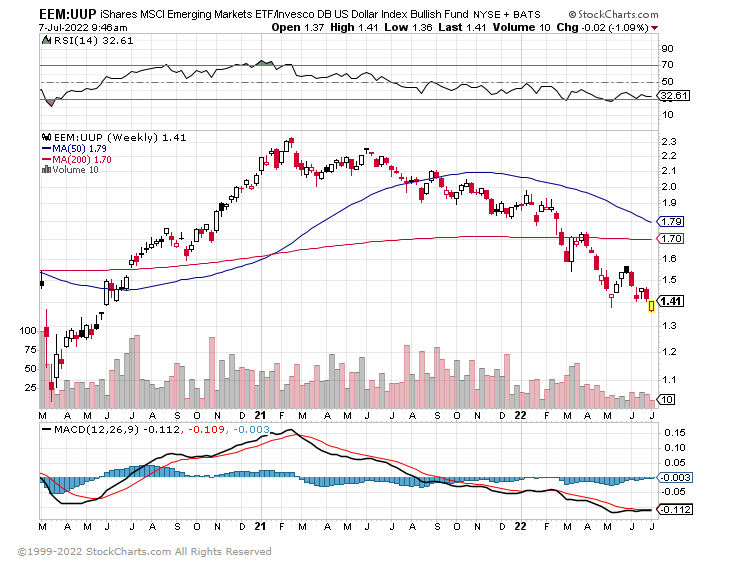 ---
4. U.S. Now Europe's Biggest Natural Gas Supplier
From Dave Lutz at Jones Trading-US overtakes Russia as Europe's top gas supplier.  We're not even at the end of the beginning of this energy war & Europe remains critically short gas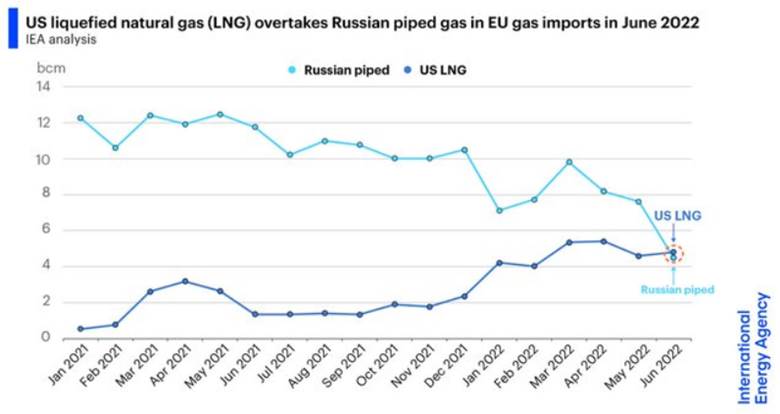 ---
5. Recession Watch on Transport Stocks
Trucking Index holds 200 week moving average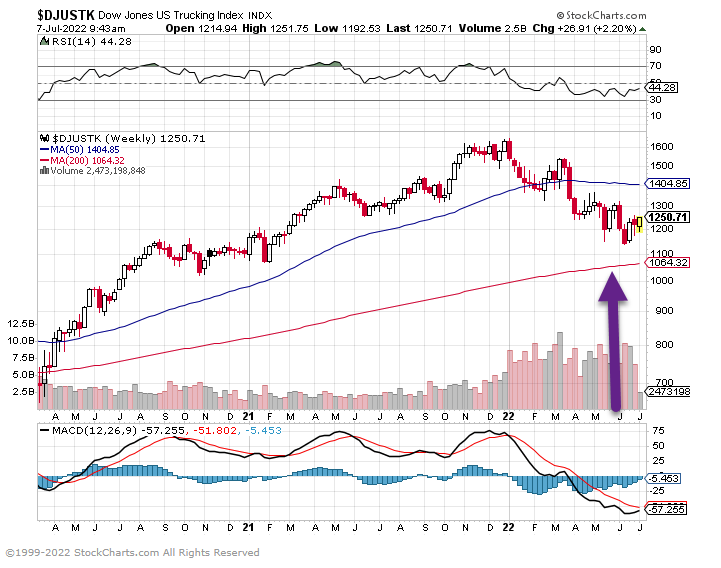 Dow Transports hold 200 week moving average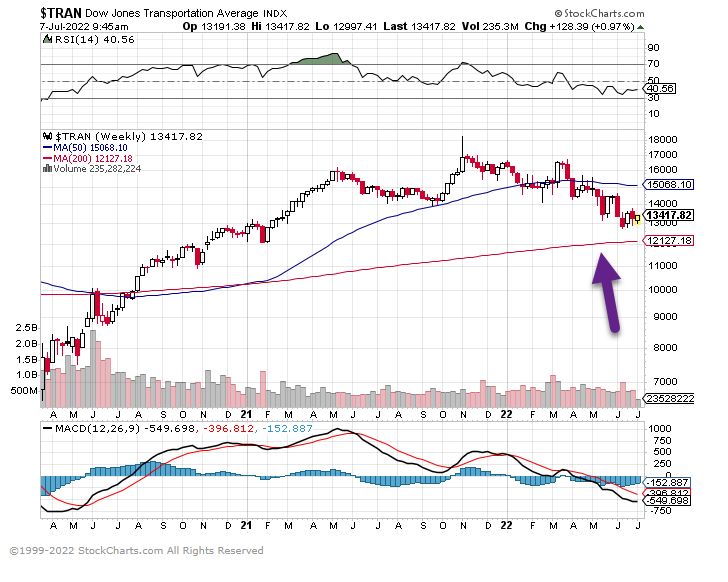 ---
6. Luxury Goods Sellers Back to Covid Levels
Kering -50% correction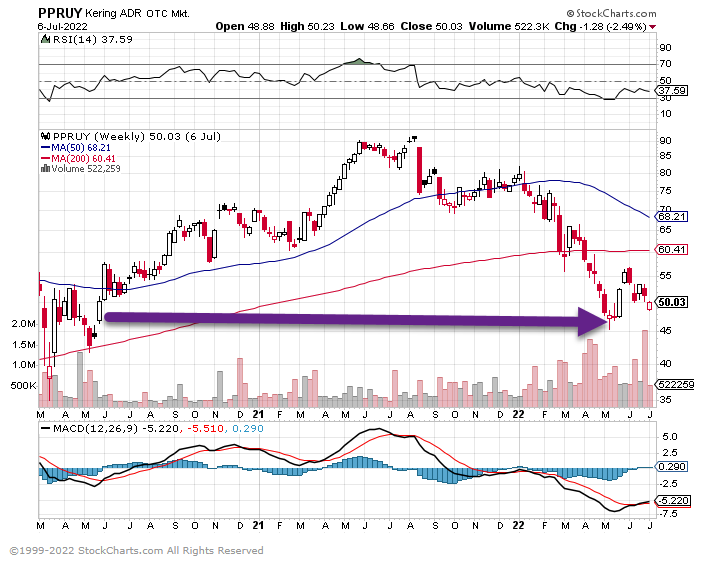 LVMH -32% correction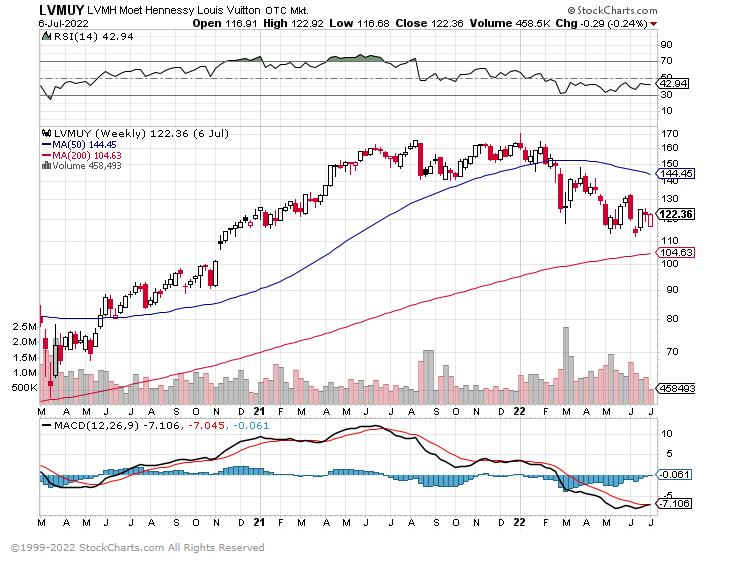 ---
7. Chinese state airlines to buy almost 300 Airbus jets
Reuters–BEIJING/SYDNEY, July 1 (Reuters) – China's "Big Three" state airlines pledged on Friday to buy a total of almost 300 Airbus jets, the biggest order by Chinese carriers since the start of the COVID-19 pandemic and a breakthrough for Europe as Boeing remains partially frozen out of China.
In apparently coordinated announcements, Air China (601111.SS) and China Southern Airlines (600029.SS) said they would each buy 96 A320neo-family jets worth $12.2 billion at list prices. China Eastern Airlines (600115.SS) said it would buy 100 airplanes of the same type, worth $12.8 billion.
https://www.reuters.com/business/aerospace-defense/china-southern-airlines-buy-96-airbus-a320neo-jets-2022-07-01/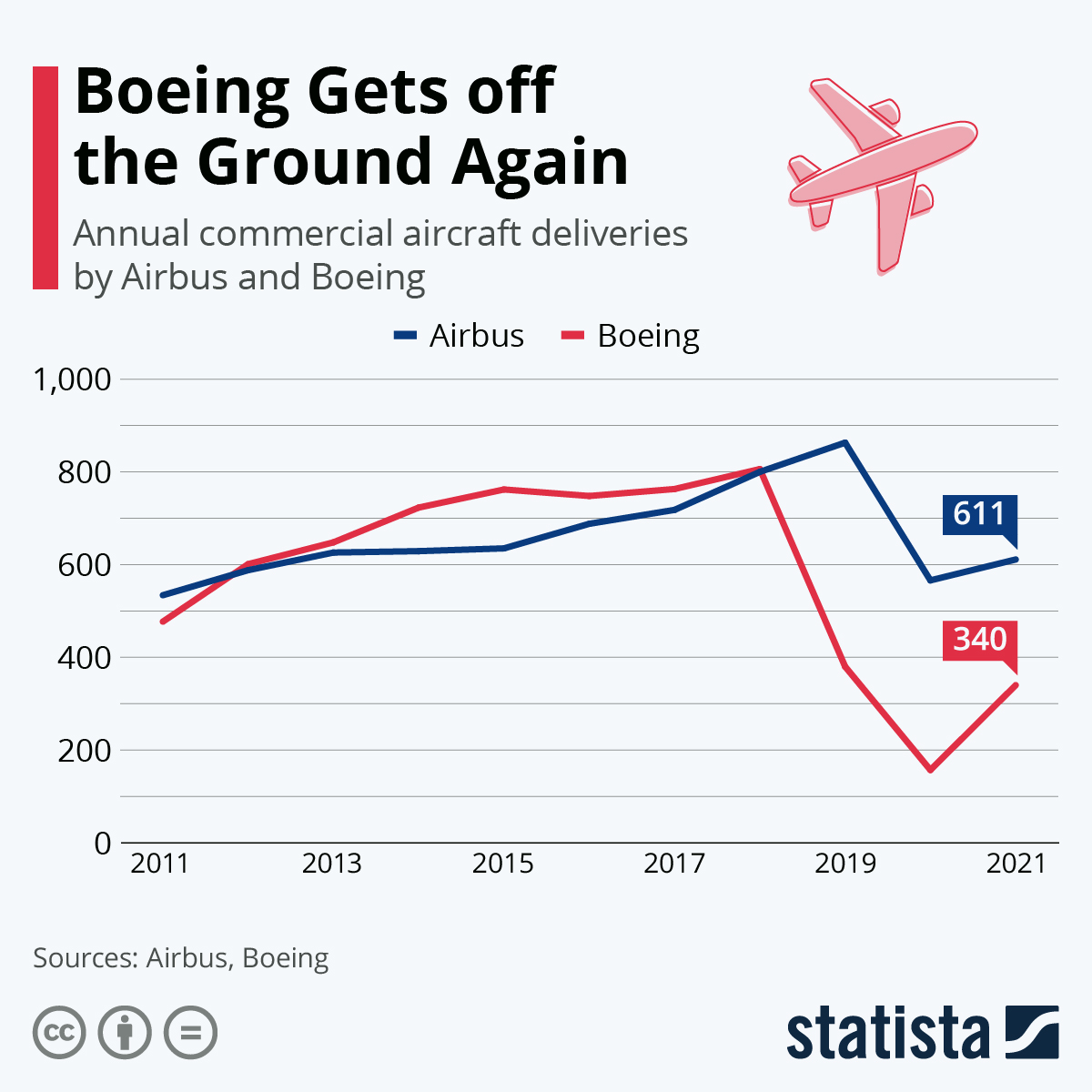 The final result-Airbus vs. BA 2021
All in all, it seems as though Airbus has edged ahead as the winner in 2021, though the gap doesn't seem to be as significant as last year.
Aircraft delivered: Airbus
Aircraft ordered: Draw
Active fleet: Boeing
Most flights: Airbus
Aircraft scrapped: Airbus
Airbus 3 – 1 Boeing
Of course, the year has had its ups and downs for both carriers. Airbus has been embroiled in the aforementioned A350 paint issue with Qatar Airways with other carriers reportedly affected. Meanwhile, Boeing 787 Dreamliner deliveries still haven't resumed three months into 2022. That being said, the Boeing 737 MAX was been ungrounded in many territories last year, and continues to perform strongly for the American planemaker.
Which manufacturer won 2021 in your eyes? Let us know what you think and why in the comments!
Sources: Airbus, Boeing, Cirium, ch-aviation.com, Reuters
https://simpleflying.com/airbus-vs-boeing-2021/#:~:text=Boeing%20accounted%20for%208%2C907%2C948%20flights,flights%20scheduled%20for%20the%20year.&text=While%20Airbus%20is%20the%20overall,to%20645%2C220%20with%20Airbus%20aircraft.
---
8. DeFi Theft …$1.7Billion Stolen in 2022
Barrons-Theft on DeFi isn't trivial. Protocols accounted for 97% of the $1.7 billion of crypto stolen in 2022 as of May 1, according to blockchain analytics firm Chainalysis. "It's a major consumer protection issue that you don't have recourse if you have funds stolen on DeFi," says Chainalysis Director of Research Kim Grauer, adding that she's optimistic protocols will get more secure over time.
"There's no prohibition against wash-trading on crypto exchanges, no prohibition against proprietary trading, no best-execution rules, and no standardized reporting," says Timothy Massad, a former chairman of the Commodity Futures Trading Commission. "It's this whole lack of a framework where you can't compare it to securities that concerns me."
By  [Joe%20Light]Joe LightFollow  https://www.barrons.com/articles/bitcoin-crypto-crisis-51656620781?mod=past_editions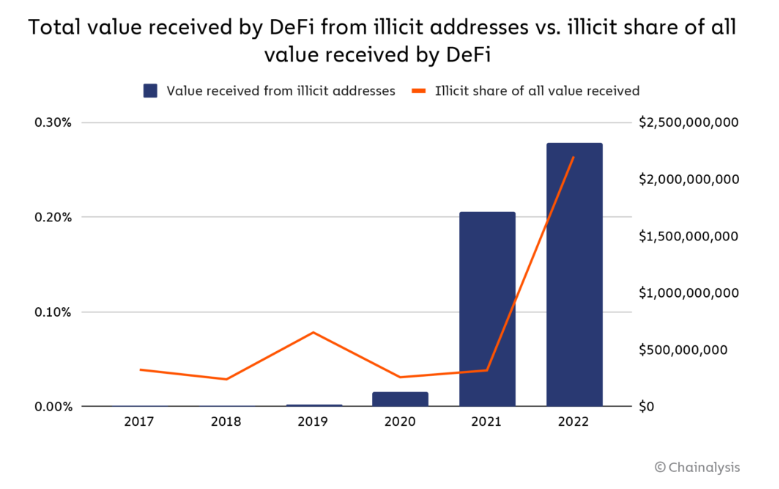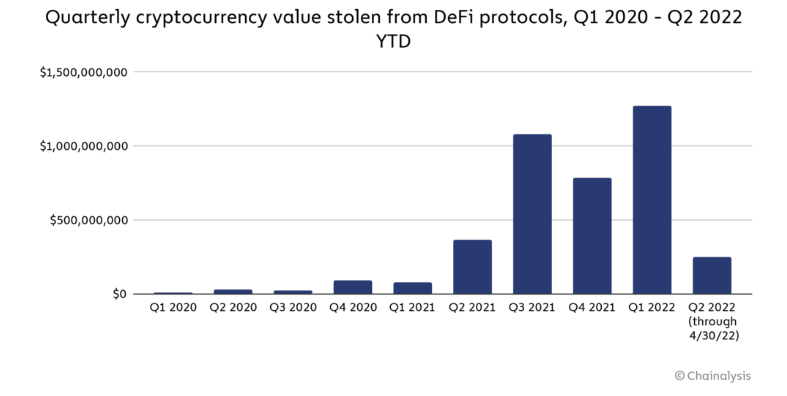 From CoinLive https://coinlive.me/the-hacks-in-2022-caused-1-7-billion-in-damage-97-of-which-came-from-defi-18796.html
---
9. No bids on Chevy's first NFT, even though it came with a free Corvette Z06
By Andrew J. Hawkins@andyjayhawk  
·   SHAREAll sharing options Chevy's first foray into non-fungible tokens was a non-fungible dud. The automaker netted zero bids for its first NFT during an auction last month, even though the digital drawing came with a free 2023 Corvette Z06, according to Corvette Blogger.
The NFT, which depicts a lime green Corvette Z06 blasting through a cyberpunk landscape, was created by artist Nick Sullo, who goes by xsullo online. The winning bidder would have also received a unique "Minted Green" Corvette Z06, which will be the only car painted in that color, and an option code RFN, which will "forever associate" the car with the NFT auction. And the Corvette's VIN number will be in binary because NFTs are digital and computers use binary and you get it.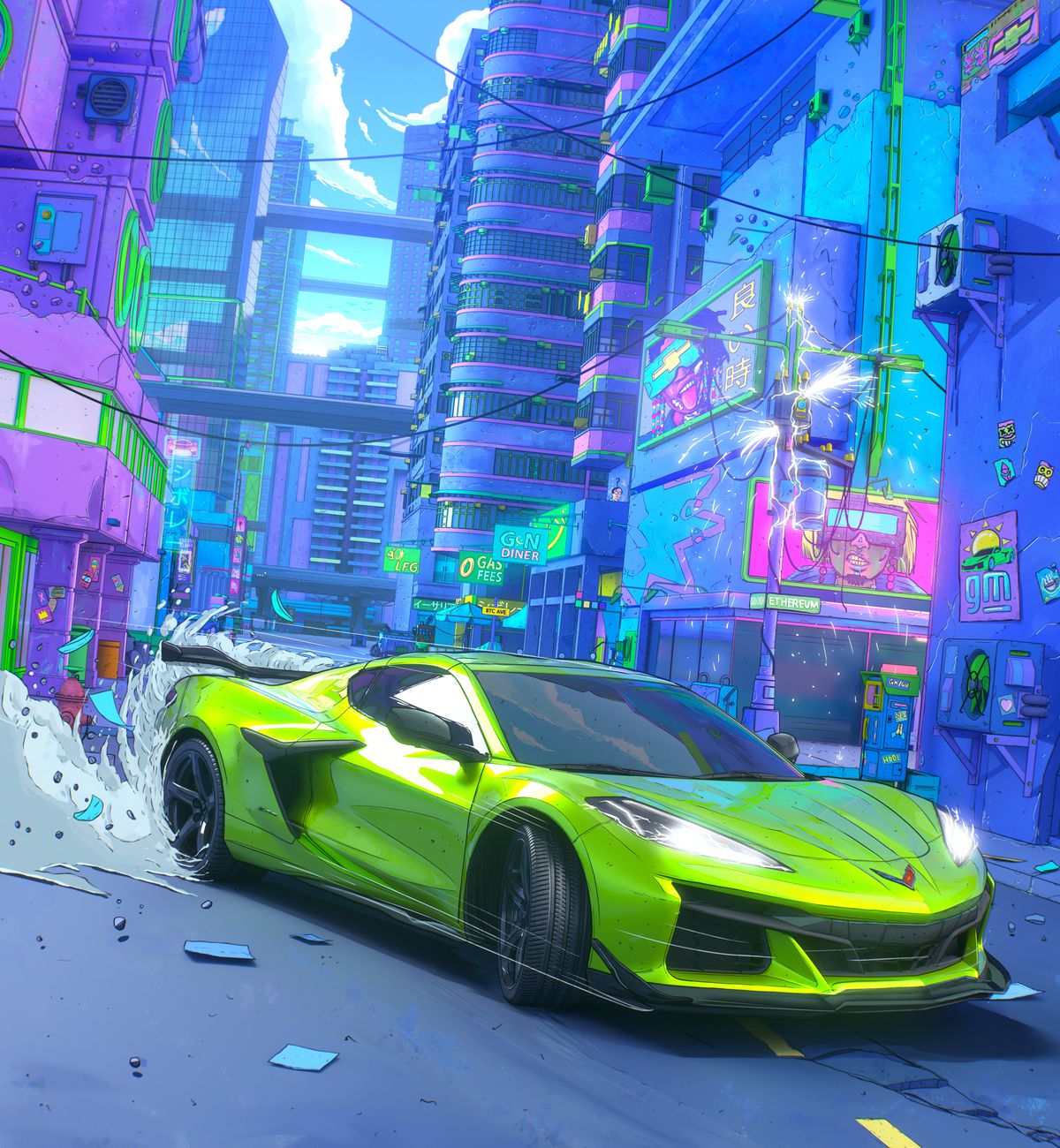 But alas, there was no winner to ascribe to the blockchain, because mighty Chevy struck out. The automaker was only accepting bids in Ethereum (most NFTs are purchased using Ethereum), the price of which has been extremely volatile in recent weeks. The cryptocurrency has dropped more than 64 percent since April 1st, while the most lauded NFTs have seen their floor price — price for the lowest one on the market — drop more than 70 percent.
BASICALLY, THEY PULLED A MORBIUS.
The auction was held from June 20-24. SuperRare, the NFT marketplace that oversaw the auction, tweeted on June 24th that it would reopen bids for 24 hours because some users "missed" the window. But apparently that didn't work: the auction closed yet again with zero bids. Basically, they pulled a Morbius.
Trevor Thompkins, a spokesperson for Chevy, shrugged off the disappointment in a statement to Corvette Blogger. "Our first step into Web3 has been educational, and we will continue to explore ways to leverage technology to benefit our customers," Thompkins said.
No bids on Chevy's first NFT, even though it came with a free Corvette Z06 – The Verge
From Morningbrew Newsletter https://www.morningbrew.com/daily
---
10. John Maxwell-Know Your Growth Plan
Success.com Tiger Woods works on his strengths
I was with a group of CEOs and presidents not too long ago and as I was talking to them about this whole process, one of the presidents raised his hand and said, "John, I'm not sure I agree with you when you say not to work on your weaknesses. Take Tiger Woods for example. When he has a bad round of golf, he heads directly to the practice range and may spend two or three hours working on his swing—a perfect example of working on your weaknesses."
I told this gentleman he just gave a perfect example of the importance of working on your strengths. I think it's safe to say that Woods is the greatest golfer in the world. So when the greatest golfer in the world is working on his swing because he's got a little flaw in it, he's not working on weaknesses. He's working on strengths. He's in his Strength Zone working to improve something he's already good at.
The difference is when I go to the practice range, I'm in my weak zone. For me practice makes permanent. If you're in your Strength Zone like Woods, practice makes perfect. When I work on my golf swing, I consistently hit a bad shot to the same place every time, which is a big help because then I know where to find it in the woods.
What's your growth plan?
Success is knowing your purpose in life. But there's more to it than that; I know people who know their purpose in life but are not successful. You need a growth plan to help you reach your maximum potential. It's not only knowing what you should do; it's about growing in that area to maximize and highlight the things that you do well. That's continual growth.
I had a life-changing experience back in 1973. Attending a seminar in Lancaster, Ohio, a man sitting next to me asked me one of the most important questions I've ever been asked. He said, "John, what's your plan for growth?" I was just a kid in my 20s, not knowing that I was even supposed to have a plan for growth. And so I decided to fake it and proceeded to tell him about my elaborate schedule and how hard I was working toward my goals. I was like a plane circling a field trying to come in for a landing, going around and around until I finally ran out of gas and shut up. As soon as I did he looked at me, smiled and said, "You don't have a plan, do you?" With a smile, I replied, "Eh, no, no I don't."
Then he said words that changed my life. He said, "John, growth is not an automatic process. If you're going to grow, you need to do so intentionally." That afternoon I went home and sat down with my wife, Margaret, and said, "I don't know what a growth plan looks like, but I heard a guy tell me today I needed to have one and I'm going to figure it out." And I took that whole year to figure out how to do a growth plan, and I'm here to tell you, it changed my life.
That was in the early '70s. For 30-plus years, I have been on a personal growth plan every year.
The speed of the leader determines the speed of the pack. And the only way that you and I will ever continue to be in front is to continue to learn, grow and make a commitment to it. Highly successful people have a continual thirst for knowledge and are always asking questions.
What you do today determines your success
I don't think success is a mystery. I think it's tangible and achievable for everyone, but it's going to start with this statement: The secret of your success is determined by your daily agenda, by what you and I do—today.
I believe this principle so much I wrote a book called Today Matters, and in the book I write about how we overexaggerate yesterday, we overestimate tomorrow and we underestimate today.
You see, every day you are either repairing or preparing. Every day you're either trying to fix yesterday—relationships, issues, priorities, lost opportunities—or you are living your life in such a way that you are preparing for tomorrow and setting up success almost as a given.
Highly successful people know their purpose in life, they grow to their maximum potential and they sow seeds that benefit others. They don't live for themselves. They're a river, not a reservoir. They understand what significance is—adding vaue to others.
Articles
John C. Maxwell, an internationally respected leadership expert, speaker, and author who has sold more than 18 million books, has been named an inaugural SUCCESS Ambassador. Dr. Maxwell is the founder of EQUIP, a non-profit organization that has trained more than 5 million leaders in 126 countries worldwide. A New York Times, Wall Street Journal and BusinessWeek; best-selling author, Maxwell has written three books that have sold more than a million copies.