1. Stocks have had their third best decade of returns.
On a reward-risk basis, stocks have had their second-best decade and bonds have had their third best, but the best of the past seven.
The 95-Year History Stock and Bond Returns in Four Pictures–by Ron Surz, 1/4/21
https://www.advisorperspectives.com/articles/2021/01/04/the-95-year-history-stock-and-bond-returns-in-four-pictures
2. Mutual Fund Cash Levels at Record Lows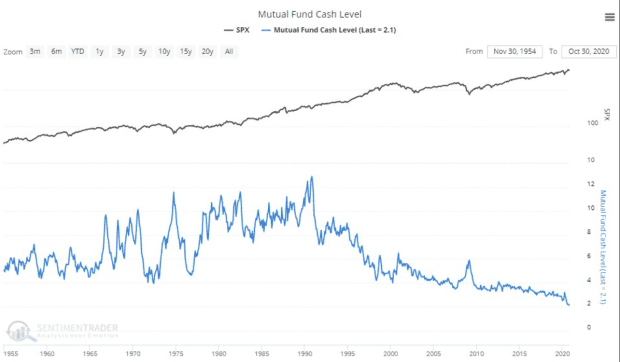 Opinion: Investors are waiting for 'cash on the sidelines' to juice the stock market — this is why that idea is hogwashBy Lance Roberts
https://www.marketwatch.com/story/investors-are-waiting-for-cash-on-the-sidelines-to-juice-the-stock-market-this-is-why-that-idea-is-hogwash-11609795905?mod=home-page
3. Emerging Markets Start 2021 With a Record as Dollar Stumbles
Farah Elbahrawy and Greg Ritchie
Mon, January 4, 2021, 1:08 PM EST
(Bloomberg) — Emerging-market currencies surged to a record on the first trading day of 2021 as traders brushed aside the accelerating spread of the coronavirus.
MSCI Inc.'s index of developing world currencies climbed as much as 0.7% to 1,731.69, surpassing its previous record set in March 2018 before the U.S.-China trade war hobbled risk appetite. The Bloomberg dollar index fell to the lowest in almost three years before regaining some ground as U.S. stocks declined.
Investor sentiment is improving as coronavirus vaccines are rolled out and data point to a broad-based uptick in economic activity, underpinned by unprecedented central bank stimulus. That's pushing investors toward the higher returns of riskier emerging-market assets while undermining the case for the U.S. dollar, the haven currency of choice.
"Uncertainty is diminishing and the strong global growth recovery should favor the rest of the world," said Patrik Schowitz, global multi-asset strategist at JPMorgan Asset Management, which is underweight the dollar. The currency's weakness is likely to be most notable "against the emerging markets foreign-exchange, which should have cyclical upside and is still relatively cheap."
The Chilean peso and Indonesian rupiah were among the biggest gainers for developing-nation currencies on Monday. The euro rose as much as 0.8% against the dollar toward a high last reached more than two years ago, while the greenback touched the weakest against the Chinese yuan since June 2018.
"Vaccination is creating more risk appetite," said Ulrich Leuchtmann, head of currency strategy at Commerzbank. "With the developed markets central banks stuck at their respective lower bounds, this is unfolding in a very spectacular manner in EM currencies."
https://finance.yahoo.com/news/emerging-markets-start-2021-record-155935447.html
4. What 2020's Equity Volatility Says For 2021
Submitted by DataTrek Research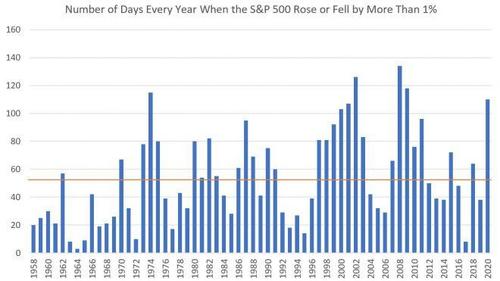 US equities are off to a rocky start to 2021 after an especially volatile 2020, which is exactly why we count the number of trading sessions when the S&P 500 moves more than 1 percent up or down (like Monday). This is our fundamental benchmark of how much investors "feel" volatility, as any one-day move greater than 1 pct to the upside or downside is +1 standard deviation from the S&P's mean daily return back to 1958.
For example, while there is typically one +/-1 pct day/week in normal times, the S&P rose or fell by 1 pct or more on 110 trading days in 2020. That accounted for almost half (43 percent) of trading days last year and marked the fifth most volatile year in the past 6 decades by this measure. Here is the final tally for 2020's count on a quarterly and annual basis:
Q1 2020: 30 one percent days versus the Q1 average of 13 since 1958 (first full year of data).
Q2 2020: 38 one percent days compared to the Q2 average of 13.
Q3 2020: 21 one percent days versus the Q3 average of 13.
Q4 2020: 21 one percent days versus the Q4 average of 14.
2020 overall: 110 one percent days, more than double the whole-year average of 54 over the last 6 decades.
https://www.zerohedge.com/markets/what-2020s-equity-volatility-says-2021
5. Bloomberg Commodity Index at Same Level as 1991
The Bloomberg Commodities Index sits below where it was in 1991! It's not only below 1991 levels but nearly 70% off the highs of 2007.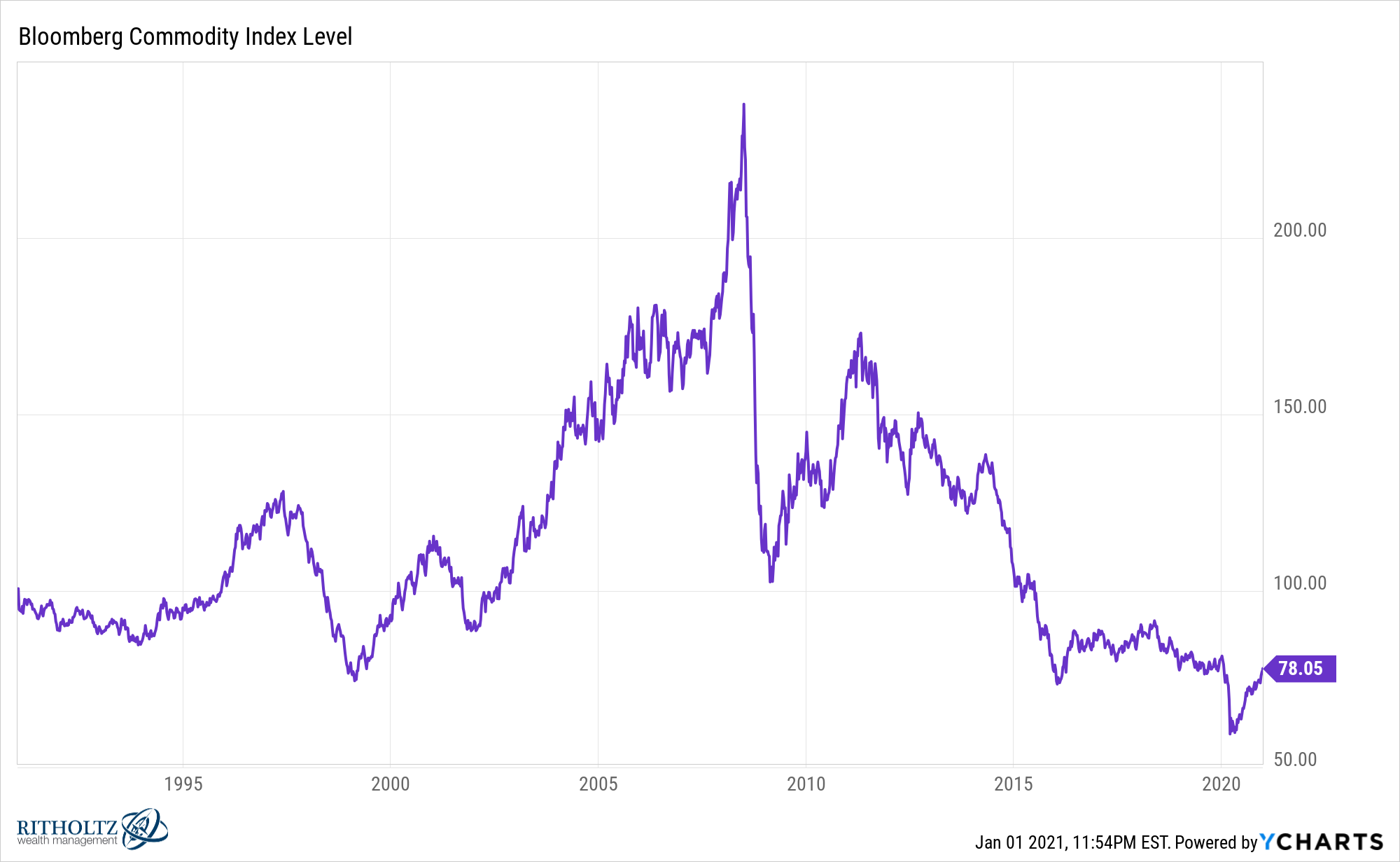 Inflation Truthers Posted January 4, 2021 by Ben Carlson
https://awealthofcommonsense.com/2021/01/inflation-truthers/
6. Consumers Cut Back Credit Card Applications
The notion that consumers are cutting back on credit-card borrowing frazzles the Fed; the sky-high interest rates, in many cases over 20%, in a near-zero interest rate environment, is where banks make extraordinary profits. And consumers, those who can least afford it, are paying out of their nose for these bank profits.
Only 15.7% of consumers said they applied for a credit card over the past 12 months, down from the 25% to 31% range before the Pandemic, and down from 26.3% in February, and by far the lowest in the survey data going back to 2013: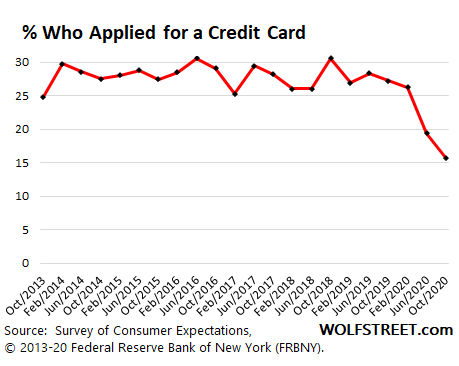 Another Piece of the Puzzle of Plunging Credit Card Balances-by Wolf Richter
7. The Separation to Top 1% Since 1980's
V for Vaccine?–by Niels Jensen of Absolute Return Partners, 1/5/21 https://www.advisorperspectives.com/commentaries/2021/01/05/v-for-vaccine
8. A Cure for Politicians' Stock Trades
And it wouldn't require legislation-NY Times Dealbook
By Andrew Ross Sorkin, Jason Karaian, Michael J. de la Merced, Lauren Hirsch and Ephrat Livni
A simple solution for a long-running problem
The recent controversy over stock trading by lawmakers like Senator Kelly Loeffler of Georgia, who avoided significant losses by selling some shares after key meetings early in the pandemic, revived concerns about how Congress polices its members' portfolios. In his first column of the year, Andrew proposes a simple way to stop politicians' trading in individual stocks.
Use the S.E.C. The agency could create a rule for broker-dealers that requires them to ask "politically exposed persons" — lawmakers, their staff and relatives — to personally answer a questionnaire every time a stock trade is executed, even if a financial adviser instigated it. Those answers and details of the trades could then be forwarded to the S.E.C. and posted publicly on its website within 24 hours.
It's a spin on the S.E.C.'s requirements for its own employees: They must authorize their brokers to send confirmations of all trades directly to the agency. They also cannot trade the stocks of companies under investigation by the agency, and have to clear all trades in advance and certify that they don't have inside information about a company.
This would eliminate a frequent excuse from lawmakers being pressed on their trades: that they weren't involved in day-to-day buying and selling, as Senator David Perdue of Georgia said when he was found to have executed nearly 2,600 trades in one term. And it would shorten the 45-day disclosure delay allowed under the STOCK Act, which prohibits lawmakers from using inside information but allows them to trade in individual stocks. (No member of Congress has ever been prosecuted under the law.)

"There ought to be more sunlight on the people who trade in Congress," Harvey Pitt, a former S.E.C. chairman, told Andrew. "That's why I like this idea."
The main stumbling block is, well, Congress. Lawmakers approve the S.E.C.'s budget, so making this rule would be "like biting the hand that feeds you," Andrew writes. But a new S.E.C. chief is expected to be named in the coming weeks, and has a chance to be bold on this issue.
9. With mass arrests, China neutralizes Hong Kong democracy movement
Shibani Mahtani and Theodora Yu, The Washington Post
Jan. 6, 2021Updated: Jan. 6, 2021 6:10 a.m.
HONG KONG – Before dawn, Facebook news feeds here began filling up, post upon post detailing arrest after arrest. A crackdown on the city's democracy movement was unfolding.
By late morning on Wednesday, at least 53 Hong Kong residents – former lawmakers, activists and an American lawyer among them – had been detained under Beijing's new national security law, and their offices and homes raided. Accused of subversion, they face up to life in prison for holding a primary vote last year ahead of legislative elections that were ultimately postponed and which many of them were barred from contesting.
The raids, which involved more than 1,000 officers, marked the most dramatic onslaught in Chinese leader Xi Jinping's transformation of once-freewheeling Hong Kong into a city gripped by fear under authoritarian rule. China has moved in recent months to reshape Hong Kong institutions, from schools to the media to the legislature, and observers warned that the sweep signaled worse to come.
https://www.greenwichtime.com/news/article/With-mass-arrests-China-neutralizes-Hong-Kong-15849564.php
10. Learn How to Fall Asleep in 2 Minutes with This U.S. Military Technique
By Jessica Stewart on May 13, 2019
Sleep is precious—studies show that 7 to 9 hours a night is the ideal for adults—and a lack of sleep can do a lot more than make you yawn throughout the day. It can also contribute to an increased risk of heart disease, slow down your metabolism, and provoke emotional changes akin to depression and anxiety. But if you're always on the go, it isn't always easy to get in the sleep hours you need. Luckily, the U.S. Army's quick, 2-minute routine will allow you to fall asleep fast and get in some extra ZZZs to keep you happy and healthy.
This trick has been around since at least 1981, when it was published in the book Relax and Win: Championship Performance. In a recent article, Sharon Ackman focuses on the U.S. Navy's technique and has brought renewed interest to the routine. With more people using fitness trackers to monitor sleep, there's an increased focus on how long and how well we sleep at night.
For the Navy, it's vital that their sailors stay energized and alert—it's a matter of life or death. In order to ensure that sailors can fall asleep in any environment, no matter how noisy or distracting, they developed a sure-fire routine that will put anyone to rest. The technique was developed by the U.S. Navy Pre-Flight School and, after six weeks of practice, it had 96% of their pilots able to catch some shut-eye anywhere, at any time.
So, how does it work? Pilots were trained to sleep in upright chairs—anyone who flies frequently knows how uncomfortable that can be—but you can give it a try anywhere. Once you're settled in, the first point of focus is your face. Close your eyes and concentrate on relaxing all of your facial muscles. Let yourself go and breathe out while you relax your mouth, cheeks, tongue, and jaw. Don't forget your eyes either. Not only should they be closed, but also relaxed and set deep into the sockets.
This first phase is key, as it signals to the entire body that you're about to rest. Next, drop your shoulders as low as possible and let your neck go limp. It should feel as though everything is traveling down your body. After this, you can move to your arms, starting with your dominant side. Focus on your biceps, letting them relax and drop down. If you have trouble, tense your arm and then let it go limp.
Once the bicep is relaxed, move down to the forearm and then let your hands and fingers fall like a dead weight. Once you've finished with the dominant arm, move to the other side. Once your upper body is nice and limp, you are halfway to the sleep zone.
Now, you need to move to your legs, starting with your thigh and moving slowly downward. Each step of the way, your muscles should go limp and feel like they are sinking into the ground. Once you've completed one leg, move to the other side. When your entire body is relaxed, the only thing left to do is clear your mind for 10 seconds. Let go of any external thoughts and worries you may have. If you're having trouble, try thinking of yourself tucked up on a comfy couch or curled up in a dark room. Ackman also recommends repeating the phrase, "don't think" over and over for 10 seconds in your head, which will pull focus from other thoughts.
And that's it. In just 120 seconds, you'll be fast asleep whether you're at a busy airport terminal, sitting on a train, or just generally filled with stress and anxiety.
h/t: [IFLScience!]
Disclosure
Lansing Street Advisors is a registered investment adviser with the State of Pennsylvania..
To the extent that content includes references to securities, those references do not constitute an offer or solicitation to buy, sell or hold such security as information is provided for educational purposes only. Articles should not be considered investment advice and the information contain within should not be relied upon in assessing whether or not to invest in any securities or asset classes mentioned. Articles have been prepared without regard to the individual financial circumstances and objectives of persons who receive it. Securities discussed may not be suitable for all investors. Please keep in mind that a company's past financial performance, including the performance of its share price, does not guarantee future results.
Material compiled by Lansing Street Advisors is based on publicly available data at the time of compilation. Lansing Street Advisors makes no warranties or representation of any kind relating to the accuracy, completeness or timeliness of the data and shall not have liability for any damages of any kind relating to the use such data.
Material for market review represents an assessment of the market environment at a specific point in time and is not intended to be a forecast of future events, or a guarantee of future results.
Indices that may be included herein are unmanaged indices and one cannot directly invest in an index. Index returns do not reflect the impact of any management fees, transaction costs or expenses. The index information included herein is for illustrative purposes only.