1. Landmark Event….4000 Global Bonds with Negative Yield to Zero….The End of Negative Yielding Debt in Our Lifetime?
Jim Reid Deutsche Bank-A landmark event, especially as 2 years ago we had $18.4tn globally and over 4000 bonds with a negative yield. Will we ever see the 2014-2022 era again? Before this point most people would have thought negative-yielding debt was an inconceivable concept. While there is no value in buying negative yielding debt, especially in a fiat world where inflation will always likely be positive, you can't rule out central banks having to buy large amounts of debt again in the future. However, for now this looks set to be the welcome end of an era as some value returns to global fixed income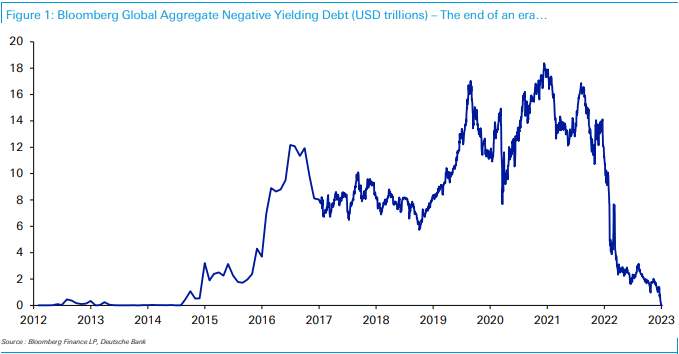 ---
2. Foreign Currencies Rally
Bullish Move …Euro-50 day thru 200day to Upside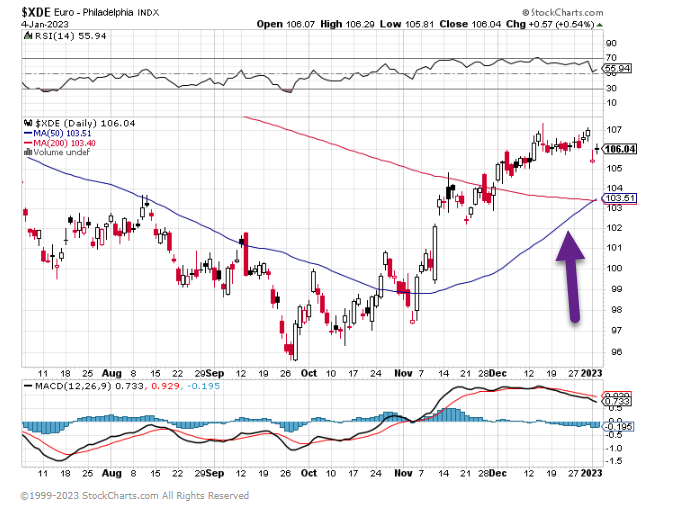 Japanese Yen Closes Above 200 day Moving Average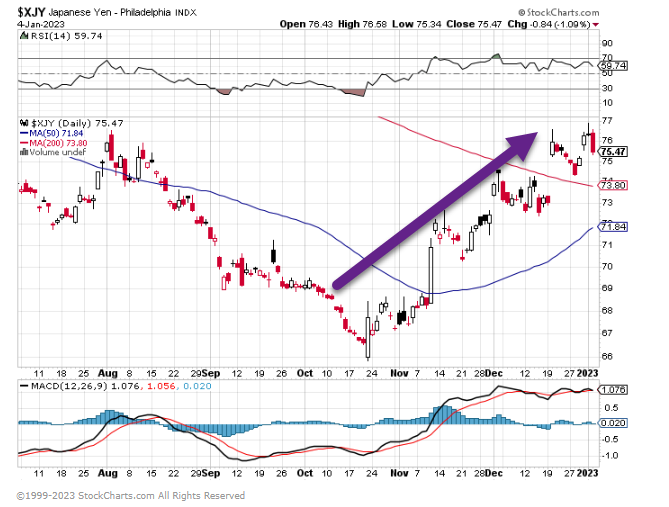 ---
3. Crypto is Not a Currency -Grid Comparing Crypto to Global Currencies.
Nasdaq Dorsey Wright

---
4. Final Sector Performance 2022-Consumer Discretionary Down Almost  -10% More Than Tech
From Jack Ablin-Cresset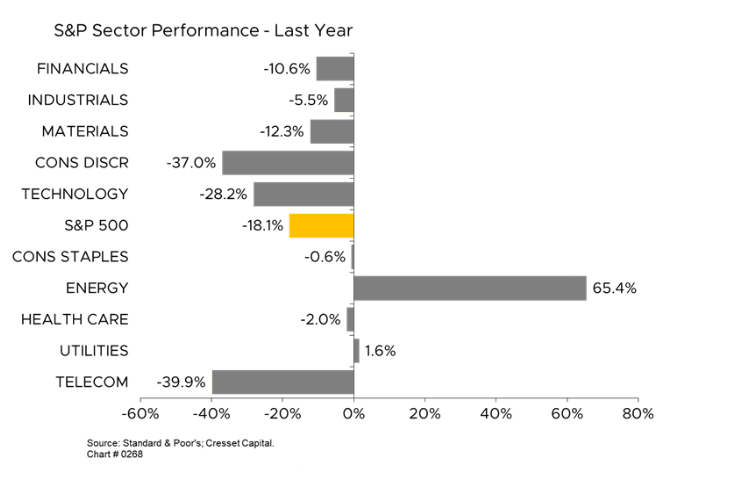 https://cressetcapital.com/post/recap-2022-outlook-2023/
---
5. Consumer Discretionary-Americans Excess Savings Continue to Dwindle
The Daily Shot Blog Excess savings continue to dwindle, pointing to softer consumption ahead.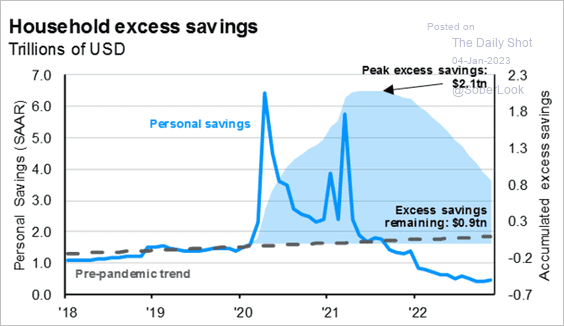 Morgan Asset Management Read full article
---
6. Homebuilder Stocks Resilient
XHB Homebuilder ETF Bullish Signal 50day thru 200day to Upside?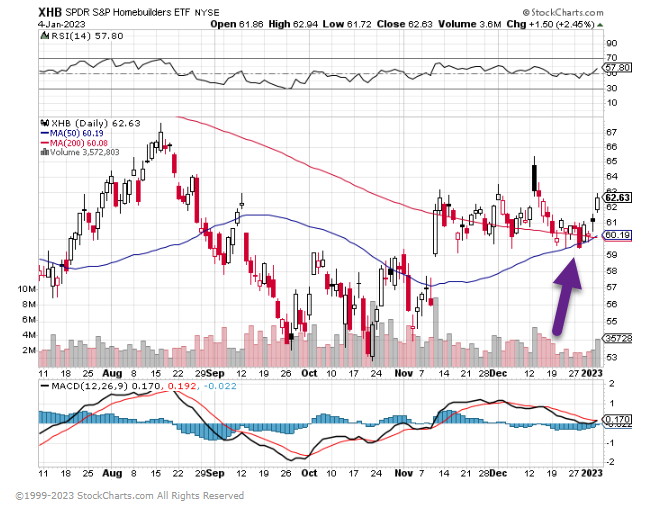 Longer-Term Weekly Chart-The ETF Never Broke 200 Week Moving Average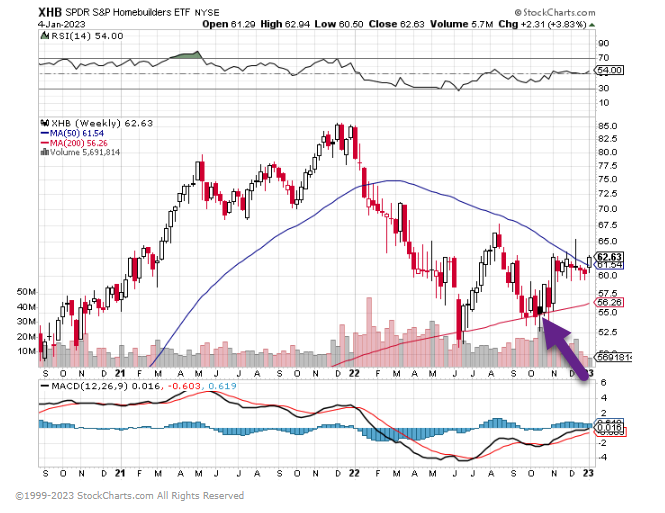 ---
7. New Home Google Search 2021 vs. 2022 ..Big Year Over Year Search Declines.
Salt Lake home builders take notice of the massive shift from buying to renting.
As of October, Salt Lake had seen the biggest decline in new home search, & the least decline in single-family home rental search.
Biggest/least YOY search declines:
* New Homes: Salt Lake/DC
* Existing Homes: San Diego/Vegas
* Apts: W. Palm/Minn.
* SF rental: San Fran/Salt Lake(+2%)/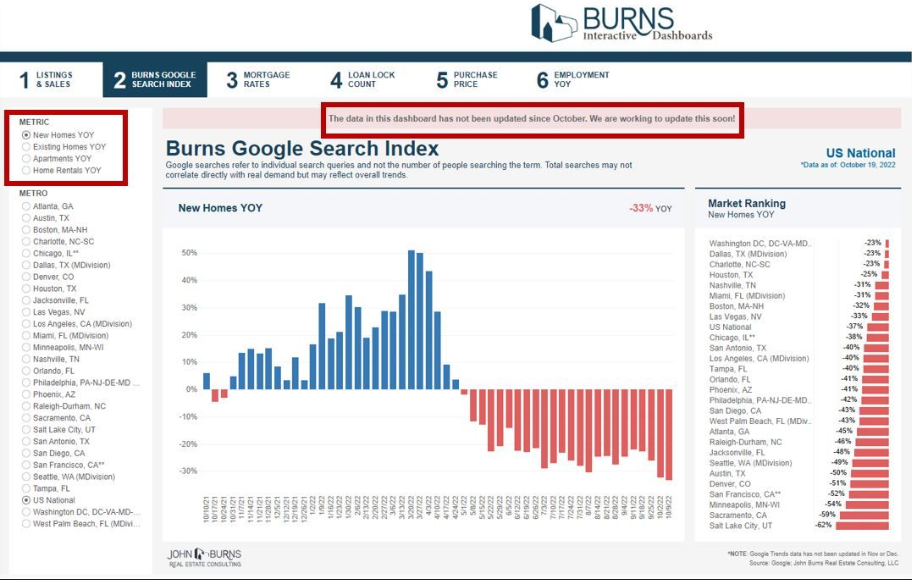 https://www.linkedin.com/in/johnburns7/
---
8. Byron Wien Famous 10 Surprises Predictions
The Ten Surprises of 2023-Byron Wien Blackstone
Multiple candidates on both sides of the aisle organize campaigns to secure their party's presidential nomination. There are new headliner names on the respective tickets for 2024.
The Federal Reserve remains in a tug-of-war with inflation, so it puts the word "pivot" on the shelf alongside the word "transitory." The fed funds rate moves above the Personal Consumption Expenditures price index and real interest rates turn positive, a rare phenomenon relative to the last decade.
While the Fed is successful in dampening inflation, it over-stays its time in restrictive territory. Margins are squeezed in a mild recession.
Despite Fed tightening, the market reaches a bottom by mid-year and begins a recovery comparable to 2009.
Every significant correction in the market has in the past been accompanied by a financial "accident." Cryptocurrencies had a major correction and that proved not to be a systemic event. This time, Modern Monetary Theory is fully discredited because deficits have proven to be inflationary.
The Fed remains more hawkish than other central banks, and the US dollar stays strong against major currency pairs, including the yen and euro. This creates a generational opportunity for dollar-based investors to invest in Japanese and European assets.
China edges toward its growth objective of 5.5% and works aggressively to re-establish strong trade relationships with the West, with positive implications for real assets and commodities.
The US becomes not only the largest producer of oil, but also the friendliest supplier. The price of oil drops primarily as a result of a global recession, but also because of increased hydraulic fracking and greater production from the Middle East and Venezuela. The price of West Texas Intermediate crude touches $50 this year, but there's a $100 tick out there sometime beyond 2023 as the world recovers.
The bombardment, destruction and casualties in Ukraine continue for the first half of 2023. In the second half, the combination of suffering and cost on both sides necessitates a ceasefire and negotiations on a territorial split begin.
In spite of the reluctance of advertisers to continue to support the site and the skepticism of creditors about the quality of the firm's debt, Elon Musk gets Twitter back on the path to recovery by the end of the year.
The "Also Rans" of 2023
Because of medical breakthroughs across the board, many people decide on a cryogenic burial, expecting to be defrosted when a cure for the disease that caused their demise is discovered. Funeral homes across the country advertise that "It's Nice to Be On Ice."
A technology breakthrough in reducing the carbon emissions of coal-fired plants takes the edge off the climate / global warming scare. This lowers the political pressure on emerging markets to make a rapid transition to renewable energy sources.
India begins to compete seriously to win/retain the manufacturing base that started looking for a new home after becoming increasingly uneasy with the uncertainty that has continuously surrounded US–China policies. The country initiates a campaign to attract global multinationals, focusing on its young population, relatively low income and growing consumer market, and prioritizing policies that incentivize investment in the auto, energy, pharma and tech sectors. Apple and Samsung are a proof of concept after successfully producing their respective flagship phones for global markets.
https://www.blackstone.com/insights/article/byron-wien-and-joe-zidle-the-ten-surprises-of-2023/
---
9. The End of Cash in Society Means the End of Bank Robberies
From Morning Brew Newsletter https://www.morningbrew.com/daily
Denmark did not have a single bank robbery last year. This could explain why.
Natalie Neysa AlundUSA TODAY
In a near cashless country, the number of bank robberies in Denmark remarkably dipped to zero last year, a new financial report shows.
In 2021, the Nordic country saw one bank robbery – down from 222 two decades ago, according to data from Finance Denmark, an industry group for lenders. 
Last year, it reported none.
Bank heists in the Scandinavian country have declined steadily since 2000, Michael Busk-Jepsen, director of digitalization at Finance Denmark, told USA TODAY Tuesday.
Increased camera surveillance, improved alarm systems and stronger cooperation with the police have helped to bring the number down, he said. In addition, beefed-up security, a reduce used of cash and a dramatic decrease in the number of Danish cashiers also helped.
Of the some 800 bank branches in Denmark, he said, less than two dozen still have staff handling cash deposits and cash withdrawals. Most customers use one of the approximate 2,000 ATMs in the country.
"And the reduction in the number of cashiers in Denmark is largely due to the fact that most payments in Denmark are made by payment cards or other digital payment options," Busk-Jepsen said.
According to the Danish Central Bank, in 2021 only 12% of payments in physical shops in Denmark were made by cash. In 2017 the same figure was 23%, he said.
How many bank robberies were reported in the US?
Last year's bank robbery numbers in the United States were not available as of Tuesday, but according to statistics from the U.S. Department of Justice, the Federal Bureau of Investigation reported 1,724 of them took place in 2021, up 224 from the year prior when the coronavirus pandemic hit.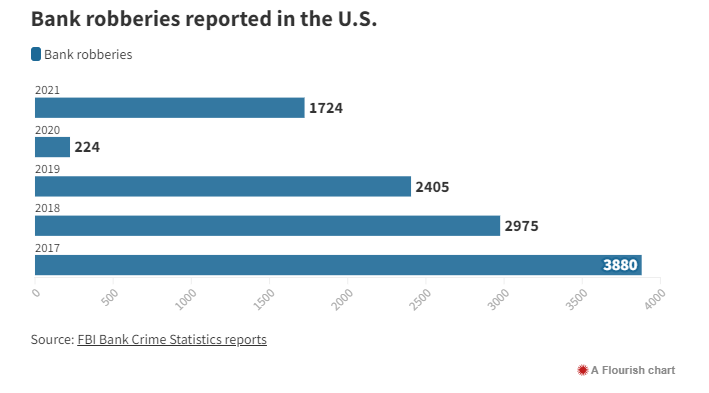 What other countries are headed cashless?
Norway, Finland and New Zealand are countries closest to becoming cashless, followed by Hong Kong, Sweden, Denmark, Switzerland, the UK, Singapore and the Netherlands, according to research published by Merchant Machine.
Here's how the U.S. compares with some other nations in the push to go cashless, according to a late November survey byYouGov Plc for Bloomberg that showed how frequently respondents said they rarely or never used cash in transactions.
United Kingdom: 57%
Canada: 55%
U.S. 47%
France: 44%
Italy: 28%
Natalie Neysa Alund covers trending news for USA TODAY. Reach her at nalund@usatoday.com and follow her on
Twitter @nataliealund. https://www.usatoday.com/story/money/2023/01/04/denmark-reports-no-bank-robberies-going-cashless/10983028002/?utm_campaign=mb&utm_medium=newsletter&utm_source=morning_brew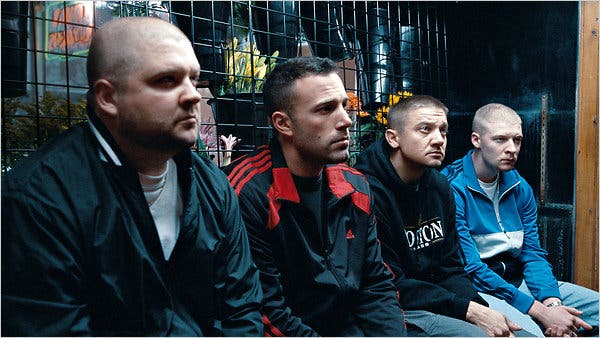 ---
10. 4 New Year's Resolutions You Should Make (and Keep) to Guarantee Your Success
By Gary Vaynerchuk | 
As the year comes to a close, people are naturally going to be talking about their New Year's resolutions and setting goals for self-improvement. But want to know what I think you should really be focusing on in the new year? These four ways to further your career and be successful at whatever it is that you do:
1. Become a deep practitioner in something.
Whether you do it for your business or just for yourself as a hobby, practice something on a deep level. One of the reasons my agency VaynerMedia has grown to be such a leader in our industry is because I use social media every single day. I understand the trigger points that make things successful in a creative world. I also understand the context of the platforms like Snapchat and Instagram. There hasn't been a single one of my more than 200,000 tweets that I haven't sent myself.
So, whether it's Instagram, Snapchat or something new, become a practitioner. Stop judging what people are doing or saying and just engage.
2. Audit your 7 p.m. to 2 a.m.
Back in the days of my first big keynotes and my first book, Crush It, I began to get obsessed with the time period between 7 p.m. and 2 a.m. I do not think that there is a more practical self-improvement goal or way to bring happiness and joy to your life, whether it's financial or creative, than to really audit how you spend your time between 7 p.m. to 2 a.m.
I am quite practical about things; it might not be what people expect from me, but I am. That time between when the traditional work day ends and when you fall asleep is the white space for people to do great things around their work. Whether that's advancing your career by staying in the office late, or going home and building out your cooking blog or SoundCloud account, use that time more wisely.
3. Practice self-awareness.
I went on this kick publicly for the 18 months and, personally, my entire life. I believe self-awareness is the greatest gift a person can have. Having tried to tackle finding self-awareness, I promise—if, out of this entire article, you make just this self-improvement goal a priority—you will grow happier and more successful. 
4. Eliminate complaining.
Looking at the negative, seeing the glass as half-empty and complaining are the absolute biggest wastes of time a human being can engage in. I highly recommend, whether it is through therapy or just kicking the habit, that you cut your complaining in half until you are no longer used to just doing it without thinking.
Systematically. Post-it notes. Listening to positive podcasts. Doing mediation. Whatever helps you complain less. It truly is one of the biggest roadblocks to success, both professionally and personally. I would be remiss not to have it on this list.
This post originally appeared on GaryVaynerchuk.com.
This article was published in December 2015 and has been updated. Photo by Inside Creative House/Shutterstock
https://www.success.com/4-new-years-resolutions-you-should-make-and-keep-to-guarantee-your-success