1. How Much Positive News is Priced into Clean Power?
PBW Clean Energy ETF -$25 to $131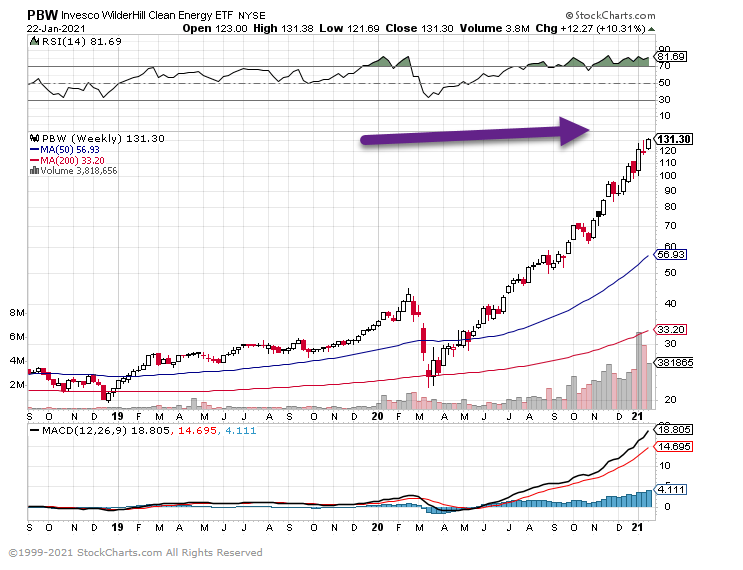 2. Trough to Peak Comparisons of Speculative Bubbles.
From: Jim Reid DB Bank
Yesterday I published my latest chart book (link here) which asked whether there were bubbles in financial markets. As it's Friday we thought we'd have some historical fun by looking at a selection of bubbles through history plus Bitcoin and NYFANG+ for context. Although most are over the last five decades, there are some favourites from the history books spliced in.
The calculation is based on the trough to peak % move within three years of the eventual highs. Basically the Bitcoin price move to the recent peak was 'only' around half that of the tulip bubble back in 1637. It's probably not a chart to take too seriously but it shows some of the big bubble type moves of the last 50 years in some historical context.
In doing the research on bubbles for the pack, it was noticeable that there were more potential examples of bubbles over the last 50 years than any other period in history. This could be that more data is available now but my view has long been that it's also a product of the fiat money system we've been in since 1971. I discussed this at length in my 2017 long-term study "The Next Financial Crisis" (link here) where I suggested that the fiat money era was much more prone to an endless cycle of boom and busts than systems where money was fixed to precious metals like gold. I still firmly believe this and continue to think we're in a boom, bust, boom, bust (repeat to fade) global asset price era. For now we're certainly in the liquidity fueled boom part!
There is more on what investors think of bubble risks and many other things here in our monthly survey results.
Also I did another podcast this week with the CEO of Legal and General Nigel Wilson. Click here to listen to Nigel's frank views on many things including his view that long term investing should be supporting the huge technological/green revolution and move away from traditional investments such as government bonds. This is the fourth in a series where I speak to C-suite executives about a wide variety of topics. If you know someone who would like to be on a future edition please let me know.
3. Goldman Sachs Basket of 50 Most Shorted Stocks +21% YTD 2021
Last week SFIX soared….37% of float is short.
The stock is setting all-time highs on a daily basis at the moment and has delivered a 257% return over the last 52 weeks. Stitch Fix's skyrocketing stock has its fair share of detractors, and 37% of the share count is currently sold short.
https://www.fool.com/investing/2021/01/22/why-stitch-fix-shares-are-soaring-today/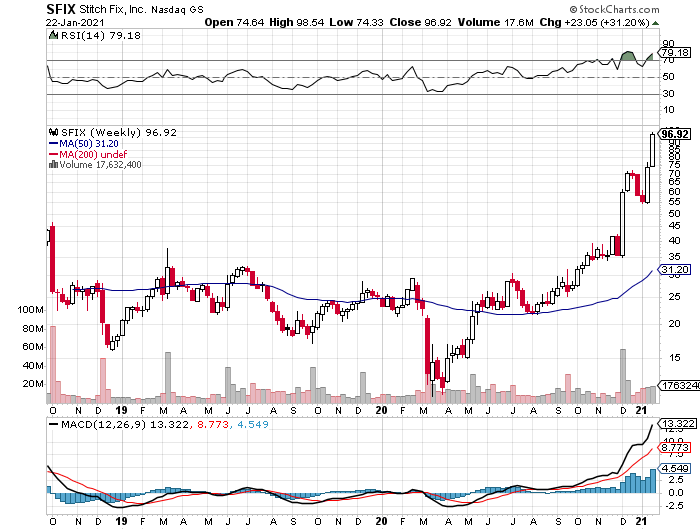 4. Percentage Above 200 Day for ACWI Global Index.
Percent above 200 day at record levels.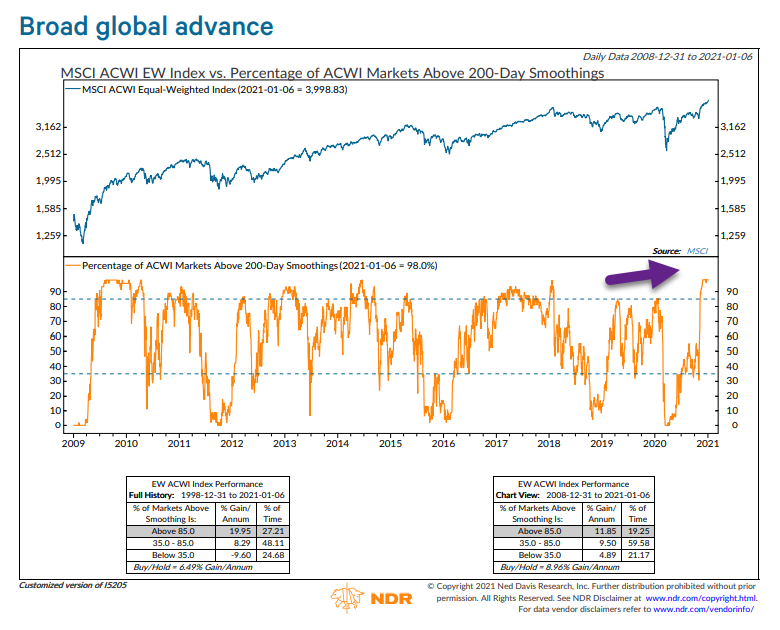 Ned Davis Research www.ndr.com
5. Another Look at Expensive Fundamentals
CNBC–Right now, it's hard to deny that on the whole, stocks are rich relative to past earnings and forecast earnings. The trailing price/earnings ratio of the median U.S. stock, tracked by Ned Davis Research, has never been higher.
Based on 2021 forecasts, fewer than a third of the companies in the S&P 500 trade for under a 15 P/E, the rough long-term average trailing multiple. It's a list packed with banks, insurers, "post-growth" Old Tech and slow-moving drug distributors.
This battery of valuation tests from Goldman Sachs shows the market to be at or near the most-expensive levels in recent history on most measures: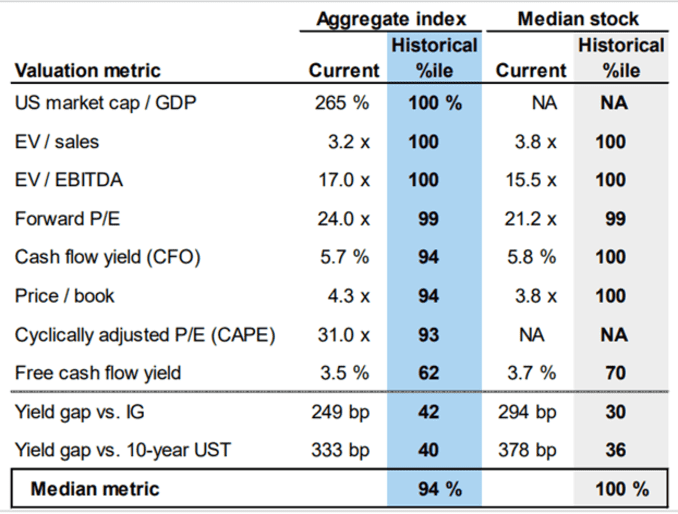 Goldman Sachs
The stock market is at or near the most-expensive levels ever by most measures. When will it matter?Michael Santoli https://www.cnbc.com/2021/01/23/the-stock-market-is-at-or-near-the-most-expensive-levels-ever-by-most-measures-when-will-it-matter.html
6. Emerging Markets Pass 2007 Peak on Price Basis
Ben Carlson–Emerging markets. Not a bubble. Surprisingly, emerging markets have now more or less caught up to the S&P 500 over the past 5 years:
But look at the 10 year returns: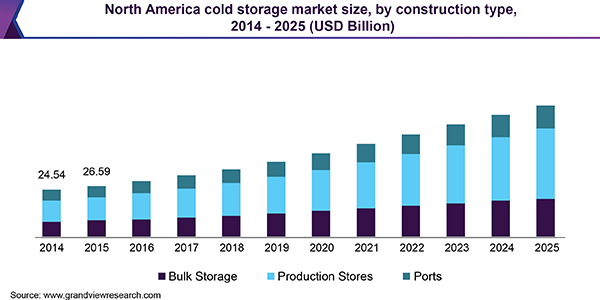 And since the onset of the Great Financial Crisis in the fall of 2007, emerging markets are up just 3.7% per year (against an annual return of 9.4% for the S&P 500).
On a price basis, the MSCI EM Index has just this year surpassed the 2007 peak:
Markets That Are Definitely NOT In a Bubble Posted January 21, 2021 by Ben Carlson
https://awealthofcommonsense.com/2021/01/markets-that-are-definitely-not-in-a-bubble/
7. Cold Storage Industry
Grand View Research
The global cold storage market size was valued at USD 94.02 billion in 2018 and is projected to expand at a CAGR of 12.2% during the forecast period. The market has benefitted significantly from the stringent regulations governing the production and supply of temperature-sensitive products. The industry is poised for unprecedented growth over the forecast period owing to growing organized retail sectors in the emerging economies.
Moreover, rising automation in refrigerated warehouses is projected to boost the demand further. Warehouse automation includes cloud technology, robots, conveyor belts, truck loading automation, and energy management. Refrigerated storage has become an integral part of the Supply Chain Management (SCM) when it comes to transporting and storing temperature-sensitive products.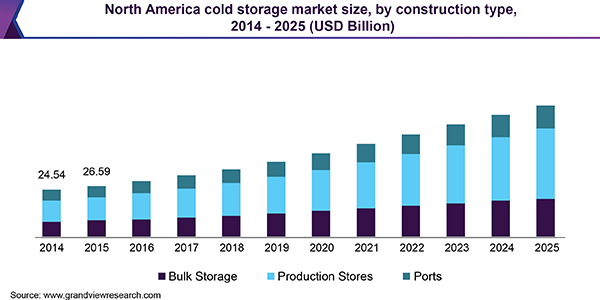 To learn more about this report, request a free sample copy
https://www.grandviewresearch.com/industry-analysis/cold-storage-market
8. Need a lift? SpaceX launches record spacecraft in cosmic rideshare program
By Helen Coster
FILE PHOTO: SpaceX owner and Tesla CEO Elon Musk poses after arriving on the red carpet for the Axel Springer award, in Berlin, Germany, December 1, 2020. REUTERS/Hannibal Hanschke/Pool
(Reuters) – A veteran rocket from billionaire entrepreneur Elon Musk's SpaceX aerospace company launched 143 spacecraft into space on Sunday, a new record for the most spaceships deployed on a single mission, according to the company.
The Falcon 9 rocket lifted off at 10 a.m. EST from the Space Launch Complex 40 at Cape Canaveral Space Force Station in Florida. It flew south along the eastern coast of Florida on its way to space, the company said.
The reusable rocket ferried 133 commercial and government spacecraft and 10 Starlink satellites to space – part of the company's SmallSat Rideshare Program, which provides access to space for small satellite operators seeking a reliable, affordable ride to orbit, according to the company.
SpaceX delayed the launch one day because of unfavorable weather. On Jan. 22 Musk, also chief executive of Tesla Inc., wrote on Twitter: "Launching many small satellites for a wide range of customers tomorrow. Excited about offering low-cost access to orbit for small companies!"
SpaceX has previously launched to orbit more than 800 satellites of the several thousand needed to offer broadband internet globally, a $10 billion investment it estimates could generate $30 billion annually to help fund Musk's interplanetary rocket program, called Starship.
Reporting by Helen Coster; Editing by Daniel Wallis
Our Standards: The Thomson Reuters Trust Principles.
https://www.reuters.com/article/us-spacex-launch-satellites/need-a-lift-spacex-launches-record-spacecraft-in-cosmic-rideshare-program-idUSKBN29T0OI
9. Anti-Government Groups Modern History.
Found at Barry Ritholtz The Big Picture. https://ritholtz.com
10.The Trap of Busy
Everyone who wants to be busy is busy.
But not everyone is productive.
Busy is simply a series of choices about how to spend the next minute.
Productive requires skill, persistence and good judgment. Productive means that you have created something of value.
Perhaps your self-created busy-ness is causing you to be less productive.
JANUARY 21, 2021
https://seths.blog/2021/01/the-trap-of-busy/
Found at Abnormal Returns Blog www.abnormalreturns.com
Lansing Street Advisors is a registered investment adviser with the State of Pennsylvania..
To the extent that content includes references to securities, those references do not constitute an offer or solicitation to buy, sell or hold such security as information is provided for educational purposes only. Articles should not be considered investment advice and the information contain within should not be relied upon in assessing whether or not to invest in any securities or asset classes mentioned. Articles have been prepared without regard to the individual financial circumstances and objectives of persons who receive it. Securities discussed may not be suitable for all investors. Please keep in mind that a company's past financial performance, including the performance of its share price, does not guarantee future results.
Material compiled by Lansing Street Advisors is based on publicly available data at the time of compilation. Lansing Street Advisors makes no warranties or representation of any kind relating to the accuracy, completeness or timeliness of the data and shall not have liability for any damages of any kind relating to the use such data.
Material for market review represents an assessment of the market environment at a specific point in time and is not intended to be a forecast of future events, or a guarantee of future results.
Indices that may be included herein are unmanaged indices and one cannot directly invest in an index. Index returns do not reflect the impact of any management fees, transaction costs or expenses. The index information included herein is for illustrative purposes only.