1. Peak to Trough Internet Bubble History
Kailash Concepts https://kailashconcepts.com/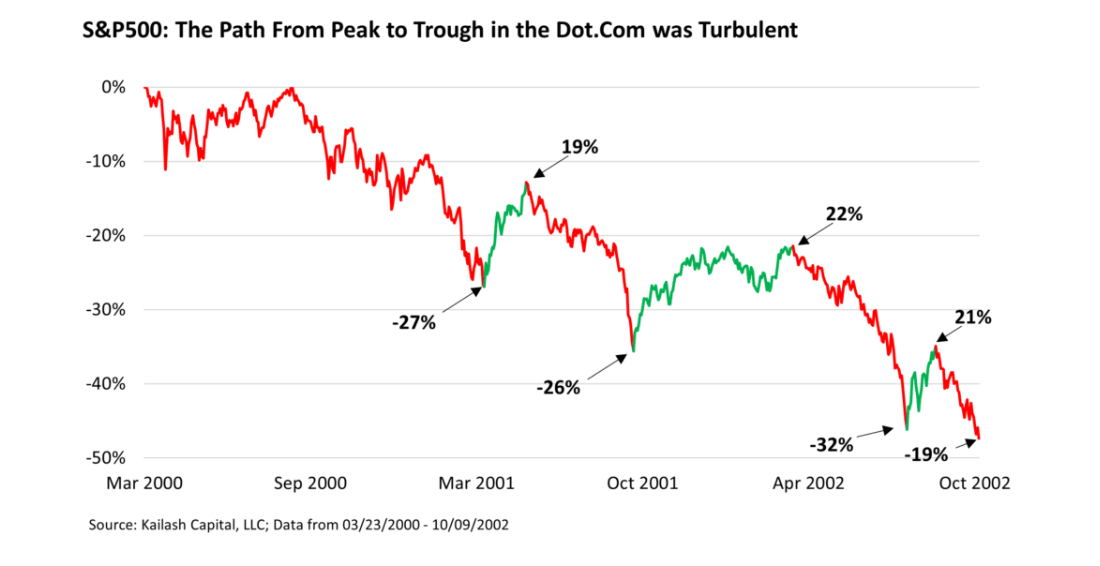 ---
2. Most Crowded Trades January 2023

FW: https://www.zerohedge.com/markets/long-chinese-stocks-seen-among-most-crowded-trades
---
3. Growth Vs. Value Forward P/E Spread Collapses.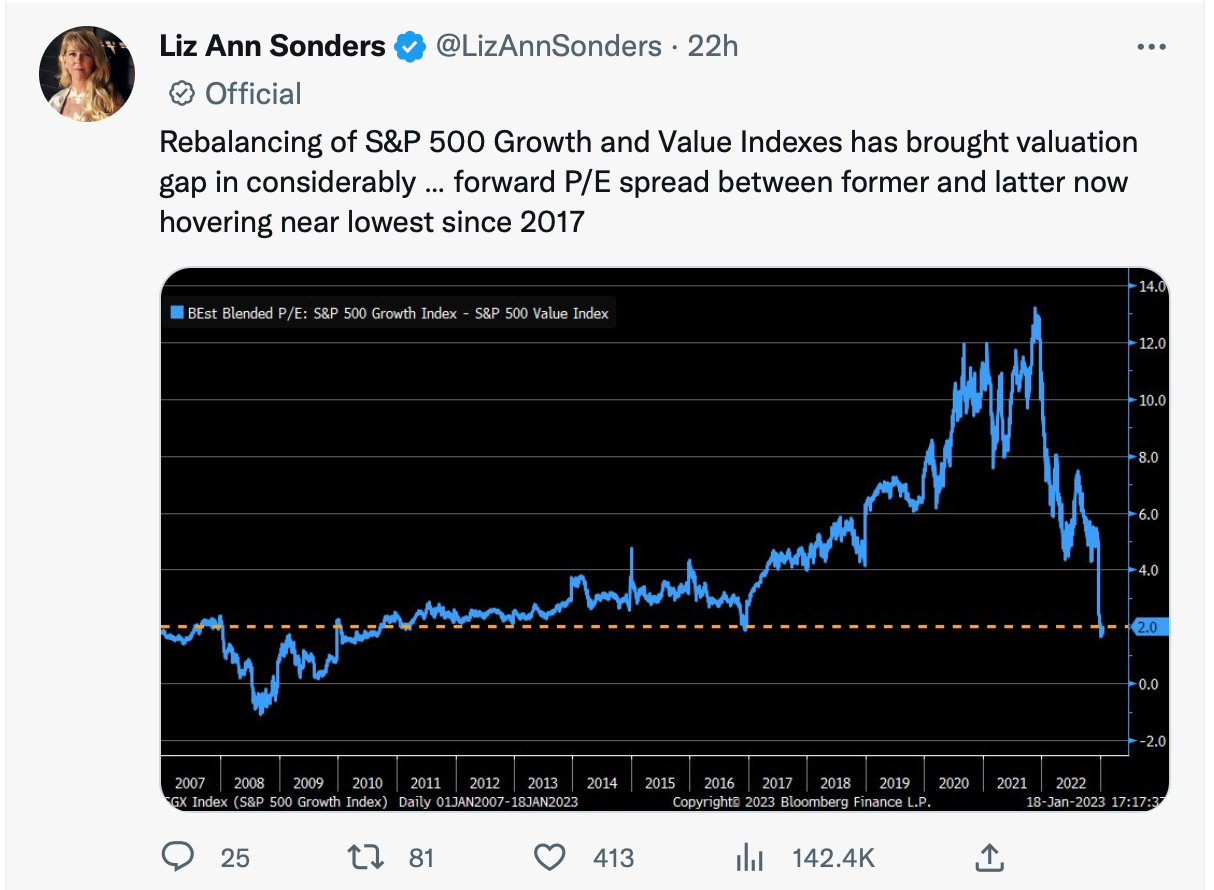 Liz Ann Sonders Schwab https://twitter.com/search?q=liz%20ann%20sonders&src=typed_query
---
4. Netflix Rallying Back to Resistance
NFLX almost back to April 2022 levels still below 200 day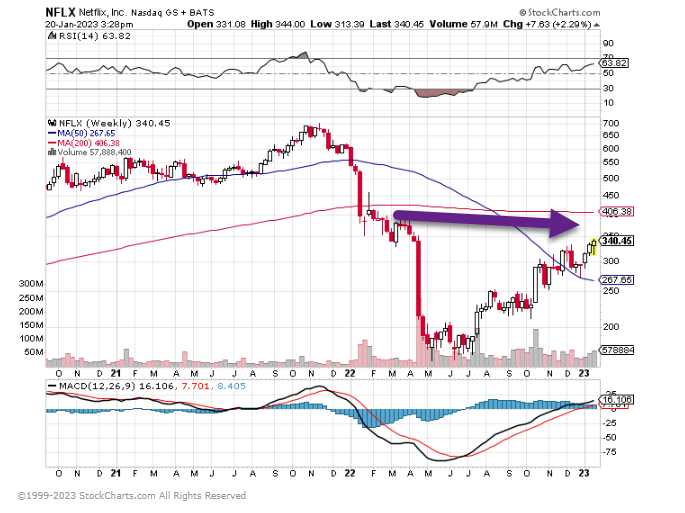 ---
5. More Inflation Decline Data…How do Equities Perform After Inflation Peak?
Invesco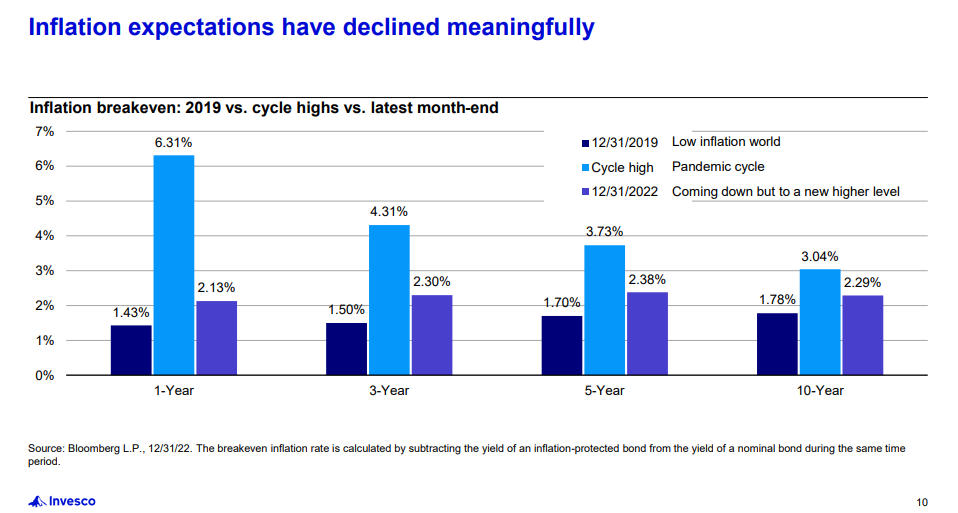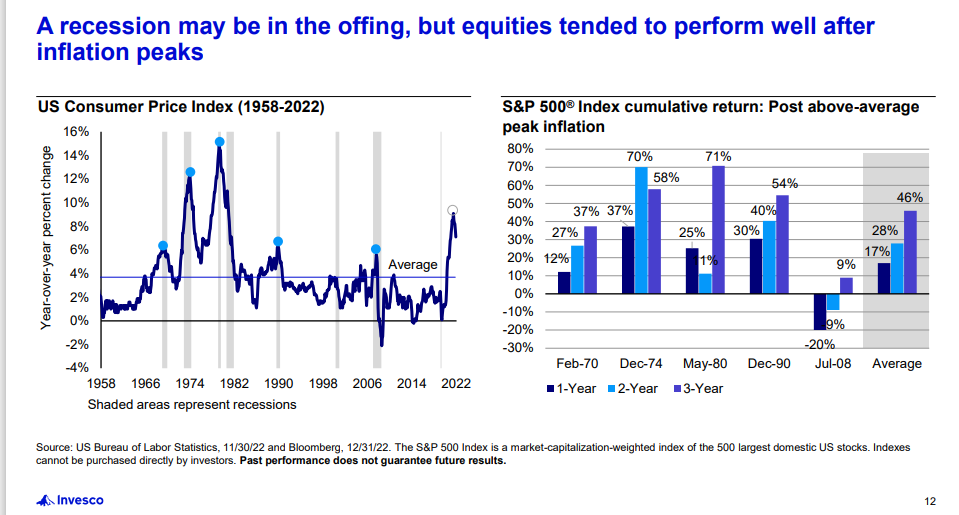 2023 Outlook Roadmap to Recovery update.pdf
---
6. Vanguard Long Duration Treasury Rally.
Long-Duration Treasury ETF Rallies to Red Downtrend Line Dating Back to 2020…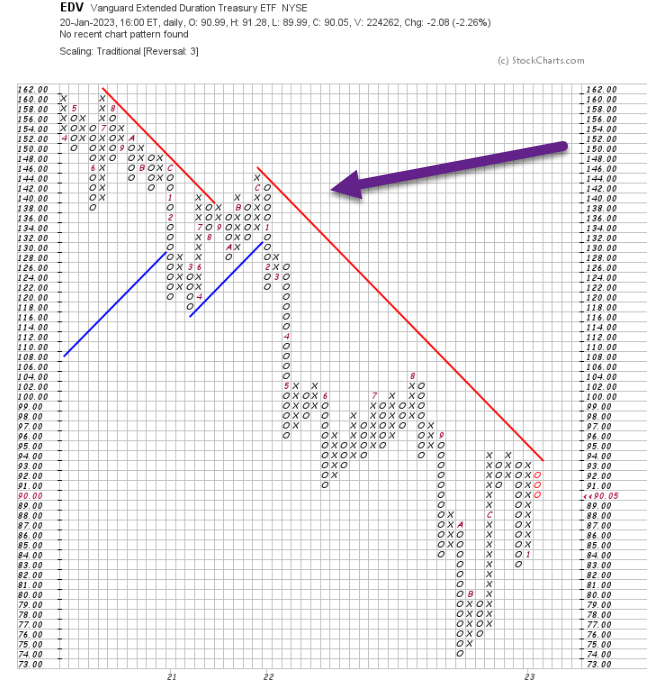 ---
7. Tax Receipts Up 52% from Two Years Ago
Wolf Street Blog-The path that government spending has been on for the past three years is clearly wrong-headed. And maybe someday, when interest expense eats up 50% of tax receipts as it did in the 1980s – and not 22.9% as it does today – then just maybe we might see some real discussion and action in Congress about curtailing these ridiculous deficits. But we're a million miles away from that. And the Fed is doing exactly what it needs to do — hiking interest rates — to curtail inflation and to gently begin nudging Congress to take the deficits a little more seriously.
Tax receipts spiked by 21.5% year-over-year and by 52% from two years ago. This is what pays for the interest expense: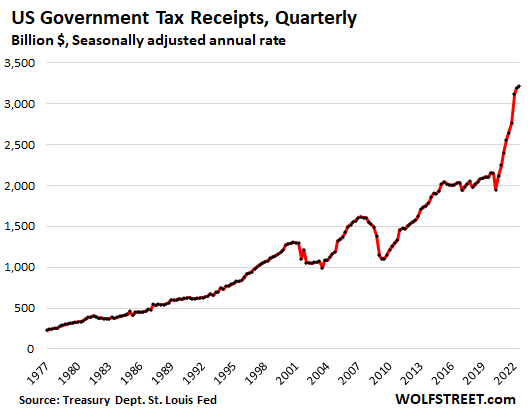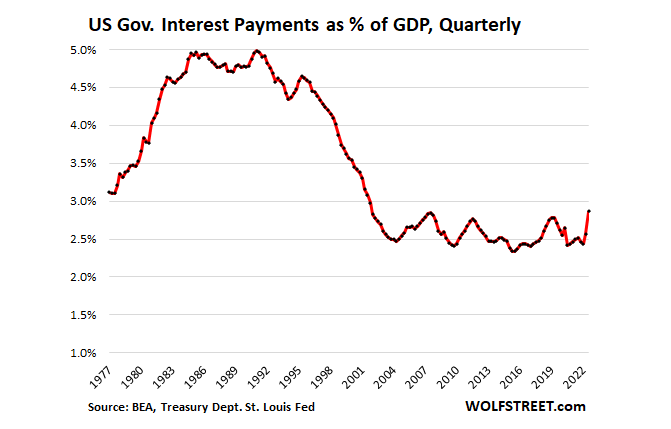 ---
8. U.S. Home Starts Fell for First Time Since 2009
Found at The Daily Shot Blog https://dailyshotbrief.com/
---
9. Some home builders are offering mortgage rates as low as 3%. Here's how — and why — they're doing it.
Aarthi Swaminathan-Marketwatch
Home builders are playing hardball by offering mortgage rates as low as 3% on new homes to boost buyer demand
Home builders are playing hardball by offering mortgage rates as low as 3% on new homes to boost buyer demand. So how and why are they doing that?
For starters, home builders are feeling a lot less gloomy these days, as mortgage rates dip and buyer demand picks up. Mortgage demand surged on Wednesday, with buyers rushing in to catch a dip in rates.
"There is considerable pent-up demand for people to get into homeownership," Jason Will, senior vice president of market growth at Embrace Home Loans, told MarketWatch. The lender is based in Newport, R.I., and generated over $6.5 billion in mortgages in 2022 for 20,000 homeowners.
Some builders are upping the ante by offering very low interest rates for buyers.
In California, Pacific Point Communities is offering a 4-bedroom home at a mortgage rate "as low as 2.75%."
In Texas, Pulte Homes is offering a 30-year fixed-rate mortgage at 4.25% for single-family homes from three to five bedrooms.
And in various parts of the country, K. Hovanian is offering a fixed-rate mortgage at 4.99%.
Yet, the 30-year fixed-rate mortgage is at 6.04%, according to Mortgage News Daily, which is still double where it was a year ago.
By offering to bring buyers' mortgage rates down, these home builders are throwing out concessions instead of cutting prices to entice buyers stuck on the sidelines.
How exactly can builders offer such low rates? 
Home builders have more margin built into their financial model that allows them to offer bigger concessions to homebuyers, Embrace's Will explained.
Margin refers to the profit builders make selling a new home, after accounting for construction costs, and other expenses.
"They're able to use [that] to finance both permanent and temporary buydowns that allow for lenders to offer lower introductory rates," Will continued.
A mortgage-rate buydown is when a seller pays to cut the buyer's mortgage rates by a certain number of points for a set number of years (or permanently).
The process is complex on the back end. Embrace Home Loans works months in advance with a builder to "lock in" mortgage rates with a forward commitment.
Once the builder comes to the lender and says they're expecting a set number of buyers for their units, Embrace buys options, Will explained, and locks out rates before the homes are sold.
Some builders are eating the difference between the prevailing mortgage rate and what consumers will accept, just to get inventory moving and empty homes off their back.
Then these "locked" mortgages with fixed low rates are passed from the builder to the prospective buyer. "And so it's a way of the builder being able to create a competitive advantage for themselves," Will said.
Put simply, some builders are eating the difference between the prevailing mortgage rate and what consumers will accept, just to get inventory moving and empty homes off their back.
"Buyer incentives were widespread and construction costs were generally high, putting downward pressure on builders' margins," the Dallas Fed reported in the Federal Reserve's Beige Book survey.
Builders also lowering mortgage rates to get around reducing prices, as this can affect the value of homes that have already been sold, Will said, and also their ability to raise prices on future homes.
Economists expect mortgage rates to drop further over the course of the year. That's no doubt good news for the many buyers who are wading back into the real-estate pool.
"We've seen a few quarters of stagnation while consumers have been waiting" for rates to drop, Will said. "And now we're seeing green shoots of that — they're beginning to get back into the market."
Got thoughts on the housing market? Write to MarketWatch reporter Aarthi Swaminathan at aarthi@marketwatch.com
https://www.marketwatch.com/story/some-home-builders-are-offering-mortgage-rates-as-low-as-3-heres-how-and-why-theyre-doing-it-11674145343?mod=home-page
---
10. 10 Traits of High Sales Performers
By Jeffrey Gitomer | August 7, 2022 | 0 
I once read about a big benefits-management company that conducted a survey where it asked 365 CEOs and sales-management executives, "What are the three key factors that separate high-performing sales professionals from moderate- to low-performing sales professionals?"
Both CEOs and C-level sales executives (all people who don't sell, but rely on their salespeople to get paid) ranked self-discipline/motivation as the most important factor.
Next in line were customer knowledge, innate talent/personality and product knowledge. Further down the list were experience and teamwork skills. Totally bogus.
These are qualities of corporate greed, not value, service or help—the three things that customers require to give you their business and maintain loyalty.
If you're interested in the most important qualities of a high-performing salesperson, let me give you a realistic list of the characteristics needed for success:
Perpetual, consistent positive attitude and enthusiasm
This is the first rule of facing the customer, facing the obstacles, facing the competition, facing the economy and facing yourself.
Belief that the customer will be better off
Unwavering belief in your company, in your product and in yourself are the first three parts. But most critical is that you must believe that the customer is better off having purchased from you.
Use of creativity
Use creativity to present ideas in the customer's favor and to differentiate yourself from the competition.
Ability to give and prove value
Prove the value of your product or service, as well as your ability to give value to the prospect beyond the sale so you earn the order, the reorder and the loyalty of your customers.
Ability to promote and position
Your use of the internet to blog, create e-zines, utilize social media and achieve top-ranking in Google searches leads customers to perceive you as a value-provider and a leader in your field.
Exciting, compelling presentation skills
You must develop not just solid communication skills, but superior questioning skills, listening skills and a sense of humor, as well as the innate ability to capture the imagination (and the wallet) of customers.
Ability to prove your value and claims through the testimony of others
Testimonials sell where salespeople can't. The best salespeople use video testimonials to support their claims. But you don't get testimonials; you earn them. Same with referrals.
Ability to create an atmosphere where people want to buy (because they hate being sold)
This is done by engaging and asking, not presenting and telling. Make your customers feel as if you are working with them to find them the best product possible, not just telling them what you think would be best.
Ability to build a relationship, not hunt or farm
I wonder if the executives talking about the factors of great salespeople are the same one who are dividing their salespeople into hunters and farmers. Great salespeople are relationship-builders who provide value and help their customers win. They possess unyielding personal values and ethics. It's interesting that 365 executives don't deem those qualities to be in the top 10.
The personal desire to excel and be their best
This is a desired quality of every salesperson, but the best salespeople have mastered the other 10 elements. And the key is that all 10 must be mastered in order for this quality to manifest itself.
There is no prize in sales for second place. It's win or nothing. The masters know this and strive for—fight for—that winning edge.
This article was published in February 2010 and has been updated. Photo by Krakenimages.com/ShutterstockJeffrey Gitomer
https://www.success.com/jeffrey-gitomer-the-ten-traits-of-high-sales-performers/