1. The Russell 1000 value index has jumped 14.5% since early November, nearly triple the gain of its growth-stock counterpart, which is dominated by technology
From Dave Lutz at Jones Trading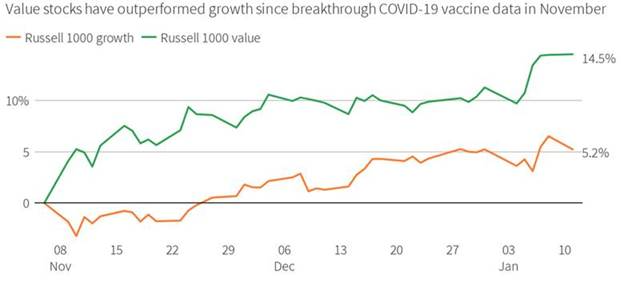 2. Returns 3-6-12 Months After New Congress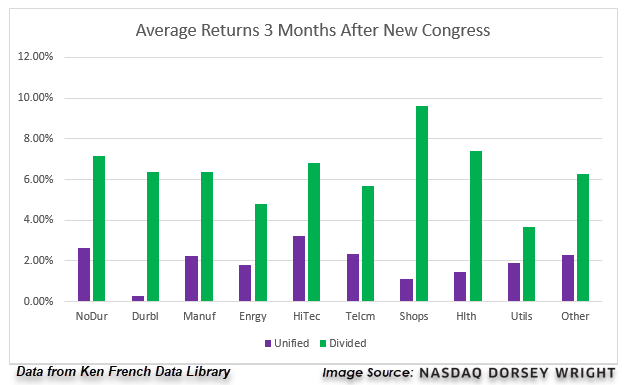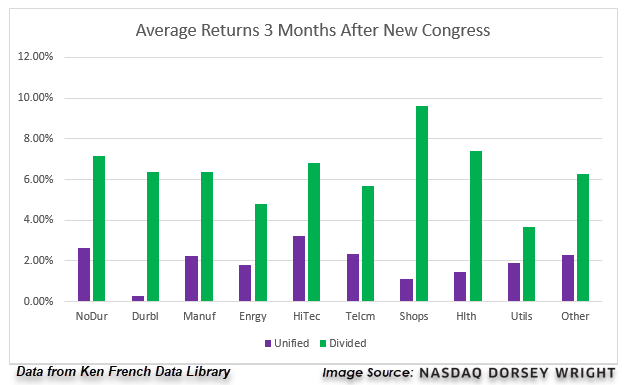 3. GM-The Cheaper EV Play Breaking Out Above Highs Set Back in 2017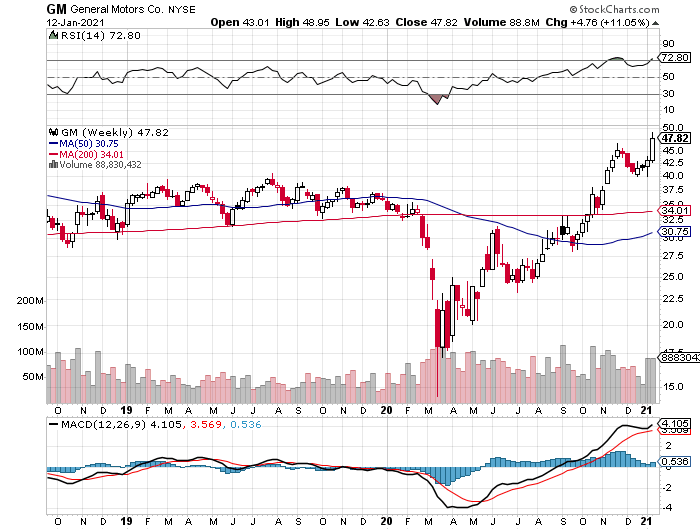 4. Oil Edges Higher Above $53 on Saudi Curbs and Inventory Draw-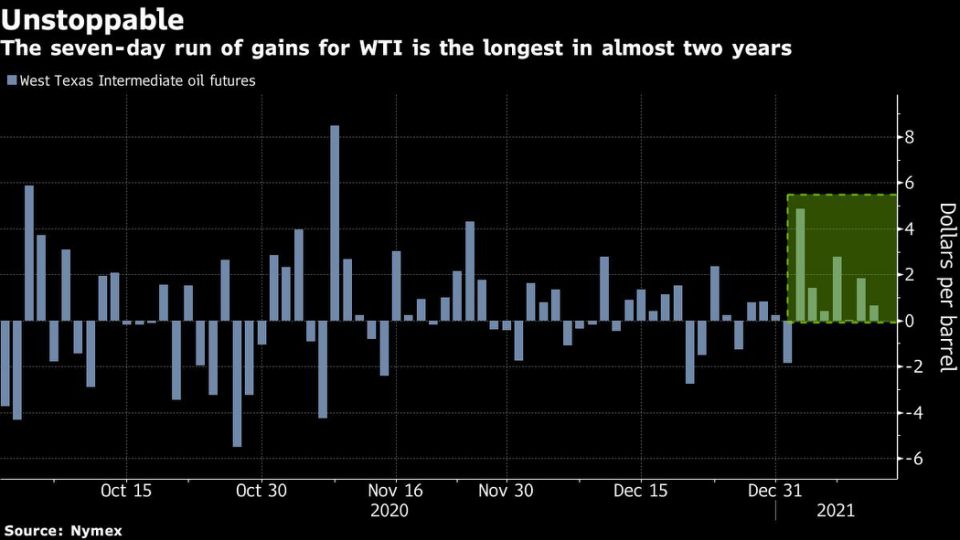 Saket Sundria and Alex Longley
https://finance.yahoo.com/news/oil-set-longest-run-gains-075153955.html



5. Bank Index Performance from the End of September vs.S&P
Here's how the KBW Bank Index BKX, +1.54% performed against the S&P 500 from the end of September through Jan. 8: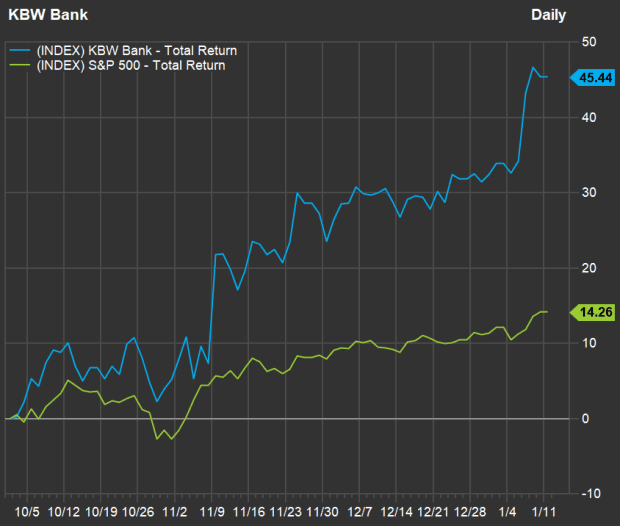 (FACTSET)
Here's a 12-month performance comparison through Jan. 8: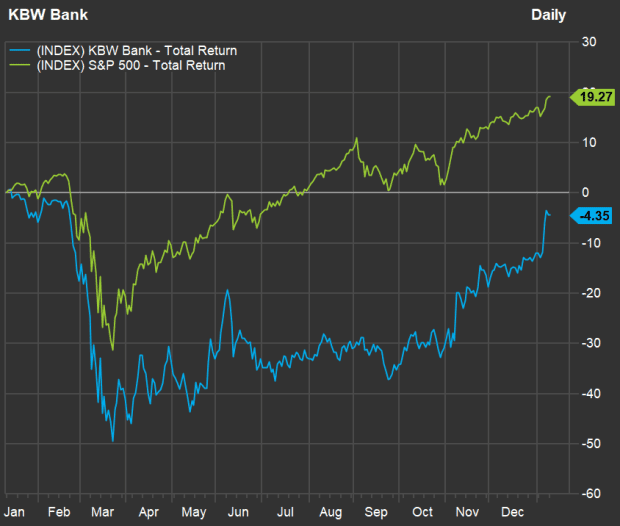 (FACTSET)
So the banks have been on a tear, as investors have looked ahead to the Biden administration and more government stimulus. But the group still lags behind the broad market by a wide margin — which is understandable, as many investors need to be convinced amid a terrible winter that the pandemic will end in 2021.
Banks are back — almost half of 15 large U.S. banks are expected to increase quarterly profit
By Philip van Doornhttps://www.marketwatch.com/story/banks-are-back-almost-half-of-15-large-u-s-banks-are-expected-to-increase-quarterly-profit-11610395992?mod=home-page
6. The Massive Bond Inflows from 2020 and What Bond ETFs the FED Owns
Bond ETFs: A Fall, the Fed, & Flows
Another ETF story dominating 2020's headlines for a trifecta of reasons? Bond ETFs. When the Covid crash hit, bond ETFs faced their biggest challenge since launching in 2002. Several of the most popular bond ETFs traded at meaningful discounts to their net asset values, sparking debate over whether the products were broken or, instead, a better representation of the true value of the underlying bonds held. With the bond market teetering on the brink, the Federal Reserve announced a series of programs designed to inject liquidity and quell investor fear, including direct purchases of bond ETFs for the first time ever. The Fed-instilled confidence in the credit markets, along with how the ETF structure handled the crisis, manifested itself with record bond ETF inflows.
A look at the Federal Reserve's current bond ETF holdings:
7. Bearish Bets Against Ark ETFs Surge After 'Meteoric' Rally
Katherine Greifeld
Tue, January 12, 2021, 2:55 PM EST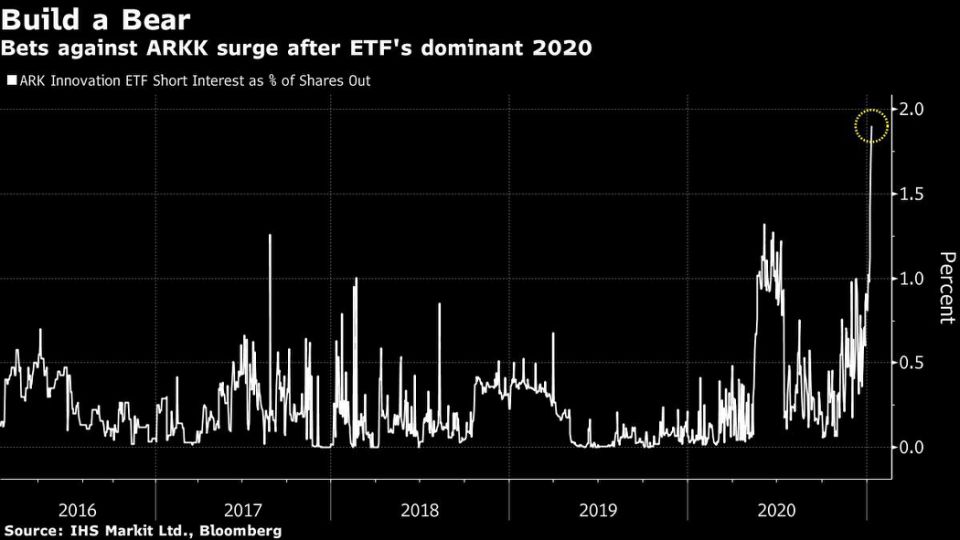 (Bloomberg) — A cohort of contrarians are wagering that the torrid streak for the top three exchange-traded funds managed by Cathie Wood will soon fizzle out.
Short interest as a percentage of shares outstanding on the flagship $21 billion ARK Innovation ETF (ticker ARKK) jumped to an all-time high of 1.9% from about 0.3% a month ago, according to data from IHS Markit Ltd. A similar spike can be seen across the Ark Investment Management lineup, with bearish wagers on the $9.4 billion ARK Genomic Revolution ETF (ticker ARKG) and the $5.9 billion ARK Next Generation Internet ETF (ticker ARKW) also near records.
The surge in bearish bets comes after a banner year for Wood's company, led by the Tesla-heavy ARKK, which skyrocketed almost 150% and attracted $9.6 billion of inflows in 2020. That winning trend has continued into 2021, with the fund notching its best week since April. Given the magnitude of ARKK's outperformance, it's "utterly unsurprising" that short sellers are setting their sights on the fund, according to Dave Nadig of ETF Trends.
"You can't expect any shortable asset to have the kind of meteoric rise ARKK has had and not attract almost mechanical short-selling," said Nadig, chief investment officer at the research and data provider. "There are, quite literally, traders who have screens for 'ETFs that went up X far over Y time' to use as contrarian short indicators."
https://finance.yahoo.com/news/bearish-bets-against-ark-etfs-164318612.html
8. Updated U.S. Cannabis Legalization by State
At the end of last year, Arizona, New Jersey, South Dakota and Montana all passed legislation to allow weed for adults. That brings the total to 15 states with recreational use. And more will follow suit…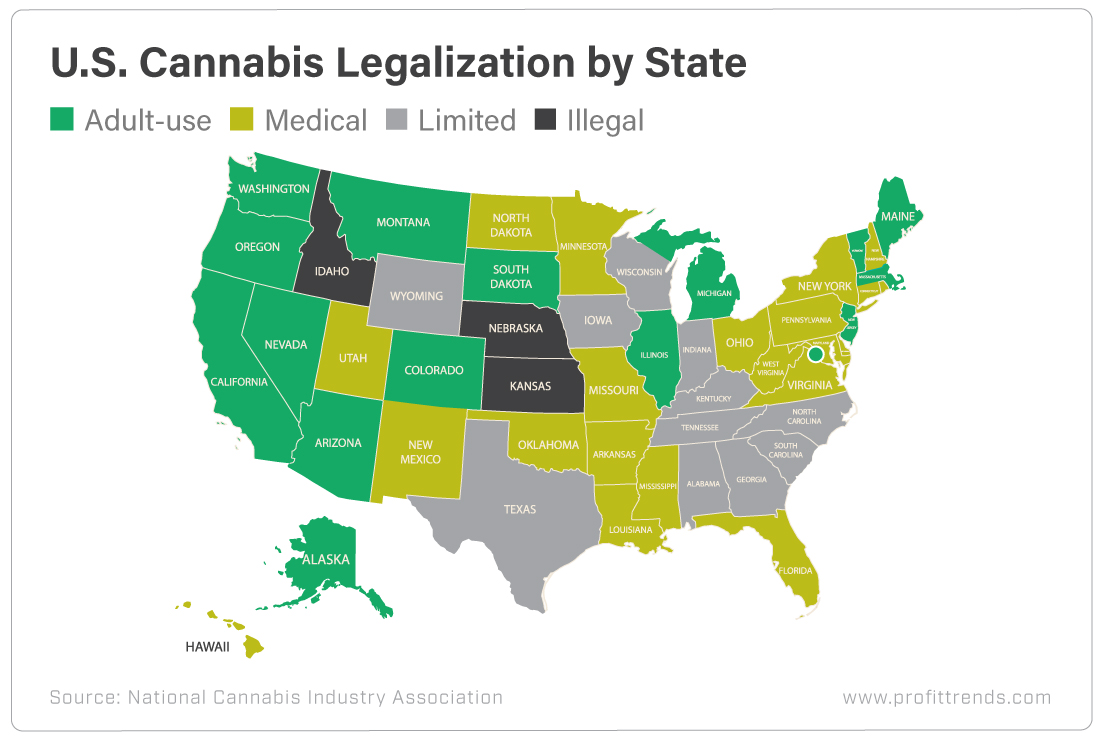 Best Marijuana Stocks List for 2021 with 10 Investing OpportunitiesBy Rob Otman
9. State Business Tax Climate Index
The Tax Foundation's State Business Tax Climate Index enables business leaders, government policymakers, and taxpayers to gauge how their states' tax systems compare. While there are many ways to show how much is collected in taxes by state governments, the Index is designed to show how well states structure their tax systems and provides a road map for improvement.
The 10 best states in this year's Index are:
10. This Doctor Says Humans Need 7 Kinds of Rest-INC.
BY JESSICA STILLMAN@ENTRYLEVELREBEL
We're only a week into 2021 and we've already had a coup attempt, a rampaging new strain of Covid, a halting vaccine rollout, and even attack squirrels (murder hornets and meth alligators are so 2020). It does not appear we're in for a restful year. But even if the world makes it hard to relax, at least one doctor insists we all need to find a way to reset and recharge anyway.
And that's more complicated than just switching off your brain and switching on Netflix every once in a while.
In a new TED Ideas post, Saundra Dalton-Smith insists "we go through life thinking we've rested because we have gotten enough sleep — but in reality we are missing out on the other types of rest we desperately need" and outlines the seven types of rest that are essential for human flourishing.
1. Physical rest
Article continues after sponsored content
This is the usual definition of rest we're all familiar with. But while we know we need to spend a decent number of hours in bed to stay healthy, a steady drumbeat of studies shows a large proportion of us still don't get enough physical rest.
2. Mental rest
Always have a tornado of thoughts swirling in your head from the moment you wake up to the moment you (finally) fall asleep? You need more mental rest, and even if you sleep a solid eight hours a night, you're not going to feel fully recharged until you get it.
"The good news is you don't have to quit your job or go on vacation to fix this. Schedule short breaks to occur every two hours throughout your workday; these breaks can remind you to slow down. You might also keep a notepad by the bed to jot down any nagging thoughts that would keep you awake," suggests Dalton-Smith.
3. Sensory rest
Staring at screens all day and all night means your eyes never get a proper rest, but this isn't the only reason many of us never give our senses a break. Noisy cities, pinging notifications, and blaring music all contribute to constant sensory stimulation. Your brain needs a rest now and again. Consciously close your eyes and give yourself the gift of silence for short periods throughout the day.
4. Creative rest
Inc.com and other sites are full of tips on how to be more creative, but just as important as striving to put out new ideas is remembering to pause and take in the building blocks out of which they're constructed — awe, art, inspiring people, and time to let it all marinate.
5. Emotional rest
This "means having the time and space to freely express your feelings and cut back on people pleasing," Dalton-Smith explains. "Emotional rest also requires the courage to be authentic. An emotionally rested person can answer the question 'How are you today?' with a truthful 'I'm not okay' — and then go on to share some hard things that otherwise go unsaid."
In other words, we all need the space to stop pretending for ourselves and others and get real about our feelings sometimes.
6. Social rest
Some people energize you. Others drain you (here's how to spot them). If you spend too much time with the latter type, you're going to need some emotional rest.
7. Spiritual rest
All humans, no matter their religious affiliation or lack thereof, have a need to feel connected to something larger than themselves. That's sometimes not easy to maintain in the middle of the minutiae of everyday life. The good news is science shows simple interventions can give you a quick dose of awe that should lead to measurable increases in well-being.
So next time you think to yourself, "I'm tired," don't leave your complaint at that. Instead, dig a little deeper and try to identify just what sort of rest you're lacking exactly. Once you know what you're missing, you'll be in a much better place to figure out how to recharge effectively.
Inc. helps entrepreneurs change the world. Get the advice you need to start, grow, and lead your business today. Subscribe here for unlimited access.
https://www.inc.com/jessica-stillman/rest-mental-health-saundra-dalton-smith-ted.html
Disclosure
Lansing Street Advisors is a registered investment adviser with the State of Pennsylvania..
To the extent that content includes references to securities, those references do not constitute an offer or solicitation to buy, sell or hold such security as information is provided for educational purposes only. Articles should not be considered investment advice and the information contain within should not be relied upon in assessing whether or not to invest in any securities or asset classes mentioned. Articles have been prepared without regard to the individual financial circumstances and objectives of persons who receive it. Securities discussed may not be suitable for all investors. Please keep in mind that a company's past financial performance, including the performance of its share price, does not guarantee future results.
Material compiled by Lansing Street Advisors is based on publicly available data at the time of compilation. Lansing Street Advisors makes no warranties or representation of any kind relating to the accuracy, completeness or timeliness of the data and shall not have liability for any damages of any kind relating to the use such data.
Material for market review represents an assessment of the market environment at a specific point in time and is not intended to be a forecast of future events, or a guarantee of future results.
Indices that may be included herein are unmanaged indices and one cannot directly invest in an index. Index returns do not reflect the impact of any management fees, transaction costs or expenses. The index information included herein is for illustrative purposes only.