1. New Mayor in New York City…..NYC REIT Index Doubles +100% in a Month
America Needs NYC..Good Luck Mayor Adams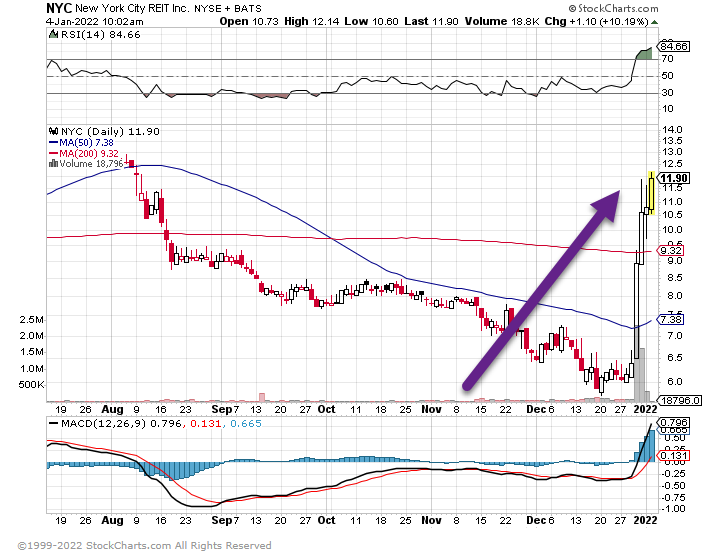 Dave Lutz Jones Trading Eric Adams declared New York City "open and alive" despite a record-breaking viral surge, in his first address as the city's 110th mayor.  "I take this important office at a time of great challenges for our city," Adams said Saturday in an inaugural speech at City Hall. He said he'd been sworn earlier in at Times Square because he "wanted New Yorkers and the world to be reminded of two things."  The NYC REIT was on fire the last 2 days of 2021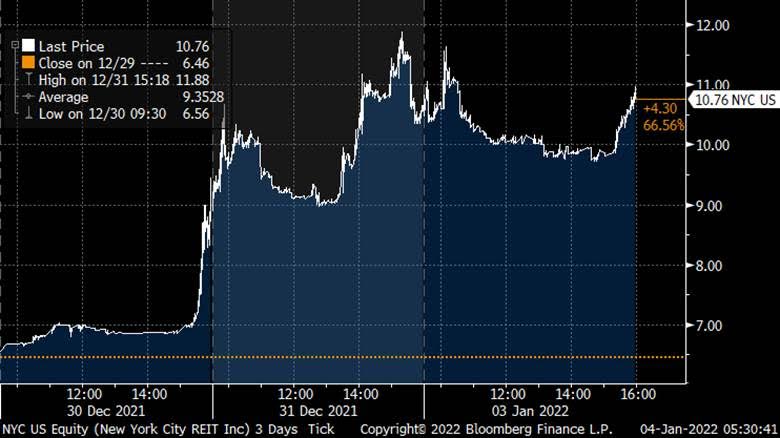 ---
2. Tech Software ETF -15% Correction.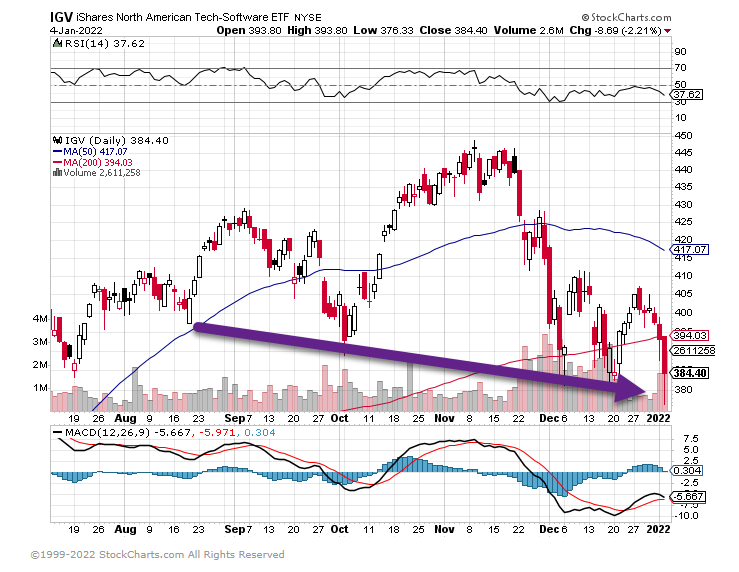 ---
3. 10-Year Treasury Yield 1.35% to 1.63% Since December 1
The most watched chart for 2022….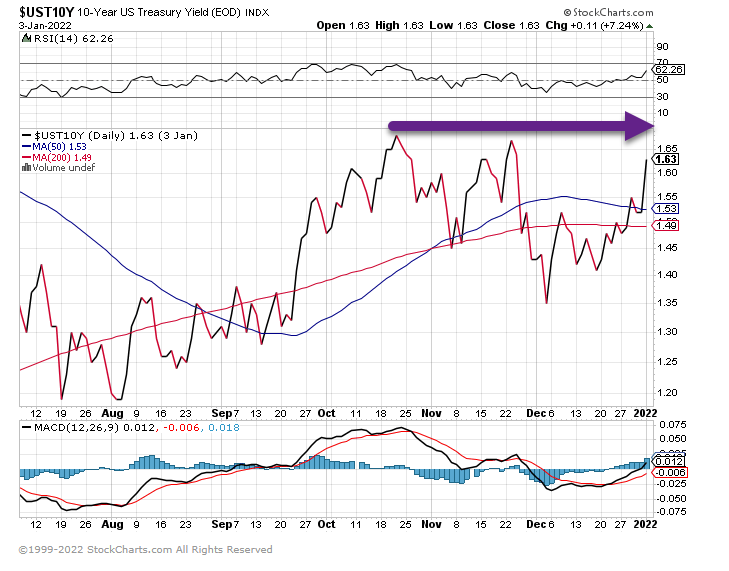 ---
4. Bitcoin to U.S. Dollar Chart
Bitcoin trading straight down vs. U.S. dollar since November 2021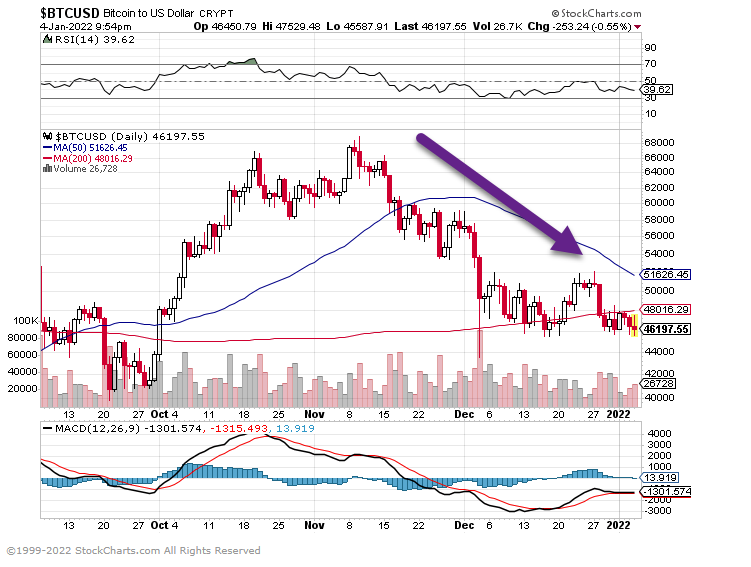 ---
5. Bitcoin Now 20% of the "Store of Value Market"
Goldman estimates that Bitcoin's float-adjusted market capitalization is just under $700 billion. That accounts for 20% share of the "store of value" market which it said is comprised of Bitcoin and gold. The value of gold that's available for investment is estimated at $2.6 trillion.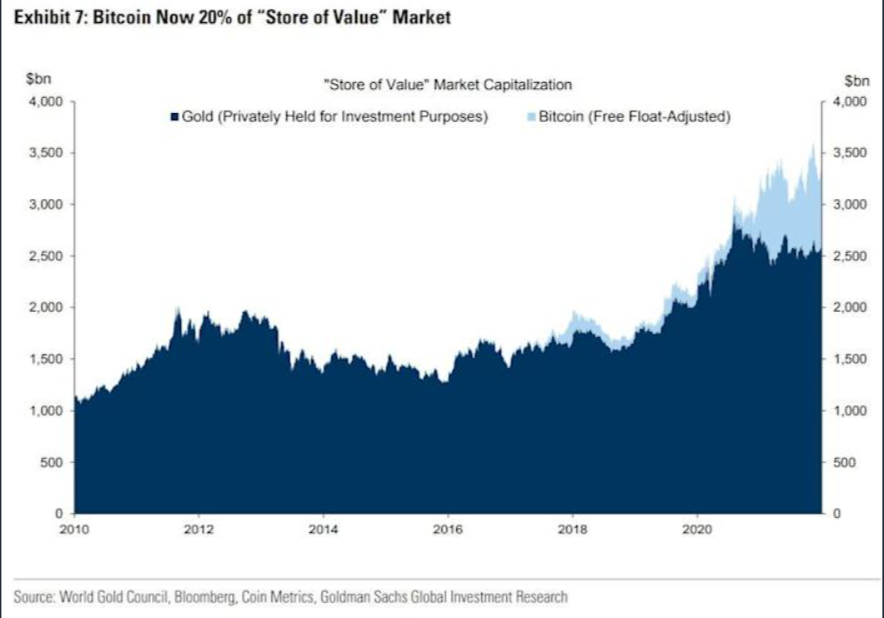 Yahoo Finance Anchalee Worrachate https://finance.yahoo.com/news/goldman-says-bitcoin-100-000-201521761.html
---
6. Byron Wien's Famous Ten Surprises for the Year….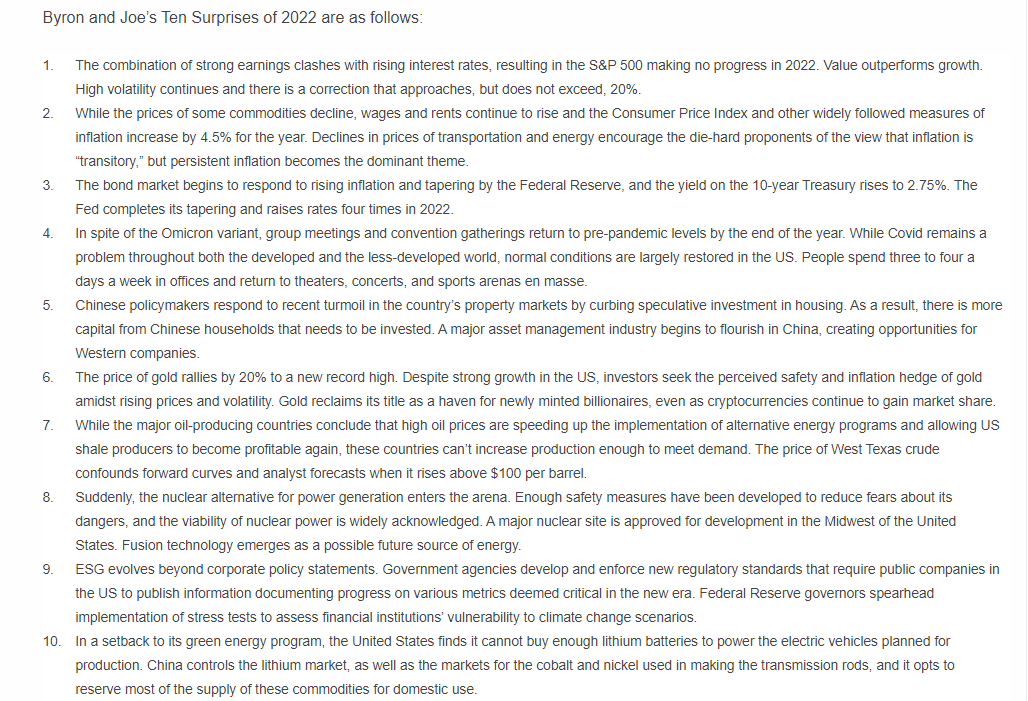 Business Wire  https://www.businesswire.com/news/home/20220103005259/en/Byron-Wien-and-Joe-Zidle-Announce-the-Ten-Surprises-of-2022
More Important…How did last year's predictions turn out?
Marketwatch While the pair have published their list of 2022 surprises, it might be more informative to review last year's surprises.
"Former President Trump starts his own television network and also plans his 2024 campaign." He certainly seems to be gearing up for a 2024 run. As for the TV network, there's none in existence as yet, though the Trump Media & Technology Group has been formed on paper at least, hired Rep. Devin Nunes to be its chief executive, and has agreed to be acquired by special-purpose acquisition company Digital World Acquisition Company DWAC, +1.03%.
"Despite the hostile rhetoric from both sides during the U.S. presidential campaign, President Biden begins to restore a constructive diplomatic and trade relationship with China. China A shares SHCOMP, -0.20% lead emerging markets higher." The diplomatic mending is still in its infancy, though what Wien and Zidle didn't seem to account for was China derailing its own stock market with aggressive regulation.
"The success of between five and ten vaccines, together with an improvement in therapeutics, allows the U.S. to return to some form of 'normal' by Memorial Day 2021." Mostly correct, even if some of the details, like spectators at the Olympics, didn't materialize.
"The Justice Department softens its case against Google GOOGL, -0.41% and Facebook FB, -0.59%, persuaded by the argument that the consumer actually benefits from the services provided by these companies." No sign of that, and many expect tougher action by U.S. authorities this year.
"The economy develops momentum on its own because of pent-up demand, and depressed hospitality and airline stocks become strong performers." Right on the economy, mixed on stocks — the JETS JETS, +1.47% exchange-traded fund, for instance, peaked in March, while leisure stocks PEJ, +0.28% enjoyed strong gains but did underperform the S&P 500 SPX, -0.06%.
"The Federal Reserve and the Treasury openly embrace Modern Monetary Theory as their accommodative policies continue." The rise of inflation stamped this trend out.
"Even as energy company executives cut estimates for long-term growth, near-term opportunities are increasing. The return to 'normal' increases both industrial activity and mobility, and the price of West Texas Intermediate oil rises to $65/bbl." A good call here, with WTI CL.1, +1.49% surging 55%.
"The equity market broadens out. Stocks beyond health care and technology participate in the rise in prices." Participate, yes, but the market was still overwhelmingly tech-focused.
"The surge in economic growth causes the 10-year Treasury TMUBMUSD10Y, 1.652% yield to rise to 2%." Directionally correct, though a half-point off.
"The slide in the dollar turns around." It sure did, with the WSJ dollar index BUXX, 0.01% jumping 5%.
This investing legend has been predicting surprises for the last 37 years. Here's how he did last year — and what he's forecasting now
---
7. Surgical Robotics Market 21.6% CAGR 2021-2028
Grand View Research-The global surgical robots market size was valued at USD 2.3 billion in 2020 and is expected to grow at a compound annual growth rate (CAGR) of 21.6% from 2021 to 2028. Growing adoption and acceptance of Minimally Invasive Surgeries (MIS) owing to benefits, such as shorter hospital stays, and the introduction of cost-effective & flexible surgical robots by new players are some of the key factors driving the growth of this market. In addition, the increasing penetration of international players is positively impacting the market growth. Furthermore, the rising number of knee and hip replacement surgeries performed due to the high prevalence of arthritis, bone-degenerative diseases, osteoporosis, and related injuries is projected to drive the market growth.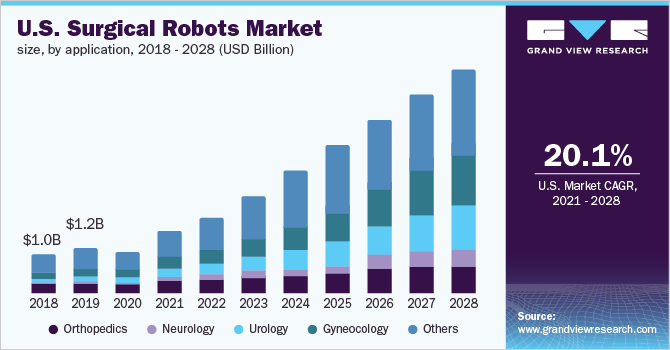 https://www.grandviewresearch.com/industry-analysis/surgical-robot-market
---
8. Mercedes says its electric concept has 620 miles of range and seats made with mushrooms
Found at Morningbrew https://www.morningbrew.com/daily
Peter Valdes-Dapena, CNN Business
The new Mercedes-Benz EQS is a game changer
(CNN)Mercedes has unveiled a new all-electric concept car, the EQXX, that the company claims can go 620 miles on a single charge. The futuristic luxury car is also made with a host of innovative recycled and sustainable materials including mushroom fibers, ground up cacti and trash such as food scraps.
A rendering of the Mercedes-Benz Vision EQXX.
Mercedes' range claim for this concept vehicle is based on computer simulated testing, not actual driving, the company said. If the claim is accurate, though, the EQXX would be able to drive farther on a single charge than a Toyota Prius hybrid can travel on a full tank of gas, according to United States Environmental Protection Agency estimates. The Prius can only manage 588 miles. It's nearly as far as the 644 miles that a diesel-powered Chevrolet Suburban can go on a 28-gallon tank of fuel. It's also much farther than any other electric car currently available in the United States, according to the EPA.
Mercedes plans to demonstrate the car's range in an actual driving test this spring, the company said.
Mercedes has said it intends for half its sales to be electric cars by 2025 and, by 2030, for the brand to be virtually "ready to go all electric." Mercedes referred to the EQXX as a "technology blueprint for series production." Mercedes plans to put a car with the EQXX's battery and electric motor technology, as well as some of the car's other features, into production in 2024, said Markus Schäfer, chief technology officer of Mercedes' parent company Daimler.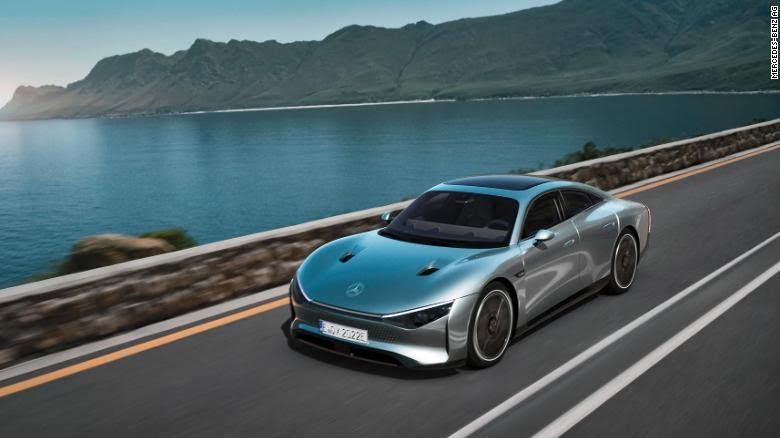 The Mercedes-Benz Vision EQXX concept car lacks the traditional grille seen on Mercedes cars today.
The EQXX achieves its remarkable range with a battery pack that is half as large and 30% lighter than the one in the Mercedes EQS, the German automakers current fully electric sedan, while storing the same amount of energy, according to Mercedes. At 620 miles, or 1,000 kilometers, the EQXX would provide about 133 miles more driving distance on a charge than the EQS based on European range estimates for that car.
The EQXX gains those extra miles largely through efficiency, according to Mercedes. Mercedes claims the EQXX can travel more than 6 miles per kilowatt hour of electricity. That's almost three times farther per kilowatt hour than a Tesla Model S Long Range, according to US EPA estimates. A kilowatt-hour is a unit of electrical energy stored in a car's battery so miles per kilowatt hour is like miles per gallon for a gasoline car. The figures are much lower, though, because a gallon of gasoline contains almost 34 kilowatt hours of energy.
To reach that level of efficiency, Mercedes designers focused on aerodynamics. The EQXX has a drag coefficient of just 0.17, which is sightly more aerodynamic than a properly thrown football. It's also more aerodynamic than today's Mercedes EQS which, while still very aerodynamic, has a drag coefficient of 0.20. A Porsche 911 Turbo has a drag coefficient of 0.33, according to Porsche.
The car is also designed to be as light as possible, according to Mercedes. Besides the relatively light battery pack it has wheels made from magnesium, and aluminum brakes. Springs in the EQXX's suspension are made from glass-fiber reinforced plastic instead of metal.
Much of the Mercedes-Benz Vision EQXX's extreme efficiency comes from attention to aerodynamics.
The EQXX's body includes a web-like subframe designed to have metal only where it's actually needed for structural integrity and crash safety. Empty spaces in the frame are filled in with a material called UBQ, created by an Israeli startup. UBQ is made from landfill waste that can include things like mixed plastics, cardboard, gardening waste and even diapers, according to Mercedes-Benz. Solar panels in the roof supply supplemental energy for things like air conditioning, lights and the car's touchscreen systems reducing demands on battery power.
Besides the UBQ filler material in the body, the EQXX also utilizes sustainable materials in other parts of the car. A leather-like material made from mycelium, the underground root-like structures of mushrooms, is used in the seat cushions. Another leather substitute, made from pulverized cactus fibers, is used elsewhere in the interior. The carpets are made entirely of bamboo fiber, according to Mercedes.
Inside, the EQXX has an enormous touchscreen that stretches all they way across the dashboard. Unlike the ultra-wide "screen" in the EQS, which is actually three smaller screens under a single sheet of glass, the one in the EQXX really is a single four-foot wide screen. To save energy, unused portions of the screen dim.
Mercedes engineers and designers have also tried to give the car's voice-control system more personality with a lifelike voice that's more emotionally expressive. The system is represented by a human-shaped avatar made up of tiny stars. The figure is modeled on the young Mercedes Jellinek, the daughter of Emil Jellinek, an early (and particularly demanding) customer of Daimler, now Mercedes' parent company.
In 1900, he commissioned a new sports car model that he insisted be named after his daughter. The car was such a success that her name later became attached to every car the company made.
Mercedes says its electric concept has 620 miles of range and seats made with mushrooms – CNN
---
9. OSU research finds way to scrub carbon dioxide from factory emissions, make useful products
Found at 1440 blog https://join1440.com/
CORVALLIS, Ore. – Carbon dioxide can be harvested from smokestacks and used to create commercially valuable chemicals thanks to a novel compound developed by a scientific collaboration led by an Oregon State University researcher.
Published in the Journal of Materials Chemistry A, the study shows that the new metal organic framework, loaded with a common industrial chemical, propylene oxide, can catalyze the production of cyclic carbonates while scrubbing CO2 from factory flue gases.
Carbon dioxide, a greenhouse gas, results from burning fossil fuels and is one of the primary causes of climate change. Cyclic carbonates are a class of compounds with great industrial interest, meaning the findings are a boost for green-economy initiatives because they show useful products such as battery electrolytes and pharmaceutical precursors can be derived from the same process deployed to clean emissions from manufacturing facilities.
The new, three-dimensional, lanthanide-based metal organic framework, or MOF, can also be used to catalyze cyclic carbonate production from biogas, a mix of carbon dioxide, methane and other gases arising from the decomposition of organic matter.
A catalyst is a substance that increases the rate of a chemical reaction without itself undergoing any permanent chemical change, and lanthanides are a group of soft, silvery-white metals whose applications range from night vision goggles to flints for cigarette lighters.
Examples of lanthanides include cerium, europium and gadolinium.
"We've taken a big step toward solving a crucial challenge associated with the hoped-for circular carbon economy by developing an effective catalyst," said chemistry researcher Kyriakos Stylianou of the OSU College of Science, who led the study. "A key to that is understanding the molecular interactions between the active sites in MOFs with potentially reactive molecules."
A MOF is an inorganic-organic hybrid, a crystalline porous material made up of positively charged metal ions surrounded by organic "linker" molecules, in this case lanthanide metals and tetracarboxylate linkers.
The metal ions make nodes that bind the linkers' arms to form a repeating structure that looks something like a cage; the structure has nanosized pores that adsorb gases, similar to a sponge. MOFs can be designed with a variety of components, which determine the MOF's properties.
Lanthanide-based materials are generally stable because of the relatively large size of lanthanide ions, Stylianou said, and that's true as well with lanthanide MOFs, where the acidic metals form strong bonds with the linkers, keeping the MOFs stable in water and at high temperatures; that's important because flue gases and biogas are hot as well as moisture rich.
The lanthanide MOFs are also selective for carbon dioxide, meaning they're not bothered by the presence of the other gases contained by industrial emissions and biogas.
"We observed that within the pores, propylene oxide can directly bind to the cerium centers and activate interactions for the cycloaddition of carbon dioxide," Stylianou said. "Using our MOFs, stable after multiple cycles of carbon dioxide capture and conversion, we describe the fixation of carbon dioxide into the propylene oxide's epoxy ring for the production of cyclic carbonates."
Cyclic carbonates have a broad range of industrial applications, including as polar solvents, precursors for polycarbonate materials such as eyeglass lenses and digital discs, electrolytes in lithium batteries, and precursors for pharmaceuticals.
"These are very exciting findings," Stylianou said. "And being able to directly use carbon dioxide from impure sources saves the cost and energy of separating it before it can be used to make cyclic carbonates, which will be a boon for the green economy."
David Le, Ryan Loughran and Isabelle Brooks of the College of Science collaborated on this research, as did scientists from Columbia University and the University of Cambridge.
The College of Science and the OSU Honors College funded the study.
About the OSU College of Science:  As one of the largest academic units at OSU, the College of Science has seven departments and 12 pre-professional programs. It provides the basic science courses essential to the education of every OSU student, builds future leaders in science, and its faculty are international leaders in scientific research.
https://today.oregonstate.edu/news/osu-research-finds-way-scrub-carbon-dioxide-factory-emissions-make-useful-products?utm_source=join1440&utm_medium=email
---
10. 10 Ways That a Sense of Purpose Can Change Your Life
Better health, higher life satisfaction, and greater resilience.– Elaine Shpungin Ph.D.
KEY POINTS
One of the best predictors of happiness is having a purpose in life.
Sense of purpose may improve resiliency, life satisfaction, health, academic and work success, and even longevity.
Seeking our purpose may change our trajectory.
This season we are tackling the four pillars of resilience:
Purpose and Meaning
Beliefs and Mindset
Habits and Practices
Relationships and Supports
In the last post, we examined the protective power of traveling back in time to assign strength-based meaning to past struggles. In this post, we will take a look at the importance of cultivating purpose in both our daily interactions and larger life pursuits.
Anthony Burrow, the author of "The Ecology of Purposeful Living Across the Lifespan," describes purpose as the why that propels us forward, the reason we do what we do, the inspiration we have for being in this world. The John Templeton Foundation gives this fancy definition: Purpose is a stable and generalized intention to accomplish something that is at once personally meaningful and at the same time leads to productive engagement with some aspect of the world beyond the self.
Purpose combines the why behind what we do with a long-term desire to make a dent in the world.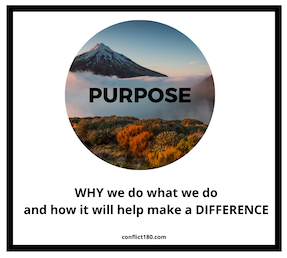 Source: Elaine Shpungin (Conflict 180)
Let's say you are a teacher. To "be a teacher" would not be your purpose but a vehicle for your purpose. The answer to "Why do you want to teach?" combined with "How might that make a positive contribution to the world?" would begin to give us hints about your purpose. For instance:
To inspire kids to read, which might open up new horizons in their lives.
To help kids enjoy math, which may help create more math-savvy citizens who don't get exploited.
To expose kids to Spanish, so they can be better neighbors and global citizens.
To instill a life-long commitment to health by making exercise fun.
Having a sense of purpose predicts a multitude of positive outcomes that allow us to overcome obstacles, thrive in tough situations, and live healthier lives.
Below is a list of some of these outcomes, arranged in a Top 10 Countdown (though many of them were a tie for me). Some references are included within each section; others can be found in the larger summaries found at the bottom of this post.
article continues after advertisement
Top 10 Ways Purpose Can Change Your Life
10. May be related to higher income over time. A nine-year study of 6,000 American adults showed that people who rated themselves as having higher sense of purpose had higher incomes at the start of the study and increased their income more over time, compared with their peers who said their life felt more "aimless." (However, we also know that higher income leads to increases in wealth through other pathways, such as investments, avoidance of fees, and less participation in predatory practices.)
9. Makes us more likable. A 2010 study showed that people who self-reported a more meaningful life were rated by others as more likable, more desirable conversation partners, more attractive, and having more "friend" potential.
8. Helps us be more even-keeled. Having a sense of purpose seems to help us stay off the emotional roller coaster of despair and joy caused by outside events, potentially creating more equanimity and peace in our lives.
7. Helps our brains resist aging and dementia. A 2015 study of 453 seniors in their 80s found that, after they died, those who had "a strong sense of life purpose were 44 percent less likely to have suffered major brain tissue damage, infarcts visible to the naked eye." A series of studies by Patricia Boyle's team at the Rush Alzheimer's Disease Center also found astounding effects of Purpose in Life (PIL) on dementia symptoms. "After following more than 900 older people at risk for dementia for seven years, they found that those with a high PIL were only half as likely to develop Alzheimer's disease than those with a low PIL. And were 30 percent less likely to develop mild cognitive impairment."
6. Helps us live longer. Several studies suggest that a sense of purpose is related to longevity. For instance, one five-year longitudinal study found that older adults with a higher sense of purpose had a "substantially reduced risk of mortality," even after controlling for differences in previous conditions, depression symptoms, and income.
5. Improves our health. Related to #6 above, purpose in Life (PIL) has been shown to dramatically lower the risk of heart attack, stroke, and cardiovascular diseases, and reduce the likelihood of developing a sleep disorder. In a correlational study, older women who scored higher on a measurement of purposeful well-being (sense of purpose, autonomy, environmental mastery, and other constructs) had lower levels of daily cortisol (a stress hormone) and lower inflammatory responses.
article continues after advertisement
4. Improves academic success. Students who rate themselves as having more purpose have better outcomes including increased persistence, a sense of self-efficacy, time spent studying, and satisfaction with school. Students who felt more connected to their purpose at the beginning of a college semester were more likely to exhibit "grit" or stick with it when things became difficult.
3. Increases work satisfaction and success. For instance, hospital custodians who believed they were an integral part of the hospital's mission of saving lives and improving people's health, had greater work satisfaction than those who believed they were doing a menial or technical job. A 2016 international study of over 26,000 LinkedIn members found that employees with a higher sense of purpose had more satisfaction, self-efficacy, and leadership opportunities.
2. Protects us from some of the negative effects of stressful events such as COVID-19, cancer treatment, bereavement, financial recession, surgery, daily stressors, looking at upsetting pictures, stressful social situations, and being the only minority in a majority group. On the flip side, people with low sense of purpose have been found to be more likely to experience depression, addiction, anxiety, loneliness, and boredom (see Templeton review below).
1. Helps us experience more hope, optimism, and life satisfaction. According to the extensive Templeton Foundation report on the Psychology of Purpose, "Purpose is a central component of most leading conceptions of optimal human development and psychological well-being (Bronk, 2013)." The report summarizes numerous studies showing that being connected to one's purpose increases satisfaction in life, sense of efficacy, self-esteem, and hope in both adults and youth. Sense of purpose (especially with a prosocial focus) may be particularly potent in changing the trajectory of young people's lives. Youth from low-income backgrounds experience similar levels of purpose and positive outcomes as youth from higher-income backgrounds, and can find meaning in their hardships. Teens who pursued meaningful lives "beyond self-gratification" experienced less depression a year later than those who were not connected to a sense of purpose. However, research also shows that purpose is important in midlife as well.
As stated by the Templeton report, although there are some exceptions, "Researchers have found that across the ages, one of the best predictors of happiness is having a purpose in life."
Facebook image: Alliance Images/Shutterstock
https://www.psychologytoday.com/us/blog/peacemeal/202110/10-ways-sense-purpose-can-change-your-life?collection=1122097