1. Update Buffett Indicator and Buffett Indicator with Record Low Rates
Source: CurrentMarketValuation.com
https://www.advisorperspectives.com/commentaries/2021/02/19/random-thoughts-from-the-frontline
Look at this next chart showing S&P 500 value relative to interest rates. Interest rates are 1.6 standard deviations below the trendline.
That suggests that the S&P 500 may not be so overpriced.
Source: CurrentMarketValuation.co
2. Domestic Companies with Bitcoin Reserves.
3. Stock Returns…Are We Changing from Valuation Expansion to Earnings Growth/Dividend Yields?
Jack Ablin
Without the benefit of valuation expansion, investors will need to rely on "organic" equity returns through earnings growth and dividend yields. Generous earnings yields require relatively low price-earnings ratios. We expect "quality at a reasonable price" to lead markets higher for the next several quarters. Stripping away valuation expansion from market returns over the last 10 years shows that large cap still dominates small cap, but value dominates growth. The Russell 1000 Value Index, for example, outpaced the Russell 1000 Growth Index by nearly 2 percentage points per year when relying only on earnings and dividends. The Fed is virtually out of ammunition. Without its help, further valuation expansion appears unlikely, in our view. We believe investing in reasonably priced companies with strong balance sheets and consistent dividend histories is the best way to play the next leg of this market cycle.
Cresset's Five Themes for 2021 JACK ABLINJANUARY 6, 2021MARKET COMMENTARY
https://cressetcapital.com/headline/cressets-five-themes-for-2021/?utm_source=linkedin&utm_medium=social&utm_campaign=jack-ablin-2021-themes-video&li_fat_id=944571b7-8c8b-40d2-ab66-2a196b81ed09
4. The Price of All Materials in Housing Going Higher.
Ivy Zelman….Chances are your news feeds lately have been peppered with articles about soaring lumber prices. Well, our proprietary February Building Products survey supports this news. With remarkable lumber demand carrying into January, we saw our Lumber Demand Rating continue to trend up from last month's survey and show a pronounced increase year over year. We also saw the lumber categories topping our Pricing Diffusion Indices for both manufacturing and distribution (see chart below), indicating a consensus that prices are increasing as the strong demand supports price realization.

The obvious impact within our wheelhouse is the risk to profit margins for homebuilders and/or higher home price appreciation. But the impact of high lumber demand and price inflation is much further reaching…if you happen to be in the market for a new bed (like one of our colleagues this past weekend), you may be surprised to hear that a box spring could be hard to come by, especially if the manufacturer gets its wood from Canada, and a little pricier too.

Zelman Building Products Survey: https://lnkd.in/gg8Nb4h
https://www.linkedin.com/in/ivy-zelman-64304616b/
5. Rising Inflation—Asset Class Returns.

https://twitter.com/PeterMallouk/status/1364259099366547460/photo/1
6. We Shall See if this Reversion is for Real.

Kevin Smith Twitter.
https://twitter.com/crescatkevin
7. E-Commerce Spike During Covid.
In terms of dollars, the last three quarters – the Pandemic quarters – show the accelerated shift to ecommerce sales with gigantic year-over-year jumps in the range of $55 billion to $61 billion, including by $60 billion in Q4:
https://wolfstreet.com/2021/02/23/macys-brick-mortar-sales-35-digital-21-walmart-online-sales-69-us-ecommerce-32-online-furniture-grocery-clothing-sales-explode-as-brick-mortar-melts-down
8. Music Streaming Great for Industry
From Barry Ritholtz blog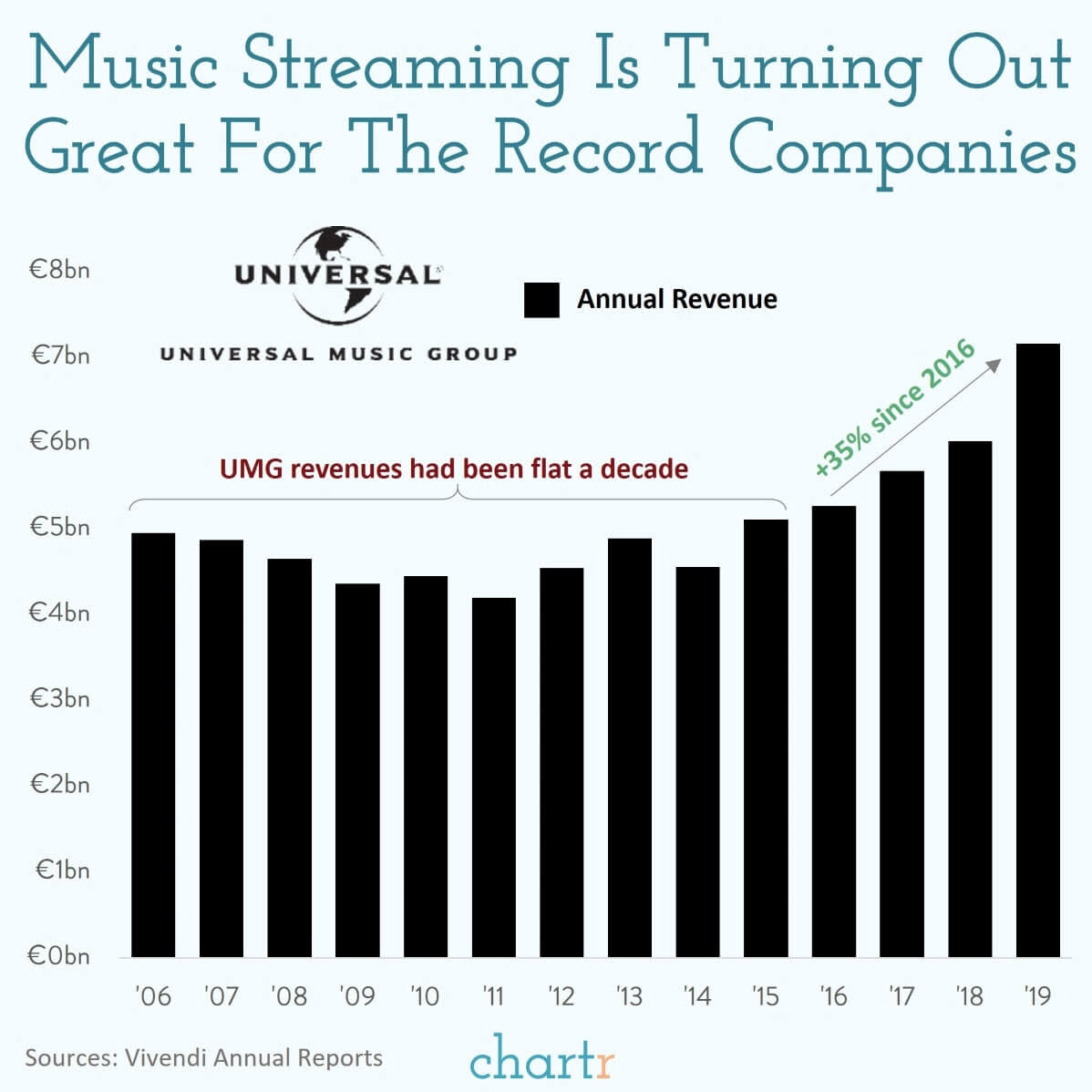 https://ritholtz.com/2021/02/weekend-reads-457/
9. Schumer, Warren Challenge Biden on Student Debt Cancellation
by Steven T. Dennis, 2/18/21
Two top Senate Democrats said Wednesday they will keep pressuring President Joe Biden to wipe out up to $50,000 per borrower in student loan debt after he shot down the idea of doing so by executive action or without restrictions.
Senate Majority Leader Chuck Schumer and Senator Elizabeth Warren for months have been pushing Biden to be more ambitious with executive action to cancel about $1 trillion in student loans, and they said they aren't giving up.
"Canceling $50,000 in federal student loan debt will help close the racial wealth gap, benefit the 40% of borrowers who do not have a college degree, and help stimulate the economy. It's time to act. We will keep fighting," they said in a statement.
Biden appeared to dismiss the idea during a CNN town hall event in Milwaukee Tuesday night. In response to a question from an audience member, Biden said he understood that debt can be debilitating and he would support some relief.
"I do think that, in this moment of economic pain and strain, that we should be eliminating interest on the debts that are accumulated, number one. And, number two, I'm prepared to write off the $10,000 debt, but not" $50,000, he said.
He suggested that there could be a system "to work it off" with public service jobs. Biden also said he didn't think he had the authority to write off a larger amount through executive action.
White House Press Secretary Jen Psaki said Wednesday that Biden's statement reiterated his previous position that he "doesn't favor $50,000 student loan relief without limitation."
Psaki said Biden's stance has been that relief above the $10,000 level should be targeted based on criteria such as income, the kind of debt, whether it was incurred at a public school, whether it was undergraduate or graduate debt.
Biden has told Schumer and Warren that once his Justice Department team has been confirmed, he will ask them to review his authority to grant relief via executive action in conjunction with a policy review by his Domestic Policy Council, Psaki said.
"There's a legal consideration though, as I think everybody agrees, there's a policy consideration and once that's concluded he'll decide the path forward," she said.
Psaki said in the meantime Biden would be "eager" to sign a bill from Congress granting $10,000 in debt relief for borrowers.
Schumer and Warren said previous presidents have used executive actions to grant relief.
"The Biden administration has said it is reviewing options for canceling up to $50,000 in student debt by executive action, and we are confident they will agree with the standards Obama and Trump used," they said.
A report last week from the Brookings Institution estimates the cost of the Schumer and Warren plan for $50,000 loan forgiveness at about $1 trillion and the cost of Biden's $10,000 proposal at $373 billion.
Bloomberg News provided this article. For more articles like this please visit bloomberg.com.
https://www.advisorperspectives.com/articles/2021/02/18/schumer-warren-challenge-biden-on-student-debt-cancellation
10. 5 Ways to Overcome a Bad Habit
These actionable steps can help you conquer harmful habits.
Breaking your habits down into these fundamental categories can help you understand what a habit is, how it works, and how you can break it. This is known as the habit loop. Primarily, a cue is developed, which, when activated, triggers a craving.
The craving then motivates a response, which provides your brain with a reward, which satisfies the desire, and ultimately becomes associated with the cue. Together, these four things end up forming a neurological feedback loop that eventually allows you to develop automatic habits.
Fortunately, there are many ways that you can destroy your bad habits and keep them away for good. Which one works best will depend entirely on your individual circumstances and specific inclinations.
1.Quit Cold Turkey
You can eliminate bad habits by not indulging in them, not even for one day, starting now. Unfortunately, this is much easier said than done. Unfortunately, it can be incredibly challenging to get rid of a bad habit because it is deeply ingrained in your brain.
When the bad habit's trigger repeats, it can quickly reignite the old behavior. This is the greatest weakness in this particular method. Often, when an old pattern or behavior recurs, when you slip back into your old bad habit just once, you tend to make a huge fuss over it, and you feel like you wasted all of your time being abstinent.
You end up becoming crushed by self-disappointment that when you slip just once and return to your old habit, you completely slip back into your old ways. However, there is a power to such an approach. If you can quit cold turkey and persevere in your resolve, you can prove to yourself that you are entirely capable of making changes.
2. Change Your Habit Loop
Recent studies discovered that habits are stored in the brain in a different way than more standard memories. Typically, your emotion triggers a behavior that ends when the emotional urge has been satisfied when it comes to your habits.
There are twofold repercussions to these findings. First, if your habits are hardcoded in your mind, it means they are impossible to remove. This means that once those habits have been formed, they will stay with you for the rest of your life, which is why drug addicts and alcoholics relapse into their addictions, sometimes after decades of sobriety.
Second, there isn't any such thing as getting rid of your old habits. Instead, you have to overwrite the bad habit with a new routine. The most efficient method for achieving this is by reprogramming the behavior. However, you have to make the new habit stronger than the old habit if you want it to stick.
article continues after advertisement
Fortunately, by changing your habit loop, you can more easily solidify the new behavior, which will make it much more difficult for you to return to the old habit.
3. Use Small Steps
Using small steps to overcome a bad habit is a combination of quitting cold turkey and changing your habit loop, as discussed above. While you disagree with your bad habit, you also freely admit that you cannot quit your habit cold turkey.
This makes it necessary to analyze your behaviors and identify your triggers. When you can accomplish these two tasks, you can gradually limit your bad habit. For example, if you are trying to break the habit of eating poorly, you can start small by indulging in fewer sweets. With each passing week, you need to reach another milestone in eliminating your bad habit from your life.
After enough time has passed and you've continually worked toward making small changes in your habit, you will finally arrive at a point when you can completely stop engaging in your bad behavior automatically. Theoretically, with this method, you should be less prone to feeling discouraged when you slip. You have to assume some failure with this method but are better equipped to keep your motivation. This method is much more convenient for those who can quantify their bad habits.
4. Track Your Progress to Reinforce Your Determination
While this isn't necessarily a method for breaking a bad habit per se, it is beneficial in every instance of getting rid of a bad habit. In the above method of taking small steps toward getting rid of your bad habit, the approach is relatively apparent. If you are about to restrict yourself by saying a few cigarettes, you need to track the number.
When you change your habit loop, it is also a great idea to start tracking what isn't working. At the bare minimum, tracking your progress comes down to checking whether or not you engaged in your bad habit that day. You can also use the tracking method when using the cold turkey method of eliminating bad habits.
When you quit your bad habit, you should be counting the days without the behavior or habit and try to build a streak that motivates you to keep going. When you find yourself clean for a single day, and you haven't been in years, it can be incredibly blissful. The second day that you add to the chain feels like an event worthy of a celebration.
Then comes the joy of going a week, later a month, then the first year. These kinds of milestones can provide you with a sense of accomplishment, even though you aren't really doing anything other than abstaining from engaging in a habit, which is the whole point of this particular method.
What's more, tracking your progress works in the same way as building your good habits. It focuses your attention on the essential things and provides you with the motivation to keep moving forward. It can also provide you with valuable
5. Focus on Your Good Habits
This method will ultimately kill your bad habits by starving them. Getting rid of bad habits focuses your attention on the negative aspects of your life. It can end up feeling incredibly restrictive rather than liberating. When you focus on eliminating bad habits, you watch yourself and end up denying yourself the pleasures you're used to having in your life.
While you know that it is better to avoid engaging in your bad habits in the long run, but those bad behaviors are a part of who you are, whether you like it or not. They were the mechanisms you used to relieve stress and help you cope with anxiety and low self-esteem. Without them, your life might seem to be less bearable.
So, instead of focusing on your bad behaviors and what you can't do, you should focus on new activities that contribute to your life in a more positive way. To break your bad habits, funnel all of your energy into habits that will improve your experience rather than avoiding what is wrong with it. While your bad habits will continue to lurk in the depths of your brain, the only time they will resurface is if you lower your guard.
Conclusion
When it comes to eliminating bad habits from your life, it is essential to remember that you are about to embark on a long and challenging journey. You will continually be tempted to return to your old ways and risk succumbing to your old habits.
While these methods will help you break your bad habits, you must remember that the temptation to fall back into your old ways will always be there. Don't continue to let your bad habits dictate your life. Take the first positive steps toward changing your bad habits today and start living a happier and healthier life now.
https://www.psychologytoday.com/us/blog/the-upside-things/202102/5-ways-overcome-bad-habit
Lansing Street Advisors is a registered investment adviser with the State of Pennsylvania..
To the extent that content includes references to securities, those references do not constitute an offer or solicitation to buy, sell or hold such security as information is provided for educational purposes only. Articles should not be considered investment advice and the information contain within should not be relied upon in assessing whether or not to invest in any securities or asset classes mentioned. Articles have been prepared without regard to the individual financial circumstances and objectives of persons who receive it. Securities discussed may not be suitable for all investors. Please keep in mind that a company's past financial performance, including the performance of its share price, does not guarantee future results.
Material compiled by Lansing Street Advisors is based on publicly available data at the time of compilation. Lansing Street Advisors makes no warranties or representation of any kind relating to the accuracy, completeness or timeliness of the data and shall not have liability for any damages of any kind relating to the use such data.
Material for market review represents an assessment of the market environment at a specific point in time and is not intended to be a forecast of future events, or a guarantee of future results.
Indices that may be included herein are unmanaged indices and one cannot directly invest in an index. Index returns do not reflect the impact of any management fees, transaction costs or expenses. The index information included herein is for illustrative purposes only.