1.Bitcoin Vs. Gold
Bitcoin looks as if its is eating #Gold. While the cryptocurrency hit fresh ATH >51k, Gold has dropped <$1800.
Holger Zschaepitz
@Schuldensuehner, https://twitter.com/Schuldensuehner
2. Oil Prices Hit One-Year High….Energy Stock ETF Break Above 2020 Levels
Oil prices continued their recent surge, with WTI topping $61 a barrel for the first time in a year, as a deep freeze in Texas exacerbated a power crisis taking out a third of U.S. crude production.
Bloomberg reports that some 3.5 million barrels a day of American output has been halted, according to traders and industry executives, as a cold blast freezes well operations and cuts power across the central U.S. That's being offset, however, by the suspension of more than 3 million barrels a day of refining capacity, according to Energy Aspects Ltd.
BY TYLER DURDEN ZEROHEDGE HTTPS://WWW.ZEROHEDGE.COM/ENERGY/OIL-PRICES-EXTEND-GAINS-TEXAS-TURMOIL-SLASHES-US-CRUDE-PRODUCTION
XLE-ENERGY ETF BREAKS ABOVE 2020 HIGHS STILL WELL BELOW 2018 LEVELS
3. Retail Sales Surge
Bespoke Investment Group-Based on the latest Retail Sales report for January, it looks like the $600 stimulus checks that were sent out to both struggling (and non-struggling) Americans in later December and early January achieved their purpose. After three straight weaker than expected reports, Retail Sales for the month of January blew the doors off estimates, surging by 5.3% compared to expectations for an increase of 1.1%. After stripping out Autos and Gas, the increase was even more at close to 6%.

To put this spread versus expectations into perspective, since the late 1990s, the only other times that Retail Sales topped expectations by more than four percentage points were last June coming out of the lockdowns and back in November 2001 after the 9/11 attacks. While December's report was revised down, it did little to dent the positive impact of the January numbers.

Not surprisingly, breadth in this month's report was perfect. Of the thirteen sectors that comprise the total pie, all of them were higher on a m/m basis led by Electronics & Appliances, Furniture, and Online, which all spiked more than 10%. If the distortions resulting from the COVID lockdowns weren't so fresh in our collective memories, we'd be calling these types of moves historic. On the downside, Health and Personal Care was the weakest sector, and it still increased over 1%!
https://www.bespokepremium.com/interactive/posts/think-big-blog/b-i-g-tips-retail-sales-surge-2
4. Retailers ETF RTH
Van Eck Retailers ETF New Highs
RTH Retailers ETF Top Holdings—30% of the fund is Amazon and Home Depot.
https://finance.yahoo.com/quote/rth/holdings?ltr=1
5. 15 Years of Fuel Mixes-2020 Wind Overtook Coal and Solar.
https://www.marketwatch.com/story/whats-behind-the-texas-power-outages-11613508031?mod=home-page
6. Five of the Key Commodity Inputs into Manufacturing Process for Renewables.
Jim Reid -Deutsche Bank
7. Home Price Appreciation in Big City Suburbs.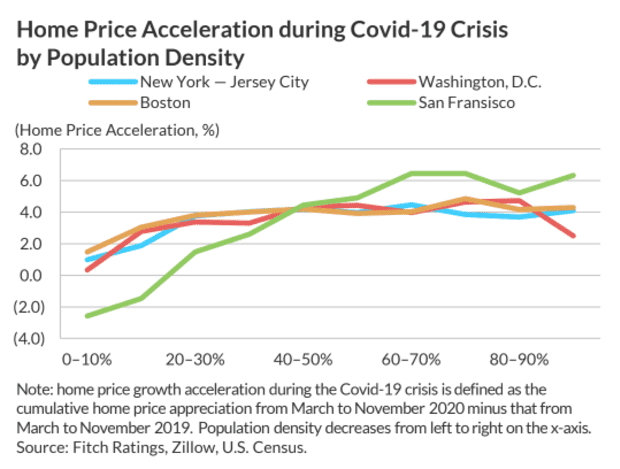 Big city flight led to surging suburban home prices — Will it outlast the pandemic?By Joy Wiltermuth
https://www.marketwatch.com/story/big-city-flight-led-to-surging-suburban-home-prices-will-it-outlast-the-pandemic-11613510270?mod=home-page
8. A shakeup in the ranks of powerhouse American cities
Data: Milken Institute; Chart: Axios Visuals
San Francisco fell from #1 and was supplanted by Provo, Utah, in the Milken Institute's annual ranking of big metropolitan areas with the best regional economies.
Why it matters: As the pandemic prompts people to move from pricey superstar cities to mid-tier ones where life is cheaper and easier, traditional powerhouses are being upstaged by smaller places focused on economic vitality.
Driving the news: What a difference a (pandemic) year makes: The 2021 Milken Institute Best-Performing Cities Index, released Wednesday, shows San Francisco, San Jose, Reno, Seattle and Dallas falling out of the "top 10" places for job creation, wage growth, and innovation.
"Large cities in the Intermountain West and South are outperforming many areas on the coasts, mainly due to their higher levels of short-term job growth and more affordable housing," Milken said.
"For instance, Salt Lake City moves up 21 spots to come in at No. 4, and Huntsville, Alabama has one of the largest jumps up in the rankings."
"Housing affordability" and "broadband access" were added as new index criteria this year.
What they're saying: "A relatively new innovation center with significantly lower costs than Silicon Valley or Silicon Beach, Provo-Orem has attracted tech giants including Qualtrics, Vivint, and SmartCitizen, among others," per the Milken Institute, a nonprofit think tank.
The big picture: This seismic shift of people and power can be a boon to the smaller cities that prosper — attracting more companies, capital and citizens — but can also have deleterious effects on the qualities people cherish about them, like affordability and middle-class values.
Californians have been flocking to Idaho in such droves that they're pricing out locals, as Conor Dougherty writes in the NYT.
"Home prices rose 20 percent in 2020, according to Zillow, and in Boise, "Go Back to California" graffiti has been sprayed along the highways."
Citing a recent study by Redfin, Dougherty says that "the budget for out-of-town home buyers moving to Boise is 50 percent higher than locals' — $738,000 versus $494,000."
"In Nashville, out-of-towners also have a budget that is 50 percent higher than locals. In Austin it's 32 percent, Denver 26 percent and Phoenix 23 percent."
Details: Large metropolitan areas with the biggest gains in the Milken rankings — even though they didn't crack the top 10 — include Wichita, Kansas; Harrisburg-Carlisle, Pa.; Albuquerque, N.M.; Durham-Chapel Hill, N.C.; Madison, Wisc. and Lincoln, Neb.
The biggest losers in the rankings: Salinas, Calif.; Elgin, Ill.; Santa Cruz-Watsonville, Calif.; Lake County-Kenosha County, Ill.-Wisc.; and Des Moines.
https://www.axios.com/top-performing-cities-provo-utah-san-francisco-6ec4d362-1912-4059-acd2-14d8984656fa.html
9. Foreign-Born Share of Congress
Pew Research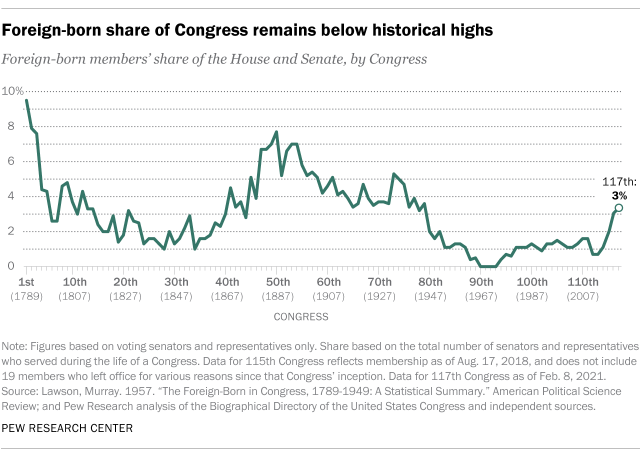 Immigrants and children of immigrants make up at least 14% of the 117th Congress BY SARA ATSKE
https://www.pewresearch.org/fact-tank/2021/02/12/immigrants-and-children-of-immigrants-make-up-at-least-14-of-the-117th-congress/
10. Are You Dangerously Overconfident?
Whether you are yet familiar with the Dunning-Kruger Effect or not, it is a theory which has a profound impact on our lives and you can avoid the worst of its dangers by being aware. Overconfidence can cost a young entrepreneur money, talent and time – and with the added risks and opportunities of 2021's unique economic environment, it's more important than ever for aspiring moguls to step back, self-reflect and think about some weak points where Dunning-Kruger can easily creep in.
Understanding the effect in question
In 1999, psychologists David Dunning and Justin Kruger published a groundbreaking paper, "Unskilled and Unaware of It," in which they demonstrated that people assume they are more knowledgeable or talented than they actually are, in a number of domains. In other words, we all overestimate our skills or expertise in some way. But Dunning and Kruger went further to point out that the more unskilled you are, the more likely you are to overestimate your abilities.
There has been a lot of discussion relating to the Dunning-Kruger effect related to politics and COVID-19 science in 2020 and 2021. But the concept is also an important one for those in finance and is especially relevant for young business owners who have not yet made enough mistakes to learn harsh Dunning-Kruger lessons.
Overcommitting and over outsourcing
In my opinion, the biggest Dunning-Kruger threat for small business owners is that we often take on new challenges that we don't have the skill set for, instead of hiring specialists and outsourcing tasks to experts. As the founder of The Doe, I felt a confidence that I knew how to handle most aspects of the company I had created. But bringing in talent to focus on product creation, UI development and social media has only demonstrated that I was right in realizing that I did not have the specialized knowledge I assumed I had.
For many companies, the restricted economy of 2020 meant layoffs or downsizing. Many pushed forward with their dreams with a skeleton crew. These hardworking and industrious owners kept the economy going and kept their dreams growing by becoming a jack of all trades, taking on extra responsibilities and filling in the gaps. But we can't let Dunning-Kruger lure us all into assuming that we should maintain that overcommitment and stop gap effort as the economy stabilizes in 2021.
Owners need to remember to not take on fields and tasks outside their competencies. Instead, outsource our weaknesses to dynamic, talented experts and let them work their magic.
Forgotten elders
With so many of us tucked away in quarantine for almost a year, it has been harder to stay connected to co-workers, creative partners and professional mentors. It is easy to forget that young entrepreneurs can learn a lot by picking the brains of older colleagues and friends who can describe lessons learned from previous mistakes. Dunning-Kruger often encourages us to ignore others who remind us that we don't know as much as we want to believe, and 2020's social isolation made that even easier.
A smart and self-reflective young owner will recognize the importance of learning from mentors, and will make the effort to create opportunities to still have those interactions. Digital coffees, zoom cocktails and other ways of connecting with advisors will remind us all of our limits and where we can learn more, and avoid the isolation that allows Dunning-Kruger to fester.
Beginner's luck and Robinhood
So many of us put business plans on hold in 2020, until our industries rebounded; but our boundless energy motivated us to grow our capital while waiting. With the massive growth of commission-free trading, new amateur-trading platforms like the now maligned Robinhood, and a clear market bottom in March 2020, a significant number of young entrepreneurs used 2020 as a chance to invest business funding into the stock market and multiply their seed money. These success stories could could continue to turn tragic, as 2021 continues, if these entrepreneurs get too distracted by the siren's call of a hot market.
The Robinhood story is a confluence of an unusual 2020 market and a set of untempered new investors. 2020's wild ride in the stock market meant nearly anyone could make money, it's just a matter of how much. A perfect scenario for Dunning-Kruger. Billionaire investor Chris Sacca took a swipe as the Robinhood bro culture, arguing that all the brand new investors who made money in the market this year "are not actually that good at it." Sacca's point is a tip of the hat to Dunning-Kruger: Many of those Robinhood investors who made, and continue to make, serious gains now see themselves as knowledgeable and skilled. If those investors are banking on those skills to fund their next venture, they may find themselves on the wrong side of the Dunning-Kruger Effect.
2021 offers a chance to evaluate your talents… and limits
As a young entrepreneur myself, I have always argued that self-reflection is a necessary step in being a great leader. One of the most important processes for successful self-reflection is honestly evaluating what we are good at and where we do not possess expertise. Being aware of the Dunning-Kruger Effect, especially as it pertains to bad habits we might have picked up in 2020, allows us to avoid its pitfalls and traps.
A new study commissioned by GoDaddy found nearly 86% of respondents looking for a career change wanted a path that was completely different from what they currently do. Comfortingly, in order to get a leg up in their job hunt, 47% of those polled turned to taking online courses while 42% learned a new digital skill and 31% have begun building a professional network.
If there's a bright side to this otherwise overconfident morass, it's that actual education and preparation may once again be in vogue.
Related: Fixing Skilling Crisis Amid Pandemic
https://www.entrepreneur.com/article/363987
Lansing Street Advisors is a registered investment adviser with the State of Pennsylvania..
To the extent that content includes references to securities, those references do not constitute an offer or solicitation to buy, sell or hold such security as information is provided for educational purposes only. Articles should not be considered investment advice and the information contain within should not be relied upon in assessing whether or not to invest in any securities or asset classes mentioned. Articles have been prepared without regard to the individual financial circumstances and objectives of persons who receive it. Securities discussed may not be suitable for all investors. Please keep in mind that a company's past financial performance, including the performance of its share price, does not guarantee future results.
Material compiled by Lansing Street Advisors is based on publicly available data at the time of compilation. Lansing Street Advisors makes no warranties or representation of any kind relating to the accuracy, completeness or timeliness of the data and shall not have liability for any damages of any kind relating to the use such data.
Material for market review represents an assessment of the market environment at a specific point in time and is not intended to be a forecast of future events, or a guarantee of future results.
Indices that may be included herein are unmanaged indices and one cannot directly invest in an index. Index returns do not reflect the impact of any management fees, transaction costs or expenses. The index information included herein is for illustrative purposes only.