1.Sector Leadership 2010-2022
Dorsey Wright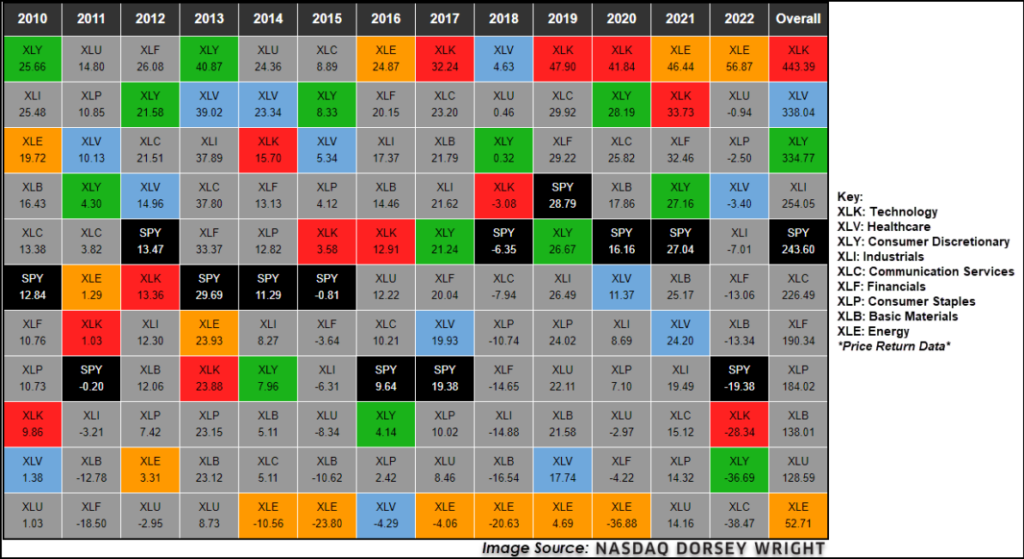 https://www.nasdaq.com/solutions/nasdaq-dorsey-wright
---
2. Natural Gas Futures in Europe Plunge 77% from Crazy Spike
by Wolf Richter  Record supply of LNG from the US and other sources. Record supply from Norway via pipeline. Conservation, power production shift… It adds up.
By Wolf Richter for WOLF STREET.
The price of natural gas futures in Europe continues to plunge off its crazy spike last summer. Dutch front-month TTF Natural Gas Futures – a benchmark for northwest Europe – traded today at €82 per megawatt-hour (MWh), down by 77% from the high on August 26, and back to where it had first been in September 2021 (data via Investing.com).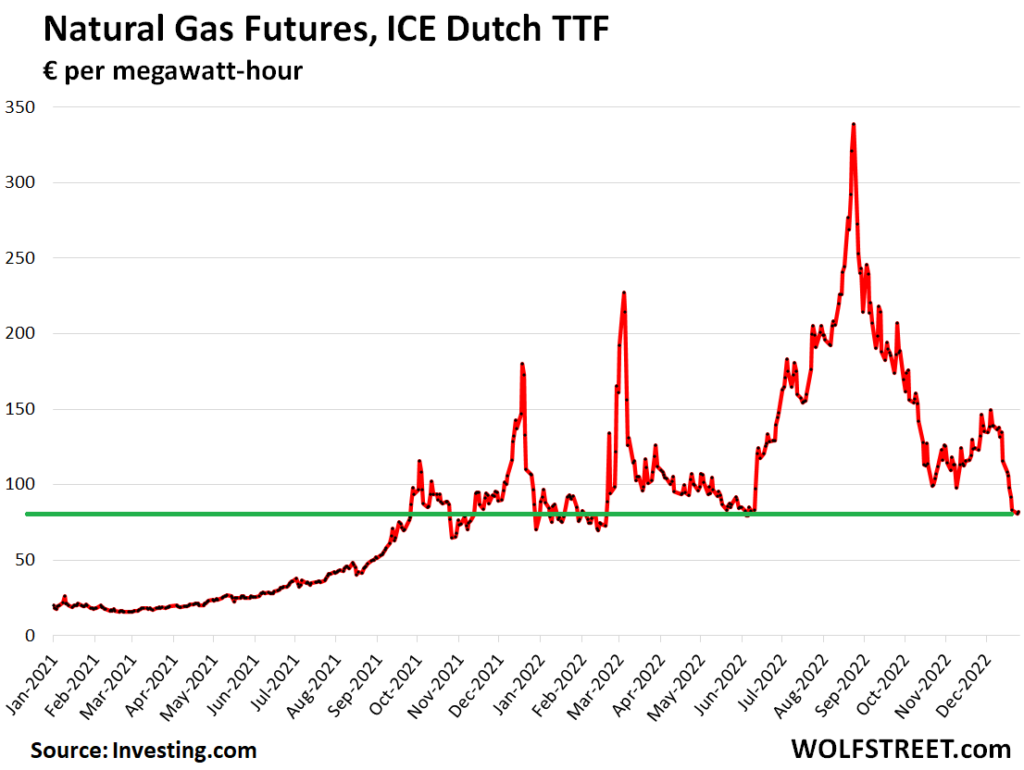 Demographic Trends: Here's a look at fertility rates in advanced economies.
https://wolfstreet.com/2022/12/28/natural-gas-futures-in-europe-plunge-77-from-crazy-spike-storage-in-the-eu-above-5-year-average-in-germany-87-full/
---
3. Yields Tend to Fall After Steep Increases
LPL Research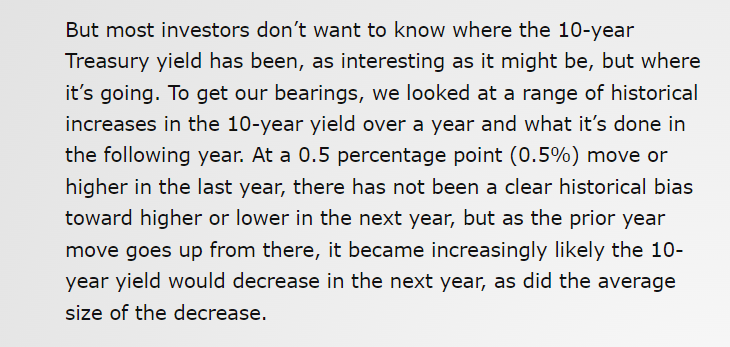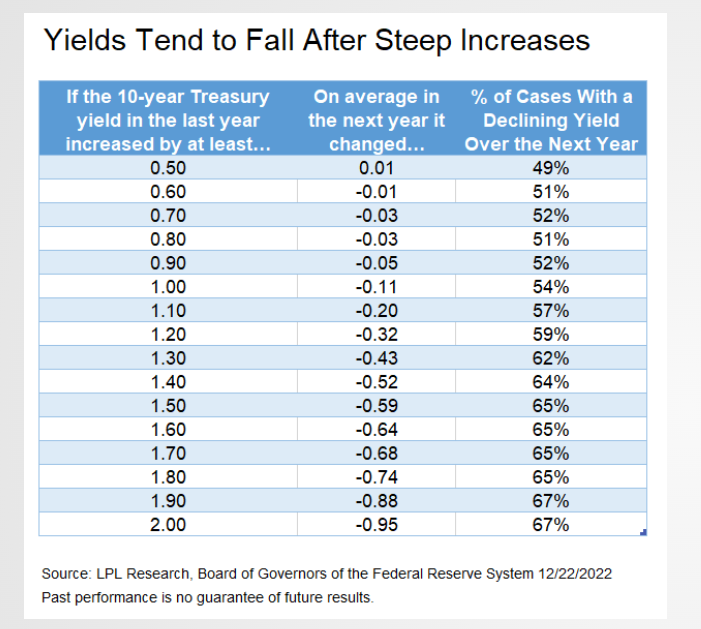 https://lplresearch.com/2022/12/27/history-says-10-year-treasury-yield-more-likely-to-fall/
---
4. Investing Prior to Final Rate Hike
Capital Group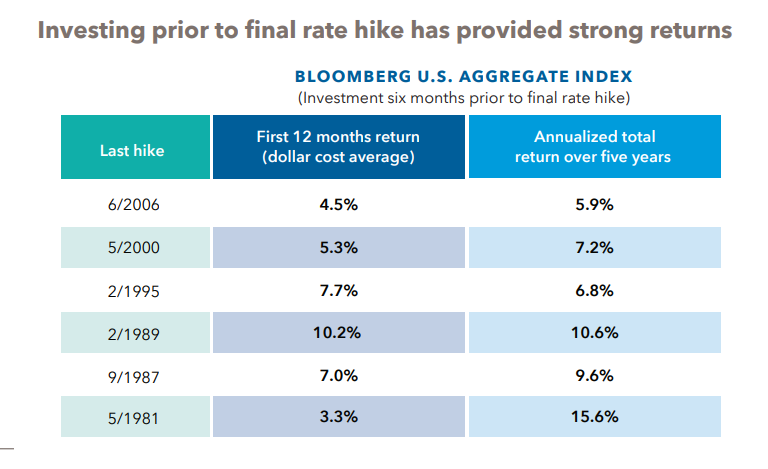 https://www.capitalgroup.com/advisor/pdf/shareholder/MFCPBR-090-1031015.pdf?sfid=1988901890&cid=80904210&et_cid=80904210&cgsrc=SFMC&alias=A-btn-LP-2-CISynCTA
---
5. The Famous Telsa Chart Finally Faced Reality…
Tesla Enterprise Value Greater than All Global Automakers Combined with 1/10th EBITA –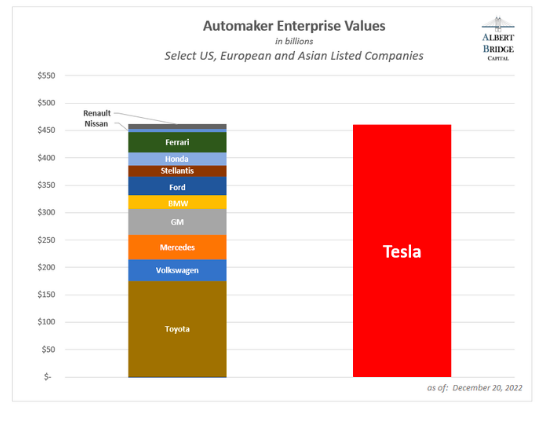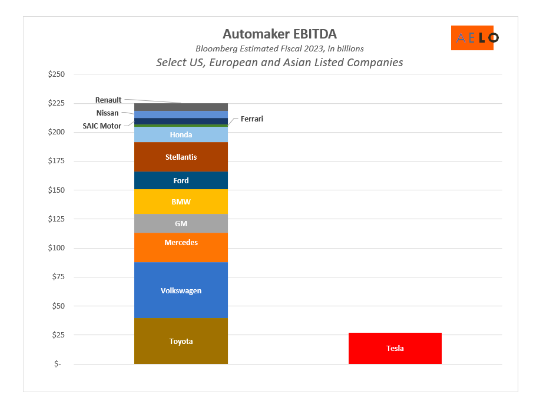 Irrelevant Investor Blog
https://theirrelevantinvestor.com/2022/12/28/animal-spirits-the-tesla-crash/
---
6. Fertility Slump in U.S.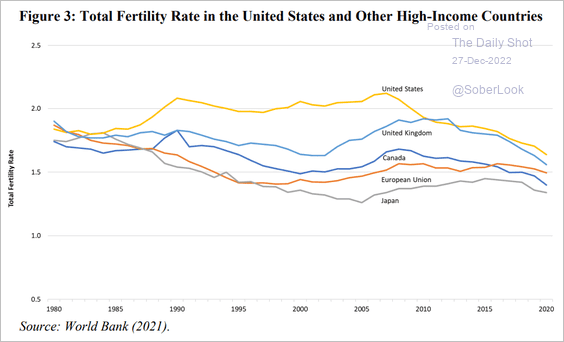 Source: The Aspen Institute Economic Strategy Group Read full article
The US fertility rate remains below the replacement level.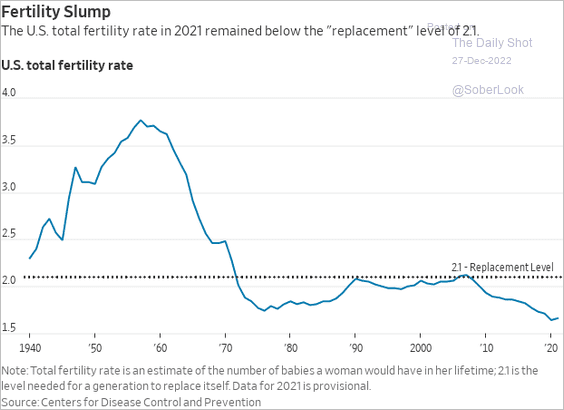 Source: @jeffsparshott, @greg_ip
---
7. Annual Installations of Collaborative Robots Doubles Since 2019…Less People=More Robots
Barrons "Postpandemic, there are a lot of jobs that people have decided they don't want to do," says Jeff Burnstein, president of the Association for Advancing Automation, an industry trade group.  
Robots appear to be getting a pandemic lift. Global sales hit a record $15.5 billion in 2021 and are on track to grow 10% this year, to around $17 billion, according to the International Federation of Robotics, a trade group. More than 517,000 robotic units were installed globally in 2021, 31% above 2020's total. Worldwide sales of robotic units will top 600,000 this year, the trade group estimates. 
https://www.barrons.com/articles/robot-jobs-51671667349?mod=past_editions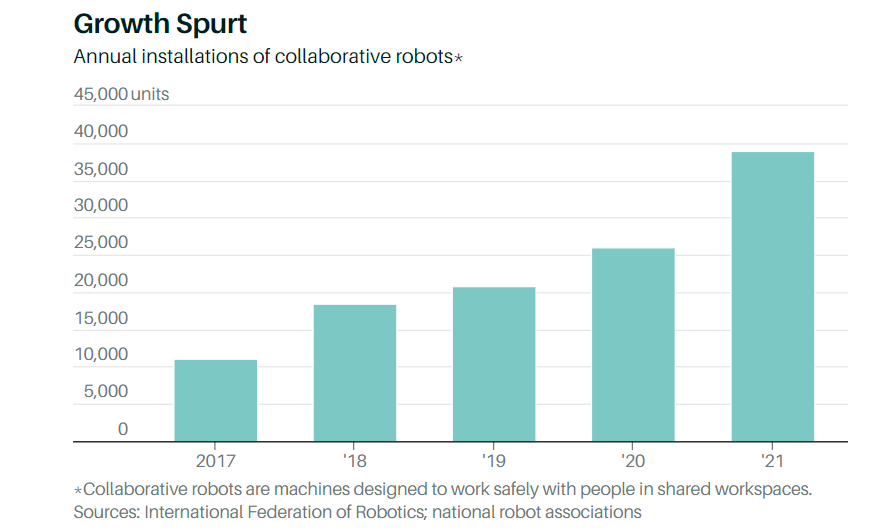 ---
8. Retail Theft More than Doubles Post Pandemic
WSJ Although shrink is a perennial problem in retail, it really took off when the pandemic hit. In the five years leading up to 2019, retail shrink grew at a compound annual growth rate of roughly 7%, according to data from the NRF. In 2020, it jumped 47%, and rose another 4% on top of that huge jump in 2021. Some retailers, including Ulta Beauty and Target, have said that shrink has gotten worse again this year. "When times get tough, shrink goes up," Ulta Beauty Chief Financial Officer Scott Settersten said on the company's earnings call on Dec. 1. We've seen that in retail over a long period of time."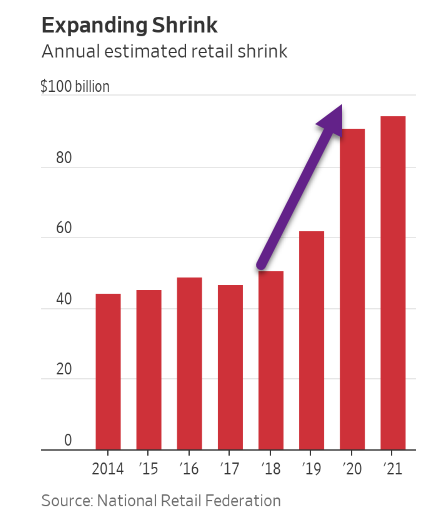 By Jinjoo Lee  https://www.wsj.com/articles/shoplifting-stores-problem-11671737792
---
9. All Cancelled Flights are Southwest

https://www.cnn.com/2022/12/27/business/southwest-airlines-service-meltdown/index.html
---
10. Stop complaining, says billionaire investor Charlie Munger: 'Everybody's five times better off than they used to be'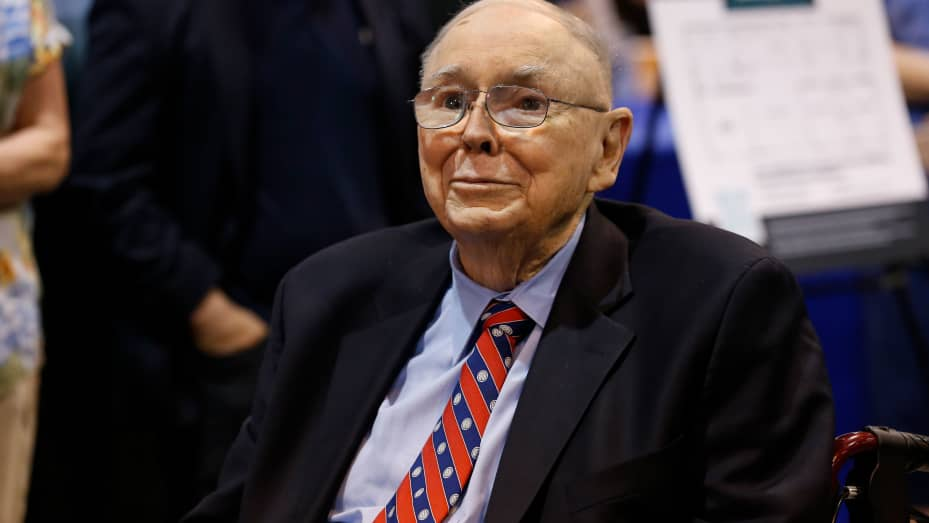 Charles Munger at the Berkshire Hathaway Annual Shareholders Meeting in Omaha, Nebraska, April 29, 2022.
David A. Grogan | CNBC
Billionaire Charlie Munger thinks we should all be a lot happier.
Munger, the longtime investment partner and friend of fellow billionaire Warren Buffett, says he doesn't understand why people today aren't more content with what they have, especially compared to harder times throughout history.
"People are less happy about the state of affairs than they were when things were way tougher," Munger said earlier this year at the annual meeting of the Daily Journal, the newspaper company where he's a director.
The 98-year-old noted that he came of age in the 1930s, when Americans everywhere were struggling: "It's weird for somebody my age, because I was in the middle of the Great Depression when the hardship was unbelievable."
During that annual meeting, Munger complained that envy is a driving factor for too many people today. Before the early 1800s, there were thousands of years where "life was pretty brutal, short, limited and what have you. [There was] no printing press, no air conditioning, no modern medicine," he said.
If nothing else, Munger's sense of widespread envy in today's world might be right on the money: Recent studies show that roughly 75% of people are envious of someone else in any given year. over 60% upside, analysts say
Social media sites like Facebook, Instagram and Twitter are especially effective at sparking feelings of envy or jealousy, often connecting us with people who only offer highly curated peeks into the positive developments in their lives.
At the meeting, Munger pointed to the work of Harvard psychologist Steven Pinker, who has argued that the quality of life around the world has improved dramatically over the past century or two, citing evidence such as longer life expectancies and reduced global poverty.
Critics of Pinker's work say his views are overly simplified and ignorant of negative aspects of modern life, from growing wealth inequality to the ongoing existence of violence and political instability — factors that can still cause real suffering.
In 2019, Munger downplayed the effects of wealth and income inequality, and claimed that the politicians who were "screaming about it are idiots."
Some politicians, like Vermont Sen. Bernie Sanders and Massachusetts Sen. Elizabeth Warren, have called for tax increases on the ultra-wealthy in recent years. Munger and his estimated net worth of $2.2 billion would likely be subject to those increases.
The billionaire has expressed skepticism about higher taxes on the wealthy in the past, even arguing last year that some inequality is a necessary aspect of a free market economy. At the Daily Journal's annual meeting this year, he added that most people's concerns over wealth inequality and criticisms of the extremely wealthy were "motivated" by envy.
"I can't change the fact that a lot of people are very unhappy and feel very abused after everything's improved by about 600%, because there's still somebody else who has more," Munger said.
https://www.cnbc.com/2022/12/27/charlie-munger-stop-complaining-about-wealth-inequality-life-quality.html