1.Who Got Rescued?
Just 1 percent of borrowers received a quarter of loans from the federal Paycheck Protection Program.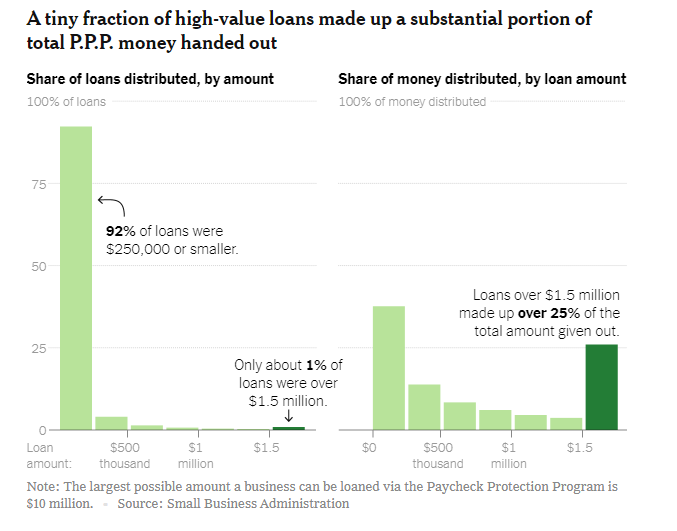 By Andrew Ross Sorkin, Jason Karaian, Michael J. de la Merced, Lauren Hirsch and Ephrat Livni
More than 5.2 million companies received loans from the Paycheck Protection Program, the $523 billion centerpiece of the government's pandemic aid for businesses. But the first full accounting of the data from the Small Business Administration shows what most suspected: More than a quarter of the money went to just 1 percent of borrowers, The Times's Stacy Cowley and Ella Koeze report.
A tiny fraction of high-value loans made up a substantial portion of total P.P.P. money handed out
Share of loans distributed, by amount
Share of money distributed, by loan amount
Note: The largest possible amount a business can be loaned via the Paycheck Protection Program is $10 million.
Source: Small Business Administration
Some of the most prominent recipients:
National restaurant chains: Ted's Montana Grill, T.G.I. Friday's and P.F. Chang's were among those that each received the maximum of $10 million, after the industry successfully lobbied to make large chains eligible for aid aimed at small businesses.
Law firms: Boies Schiller Flexner and Kasowitz Benson Torres, which was founded by the Trump ally Marc Kasowitz, each collected $10 million.
Tenants of Trump properties: Nearly 100 businesses listing an address at 40 Wall Street, a building with ties to the Trump Organization, received a total of more than $34 million in loans.
The program's effectiveness is in question. The payroll provider Gusto found that the chances that workers would lose their job at a company that took a P.P.P. loan — which was forgivable if companies kept employees on their books for a period of time — increased by 25 percent during the week that the loan's restrictions ended.
Some 232,000 jobs may have been eliminated as the restrictions expired. "Companies really emerged in no better shape," said Luke Pardue, a Gusto economist. "A lot of that is due to the fact that the economy is in no better shape."
2. Everyone Trying to Join Party……Frontier Markets Close to Making New Highs.
Global Frontier Markets ETF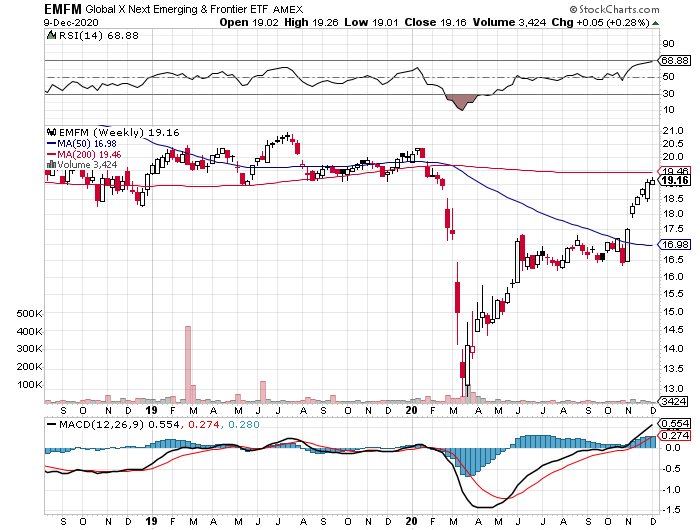 3. Everyone Joining Party…..Microcap Stocks Make New Highs.
Micro-Cap Stocks ETF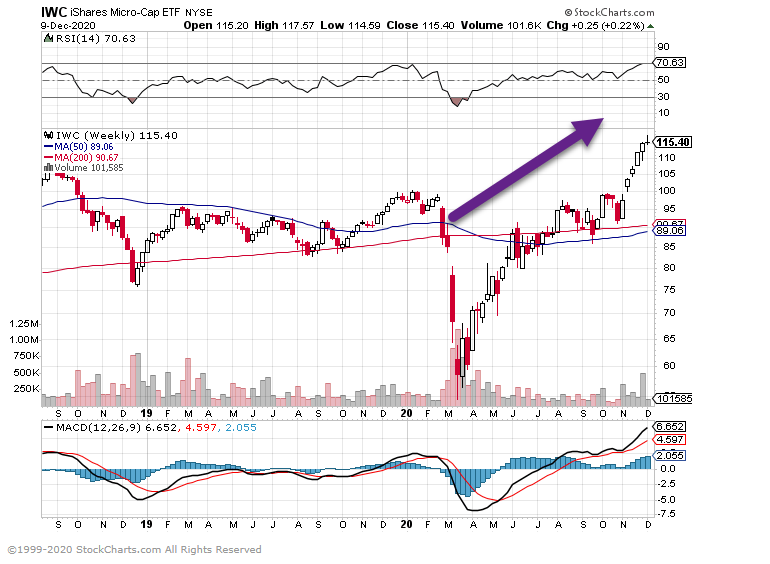 4. China Sector Returns 2020….Tech and Consumer Lead.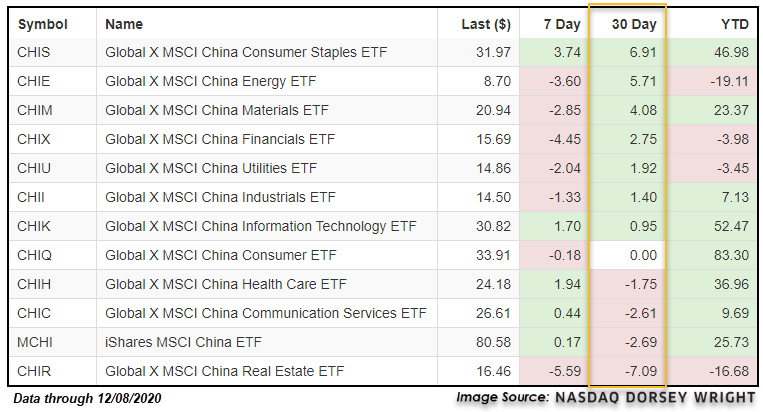 5. The Biggest Facilitators of Global Tax Abuse.
https://twitter.com/edsbilisim/status/1332459459394809857/photo/1
6. San Francisco Rents Plunge 35% As Exodus Continues
by Tyler Durden
Wed, 12/09/2020 – 18:05
The median rent for a studio apartment in San Francisco plunged 35% in November from a year earlier, to $2,100, while costs for one-bedrooms slumped 27% to $2,716, according to Bloomberg, citing a new report from Realtor.com.
Declining rents is more confirmation of the exodus from the Bay Area (as we've noted: here & here) as remote working allows city dwellers to leave the metro area for suburbs, Lake Tahoe, and elsewhere.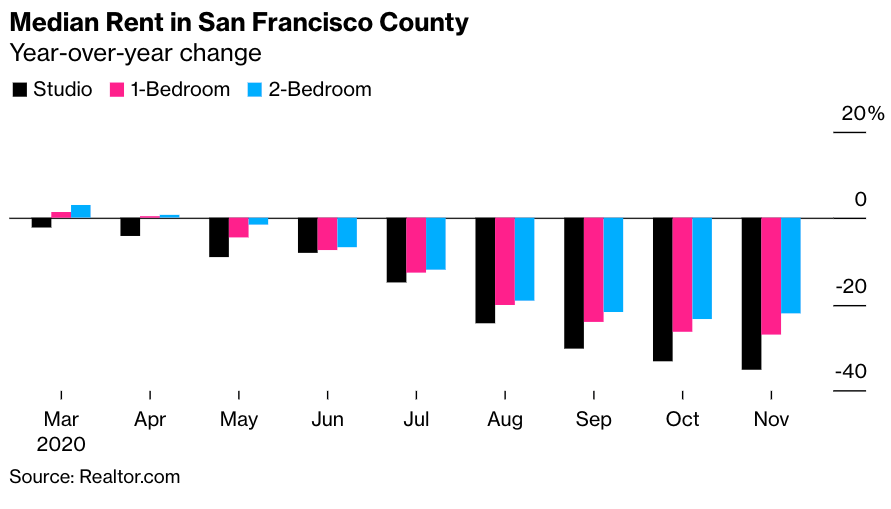 https://www.zerohedge.com/personal-finance/san-franciscos-rents-plunge-35-exodus-continues
7. The Cost of Mapping Human Genome Fell From $100m in 2001 to Less Than $1000 Today.
Customized diagnoses and treatments will likely raise health care costs as the industry moves away from a one-size-fits-all framework. The good news is genome sequencing costs have cascaded. The cost of mapping a human genome fell from $100 million in 2001 to less than $1,000 today, according to the National Institute of Health's Genome Research Institute. The decline far exceeded Moore's Law for computing, which postulated costs halving every 18 months.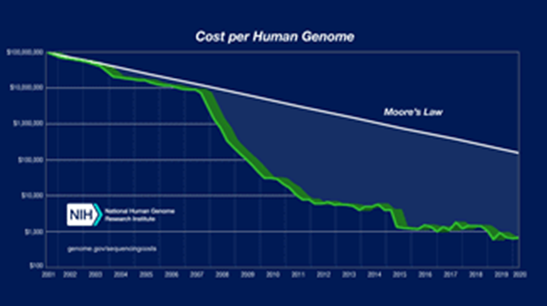 The Promise of Personalized MedicineJACK ABLINNOVEMBER 24, 2020MARKET COMMENTARY
https://cressetcapital.com/headline/the-promise-of-personalized-medicine/
8. Dry ice sales booming as hospitals get ready to store Pfizer's Covid vaccine at minus 94 degrees
PUBLISHED WED, DEC 9 20205:19 PM ESTUPDATED WED, DEC 9 20205:45 PM EST
KEY POINTS
· Dry ice sales are surging as hospitals prepare for the arrival of Pfizer's Covid-19 vaccine, which requires ultra-cold storage.
· "Our inventory is a little shot. We've ramped up double our normal volume at this point," Chris Vida, owner of Dry Ice Depot, told CNBC.
· The FDA could approve the vaccine as soon as this week.
The ultra-cold temperatures required for storing the Covid-19 vaccine developed by U.S. pharmaceutical giant Pfizer and Germany-based BioNTech has driven a buying frenzy for freezers and dry ice. However, large-scale freezers units are expensive — and with hospital budgets already strained during the pandemic, dry ice has emerged as the go-to option.
That's how Chris Vida, owner of Dry Ice Depot, described what he's seeing right now.
Vida's business — located in Bridgewater, New Jersey — ships on average 40,000 to 50,000 pounds of dry ice per day. He told CNBC that new orders continue to pour in from hospitals that will have to store their Pfizer vaccine supplies at minus 94 degrees Fahrenheit. "[Tuesday] was a big day, we moved around 70,000 pounds of dry ice. So our inventory is a little shot. We've ramped up double our normal volume at this point."
The average dry ice order amount from hospitals is 170 pounds, Vida said, adding that he's also receiving big orders from pharmacies and shipping giants like FedEx.
Distributors and suppliers across the nation are dealing with a similar situation in preparation of the vaccine receiving emergency use authorization from the Food and Drug Administration. Limited approval could be given this week after the agency's vaccines committee meets Thursday.
There is no sleep for the vaccine or the Covid virus.
Marc Savenor
ACME DRY ICE PRESIDENT
Acme Dry Ice in Boston, one of the largest distributors of dry ice in the nation, told CNBC that it's team plans to work over the holidays to ensure he can fulfill the new orders that are coming in. "There is no sleep for the vaccine or the Covid virus," said Marc Savenor, president of Acme Dry Ice.
Unlike the ice in your home refrigerator, dry ice is a solid form of carbon dioxide, or CO2. Back in March, fewer cars on the road due to the pandemic contributed to a decline in ethanol production, which produces CO2 as a by-product, resulting in a shortage of the gas. Experts said that driving ultimately returned over the summer and CO2 supplies, in turn, have rebounded.
Rich Gottwald, president of the Compressed Gas Association, told CNBC the industry is confident there's enough CO2 product to meet demand for the vaccine. CGA is a trade body representing the biggest CO2 suppliers and dry ice manufacturers. "The shortage that we saw in the spring was really alleviated by the end of the day, by driving coming back over the summer. [Companies] are ready to supply dry ice as soon as the vaccine comes available," he added.
The industrial and chemical companies involved in the production of CO2 and dry ice are not the most high-profile names. Airgas, part of Air Liquide, supplies dry ice. Continental Carbonic, part of Matheson, is another supplier. Germany's Linde acquired U.S. based Praxair in 2018 for more than $80 billion. Linde, along with Air Products, supply CO2, which is then converted into dry ice by their customers.
One of the key challenges with dry ice is that, unlike toilet paper, it can't stockpiled.
"Over time dry ice will revert back to its gaseous form, whether that be five, seven, 10 days, it certainly has a lifespan," Gottwald explained. "At that point, if it's being used for a vaccine, the product would need to be re-iced .. more ice would be needed to be applied to the vaccine to keep it at that temperature."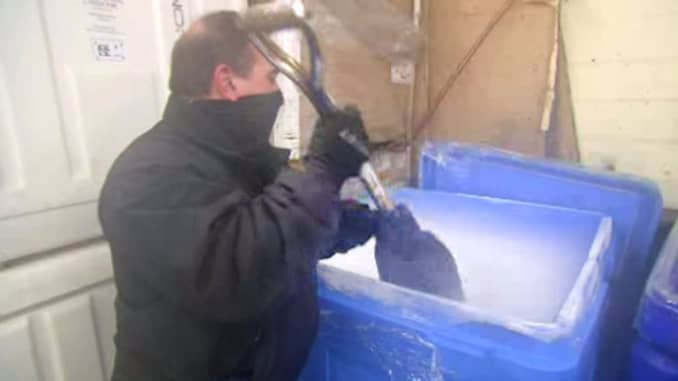 Chris Vida, owner of Dry Ice Depot in Bridgewater, N.J., shovels dry ice ahead of distribution.
Source: CNBC
It's one of the key reasons hospitals are looking to set up longstanding contracts with Vida at Dry Ice Depot in New Jersey: To ensure they can come back for refills when they run out. Vida said that one of the hospitals he's supplying dry ice to is St. Barnabas Hospital in The Bronx in New York City.
While hospitals figure out how many vaccines doses they will be allotted, the staff is puzzled over how much dry ice they will need to keep the Pfizer vaccine at the proper temperature. "Now all the questions are starting and, you know, there's a lot of confusion out there. People really don't know how its going to be stored, how we're going to ship. How much do we [hospitals] need," said Vida.
Medical workers and nurse technicians immunizing citizens will also have to learn how to handle dry ice at such fridge temperatures. Experts said that protective gear is needed to avoid frostbite — and if too much is inhaled, it can become a serious health risk.
Forensic Detectors — a small business based in Rancho Palos Verdes, California, which specializes in monitoring toxic gases like CO2 — has also seen sales skyrocket. "My sales have increased over 10 times over the past three months, owner Dr. Kos Galatsis told CNBC. "We are sold out of carbon dioxide detectors."
Companies that make ultra-cold freezers also are experiencing a surge in demand.
In late November, Dan Hensler, vice president of Cincinnati-based So-Low Environmental Equipment, said the company was "out of everything" despite its efforts to build up an inventory backlog. "It's been crazy. It's absolutely been crazy," he told CNBC then.
Carrier and Trane Technologies — both of which specialize in cold storage options from trucks to freezers — told CNBC they're actively working with Operation Warp Speed, the White House's public-private program to accelerate the development, manufacturing and distribution of Covid-19 vaccines and treatments.
— CNBC's Patrick Manning and Kevin Stankiewicz contributed to this story.
https://www.cnbc.com/2020/12/09/covid-vaccine-dry-ice-sales-skyrocket-as-hospitals-prepare-to-deliver-shots.html
9. Latest from Pew on Remote Work
Many workers would like to telework after the pandemic is over; transition to working from home has been relatively easy for many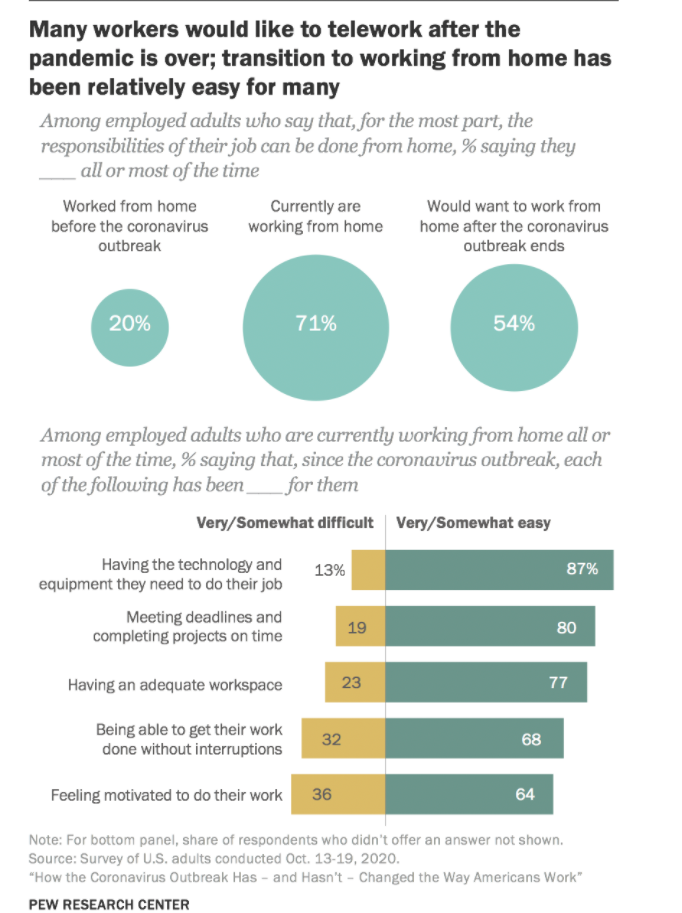 10. Negative Impact of Sugar on the Brain
Medically reviewed by Shaheen Lakhan, MD, PhD, FAAN
Table of Contents
The brain uses more energy than any other organ in the human body and glucose is its primary source of fuel. But what happens when the brain is exposed to an excessive amount of sugars in the standard American diet? In this case, more is definitely not better.
In the brain, excess sugar impairs both our cognitive skills and our self-control. For many people, having a little sugar stimulates a craving for more. Sugar has drug-like effects in the reward center of the brain. Scientists have proposed that sweet foods—along with salty and fatty foods—can produce addiction-like effects in the human brain, driving the loss of self-control, overeating, and subsequent weight gain.
In early humans, this stimulus helped lead them to calorie-rich foods, which aided survival when food was scarce. But now this primitive drive contributes to our epidemics of obesity and diabetes. The behavioral and neurobiochemical characteristics of substance abuse and overeating are quite similar, and the idea of food addiction is gaining ground among scientists.
Sugar's Reward Response
In humans, high-glycemic foods have been found to activate regions of the brain associated with the reward response and provoke more intense feelings of hunger compared to low-glycemic foods. Foods that cause a higher elevation in blood glucose produce a greater addictive drive in the brain.
Research published in the American Journal of Clinical Nutrition used the glycemic index (GI)—a measure of how certain foods convert to sugar in the body—to test this process and found eating a high-GI meal elicited greater brain activity in regions involved in eating behavior, reward, and craving.1
Sugar Addiction
Additional studies on brain activity have provided evidence supporting the idea that overeating alters our brain's reward system, which then further drives overeating.2 This same process is thought to underlie the tolerance associated with addiction.
Is Sugar Really, Truly Addictive?
Over time, greater amounts of the substance are required to reach the same level of reward. Studies imply that overeating results in a diminished reward response and a progressively worsening addiction to low-nutrient foods rich in sugar, salt, and fat.
A study published PLoS One found that sweet foods can be more addictive than cocaine.3 Though the research was performed on animals, investigators found that intense sweetness can surpass cocaine reward, even in drug-sensitized and -addicted individuals.
How Sugar Impacts Memory
Throughout the body, excess sugar is harmful. Even a single instance of elevated glucose in the bloodstream can be harmful to the brain, resulting in slowed cognitive function and deficits in memory and attention.
Some research suggests high sugar consumption causes inflammation in the brain, leading to memory difficulties. A 2016 study published in Behavioral Brain Research found inflammatory markers were present in the hippocampus of rats fed a high sugar diet, but not in those fed a standard diet.4
The good news, however, is this inflammatory damage from sugar may not be permanent.
A 2017 study in the journal Appetite found that the memory damage caused by sugar consumption can be reversed by following a low-sugar, low-GI diet.5
In addition, research published in the journal Nutrients in 2015 found reducing sugar consumption and supplementing with omega-3 fatty acids and curcumin improves working memory.6
Sugar Has Effects on Mood
Sugar also affects mood. In healthy young people, the ability to process emotion is compromised with elevated blood glucose, according to a brain imaging study.
Another study published in Diabetes Care found that people with type 2 diabetes reported increased feelings of sadness and anxiety during acute hyperglycemia (elevated blood sugar).7
One of the largest studies to link sugar with depression—an analysis of dietary consumption and mood of 23,245 individuals enrolled in the Whitehall II study—found higher rates of sugar consumption was associated with a greater incidence of depression.8
The study, published in 2017 in the journal Scientific Reports, found those with the highest level of sugar consumption were a 23% more likely to be diagnosed with a mental disorder than those with the lowest sugar intakes.
Sugar Intake Hinders Mental Capacity
Elevated blood glucose harms blood vessels. Blood vessel damage is the major cause of the vascular complications of diabetes, leading to other problems, such as damage to blood vessels in the brain and eyes causing retinopathy.
Studies of long-term diabetics show progressive brain damage leading to deficits in learning, memory, motor speed, and other cognitive functions.9 Frequent exposure to high glucose levels diminishes mental capacity, as higher HbA1c levels have been associated with a greater degree of brain shrinkage.
Even in those without diabetes, higher sugar consumption is associated with lower scores on tests of cognitive function. These effects are thought to be due to a combination of hyperglycemia, hypertension, insulin resistance, and elevated cholesterol.
Additional research shows that a diet high in added sugar reduces the production brain-derived neurotrophic factor (BDNF), a brain chemical essential for new memory formation and learning.10 Lower levels of BDNF are also linked to dementia and Alzheimer's disease, according to a study published in the journal Diabetologia.11
A Word From Verywell
As the research shows, any sugar added in our food is dangerous. We can avoid these dangers by satisfying our sweet tooth with fresh fruit in place of refined sugars.
Eating fresh fr https://www.verywellmind.com/how-sugar-affects-the-brain-4065218uit provides the satisfying sweetness of sugar-laden treats with the added bonus of the fruit's fiber, antioxidants, and phytochemicals that curtail the surge of sugar in the bloodstream and block its negative effects.
https://www.verywellmind.com/how-sugar-affects-the-brain-4065218
Disclosure
Lansing Street Advisors is a registered investment adviser with the State of Pennsylvania..
To the extent that content includes references to securities, those references do not constitute an offer or solicitation to buy, sell or hold such security as information is provided for educational purposes only. Articles should not be considered investment advice and the information contain within should not be relied upon in assessing whether or not to invest in any securities or asset classes mentioned. Articles have been prepared without regard to the individual financial circumstances and objectives of persons who receive it. Securities discussed may not be suitable for all investors. Please keep in mind that a company's past financial performance, including the performance of its share price, does not guarantee future results.
Material compiled by Lansing Street Advisors is based on publicly available data at the time of compilation. Lansing Street Advisors makes no warranties or representation of any kind relating to the accuracy, completeness or timeliness of the data and shall not have liability for any damages of any kind relating to the use such data.
Material for market review represents an assessment of the market environment at a specific point in time and is not intended to be a forecast of future events, or a guarantee of future results.
Indices that may be included herein are unmanaged indices and one cannot directly invest in an index. Index returns do not reflect the impact of any management fees, transaction costs or expenses. The index information included herein is for illustrative purposes only