1. Updated Case Shiller P/E Ratio

https://www.multpl.com/shiller-pe
---
2. Schwab Chart Update
Leader in financial sector….4 lower highs back below 200-week moving average on chart.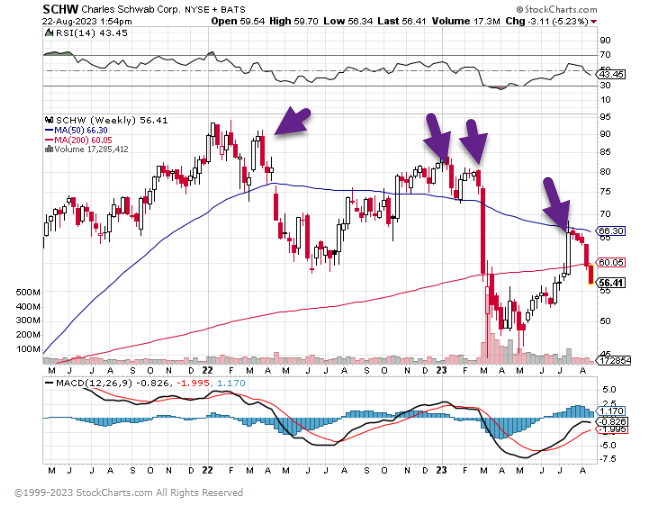 ---
3. Retail ETF Update After Dicks Blowup
XRT Retail ETF Closes Below 200day.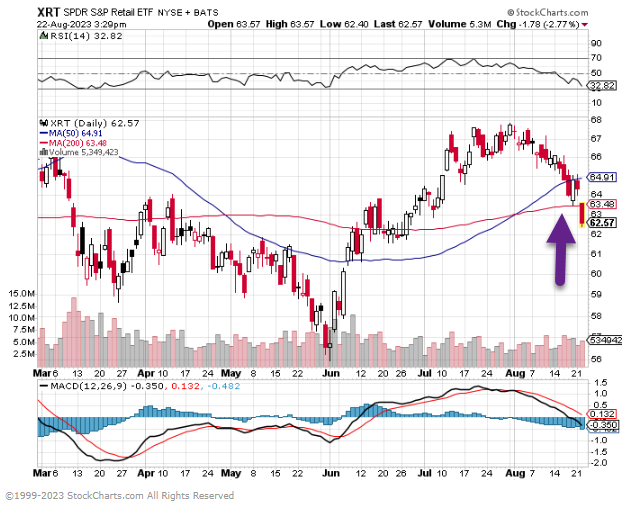 XRT Still 40 points below 2021 highs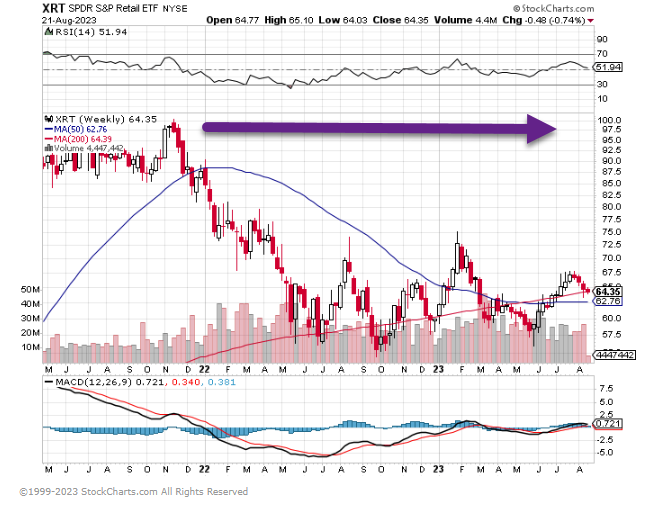 ---
4. Investment Grade and High Yield Spreads Over Treasuries Still Calm

DATATREK
https://www.marketwatch.com/story/u-s-stocks-may-bounce-this-week-but-summer-selloff-is-only-halfway-done-analysts-warn-2da503c9?mod=home-page
---
5. Disruptor Stock Measure ARKK -20% Correction in August…Back to 200-day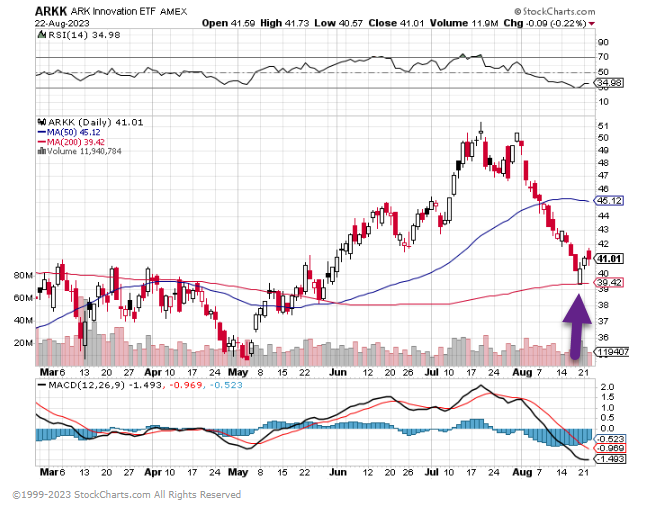 ---
6. NVDA Rallies to New Highs Going into Earnings After the Close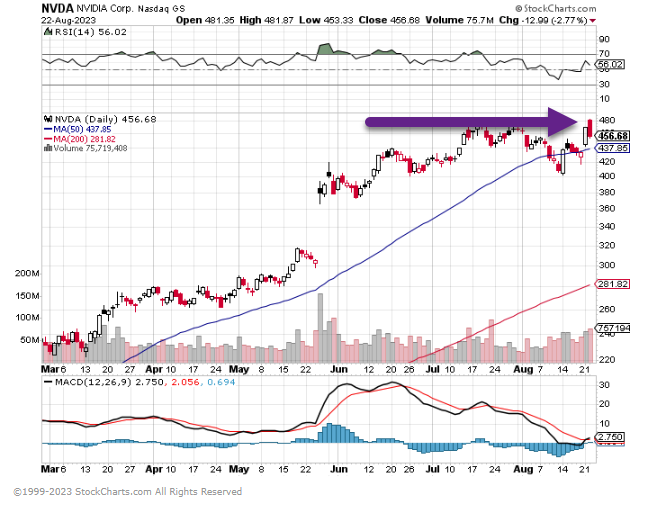 ---
7. Russell 2000 Small Cap -7.5% in August…Back to 200-Day Moving Average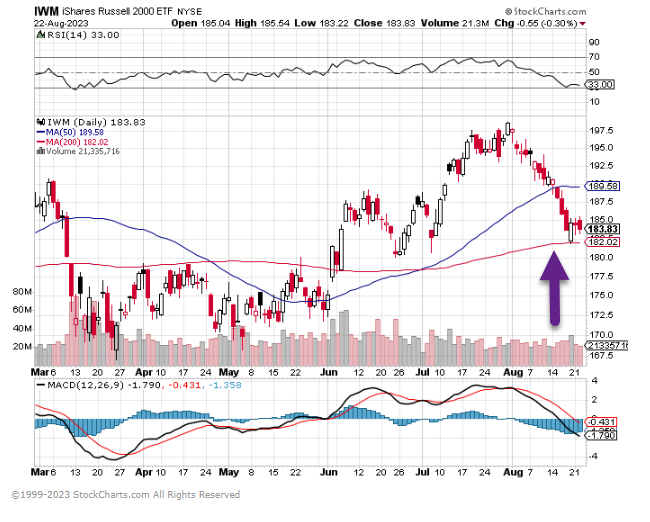 ---
8. New York and California Each Lost $1 Trillion When Financial Firms Moved South
For the first time, hard data shows the scope of the upheaval
Bloomberg By Linly Lin and Tom Maloney
The drip, drip, drip of the finance industry's exit from New York and California has been measured anecdotally, one at a time, these past few years. Elliott Management decamped to West Palm Beach. AllianceBernstein to Nashville. Charles Schwab moved to suburban Dallas.
Now, for the first time, there are hard numbers quantifying the exact scope of the exodus. Both states have in the past three years lost firms that managed close to $1 trillion of assets, Bloomberg News calculated after going through corporate filings from more than 17,000 firms since the end of 2019.
The exodus from the Northeast and West Coast has meant the loss of thousands of high-paying jobs, straining city and state finances by sapping tax revenue. Commercial property markets have also lost valuable tenants at the same time they've been struggling with the new realities of hybrid work.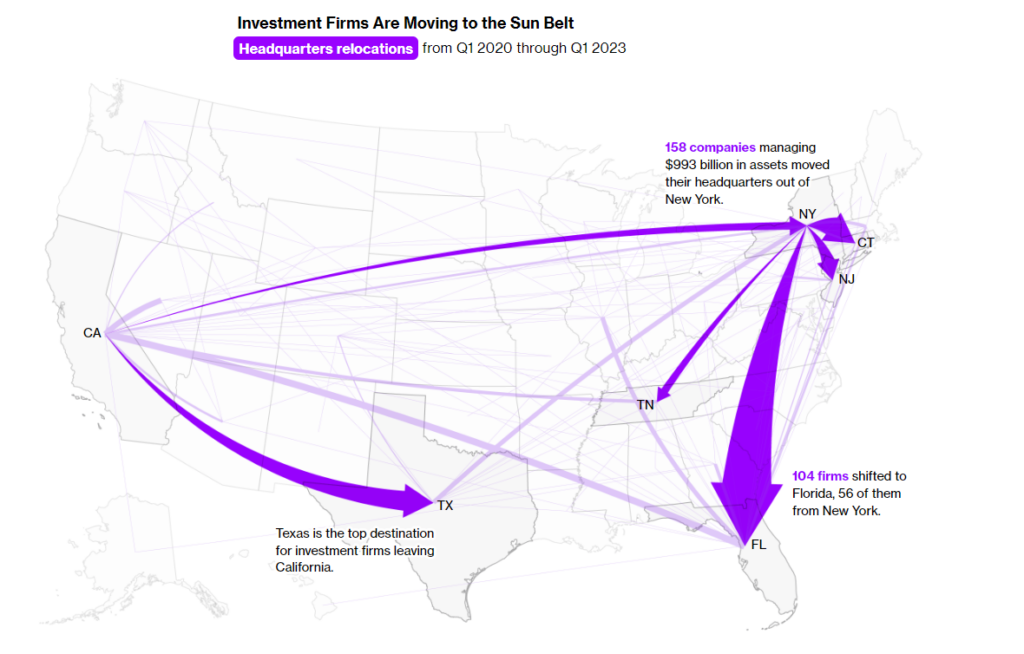 https://www.bloomberg.com/graphics/2023-asset-management-relocation-wall-street-south/?srnd=premium&sref=GGda9y2L
---
9. Romance Novels Grew Sales 52% in 12 Months
Romance Novel Sales Statistics  by Dimitrije Curcic
·         Romance novels generate over $1.44 billion in revenue, making romance the highest-earning genre of fiction.
·         Romance reached over 39 million printed units sold over the last 12 months as of May 2023.
·         Romance sales grew by 52% compared to the 12 months ending May 2022, and this has been the third consecutive year with positive growth in romance novel sales in printed format.
·         Sales of romance novels more than doubled compared to 2021 figures (12 months ending May 2021).
·         Over 33% of books sold in mass-market paperback format were romance novels.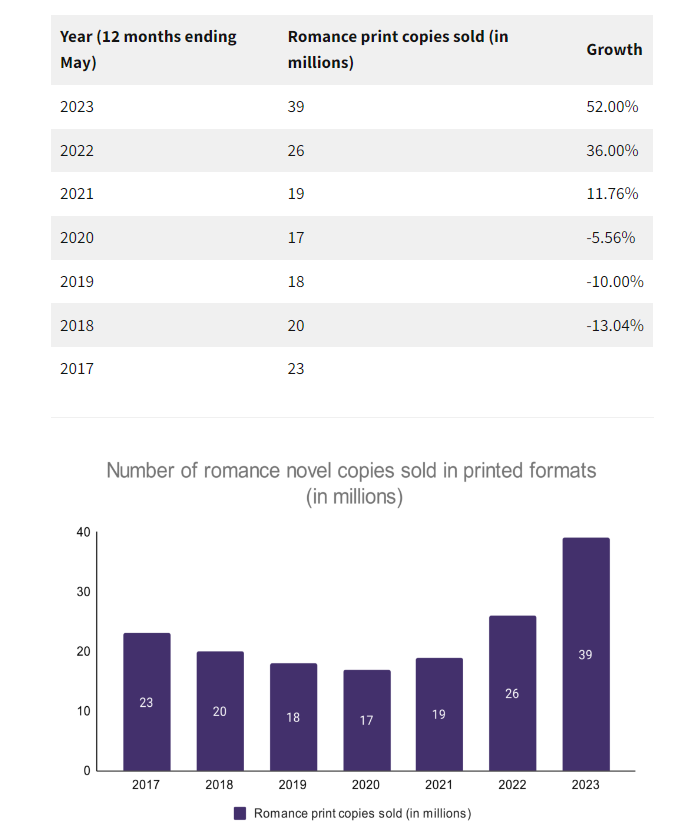 https://wordsrated.com/romance-novel-sales-statistics/
---
10. This Is How To Succeed Under Pressure: 4 Secrets From Astronauts
Eric Barker
This is how to succeed under pressure:
"Okay, what's the next thing that will kill me?": Negative thinking can be a positive during a crisis. When you're facing a perverse all-you-can-eat buffet of misery, anticipating problems and finding solutions is a superpower, while "thinking it will all work out" leads to a passive demise.
"Sweat the small stuff": Prepare. And then prepare some more. You may think you're busy now but you will always have more time before a problem strikes than when you're in the middle of it.
"Working the problem": Find a way to safely experience the challenge before it ever hits. May sound like the emotional equivalent of chewing aluminum foil but nothing beats the understanding and experience from having dealt with a problem previously.
"How can I help us get where we need to go?": Yes, it seems like some people are only here to give you a head start on a midlife crisis. The first thing is don't make things worse. Don't be afraid to be a big steaming pile of mediocrity at first. Be competent and trustworthy and then find the best way to be a "plus one."