1. FANG Stocks -9% Off Highs
FANG+ 1% from correction.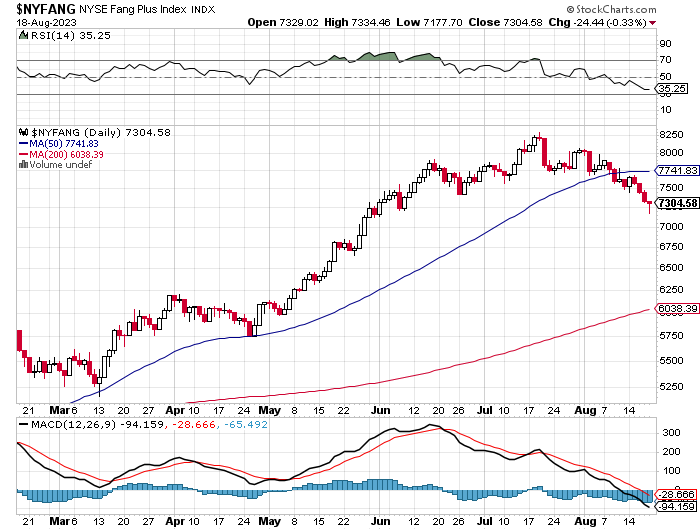 ©1999-2023 StockCharts.com All Rights Reserved
---
2. Technology Sector Forward P/E vs. Remaining S&P
 JP Morgan Private Wealth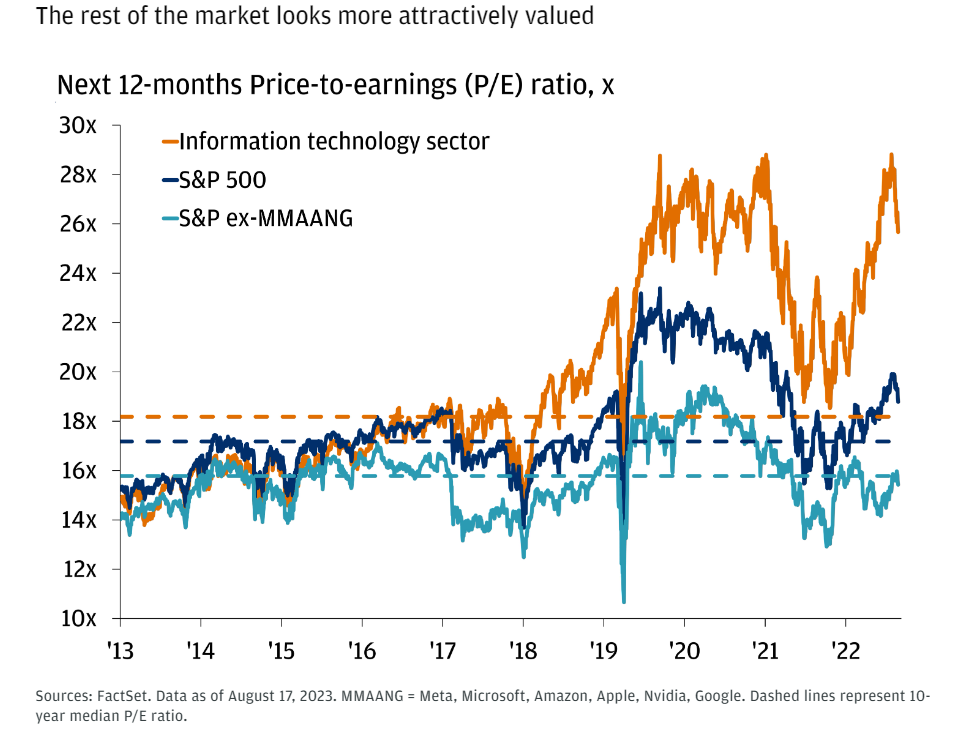 ---
3. Semiconductors Forward P/E Ratios Trading in 99th Percentile vs. 10 Year History
Marketwatch BCA Research has downgraded the semiconductor sector to underweight, and the charts below help explain why. Chip prices are falling pushing sales drastically lower, but share prices have done well.
"Demand for AI chips remains strong, but it does little good to most chip companies except Nvidia and AMD. TSMC said that AI chips account for only 6% of its sales," says BCA. "The industry trades at 28.5x forward earnings, which is the 99th percentile relative to 10 years of history. The BCA Valuations and Technical indicators signal that the industry is both overvalued and overbought relative to the S&P 500. "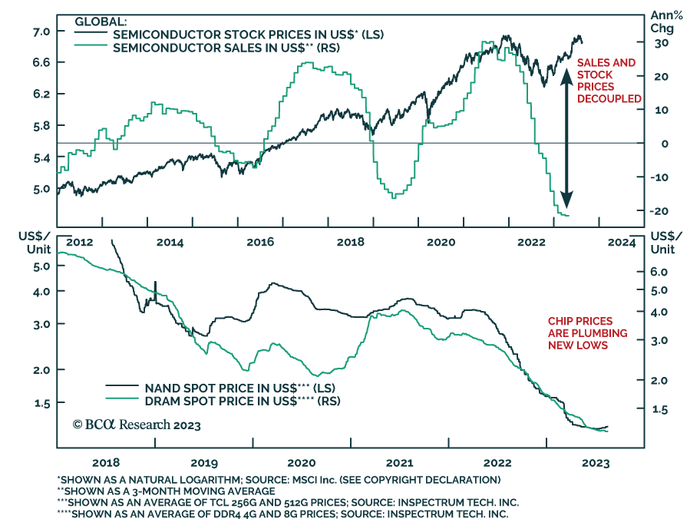 https://www.marketwatch.com/story/bond-yields-hold-the-key-to-an-emotional-market-that-can-change-on-a-dime-says-this-strategist-5c489623?mod=home-page
---
4. Tesla -27% from Highs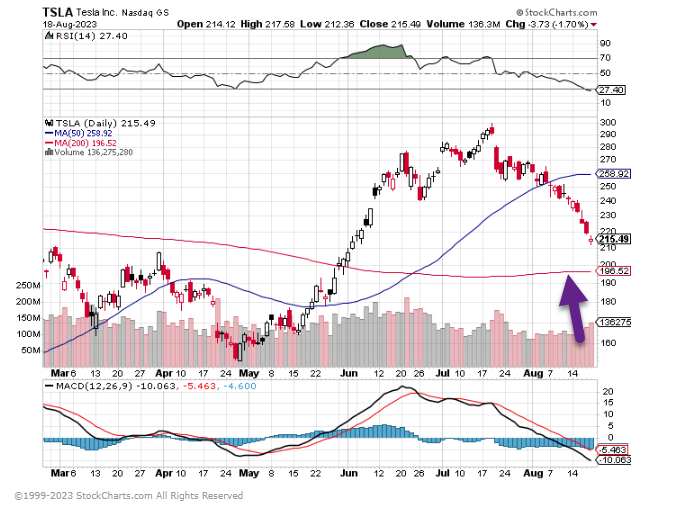 ---
5. ROBO ETF -14% from Highs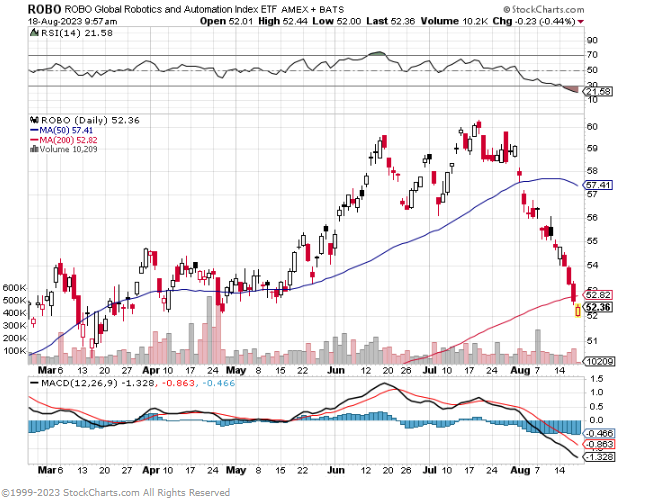 ---
6. Hong Kong -20% Moves into Bear Market
50day thru 200day in late June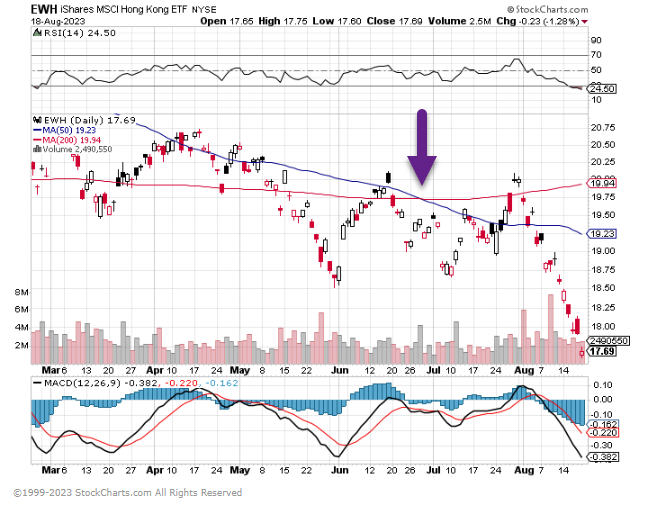 ---
7. China Trust Industry $2.5 Trillion-Prime Real Estate Lender
Caixin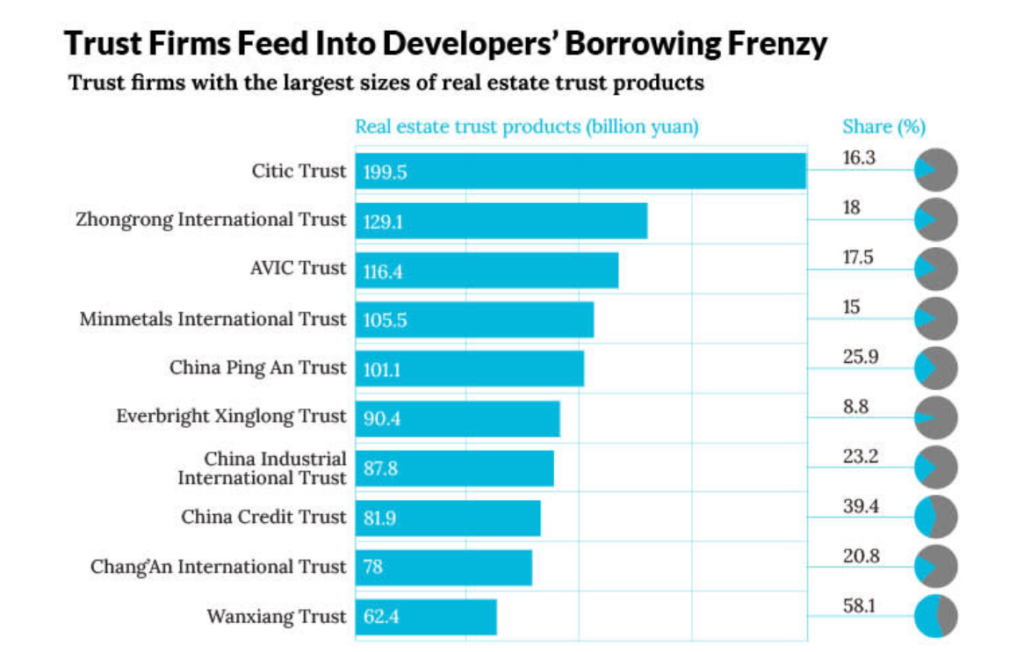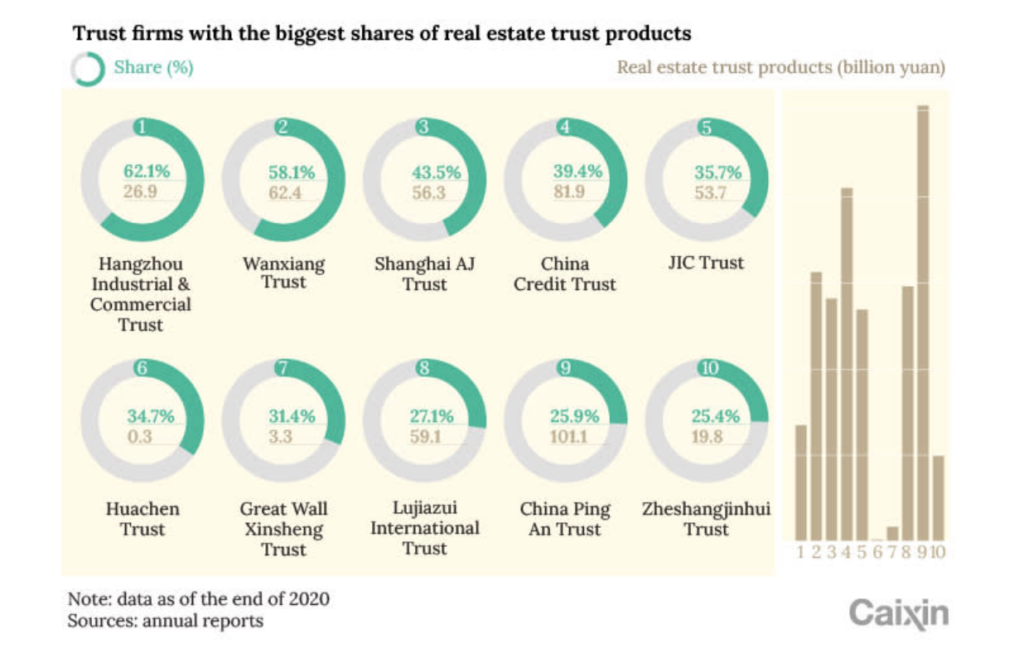 https://asia.nikkei.com/Spotlight/Caixin/Burned-by-developers-China-s-trust-industry-pulls-back-from-property
---
8. Target Quarterly Sales Fall for First Time in 6 Years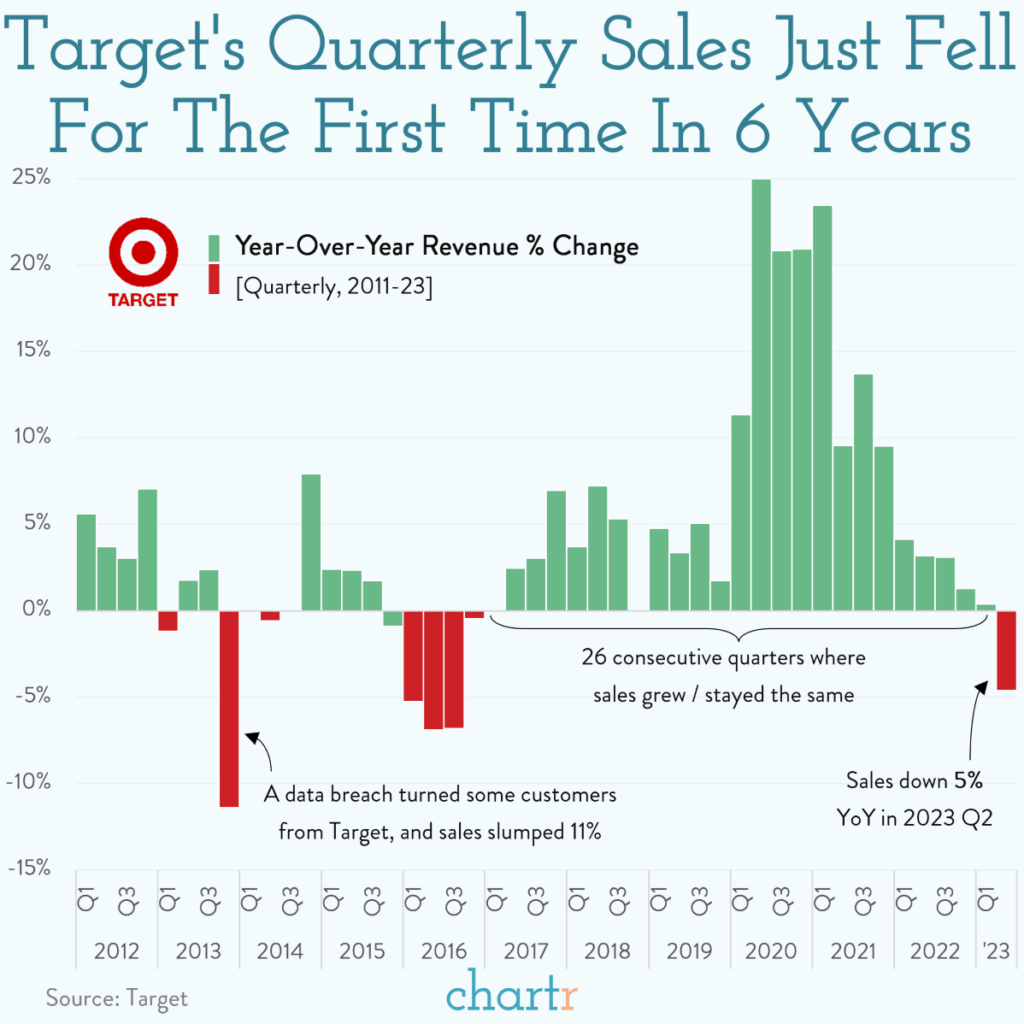 ---
9. One Idea for Solving Housing Shortage…Tiny homes on small lots popping up in San Antonio area
by Shari BiedigerMay 16, 2023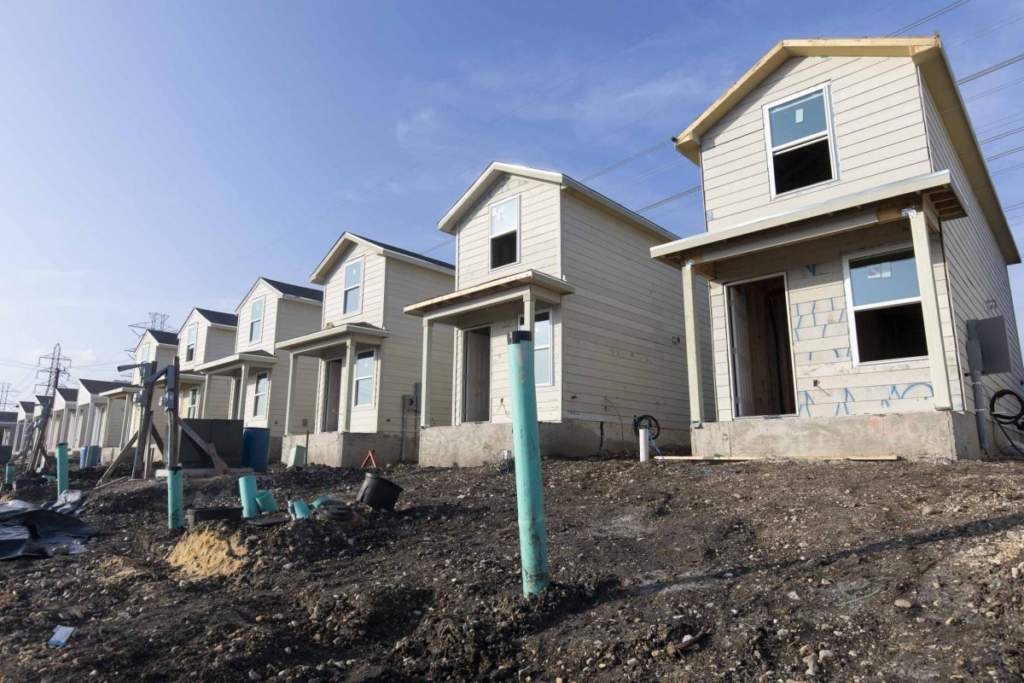 Tiny homes are being developed near Converse, where Lennar Homes continues to rapidly expand into various markets centering around San Antonio. Credit: Scott Ball / San Antonio Report
With a small yard and inviting front porch, the newly built houses along a short street in an established neighborhood in far northeastern Bexar County have all the trademarks of a single-family home.
What makes them unusual perhaps, at least for a house in San Antonio, Texas, is the minimal size of not just the house but also the lot. Another key difference: the price tag of just over $150,000. More small-home developments like Elm Trails could be coming as the solution to a nationwide housing shortage and the rising cost of building materials. But only if cities allow it.
Miami-based homebuilder Lennar Homes started construction months ago in the Spring Meadows subdivision near Converse, building two styles of detached homes that range between about 350 and 660 square feet — a size that's comparable to a studio apartment.  At least 30 are in various stages of construction in Elm Trails. A total of 100 houses eventually will be built.The two-story homes come with one bedroom and one or two bathrooms, depending on the model, and an open floor plan with a fully-equipped kitchen. In the Cooley model, a built-in ladder is used to access the upper-level open space, and in the Henley, a narrow set of stairs leads to a sitting area and bedroom. 
The houses stand side-by-side along a street named Elm Cove, two-tenths of a mile long, and three smaller streets. The homes are built on lots that measure about 20 feet across, leaving a narrow space between each residence.  Building codes in Converse, as in San Antonio, require most new single-family homesites to be a minimum of 60 or 65 feet wide, with some exceptions.But Elm Trails is outside of city limits, where lot size is not regulated. 
Not bigger in Texas  San Antonio is the first city where the nationwide homebuilder has built its small-scale homes, said Brian Barron, San Antonio division president for Lennar. "We've been working on bringing these homes to market for the past two years or so," Barron said. "We took what we had seen nationally with the growing acceptance of small-footprint homes and began researching what it would take to do that across an entire community." 
The National Association of Home Builders reported in November that the median size of new family homes is 2,276 square feet, down from a high of about 2,700 square feet in 2015. Rising interest rates and construction costs are partly the reason for the trend toward smaller homes.
Small-home developments could be the answer to housing shortages and rising costs. But zoning is often a roadblock."As more and more municipalities address affordability, we believe it will be important that traditional zoning requirements are updated to reflect new types of housing," Barron said.While Elm Trails is a full residential development made up of tiny homes, the prevalence of small
https://sanantonioreport.org/converse-tiny-homes-small-lots-affordable-housing/
---
10. Farnam Street Blog Nine sources of advantage:
Raw talent/intelligence – Some people are just naturally better and smarter.
Hard work – Some people work harder.
Differentiation – Seeing the world differently. Doing something different. Reading different books. Interpreting the same information differently. 
Process / Discipline – Creating a process and following it. Working out every day is a great example. 
Talent Collector – The ability to hire the best people and get the most out of them. 
Patience – A lack of patience changes the outcome.
Ability to take pain – Are you willing to look like an idiot to get better? How much risk are you willing to take, AND, importantly, can you handle the losses? 
Temperament – Keeping your head when everyone else is losing theirs. 
Luck
Most of these are within your control.  https://fs.blog