1. Annual IPOs 2000-2022
From Stockanalysis.com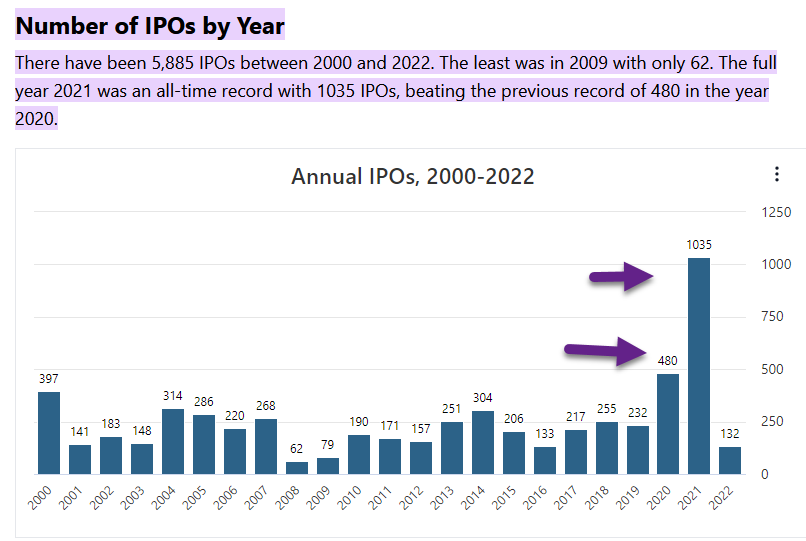 ---
2. Comparing 2021 to 2022 IPOs….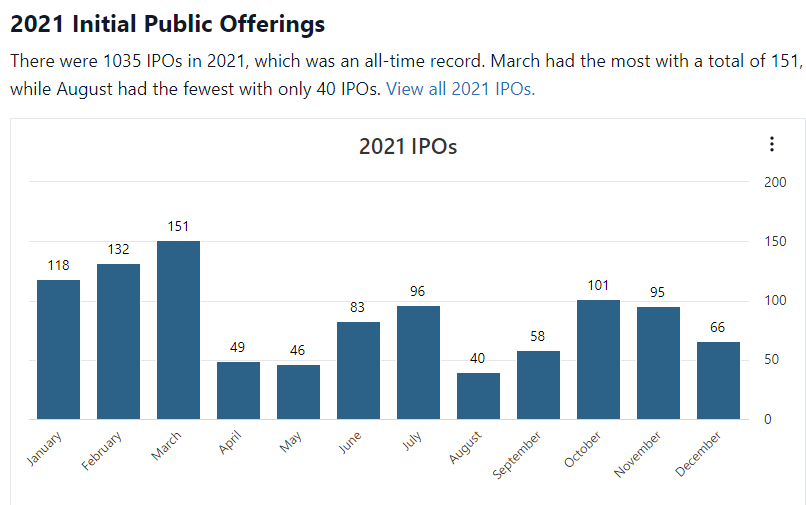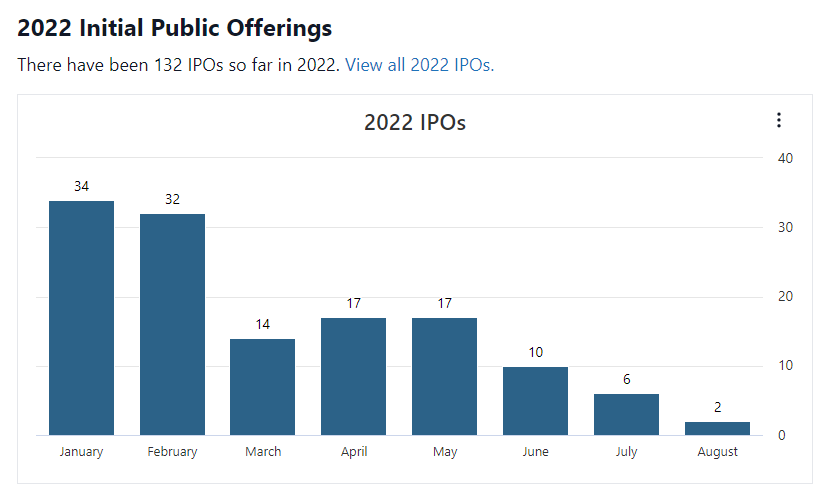 https://stockanalysis.com/ipos/statistics/
---
3. IPO ETF….Formed a Base Last 6 Months
---
4. Solar ETF +50% Plus from Lows
TAN Solar ETF $56 to $86  May to August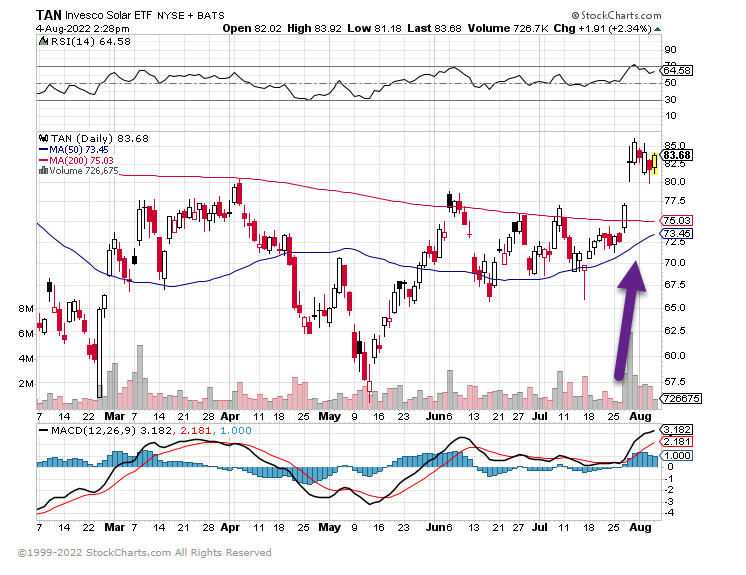 ---
5. Global Supply Chain Pressure Index Falls to Feb 2021 Lows
Sam Ro @samro The New York Fed's Global Supply Chain Pressure Index1 — a composite of various supply chain indicators — fell in July to its lowest level since February 2021, meaning supply chains are easing.

From Abnormal Returns Blog https://abnormalreturns.com/2022/08/04/thursday-links-methodical-implementation/
---
6. The Legendary Story of Paul Volcker Ending Inflation with 15% 10 Year Treasury…..Stock Bear Market was Over in 4 Months
From Michael Batnick Irrelevant Investor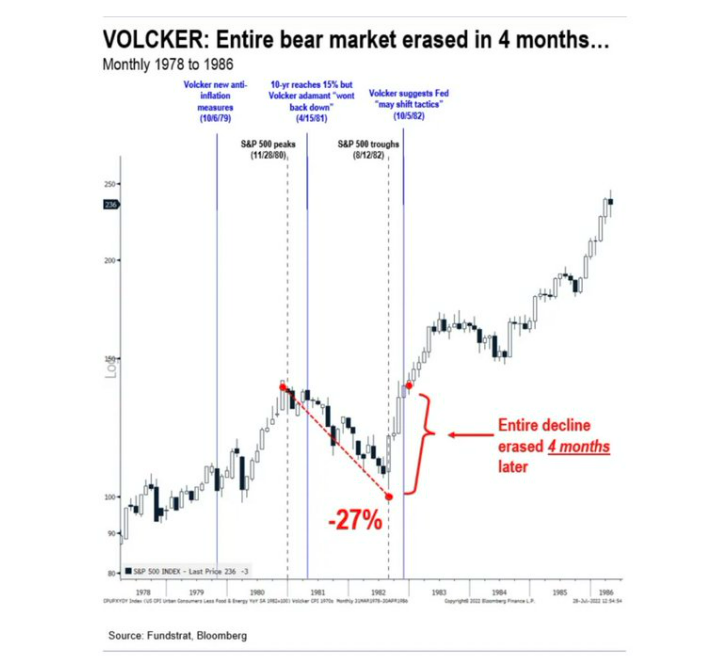 https://theirrelevantinvestor.com/2022/08/03/animal-spirits-invest-in-what-you-know/
---
7. Mortgage rates fall below 5%
Emily Peck, author of Axios Markets
Axios on facebook
Axios on twitter
Axios on linkedin
Axios on email
Data: Freddie Mac; Chart: Axios Visuals
If you're in the market for a house — maybe hurry to get your loan.
Driving the news: Mortgage rates are still high, but the rate on the 30-year just saw its steepest weekly drop since March 2020, and is now below 5%.
It was as high as 5.81% on June 23.
What's up: Markets got a little cocky — believing the Federal Reserve's steep rate hike days were waning, as Axios' Neil Irwin wrote.
That sent Treasuries lower — and mortgages followed.
But, but, but: The respite may not last.
Mortgage rates will keep bouncing around for a while, said Mike Fratantoni, chief economist at the Mortgage Bankers Association. "I think we're going to continue to be in this unsettled condition until we get a clear move downward on inflation."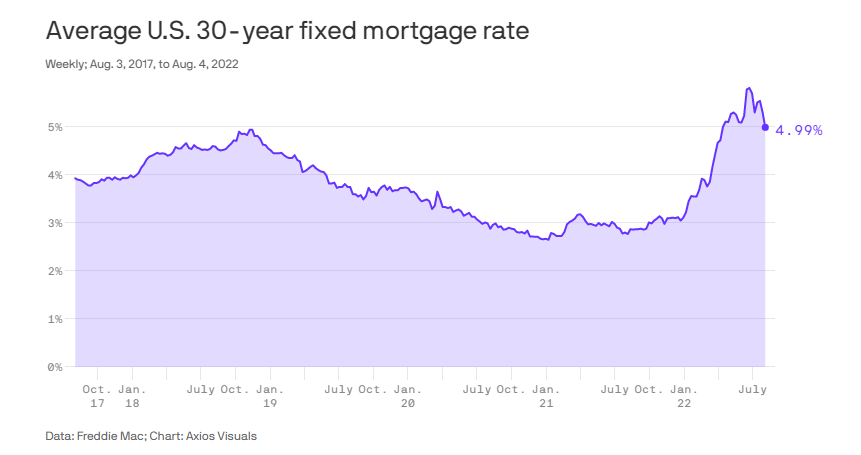 https://www.axios.com/2022/08/04/mortgage-rates-daily-fed
---
8. 'It's hard to find anyone who is willing to work': Home builders reveal 5 reasons why the cost of your dream house has soared
Marketwatch  Aarthi Swaminathan
Despite the shortage of housing in the U.S., it's been challenging for builders to quickly ramp up production to meet demand.
That's because of a variety of factors — from navigating lumber tariffs to a shortage of labor. And with interest and mortgage rates rising, on top of inflation making building materials more expensive, homebuilder sentiment has plunged, as would-be buyers take a pause.
To illustrate the five key drivers that influence homebuilders, the National Association of Home Builders' chief economist Robert Dietz shared a list of the "5 L's" of homebuilding with MarketWatch.
Every single one of these factors is presenting a challenge to builders at the moment, and that in turn is putting pressures on homebuyers, renters and others caught up in America's housing sector.
Labor
It's tough to find construction workers. So much so that one Harvard expert said the solution to fixing the shortage was to entice more women to join the construction sector, and to reform immigration laws so more immigrants could get construction jobs, too.
The construction industry needs about 650,000 more workers on top of the normal pace of hiring to meet demand this year, according to analysis by Associated Builders and Contractors.
In 2023, the industry will need 590,000 more new workers to keep pace with demand, even after assuming construction spending growth slows.
"Labor is a bloodbath," Brian Tucker, who owns Tucco Home Improvements in Peyton, Colorado. His company does contracting and remodeling work.
"It's hard to find anyone who is willing to work, and even then, it's $30 an hour," Tucker added, "which is not feasible for hauling drywall out of homes."
Lumber (and other materials)
Lumber prices remain elevated. They've been on a wild ride over the last year, hitting new highs and then plunging sharply. But overall, the increase in softwood lumber prices have added $14,345 to the price tag of the average new single-family home, the NAHB estimated in a blog post, and $5,511 to the market value of an average new apartment.
If you're renting, your household's paying an additional $51 a month in rent for your new apartment, thanks to lumber.
Lending
Interest rates affect homebuilders' and developers' borrowing costs. And with the Federal Reserve hiking rates four times since March, that'll increase expenses for builders, on top of homeowners.
"Higher rates affect supply and demand," Dietz said.
"The demand impact is obvious," he added. Higher mortgage rates are pushing would-be homeowners to wait on buying a home. That's also affecting demand, which in turn, slows homebuilders' businesses. The average rate on the 30-year fixed-rate mortgage was 5.3% for the week ending July 28, according to Freddie Mac.
But higher interest rates also "means the cost of builder and developer loans increase, which make it more expensive to develop land and build homes," Dietz stressed. "People often forget this."
Laws
Regulations — from zoning approvals to fees to labor requirements — can also add to builders' costs. The NAHB in May estimated that regulations imposed by the government added roughly $94,000 to the final price of a new single-family home built for sale.
There's also the issue of NIMBYism, where locals resist new development for fear of increased traffic, pollution and other concerns, which also limits where homebuilders can start new construction.
The increase in softwood lumber prices has added $14,345 to the price tag of the average new single-family home, the NAHB estimated.
The nation is short on homes. But it hasn't always been this way, which most Americans know.
Christopher Herbert, managing director of Harvard's Joint Center for Housing Studies, recalled in an interview with MarketWatch that in 2006, homebuilders built more homes than needed.
But after the Great Recession, the regulatory environment shifted. Jurisdictions became more restrictive, and  "there's a lot more caution on the financing side," he explained.
Lots/land
Lastly, builders need developed lots to build on, but there's been a shortage of that. Last October, in an NAHB survey, 76% of builders reported that the overall supply of developed lots in their areas was low to very low, which was an all-time record.
In its July survey of builders, the group also found that 13% of builders said they were cutting home prices in June to bolster sales, or to stem the flow of cancellations.
Write to MarketWatch reporter Aarthi Swaminathan at aarthi@marketwatch.com   https://www.marketwatch.com/story/5-factors-drive-homebuilding-costs-and-every-single-one-is-squeezing-builders-right-now-11659126505?mod=home-page
---
9. Deal Book-Doing the Math on the Inflation Reduction Act
The bill involves at least $260 billion in spending over 10 years, with a focus on energy and climate, but it would raise taxes by more than that, a congressional analysis found.
By Andrew Ross Sorkin, Vivian Giang, Stephen Gandel, Lauren Hirsch, Ephrat Livni and David F. Gallagher
How it adds up–Soon after he entered the White House, President Biden announced a $4 trillion domestic spending agenda. More than a year later, the chunk of that plan that appears most likely to pass — the result of an agreement struck last week between Senator Chuck Schumer of New York, the majority leader, and Senator Joe Manchin of West Virginia, a centrist Democrat — will be considerably smaller.
The bill, the Inflation Reduction Act of 2022, involves at least $260 billion in spending over 10 years, but it would also raise taxes by $326 billion in the same period. That's according to an analysis by the Joint Committee on Taxation, a nonpartisan congressional commission. A separate analysis, released on Friday by the Wharton School, found that the bill would have almost no effect on G.D.P., and would slightly increase inflation for the next two years but then lead to lower prices.
Republicans have denounced the bill as a giant tax increase and a major expansion of government spending. But the new estimates suggest that it is neither of those things, reports The Times's Jim Tankersley.
Here's what's in the bill (all of the figures are over 10 years, and most come from the Joint Committee's study):
Tax credits to increase production of electricity from renewable or non-carbon sources. Cost: $98 billion.
New and expanded tax credits for electric vehicle purchases and for improving the energy efficiency of homes. Cost: $51 billion.
An incentive and tax credit for companies developing biofuels and other renewable fuels for cars and planes. Cost: $19 billion.
New and expanded subsidies to bring down the cost of buying health insurance through the Affordable Care Act. Cost: $70 billion, according to the Wharton analysis.
How it raises taxes and lowers costs:
Imposes a new federal minimum income tax of 15 percent, based on the profits that companies report to investors, not just to the I.R.S. Tax increase: $313 billion.
Closes the so-called carried interest tax loophole that allows private equity and hedge fund managers to pay lower taxes on some compensation. Tax increase: $13 billion.
Allows the government to negotiate and in some cases set prescription drug prices for people enrolled in Medicare. Estimated savings: $266 billion, according to Wharton's analysis.
To secure the deal, Democrats had to make some concessions that are likely to displease environmental activists, The Times's Brad Plumer and Lisa Friedman report.
The bill would require the Interior Department to hold lease sales for oil and gas exploration in the Gulf of Mexico and the Cook Inlet in Alaska.
It expands tax credits for carbon capture technology that could allow coal or gas-burning power plants to keep operating with lower emissions.
Manchin also secured a promise from Democratic leaders to vote on a separate measure to speed up the permit process for energy infrastructure, potentially smoothing the way for projects like a gas pipeline in West Virginia.
"We just made a deal with Joe Manchin," said Senator Brian Schatz, Democrat of Hawaii, who had pushed for more expansive climate provisions. "I don't think anybody should have expected that this is the bill I would have written."
https://www.nytimes.com/2022/08/02/business/dealbook/inflation-reduction-act-analysis.html
---
10. Happy Birthday, Brain Pickings: 7 Things I Learned in 7 Years of Reading, Writing, and Living
BY MARIA POPOVA
Allow yourself the uncomfortable luxury of changing your mind. Cultivate that capacity for "negative capability." We live in a culture where one of the greatest social disgraces is not having an opinion, so we often form our "opinions" based on superficial impressions or the borrowed ideas of others, without investing the time and thought that cultivating true conviction necessitates. We then go around asserting these donned opinions and clinging to them as anchors to our own reality. It's enormously disorienting to simply say, "I don't know." But it's infinitely more rewarding to understand than to be right — even if that means changing your mind about a topic, an ideology, or, above all, yourself.
Do nothing for prestige or status or money or approval alone. As Paul Graham observed, "prestige is like a powerful magnet that warps even your beliefs about what you enjoy. It causes you to work not on what you like, but what you'd like to like." Those extrinsic motivators are fine and can feel life-affirming in the moment, but they ultimately don't make it thrilling to get up in the morning and gratifying to go to sleep at night — and, in fact, they can often distract and detract from the things that do offer those deeper rewards.
Be generous. Be generous with your time and your resources and with giving credit and, especially, with your words. It's so much easier to be a critic than a celebrator. Always remember there is a human being on the other end of every exchange and behind every cultural artifact being critiqued. To understand and be understood, those are among life's greatest gifts, and every interaction is an opportunity to exchange them.
Build pockets of stillness into your life. Meditate. Go for walks. Ride your bike going nowhere in particular. There is a creative purpose to daydreaming, even to boredom. The best ideas come to us when we stop actively trying to coax the muse into manifesting and let the fragments of experience float around our unconscious mind in order to click into new combinations. Without this essential stage of unconscious processing, the entire flow of the creative process is broken.
Most importantly, sleep. Besides being the greatest creative aphrodisiac, sleep also affects our every waking moment, dictates our social rhythm, and even mediates our negative moods. Be as religious and disciplined about your sleep as you are about your work. We tend to wear our ability to get by on little sleep as some sort of badge of honor that validates our work ethic. But what it really is is a profound failure of self-respect and of priorities. What could possibly be more important than your health and your sanity, from which all else springs?
When people tell you who they are, Maya Angelou famously advised, believe them. Just as importantly, however, when people try to tell you who you are, don't believe them. You are the only custodian of your own integrity, and the assumptions made by those that misunderstand who you are and what you stand for reveal a great deal about them and absolutely nothing about you.
Presence is far more intricate and rewarding an art than productivity. Ours is a culture that measures our worth as human beings by our efficiency, our earnings, our ability to perform this or that. The cult of productivity has its place, but worshipping at its altar daily robs us of the very capacity for joy and wonder that makes life worth living — for, as Annie Dillard memorably put it, "how we spend our days is, of course, how we spend our lives."
"Expect anything worthwhile to take a long time." This is borrowed from the wise and wonderful Debbie Millman, for it's hard to better capture something so fundamental yet so impatiently overlooked in our culture of immediacy. The myth of the overnight success is just that — a myth — as well as a reminder that our present definition of success needs serious retuning. As I've reflected elsewhere, the flower doesn't go from bud to blossom in one spritely burst and yet, as a culture, we're disinterested in the tedium of the blossoming. But that's where all the real magic unfolds in the making of one's character and destiny.
https://www.themarginalian.org/2013/10/23/7-lessons-from-7-years/