1. Tech vs. S&P Relative Price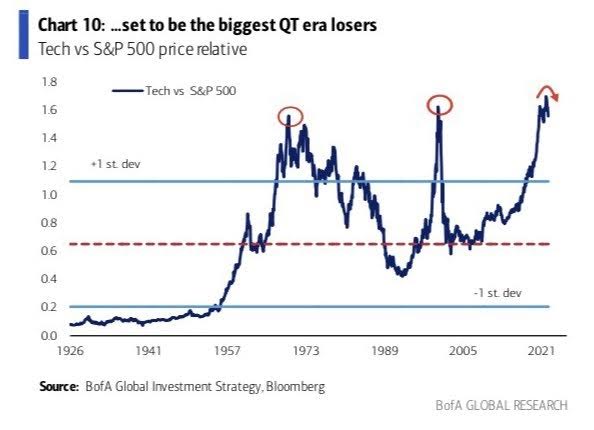 Callum Thomas Chart Storm
https://chartstorm.substack.com/p/weekly-s-and-p500-chartstorm-17-april?s=r
2. U.S. Households in Best Shape 30 Years
Jim Reid-Deutsche Bank
FW: DB CoTD: US Households in best shape in 30 years… but does it matter?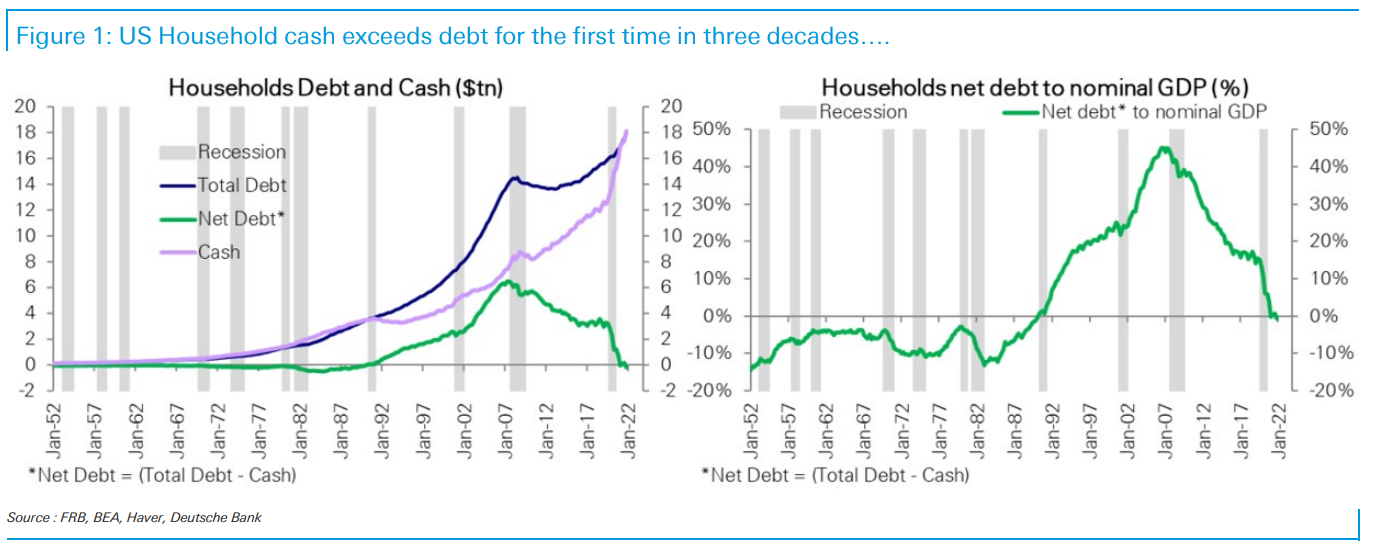 Back in December I published "When the Fed hikes.. what happens next?" (link here) but while I was on holiday our equity strategists Binky Chadha and Parag Thatte published a much more comprehensive look at what happens to equities, sectors of the equity market, sectors of the economy, and many other things during hiking cycles. See it here.
Amongst a plethora of interesting graphs, one highlight was that showing US household's cash now exceeds debt for the first time in three decades with net debt collapsing to zero. Clearly there will be distributional biases here but in aggregate the fiscal transfers from the pandemic have put US consumers in a decent balance sheet position. What can we conclude from this? Two things perhaps.
The Fed may have to hike even more aggressively to slow consumer demand and curb price rises given their healthy balance sheets.
While negative net debt is a sign of comfort, we had seven recessions between the early 1950s and early 1980s when it was also negative.
So all clear for a while perhaps with policy so accommodative, but a reminder that we think a hard landing will ultimately be unavoidable by late '23 / early '24 after an aggressive series of Fed hikes over the next 18 months.
3. Crypto Stocks Riot and Mara Testing Lows for the 4th Time in 2022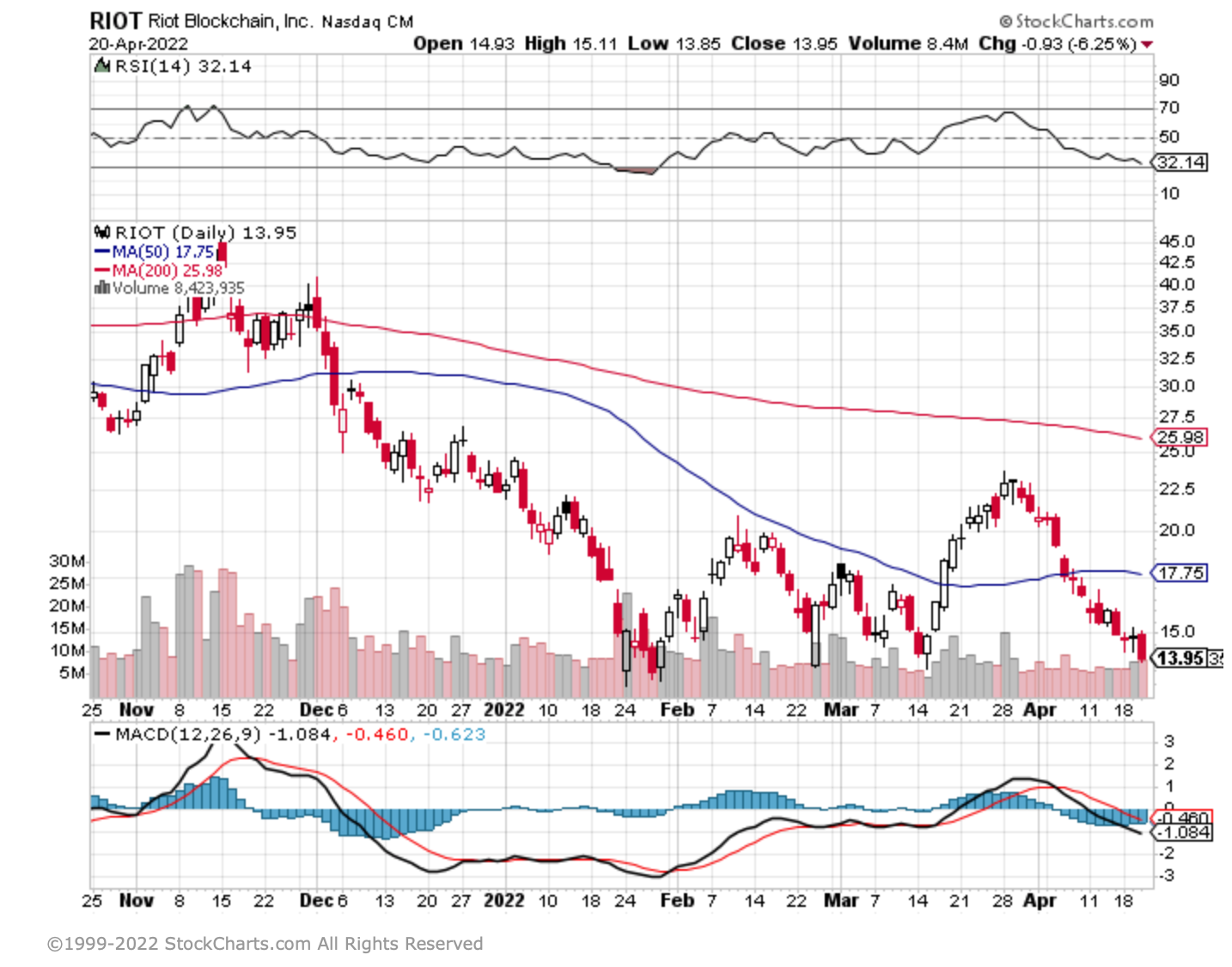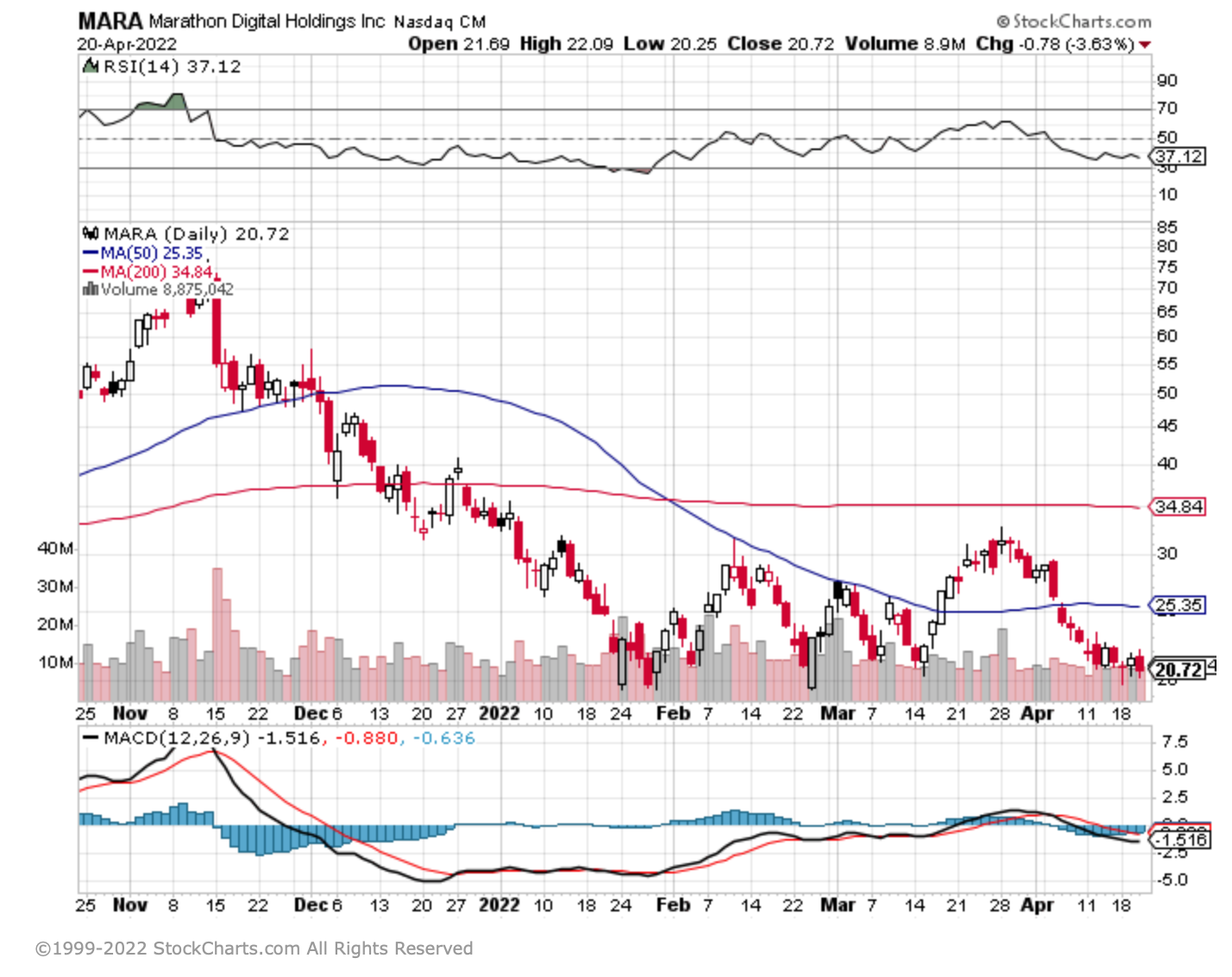 4. Stocks vs. Commodities History
Jeremy Schwartz WisdomTree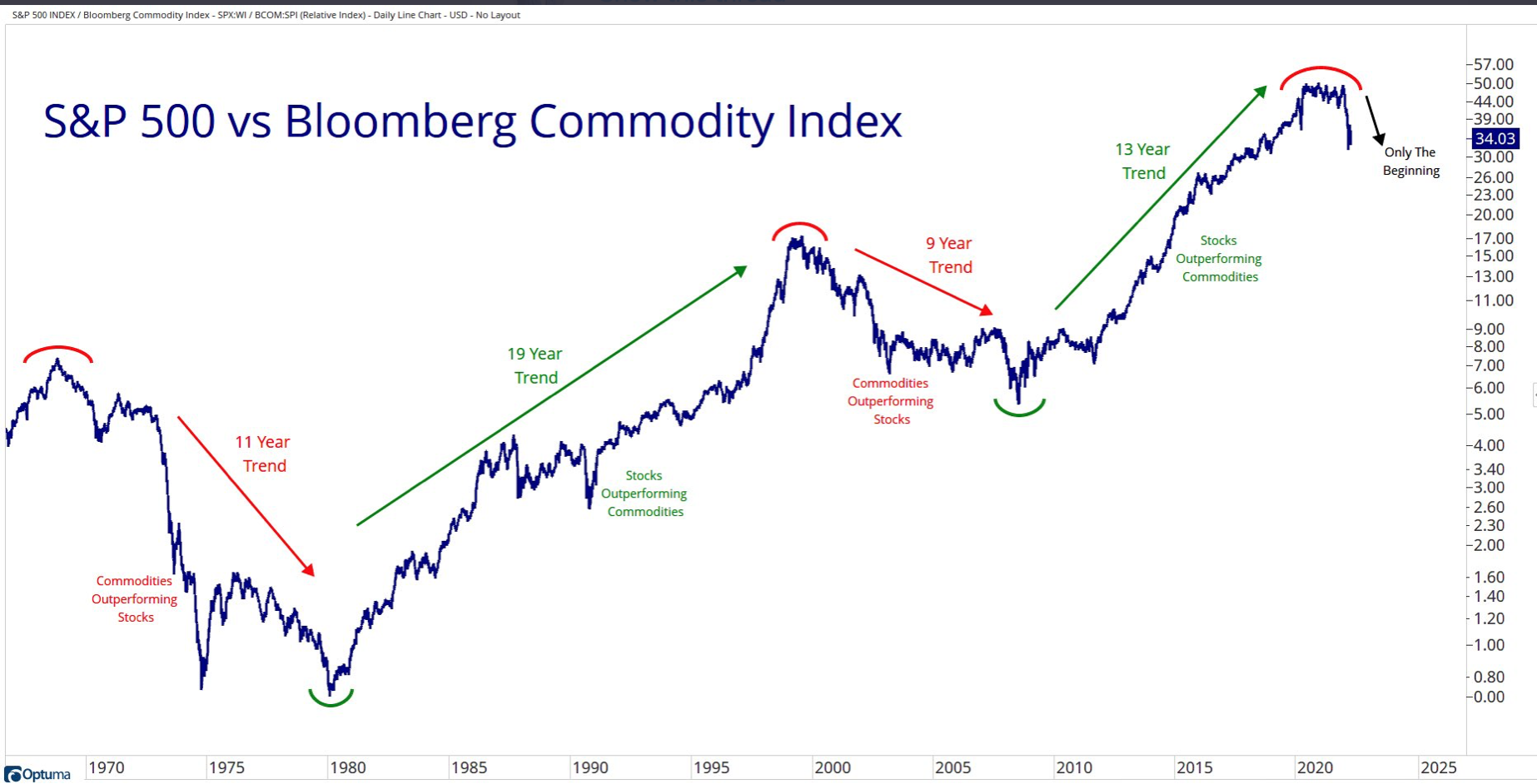 https://twitter.com/JeremyDSchwartz
5. ECB Rate Hikes This Year
Bloomberg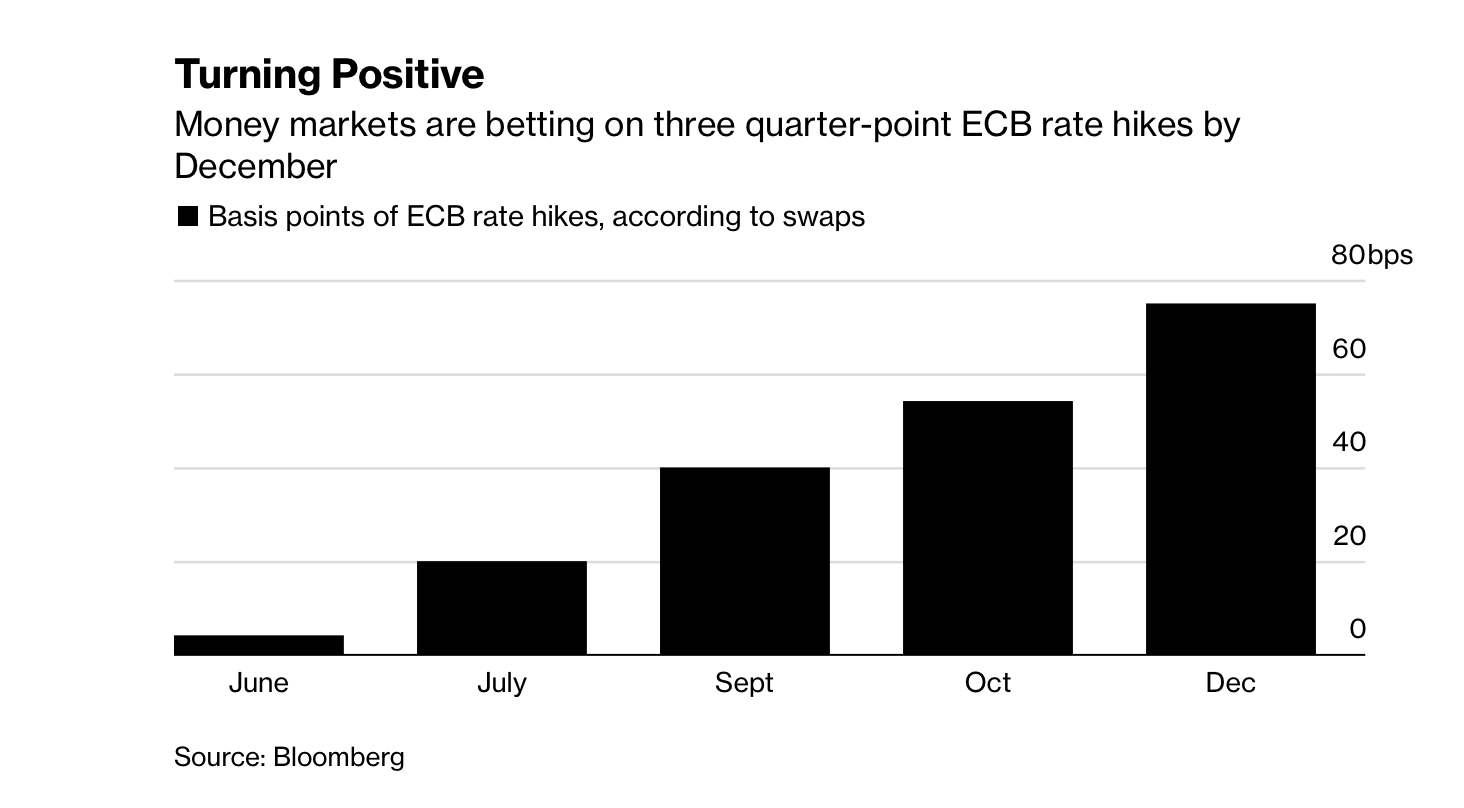 https://www.bloomberg.com/news/articles/2022-04-21/pace-of-ecb-rate-path-jolts-markets-with-july-hike-on-radar?cmpid=socialflow-twitter-business&utm_medium=social&utm_campaign=socialflow-organic&utm_content=business&utm_source=twitter&sref=GGda9y2L
6. Debt and Twitter
NYT Deal Book-Andrew Sorkin
A debt-heavy deal for Twitter would be the largest leveraged buyout in decades. But Twitter isn't the sort of company that can take on a lot of debt. It produces about $1 billion in operating earnings per year, and analysts say it could handle about $20 billion in additional debt on its balance sheet. If Musk's bid stays above $40 billion, that leaves a lot of equity for him to scrounge up.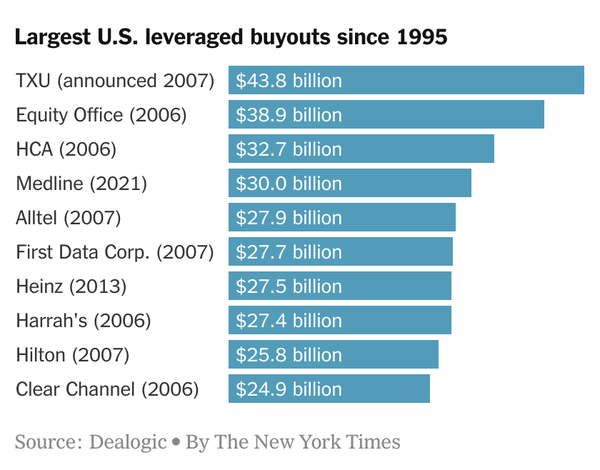 https://www.nytimes.com/2022/04/20/business/dealbook/mask-mandates-airlines.html
7. Downtown Office Vacancies
Barry Ritholtz Blog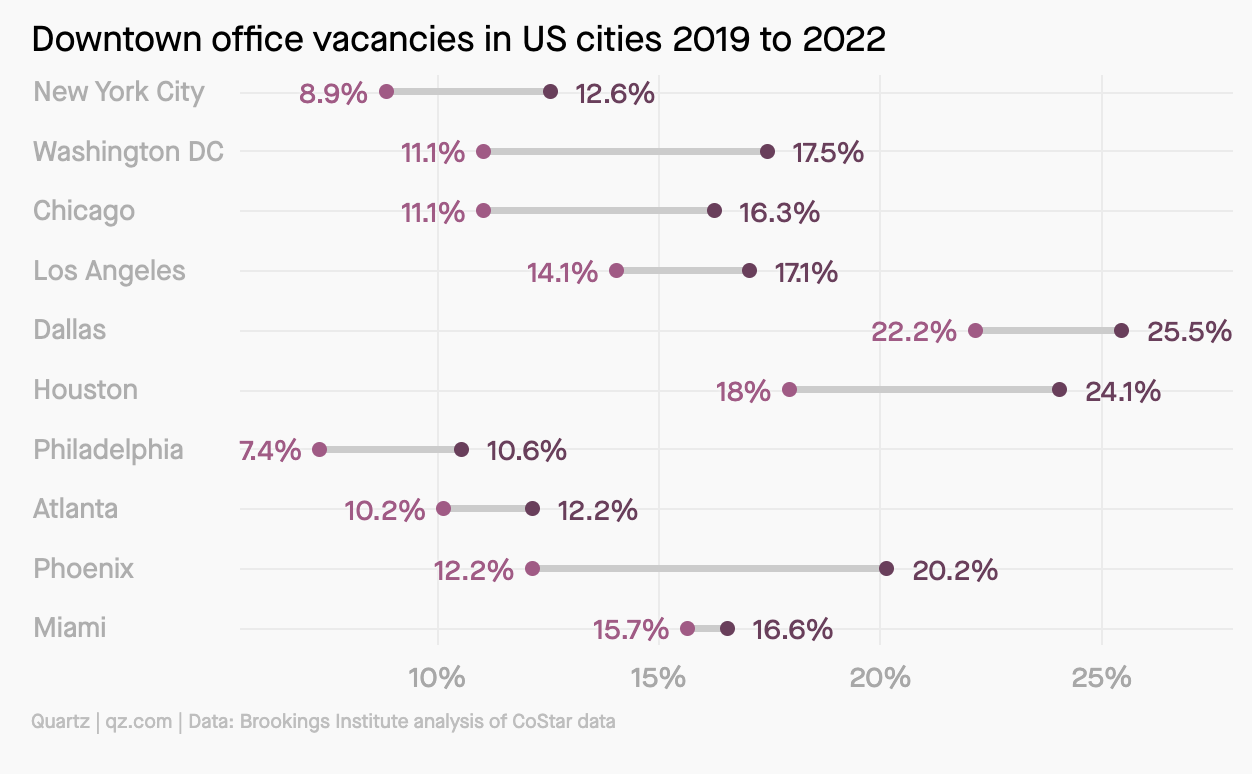 https://ritholtz.com/2022/04/10-tuesday-am-reads-377/
8. 20 Most Popular Cities for Renters 2021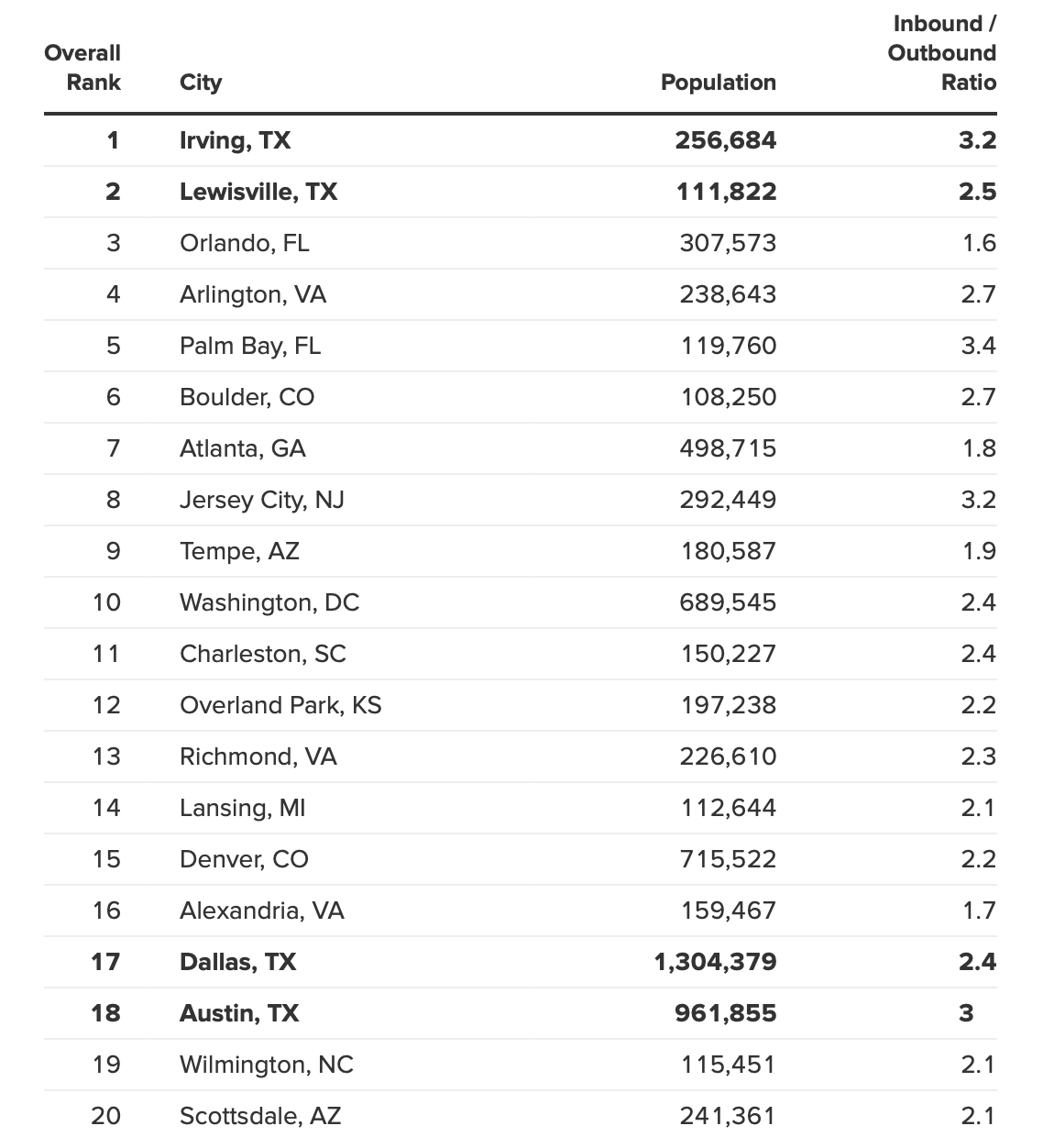 https://grow.acorns.com/us-cities-renters-moved-to-most-in-2021/
9. The Number of Murders in U.S. Up 40% Since 2019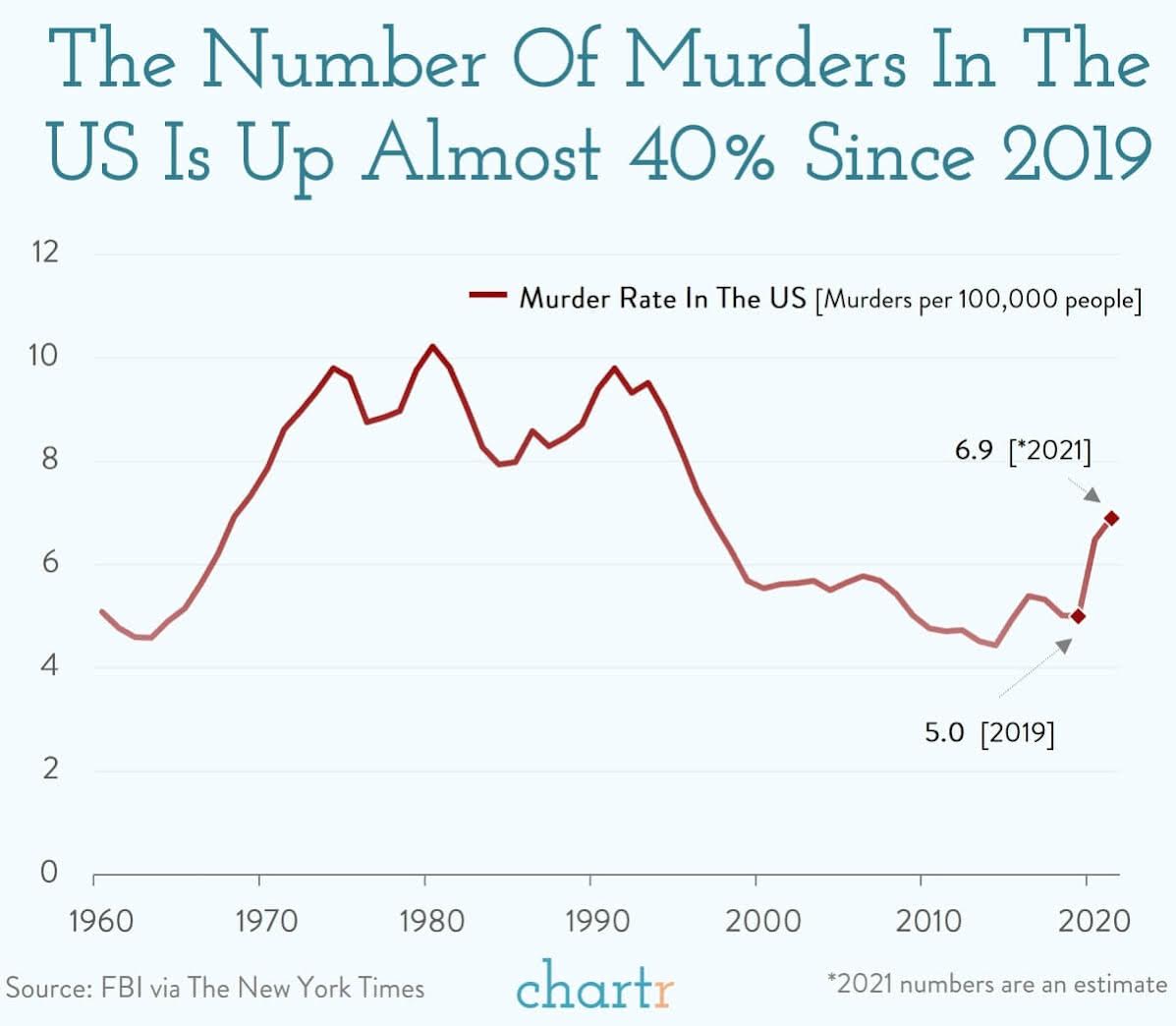 Violence in America
Last week's violent shooting in Brooklyn as well as recent killings in New Orleans and three mass shootings over Easter weekend are the latest tragic examples of a nationwide uptick in killings in the US over the last 3 years.
Preliminary estimates for 2021 show the murder rate in the US hitting 6.9 per 100,000 people, up 38% on the numbers for 2019.
Coming up with reasons why violent crime might be rising isn't hard. Since 2019 we've had a global pandemic, lockdowns, high profile police killings, civil unrest, intense economic uncertainty, a fraught election, and now rising inflation on essential goods. Those things, and others, seem to be taking their toll.
10. 9 signs your coworker has narcissistic traits
23 hours ago
Amy Morin is a psychotherapist, author, and host of The Verywell Mind Podcast.
She says there are certain signs to look for if you think a coworker has narcissistic tendencies.
People with these traits may brag excessively, act jealous, or respond negatively to feedback.
We likely all exhibit some narcissistic tendencies sometimes. But there may be one coworker in the office who shows those tendencies more often than not.
That's not to say they have a diagnosable mental illness, like narcissistic personality disorder. But their inflated sense of self may still cause problems at times, at least for those around them.
Here are nine signs your coworker has narcissistic tendencies.
1. They exaggerate their achievements
A colleague with narcissistic tendencies won't just brag, they'll embellish. You might hear things like, "I saved the whole company last year" or "Everyone always asks me for help because I'm the only one who knows how to make things happen around here."
While they may come across like they're full of themselves, they're most likely hiding deep-rooted insecurities about not being good enough. The one thing they are confident about, however, is that you'll believe their stories about how great they are.
2. They love to be the center of attention
They don't want to hear your opinions or your stories. Instead, they want to use meetings and conversations to share about their favorite topic — themselves.
They might brag for a while, tell long-winded stories about themselves, or do things to get a laugh. Ultimately, they just want to ensure all the attention is on them.
3. They respond to feedback with aggression
Their delicate sense of self depends on being held in high regard so they can't tolerate hearing anything unfavorable about themselves.
Their go-to defense mechanism is likely aggression. They may respond to criticism by yelling, making threats, or hurling insults. They'll be desperate to prove the person providing the feedback is incompetent and inadequate.
4. They take advantage of their colleagues
People with narcissistic tendencies are often quite charming. They use flattery and short-lived kindness to convince people to do their work for them.
They may even play the role of the victim by offering sob stories that tug on their coworker's heartstrings. Then, they prey on their sympathy by convincing coworkers to do favors for them.
5. They blame other people for their mistakes
They don't want to look as if they don't know what they're doing, so if they make a mistake, they'll be quick to blame other people, often in a degrading manner.
When they can't blame specific people, they might blame the company for holding them back. The slow internet, impossible software, and lack of office space can all be blamed for any missteps.
6. They have trouble managing their emotions
While they may act aggressively on purpose sometimes, there may be other times when they genuinely struggle to manage their emotions. They're likely to have a hard time handling frustration, anxiety, and other uncomfortable feelings.
When they can't control their feelings, they may be quick to try to control the environment and the people in it. They may insist that everything be how they want it and that others accommodate their needs.
7. They believe they're more special than everyone else
They fully expect to get special treatment from everyone around them. They may demand the biggest office or insist they be exempt from meetings.
Their exaggerated sense of self-importance is likely to wear thin on most people pretty fast, but there may be a few people who believe they should be revered.
8. They're envious of other people
A coworker with narcissistic tendencies won't be cheering anyone else on. In fact, they're likely to resent anyone who gets recognition.
You might hear them say things like, "Well, she only got promoted because she flirts with the boss" or "He only closed that deal because I'd already laid the groundwork."
9. They're preoccupied with beauty, success, or brilliance
They often feel the need to be the best in all areas of life and may view life as a competition they have to win.
They may seek validation by insisting other people repeatedly tell them that they look young for their age or they may want everyone in the office to know their new love interest won a beauty contest. They're focused on making sure they won't be outdone by anyone in any area of their lives.
How to respond to narcissistic tendencies
A coworker with narcissistic tendencies loves attention, even if it's negative. So while you can't control their behavior, you can control how you respond. Ignoring their attempts to prove they're the best might be the healthiest thing you can do for yourself and for them.