1.British Pound has a 6% Flash Crash Last Night
 The crash was reportedly triggered by a Financial Times articles stating French President Francois Hollande wanted to be hard on Britain in Brexit negotiations. That pushed the pound lower, triggering some algos to automatically sell. Thin trading volumes meant the impact of this was outsized and created a downward spiral as the slump triggered more algos to sell.
Kathleen Brooks, Research Director at City Index, says in an email on Friday morning: "Apparently it was a rogue algorithm that triggered the sell off after it picked up comments made by the French President Francois Hollande, who said if Theresa May and co. want hard Brexit, they will get hard Brexit.
"These days some algos trade on the back of news sites, and even what is trending on social media sites such as Twitter, so a deluge of negative Brexit headlines could have led to an algo taking that as a major sell signal for GBP. Once the pound started moving lower then more technical algos could have followed suit, compounding the short, sharp, selling pressure."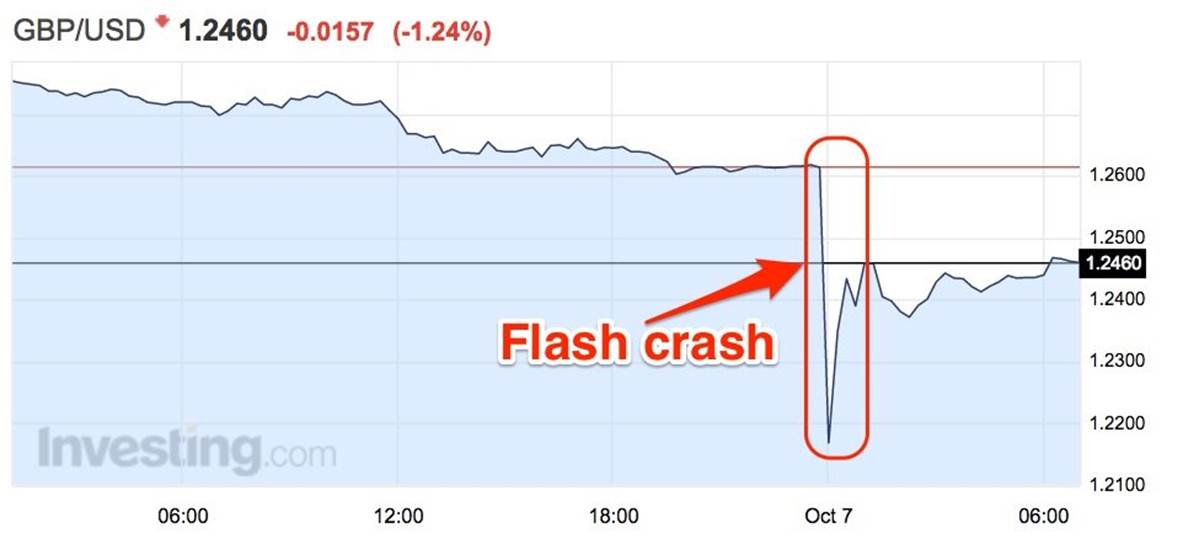 http://www.businessinsider.com/r-wrapup-3-sterling-recoups-some-losses-after-near-10-percent-plunge-stocks-slip-2016-10
British Pound Chart Making New All-Time Low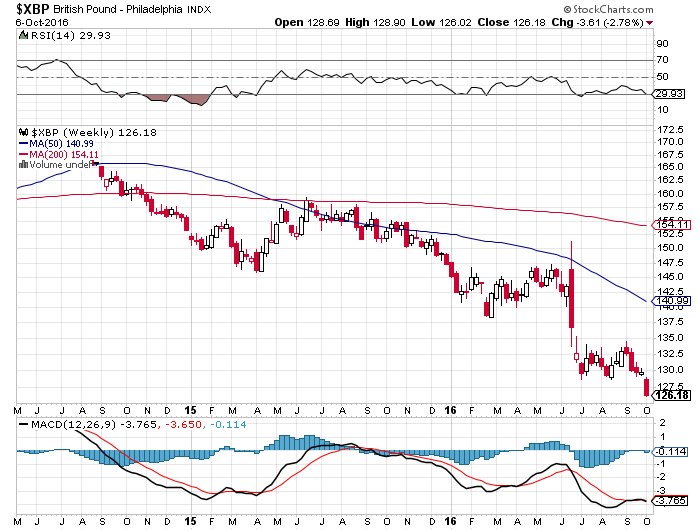 2. Fed Futures Implied Rate Hike vs. Global Bond Index.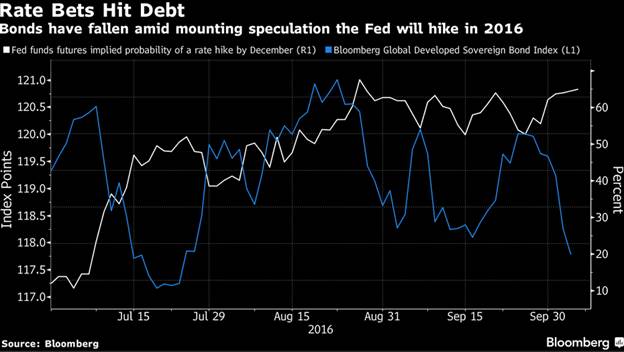 3. Tons of Earnings Last Week of October and First Week of Nov.
 Bespoke's List of the "Most Volatile Stocks on Earnings"
Oct 6, 2016
The third quarter earnings reporting period begins next Tuesday when Alcoa (AA) kicks things off.  But as shown in the chart below, things don't really pick up until later this month.  Next week just 30 companies will report earnings, while 797 companies will report in the last week of October.  The first week of November is even busier with more than 1,000 companies set to report.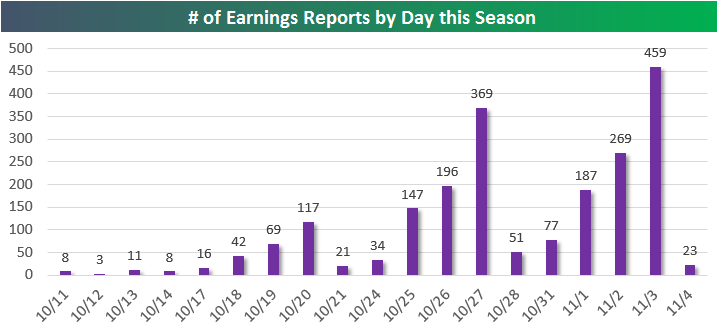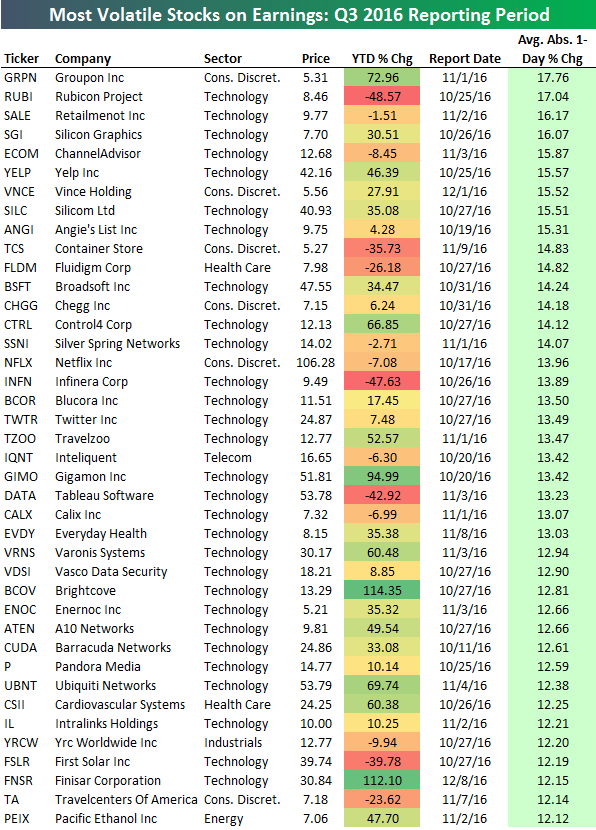 https://www.bespokepremium.com/think-big-blog/
4. This Stat Stunned Me….New Funds with Less Than 12 Months of Track Record Accounted for 73% of all  Active Flows in 2015.
The Rise and Fall of New Funds
Investors routinely pour cash into recently launched funds. Is that a mistake?
Morningstar, 10/03/2016
By Lee Davidson, Madison Sargis, and Tim Strauts
The following article was part of a larger research study on the subject. To get a copy of the full white paper, email the authors at lee.davidson@morningstar.com.
It is easy to dismiss new funds as an immature, unproven, and unimportant segment of the asset-management industry. But the truth of the matter is that the asset-management industry is dominated by new funds. Globally, we find that new funds account for the preponderance of new asset flows. In 2015, global fund flows reached approximately $516.4 billion across the three asset classes in our study—equity, fixed income, and allocation. Of the total, new funds with less than 12 months of track record accounted for $379 billion, or 73% of all flows. Even in years when the industry experiences net outflows, new funds continue to garner assets. In 2014, new funds grabbed $316 billion in net inflows compared with negative $526 billion in net outflows for funds with greater than 12 months of track record.
http://www.morningstar.com/advisor/t/116913299/the-rise-and-fall-of-new-funds.htm?&pageid=558960&single=true&curator=thereformedbroker&utm_source=thereformedbroker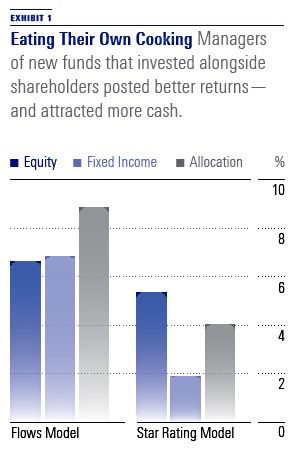 High Fees Coming to an End….New Funds with High Fee Structures Cannot Attract Assets.
Found at the Reformed Broker.
http://thereformedbroker.com/2016/10/03/hot-links-tax-genius/
5. 
The 4-week average of US unemployment claims falls to the lowest level since 1973. The world will be watching closely the payrolls report today because a decent print relative to expectations (172k) will increase the certainty of a rate hike.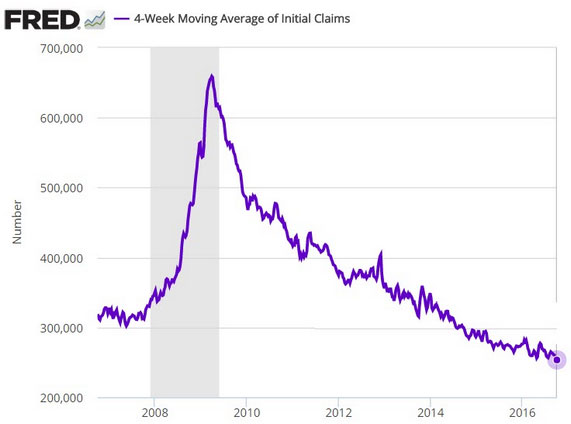 6.
This Planned IPO Will Have Bigger Revenue Than Microsoft and Apple Combined
The Middle East oil and gas giant plans to include all of its businesses in the offering and is preparing "industry-friendly" financials, according to reports.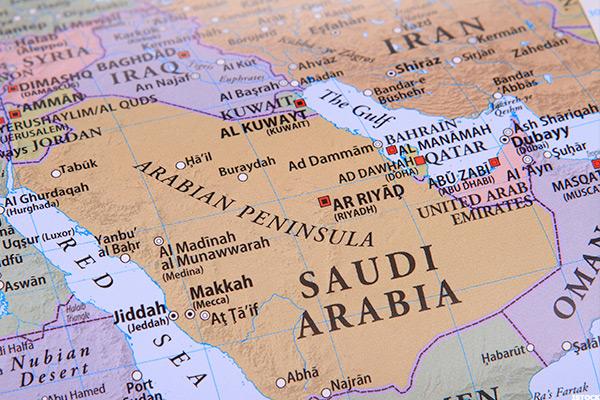 There's been a lot of chatter in the media recently about what Saudi Aramco's initial public offering – which isn't planned until 2018 – will look like. But this much is certain: It will be the biggest IPO the markets have ever seen.
The state-owned oil giant has been valued at anywhere from $2 trillion to $3 trillion, which means the sale of a 5% stake could potentially raise around $100 billion to $150 billion. If the offering goes through, Aramco would be the largest publicly listed company in the world, surpassing Apple (AAPL) , which recently had a market capitalization of more than $600 billion. Its sales in 2014 are thought to surpass those of Apple and Microsoft (MSFT) combined (almost $270 billion).
The Wall Street Journal estimates that bankers and lawyers could reap around $1 billion in fees from the issue – which would help boost their recently paltry IPO business. Michael Klein, the former star banker at Citigroup Inc. who formed his own boutique M Klein & Co. LLC in 2012, is advising Aramco on the IPO and JP Morgan would be the lead underwriter, according to several reports.
In an interview with Bloomberg, Aramco CEO Amin Nasser said the company is planning to put all of its businesses in the offering, not just refining and distribution. He said the company would list its shares on the Saudi Arabian stock market and possibly also in New York, London and Hong Kong. He said the company would announce its advisers "very soon."
Oct 6, 2016 4:26 PM EDT
7. Read of Day….Economy and Election.
 Here is a stunning pair of tables that shows the median real (inflation-adjusted) incomes for the high-school grads (aka working class) versus the college grads for the ten age cohorts along with the totals (which we've taken the liberty of highlighting).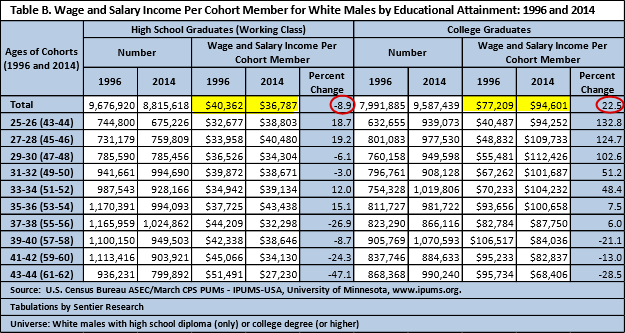 Over this 18-year time frame, the working class white males saw an 8.9% decline in income, a sharp contrast to the 22.5% increase for the college grads. The contrast is especially dramatic for the age cohorts that were entering what is traditionally the peak earning years in their mid-to-late 40s in the 2014 data. The age 25-26 working class had experienced an 18.7% increase eighteen years later in 2014. The college-educated were up 132.8%.
The Sentier Research study offers a remarkable and thought-provoking body of evidence to help us understand the plight of white working-class males, who inevitably see themselves as losers in the quest for financial success in an economy that favors the college-educated professional elite. It thus comes as no surprise that white male high-school grads consistently show up in the polling data as strong supporters of the Trump presidential campaign, which is broadly confrontational to a political system that has routinely favored the wealthly and professionally successful.
For a more detailed perspective on this income data along with some excellent charts, please visit theSentier Research website. Here is a direct link to the full press release.
https://www.advisorperspectives.com/dshort/commentaries/2016/10/05/the-financial-plight-of-white-working-class-males
8. 
6 Keys to Developing a More Flexible Mind
 It's my belief that a flexible mind helps us to deal with chaos, loss, big life changes, small frustrations, and all that life throws our way.
A flexible mind leads to more peace. You're not as stuck in your ways, and can adapt to change. You don't always think you're right but are curious about other people. You can take on new challenges with a smile.
I don't always have such a flexible mind, to be honest. I'm working on it.
When I'm not flexible, I can feel it: my mind starts to feel rigid, I feel frustration, irritation, anger, disappointment. There's a feeling of not wanting things to be the way they are, feeling of being wronged, attacked. It's the result of being caught up in whatever story you're telling yourself.
So here's what I've been working on, to develop a more flexible mind:
See the tightness. If I notice myself getting frustrated, hardening up, feeling a tightness … this is the sign that I should practice. And the good news is that practice helps me get better, so I should celebrate! This is a lesson that life has gifted me, and I try to say thank you.
Don't act. The most harm comes when I act out of my frustration, actions that might include shutting down and not talking to someone. So when I notice the tightness, I try not to take any harmful action. Instead, I try to turn inward to face whatever is arising.
Stay with the feeling. Turn towards the feeling, and just observe it. See it as something that is arising, but isn't necessarily me. It's a feeling, a cloud passing across the sky, not a big deal. What does it feel like, physically in my body? Explore it with curiosity.
Give it some space, and compassion. If the tight feeling that is arising is a cloud, then I try to give it a big, expansive blue sky to float across. Instead of being immersed in the cloud, I try to widen, open up an expansiveness. And then I give the feeling some compassion. It's OK to feel this! And it's good to give it some love.
Relax, and loosen my grip. The tightness comes from wanting something or someone to be a certain way. I'm holding on tightly, and I really want this. Instead, I try to loosen my grip on whatever it is. It doesn't really matter that much, I can flow around this. Instead, I try to relax into the moment, and be with whatever is going on. Notice the world around me, right now, instead of being caught up in my story. Relax, and be grateful for what's around me.
Saying "I don't know." Here's the key to it all. Once I've relaxed a bit, I can now tell myself, "I don't know how things should be. I don't even know how they are now." So this gives me space to not know, and to investigate. What is the truth about this moment? What would it be like to allow the future to unfold without knowing? What is it like to not know how other people should act, but be curious about why they're acting that way? And to give them some compassion too?
Not knowing. A flexible mind is one that doesn't really know what should happen, and is not even sure what will unfold in this next moment. It is curious, like a baby exploring the world afresh. When we sit in meditation, or take each moment as it comes, we allow ourselves to not know, and to be interested in whatever arises.
That's what I'm working with, imperfectly and forgetfully, and I find it helpful.