1. Nov.1 Starts the "Good" 6 Months Based on Seasonality.
Market Seasonality Notes:
Since October 31st, 2000, the Dow Jones Industrial Average is up over +68.19%. However, the seasonally weak periods during those years are cumulatively down -15.89%, while the seasonally strong periods have produced cumulative gains of 100.25%!
During the May to October periods, there are 27 out of 67 years that finished down in this study, while there were only fourteen down years out of the other six months and only three in the last 30 years.
There have been only three times when the "good six months" have lost more than -10% (1969, 1973 and 2008), but with respect to the "bad six month" time period there have been eleven losing efforts of -10%, or more.
There have been fourteen instances since 1980 where the "good six months" have posted a double digit return while five of those returned more than 20%.
Interestingly enough, following those times when the "bad six months" did produce double digit losses, the "good six month" period afterward lost more than 1% only once (2008) and on four occasions actually posted double-digit positive returns.
Beginning in November 2009, the Dow began a streak of four consecutive double-digit efforts during the strong six-month periods, the second longest such streak in history.
Again, this study is not the end-all for risk management, but it is very interesting and does expose a bias within the market that many investors are not aware of.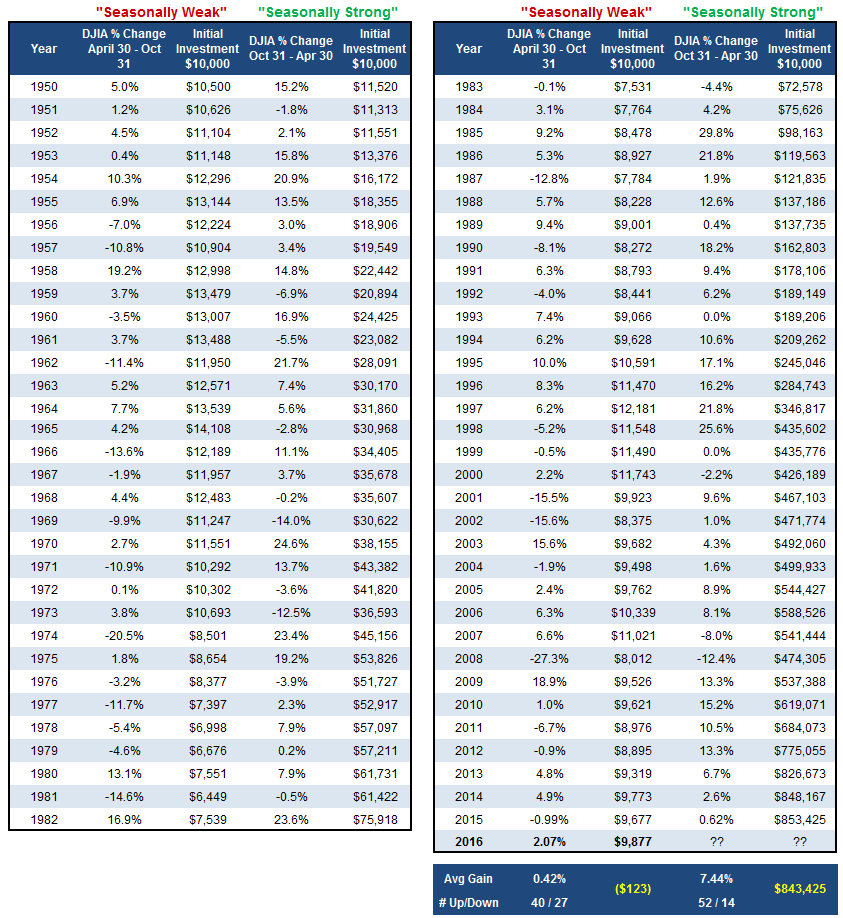 https://oxlive.dorseywright.com/research/bigwire 
2. The Two H's—Hillary and Healthcare Continued…How Much is Priced into Sector? Pharma 30% Underperformance YTD with Massive Baby Boomer Wave Entering Senior Years.
The sector has underperformed the S&P500 by almost 30% year-to-date.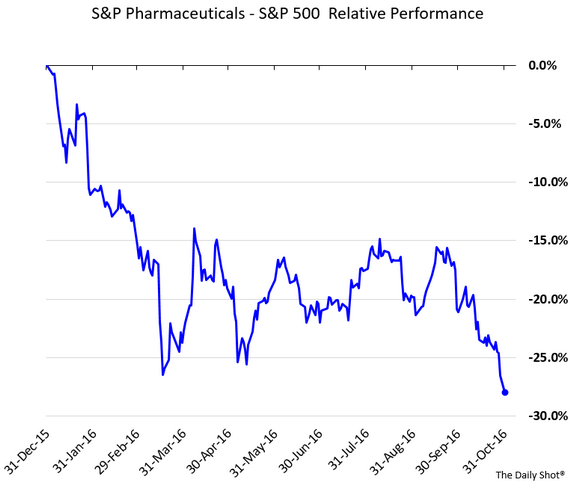 P/E Ratio of Healthcare Stocks
I thought this was a fascinating chart. It shows the P/E Ratio of Healthcare stocks (blue) compared with the P/E Ratio of the S&P 500 (red).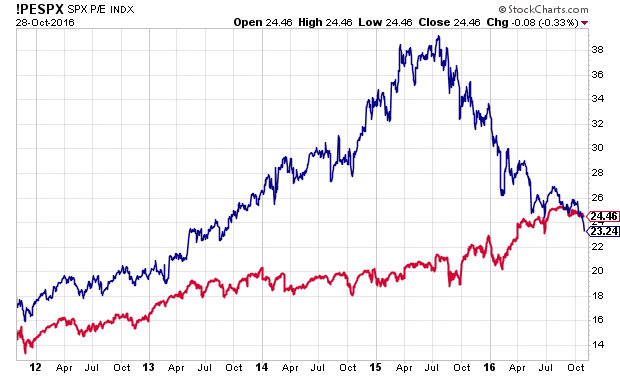 Posted by Eddy Elfenbein on October 31st, 2016 at 11:31 am
http://www.crossingwallstreet.com/archives/2016/10/pe-ratio-of-healthcare-stocks.html
3. The Next President and Defense…Defense Contractors Hitting 52 Week Highs.
Defense Contractors: Suspiciously Bullish
In recent weeks, the stocks of many defense contractors have climbed higher. A bunch of them are at or near 52-week highs. It seems like the Pentagon is concerned about its new boss. And it wants to buy as much arsenal as possible before it meets him or her.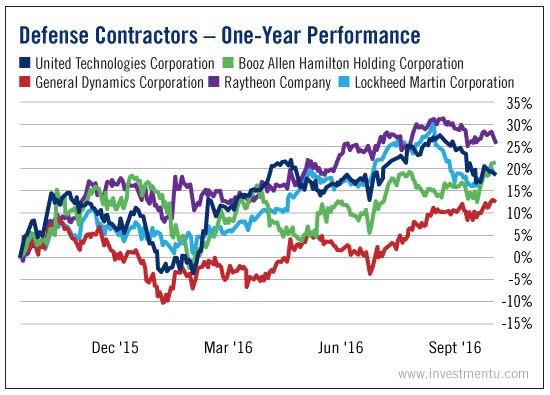 Raytheon (NYSE: RTN) and Booz Allen Hamilton (NYSE: BAH) are up more than 20% this past year. Lockheed Martin (NYSE: LMT) and United Technologies (NYSE: UTX) both hit annual highs in the last couple months.
In the case of Lockheed, we can see what caused the recent rally. But it brings up more questions than it answers. Shares have been climbing all summer, after Lockheed smashed second quarter earnings estimates. It surprised analysts by a whopping 13.7%. United Technologies has seen similar performance, beating Q2 estimates by 10.3%.
It's abundantly clear that defense spending is on the rise in recent months. Why? We don't quite know. That sort of information is usually classified.
http://www.investmentu.com/article/detail/52395/somethings-up-defense-contractors-52-week-highs#.WBh8gS0rJhE 
4. Two Interesting Bank Charts…WFC and BAC.
Wells Fargo Post Scandal Broke Blue Uptrend Line Going Back to 2012
BAC-Bank of America—In a Box Since 2009.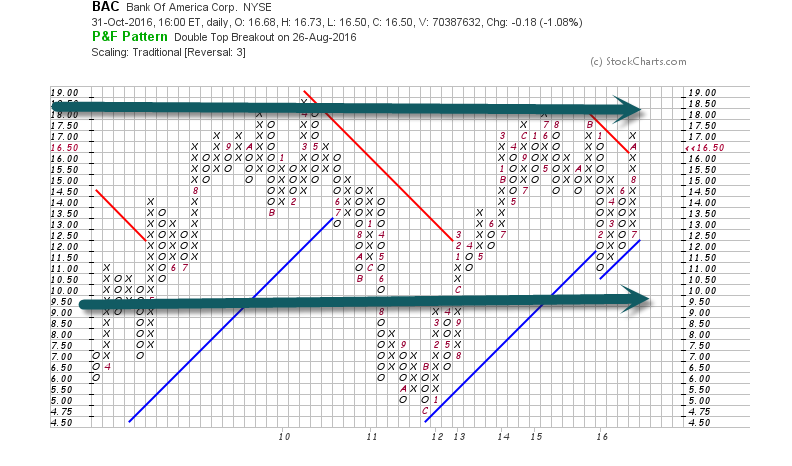 5. With Metals Getting a Bounce in 2016, Copper Still Going Nowhere.
There was a thought process that copper was an economic predictor.
DEFINITION of 'Doctor Copper'
Market lingo for the base metal that is reputed to have a Ph.D. in economics because of its ability to predict turning points in the global economy. Because of copper's widespread applications in most sectors of the economy – from homes and factories, to electronics and power generation and transmission – demand for copper is often viewed as a reliable leading indicator of economic health. This demand is reflected in the market price of copper. Generally, rising copper prices suggest strong copper demand and hence a growing global economy, while declining copper prices may indicate sluggish demand and an imminent economic slowdown. Read more: Doctor Copper Definition | Investopedia http://www.investopedia.com/terms/d/doctor-copper.asp#ixzz4OkccpXKj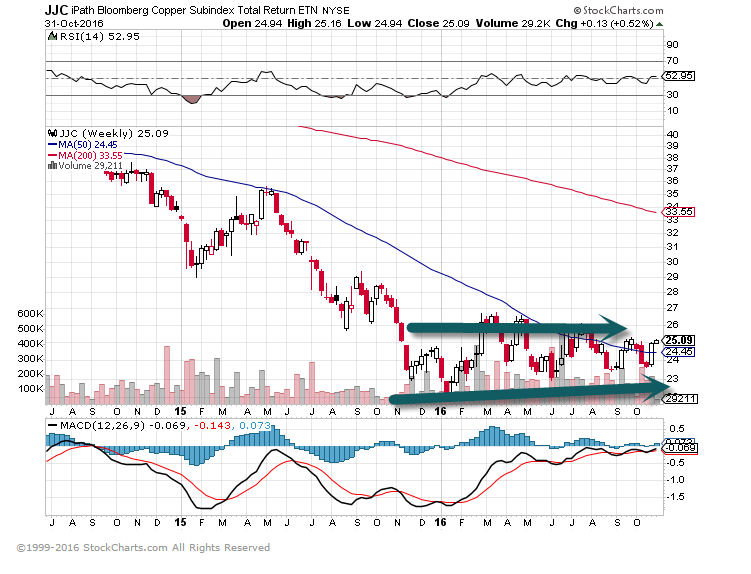 5 Year Chart…S&P +67% vs. Copper -44%.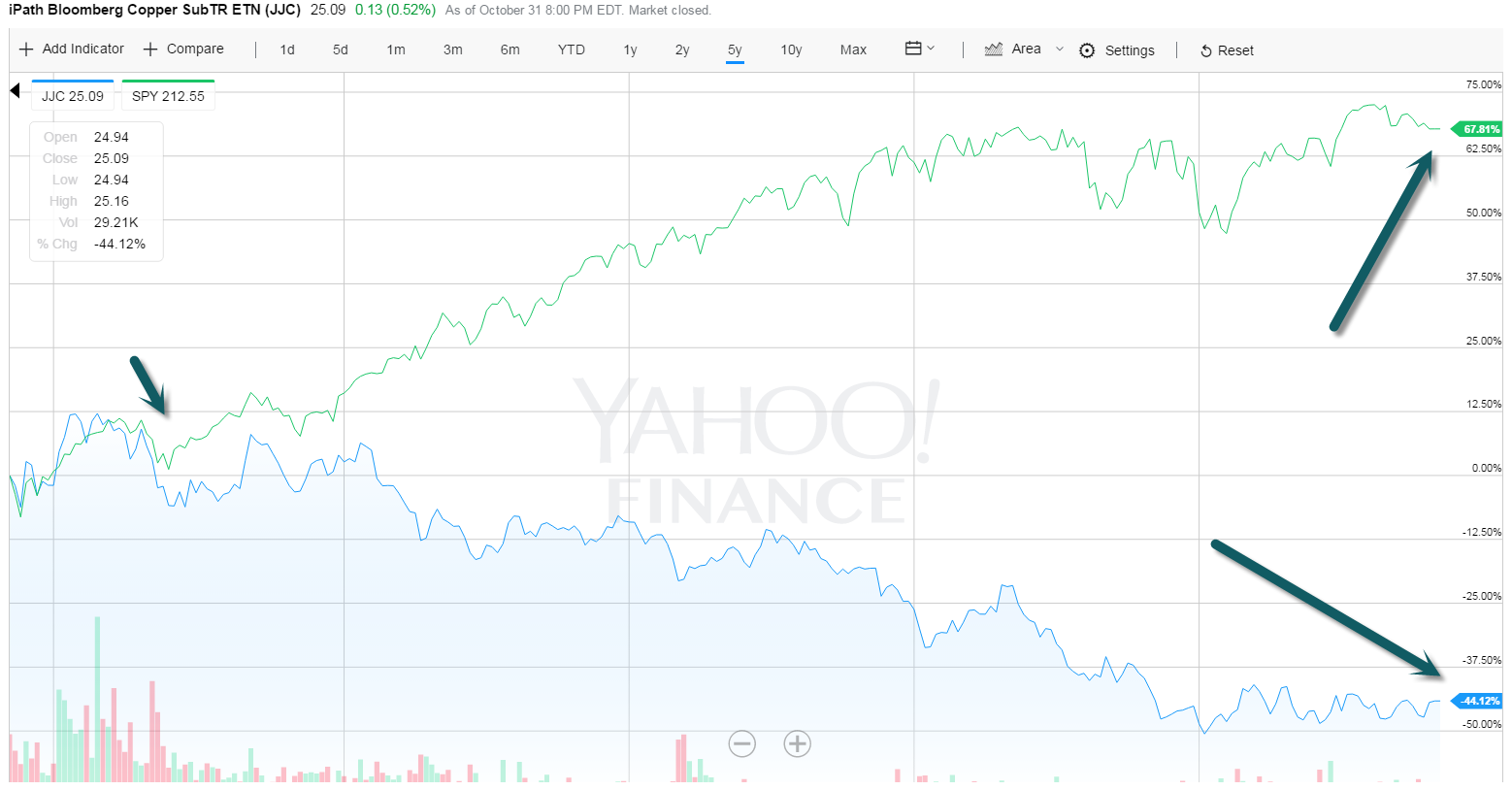 Here is a summary of some of the most actively traded metals' performance year-to-date. The second chart below shows the London Metal Exchange index.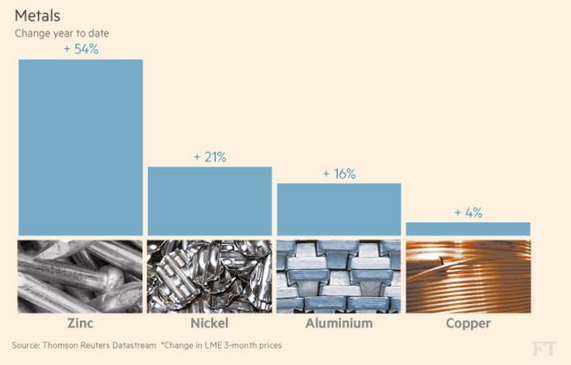 Source: @FTMarkets; Read full article 
6. S&P 500 Snapshot: Stocks Go Nowhere
by Doug Short, 10/31/16
Stocks went nowhere today. All three of the widely tracked US indexes finished in the shallow red. Our preferred benchmark S&P 500 opened higher bounced off Friday's closing price to its modest 0.32% intraday high in the late morning. It then sold off steadily to that same Friday close trampoline, made a tiny bounce and then closed flat with its fifth consecutive loss, albeit a miniscule -0.01%. The is the first five-day selloff since mid-June.
The 10-year closed the session at 1.84%, down two BPs from the previous close.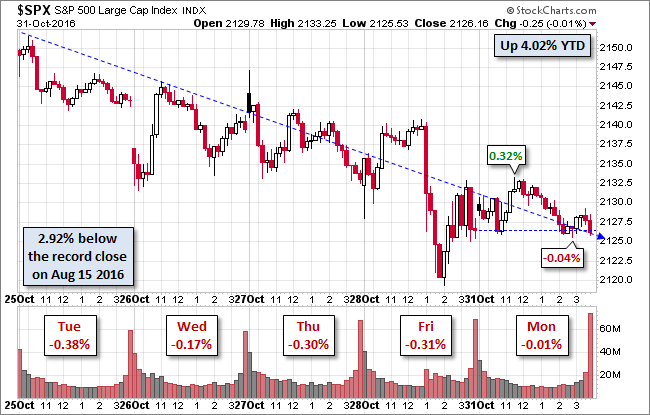 Here is a snapshot of past five sessions in the S&P 500. Interestingly enough the trend line is a residual from the 5-day chart we posted on Friday…exactly the same slope from the five-day high to the latest close.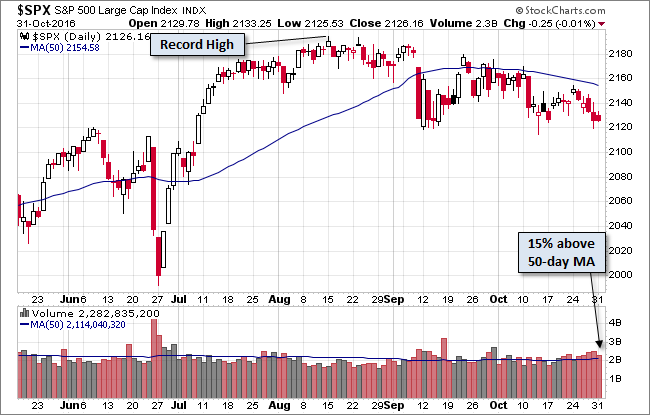 Here's a daily chart of the index. Trading volume on the last day of the month was unremarkable.
A Perspective on Drawdowns…A Recurring Top 10 Chart./h3>
Here's a snapshot of selloffs since the 2009 trough.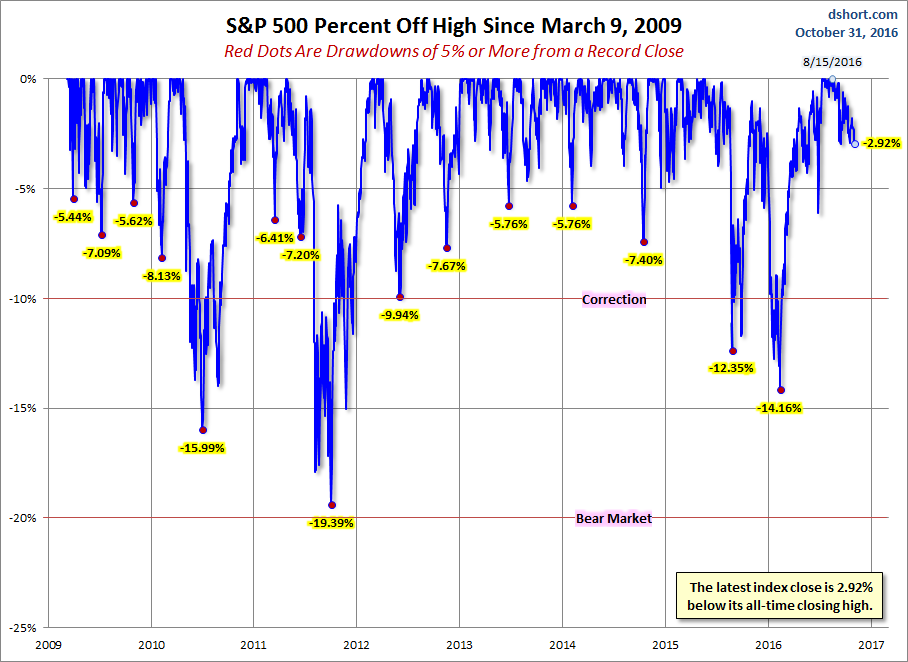 https://www.advisorperspectives.com/dshort/updates/2016/10/31/s-p-500-snapshot-stocks-go-nowhere
7. The Infrastructure Myth?? Interesting Chart from Torsten Slok.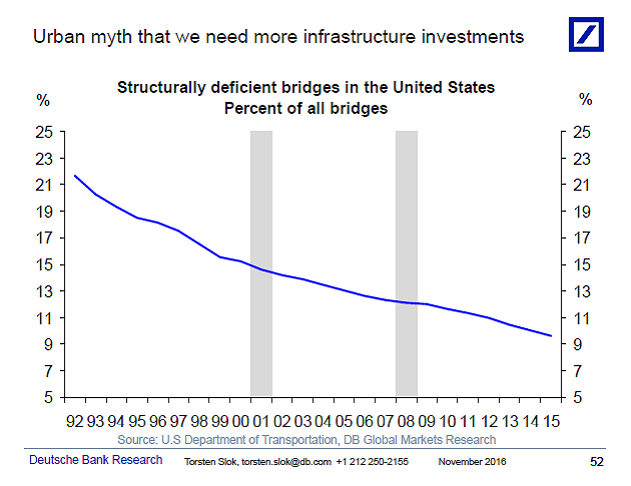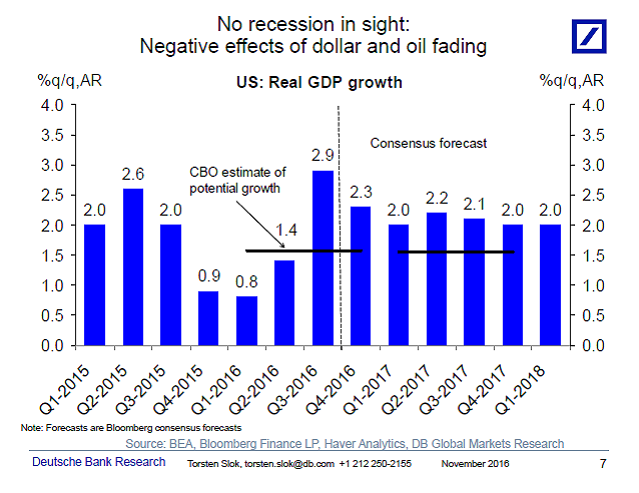 8. Private Equity is Loaded up on Capital….How do they Deploy?
2015 Private Equity Exits Hit a Record.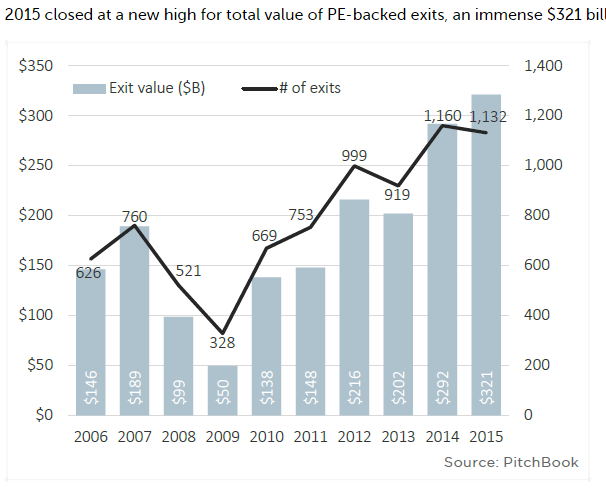 U.S. PE investment-to-exit ratio by year.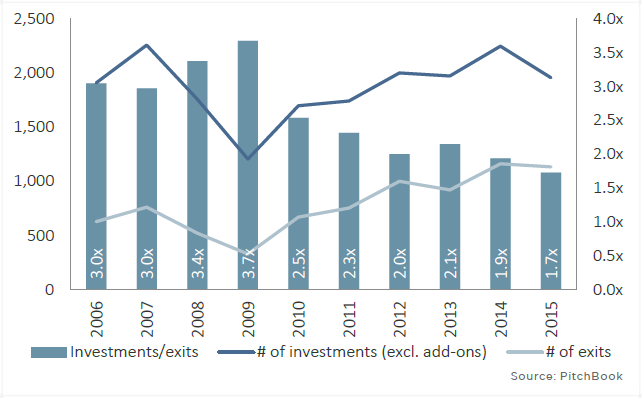 http://pitchbook.com/news/articles/the-current-state-of-us-private-equity-in-10-charts 
Private Equity Breaks More Records
Highest-ever aggregate payout to investors is accompanied by a new high in unused capital.
Dry powder hit another all-time high despite private equity funds returning a record $443 billion to investors in 2015, according to Preqin.
Cash allocated by investors but yet to be deployed rose sharply in the first nine months of the year, Preqin said, from $757 billion at the end of 2015 to $839 billion at the end of September 2016.
"The consequences of this 'wall of capital,' coupled with high asset pricing, are being seen in the difficulty many managers are reporting in finding attractive investment opportunities. "Despite this build-up of cash, investors and fund managers are keener than ever to put more money to work in the space. More than 1,800 funds were seeking to raise capital from investors at the end of the third quarter of 2016, Preqin reported, another record. This includes a Chinese venture capital fund seeking roughly $30 billion—if successful, it will be the biggest private equity fund ever raised.
Meanwhile, 56% of institutional investors polled by Preqin said they intended to increase their allocation to private equity, with just 7% saying they would decrease it.
However, Christopher Elvin, head of private equity products at Preqin, warned that the good times may not last much longer.
"This level of fundraising has contributed to a massive build-up of capital waiting to be deployed by fund managers, and the total dry powder available to the industry climbs ever higher," Elvin said. "The consequences of this 'wall of capital,' coupled with high asset pricing, are being seen in the difficulty many managers are reporting in finding attractive investment opportunities. Ultimately, it may be that these factors result in the net capital flow to investors in the coming year being lower than has been seen in recent years."
Several high-profile investors have "downgraded the projected performance of their private equity commitments" due to high valuations, according to Previn's report.
In contrast to the long-term trends, in the third quarter of 2016 private equity managers raised an aggregate $62 billion—the lowest quarterly fundraising total since Q3 2013, Preqin said. More than a third of this total—$22.2 billion—was raised by the five largest fund closes.
http://www.ai-cio.com/channel/ASSET-ALLOCATION/Private-Equity-Breaks-More-Records/ 
9. The Most Hated Bull Market Ever Continues…
Read of Day from Josh Brown Blog…Investors Still Piling Into Bond Funds… YTD through September 2016, combined equity mutual funds and ETFs recorded cumulative outflows of $72.94
Watch what they do, not what they say
Posted October 31, 2016 by Joshua M Brown
Become A Member Now. Great Rates And Safety Guaranteed. Member FDIC.
You can learn a lot about market expectations and investors' deepest fears by watching what they do as opposed to what they say.
Many strategists and media people are operating under the assumption that "rising rates" are the biggest investor fear right now, but they have it absolutely backwards – that seems to be the last thing on our collective mind right now, judging by where we're putting out money.
Tobias Levkovich and Citi's fund flows team looks at the year-to-date data and show a really stark change in investor appetites from 2015 into 2016. Some of the swings we're seeing are absolutely bananas over the first 9 months of the year.
Here's a sample of what we've seen so far in 2016…
Equity mutual fund outflows are completely unhinged – both US and global funds:
Total equity funds posted cumulative outflows of $158.41 billion through September down from the outflows of $9.38 billion during the first nine months of 2015.
US oriented funds experienced cumulative outflows of $149.76 billion during the first nine months of 2016, meaningfully worse than the cumulative outflows of $113.47 billion that were recorded over the same period in 2015.
Add in equity ETF inflows and the number gets a bit better, but it's still a scary swing versus the comparable period last year:
YTD through September 2016, combined equity mutual funds and ETFs recorded cumulative outflows of $72.94 billon vs inflows of $87.12 billion attracted over the first nine months of 2015 with both domestic and international flows suffering.
So what the hell are they doing with that money? I mean, besides paying their higher health care costs? Is it piling up in cash? Not exactly. Here's money market funds:
Year-to-date, money market funds have seen outflows of $82.01 billion versus outflows of $62.26 billion in the first nine months of 2015…In [all of] 2015, money markets attracted inflows of $21.46 billion. For the full-year 2014, money market funds recorded cumulative inflows of $6.24 billion. In 2013, money market funds attracted inflows of $15.04 billion.
In other words, money market funds are on pace to see their first year of outflows since investors took a net $180 million out in 2012.
So if we're not buying stock funds (and we clearly aren't) and we're not stashing it in cash, what are we doing?
Well, I'll tell you what we're NOT doing – we're certainly not panicking about rising rates, no matter how badly the media wants us to. According to ICI data collected and parsed by Citi's Fund Flow Insights report, we're going bananas for bond funds.
Look:
Investors added $17.68 billion to bond funds in September down from August's $23.08 billion inflow and a major swing from September 2015's $20.02 billion outflow…
YTD through September, bond funds have experienced inflows of $123.45 billion, significantly better than the $2.20 billion inflow garnered over the same nine-month period in 2015…
Fascinatingly, combined bond fund inflows in the first nine months of 2016 year to date were more than 4x the inflows over the same time period in 2015.
If we're not afraid of rate hikes, but unwilling to bet on stocks or sit in cash, then it stands to reason we are more afraid of two other things: The election and fear of earning no returns.
This leads to an enormous 4x swing in bond fund inflows and the tidal wave of money sloshing out of stocks and cash. In other words, watch what they do, not what they say.
The interesting question is whether or not the election's end, followed a few weeks later by the Fed meeting (and supposed rate hike) does something to change this dynamic.
Source:
Fund Flow Insights: A Sloppy September
Citi Research – October 28th 2016
http://thereformedbroker.com/2016/10/31/watch-what-they-do-not-what-they-say/
10. ETR Exclusive: One on One with Facebook Exec Kelly Graziadei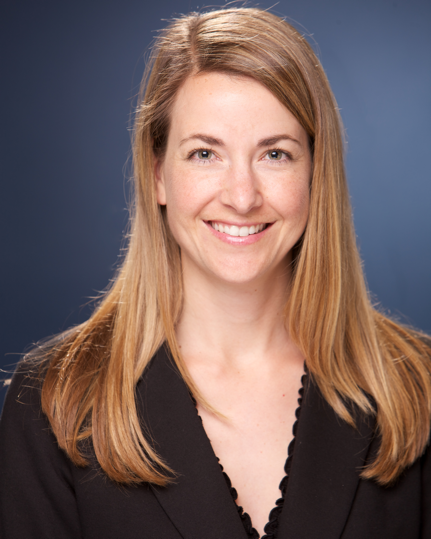 Kelly Graziadei is Director of Monetization Product Marketing at Facebook.
Early to Rise caught up with Facebook Executive Kelly Graziadei earlier this year to learn some of her secrets to success and find out what keeps her grounded and balanced while working at one of the fastest-paced and fastest-growing companies in the world.
For Graziadei the opportunity to join Facebook came at perhaps the most inopportune time. It was 2010, her first son was just four months old, and she had just returned to work at Yahoo. Add to that the 1.5-hour commute from her San Francisco home to Facebook headquarters.
Still she says, "I knew that Facebook was a rocket ship and I wanted to get on it." Despite all of the challenges, Graziadei says saying no to the opportunity simply didn't feel right.
"I was inspired by the people, the opportunity, and the mission to connect the world," she says. "I didn't want to sit on the sidelines when I could be part of the flight crew."
That excitement was tempered with realism, too, and Graziadei recalls that she cried when she accepted the job.
"It was the right decision but a big leap into the unknown for me and my growing family."
Yet somehow, her perspective on all of it is refreshing. She makes striking a balance between family (she has two boys) and a career as Director of Monetization Product Marketing at Facebook look easy. She shared with us where she draws inspiration, what rules and routines she follows, and how she makes it all click.
ETR: Where do you find inspiration?
Graziadei: It may feel like inspiration is serendipitous but you have to make time to read, listen, learn, and do things that inspire you. You have to slow down long enough to take in the little things all around you that can inspire.
I find new inspiration in things my kids say, advice that a friend or colleague may be seeking, a walk through my neighborhood — and reading, reading, reading. The most important thing is to create the space and rest for ideas to emerge. When I hop on the hamster wheel and keep going, going, going, I think I'm being productive but I'm often trading this for inspiration and ideas.
ETR: What's one rule that guides your life?
Graziadei: Care for and connect to people. People are what this whole life is about and what ultimately fuels and drives me. One of my favorite quotes is from Maya Angelou: "I've learned that people will forget what you said, people will forget what you did, but people will never forget how you made them feel."
The other rule is never settle.
ETR: Are you an Early Riser?
Graziadei: I am a morning person. When my kids were first born, I sacrificed my early morning wake ups because the risk of me waking them up was just too great. I'm happy to say that my early morning routine is back and I typically wake up at 5:00 a.m. This makes all the difference for me — I'm more energized and much more productive than trying to work into the late hours of the evening.
ETR: Do you have daily routines that keep you grounded?
Graziadei: The one routine that I've maintained is making it home for dinner with my family. Cooking and eating as a family is an invaluable connection point for me and a major source of balance (as much as that exists). Putting my phone away and being present with the family — capturing the funny things the kids say, cooking a meal with my husband, my husband and I helping my oldest son with his reading — helps keep things in perspective.
At the end of last year, I committed to some new habits, which have been game changing. I start my days at 5:00 a.m. with some light journaling in Evernote, read a couple articles and then have a good hour for work. When I'm not taking calls in the car, I'm listening to inspirational or business books on my way in to the office. And, I'm ending my day at 10:00 p.m. with 30 minutes of yoga. While it's easy to want to skip the yoga at the end of the day, the payoff has been that my sleep is so much better.
Creating space, taking care of myself, and making time for inspiration is enabling me to make more impact at work and at home.
ETR: How do you prioritize your most important tasks?
Graziadei: I am a list maker. I have a few categories of lists — urgent, important but not urgent, personal, and not urgent/not important. It's rare that something gets checked off that last list.
Overall, I ensure that my priority list — and not my email — guides my time. This means I don't respond to a lot of email but I make sure I set expectations with the people I work most closely with and how to track me down. I want to be productive, but also accessible — because as I mentioned before — people are the most important part of what I do, and what drives me each day.
ETR: What have you learned in the past year that will make an impact on your role at Facebook?
Graziadei: Over a year ago, I had the unique opportunity to move into Product Marketing and take on a general management approach to our business. With this move and in the last year, I've spent more time thinking about Growth marketing/Growth hacking. Growth marketing is the practice of driving growth (product, revenue, user base) with a combination of innovation, scalability, and connectivity. I've found these to be important principles to apply to my personal and professional life. Typically, growth marketing starts with a lot of creativity and A/B testing. Once you find the small move that makes an impact, you scale.
In my personal life, this is important because I often defeat myself before I start, making my goals hard to achieve out of the gate. This year, I vowed to start small — the pre-bedtime yoga, for example. I can always scale from there, but finding success with smaller moves has been key to my personal growth. These changes are allowing me to show up better at work, with energy and clarity to prioritize, make decisions for the team, and drive key areas of the business.
Likewise, on the work front, I love to see and solve for the full 360 picture. I love that I get to work at a place like Facebook, have access to such rich insight, and form a point of view on the future of marketing. That said, it's important to break down the long-term vision into much smaller moves for building products and testing what works. These smaller and shorter-term goals create momentum and allow us to get important insights early and often that ultimately help shape the long-term direction.
ETR: What drives and motivates you?
Graziadei: I have spent a lot of time racing toward a finish line…a new job, a move, a promotion. But as soon as I arrive, the celebration is often very short and suddenly there's a new race and a new finish line. The big learning for me has been that there is no finish line and there's little glory in "winning" any individual race.
What drives me today is managing my time to have the life I want — time to take care of myself so I have the energy for work and family; precious time with my family; time to work on the big, juicy problems at work, and time to coach and support my colleagues and help shape and support the next generation of leaders. This is a lifelong adventure and I don't want to get to the finish line anytime soon.
ETR: Who have been the most important contributors to your success?
Graziadei: I am so grateful for the people and experiences in my life that have led me to where I am now. So many have been iterative across my life. Those that stand out do have similar traits — experiences and people that asked me tough questions and gave me confidence to trust my gut and perspective.
My husband listens, supports and challenges me. He keeps me grounded and focused on the things that are most important and is a true partner, juggling his own demanding job and sharing responsibilities at home so we can be successful as a family.
My best friends are always there, cheer me on and listen when I'm at a crossroads. And my parents play a big role in supporting our life and family today and showed me the value of hard work, grit and caring for people above all else at an early age.
ETR: What are the most valuable lessons you've learned?
Graziadei: I learned early to be fearless, raise my hand for any and all opportunities and ask for what I want. Facebook COO Sheryl Sandberg talks about "tiara syndrome," where many women in particular work hard and keep their head down and wait for someone to notice and put the "tiara" on their head. You've got to look up and ask for what you want. Don't just wait for someone to notice and reward you.
Secondly, care for people and make them feel connected to something bigger. I believe people are most motivated and do their best work when they feel like people care about them and are invested in their success. I had these kinds of managers and mentors in my career and this is paramount to how I treat with and work with others.
I've also learned to be vulnerable and not to be afraid to ask for help. My most breakthrough moments have been digging into tough feedback and working on being better.
Finally, if you have a chance to work with an executive coach, do it.  Even when you have a great manager, having a coach that's just focused on your success and helping you in key development areas, challenging you with tough questions and approaches to practice can help you make big step changes in your performance and contribution.
ETR: Do you have a formula for success?
Graziadei: It's taken me a lot of years to learn this and really believe it, but I think the most important thing about success is defining what that means to you and not trying to live up to someone else's definition, or even one you've created because you think it's the "right" one. Success that's about external measures may ultimately be empty if those measures aren't core to who you are and what you value.
(Editor's note: This interview was conducted by Tara McMeekin and originally appeared in ETR's Success Formula Newsletter.)
http://www.earlytorise.com/etr-exclusive-one-one-facebook-exec-kelly-graziadei/