1.Trump Trader Reversal….Tax Cut Basket Gives Back All Gains.
Equity Markets: According to the next chart, the markets seem to be giving up on US corporate tax cuts. It shows that a broad basket of companies paying the highest tax rates has reversed all of its post-election outperformance and then some. The stock market doesn't see these firms in a lower-tax regime anytime soon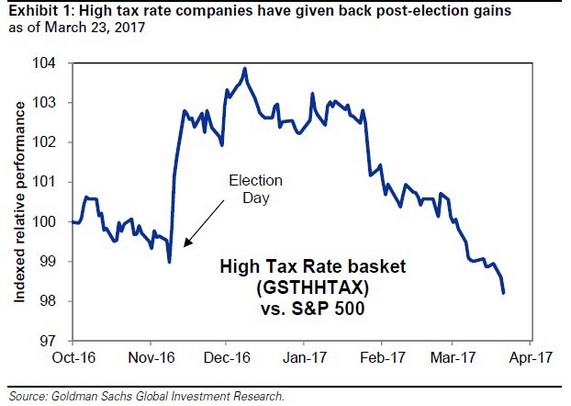 Source: @tracyalloway

2.Reflation Trade not Showing up in TIPS…Inflation Hedge Fails to Make New Highs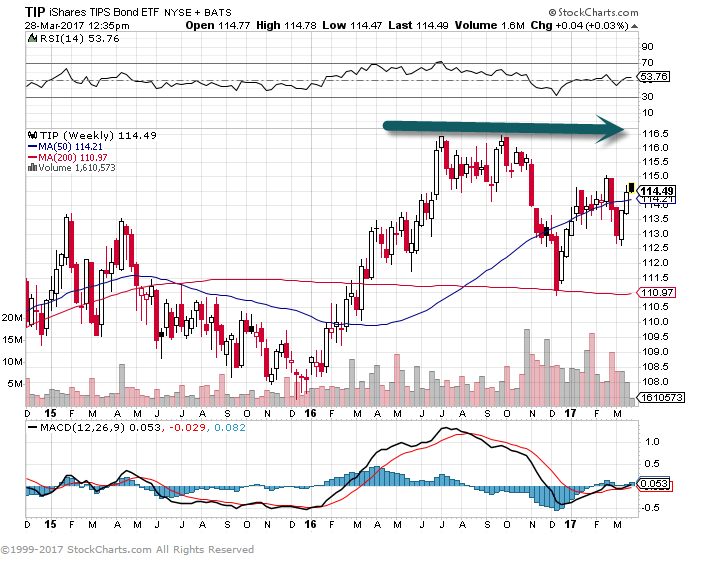 www.stockcharts.com
3.Expected Stock Price Increases Highest Since 2000
Full disclosure…I am not familiar with this index but interesting
He then turns to one component of the confidence data, the "Expectation of Stock Price Increases," which hit 47.4 in March. That's the second highest reading on record in nearly three decades, beaten only by a January 2000 reading of 47.7.
March marks the fourth straight month of readings above 45 for that index, the longest streak on record. You have to go back to spring 1998, just before the Russian Debt Crisis and failure of hedge-fund firm Long Term Capital Management, for anything near that — a three-month run at those heights. And two straight readings above 45 preceded the 1987 crash, notes O'Rourke.
The first reading above 45 typically is followed by a 1.2% loss for the S&P within the next three months, and a 3% loss in the next six months, according to the data.
BARBARAKOLLMEYER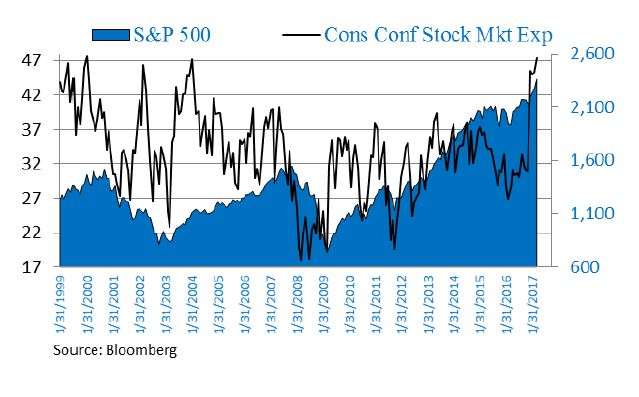 http://www.marketwatch.com/story/the-trap-ahead-for-a-stock-market-too-full-of-animal-spirits-2017-03-29
4.Historical Look at P/E Ratios.
Chart of the Day
With fourth-quarter earnings largely in the books, today's chart provides some perspective on how the current earnings environment relates to the stock market, today's chart illustrates the price to earnings ratio (PE ratio) from 1900 to present. Generally speaking, when the PE ratio is high, stocks are considered to be expensive. When the PE ratio is low, stocks are considered to be inexpensive. From 1900 into the mid-1990s, the PE ratio tended to peak in the low to mid-20s (red line) and trough somewhere around seven (green line). Notice how most PE ratio peaks that occurred well above the upper threshold (red line) were a result of a massive bear market / recession. The only real exception to this was the dot-com boom which resulted in a PE ratio peak well above 30 in 1999 (even then, the PE ratio did not stay above 25 for long). Viewed in this way, the current PE ratio (25.0) is noteworthy and suggests that the stock market as a whole is by no means cheap.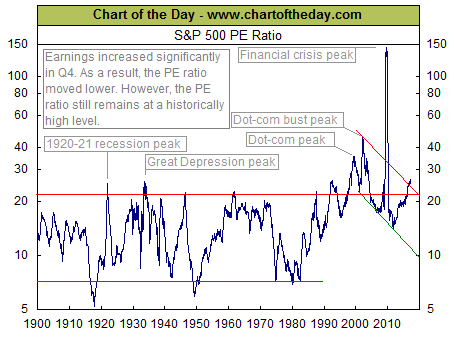 www.chartoftheday.com
5.Europe…London FTSE has Ripped Since Brexit…Now on Watch List Since Article 50 Launch.
Reaction now becomes more interesting as Article 50 triggered last night.
What happens when Article 50 has been triggered?
A handwritten letter notifying the EU of the U.K.'s intention to leave was delivered to Donald Tusk, the president of the European Council, by Tim Barrow, the U.K.'s ambassador to the EU, at 1:30 p.m. Brussels time.
The multi-page letter traveled to Brussels overnight, accompanied by a civil servant and a guard. Specifics surrounding exactly how and where Barrow met Tusk, as well as his planned route for getting to the preordained meeting point, were reportedly kept quiet for fear of impassioned Remain campaigners possibly attempting to intercept the letter and disrupt the timing of the agreed plan for this historic event.
Tusk has previously said the EU is ready to respond within 48 hours of obtaining the notification.
What will the Article 50 achieve once completed?
Article 50 simply provides a path for the process by which the U.K. will exit the EU. Once the withdrawal agreement – enacted within the U.K. by the Great Repeal Bill which will end the primacy of EU law within the country – comes into force, the EU treaties will no longer apply to the U.K. Following that, all of the permanent new terms governing the relationship going forward between the two sides will have to be negotiated and agreed. During this time, the government will decide which parts to retain, modify or cut. Some estimate this could take several more years.
http://www.cnbc.com/2017/03/29/brexit-article-50-process-trigger.html
6.Credit Card Debt Healing Since Credit Crisis.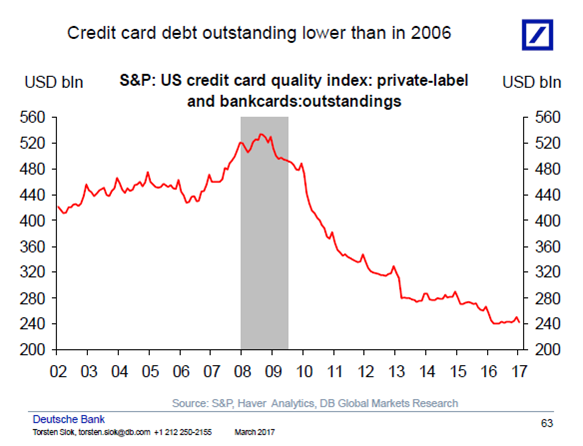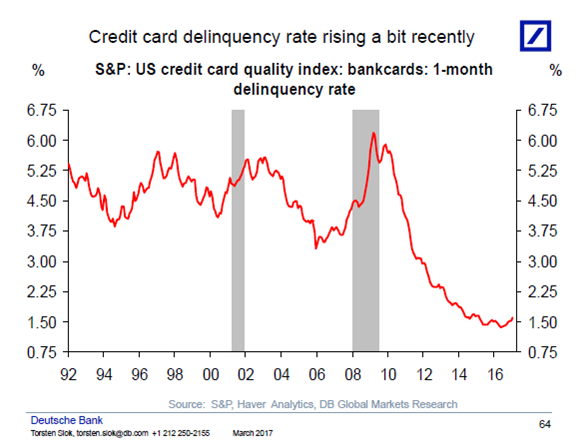 Torsten Sløk, Ph.D.
Chief International Economist
Managing Director
Deutsche Bank Securities
60 Wall Street
New York, New York 10005
Tel: 212 250 2155
7.Reflation Trade…Natural Resource Fund Assets Grow by $48 Billion in Six Months
35% expect the asset class to perform better than it did in 2016, 21% believe it will perform worse.
Commodities worldwide are in high demand based on a significant increase in assets held by unlisted natural resources funds. As of June 2016, assets in these funds reached $455 billion, while the industry grew by $48 billion in six months. All old assets under management in this fund category have tripled in size since 2008, according to a new report by Preqin.
In its new 2017 Global Natural Resources report the data, analysis and intelligence
services company found that unlisted natural resources assets grew by 12% in the first half of 2016, following two successive years in which the industry expanded by 10%.
Most of this asset growth was in "vintage" funds (funds started before 2009, according to Preqin) that hold a significant proportion of industry assets. Funds with a 2009 vintage or older hold $89 billion in total assets, almost one-fifth of the total industry.
Funds launched post-2009 have significant amounts of "dry powder" (capital yet to be invested) to invest. This may help explain why 2014 vintage funds alone account for $49 billion, almost as much as the $50 billion held by 2016-vintage vehicles. North America-focused funds account for $328 billion, or 72% of total global assets. This AUM total dwarfs those held by funds focused on Europe ($52 billion), Asia ($23 billion) or other regions ($53 billion). Similarly, energy-focused funds hold $362 billion in total assets and account for 79% of the industry AUM. Diversified natural resources funds account for 7% of AUM, while agriculture (5%), mining (4%), timberland (4%) and water (0.3%) funds are much smaller.
As a category, energy-focused funds are the fastest-growing sector of the unlisted natural resources industry. The AUM of energy funds grew by 18% in the first half of 2016, compared to 12% for agriculture funds and 6% for mining funds. Diversified natural resources funds actually saw assets decrease by 10% in the same period.
According to Tom Carr, Preqin's Head of Real Assets Products, "the unlisted natural resources industry added almost $50 billion in combined assets in the first six months of 2016 alone. These funds are continuing to grow and the pace of growth for the industry is actually accelerating. This whole sector has seen double-digit annual increases for over a decade. At this pace, we may see the industry exceed half a trillion dollars in AUM by the end of 2017."
Carr noted that within the asset class, the balance of assets remains heavily weighted towards energy funds and funds investing in North America. Although agriculture- and mining-focused funds have seen steady growth, they remain dwarfed by the energy sector. "Still, all primary natural resources sectors have seen consistent growth, and the asset class as a whole continues to emerge as an important part of the alternatives industry," Carr said.
http://www.ai-cio.com/channel/NEWSMAKERS/Natural-Resource-Fund-Assets-Grow-by-$48-Billion-in-Six-Months/
Franklin Natural Resource Fund Made a Run at 2008 Lows
in 2016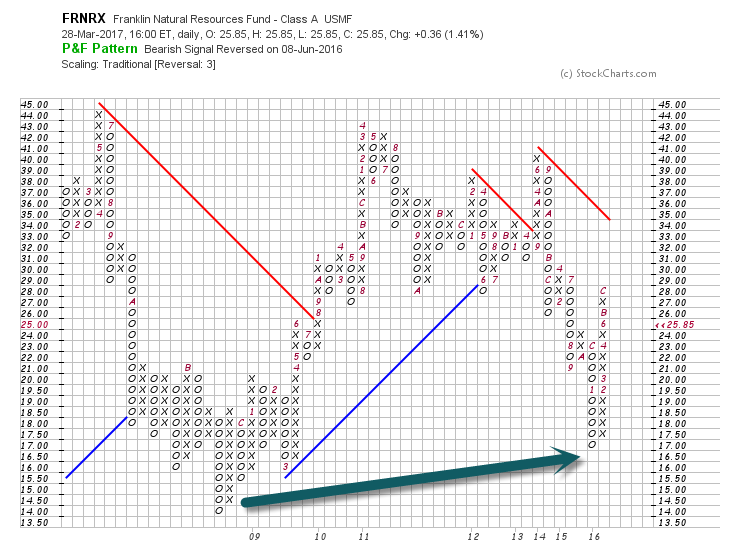 www.stockcharts.com
8.More GEN Y Consumers have Netflix than Cable….2017 Could be the Year that NFLX Tops Cable.
Samuel Bennett, a data visualizer, shared a comparison chart on Reddit. Initially discovered by Uproxx, the chart shows how Netflix's momentum isn't slowing down at all, and that cable's end is near.
Today, the firm has 47.5 million U.S. subscribers, which is a million less than cable. When you factor in Netflix's current estimated growth rate, the website is set to top cable by the end of next year.
http://learnbonds.com/131932/netflix-subscribers-cable-crush/
9.New Home Sales up 14% Y
over Y.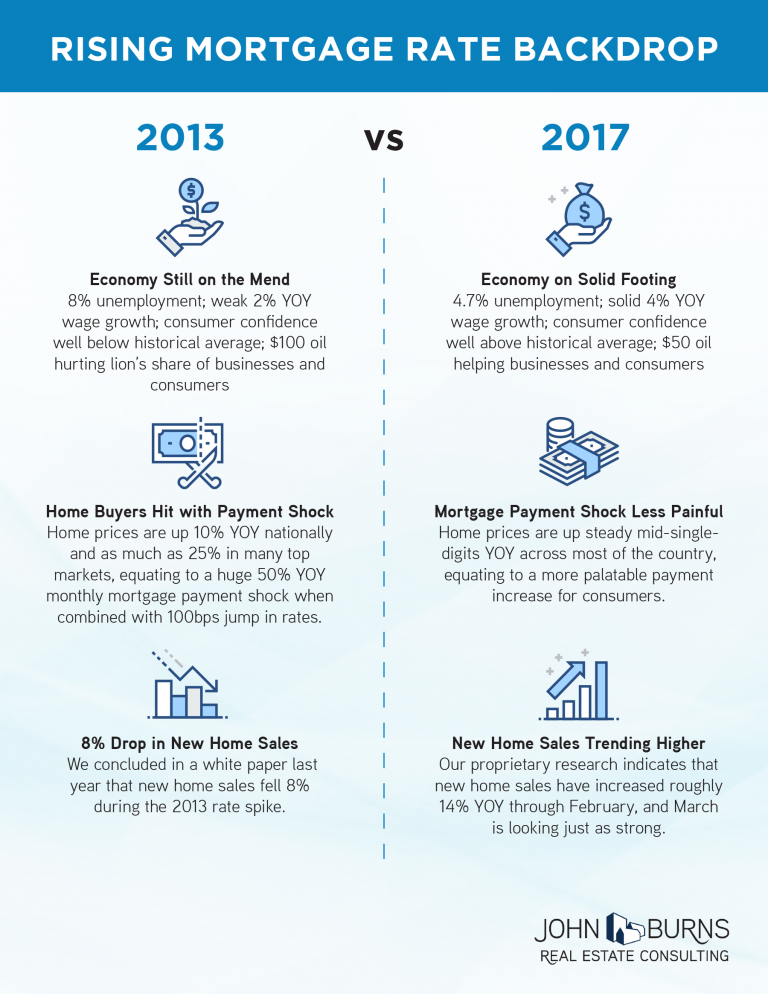 10.Every NCAA Tourney Creates a New Celebrity.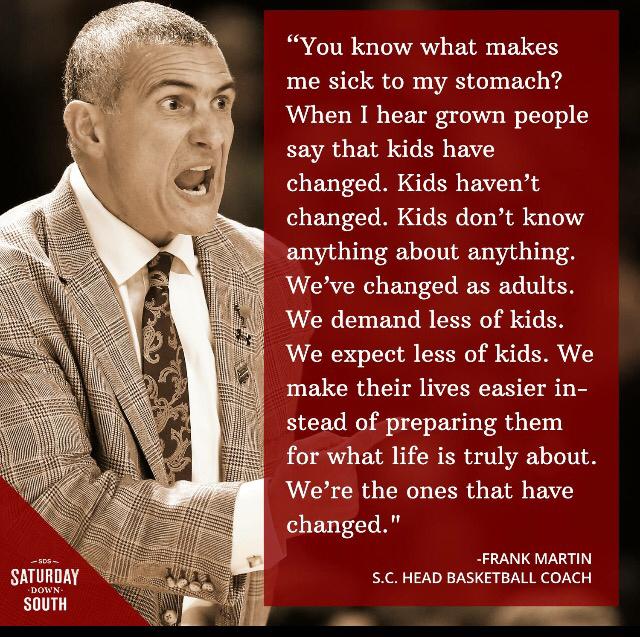 Frank Martins Story
http://www.businessinsider.com/south-carolina-coach-frank-martin-path-to-final-four-began-as-a-jv-coach-2017-3