1.Speculators are Massively Short Stock Market Volatility and Short Treasuries….Contra-Indicator???
Equity Markets:  Risk appetite in the equity markets remains near multi-year highs. The chart below shows speculative accounts massively short VIX futures.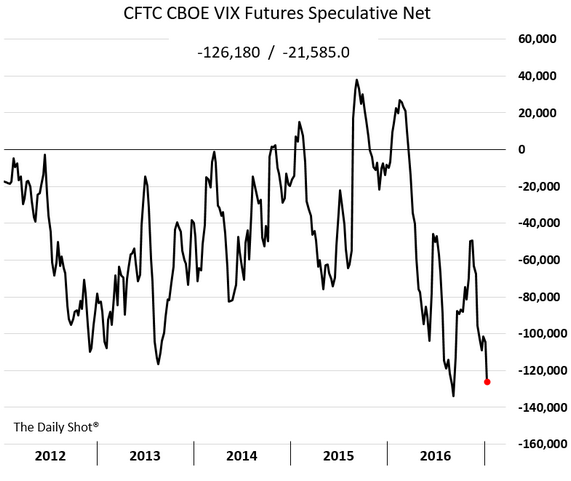 Rates: Short Treasuries is increasingly becoming a crowded trade. The chart below shows speculative accounts piling into the short 10yr note futures position.
2.Chinese Markets Post Election…China is 25% of Emerging Markets.
Shnzhen Dow thru 200day to downside.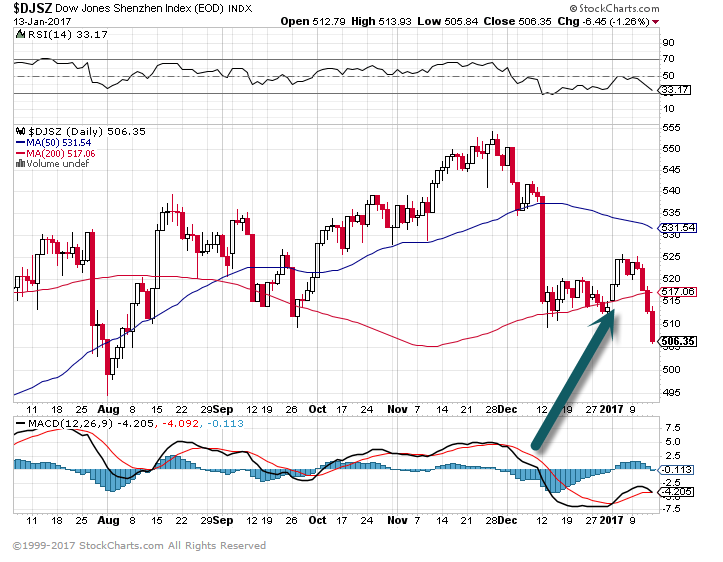 HAO-China Small Cap ETF…3 higher lows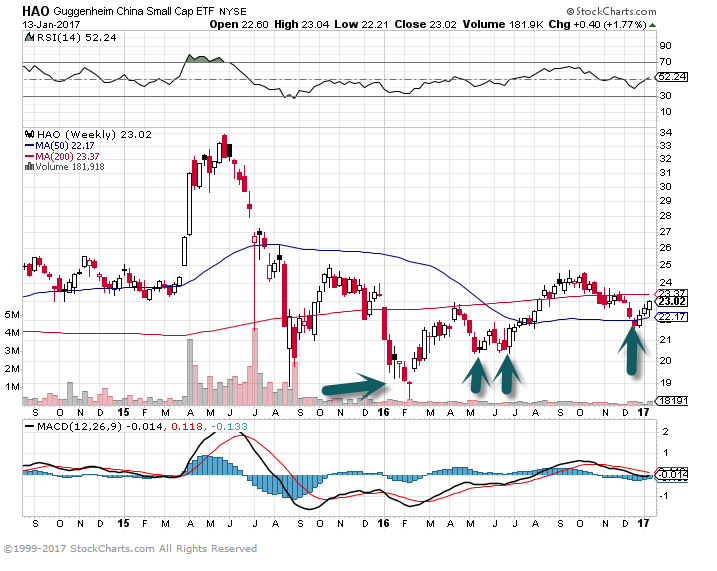 3.Flows Since Election….Dollar Strenghtens—Money flows out of emerging market stocks and bonds.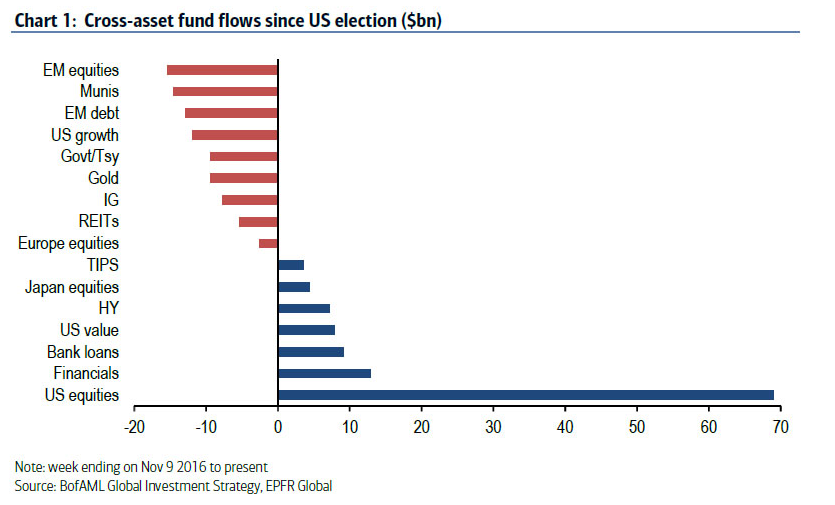 4.Inflation?  Keeping an Eye on Copper
JJC Copper ETF…50day goes thru 200day to upside on huge volume right after election day (see bars on chart)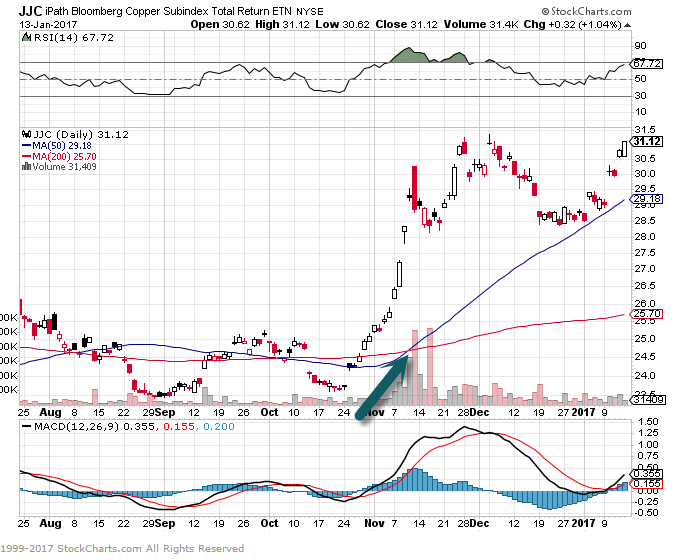 JJC Copper-making a run at red down trend line going back to 2012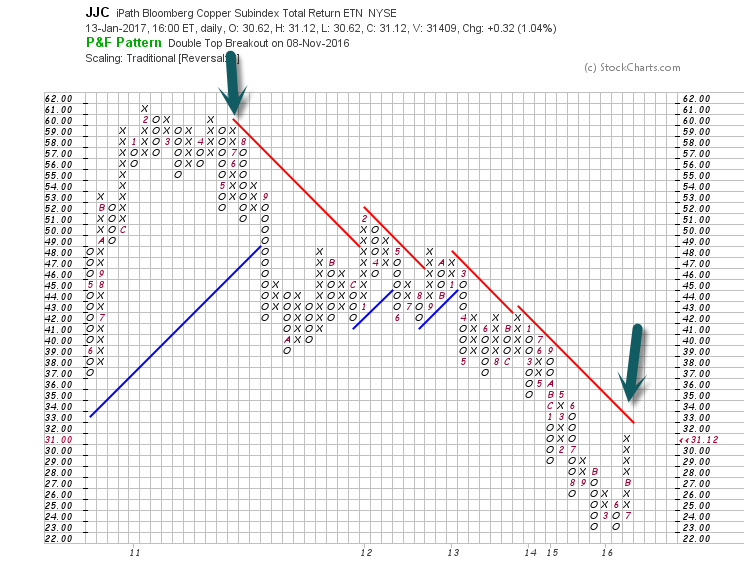 5-6.Accurate List of Questions for 2017
Morgan Stanley weighs in on the 9 big questions that will dominate Wall Street in 2017
Morgan Stanley has released a big report on the "Big Debates" of 2017, which highlights the key questions they think will shape global markets over the next 12 months.
Will protectionism hurt US growth?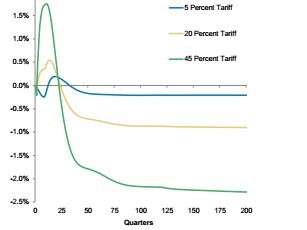 Tariffs will bring short-term gains, but losses in the long-term.Morgan Stanley
There has been a major shift in American politics, on both sides of the aisle, away from free-trade and economic liberalism towards protectionism.
While most analysts are in agreement that protectionist policies will negatively affect emerging markets such as Asia, there is not a consensus on its implications for the US.
Morgan Stanley is not taking an optimistic stance:
"Under a more protectionist regime, there is potential for near-term upside in US growth, driven entirely by a narrowing of the trade balance. However, this would come at a cost of permanent output loss."
Will we see corporate tax reform?
Associated Press/Susan Walsh
It is very likely that there will be corporate tax reform in the US in 2017, according to Morgan Stanley, but what that reform will look like and the degree to which it will benefit the economy is still up for debate.
"The good news for investors and the economy is that Congress has the motive and the opportunity to execute tax reform in 2017 … the bad news is that this stimulus may lack punch given the likelihood of resulting Fed hawkishness and potential corporate finance disruptions," the bank said.
Will border adjustments lead to an appreciation of the USD?
One of the cornerstones of Donald Trump's campaign was a promise to impose taxes on imports into the US, or border adjustments, in order to buoy America's ailing manufacturing sector.
Traditionally, Republicans have not been in favor of implementing such taxes, but as of late it looks like some key GOP legislators have had a change of heart.
"Recent news suggests House Republicans and President-elect Trump are coming together around [border adjustments]," the bank said.
As such, Morgan Stanley believes border adjustments stand a serious chance in 2017.
However, they don't subscribe to the popular opinion that border adjustments would have a profound affect on FX markets.
"We believe border adjustment would not result in a full exchange rate offset (i.e we don't expect USD appreciation of 25%) … instead we think a 10-15% rise in USD is reasonable," the bank concluded.
Will activism make a come back in?
Trian Partners recently disclosed a $2.5 billion (~1%) stake in GE. Mike Blake/Reuters
The Wall Street world is abuzz about the return of activist investors, investors who buy up massive amounts of shares in a company with the intent of enacting major changes.
According to Morgan Stanley, the worry that activist investors may have their sights set on the electrical equipment/multi-industry sector has "been spurred by media reports that Trian is building a stake in Honeywell."
Trian Fund Management is a multi-billion dollar alternative investment management firm that has been buying up big stakes in a number of companies including General Electric, Ingersoll Rand, and Pentair.
"Investors are unsure whether activism is a real-positive for sector performance, given a mixed track record," said Morgan Stanley.
"Generally, we find that the market is skeptical of activist involvement, but stocks tend to outperform where a stake is revealed," they added.
Will Trump come down on drug companies?
Trump's uninhibited practice of shaming companies on social media has researchers at Morgan Stanley thinking that he might use Twitter to call out specific drug companies that try to raise prices.
"We expect President-elect Trump to further scrutinize drug prices and industry participants, potentially using social media to blame and shame specific drug companies if they opt to take an abnormally high price increase," the bank said. "He may also propose to constrain pricing via Medicare negotiations or other mechanism."
The bank's forecast was supported by comments Trump made during a press conference on January 11 during which he said that "drug companies are getting away with murder."
However, the bank contends that Trump's outbursts on Twitter and populist bent will ultimately be balanced by a Republican controlled congress that will likely refuse any legislation to control drug prices.
Will the rally for bank stocks continue?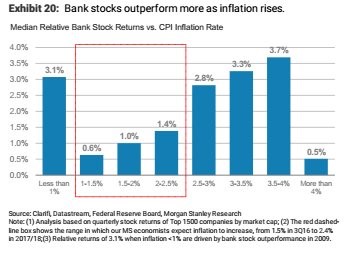 Bank stocks outperform the market more as inflation rises.Morgan Stanley
Bank stocks have led the so-called Trump Bump stock market rally. The question on everybody's mind now is whether they will continue to outperform the market in 2017.
The answer from Morgan Stanley is a resounding yes.
"[The] Republican sweep with its lower tax and deficit-led economic growth plans is a major tailwind for banks. We expect more growth, higher rates, less regulation and lower taxes, all of which should drive significant upward revisions to EPS in 2017," the bank said.
Inflation is going to make the difference between big gains and even bigger gains.
"Our analysis shows that when inflation lies in the 1-1.5% bucket, bank stocks outperform the S&P 1500 by a median 0.6%. As inflation accelerates to 2-2.5% stock outperformance rises by 80 bps to a median 1.4%," the bank said.
Will 2017 be the year of AI?
Amazon Echo utilizes AI and machine learning technology.Amazon
Artificial intelligence and machine learning are the two technologies behind Apple's ubiquitous Siri and Amazon's Echo, and we've only gotten a glimpse of their full potential.
2016 witnessed a number of companies flirting with AI and machine learning, according to Morgan Stanley, but 2017 will be the year in which they start bringing AI-based products to market.
"50% of [chief information officers] currently use or expect to use Machine Learning or AI technologies," they added.
"GM just announced IBM Watson will be integrated into vehicles in 2017, IBM's early relationship with Pfizer is broadening to additional use cases, and Amazon just introduced Amazon Go, a grocery store without lines or checkout counters that relies upon computer vision, sensors, and machine learning technology," the bank said.
Which semiconductor solutions for AI will come out on top?
Another innovation in the field of artificial intelligence is the emergence of new specialized chips built specifically for AI. These Field Programmable Gate Arrays or FPGAs are produced by the San Jose-based technology company Xilinx.
These custom chips will compete for market space with graphic hardware chips, which are produced by NVIDIA, Intel, and AMD. Graphics are re-purposed for AI and are "suboptimal," according to Morgan Stanley.
"While it is a small opportunity in 2017, this is a year where early momentum will be established. We see a theoretical basis for FPGAs being the best solution, but the higher complexity of FPGAs leaves a solid role for graphics as well," the bank concluded.
Will Trump's infrastructure and trade policies give a boost to steel?
$550 billion in infrastructure spending could increase steel demand by ~20%Morgan Stanley
Trump's intention to "make America great again" includes a plan to spend a massive amount of government money on new infrastructure projects across the country.
"While specificity and details on the fiscal stimulus are still scarce, we believe Trump's plans for infrastructure spending could be early in queue," the bank said.
One sector that's positioned to benefit the most from such an initiative would be American steel companies.
"We conservatively estimate Trump's $550 billion stimulus plan could increase steel demand by 20% annually for 5 years," they added.
The implementation of protectionist measures, which Trump has supported, would also cement major gains for the industry as foreign competition would be suppressed.
http://www.businessinsider.com/morgan-stanley-on-big-debates-on-wall-street-in-2017-2017-1/#1-will-protectionism-hurt-us-growth-1
7.Follow up to Yesterday's Chinese Import/Export Data with U.S.
The gap between inflation's haves and have-nots is wide. All the Federal Reserve may be able to do is make it worse.
To judge from the price tags on stuff that gets sold in stores, much less the signs at gasoline stations, the U.S. is mired in deflation. But if it is services like renting a car or going to a show that one is paying for, inflation is very much on the scene.
It is a divide that has been on display in second-quarter results. Falling prices are one of the things that has been weighing on revenues at goods-producing companies. Among those in the S&P 500 that have reported so far, the median sales decline was 2.6%, according to FactSet. The median service-sector company, on the other hand, experienced a 3.6% sales gain.
http://www.wsj.com/articles/inflations-great-divide-1470167515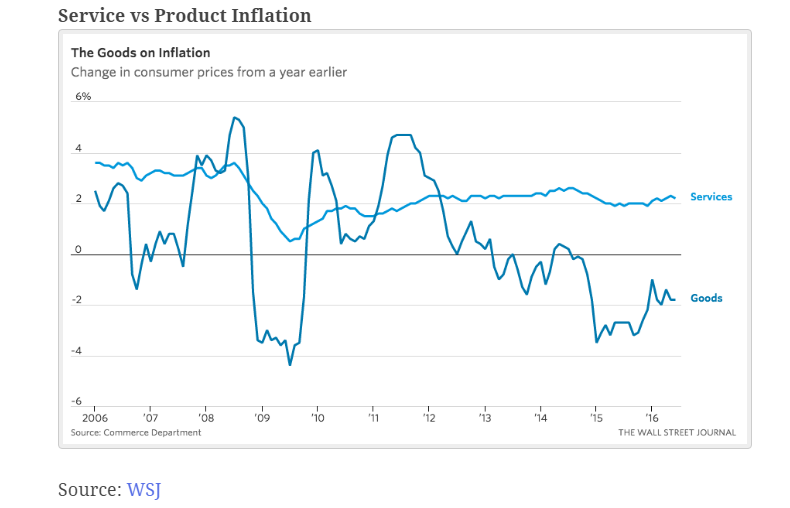 8.Demographics and Destiny
"It is not in the stars to hold our destiny but in ourselves." – William Shakespeare
Can you imagine a world in which population growth is flat? How about negative?
Fifty years ago such questions would have been dismissed as absurd. At the time, global population growth was increasing at a rate of 2.1% per year. Today, with that growth rate down to 1.1%, the concept seems less ridiculous but still hard to fathom.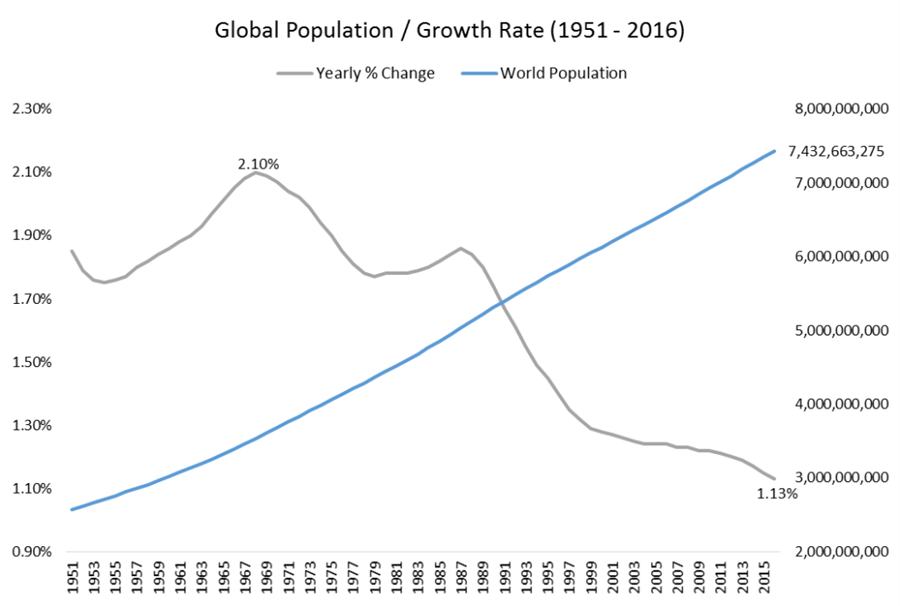 Source: United Nations Population Division
If projections are correct, however, by 2050 population growth will move all the way down to 0.6%.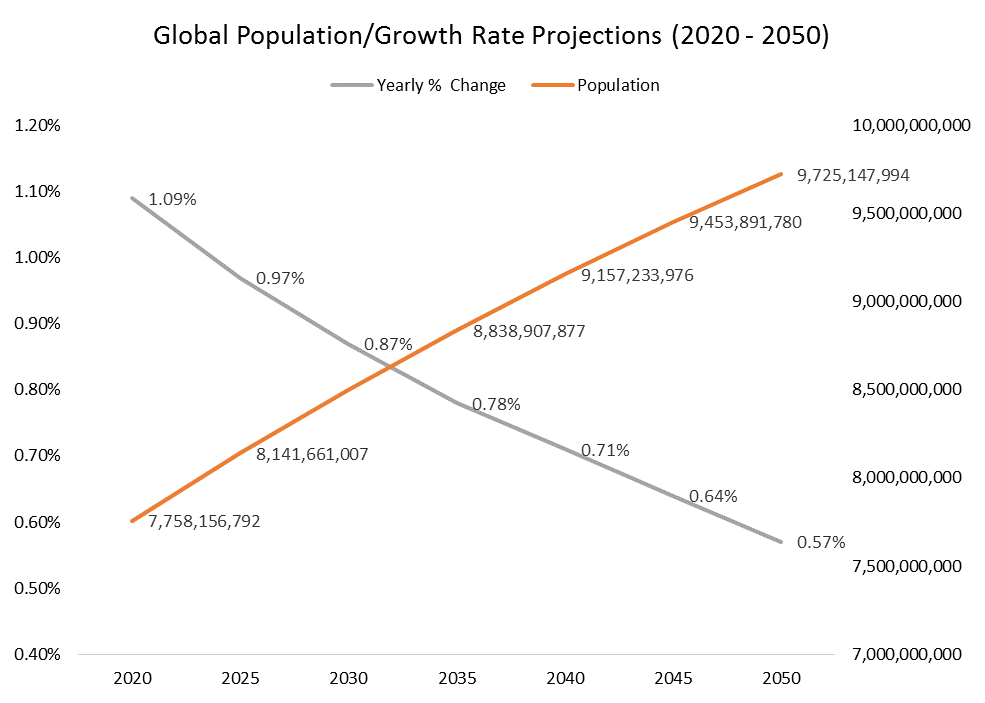 In 2050, there will likely be many, many countries with negative population growth rates. How can we forecast such a thing?
Because it is already happening. In 77 countries, the fertility rate (average number of children born to a woman over her lifetime) has fallen below 2.0, the level necessary to sustain population levels.
Of the 25 most populous nations, Japan, Germany, and Russia already have shrinking populations. Italy and France would by negative as well but not for immigration.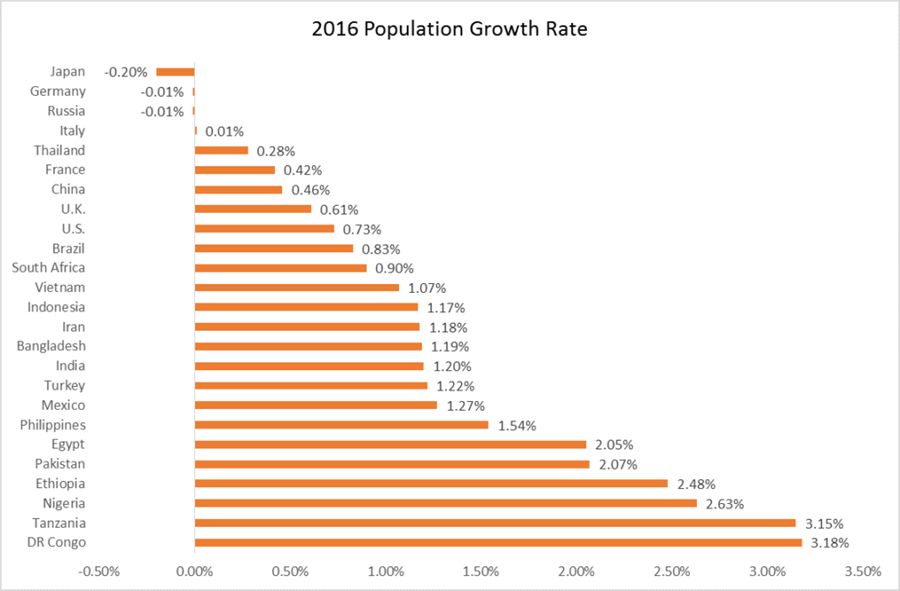 Read Full Story
CHARLIE BILELLO, CMT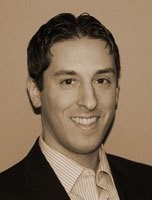 9.The 4x Rise in Heroin Overdose.
The reformulation of the powerful painkiller OxyContin in 2010 is the chief driver of the explosion in heroin overdose deaths in subsequent years, according to a new working paper from researchers at the RAND Corp. and the Wharton School.
OxyContin, released by Purdue Pharma in 1996, is a powerful extended-release opioid designed to provide 12-hour relief to patients suffering from severe pain. The original formulation was particularly prone to abuse, as drug users found that they could crush the pills and chew, snort or inject them in order to deliver 12 hours of powerful painkiller dosage all at once.
In 2007, Purdue pleaded guilty to misleading consumers about the risk of abuse associated with the drug. The company paid $600 million in fines, and in 2010 it released a new formulation of the drug that made it extremely difficult to crush or dissolve the pills in an attempt to make it harder to abuse. It was the first drug to receive an "abuse-deterrent" designation from the FDA.
That reformulation was one of a number of steps taken by authorities across the country to limit the number of prescription painkiller overdose deaths, which by then had been trending sharply upward for more than a decade. Other interventions included the use of Prescription Drug Monitoring Programs (PDMPs) to track the sale of prescription painkillers, and a "pill mill" law in Florida passed in 2010 putting tighter regulations on pain clinics that in some cases dispensed painkillers recklessly.
Taken together, these interventions have been widely credited with staving off the rise of prescription painkiller deaths. But they came with an unintended side effect: a subsequent heroin epidemic that now kills more people each year than most prescription painkillers combined.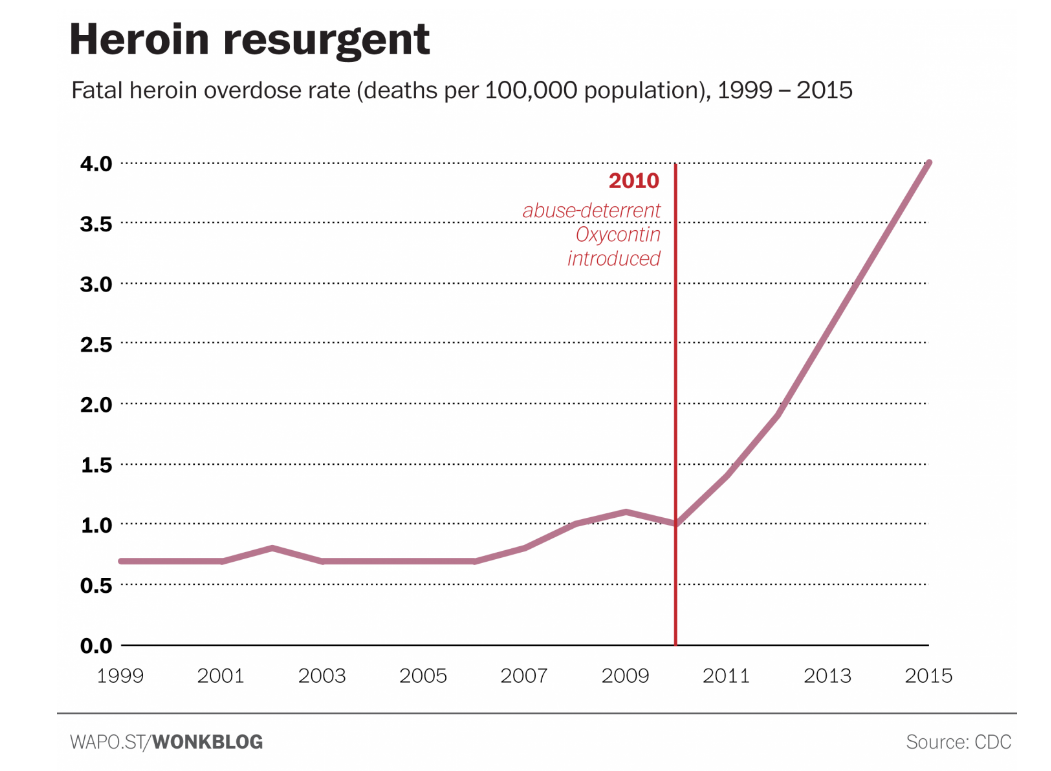 Read Full Story
https://www.washingtonpost.com/news/wonk/wp/2017/01/10/how-an-abuse-deterrent-drug-created-the-heroin-epidemic/?utm_term=.09d3609ecfb4
The secrets behind four-minute meetings and scrapping your to-do list.
STEPHANIE VOZZA 01.13.17 5:17 AM
Of all our available resources, everyone has the same number of hours in a day. Some, however, happen to get more done. Are they faster or smarter? Do they have more help? Perhaps. But they've also learned tricks that can help them stretch time and eliminate the unimportant.
Here are six things super-productive people do every day to maximize their results and success:
THEY START WITH A MORNING ROUTINE
Consistency and routine are helpful for starting the day in a proactive mode. While the tasks vary, productive people have found a set of activities and order that works for them.
Serial entrepreneur Gary Vaynerchuk, author of #AskGaryVee: One Entrepreneur's Take on Leadership, Social Media, and Self-Awareness, wakes up at 6 a.m. every day and follows the same routine. "I start my day by consuming quite a lot of information," he writes. "I go to TechMeme and check out the headlines. I read Jason Hirschhorn's email newsletter, MediaREDEF. Then I hit the news outlets . . . the main site that I focus on during this time is Nuzzel, an aggregator of headlines and links that my circle is sharing."
After checking his Twitter and Instagram feeds, he heads to the gym for a workout with his trainer, returns home to connect with his family before they start their day, and then prepares for the first meeting of the day.
"By the time I step into that first meeting, so much is going through my head already," he writes.
THEY BLOCK OUT TIME AND TACKLE IMPORTANT TASKS
Productive people understand the difference between important and urgent tasks. The former moves businesses forward while the latter puts out fires. It can be tempting to fill your day with urgent tasks because fires seem important in the moment, but you'll never innovate or achieve more if you don't move beyond what is and into what can be.
Each year Gary Keller, author of The One Thing: The Surprisingly Simple Truth Behind Extraordinary Results and founder of Keller Williams Realty, identifies his most important task and blocks out the first four hours of every day to focus on it.
"The key is time. Success is built sequentially. It's one thing at a time," he writes in his book.
To identify his "one thing," Keller looks at his goals for the year and asks himself, "What's the one thing which, when tackled, will make everything else I have to do easier or unnecessary?" He then protects the first four hours of his workday to do only that one thing.
Keller has used the technique to write books as well as grow his company to the largest real estate franchise, and believes that until his top priority is done, anything else is a distraction.
THEY MAXIMIZE THE USE OF THEIR CALENDAR
While to-do lists are nice for capturing information and activities, productive people don't run their day from one, says Peter Bregman, author of Four Seconds: All the Time You Need to Replace Counter-Productive Habits with Ones that Really Work. Instead, Bregman suggests scheduling any and all to-do list tasks on a calendar and using that as a blueprint.
"The reason we're always left with unfinished items on our to-do lists is because those lists are the wrong tool to drive our accomplishments."
"Decide when and where you will do something, and the likelihood that you'll follow through increases dramatically," he writes on his blog. "The reason we're always left with unfinished items on our to-do lists is because those lists are the wrong tool to drive our accomplishments."
Calendars help you prioritize, says Bregman. "What is it that really needs to get done today? What important items have you been ignoring? Where can you slot those things into your schedule?" he writes. "A calendar is finite; there are only a certain number of hours in a day. That fact becomes clear the instant we try to cram an unrealistic number of things into a finite space."
THEY LOOK AT THEIR DAY IN MINUTES, NOT HOURS
Calendars are often divided into 30- or 60-minute increments, but productive people like to dial activities down even further, eliminating the chance that time goes unscheduled.
Grant Cardone, author of The 10X Rule: The Only Difference Between Success and Failure, learned that Alan Greenspan, former chairman of the Federal Reserve, divided his day into 15-minute increments and introduced the concept into his own schedule.
When you divide up an hour, you multiply the available time, Cardone says. "[Greenspan] didn't let white space on that calendar, he knew white space was a problem because—white space, nothing in the 15 minutes—was a waste of time," he says in a video on his website.
Vaynerchuk also dials down his schedule into small increments. "Every minute counts, so my schedule is planned down to the second," he writes. "And I'm not kidding: I've had, and continue to have, three- and four-minute meetings. You have to use every second you get in a day."
THEY TURN OFF EMAIL
We all know that email can be a time suck, but few of us do anything about it. A recent study by Adobe found that the average person spends 7.4 hours per weekday on email, which means we're always fielding messages from our inboxes. Productive people, however, aren't slaves to technology, says Jason Jennings, author of Less is More: How Great Companies Use Productivity.
"Most super-productive people only check their email two or three times a day," Jennings told Prevention magazine. Schedule email time on your calendar and process it in time blocks.
Constantly checking email also makes you less productive answering it, according to a study from the University of British Columbia. In an experiment, participants were put into two groups, with one told to check email three times a day and another told to check it as often as they wanted.
The group that checked email three times a day reduced the amount of time they spent answering messages by 20%. They also reported feeling less stressed than before.
THEY PRACTICE SELF-CARE
You can't be productive if you're not healthy. Virgin Group founder Richard Branson wakes up at 5 a.m. every day and exercises. "I definitely can achieve twice as much by keeping fit," Branson said in an interview with FourHourBodyPress. "It keeps the brain functioning well."
While some people like to workout before they head to the office, fitting in exercise during the workday is also effective. A study at Leeds Beckett University in the U.K. found that employees who used onsite gyms for daytime sweat sessions were more productive.
Successful people also get enough sleep. Bill Gates, Tim Cook, and Arianna Huffington all report getting seven hours a night. Researchers at the Finnish Institute of Occupational Health in Helsinki, Finland, found that those who did not get enough shut-eye are more likely to take extra sick days. The optimal amount of sleep for energy and wellness is seven to eight hours each night, according to the study published in the medical journal Sleep.
all our available resources, everyone has the same number of hours in a day. Some, however, happen to get more done. Are they faster or smarter? Do they have more help? Perhaps. But they've also learned tricks that can help them stretch time and eliminate the unimportant.
Here are six things super-productive people do every day to maximize their results and success:
llness is seven to eight hours each night, according to the study published in the medical journal Sleep.
https://www.fastcompany.com/3066982/work-smart/why-the-most-productive-people-do-these-six-things-every-day