1. Federal Income Taxes and Federal Spending Both Set Records in FY19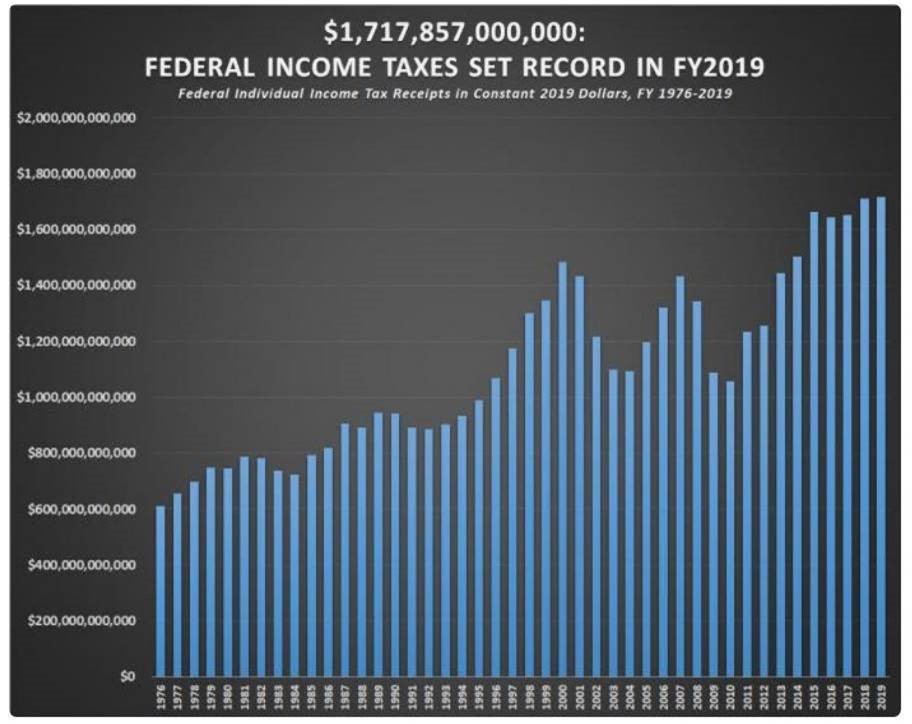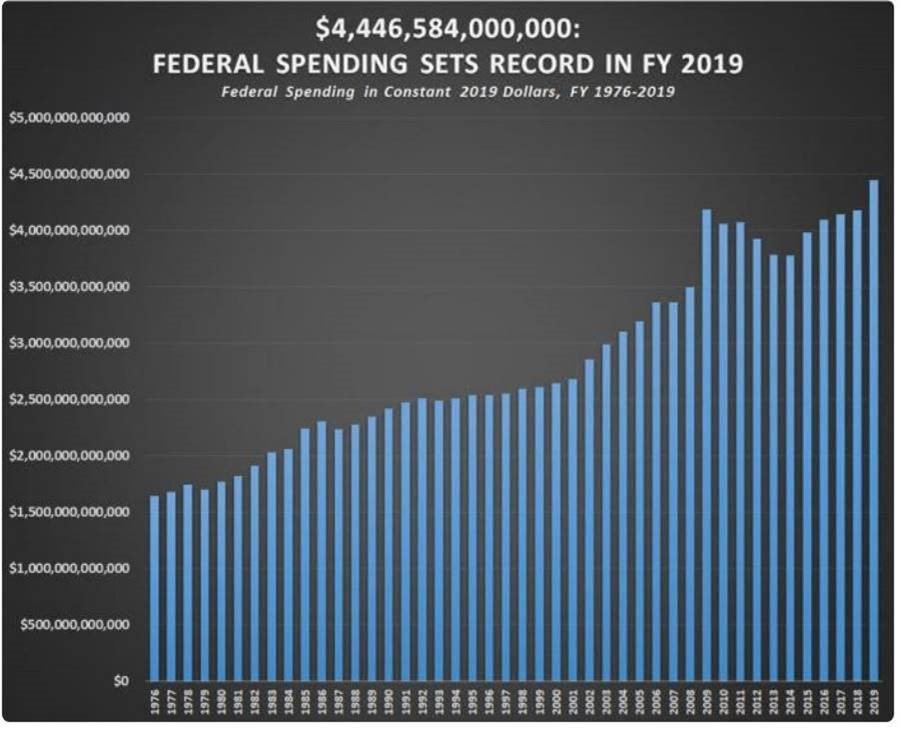 Federal Income Taxes and Federal Spending Both Set Records in FY19By Terence P. Jeffrey | October 28, 2019 | 3:36pm EDT
https://www.cnsnews.com/article/washington/terence-p-jeffrey/federal-income-taxes-and-federal-spending-both-set-records
2.Market Following 3 Fed Rate Cuts.
Bill Stone-Avalon Advisors
Source: Strategas Research Partners, Avalon Investment & Advisory as of October 28, 2019
Chart of the Week: The Federal Reserve (Fed) meets and is widely expected to deliver the third cut of the cycle. Markets are pricing in almost a 90% chance of a 0.25% cut and Fed officials would have pushed back against markets in recent weeks if they disagreed. Clues as to the future policy path will be the real focus with attention on Chair Powell's press conference followed by at least four other Fed speeches including Vice Chair Clarida on Friday. Interestingly, a study by Strategas Research Partners shows that stocks are higher by an average of 14% in the following six months if there are either zero or one more cut after the third versus close to flat when there are two or more additional cuts. This is consistent with Avalon's analysis that economic mid-cycle slowdowns are consistent with better future stock returns versus recessionary conditions. Data recently has been better than feared, which lends credence to our notion that the worst might be behind the global economy. Avalon expects a rate cut this week with a pause for at least the remainder of 2019 to follow.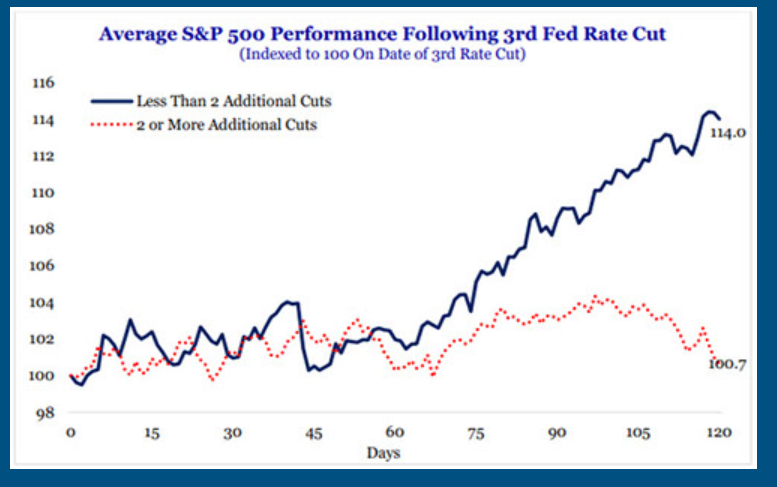 http://avalonadvisors.com/wmg-10.28.2019.html
3.Oil and Gas Production Stocks Trailing Oil Prices by 42% YTD….The Group Has 10 Year Negative Returns.
XOP has underperformed Crude Oil by 42% YTD as Investors are bracing for weaker results from U.S. shale players in coming days as lower oil and natural gas prices and cost-cutting measures have weighed on third-quarter operations. Major shale producers COP and CXO this week kick off quarterly earnings reports for a group whipsawed this year by volatile pricing and investor demands for improved returns. Oil and gas producers have cut drilling and slashed jobs amid worries over pricing outlooks
From Dave Lutz at Jones Trading.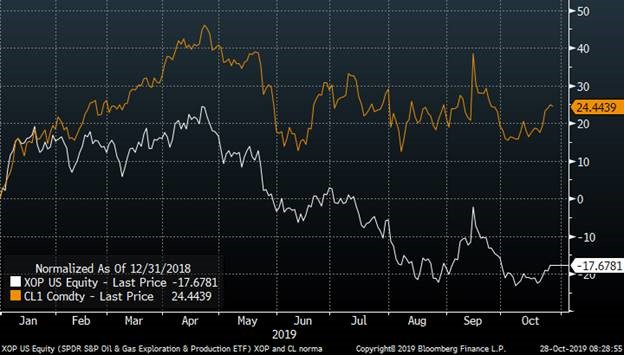 10 Years of Negative Returns From Oil and Gas Production Stocks
The SPDR® S&P® Oil & Gas Exploration & Production ETF seeks to provide investment results that, before fees and expenses, correspond generally to the total return performance of the S&P® Oil & Gas Exploration & Production Select Industry® Index (the "Index")
Seeks to provide exposure the oil and gas exploration and production segment of the S&P TMI, which comprises the following sub-industries: Integrated Oil & Gas, Oil & Gas Exploration & Production, and Oil & Gas Refining & Marketing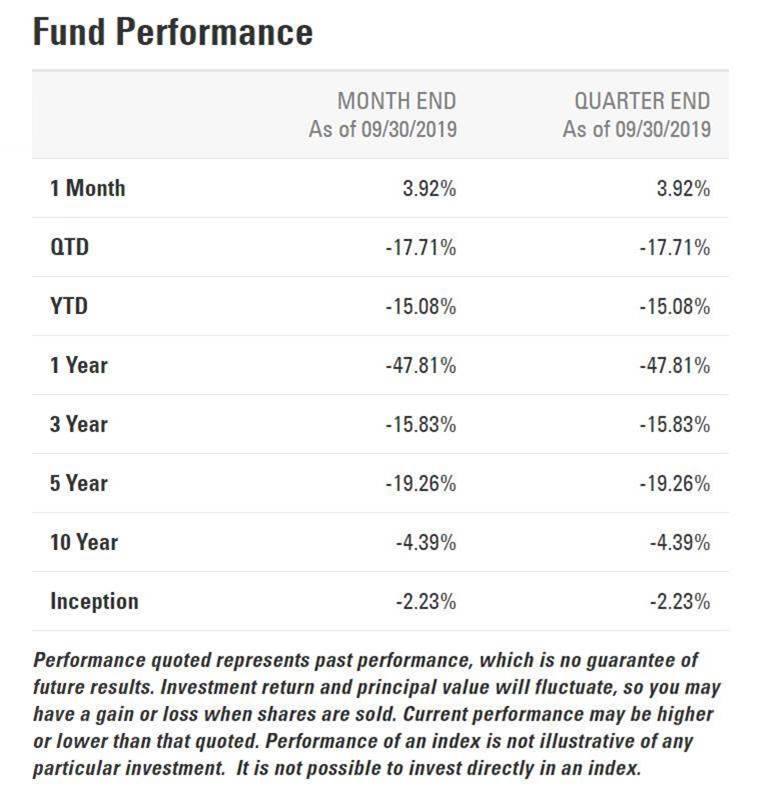 https://us.spdrs.com/en/etf/spdr-sp-oil-gas-exploration-production-etf-XOP?mrkgcl=1238&mrkgadid=3340137258&utm_source=google&utm_medium=cpc&adpos=1t1&creative=350645736661&device=c&matchtype=b&network=g&gclid=EAIaIQobChMI7ufW95PB5QIVhJ-zCh2yEQPUEAAYASAAEgKU9fD_BwE
4.Marijuana Stocks -50% From Highs—Earnings Season for Big Canadian Names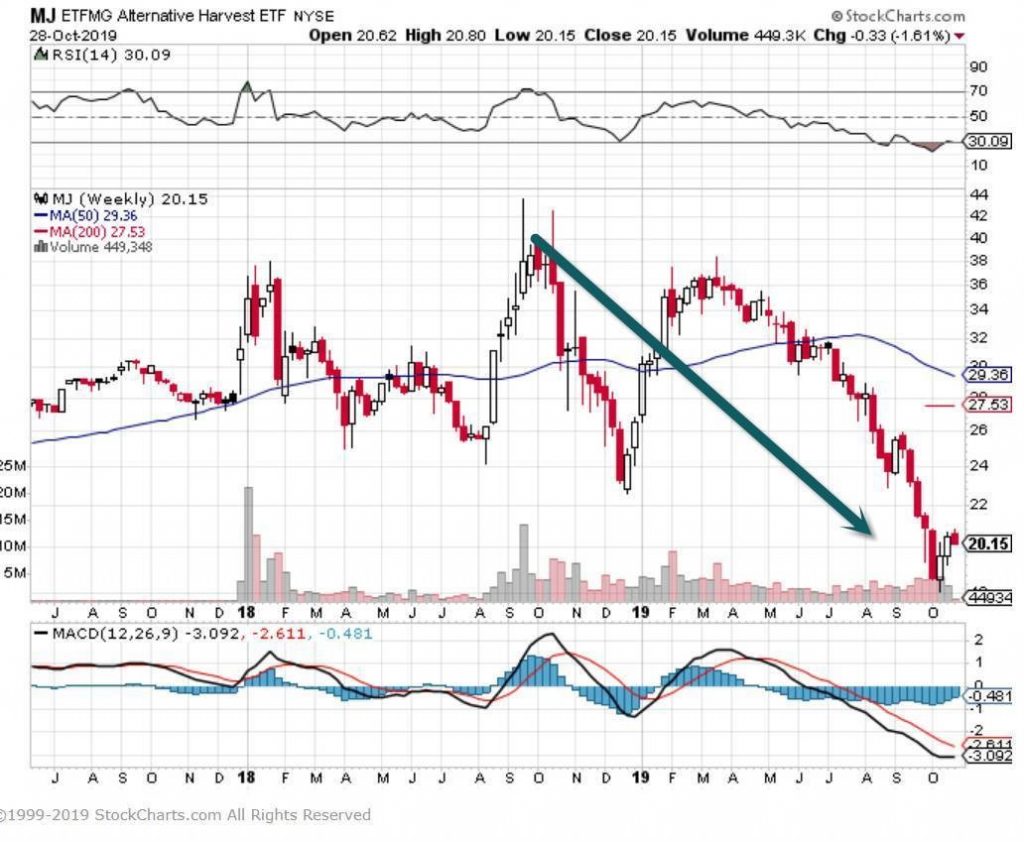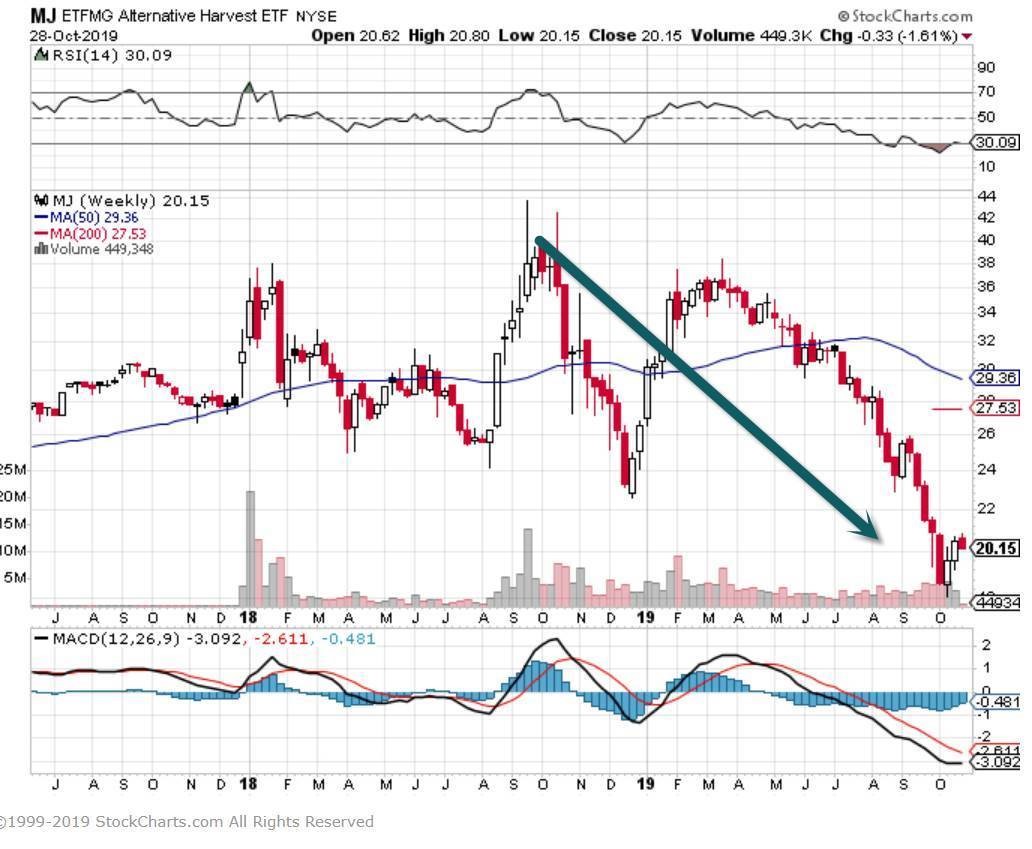 Barrons Earnings Review
Marijuana Stocks Have Taken a Hit. There May Be Room for Growth Now.–Connor Smith
Photograph by Matthew Brodeur
Many marijuana stocks have taken a serious hit since Canadian grower Hexo earlier this month lowered its fourth-quarter revenue forecast and withdrew its fiscal 2020 outlook.
Aphria (ticker: APHA:T) stock has mostly recovered following an upbeat earnings report on Oct. 15. Canopy Growth (CGC) was also trending higher last week.
But that doesn't mean the industry is out of the woods. In fact, most of the field of Canadian pot growers are gearing up to report earnings the week of Nov. 11. Hexo (HEXO) pushed its earnings release back to Oct. 28 from Oct. 24, but there's already a decent idea of how that might go.
The upcoming earnings reports could further torch these stocks, or help separate winners from the pack.
Cowen analyst Vivien Azer wrote in a note to clients Friday that as investors are resetting their expectations for Canadian pot stocks, she's looking for any indication of incremental progress heading into third-quarter earnings.
"While sector growth has thus far come in below expectations, industry sales continue to gradually move higher," she noted. Canadian retails sales in August were about C$127 million, or US$97.22 million, up about 19% from July.
Full Read
https://www.barrons.com/articles/marijuana-stocks-have-taken-a-hit-there-may-be-room-for-growth-now-51572091213?mod=hp_BRIEFLIST_2&mod=article_inline
5.$25 Trillion In the Desert at Saudi Davos.
Largest Sovereign Wealth Funds 2019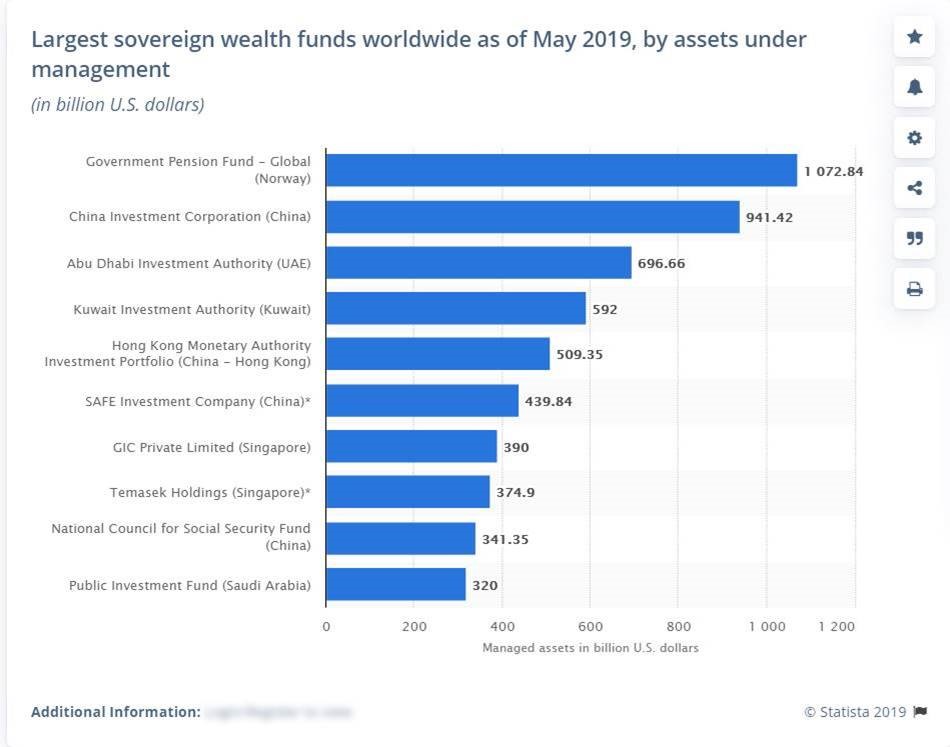 In the Saudi Desert, World's Business Leaders Follow the Money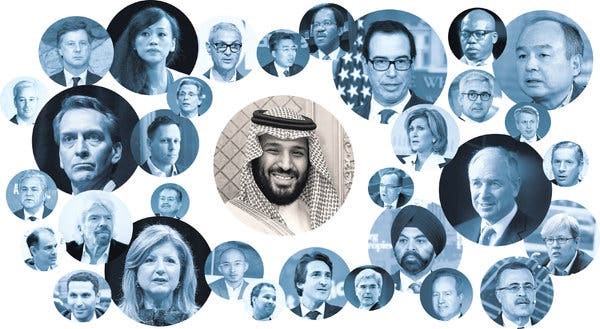 Credit…The New York Times
RIYADH, Saudi Arabia — Private jets ferrying business titans from all over the globe began landing Monday in this sand-swept Saudi capital.
For the next several days, the world's power center will shift from places like New York and London to this desert city for an event that many invitees are privately calling "Davos in the Desert." Saudi Arabia's 32-year-old crown prince, Mohammed bin Salman, has summoned a Who's Who from industry and politics to take part in a series of meetings, conversations and panels.
Among those making the pilgrimage are Stephen A. Schwarzman, co-founder of the private equity giant Blackstone Group; Masayoshi Son, founder of Japan's SoftBank; the United States Treasury secretary, Steven Mnuchin; the venture capitalist Peter Thiel; Laurence D. Fink, founder of BlackRock; Leon Black of Apollo Group; Thomas J. Barrack Jr., the head of Colony NorthStar; and the entrepreneur Richard Branson. And that's an abbreviated list. All told, the group of 3,500 invitees is estimated to control $22 trillion in assets.
A red carpet and dozens of emissaries for the royal family waited as guests began streaming into the Ritz-Carlton here, a palatial hotel originally planned as a palace for guests of the royal family and state dignitaries.
The gathering is an illustration of the new power and influence that Saudi Arabia wields in the business world. The goal is to demonstrate the kingdom's transformation as it embarks on a massive experiment: to open up its economy and move away from being a nation that is almost entirely dependent on oil.
"Saudi Arabia is moving aggressively to diversify its economy and implement important reforms," Mr. Schwarzman told me, explaining why so much of the world's business community has become intrigued by the kingdom as an economic and business partner.
6.China's moves to boost foreign business also help Chinese companies
PUBLISHED MON, OCT 28 201910:08 PM EDTUPDATED 3 HOURS AGO
KEY POINTS
China is making historic strides to increase foreign access to its local markets, moves which some analysts say are changes Chinese companies need in their own development to becoming global players.
"To me what is key about the opening is where it comes from: China is looking to globalize its market, not necessarily liberalize it,'' said Chantal Grinderslev, partner at Shanghai-based investment management consulting firm Z-Ben.
Lester Ross, chair of the policy committee of the American Chamber of Commerce in China, said he expects foreign companies could likely gain 10% to 20% of the Chinese market, but it's a question whether the businesses could capture much more than that.
BEIJING — The Chinese government's latest efforts to make it easier for foreign businesses to operate locally come as China's own companies seek to be global players.
China pushed ahead this month with long-awaited announcements for removing foreign ownership limits in major parts of the financial industry. Some foreign business organizations also said this month that they are encouraged by the draft rules for implementing China's new foreign investment law, which takes effect Jan. 1.
While the moves come amid pressure from the U.S. on trade, some analysts point out how such changes help China achieve its own development goals, which may not jibe with the vision many foreign organizations have for a more market-oriented system.
"To me what is key about the opening is where it comes from: China is looking to globalize its market, not necessarily liberalize it,'' said Chantal Grinderslev, partner at Shanghai-based investment management consulting firm Z-Ben. She added that difference will affect how companies — in her case, financial firms — choose to expand into China.
There are also limits to how much of the Chinese market foreign businesses can tap, now that the Asian country has grown into the world's second largest economy. In terms of trade, technology and capital, the world has increased its exposure to China between 2000 and 2017, while the Asian giant has reduced its exposure to the rest of the world since 2007, McKinsey Global Institute said in a report this summer.
Lester Ross, chair of the policy committee of the American Chamber of Commerce in China, said he expects foreign companies could likely gain 10% to 20% of the Chinese market, but it's a question whether the businesses could capture much more than that.
Foreign banks still have less than 2% of the market, despite having been able to operate in China for more than a decade, analysts pointed out.
In the meantime, the entrance of foreign financial institutions could help Chinese individuals and companies get better access to global markets, said Ross, who is also partner at law firm WilmerHale. For example, he noted, "There are weaknesses in the Chinese regulatory system that hurt the ambitions of the Chinese financial institutions in the U.S."
https://www.cnbc.com/2019/10/29/chinas-moves-to-boost-foreign-business-also-helps-chinese-companies.html
7.$2.5 Trillion Cost to Opioid Crisis.
Caitlin Owens54 mins ago
We're all paying for the opioid epidemic
The ongoing opioid crisis cost $696 billion in 2018 and more than $2.5 trillion between 2015 and 2018, according to a new estimate by the White House Council of Economic Advisers.
Why it matters: Much of this cost is attributable to lives lost to opioids, but a good amount of it is borne by state and federal governments — and thus taxpayers. Meanwhile, opioid litigation settlement talks are homing in on payouts nowhere near this amount.
For context: $696 billion was 3.4% of GDP last year — an astronomical amount.
The estimate is much higher than a recent report by the Society of Actuaries because of the way CEA calculated the value of a life.
It also includes health care and substance abuse treatment costs, criminal justice costs and reduced productivity costs.
"Under CEA's calculation, the majority of the costs are 'paid' by those who lost their lives," special advisor Jared Meyer said.
The big picture: The drug manufacturers and distributors being sued by thousands of communities struck a deal last week with the plaintiffs that kept the first federal opioids trial from beginning as scheduled. But a larger deal to settle all of the pending lawsuits has yet to be reached.
Some state attorneys general have announced a settlement framework worth $48 billion, but nothing is final.
Congress gave $6 billion in new opioid funding in 2018 and 2019, per CEA.
What they're saying: Andrew Kolodny of Brandeis University said that at least some of the plaintiffs have the resources to pay much more to help addressing the epidemic they've been accused of creating.
"The distributors and Johnson & Johnson have extremely deep pockets," he added. "Considering the cost of the mess they created and the estimate that comes from the White House Counsel of Economic Advisors, $48 billion is way too little."
The bottom line: "We're all paying for this," Kolodny said. "We're paying an enormous price, both in terms of economic and human costs."
https://www.axios.com/were-all-paying-for-the-opioid-epidemic-2d6a1262-3cf7-49c3-b63a-9c4ca827ec9b.html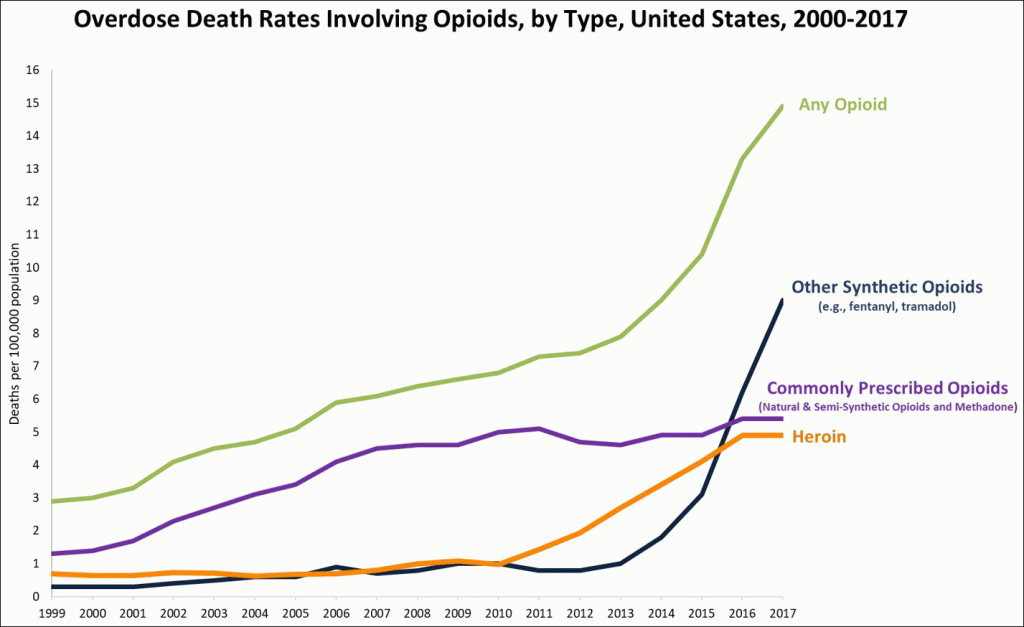 https://en.wikipedia.org/wiki/Opioid_epidemic_in_the_United_States
8.5 Early-Morning Rituals to Power Up Your Practice
Your yoga practice begins as soon as you wake up in the morning, from the first thoughts that enter your mind to what you have for breakfast. Use these tips, techniques, and practices to clear your head and energize your practice before you even get on your mat.
1. Meditate first thing in the morning.
Many yogis swear by morning meditation, claiming that doing it first thing helps clear mental clutter and set an intention for their practice (and their day). Setting your alarm and waking up before dawn for quiet "you" time also makes it easier to get out of bed and fills you with energy for the rest of the day, according to Ayurveda.
Need a little inspiration to wake up early? Try this morning meditation with Deepak Chopra, which helps you focus inward and establish four intentions for your day, or this good morning meditation, which uses visualization to help start your day on a positive note. Or, stay in bed and begin your day with five minutes of silence, perhaps focusing on your breath.
2. Say a mantra/set an intention for your day.
Choosing a mantra for your a.m. meditation session could help you set your intention for the entire day. Here are 13 classic ones to choose from, from Shanti Mantra, a chant for peace, to the Gayatri Mantra, which invokes the light of the sun and helps you transcend suffering. Or, you could choose something more personal. Here, top yoga teachers recommend their go-to favorites, from Lauren Taus' "I Am Love," to Kathryn Budig's, "Be Dangerous. But Be Kind."
3. Eat a healthy, energizing breakfast.
If you're going to get the most out of your yoga practice, you need to eat a nutritious breakfast. Healthy choices include a Greek yogurt parfait with fresh fruit and granola, a green smoothie, or a chia seed breakfast bowl. Power up your morning meal even more by adding a scoop of Solgar Spoonfuls Vanilla Chai vegan protein powder. This delicious, plant-based protein contains the vital nutrients, fiber, and energy-supporting B-vitamins you need to get the most out of your practice, along with Ayurvedic botanicals and good-for-your-gut probiotics. You could even put a scoop in your morning tea or warm lemon water to kick off your digestion for the day, or add it to your water bottle to take it on the go. Bonus: It's dairy- and gluten-free!
4. Get outside.
Taking a mindful nature walk can put you in a peaceful state of mind before you begin your practice, while boosting awareness and concentration. Plus, research shows that spending time outdoors can increase vitality, release endorphins (feel-good chemicals), and reduce stress. If the weather is inclement, try another calming, reflective practice, such as gratitude journaling.
5. Finally, practice!
Now that you've cleared your head and given your body the nourishment it needs, it's time to hit the mat and salute the sun. Try this good-morning yoga sequence that links breath to movement, Jason Crandell's energy-boosting sequence to wake up your body and your mind, or these 5 poses that you can do right in your bed!
TAGS
From JOE DURAN
https://www.linkedin.com/in/joe-duran-711167/