1.Not Done Yet But October Tracking as Worse Month in 3 Years.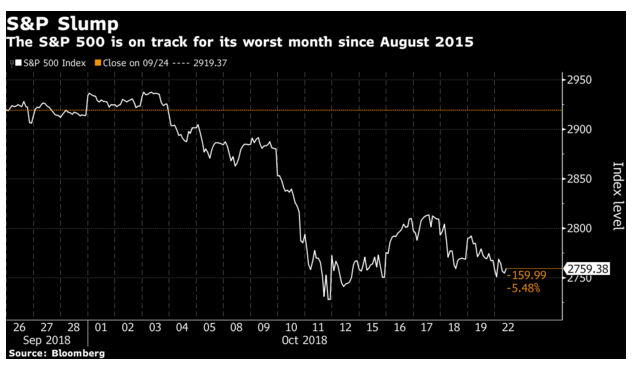 https://www.bloomberg.com/news/articles/2018-10-21/asia-stocks-face-mixed-start-china-rally-in-focus-markets-wrap?srnd=premium
2.Weed ETF -20% in 5 Days.
Volatility should be name of game for Weed stocks.
3.Unleaded Gas -15% From Highs Going into Holiday Season.
Unleaded Gas-50 day thru 200 day to downside…check to see if it breaks thru Aug. lows.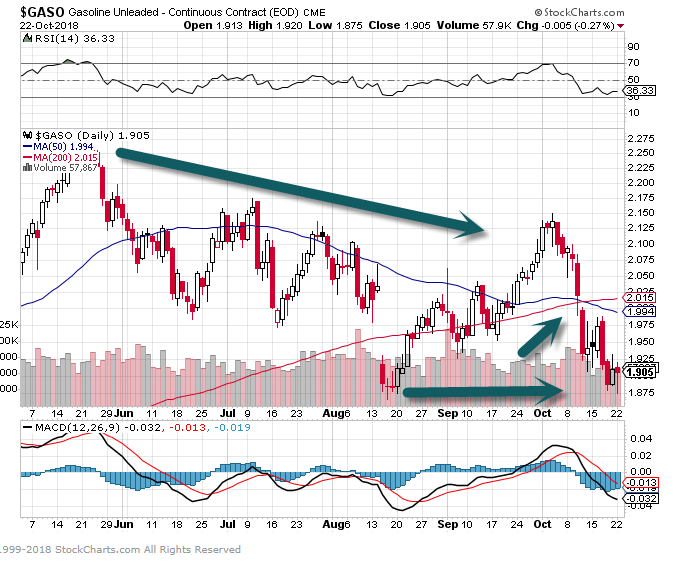 4.Grid of Market Breadth….Majority of Stocks Down Over 15% From 52 Week Highs.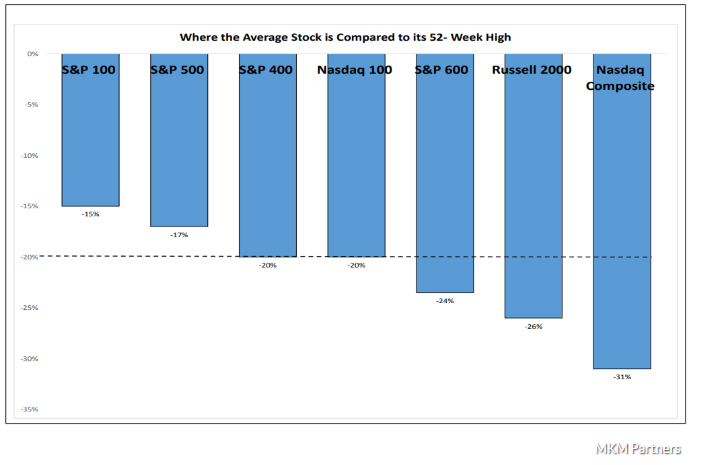 Sue Chang
https://www.marketwatch.com/story/watch-out-for-dead-cat-bounce-in-stocks-because-theres-more-pain-ahead-morgan-stanleys-wilson-2018-10-22
5.Banks Not Feeling Love From Higher Rates.
KRE-Bank ETF -18% from highs.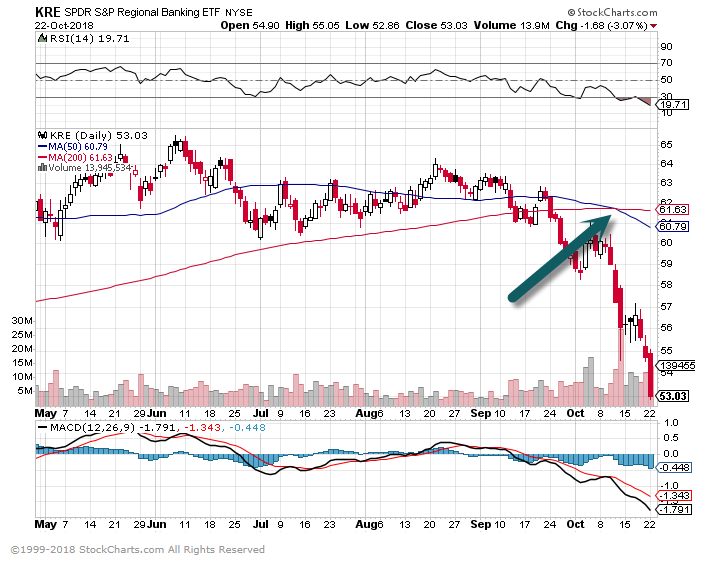 6.Three Trillion in Bank Deposits Earning No Interest…Moving to Interest Bearing Accounts?
At a time when interest rates are finally increasing with some consistency, although about a decade too late, banking customers are finally taking their money out of non-interest bearing accounts and moving it to high(er)-yielding alternatives. This, as we noted in recently when discussing Wells Fargo's latest earnings, will put pressure on many major banks' profits moving forward
The four big US money-center banks, Bank of America, Wells, Citigroup and JP Morgan, all reported a combined 5% drop in US deposits to non-interest bearing accounts in the third quarter. Customers took out more than $30 billion from these types of accounts in the 12 months leading up to June 30. This represents the first decline from these accounts in more than a decade, according to FDIC data reported on by the Wall Street Journal.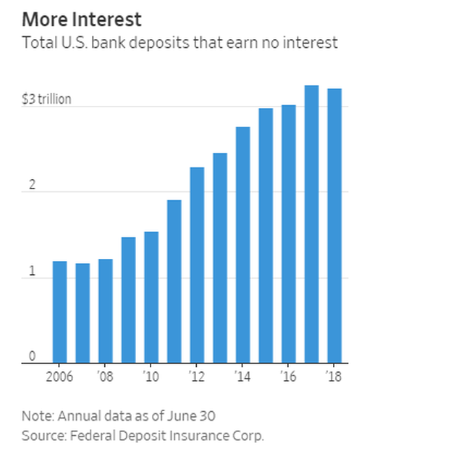 ZIRP Blowback: Savers Flee Banks' Zero Interest Deposit Accounts
by Tyler Durden
https://www.zerohedge.com/news/2018-10-22/zirp-blowback-savers-flee-banks-zero-interest-deposit-accounts
7.LEI Turns Down Before Recessions But No Help in Corrections….No Weakness Yet.
Liz Ann Sonders
LEI good at "forecasting" economy but not stock market
I'm often asked about the predictive ability of the LEI. Looking at subsequent real gross domestic product growth (GDP), the correlation between the LEI and forward one-year GDP is a high .83 (remember 1.0 is a perfect correlation). However, the same cannot be said for the correlation between the LEI and forward one-year S&P 500 returns. That correlation is actually slightly negative at -.10, even though the stock market is one of the sub-indicators in the LEI.
This is why we can't assume that even if the LEI isn't signaling an imminent recession that stocks will be immune to a weakening in some of the underlying indicators. Yes, the LEI has turned down before every recession since 1969; there have been 13 serious corrections and/or bear markets during periods when the LEI was still rising.
https://www.schwab.com/resource-center/insights/content/sympathy-devil-details-leading-economic-indicators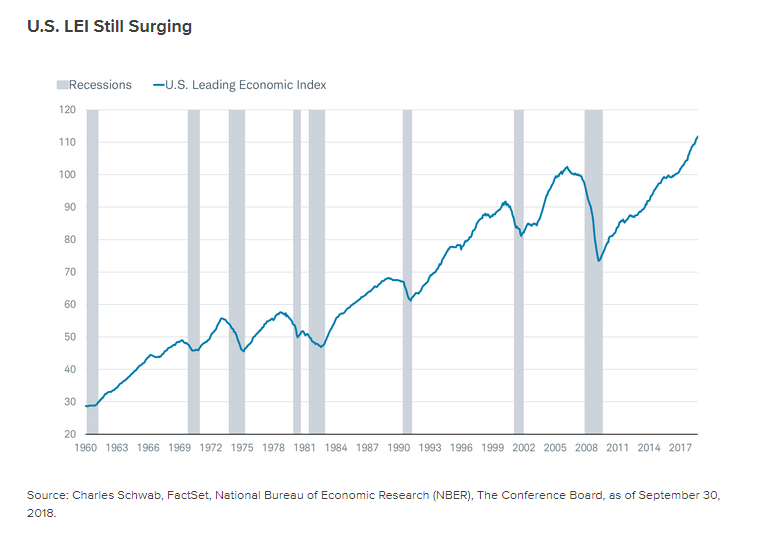 8.5 Actions to Create Greater Meaning and Joy
Steps to increase your positivity.
Ilene Berns-Zare PsyD
Flourish and Thrive: Navigating transitions with mindfulness and resilience
The Dalai Lama (2017), head monk of Tibetan Buddhism, writes, "Happiness is not something ready-made.  It comes from your own actions." And scientific research validates that while good genes are welcome, behaviors and relational choices are better.
Source: Icono/Pexels
Landmark adult development research from the Harvard Study of Adult Development (Waldinger, 2015, 2004; Vaillant 2012), followed two groups of men from college into old age for more than 75 years.  This research offers insights into adult development and aging.
Highlights from the Harvard study:
Good relationships and social supports, such as friends, family, volunteering, and social groups, positively benefit health and well-being.
It's the quality of relationships, not the number of relationships that makes the difference.
Awareness that life is short makes people happier. Knowing that time is limited encourages people to prioritize well-being as important.
Education and continuing to learn is good for health, wellness, and longevity.
Four actions that contribute mightily toward a happy retirement are: Replacing work relationships with other social networks; Re-discovering the act of playing; Engaging in creative activities; Continuing to learn.
5 Actions to Create Greater Meaning and Joy:
There are many ways to create more meaning and joy in life.  Psychologist Barbara Fredrickson suggests that the secret to building more positivity is to increase pleasant moments or "positivity points" over time (Fredrickson, 2009).  Here are a few ideas.
Pause and notice life's small pleasures.  Paying attention to even the briefest moments of joy offers opportunities for renewal.  Pause to truly notice life's small pleasures – the first flowers of spring, the sun shining through clouds, a moment to offer kindness to a friend.  Recall a situation from your past that made you smile, feel joyful or more fully alive.  Savor those thoughts and feelings you experienced and reignite your joy (Fredrickson, 2009).
Rely on and help other people.  Build social connections.  Hang out with friends and family. Become involved in groups and communities.  Foster relationships in which you can count on other people and they can count on you.
Find a sense of purpose, calling, and commitment.  Let a meaningful or challenging event stimulate you to think about what is really important to you.  Sit quietly and pay attention to what your inner knowing is saying.  When you have a few free moments, reflect on or journal about your life's purpose.  Periodically re-evaluate aspects of your life and make changes that reflect your new awareness.
Continue to learn.  Practice a new skill at home or work.  Learn to dance, cook, or fix basic household problems.  Take a class on-site or online. Embrace that hobby you've been thinking about. Study a new language.
Discover new solutions.  If the way you approach a problem isn't working, try a new strategy.  Identify the problem, brainstorm ideas to solve it, examine each possibility, and select a solution to try.  Anticipating problems and flexibility in resolving them can feel good and build positivity.
https://www.psychologytoday.com/us/blog/flourish-and-thrive-navigating-transitions-mindfulness-and-resilience/201810/5-actions-create