1.The Number of Companies Considered Multinational Has Expanded by 80% Since 1994
Lots of talk about de-globalization but tough to reverse
Capital Group Market Insights Where do stock markets go from here?– Joyce Gordon Jody Jonsson
https://www.capitalgroup.com/advisor/insights/articles/where-do-stock-markets-go-from-here.html
2.S&P 500 Stocks Trading Above 200 Day Moving Average Less Than 20%
Narrow
Looking under the hood of the sharp rally off the March 23 low, neither measures of market breadth nor leadership trends are indicative of a healthy advance. As you can see in the chart below, the percentage of S&P 500 stocks trading above their 200-day moving average remain extremely low at only 20%. That is significantly lower than 70-80% at this point last year (when the S&P was at about the same level as today). You can also see the difference between the move off the December 2018 low and the move off the March 2020 low—in the case of the former, breadth improved even more rapidly than stocks, which is clearly not the case this time.
Not All Stocks Participating in Rally
Source: Charles Schwab, Bloomberg, as of 5/1/2020. Past performance is no guarantee of future results.
Sector leadership trends also suggest skepticism about the health of the rally is warranted. As you can see in the chart below, the best-performing sector (by far) since the March 23 low has been energy, which is up 50%, after a -56% plunge when the bear was roaring. That reversal smacks of speculative extremes in both directions vs. a sign of a stronger economy on the horizon.
High Speed: Bear and Bull Both Running at Full SpeedBy Liz Ann Sonders
https://www.schwab.com/resource-center/insights/content/high-speed-bear-and-bull-both-running-full-speed
3.Large Cap Growth Trading at 27x Trailing and Factoring in 15% Earnings Growth
Wisdom Tree
So much for crashes bringing valuations back to Earth.
Here we are in the middle of an economic depression—one that maybe that lasts a few months, or maybe one that goes on for a long while—and yet the Russell 1000 Growth Index is still trading for 27 times trailing earnings (figure 1).
Figure 1: Price-Earnings Ratio (Trailing 12 Months)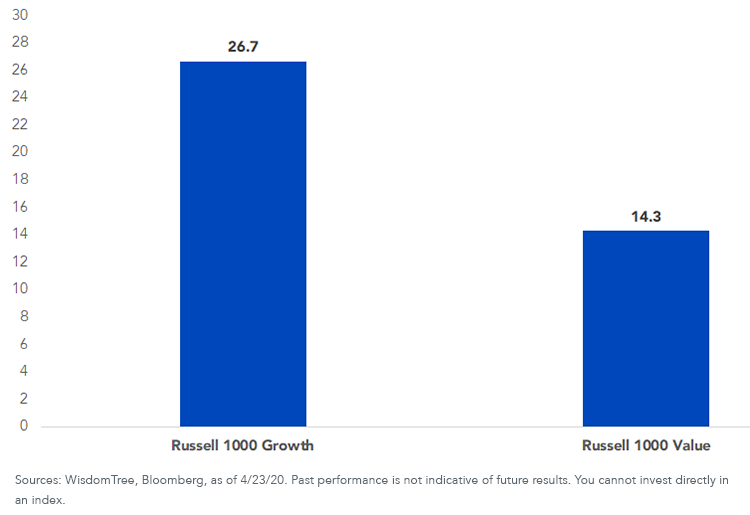 For definitions of the terms in the chart, please visit our glossary.
Why the robust valuations?
Because Wall Street still hasn't gotten around to looking in the mirror when it comes to the beloved U.S. large-cap growth style investment box, the asset class that could do no wrong for the last decade.
Estimates from Bloomberg for the Russell 1000 Growth Index call for earnings to compound at a double-digit rate for 3 to 5 years—from a starting point of record pre-coronavirus earnings (figure 2).
Figure 2: Bloomberg Long-Term Operating Earnings Growth Estimate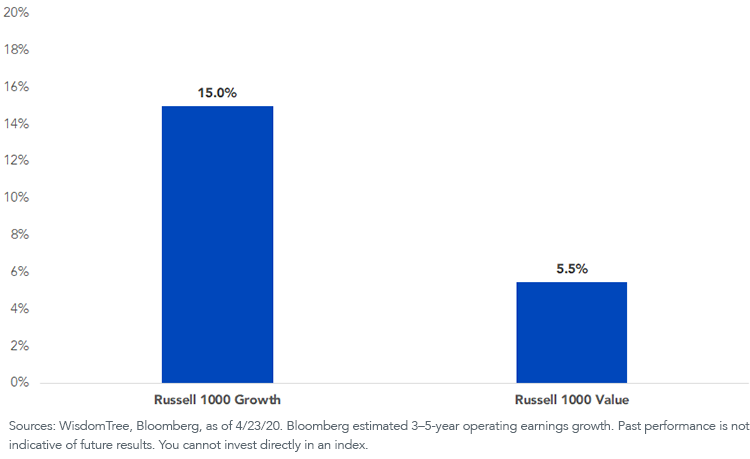 The thing about forecasted 15% earnings growth from now until 2023, 2024 or 2025, should that somehow come to pass, is that it would blow away historic precedent.
Going back to 1994, Russell 1000 Growth Index earnings increased at a 6.7% annualized clip, only slightly faster than the Russell 1000 Value Index's 5.9% annual growth rate (figure 3). Relative to supposedly stodgy value stocks, the "growth" in growth stocks has largely been an illusion.
Figure 3: Growth of Earnings, U.S. Large Caps (12/30/94 = $1)
Large-Cap Growth: Brace for Earnings Revisions-https://www.wisdomtree.com/blog/2020-05-01/large-cap-growth-brace-for-earnings-revisions
4.Record Month..What Happens Next?-LPL BLOG
https://i2.wp.com/lplresearch.com/wp-content/uploads/2020/05/WMP-5.1.20.png?ssl=1
5.Personal Savings Rate Jumped from 8% to 13% in March/April. Will This Be Ongoing Trend After 2008 and Corona?
YARDENI RESEARCH. During March, households boosted their cash not only by selling assets but also by cutting back their spending relative to their income. Some of that behavior undoubtedly was involuntary as consumers were ordered to stay in place while most stores other than for groceries were closed.

At a seasonally adjusted annual rate, personal savings jumped from $1.3 trillion during February to $2.2 trillion during March. The personal saving rate, which is personal savings divided by disposable personal income jumped from 8.0% to 13.1% at the same time.

The quarterly personal saving rate has been on an uptrend since the Great Financial Crisis, when it was around 3.0% just before Lehman hit the fan; it reached 9.6% during Q1. The Great Virus Crisis and its aftershocks could very well drive the personal saving rate closer to its mid-1970s record high of 15.3%.

That would augur for a U-shaped rather than a V-shaped economic recovery because the rebound in disposable personal income won't stimulate as much consumer spending if more of that income goes into savings.

https://www.linkedin.com/in/edward-yardeni/
6.Beef Prices Explode To Record High As More Stores Limit Meat Purchases
by Tyler Durden
Just a few days ago we marveled as wholesale beef prices had soared over 60% from their February lows to a record $331 per 100 pounds. Well, that was then, because today alone, the wholesale price soared by 8.6% or $32.60 to a new all time high of $410.05, almost doubling in less than a month.
The reason: an unprecedented collapse of the nation's food supply chain as over a dozen meat processing plants have been shuttered due to the coronavirus pandemic.
Beef prices are soaring even after Trump issued an executive order to address meat shortages, however with food workers scared and unwilling to return to work, Trump's attempt to normalize prices has backfired, because all it has achieved was a frantic scramble by consumers to hoard beef resulting in even bigger shortages and higher prices.
Call it a bacon run.
7.Air-Travel Two Thirds of Rental Car Business.
Source-factset
Rental-Car Industry Gets Crushed by Coronavirus-Avis posts loss and lower revenue, and rival Hertz prepares to file for bankruptcy
https://www.wsj.com/articles/rental-car-industry-gets-crushed-by-coronavirus-11588633139?mod=itp_wsj
8.Homeowners Entered 2020 With A lot of Home Equity
John Burns Real Estate Consulting
9.Hilton Revealed the Sad Way We'll Choose Hotels in the Future
A crisis can completely change consumer thinking. Which should change brands' thinking.
BY CHRIS MATYSZCZYK, OWNER, HOWARD RAUCOUS LLC@CHRISMATYSZCZYK
Right now, I suspect many people can't even imagine what it'll be like to stay in a hotel again.
They can barely conceive what it'll be like to hug family and friends.
Some in the hospitality business, though, are already preparing for a time when people will begin to venture out.
Last week, for example, Hilton Hotels tried to make a little PR impact. Not by announcing an attractive new property. Nor even to make some sort of enticing offer to draw minds into a happy hotel future.
Instead, it announced:
Hilton is defining a new standard of hotel cleanliness.
It's an area that's certainly bothered customers in the past. There's evidence some hotels don't even wash sheets between customers, for example. There's worse, too.
However, with coronavirus enveloping the world, Hilton has taken an excellent, proactive step into encouraging people its hotels will now truly be clean.
It's partnering with RB, maker of Lysol and Dettol, and the Mayo Clinic to create Hilton CleanStay with Lysol protection.
Said the hotel chain:
The initiative will create a focus on cleanliness that will be visible to guests throughout their entire stay — in their guest rooms, restaurants, fitness rooms, and in other public spaces.
Imagine, now, that one of the most important — if not the most important — criteria for booking a hotel will be how clean it is and whether that cleanliness is visible.
In the past, I suspect many customers assumed all hotels should be clean, and the more they pay, the cleaner the hotel.
In our coming Future World, however, we'll be scrutinizing not only visually but factually to see what steps hotels have taken.
Customers will likely become not dissimilar to those who seek every product and process of a service to be green.
Now, they'll be grading and choosing on the basis of clean. Which feels a little sad.
Research company Euromonitor International last week predicted that the crisis will lead to customers making new demands of brands. They'll want them to stop selling their products and start declaring themselves on issues of public health.
Hilton seems to understand this. One of its significant new declarations is:
10 High-Touch, Deep Clean Areas: Extra disinfection of the most frequently touched guest room areas — light switches, door handles, TV remotes, thermostats, and more.
The chain also says it may close its fitness centers multiple times a day and limit the number of guests allowed at one time, simply to achieve the new level of clean.
Of course, some customers will wish this had always been the case, but now we're going to be supremely cautious when it comes to cleanliness.
We're different now, and brands have to understand and anticipate that.
Just imagine the lengths to which some hotel brands will now go in an attempt to prove that their clean is better than another chain's clean.
As well as introducing new thinking and new science, it'll surely create a whole new vocabulary.
https://www.inc.com/chris-matyszczyk/hilton-revealed-sad-way-well-choose-hotels-in-future.html?cid=sf01003
10.Dave Asprey How To Stay Healthy Traveling…..
It's also a good idea to open the lavatory door with a tissue, and wash your hands when you're finished.
JOIN OVER 1 MILLION FANS
JOIN DAVE'S EMAIL LIST FOR THE LATEST NEWS
AND EXCLUSIVE TIPS ON HOW TO BE SUPER HUMAN
Dave Asprey is founder & CEO of Bulletproof, and creator of the widely-popular Bulletproof Coffee. He is a two-time New York Times bestselling author, host of the Webby award-winning podcast Bulletproof Radio, and has been featured on the Today show, Fox News, Nightline, Dr. Oz, and many more.
REFERENCES
[1] https://wwwnc.cdc.gov/travel/yellowbook/2018…