On Vacation out of country next week, Top 10 sporadic at best.

1.Chart of Tech Bubble? No Cash…Investors Pouring into Short-Term Fixed Income.
The Most Hated Stock Bull Ever….MINT short-term assets doubled in 1 year.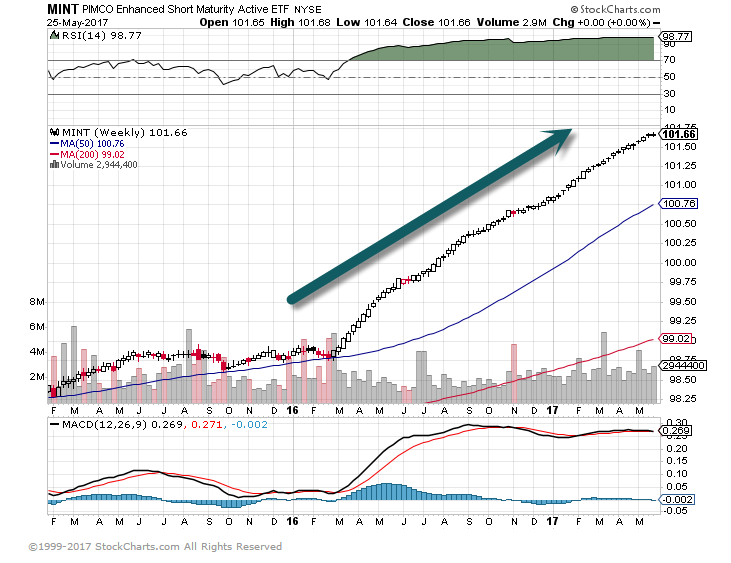 In recent months, this "use for cash" story has been playing out strongly in the ETF space, as retail and institutional investors pour assets into ultra-short-dated bond funds.
These ETFs are considered alternative cash management tools because they typically deliver higher income than money market mutual funds. They are also good risk management tools for investors worried about interest rate risk.
And they can even be a type of defensive play if you want to have cash at hand in the event of a market sell-off—these ETFs offer strong daily liquidity, as in quick access to that cash.
MINT Has Doubled In Size
The most popular of these strategies, the PIMCO Enhanced Short Maturity Active ETF (MINT), is almost twice as big today as it was a year ago, with almost $7 billion in total assets. It has seen tremendous growth.
So far this year, MINT has attracted more than $1.3 billion in net creations, making it the largest actively managed ETF.
Other ETFs in this segment benefiting from this demand include the iShares Short Maturity Bond ETF (NEAR), gathering some $255 million year-to-date, and growing to become a $2.5 billion fund—now the market's third-largest actively managed ETF.
http://www.etf.com/sections/features-and-news/etf-investors-looking-park-cash

2.Dividend Stocks in Rising Rate Environment.
Consider new sources of income High dividend payers have become quite expensive in comparison to the broad US market and may come under pressure as rates rise. In a rising rate environment, dividend growers could potentially outperform high dividend stocks based on their more reasonable valuations (source: SocGen, based ion the MSCI World Index quarterly annualized real returns between 3/31/86 and 3/31/15) . In contrast, a dividend growth strategy may offer: • A higher allocation to cyclical sectors that have the potential to grow alongside the economy. • Exposure to companies that have the potential to sustainably grow and increase dividends over time.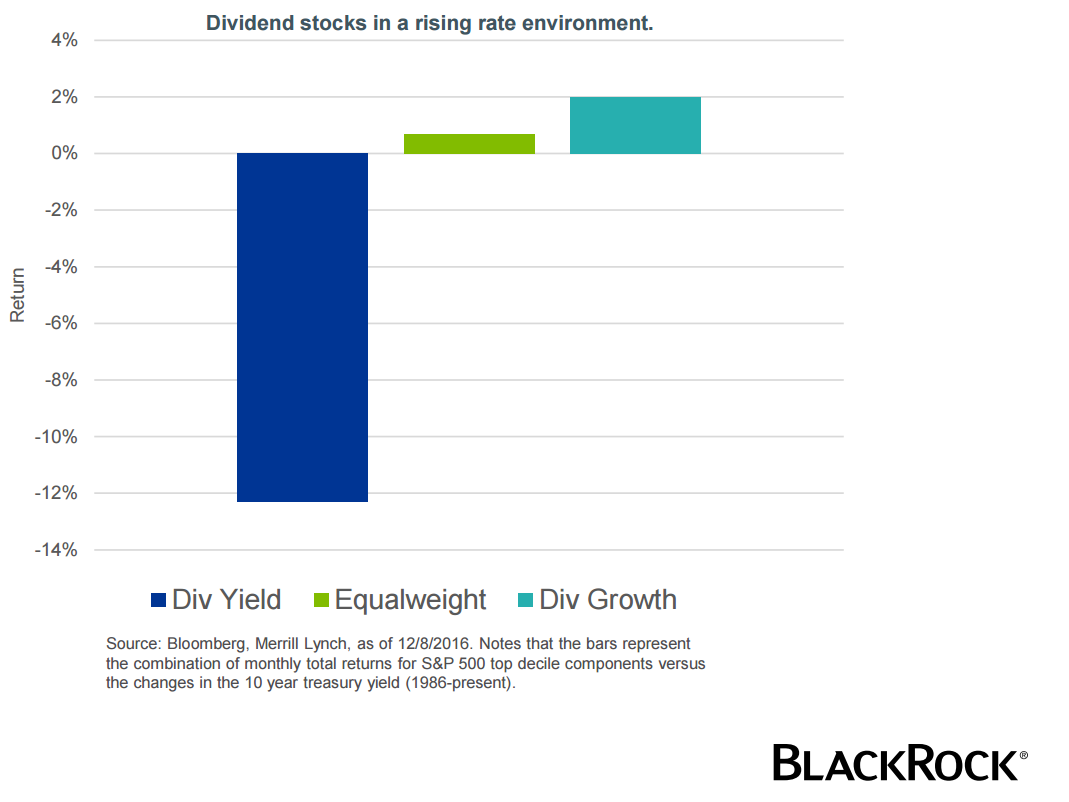 https://www.ishares.com/us/literature/brochure/ithinking-navigating-rising-interest-rates-us-en.pdf
3.China Re-Pegs to Dollar After Moody's Debt Downgrade.
The close alignment with the dollar could ease the threat of a trade war with the U.S., after President Donald Trump claimed China has exploited weakness in the currency at the expense of its trading partners. Mr. Trump recently refrained from labeling China a currency manipulator.
"China's management of its currency has changed significantly in the wake of the U.S. election, with the renminbi essentially repegging against the dollar," said Robin Brooks, a former Wall Street currency strategist and now chief economist at the Institute of International Finance, using another name for the yuan. "The repeg could be quite sticky and only a major surprise has the potential to dislodge the exchange rate."
The steadier yuan, coupled with more restrictions on money leaving China and higher interest rates, has calmed investors and helped keep money onshore.
https://www.wsj.com/articles/china-hitches-yuan-to-the-dollar-buying-rare-calm-1495704606?tesla=y
Chinese Yuan +4.6% YTD vs. U.S. Dollar -5%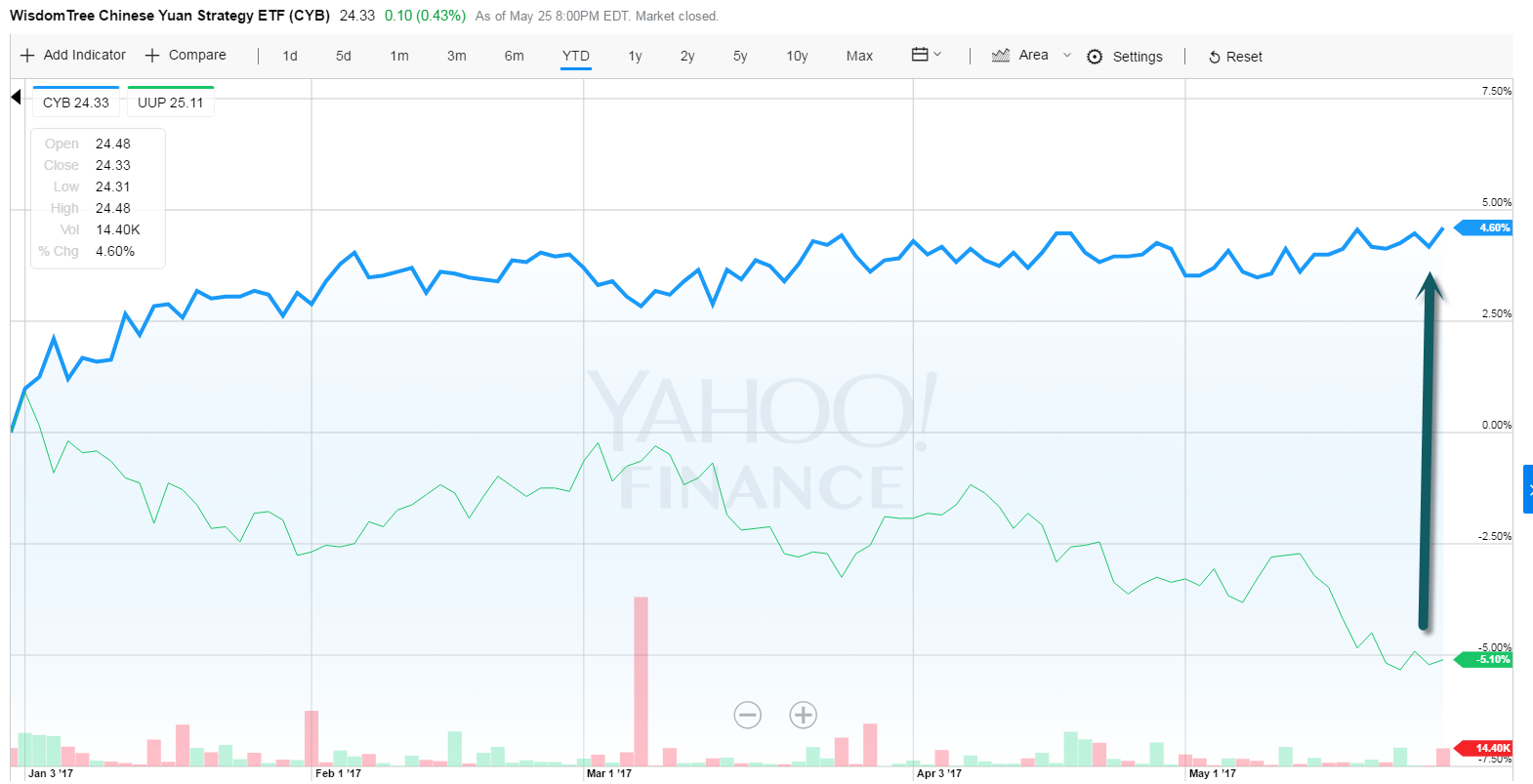 www.yahoofinance.com
4.Is China on Cusp of the American Dream? Debt Bomb or American Dream?
How China is like the post-war U.S.
Like the U.S. in 1950, China is already an industrial and economic power. It has been the world's manufacturing centre for over a decade. And China is home to the world's second-largest economy.
It also has the world's largest middle class. It's expected to be over half a billion people by 2020. This booming middle class is also earning more money and has more disposable income – just like the baby boomer generation that started taking shape in mid-20th century America.
And the Chinese government, like the U.S. government in the 1950s, is encouraging Chinese consumers to buy more stuff, for the good of China's economy. So, even though China's economic growth has been miraculous for the past 20 years, it isn't over yet.
As global investment firm Goldman Sachs recently said about China's economic growth, "What the world has seen so far is only a preview of the opportunities to come."
What could happen to China's economy
To give you an idea of the "opportunities to come," look at the chart below. The black line shows the extraordinary growth in GDP per capita in the United States from 1960 to 2015, when America was the engine for the global economy. During that time, GDP per capita in the U.S. grew 1,757 percent.
The red line represents China's GDP per capita from 2000 to 2015 (using the x-axis at the top of the graph). Notice how closely it tracks America's historical growth from 1960 to 1976.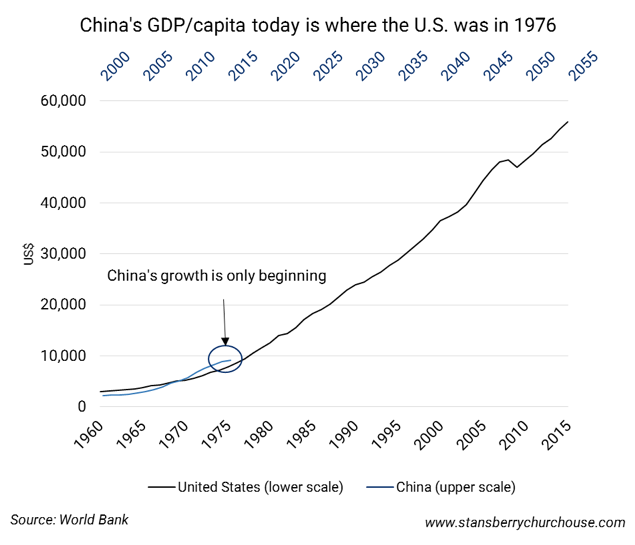 5.Attention Smart Beta Shoppers: Don't Commit This Investing Sin
For the first time in nearly four years, value ETFs have become the most shunned smart beta investment in the exchange-traded universe.
May 17, 2017
By Dani Burger
(Bloomberg) –It's Investing 101 — don't chase performance. But that's just what buyers of smart beta exchange-traded funds have been doing for the past month.
For the first time in nearly four years, value ETFs have become the most shunned smart beta investment in the exchange-traded universe. BlackRock Inc., the biggest purveyor of smart beta ETFs, thinks some investors are making a classic mistake of chasing returns in growth stocks rather than following fundamentals.
"On the margin, investors are seeing continued outperformance of growth and are maybe getting a little impatient with value," said Rob Nestor, head of BlackRock's U.S. iShares smart beta business. "There's always a modest amount of performance chasing. We'd be cautious about the risk of timing."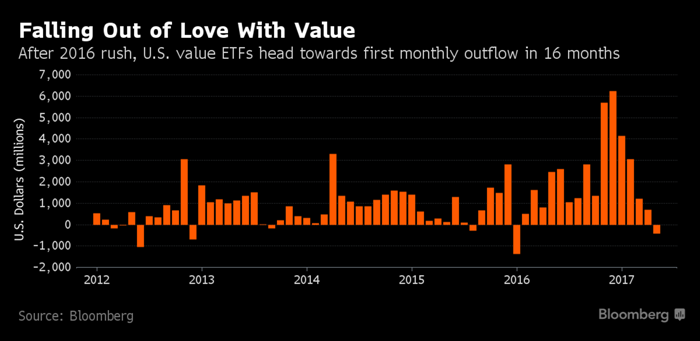 http://preview.wealthmanagement.com/etfs/attention-smart-beta-shoppers-dont-commit-investing-sin?NL=WM-022&Issue=WM-022_20170525_WM-022_939&sfvc4enews=42&cl=article_4&utm_rid=CPG09000007333628&utm_campaign=9548&utm_medium=email&elq2=be4685841f414393b26a62d056072147
6.Pretty Soon Electric Cars Will Cost Less Than Gasoline…Energy down for a lot of reasons outside OPEC.
by
Jess Shankleman
May 26, 2017, 1:00 AM EDT
Battery powered cars will soon be cheaper to buy than conventional gasoline ones, offering immediate savings to drivers, new research shows.
Automakers from Renault SA to Tesla Inc. have long touted the cheaper fuel and running costs of electric cars that helps to displace the higher upfront prices that drivers pay when they buy the zero-emission vehicles.
Bloomberg New Energy Finance sees electric cars becoming cheaper than conventional vehicles by 2030.
Markets: Canada." (Source: Bloomberg)
Now research from Bloomberg New Energy Finance indicates that falling battery costs will mean electric vehicles will also be cheaper to buy in the U.S. and Europe as soon as 2025. Batteries currently account for about half the cost of EVs, and their prices will fall by about 77 percent between 2016 and 2030, the London-based researcher said.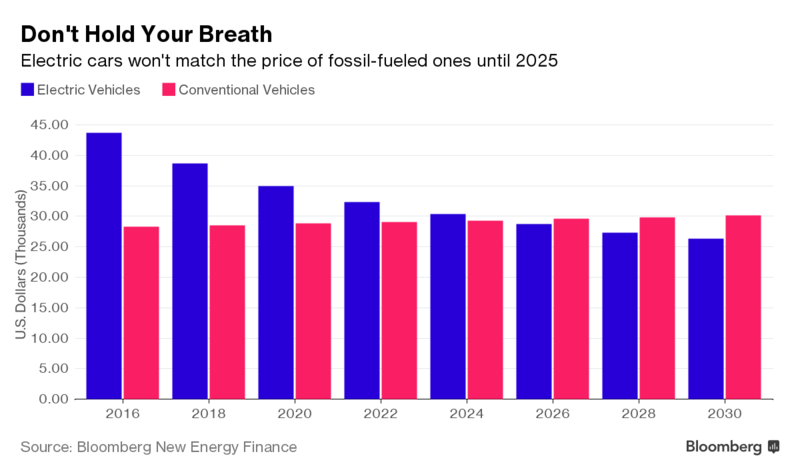 "On an upfront basis, these things will start to get cheaper and people will start to adopt them more as price parity gets closer," said Colin McKerracher, analyst at the London-based researcher. "After that it gets even more compelling."
Renault, maker of the Zoe electric car, predicts total ownership costs of EVs will by the early 2020s equal conventional internal combustion engine vehicles (known in the trade as ICE), according to Gilles Normand, the French company's senior vice president for electric vehicles.
"We have two curves," Normand said in an interview earlier this month in London. "One is EV technology cost reductions because there are more breakthroughs in the cost of technology and more volume, so the cost of EVs will go down. ICE going to go up as a result of more stringent regulations especially regarding to particulate regulations."
https://www.bloomberg.com/news/articles/2017-05-26/electric-cars-seen-cheaper-than-gasoline-models-within-a-decade
7.Yield Curve #1 Recession Watch Chart…See 1990, 2000, 2007 Inversions on Chart.
10 Year minus 2 year not near inversion yet.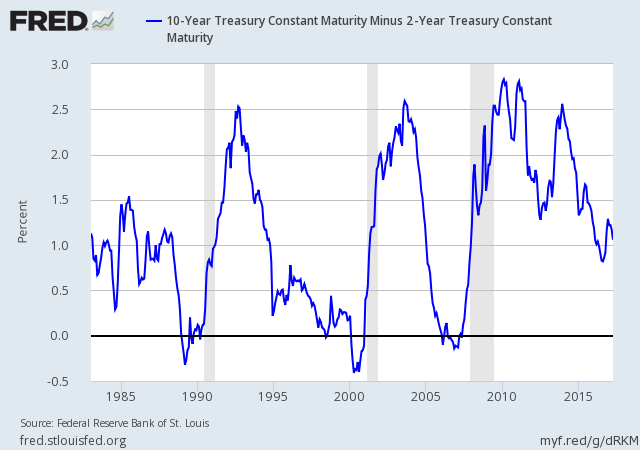 8.New Home Sales…Green Arrow Baby Boomers Housing Bubble….Question Mark Gen Y 1/3 Larger than Baby Boomers.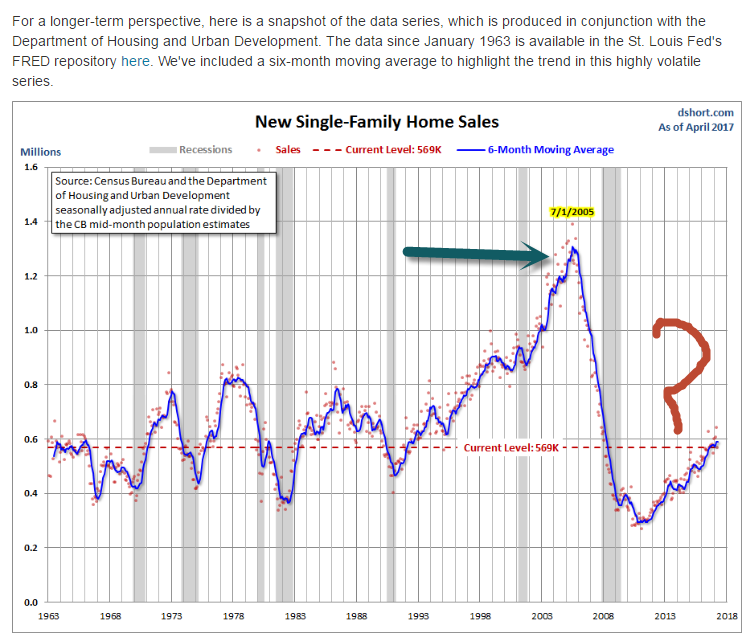 https://www.advisorperspectives.com/dshort/updates/2017/05/23/april-new-home-sales-come-in-below-expectations
9.Read of Day….7 of the craziest commando missions of World War II
World War II was an exciting time for special operations and commandos. The advent of airborne operations gave them a whole new angle of approach, and the sheer scale of the war guaranteed that they'd have plenty of chances to use their skills.
But even accounting for those things, operators on both sides of the war distinguished themselves with daring missions.
Here are eight of the craziest:
1. A costly canoe raid against German ships
Major Herbert 'Bondie' Hasler and Corporal Bill Sparks (right), of the Royal Marines visit the English Church of St Nicholas in Bordeaux for a memorial service to the Cockleshell Heroes, 3rd April 1966. Together with ten other men, these two carried out Operation Frankton during World War II, to cripple the German-occupied port of Bordeaux. Of the twelve, they were the only two to return alive. Terry Fincher/Express/Hulton Archive/Getty Images
The "Cockleshell Heroes" were a group of British Royal Marines assigned the task of launching from a submarine and canoeing miles up the River Gironde to place limpet mines against the hull of German ships. The mission hit problems almost immediately as canoes were lost to tide and river obstacles.
Only two of the original five made it to the Bordeaux-Bassens docks. The four men who crewed the canoes placed mines on a few ships, which damaged some commercial vessels. While the material damage was limited, it boosted British morale and forced the Germans to devote more resources to defense in a way similar to the U.S. Army Air Force's Doolittle Raid.
2. The failed attempt to kill Erwin Rommel
Undated photo shows Adolf Hitler and Field Marshal Erwin Rommel. AP-Photo
Operation Flipper had the lofty goal of crippling an Italian headquarters and intelligence office as well as killing Field Marshall Erwin Rommel. The mission was beset by bad weather and the assault force that hit the German officer's headquarters was smaller than planned.
Still, the British commandos broke into the headquarters building only to learn that Rommel had been delayed in Rome by his own weather problems. Only two raiders survived, but even Rommel admitted that it was a "brilliant operation." He had the senior officer, British Lt. Col. Geoffrey Keyes, killed and buried with full honors and photos sent to the family.
3. Norwegian resistance destroys Germany's nuclear stockpile, twice
A first attempt on the Norsk Hydro Plant, where radioactive heavy water was processed and stored, failed but the survivors and their reinforcements hit the plant on Feb. 28, 1943, despite suffering from starvation and exhaustion. They were able to blow the storage facilities, setting German nuclear research back by at least months.
Months later, a new stockpile of German heavy water was being transported on a ferry when the Norwegian Resistance attacked once again, sinking the ferry and ending Germany's last best chance at a nuclear reactor or bomb. One man, Knut Haukelid, participated in both raids.
4. German paratroopers take the world's strongest fort
German parachute troops descending on Fort Eben Emael in Belgium, May 30, 1940 which the Nazis grabbed from the Belgians in a surprise attack. Note the airplane at extreme right. AP Photo
In 1940, the Belgian Fort Eben-Emael was arguably the world's strongest fort. Constructed from 1932-1935, it was heavily armed and guarded by upwards of 800 soldiers. But Germany had to destroy or negate it to get the blitzkrieg into Belgium.
They did it in a single morning with 85 paratroopers. The men landed on the fort in gliders and quickly took hold of large sections of it, destroying or capturing the guns aimed at the countryside. When the rest of the German army arrived, the remaining defenders surrendered.
5. Benito Mussolini is rescued from a mountaintop retreat by German paratroopers
Benito Mussolini is shown in front of a hotel in Gran Sasso Mountain area of Italy in Sept. 1943 during World War II. Gathered around the overthrown Italian dictator are German paratroopers who rescued him from imprisonment.AP Photo
In July 1943, Italian defeats turned the country against Benito Mussolini and he was exiled to a series of locations. A German commander was able to track the dictator to Gran Sasso, a mountaintop ski resort accessible only by cable car or glider. At 6,300 feet, it was too high even for an airborne assault.
German Capt. Otto Skorzeny led the glider assault. The paratroopers brought along an Italian general in the hopes that he would prevent a shootout. It worked. The Italian guards decided not to fight when the gliders crashed into the mountains and the paratroopers stormed out. Skorzeny and Mussolini departed on a small, high-altitude plane.
6. British commandos steal a German radar station
The insane plan for Operation Biting called for five groups of British paras to land in German-occupied France, capture a German radar station, and then make off with key pieces of the technology. The men landed under cover of darkness and quickly captured the building. They even managed to grab two technicians with intimate knowledge of the advanced German radar.
Paratroopers who missed their drop zone arrived late to destroy a German pillbox, a situation that almost ended with the withdrawing commandos being killed. Luckily, the men arrived in time to destroy the pillbox as it swept fire on the other commandos. The British escaped with their prize.
7. The British turn an entire ship into a bomb
UNITED KINGDOM – MARCH 09: Able Rate Jade-Danielle Hayes hold the ships bell on HMS Campbeltown on March 9, 2011 in Campbeltown, Scotland. The type 22 frigate, is named after the town and a wartime vessel which was deliberately blown up attempting to destroy a dry dock in occupied France in 1942.Jeff J Mitchell/Getty Images
Dubbed the "Greatest Raid of Them All," the St. Nazaire Raid targeted the only German-held dry dock for heavy ships on the Atlantic that was accessible without passing German defenses. But the dry dock was heavily armed and far upriver.
The British sent a small flotilla of vessels led by the converted HMS Campbeltown. Sixteen were small motorboats, twelve of which were destroyed without reaching shore. But the Campbeltown managed to ram the gates of the dry dock. The Germans captured 215 of the 600 attackers and killed 169 more, but explosives hidden in the Campbeltown exploded the next morning, crippling the facilities.
http://www.businessinsider.com/commando-missions-world-war-ii-benito-mussolini-2017-5
Read the original article on We Are The Mighty. Copyright 2017. Follow We Are The Mighty on Twitter.
10.5 Things You Should Never Do in the Morning
If you ever feel like you don't get enough done in the day, it's because you're doing what you should never do in the morning.
One of the worst feelings we can experience at 5 p.m is thinking, "I was so busy today but I accomplished nothing."
This lack of progress is the greatest source of demotivation. It's why employees quit, small businesses fail, and why we are tempted to give up on our dreams.
But it doesn't have to be that way.Did you know that just five common morning mistakes are holding you back?
Most self-employed experts fall into these time traps. But the most successful independent entrepreneurs overcome these obstacles and dominate their days. In turn, their productivity and income soars.
Here are five things you must NEVER do in the morning if you want to get more done, have more focus, and be hyper-successful.
#1 – Never Hit The Snooze Button
Sleeping longer is probably one of the greatest desires you had back when you were working for a big corporation. But when you hit the snooze button you are subconsciously telling your big goals and dreams that they don't matter. That leads to a lack of urgency in life, lower productivity, and frustration by the end of the day.
Make the mindset switch this habit. When your alarm goes off, wake up with a mindset of taking on the day and tackling your top project so you make progress every morning.
#2 – Never Write Your To-Do List
Wait, what? How am I supposed to get organized?
The truth is that if you're setting your to do-list first thing in the morning, you're already too late!
You need to know your number one priority the night before, and have a plan in place to start working on it immediately. That's how the most successful people in the world, from the greatest writers of today (like J.K. Rowling and Stephen King) to the most successful artists in history, control their mornings.
#3 – Never Check Email
One of the worst things you can do is roll over and start scrolling through your email. When you do that, time seems to disappear into a black hole and you can never get it back. Worse, email often leads to social media, and then you can kiss another 30 minutes goodbye.
While it's tempting to check your email for work payments, important meetings, and the final score of the Yankees game, you must realize that email can wait.
You are much better off going to work on your top priority with a clear mind. This is how you make profound progress in the work. Give at least 30 minutes, if not 60 or more, to your top priority.
#4 – Never Mindlessly Surf The Internet
Here's a scary thing to do. Add a time tracker application to your computer and mobile phone that can tell you how much time you spend each day on every website you visit, from Facebook to Instagram to CNN.com, TheDrudgeReport.com, and even your bank account. You can also use this free Time Tracker sheet.
When you see those numbers you might be shocked… and maybe ashamed you wasted so much time. Just think of what else you could be doing with those hours that correlate directly to your success.
Don't let your Internet rob you of the progress you so badly want to make. ]
Add another program to your computer called Internet Freedom. This app can block you from visiting certain websites or from using the Internet at all during certain times.
With these new boundaries in place, you'll have made time for what matters.
#5 – Never Eat or Drink Food That Makes You Feel Unwell
Many of my clients have impeccable morning routines. They wake up early, they set their minds to a positive attitude, they give gratitude, and then they spend time thinking about growing their empires.
It sounds like the perfect morning, and for some it is, but for others, the tranquility and success of this morning is all but destroyed with poor nutrition habits.
They eat cereal, milk, and juice for breakfast, then wonder why they are falling asleep and no longer productive at 10 a.m. Or worse, they consume 300 calories of sugar in their morning mug of caffeine, leading to a hard crash at 11 a.m., and then in order to compensate they have more caffeine and processed foods at lunch to get "energy."
Too many people lose the day through their diet rather than their work habits. Don't make the same mistake.
Make a note of what you eat and how you feel. Establish cause and effect between what goes in your mouth and how you feel in your mind. (It's a direct relation!)
When you find the right fuel for your efficiency, you can double or triple your productivity, even if you already have an effective morning routine in place.
These are the 5 secret habits missing from so many of my client's morning routines, and possibly from yours, too. But when you follow all of these NOT to-do rules, you'll protect yourself from the time-management pitfalls holding you back in life.
That's the promise of The Perfect Day Formula book & kit. And today we have a special offer for you on our 2.0 kit— the revamped product of thousands of hours of improvements. The tools in this kit were primed to boost your wealth-building habits and productivity. And we can all use more of that! Be one of the first 50 people to try the new kit!
Go here to see the improvements we made over 1,000 hours of redeveloping.